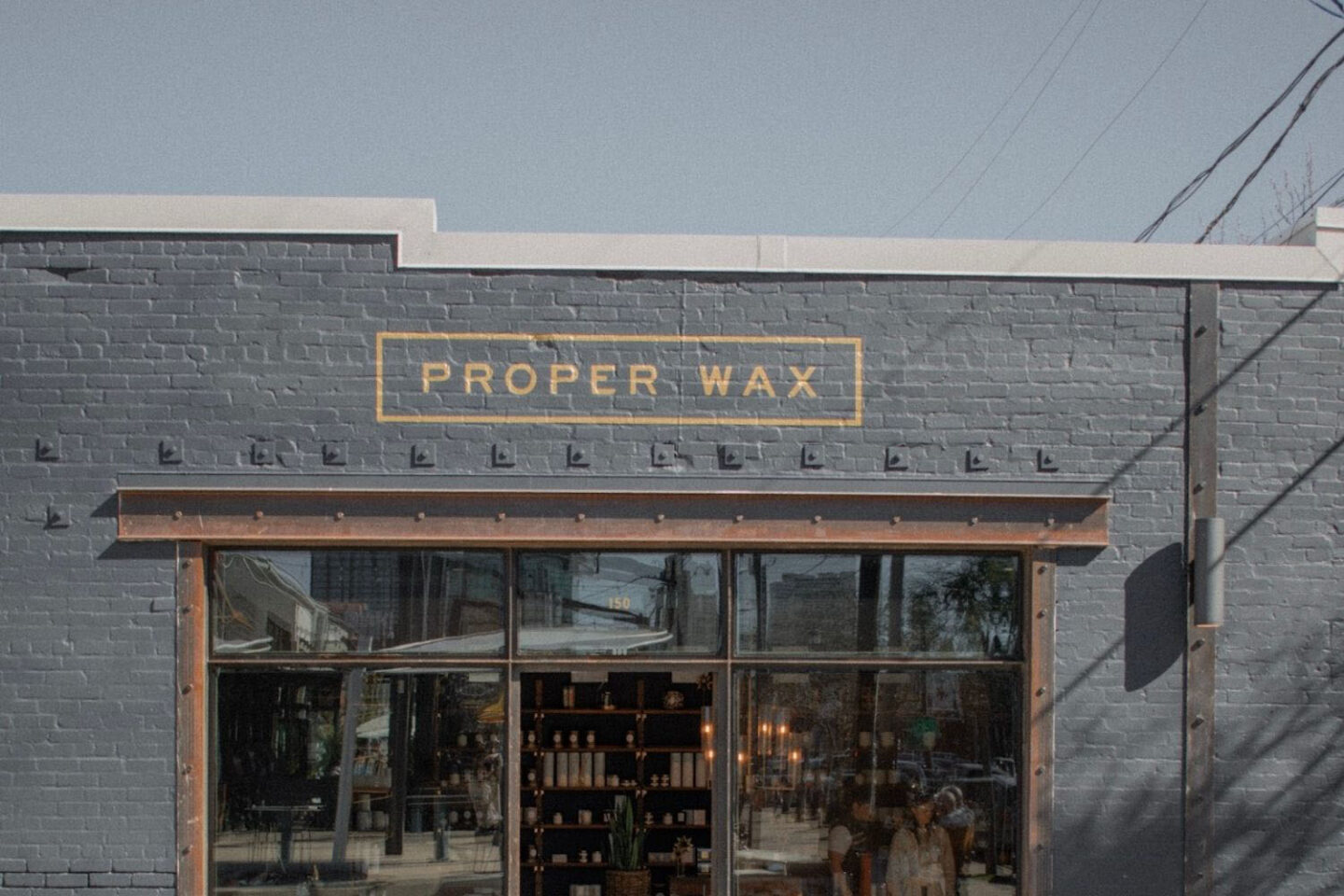 (Disclaimer: This post may contain affiliate links, which means we may receive a small commission at no extra cost to you.)
Are you looking for the best things to do in Deep Ellum? Well, you don't want to miss this guide complete with the best Deep Ellum restaurants, boutiques, and simply how to have a perfect time!
Dallas has so many incredible districts to explore and Deep Ellum is one that should definitely be on your list. It has such a unique vibe compared to other areas you will find in Dallas and is the perfect place to spend an afternoon.
Disclosure: This article contains affiliate links.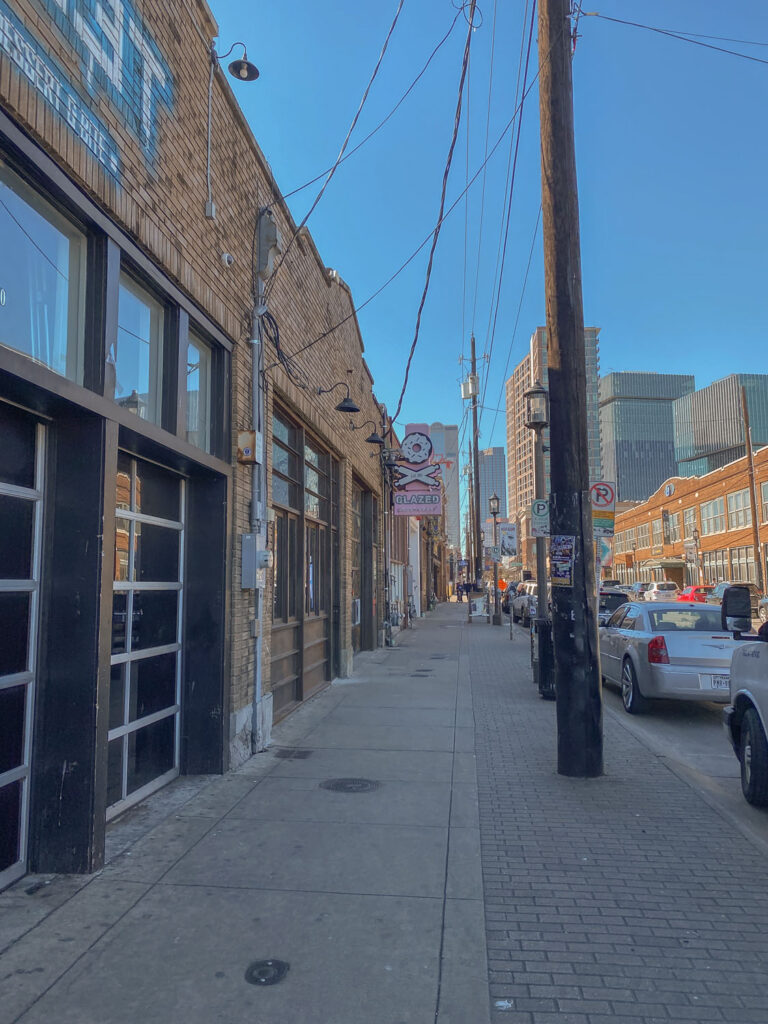 Now that I live in Dallas, my friends and I have been trying to see and do all the fun things in the city! A few weekends ago we spent some time exploring Deep Ellum during the day and I'm excited to share my experience with you guys! There are so many great things to do in Deep Ellum.
Before spending the day here, my friends and I had only gone to Deep Ellum at night. Typically we would end up at clubs or bars in this area like Bottled Blonde, Citizen, or Backyard. And although Deep Ellum has a fun nightlife, it's not really the place to be wandering around at night. After exploring this area during the day, it has a whole different vibe! Seriously the perfect way to spend a Saturday afternoon. Let's get into the best things to do in Deep Ellum.
THE BEST THINGS TO DO IN DEEP ELLUM IN DALLAS
COFFEE OF COURSE

First things first. Coffee. This is always my go-to. I don't know about you but whenever I visit a new place the first thing I'm searching for is a good place to pick up an iced latte! Well, Deep Ellum has no shortage of coffee shops and cafes. We stopped for a drink at Merit Coffee and it was delicious! 10/10 recommend.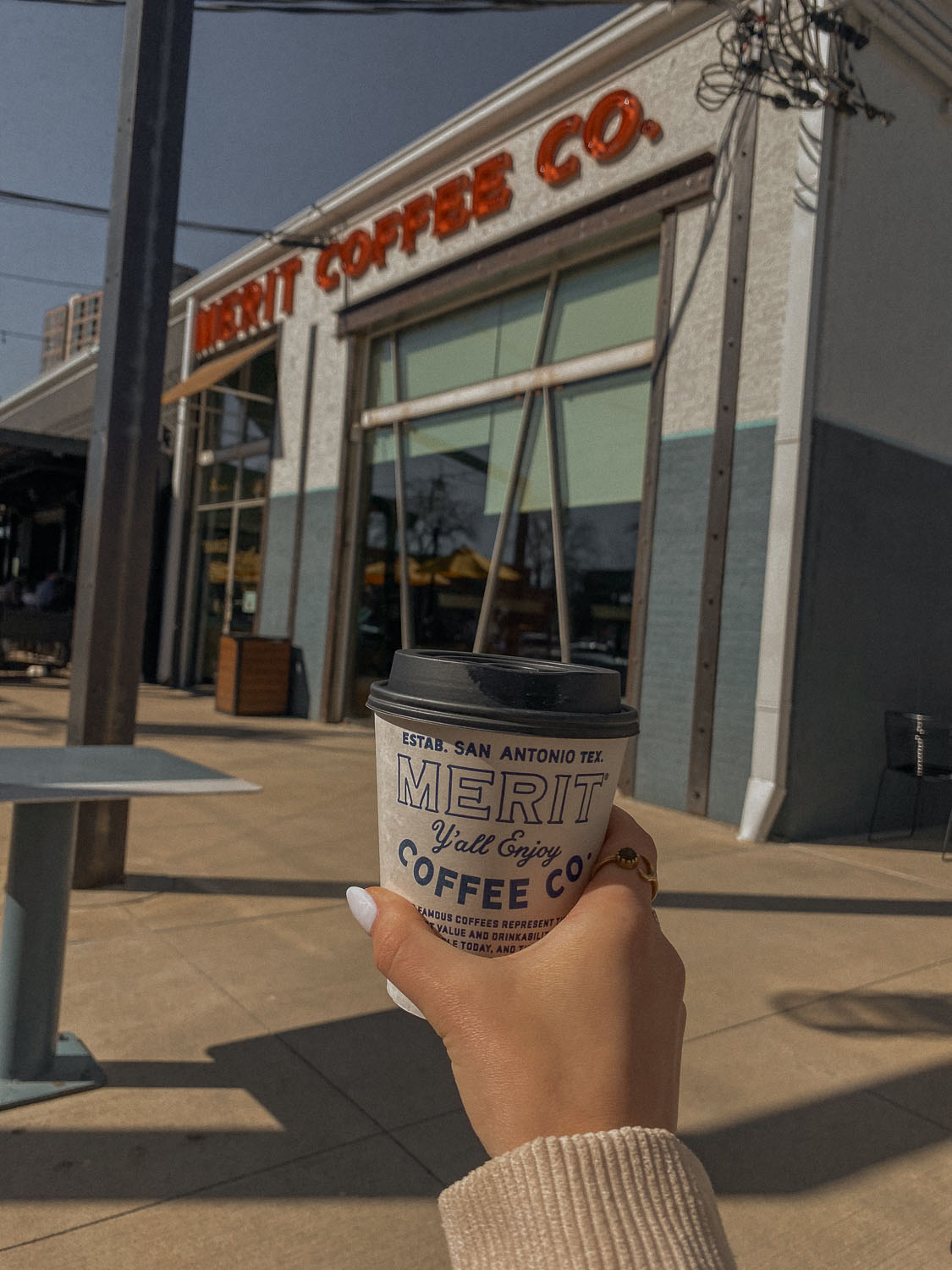 I opted for a hot latte this time because it was quite cold outside. Merit is also a great cafe to get some work done, there are plenty of tables and seating options. Although I do have to say parking is kind of annoying in Deep Ellum and you might have to pay for parking if it's a busy afternoon.
Additional coffee shops in Deep Ellum: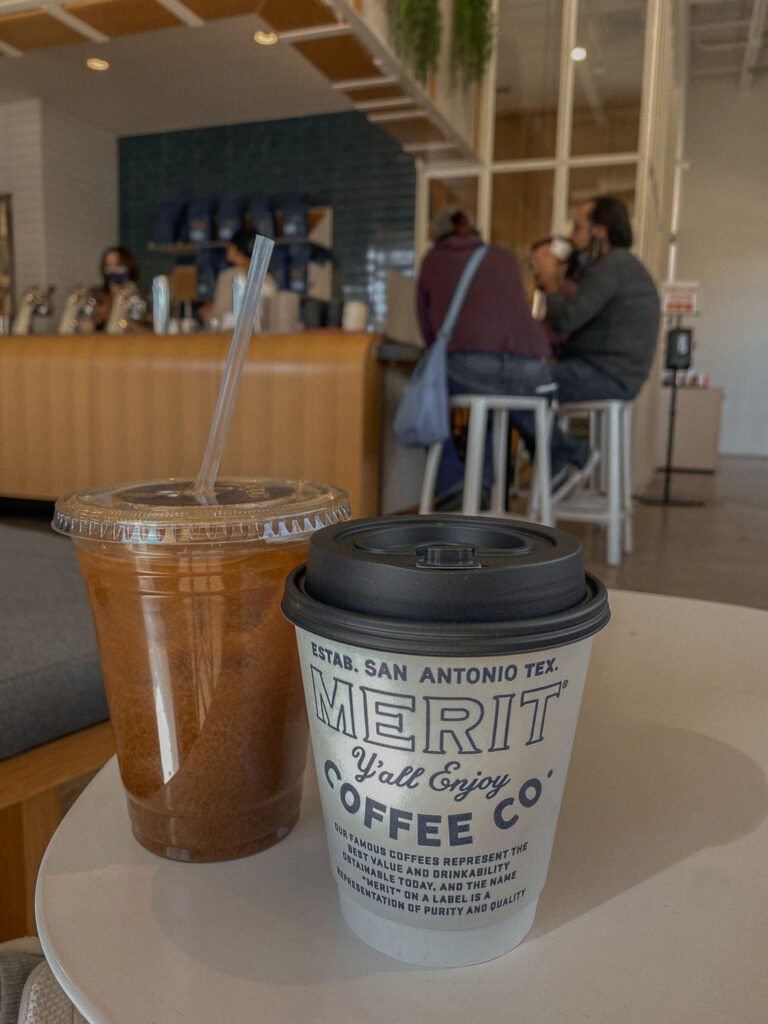 [
RELATED POST
:
HOW TO PLAN THE PERFECT GIRLS WEEKEND IN AUSTIN, TEXAS
]
DEEP ELLUM BOUTIQUES

JEWELRY AT UNCOMMON JAMES

There are SO many of the cutest boutiques in Deep Ellum! First, we stopped in Kristin Cavallari's boutique, Uncommon James. I was super excited to check this place out because I've heard amazing things. Well, their jewelry is so. freaking. cute. AND affordably priced, which is always amazing! I was expecting their prices to be pretty high so it was a nice surprise. I didn't pick anything up this time, but I will most definitely make a purchase in the future.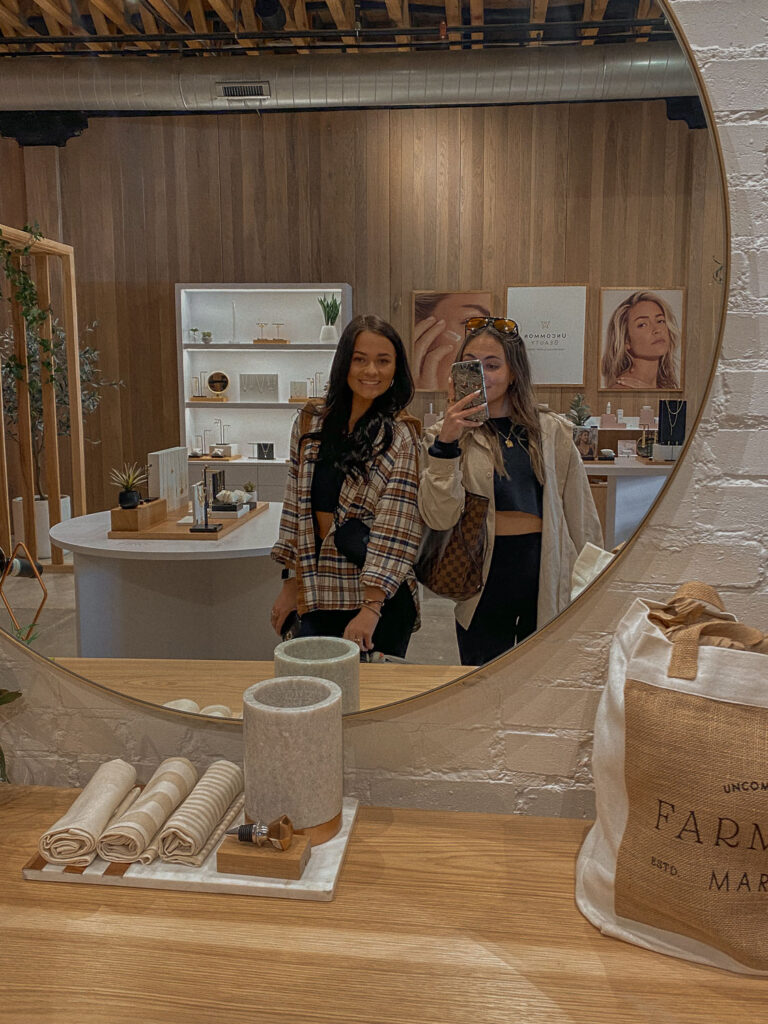 CANDLES AT PROPER WAX

If you're obsessed with candles you will love this boutique! It has a massive collection of candles with the most amazing scents. They were pretty pricey (as expected) maybe next time I'll have to pick one up! They have fun mini candles with scents inspired by destinations like Santorini, Italy, and Maui! It was so hard to convince myself that I did not need a candle at the moment lol.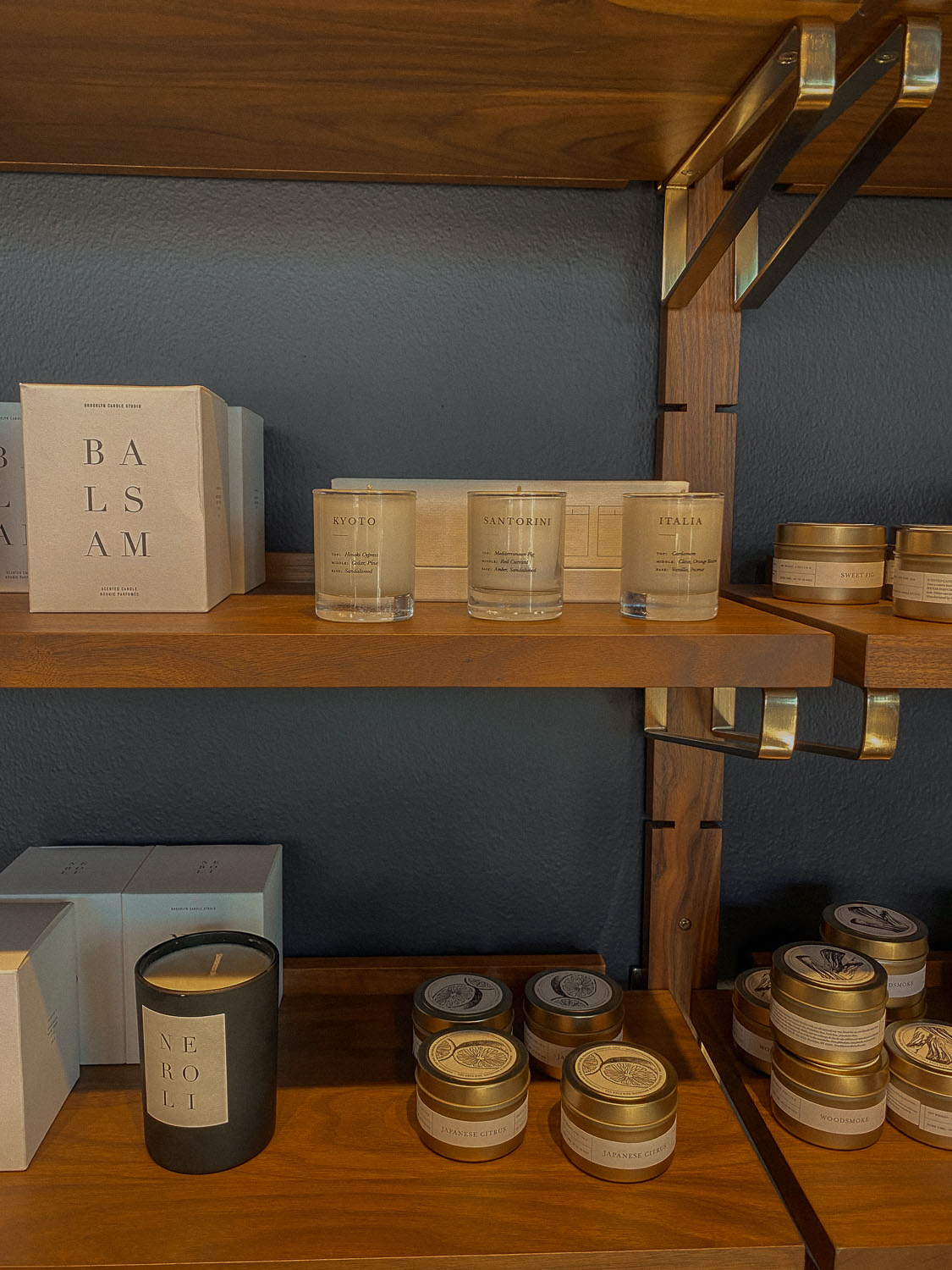 STATIONARY AT ARCHER PAPER GOODS

Okay, stationery shops always get the best of me. I have like a zillion notebooks and journals that I love to make notes, lists, etc. This boutique was the perfect place to pick up some new paper goods and pens!
THRIFTING AT VINTAGE STORE

This thrift store wasn't too big but they had some cool stuff. It was nice to hop in and take a quick look. You never know what you're going to find in a thrift store!
EAT AND DRINK IN DEEP ELLUM
There is absolutely no shortage of incredible places to eat in Deep Ellum. Whether you're looking for brunch, lunch, happy hour, dinner, or a sweet treat there is a perfect place.
SUSHI AT DEEP SUSHI

I have yet to dine here at Deep Sushi, but I've heard amazing things.
ASIAN STREET FOOD AT HAWKERS

Yall, need to go here. Hawkers serves incredible Asian street food. Enough said. Anyways, their menu is exquisite and the food is served in a way that's meant to share with the table. Asian food is some of my favorite, eating here brought me back to the time I studied abroad in Thailand (the best times).
We tried the bao buns, dumplings, and pad thai. Everything was great, although the pad thai could have had a little more spice to it in my opinion! I also recommend grabbing a cocktail. I had the Tiki, Do You Love Me cocktail and it was served in the cutest little tiki cup! Their patio is super fun as well.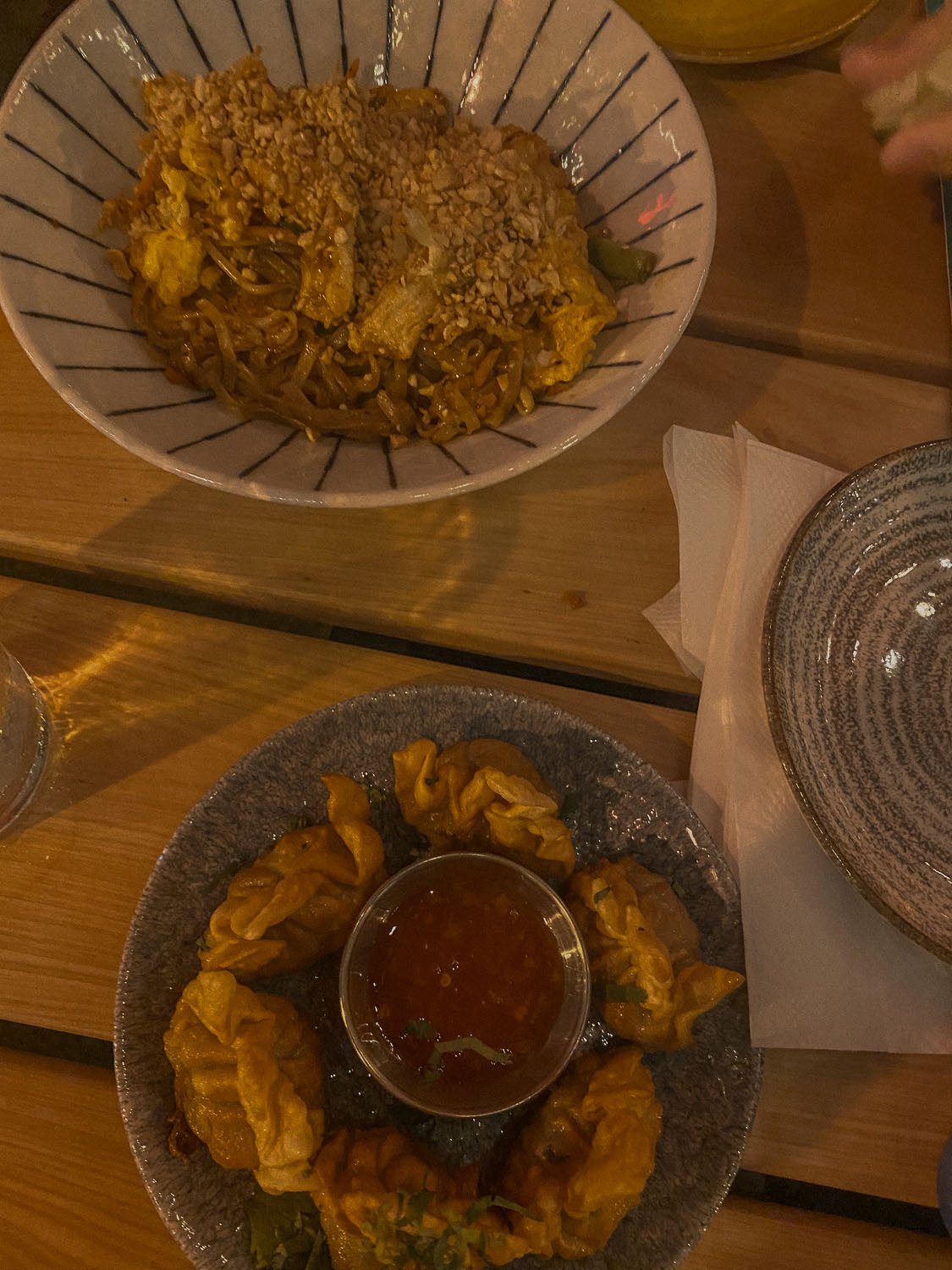 BRUNCH AT STIRR

Although I haven't dined here yet, I keep hearing great things about their brunch. One of my friends ate here and loved it!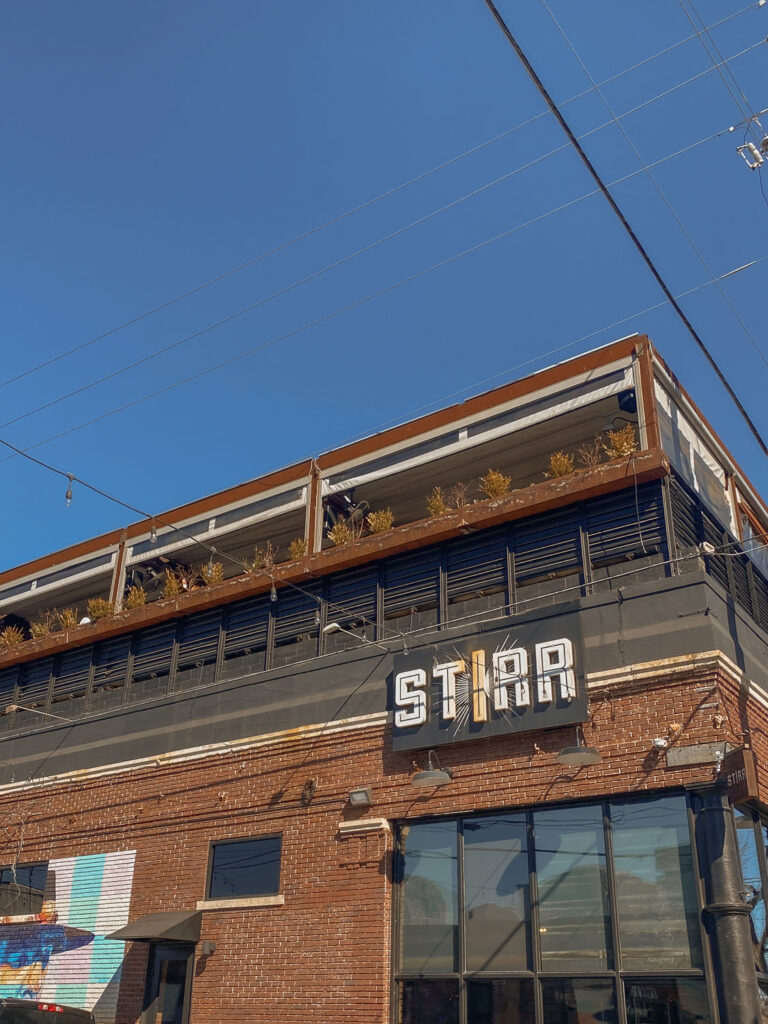 BEIGNETS AT LE BON TEMPS

So as we were exploring Deep Ellum, I saw this beignet shop and I made sure to note it down for later. It looked SO good. I will report back when I actually get to try them! In the meantime, if you are in the area you should definitely pick one up.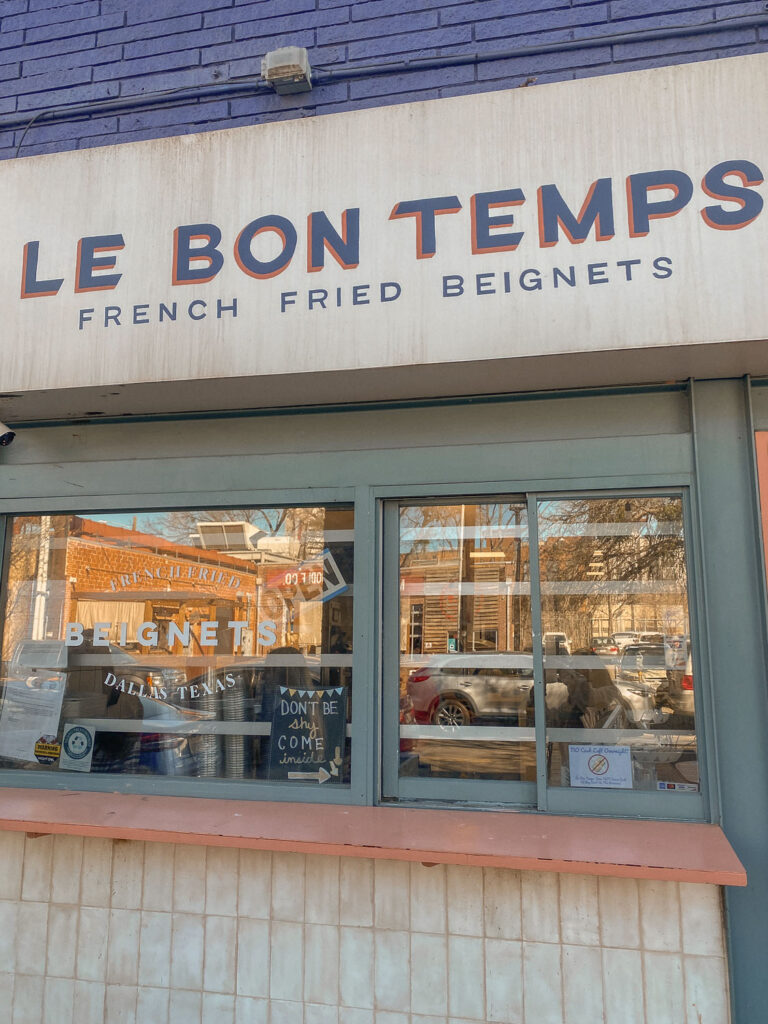 ROCKET FIZZ

For all things sweets! If you like candy shops, this is the place for you. They also have some unique sweets that aren't sold in regular stores. Go check it out.
PICOLE POPS

If it's a hot day, Picole Pops is a must. They have the best and most unique popsicle flavors! I got a mango margarita pop dipped in tajin. It might have been the best popsicle I have had to date!
THINGS TO DO IN DEEP ELLUM FOR A GIRLS DAY

CHARCUTERIE AT AMOR Y QUESO

You guys. This was the cutest little shop and seriously one of the best things to do in Deep Ellum! It's a charcuterie shop, the owner makes charcuterie boards you can enjoy there or order them for your own event. The best part, you can bring your own wine! This is the perfect place for a girl's afternoon! Share a charcuterie board with your friends and bring your own wines. I can't think of anything better.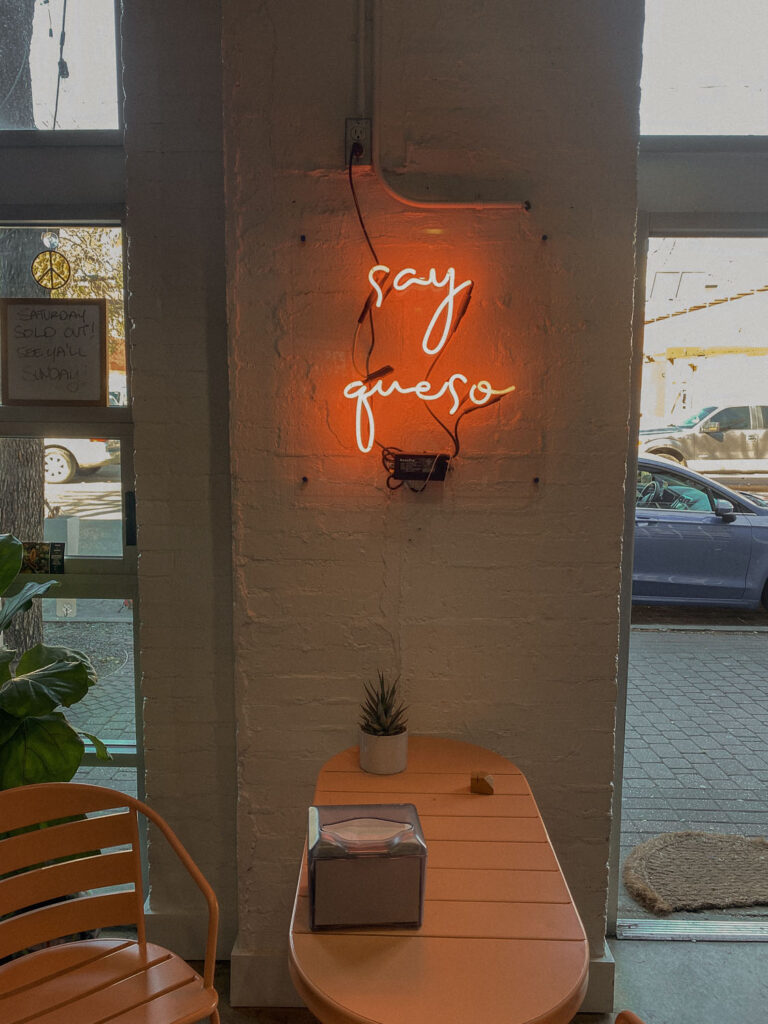 ENJOY THE STREET ART
Deep Ellum is the place to see some of the most incredible street art and wall murals in the city of Dallas. Almost every corner is filled with vibrant art. Deep Ellum reminds me a bit of Austin, there's so much art to see here too! Wander around and enjoy the amazing graffiti art this area has to offer!
MAKE YOUR OWN SUCCULENTS AT JADE AND CLOVER

Okay, here's another fun and unique thing to do in Deep Ellum in Dallas. This boutique was filled with plants, succulents, mugs, and little nicknacks. At Jade and Clover, you can make your own succulents to take home at the plant bar. This was the cutest idea ever!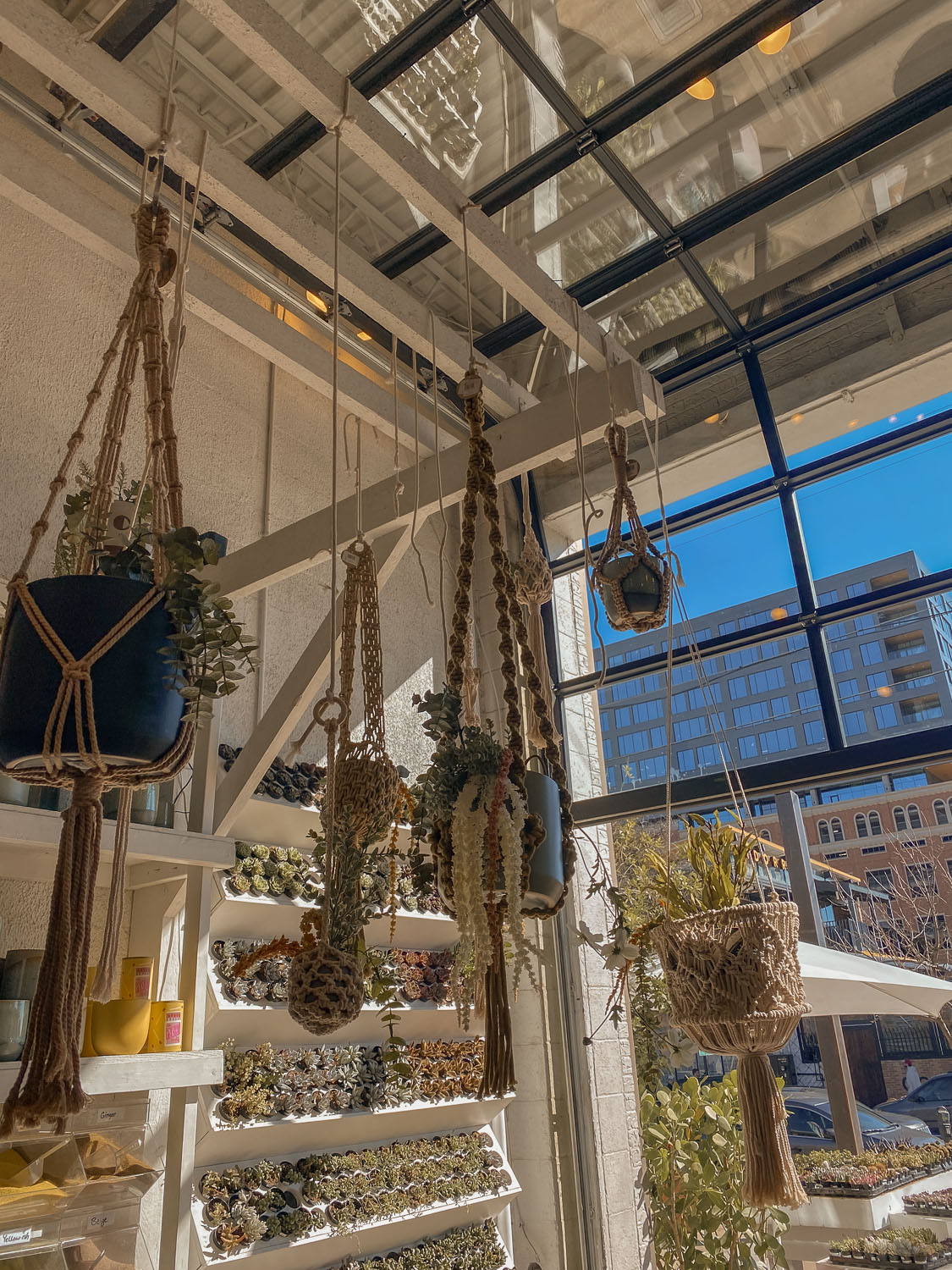 ART GALLERIES

If you want to check out some more art during your time in Deep Ellum, check out these art galleries and museums – Kettle Art, Deep Ellum Art Co., and the Umbrella Gallery.
ENJOY SOME LIVE MUSIC

Head over to Louie Louie's Piano Bar or Mama Tried Honky Tonk for your live music fix. This is the perfect place to enjoy a drink and listen to some music.
[
RELATED POST:
THE ULTIMATE ROUTE 66 ROAD TRIP ITINERARY
]
PEDAL BIKE BAR CRAWL

This is a fun activity for an event like a birthday, bachelorette, or just a girl's weekend. Especially if it's a nice day outside! The peddle bike takes you to different bars in Deep Ellum, these bars will give you discounts on drinks. You can also bring your own alcohol on the peddle bike. The price will vary depending on your group size. But you can expect anywhere from $40 to $50 per person.
CLUBS + BARS IN DEEP ELLUM
Deep Ellum Brewing Company
Truth & Alibi
Whiskey Hatchet
Backyard
Bottled Blonde
Citizen
Punch Bowl Social
Louie Louie's
WHERE TO STAY IN DEEP ELLUM

If you are looking to stay right in the Deep Ellum neighborhood, The Pittman Hotel and Deep Ellum Hostel are great places to stay.
FINAL THOUGHTS ON THE BEST THINGS TO DO IN DEEP ELLUM
Deep Ellum is definitely worth a spot on your Dallas bucket list! I have to say it kinda shocked me. I have been living here for over six months and never realized how fun and trendy this area really was! If you have any questions about Deep Ellum or Texas in general, feel free to DM me on Instagram, comment below, or email me at sydabroad@gmail.com.
xx Syd.
RECCOMMENDED TOURS IN DALLAS
SHOP MY FAVORITES
PIN IT!
OTHER POSTS YOU MAY LIKE: