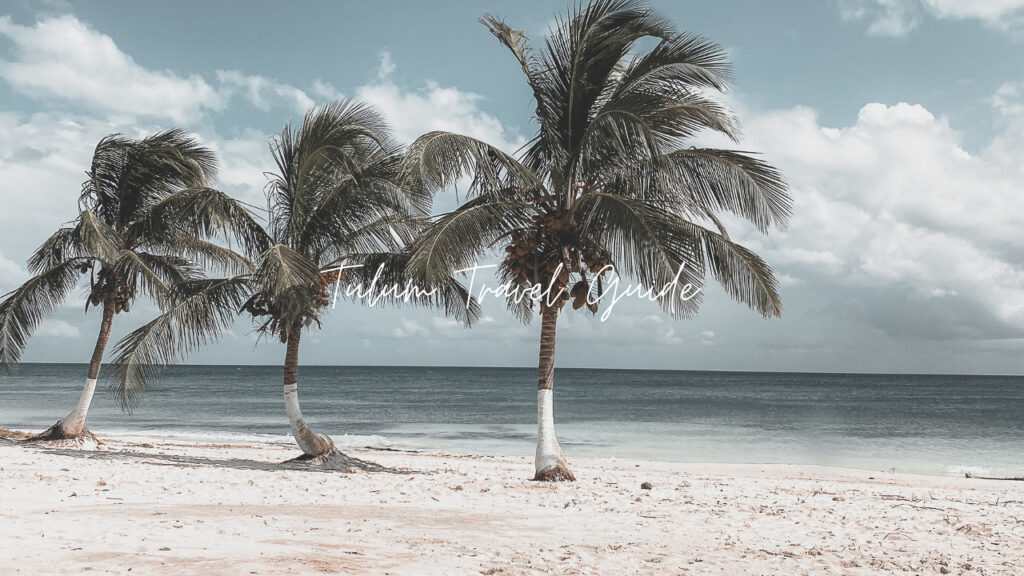 (Disclaimer: This post may contain affiliate links, which means we may receive a small commission at no extra cost to you.)
If you're into art, interior design, architecture, picture-perfect beaches, or all of the above, Tulum needs to be on your bucket list. I'm going to tell you why Tulum is such a perfect place to visit and how to visit Tulum on a budget.
Mexico as a whole is pretty affordable to travel and although Tulum is known to be one of the more expensive cities to visit in Mexico, you can plan an affordable trip. Traveling Tulum for cheap is extremely doable and I'm going to give you all of my tips and tricks for traveling Tulum on a budget in this guide! 
Currency = Pesos 
1 USD = 19.88 Mexican Pesos (MXN) 
The currency in Tulum is Mexican Pesos, however, almost everywhere you go will accept USD or card payments. I recommend taking out some pesos before you arrive just in case. The majority of the time I had to pay in pesos was when I took a taxi. Make sure to have some pesos on hand for taxi drivers, they don't take cards and most will not take USD. 
Best Time to Visit Tulum 
The summer months are of course the most crowded but you can also expect great weather. I visited Tulum at the very end of October, which is the rainy season, but it was perfect! 
Don't get too attached to the weather predictions for Tulum. During the rainy season, weather apps will say storms and rain all day every day and this is just not the case, a majority of the time.
During our five days in Tulum, the weather apps said to expect nonstop rain and no sunshine all week. However, most of our trip was bright and sunny! It's a tropical destination so the weather changes quickly, there will probably be quick rain showers in the afternoons for an hour or so, but it will pass.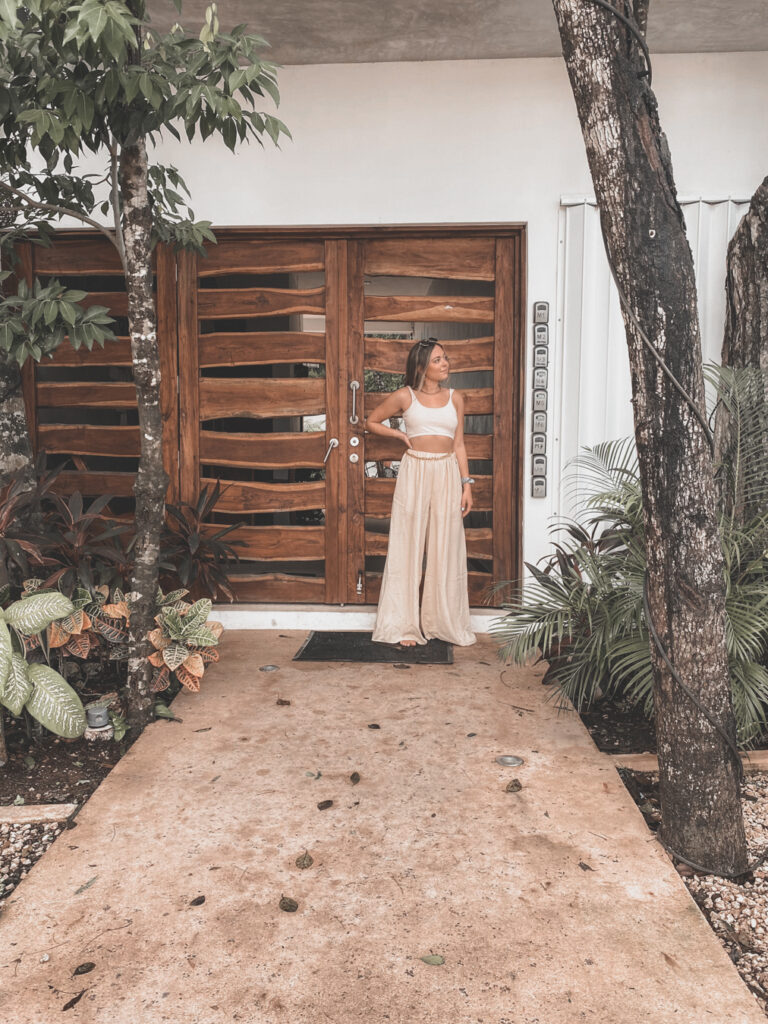 Getting to Tulum
Getting to Tulum is super simple. Fly into the Cancun international airport and then you will need to take a bus from Cancun to Tulum. The bus ride is about one and a half to two hours long. Click here for a list of in-flight essentials.
When booking a bus, first check with your accommodation to see if they can provide transportation. For instance, through our Airbnb, we booked a bus to pick us up from Cancun and take us back to our accommodation for a great price.
You can also take the ADO bus or public transportation. Both of these options are affordable and you can book a ride once you land in Cancun. 
Tips for Getting to Tulum on a Budget 
Book with a Budget Airline
If you book with a budget airline, you might find a cheaper flight. My flight with Spirit airlines was about $180 round trip – literally cheaper than flying to most other states! Also, check Google Flights, I find that you can find the best deals. Check out my resources page here for a bunch of budget-saving travel tips! 
Fly Out of your Nearest Big City
The bigger the city, the better. Even if that means driving a bit longer! You will usually find cheaper flights and many more flight options if you fly out of a big city.
For instance, my nearest airport was Birmingham, Alabama (which is an extremely small airport) so there were relatively no good flight options. Instead of flying out of Birmingham, I flew out of Atlanta which had much better options at cheaper prices. 
Travel in a Larger Group
Traveling in a big group usually saves you money. Your accommodations will likely come out cheaper and you can split transportation costs. This includes transportation to and from the airport and taxis throughout your trip. 
 Affordable Accommodations in Tulum, Mexico 
Alright so there are two parts to Tulum and this makes a huge difference when it comes to finding accommodation. There is the beachside of Tulum and Tulum town.
If you're on a budget you will definitely want to stay in Tulum Town. The beachside and Tulum town are only a couple of miles apart, however, the prices are a massive difference! Tulum beachside has all the insane beach clubs, fancy bars, and restaurants.
The town still has amazing authentic restaurants and shopping but at a much cheaper price. You will definitely get to experience more of the culture staying in Tulum Town. And Tulum Town IS safe.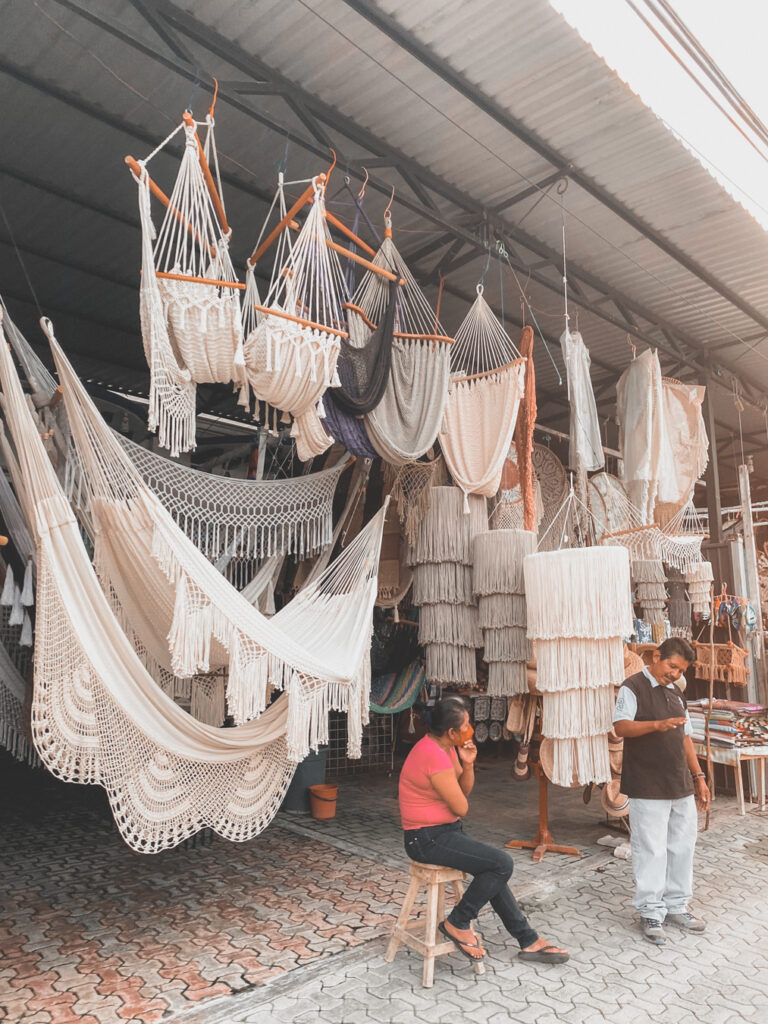 Airbnb
 I suggest looking for an Airbnb in Tulum Town. This is what my group did and it was perfect! First off, you can find extremely nice Airbnb villas for cheap. And you can easily get to the beachside to experience the boujee parts of Tulum whenever you want!
We stayed in a rooftop villa that was two stories, with three bedrooms, a kitchen, a rooftop pool, a rooftop entertainment area, and a balcony for about $85 each. For FOUR nights. Like that's crazy! That literally came out to about $20 per night per person.
Our villa was also in the perfect location, there were restaurants, bars, and shops all around. And it was a super safe area! If you have a group, Airbnb is the way to go. 
Hostel
Hostels are another option. We stumbled across some really cool hostels in Tulum town that were all very affordable. Check out hostelworld to book a hostel. A few recommendations are: 
Mayan Monkey:

my friend stayed here and enjoyed it

Day Tripper Hostel

 

Oostel Smart Hostel
Getting around Tulum on a budget 
Rent Bikes 
Biking around Tulum is definitely the best way to get around Tulum on a budget. You can rent bikes for about 8 USD per day.
We rented bikes for two out of our five days here from OLA bikes and it was perfect. Also really good exercise! You will see that so many people bike around Tulum so there are great bike paths for the most part. If you want to book a cenote bike tour, click here!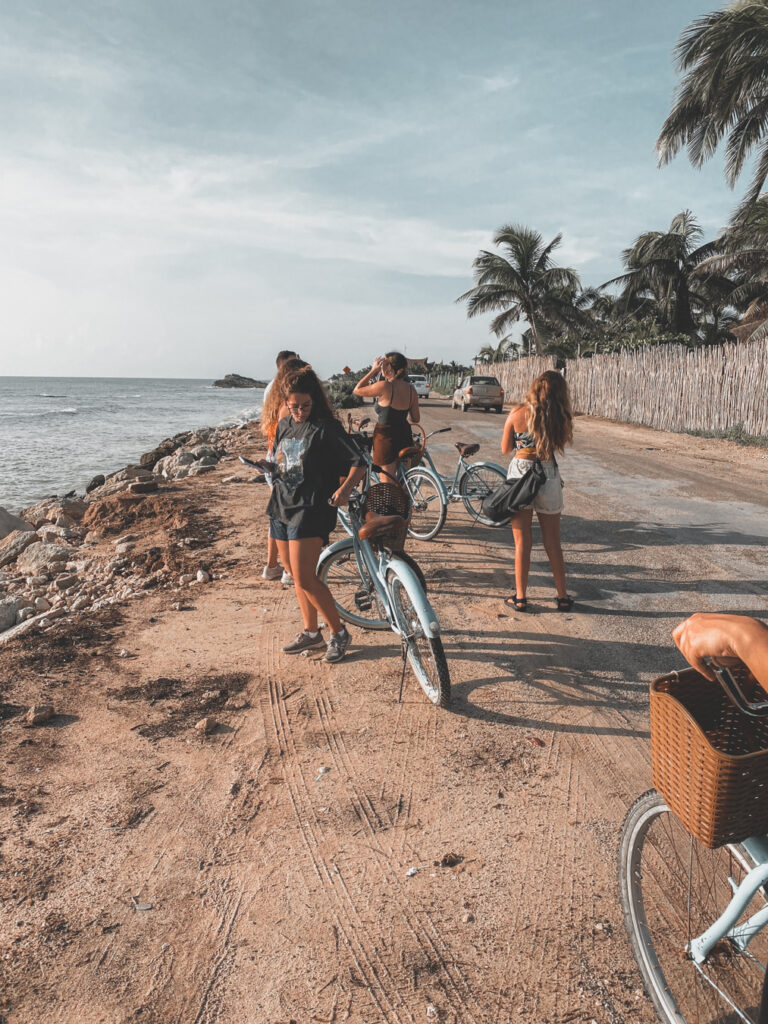 Taxi 
Taxis are another affordable way to get around Tulum, especially if you are with a group of people. We used taxis when we would go out at night to the beachside of the city. 
Tips for Food & Drinks on a Budget
Eat most of your meals in Tulum town instead of the beach. The food is just as good and you will save $$$
Have one nicer meal at the beachside for the experience. There are some insanely cool dining experiences on the beachside and meals will range from about 15-30 USD but I say it's worth splurging for a meal for the experience. 
Get different dishes and split the cost to allow you to try as many dishes as possible! I Ioved this was of eating because it was pretty affordable and I got to taste a bit of everything. 
Go for happy hour and appetizers at the beachside and then full meals in Tulum town if you are still hungry. This will save you some money and a lot of places on the beachside have two for one drink specials during happy hour. Normal drink prices will range from 8 to 16 USD on the beachside.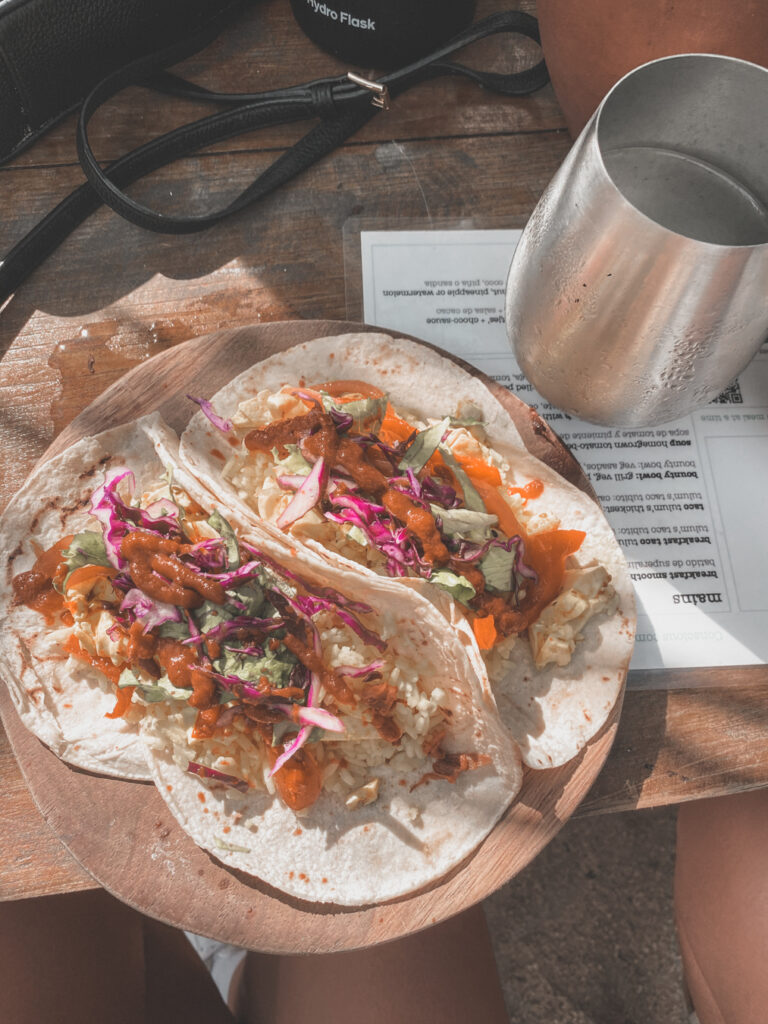 Restaurants in Tulum Town 
There are SO many great restaurants in Tulum town, here are a few of my favorites! 
Bonita Burger: alright, arguably one of the best burgers I have ever had! Probably top 5. Anyway, their menu is bomb and they also have great drinks. And it's affordable! 
Eat at Liefs: This is a delicious vegan place. The food was great, I got vegan breakfast tacos and YUM. 
Burrito Amor: Okay, THIS was most definitely the best burrito I have ever had. You can't go to Tulum without visiting Burrito Amor. Their prices are excellent too. Oh, and grab a spicy marg. 
Matcha Mama: They have a location in Tulum town and the beachside. Unfortunately, I did not make it here but if you're looking for a smoothie or acai bowl, this is the place for you. 
Ki Bok Coffee: For incredible coffee! 
Taqueria Honorio: An amazing taco place in Tulum town. They do close early so I recommend going for breakfast or lunch. 
Antojitos Chiapanecas: I am so sad I didn't get to eat here! This is a street taco place that is incredible according to the reviews. I'll have to eat here next time. 
Batey: This is one of the best bars in Tulum town. And they are famous for their mojitos! Definitely go have some drinks one evening. 
Restaurants in Tulum beach
El Pez Tulum: we had a delicious breakfast here. 
Macondo: Okay, this is what I mean by unique dining experiences! Macondo is a Moroccan-style restaurant where you sit on cushions on the floor and the vibe here is seriously insane. This was the absolute best dining experience I have ever experienced and arguably one of the most delicious meals I have ever had in my life. You have GOT to visit this place. It's located in the Nomade Hotel.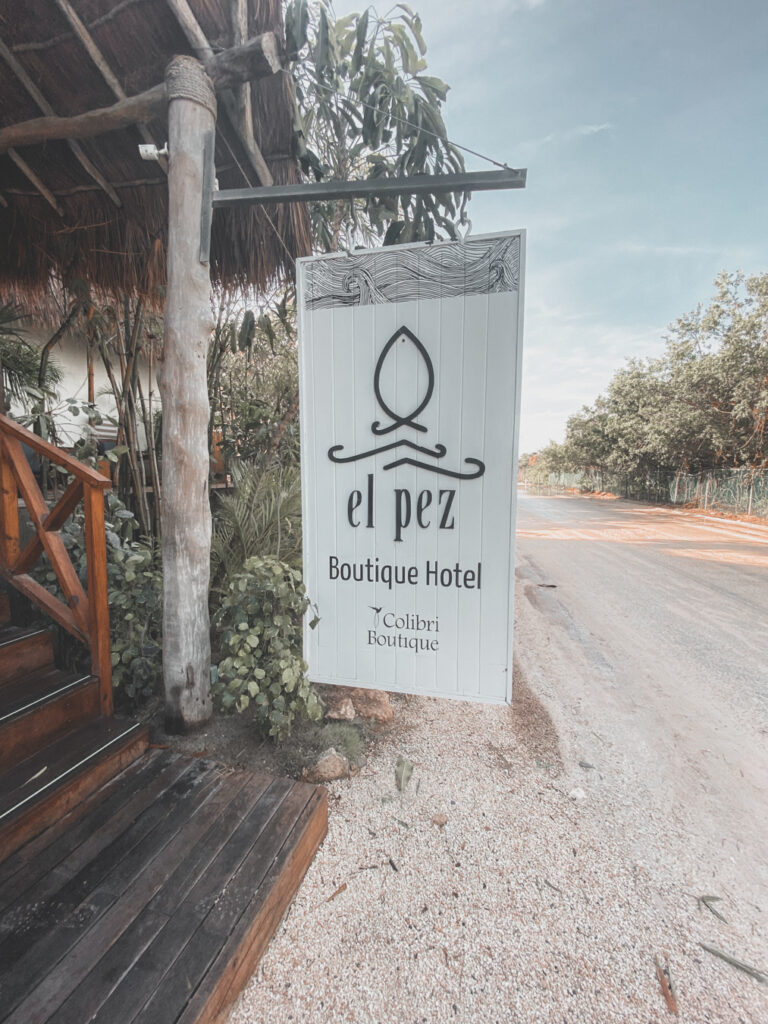 Beach Clubs
The beach clubs in Tulum are definitely cool to experience and super boujee. So if this is your vibe, I've got a budget tip for you. Some of these clubs will allow you to use their beach and lounge beds if you pay a minimum on food and drinks for the day.
If you are wanting to spend a day at the beach this isn't a bad deal. The prices vary depending on which beach club you visit but some are as little as 50 USD. It's obviously pretty easy to spend that on food and drinks for the day but it's nice you can enjoy the beach too. 
To enjoy the beautiful beaches for even less $$$, we ended up buying drinks at Ziggys and then walking right down to the beach. They didn't allow us to use their lounge beds but we could still enjoy the beach just by buying one drink. Bring your own towels and this is an awesome way to enjoy the ocean! 
Beach Club Recommendations
Coco Tulum
Be Tulum 
Papaya Playa 
Ziggy's 
Gitano 
Other Activities to Enjoy in Tulum on a Budget 
Tulum ruins: Cost about 40 pesos, highly recommend visiting the ruins!

Beach day:

Visit a free public beach or spend time at one of the beach clubs
Street art: explore the street art in Tulum town or Tulum beach. It's a FREE activity and trust me, it's beautiful

Cenotes:

For cheaper (or even free) entrances, visit the less popular cenotes and cenotes that are a bit further from the city. The entrance fees will range from a few dollars to about 15 USD. The Gran Cenotes is probably the most popular (and expensive at 15 USD) but for a good reason. It's beautiful and I highly recommend visiting, just go super early to avoid the crowds. 
Bike around the town
Yoga: you will find many different yoga classes throughout Tulum. Classes range from 8 to 20 USD 
Tequila Tasting: price can vary depending on where you go but this is always fun to do while in Mexico!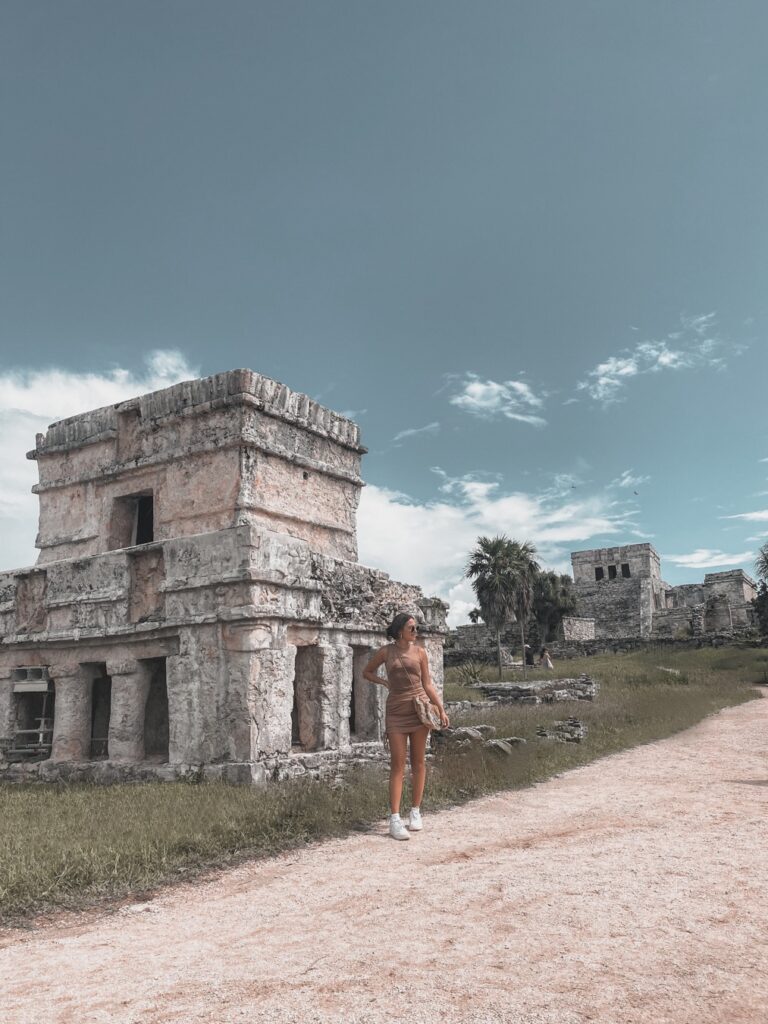 Tulum Photo Spots
Pablo Escobar Mansion: located at

Casa Malca

 
Follow That Dream sign: across the street from Suenos Tulum hotel
Wooden Structure: located at

Raw Love Tulum

Cenotes of course! 
Street art which you can find basically everywhere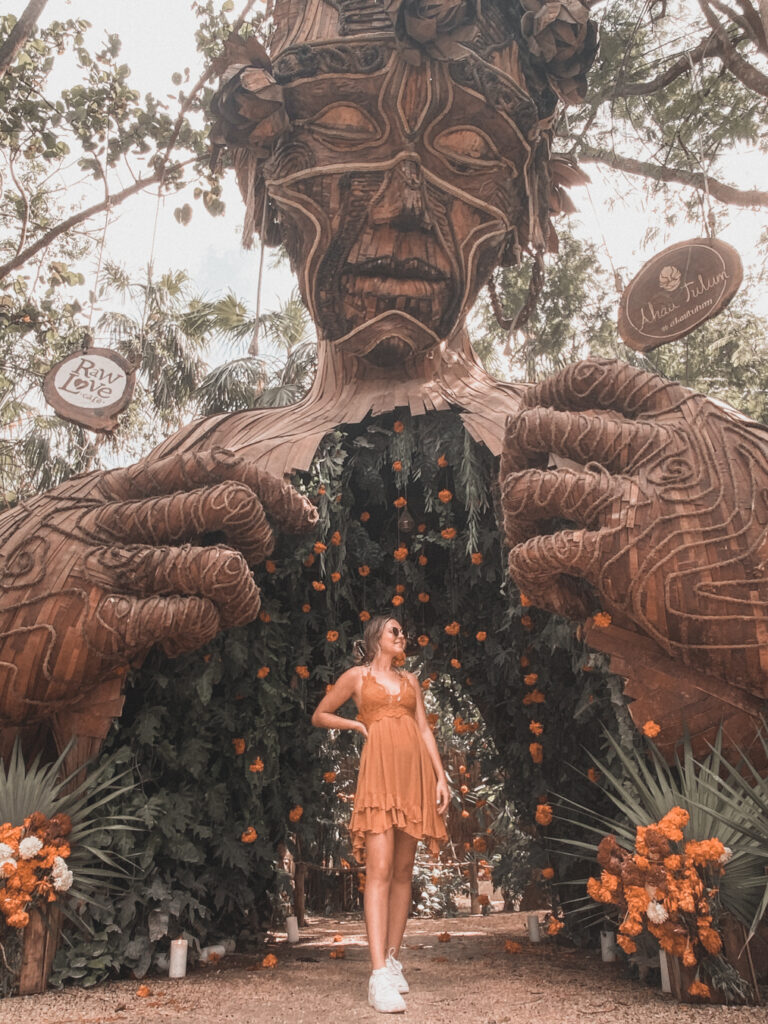 Final Thoughts On Tulum 
Tulum is one of my all-time favorite destinations and should be on everyone's bucket list! It's full of culture, incredible food, beautiful art, and an endless amount of things to do!
Although Tulum is considered one of the most expensive places to visit in Mexico, it is totally doable to travel Tulum on a budget when you are a broke college student like me. Lol! I hope this guide was a helpful resource for your next trip. Let me know if you have ever visited Tulum. 
xx Syd.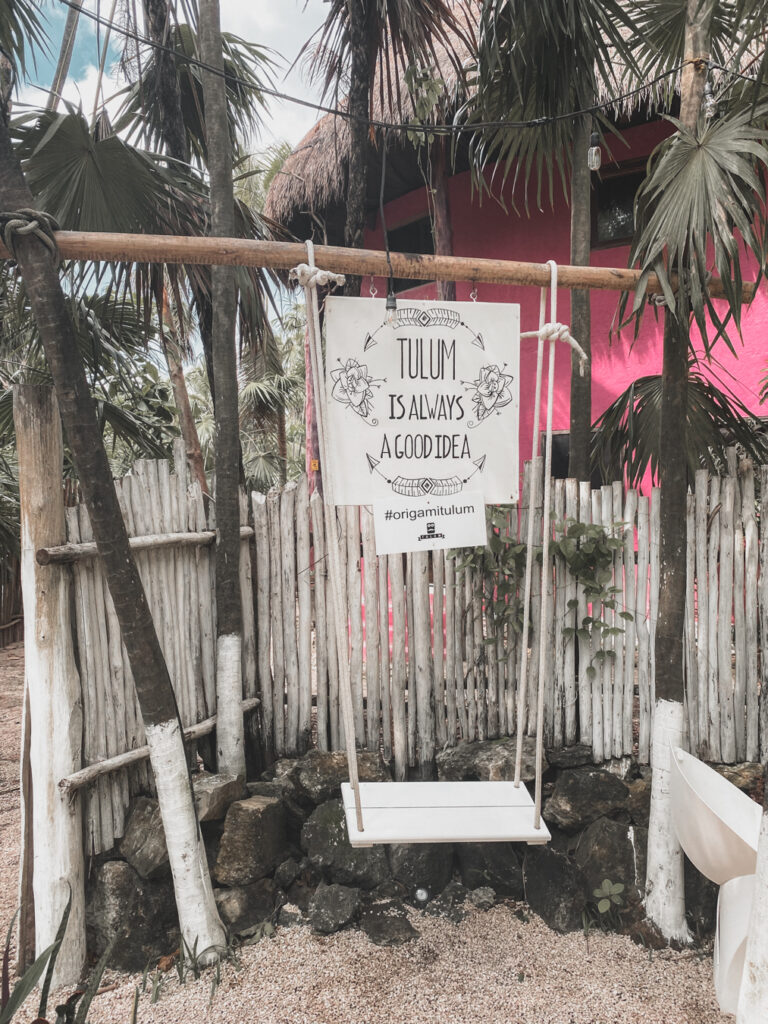 Shop My Travel Favorites!
PIN IT!