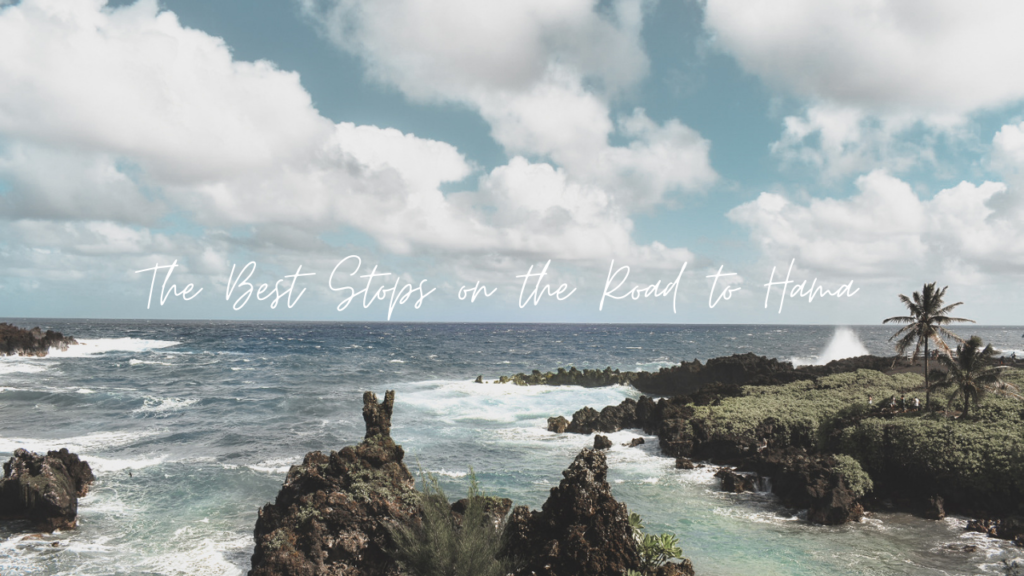 (Disclaimer: This post may contain affiliate links, which means we may receive a small commission at no extra cost to you.)
Maui's road trip to Hana might be one of the most popular things to do on the island but for a good reason. If you want to see black sand beaches, beautiful jungles, Maui's incredible coastline, and massive waterfalls, the road trip to Hana is a must.
I'm going to cover all you need to know to prepare, and all of the best stops on the road to Hana town. This is definitely an activity to add to your 2021 bucket list.
Disclaimer: This article contains affiliate links.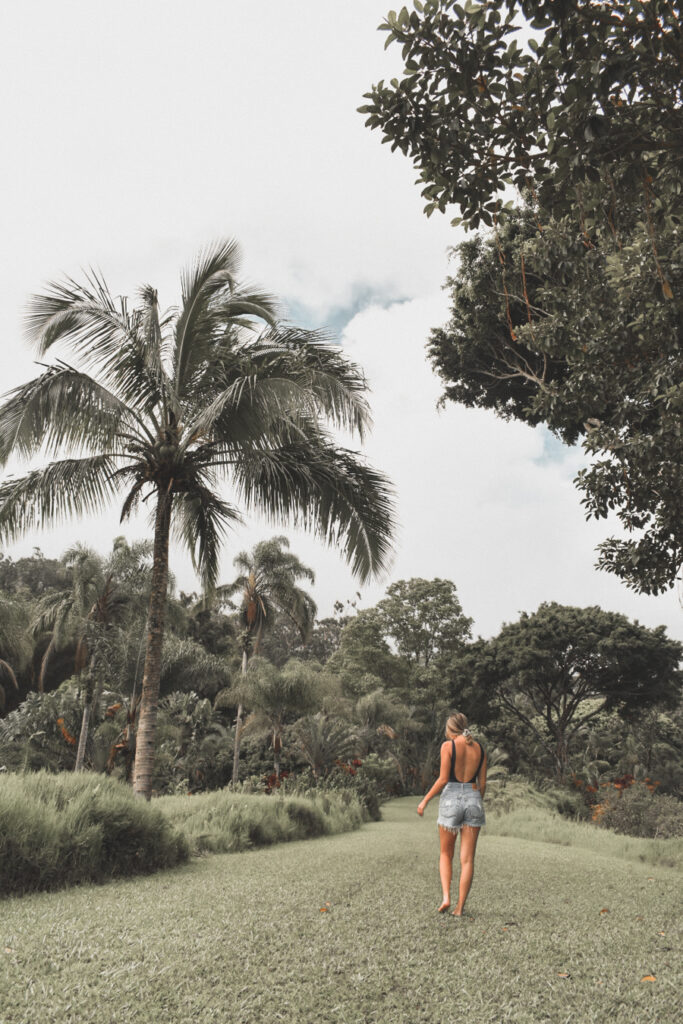 Although the road to Hana is only 52 miles from Kahului, it can take anywhere from 2 to 6 hours depending on traffic. The max speed limit is 25 miles per hour and the length of your trip will depend on how many stops you decide to take along the way.
Hana highway consists of 59 bridges and 620 tight curves so if you're up for an adventure, the road trip to Hana is definitely a fun one! Don't get too intimidated by this because the drive is definitely doable. And there are options if you don't feel comfortable driving yourself! I'll get more into this later. 
If you are exploring Maui or Oahu, check out my 7-day Hawaii itinerary here!
What To Know Before You Go
Before you go, fill up your tank in Paia town that morning. Or even the night before, because it will be an early wake-up call! Stop in Paia and grab snacks and coffee at a gas station or Mana foods if they are open. No better way to start your morning in Maui than with some yummy Kona coffee! 
What To Bring With You On The Road To Hana
since you will be exploring waterfalls in the jungle make sure to have some bug spray. I forgot this during my trip and it wasn't horrible, but I definitely wish I had brought some. 
Snacks
The road trip to Hana is an ALL day excursion, so bring snacks. There will also be some snack options along the way. Click here for my all-time favorite road trip snacks!
Water
Make sure you have a few water bottles, especially if you decided to go on a hike.
A Fully Charged Phone
Bring a fully charged phone (or have a portable charger with you in the car) with the stops and mile markers written in your notes or downloaded. There isn't the best service on Hana Highway. 
The Best Stops On The Road To Hana
Hookipa Beach Park
This is right at the start of Hana Highway before mile marker 2. There is a parking lot at the top, look for the sign. This was a beautiful lookout point and a great start on our road trip to Hana!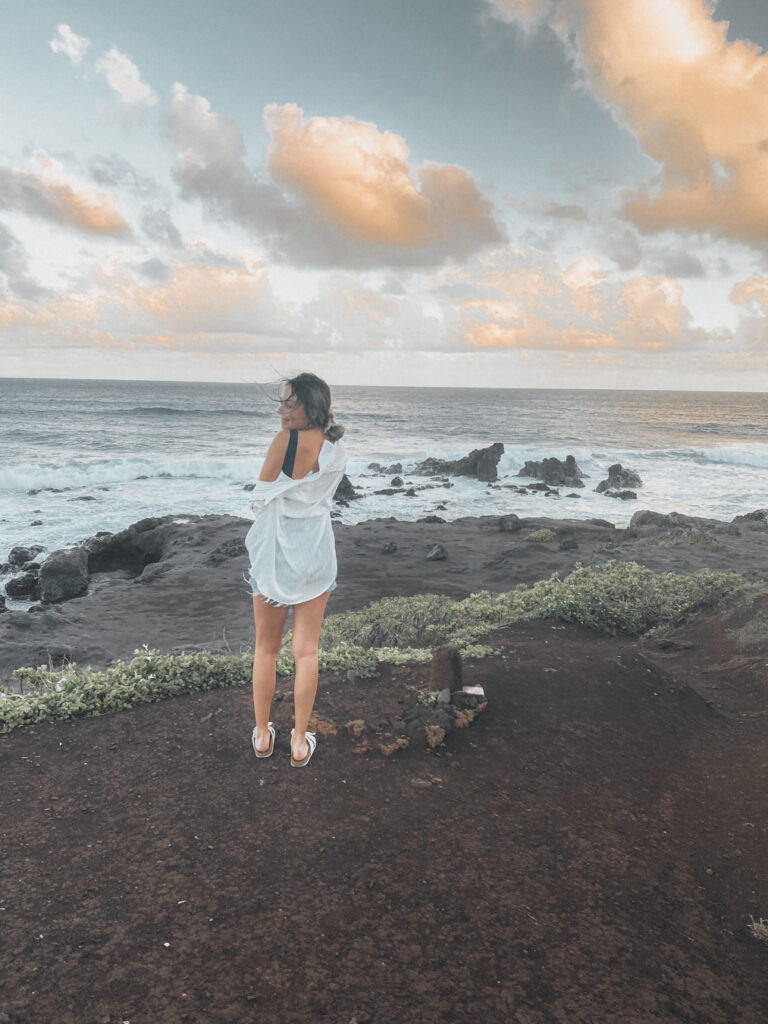 Twin Falls – Mile Marker 2
Twin Falls was a fun stop! There is a small food truck at the entrance to pick up something to eat if you want and it's a short walk to get to the falls. You can swim in the falls if you hike down to get in. Apparently, if you keep walking about 15 minutes past the first set of falls you will find more beautiful waterfalls, we didn't do this but maybe next time! 
Huelo Lookout – Mile Marker 4.5
Unfortunately, we couldn't find this stop during our trip but it seems like a great stop on the road to Hana! It's a lookout point and a fruit stand with crepes and smoothies. A great breakfast spot if you haven't eaten yet. It's on the left side of the road
Painted Forest – Mile Marker 7
The painted forest is just before mile marker 7. Sadly, I did not make it here but it seemed like a really cool place to stop. If your schedule allows, I would make a quick stop here.
Garden of Eden – Mile Marker 10
In my opinion, the Garden of Eden is one of the best stops on the road to Hana. These are beautiful botanical gardens set on 26 acres of land with lookout points, trails, waterfalls, and picnic spots! It is seriously stunning and the intro to Jurassic Park was filmed here! The entrance fee is a bit high at $15 per person but it's definitely worth it. 
Keanae Peninsula – Mile Marker 17
Keep an eye out for this stop. We wanted to visit but ended up missing it! This looks like such a cool place to see, a must on your list of stops on the road to Hana.
Halfway to Hana – Mile Marker 17
You HAVE to get the banana bread. This was the best banana bread I have ever had, and the perfect snack along the way. There is also a halfway to Hana sign that makes a great photo spot!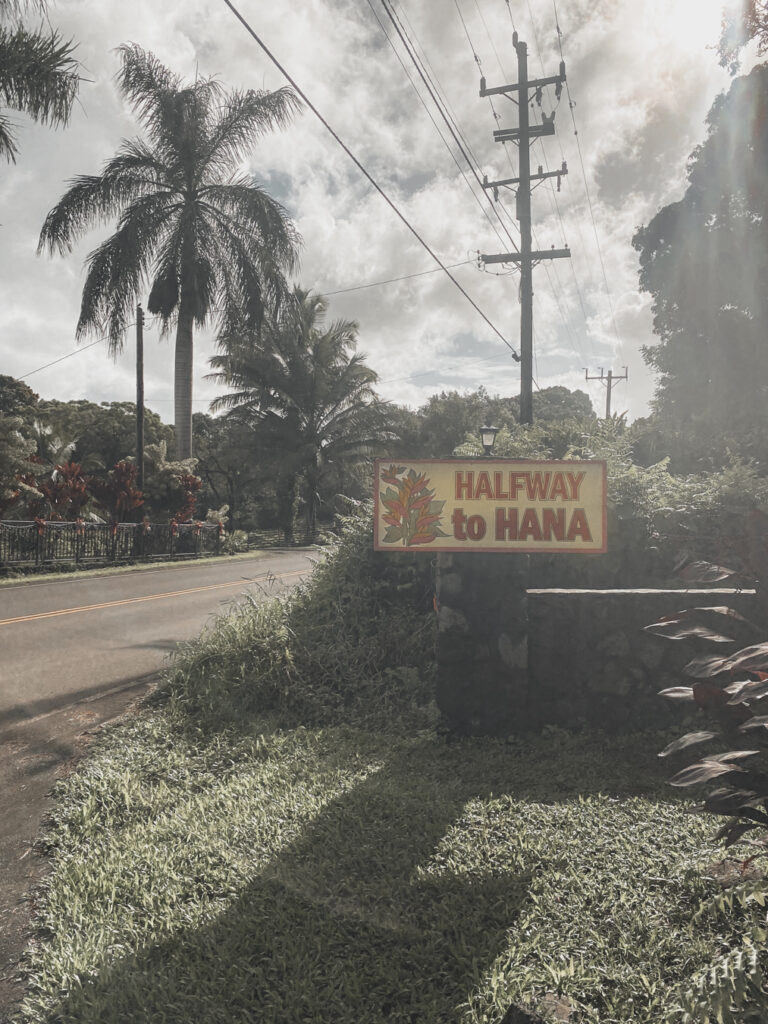 Wailua Valley State Wayside Park – Mile Marker 18
This was a quick stop along the road to Hana. If you want to take in a beautiful view, I'd say it's worth a stop. Other than that you can really only take photos here. There is a small area to park and then you climb a steep set of stairs to see the gorgeous view.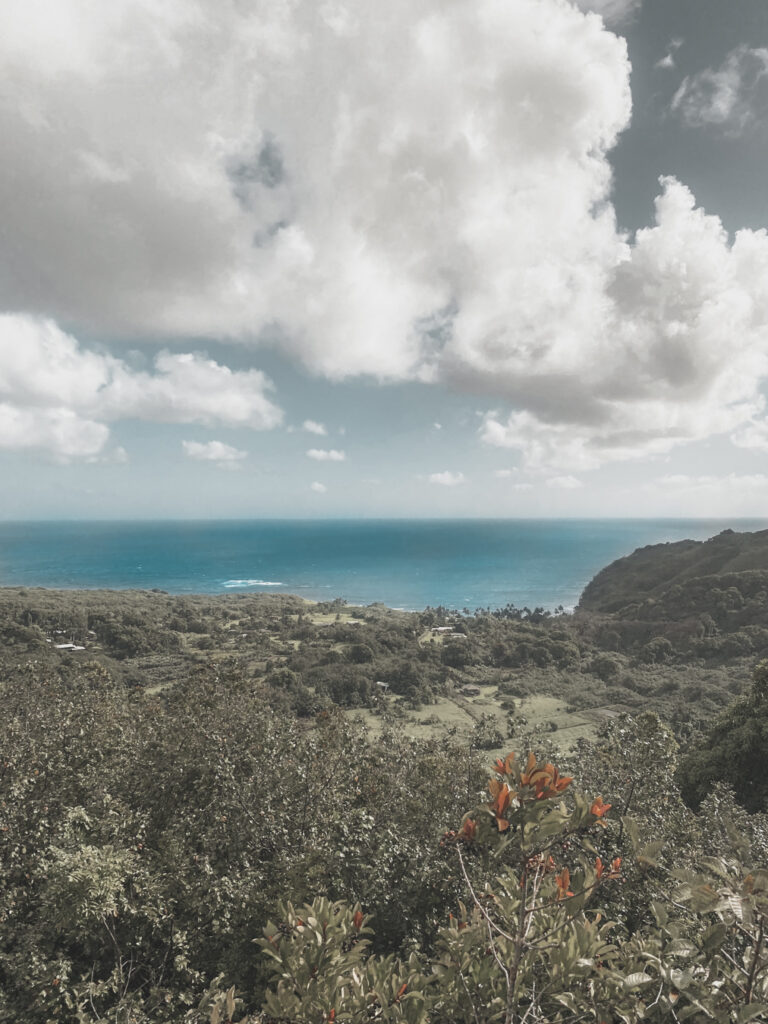 Upper Waikati Falls – Mile Marker 19 
This is a pretty cool waterfall to see! There were not people swimming in the falls when I visited but I think you are allowed to at times, depending on the weather. This is another pretty quick stop unless you decide to swim.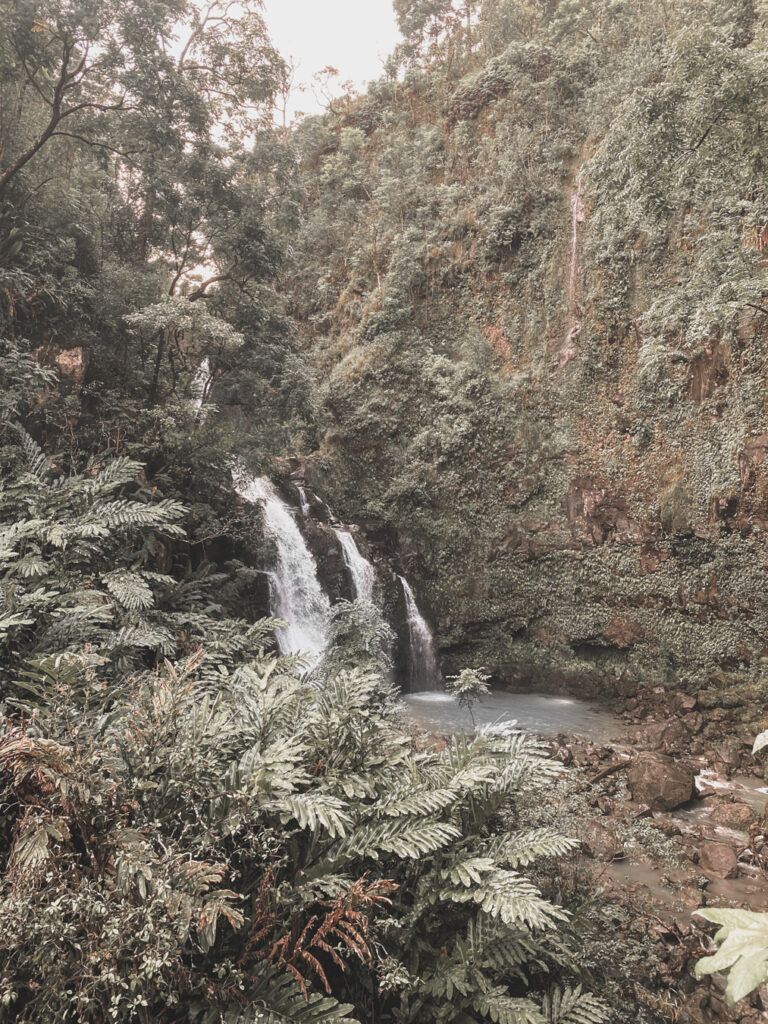 Puaa Kaa State Wayside Park – Mile Marker 22 
This stop is similar to the last. It's a quick stop to take in the view of some waterfalls and potentially go for a swim if you're feeling up for it. Again, check restrictions before you visit because I believe it changes whether or not you can swim here.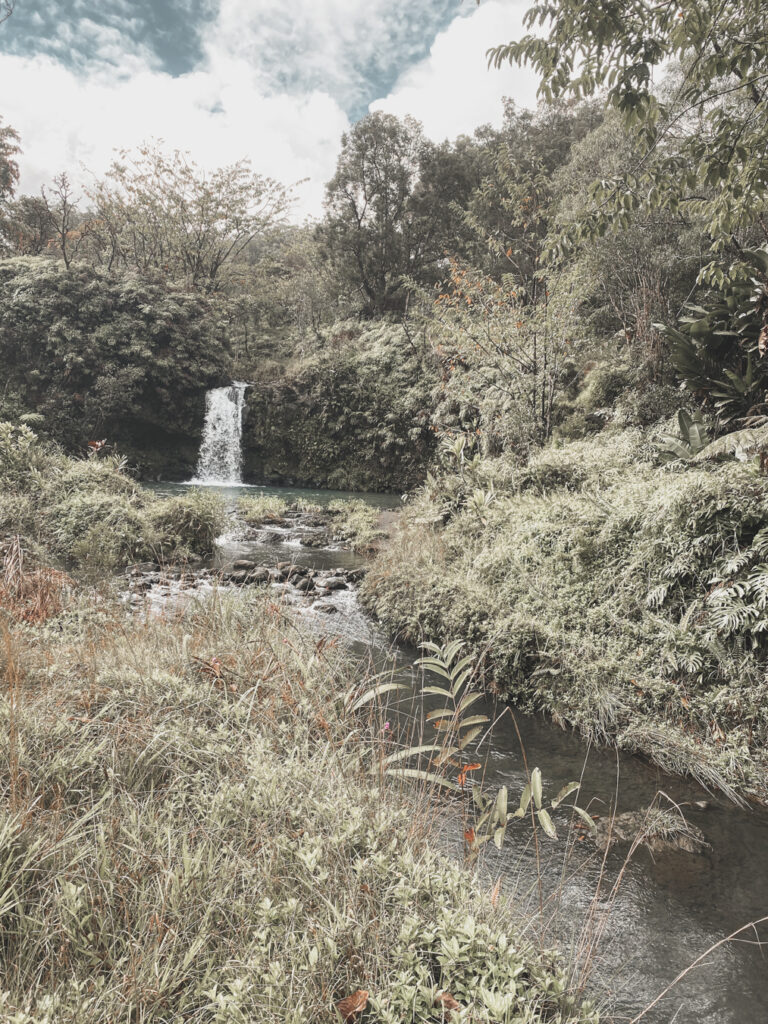 Coconut Glens – Mile Marker 27.5
Arguably one of the best stops on the road to Hana! Pick up some fresh coconut ice cream here. Trust me, you won't regret it.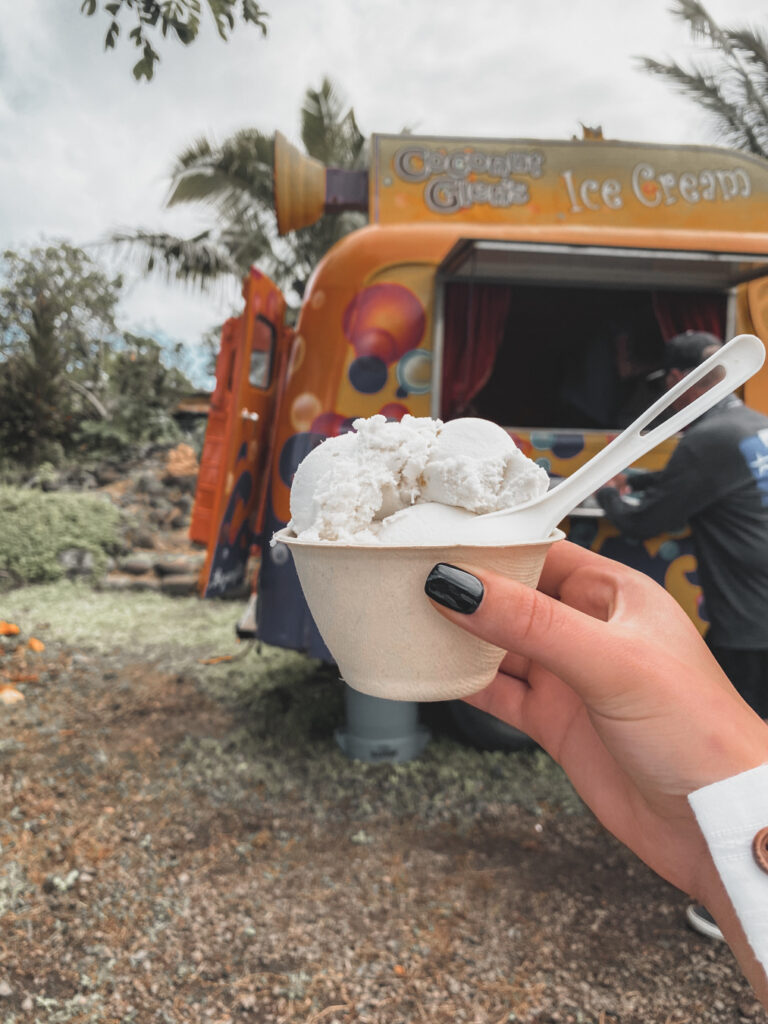 Waianapanapa State Park – Mile Marker 32
Get in your black sand beach fix here. This might have been my favorite stop along the road to Hana because I have always wanted to see a black sand beach in person. It's seriously stunning how the blue water is so vibrant against the black sand and rocks.
This is a popular stop so expect a good amount of people to be here. Also, the waves were insane when I was here so it wasn't the most relaxing place to swim. However, I believe at times the water is pretty calm and you might be able to spend some time relaxing here.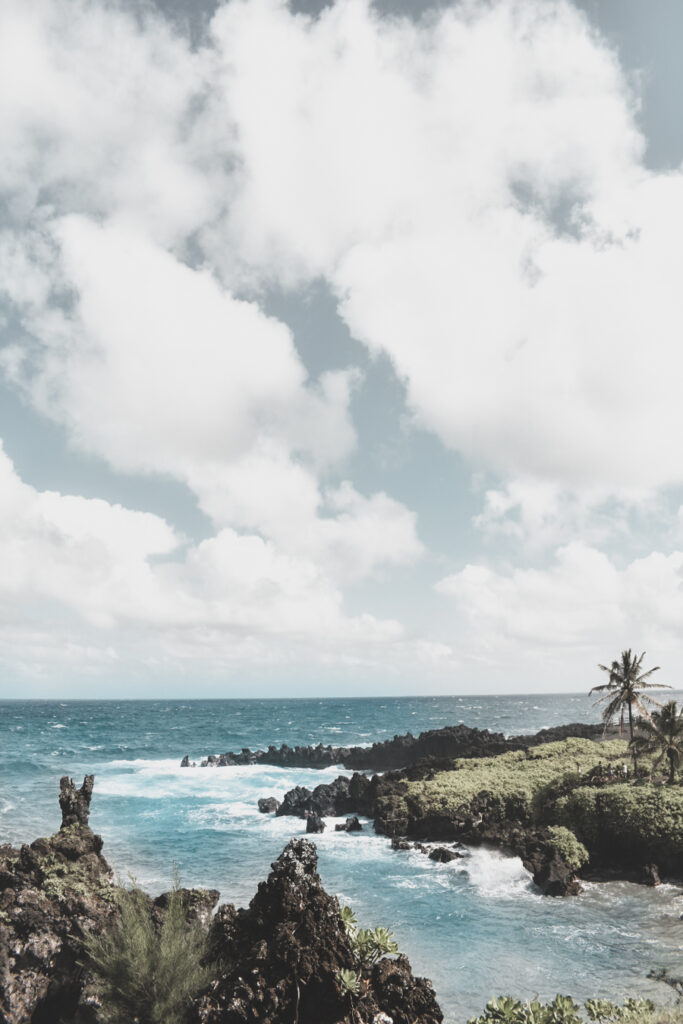 Hana Town – Mile Marker 34
And you've made it to Hana town! I do wish we spent some more time here because I've heard Hana town has so much to offer. If anything, definitely stop in Hana for lunch. If you like Thai food, stop at Thai food by Pranee. Seriously, this is some of the best authentic Thai food I have ever had and I lived in Thailand for three months. It's delicious.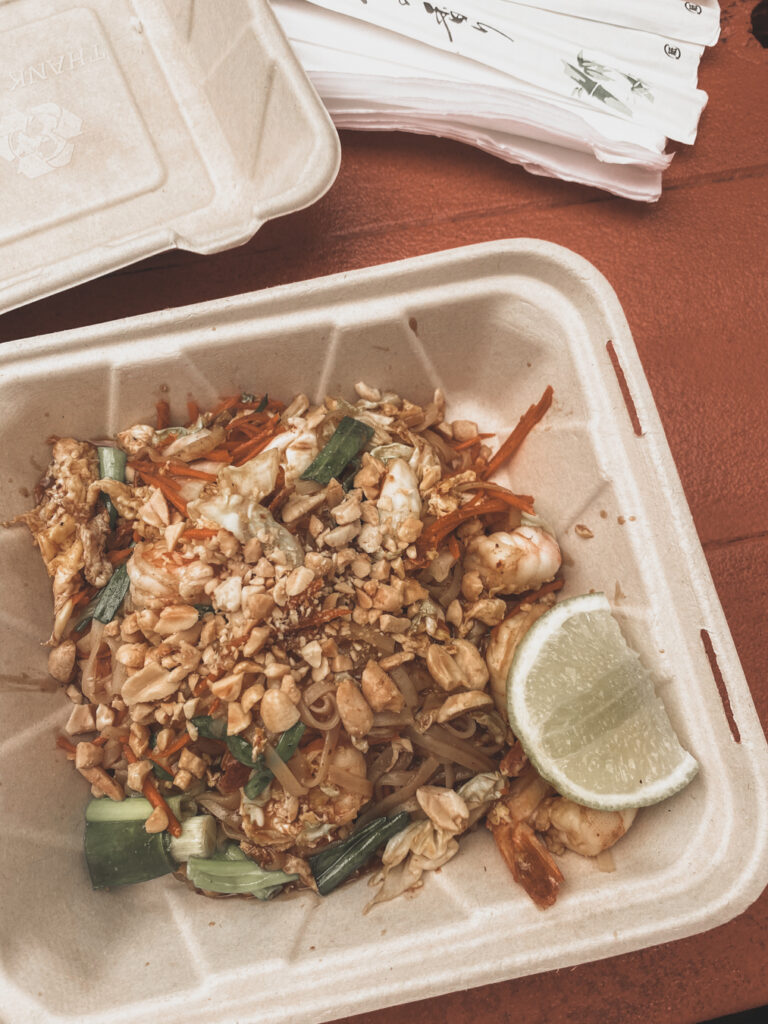 Seven Sacred Pools – Mile Marker 42
The seven sacred pools, also known as the pools of Ohe'o, are located inside Haleakala National Park. There is an entrance fee of $30 per vehicle, but you can explore more of the park later or even the next day with the park pass. Unfortunately, when I visited we were not allowed to swim in the pools because of the weather and water levels. However, most of the time, you can swim! So I definitely recommend checking this out if the weather is good. 
More Helpful Tips For The Road To Hana
Rent a JEEP!
Don't drive anything bigger because these tiny roads would make it extremely hard. Also, anything smaller than a Jeep just seemed like it would be a bit sketchy at points and you would have a better chance at getting car sick. In my opinion, a Jeep is a perfect vehicle for the road to Hana.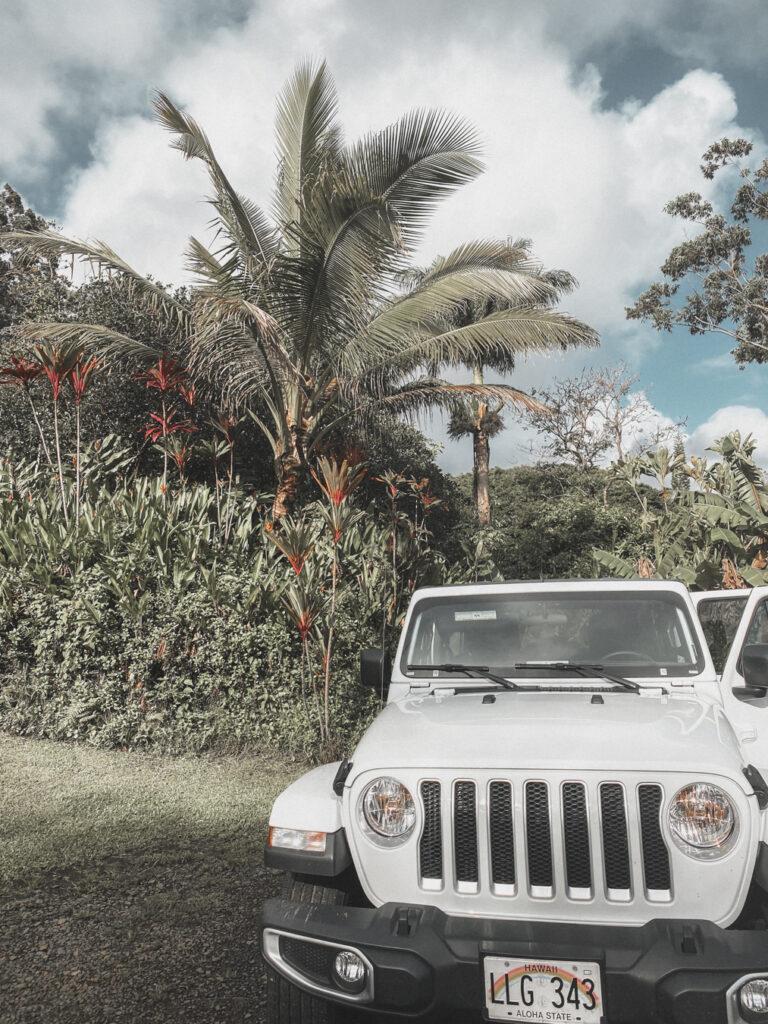 Prepare for Crazy Roads
The roads are insane, especially if you keep going all the way around the island. If you don't have a Jeep or are not confident in your driving skills, turn around after the seven sacred pools and go back the way you came. You will literally be driving on the edge of a cliff. I have to say it was such a cool experience though! If you are up for a serious adventure, keep driving around the island. 
Stop at Maui Wine
If you DO choose to keep going around the island, stop at Maui Wine for a little wine tasting. This was the perfect end to a crazy and fun adventure! Maui Wine is located at 14815 Hana Hwy, Kula, HI 96790.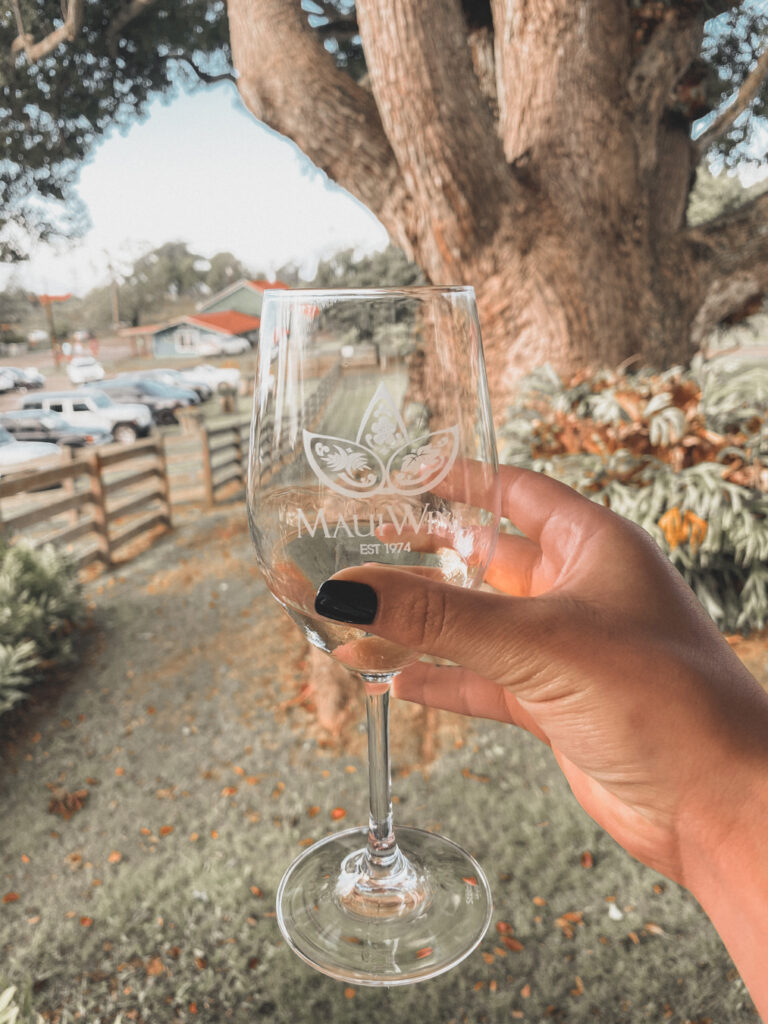 Road to Hana Tours
Book a tour if you don't want to drive because if you drive you will be focused on the road the whole time. Check out the Road to Hana Tours here to book!
Plan, plan, plan!
Plan your route in advance. The service is not great along the road to Hana and it's pretty hard to find spots to turn around. Click here to find my favorite trip planning resources.
Car sickness
If you're one to get car sick, TAKE MEDS! Seriously it's so easy to get car sick on this road and that would not be fun. Avoid spending too much time on your phone and DO NOT go out and drink a lot the night before. 
Leave EARLY
Leave early and plan a whole day here. We left our Airbnb at about 5:30 am and got back around 5:30 at night. This was a whole day excursion.
Click here for more travel resources.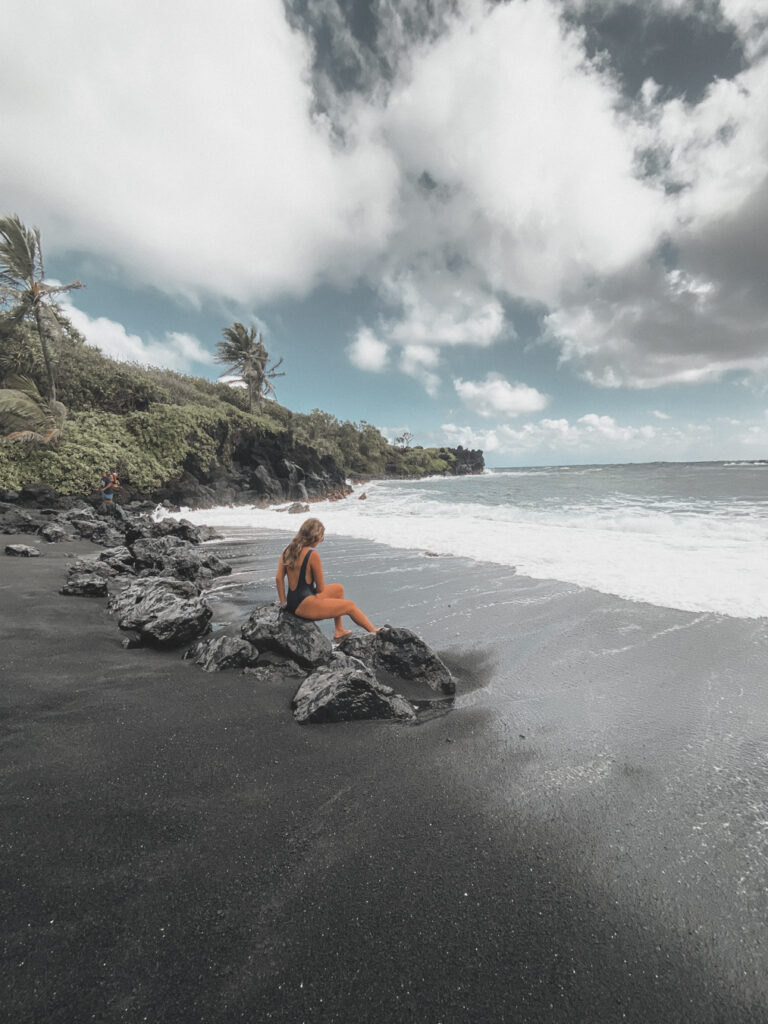 Final Thoughts On The Road To Hana
This is 100% a bucket list activity! Driving the road to Hana town was so much fun and we saw SO much during our road trip. I highly suggest driving the road to Hana, I promise you won't regret it! I hope this guide with the best stops on the road to Hana was helpful. Let me know if you have ever driven the road to Hana and if so, what your fave stops were?
xx Syd.
Shop My Travel Favorites!
PIN IT!