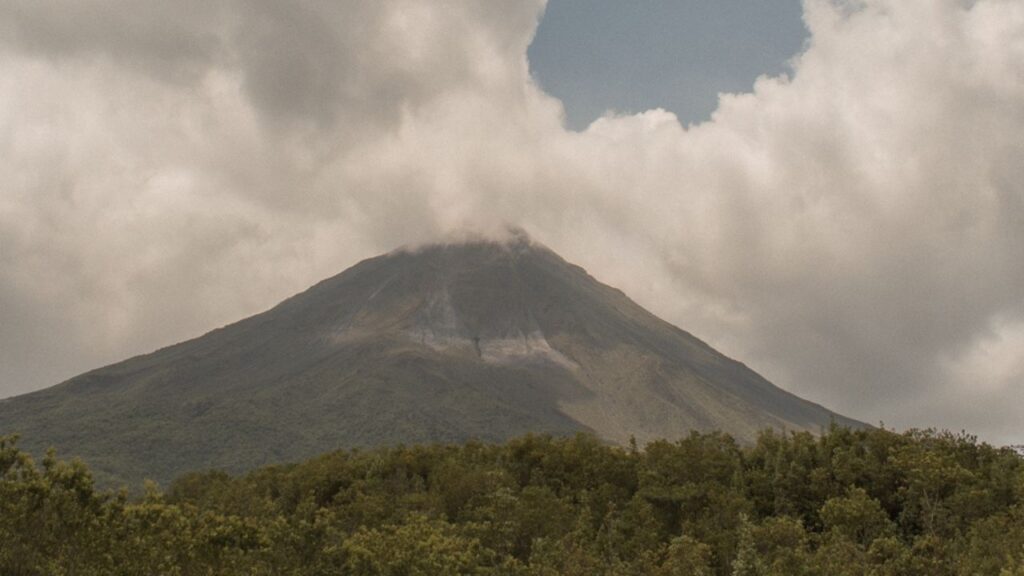 (Disclaimer: This post may contain affiliate links, which means we may receive a small commission at no extra cost to you.)

If you are looking for a warm getaway this winter, this is the article for you! I don't know about you but when the weather starts dropping I always love going somewhere warm. Here are 15 incredible warm winter destinations to add to your bucket list. 
Disclosure: This article contains affiliate links.
THE BEST WARM WINTER DESTINATIONS
1. MAUI, HAWAII
Where do I even begin, Maui is known for its beautiful beaches, sunsets, snorkeling, parks, the famous Road to Hana, and so much more. Because of where Hawaii is located, it's pretty much warm all year round, Making it the perfect warm winter destination. 
My family and I visited Maui and Oahu in December of 2020 and it was incredible. Read more about my time in Hawaii here.
Average winter temp: 56-75 F | 13-24 C
Find a place to stay: Hotels in Maui
2. TULUM, MEXICO 
Mexico is always a good idea, right? I would definitely say so! Tulum is a popular place to visit and for a great reason. The cenotes, art, culture, food, beaches, and architecture make Tulum the perfect vacation destination. It's also very easy to get to if you are traveling from the United States. 
To get to Tulum, you will fly into Cancun International Airport and then the drive to Tulum will take you about an hour and a half. I suggest checking if your accommodation offers airport transportation, our Airbnb did and it was very helpful. If not you can book various transportation options or take an ADO bus for a very affordable price.
Tulum is SO much fun! It's also a photographer's dream, if you are into aesthetic destinations, Tulum should be high on your list! 
Read my budget guide to Tulum here.
Average winter temp: 65-84 F | 18-29 C
Find a place to stay: Hotels in Tulum | Hostels in Tulum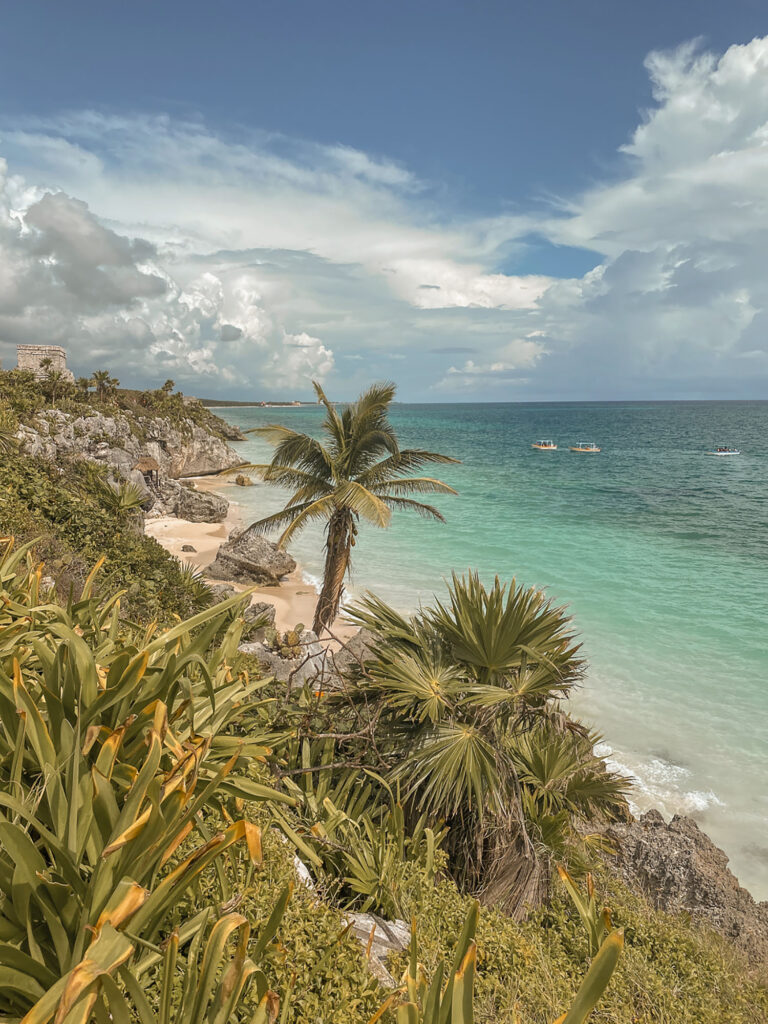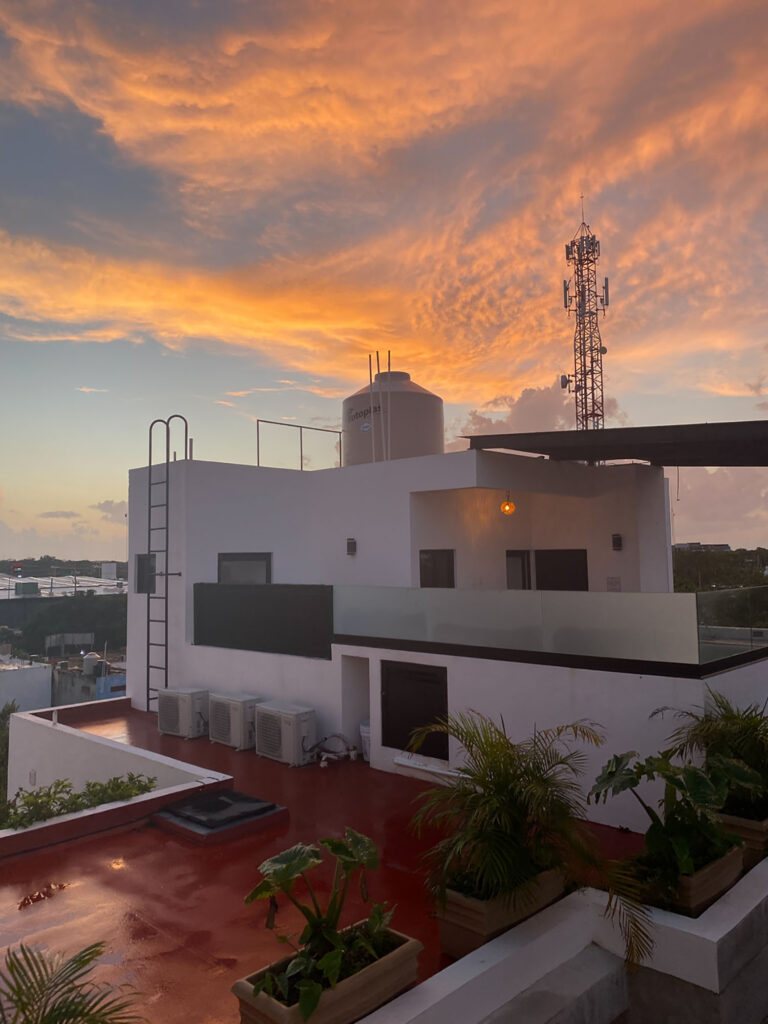 3. MEDELLIN, COLOMBIA
This is a city that surprised me in the best way possible. I had no expectations when traveling to Medellin. I had heard good things about the city but I truly loved it once I got here!
If you prefer mountains to beaches and want the perfect warm weather during the day and cool weather at night, this is the place to be. Not the mention the incredible history and culture Medellin has to offer, I learned so much about this city! 
Medellin is also a city for art lovers, this is such a vibrant city with wall murals and street art on every corner. When you visit, make sure to take a walking tour of the city, visit Comuna 13, and ride the cable cars up the mountains for some amazing views. Oh, this is also an insanely affordable destination to visit. So if you are on a budget, Medellin is the perfect place to travel.
Average winter temp: 65-82 F | 18-27 C
Find a place to stay: Hotels in Medellin | Masaya Hostel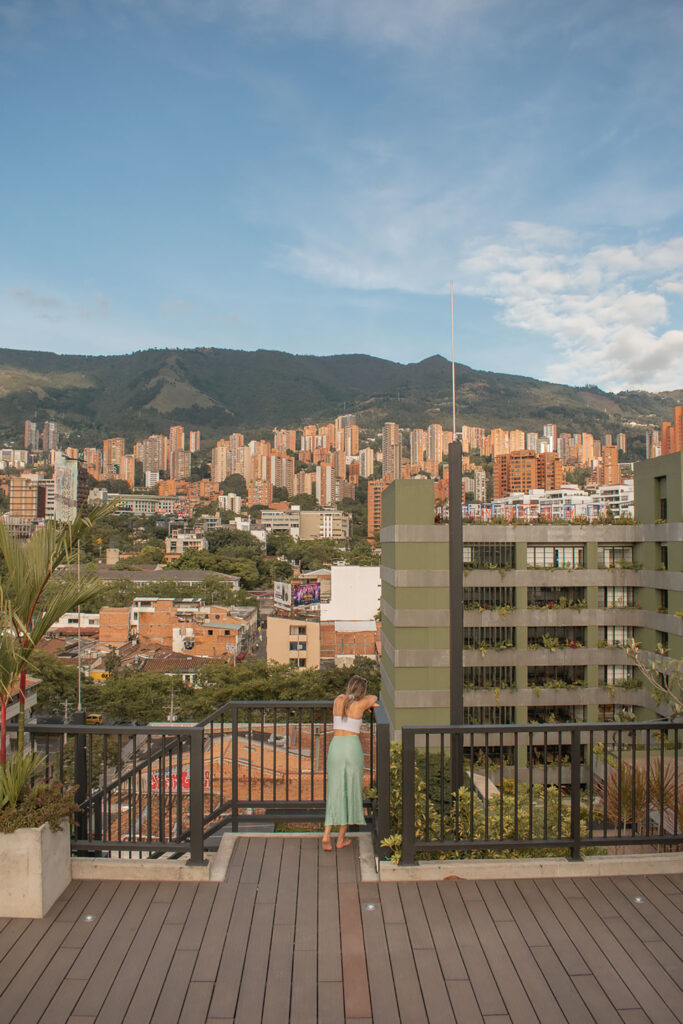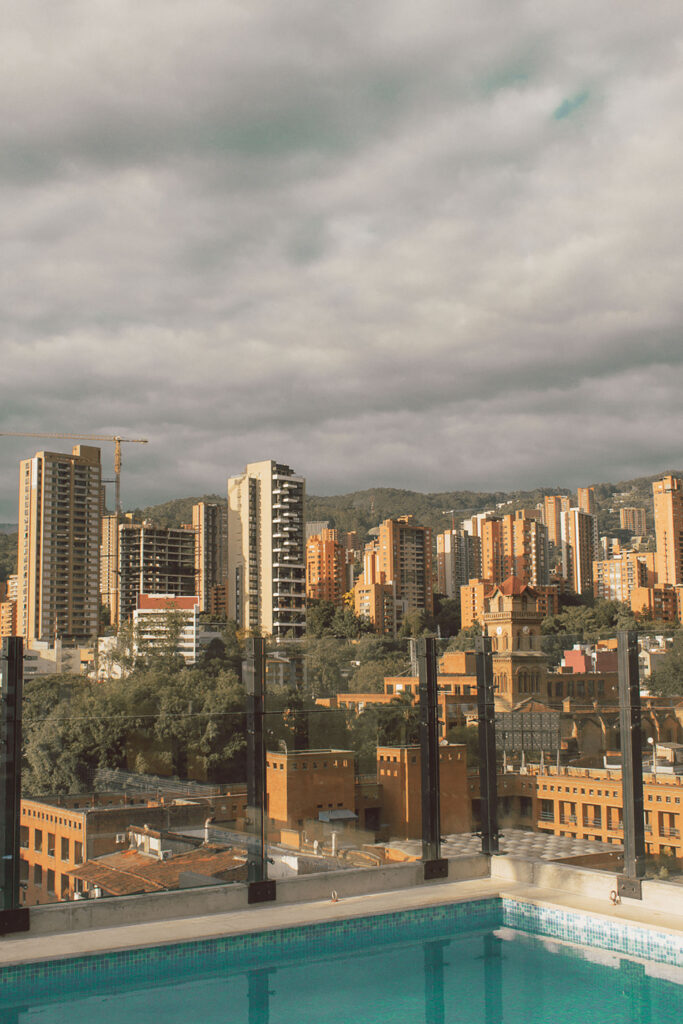 4. SEDONA, ARIZONA
Sedona is another one of the best warm winter destinations if you are looking to visit someplace other than a beach. The weather will be a great 50 to 60 degrees, perfect for hiking. 
If you visit Sedona, definitely do the Devils Bridge hike, explore the cute town center, do a pink jeep tour, and hike to Cathedral rock. There's really an endless amount of things to do in this beautiful city. 
Average winter temp: 35-65 F | 2-18 C
Find a place to stay: Hotels in Sedona
5. CAYMAN ISLANDS
Here's another great tropical getaway. The Cayman Islands are known for their vibrant snorkeling and great diving. A few things you can't miss include the famous Stingray City, Seven Mile beach, sipping on some delicious rum punch, and snorkeling at Rum Point. 
Average winter temp: 73-85 F | 22-29 C
Find a place to stay: Hotels in Grand Cayman
6. PUERTO RICO 
A quick 2-hour flight from Florida and you've arrived in Puerto Rico! Another easy destination if you are traveling from the southern part of the United States. Some of the best places to visit in Puerto Rico include San Juan, Mosquito Bay, Ponce, Rincon, and El Yunque National Park. 
Puerto Rico is a tropical paradise with beautiful beaches, rainforests, and Spanish Caribbean culture. Seriously one of the greatest warm winter destinations. 
Average winter temp: 70-83 F | 21-28 C
Find a place to stay: Hotels in Puerto Rico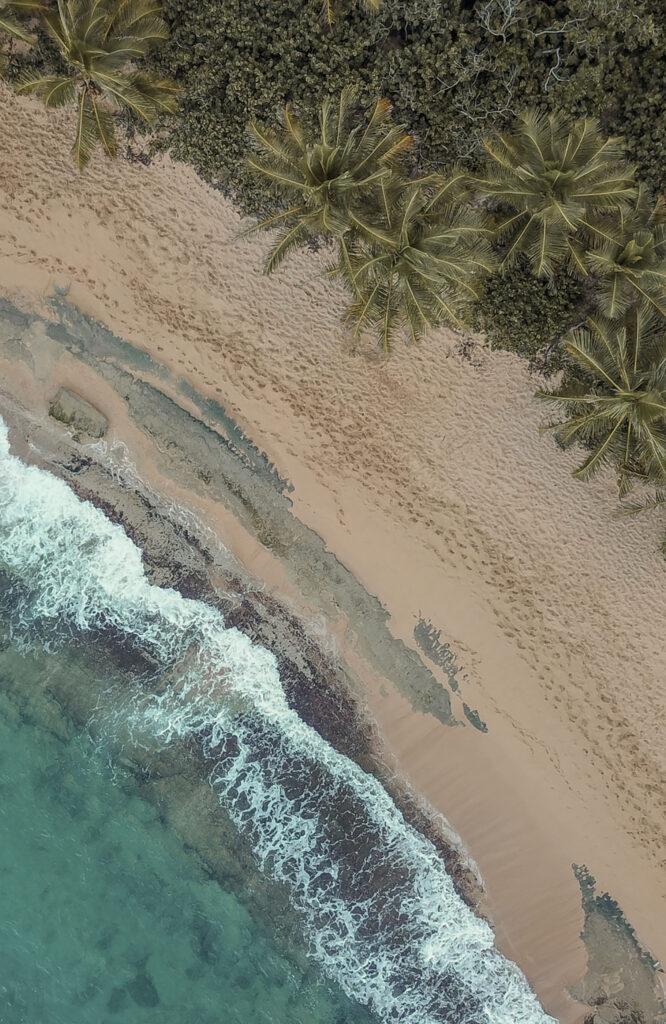 7. BALI, INDONESIA
Let's hop on over to Southeast Asia. Bali, Indonesia is an ideal winter getaway. The weather is nice and warm year-round, perfect for spending time at the beach! Bali is another perfect tropical paradise. 
Bali is a creator's dream, full of some of the most photogenic landscapes you will find. You can explore some of the most beautiful waterfalls in the world, take part in some amazing island hopping, and visit the monkey forest. Oh, and the best part is that Bali is affordable!
You can get a nice villa for a very reasonable price! For $65 dollars a day, you can live quite nice during your time in Bali. And if you really want to splurge, there are some insane vacation rentals to rent here that would cost you an arm and a leg somewhere else.
Average winter temp: 75-85 F | 24-29 C
Find a place to stay: Hotels in Bali | Hostels in Bali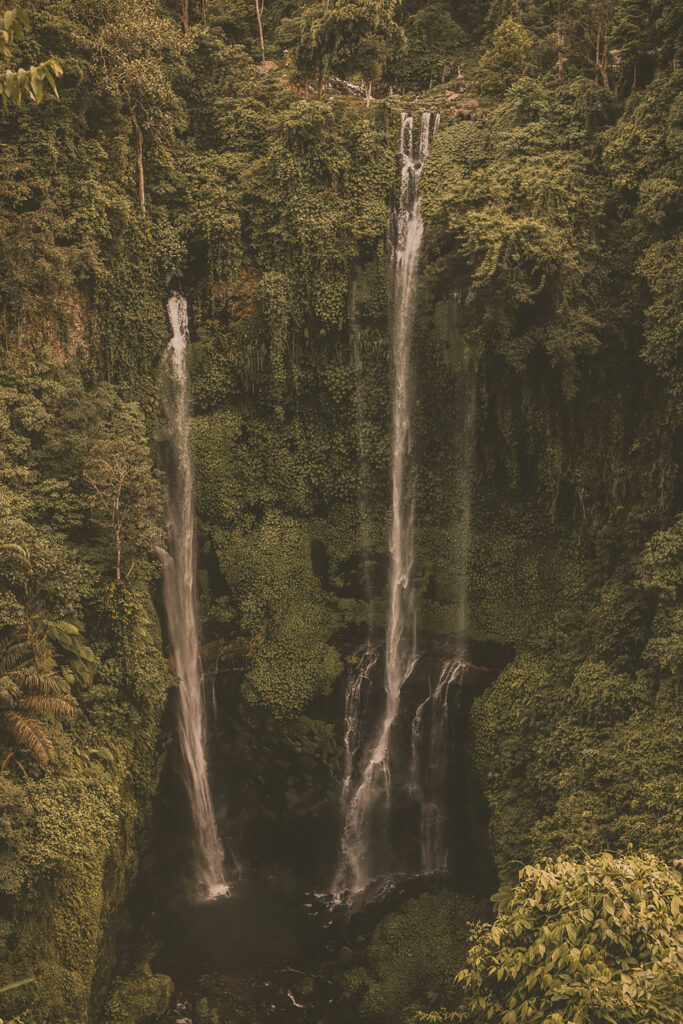 8. MIAMI, FLORIDA
We're headed back to the states to Miami, Florida. Miami is known for its wild nightlife, white sand beaches, and warm weather pretty much year-round. If you are looking for an exciting warm winter destination, this is it. 
Spend some time at the famous Miami Beach and South Beach. You can even adventure through the Everglades, rent a yacht for the day, and do a food and drink tour in Little Havana! Let's just say you won't get bored in Miami! 
Average winter temp: 65-76 F | 18-24 C
Find a place to stay: Hotels in Miami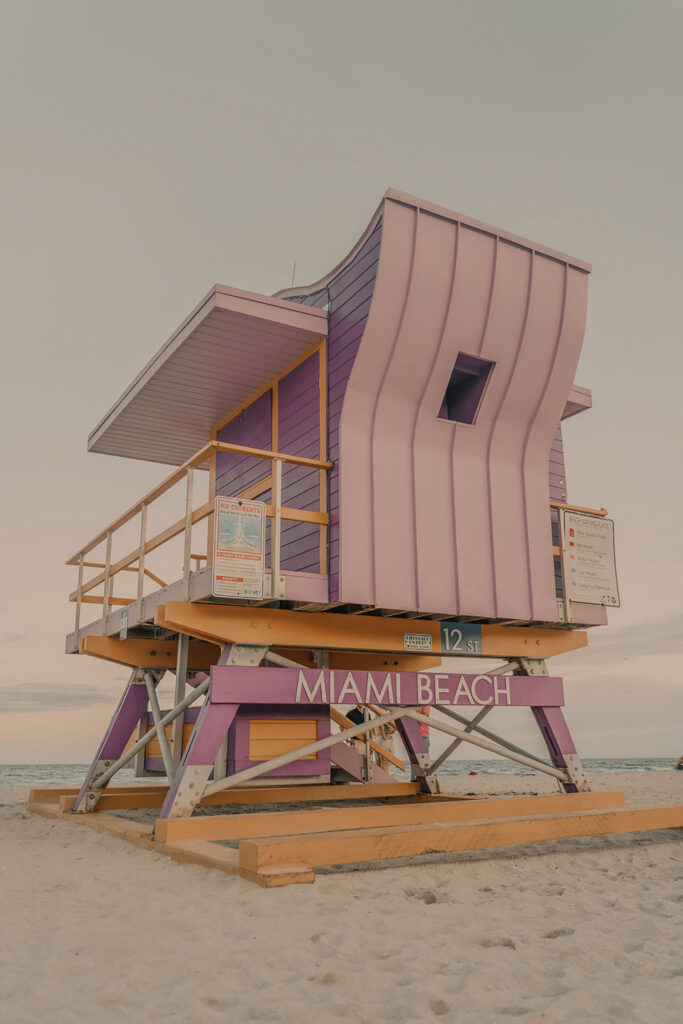 9. PALM SPRINGS, CALIFORNIA
A west coast gem. Palm Springs is a great place to visit if you want more of a fun, laid-back vibe. Here, you will find some unique hotels and homes with the sleek mid-century modern style, some of the best golfing in the states, amazing resorts and spas, art museums, and more! 
Average winter temp: 45-75 F | 7-24 C
Find a place to stay: Hotels in Palm Springs
10. KOH PHANGAN, THAILAND 
And back over to Southeast Asia, we go, to a little island called Koh Phangan. This island is located in Thailand and is one of my favorite places I have ever visited. 
First off, it's absolutely gorgeous, if you are a beach person Koh Phangan needs to be on your bucket list! Second, it's one of the top party islands in the world. Yes, the world. 
Thailand's famous Full Moon parties take place on this island so if you are into the party scene you need to check it out! But don't worry if you're not, there are plenty of places to relax on the island and sip a margarita on a day bed at the beach. If you visit, be sure to spend some time at Leela Beach. It is gorgeous, to say the least! 
Average winter temp: 77-87 F | 25-30 C
Find a place to stay: Hotels in Koh Phangan | Echo Beach Hostel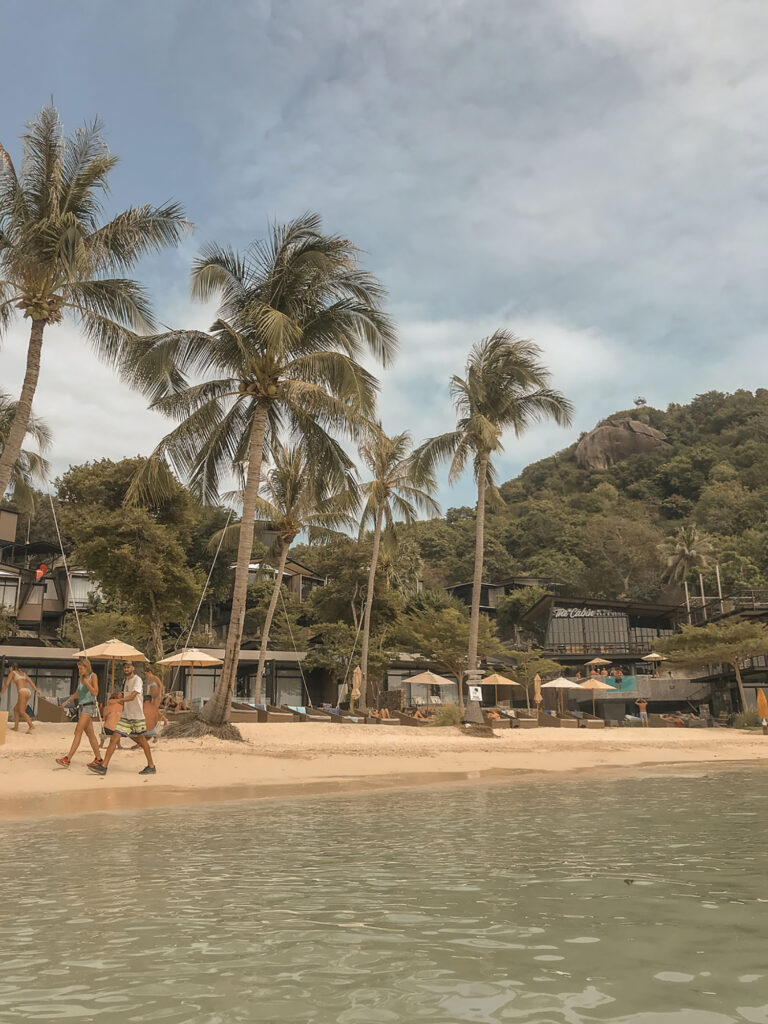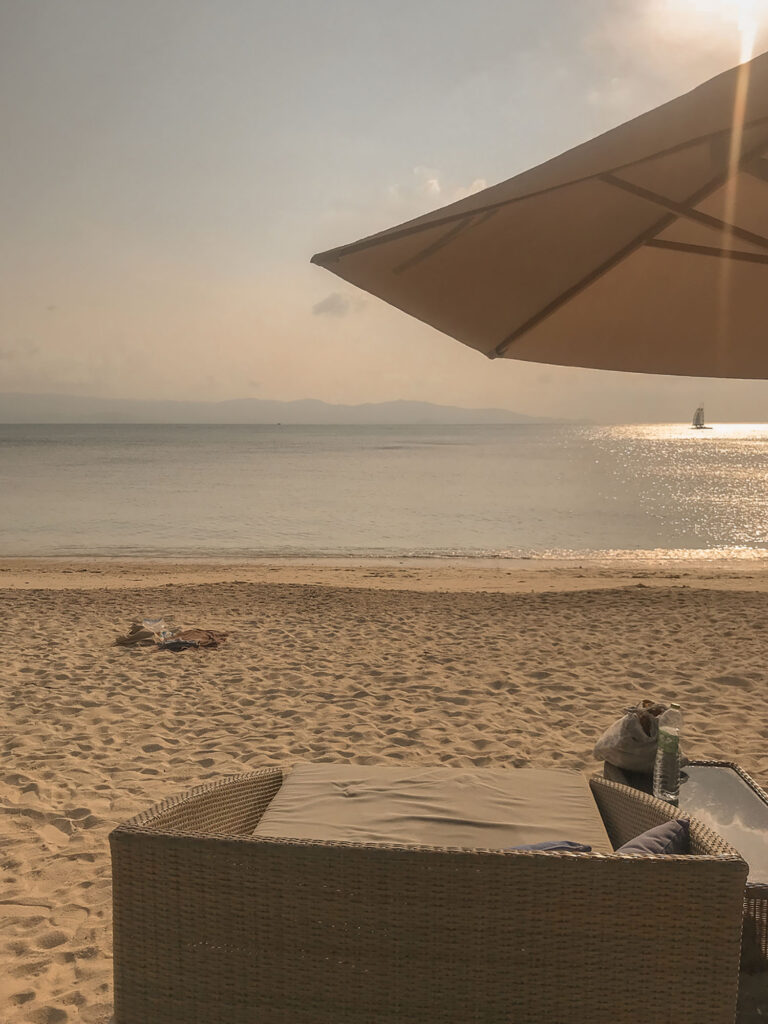 11. JAMAICA 
Jamaica is another quick 2-hour plane ride from Florida so it's pretty easy to get to if you are coming from the United States! You've got to visit Jamaica for the reggae, rum, beautiful beaches, and delicious food! I seriously think Jamaica has some of my favorite foods.  
It's basically always summertime here and has some unbelievable resorts so it really is the perfect warm winter destination. If you decide on Jamaica, a few great destinations to visit are Montego Bay, Kingston, or Negril.
Jamaica is also the perfect place for nature lovers. Some bucket list things to do in Jamaica include climbing Dunn's River Falls, hiking the Blue Mountains, snorkeling at Rockhouse Beach, rafting the Martha Brae River, and visiting Seven Mile Beach. 
Average winter temp: 70-86 F | 21-30 C
Find a place to stay: Hotels in Jamaica

12. COSTA RICA
Costa Rica is known for its amazing jungles, interesting wildlife, volcanos, and beaches. It's really a country that has it all. If you are an animal lover, there is some incredible wildlife to see here. 
If you are looking for an adventure you can zipline, ride ATVs through the jungle, hike, and much more. For you beach people (like me) you can relax at Jaco beach or the white sand beach located in Manuel Antonio National Park. Also, Costa Rica is very affordable, making it the perfect warm winter destination! 
For more of a laid-back trip, spend your time in La Fortuna relaxing in the natural hot springs at the astonishing resorts! Click here for a full guide on traveling to Costa Rica. 
Average winter temp: 65-76 F | 18-24 C
Find a place to stay: Arenal Springs Hotel & Spa | Hostels in Costa Rica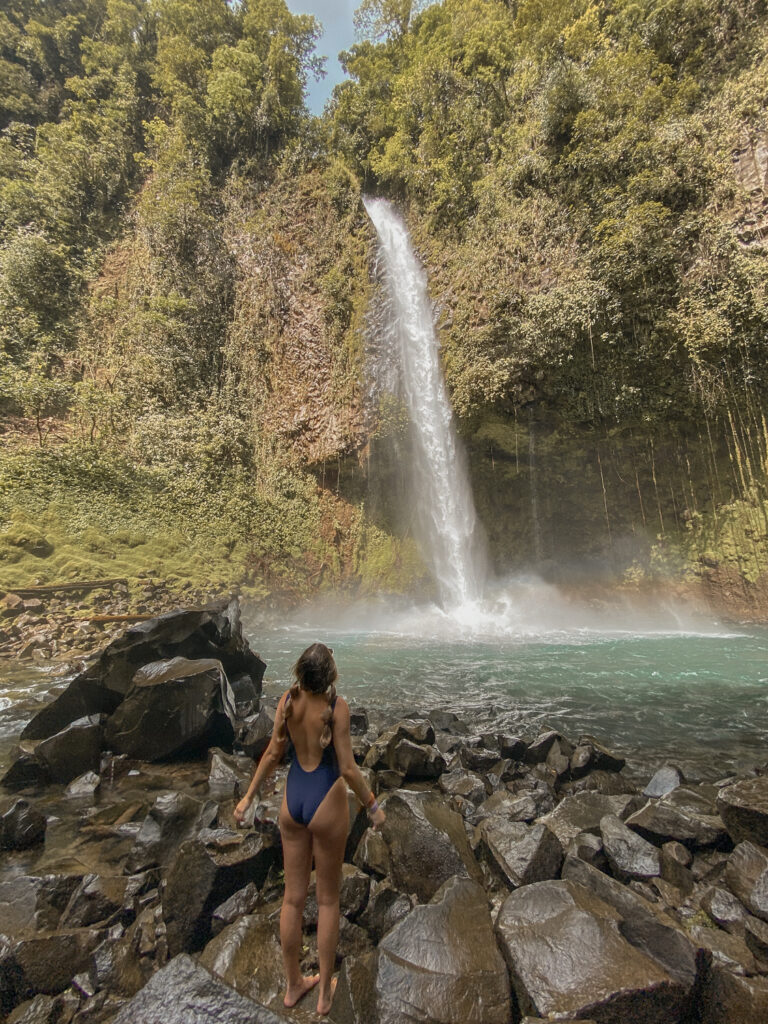 13. HARBOR ISLAND, BAHAMAS 
This island might just have the prettiest beaches I have ever seen in the world. If not, second to the beaches in Thailand. Harbour Island is nothing short of a paradise.
It's a little island located off the northeast coast of Eleuthera. It is quite a struggle to get to. First, you will most likely fly to Nassau, then take a small plane to Eleuthera, and finally a speed boat to Harbor island. Once you are on the island, you won't see very many cars because everyone drives golf carts! 
Harbour island is not for the traveler on a budget, it is quite an expensive destination. Meals will probably take up a lot of your budget so if you are trying to save some money I suggest buying groceries. 
Some highlights you can't miss in Harbour island are the famous Pink Sands Beach, exploring Dunmore Town, fishing, and snorkeling.  
Average winter temp: 67-78 F | 19-25 C
Find a place to stay: Hotels on Harbor Island
14. BARCELONA SPAIN
Let's head to Barcelona, Spain! One of my favorite cities! If you are looking for culture, art, amazing cuisine, beaches, and nightlife, Barcelona is your place. 
I think Barcelona is the perfect mix of city and beach life. You can spend the morning exploring all that the city has to offer and then spend the afternoons relaxing on the beach! 
A few must-do's in Barcelona include, see all of Gaudi's famous work, Park Guell, the unfinished Sagrada Familia, Casa Vicens, and Casa Calvet. You also have to explore Las Ramblas, party at Opium, eat and drink all of the tapas, paella, and sangria, and visit the museums. 
Average winter temp: 48-62 F | 9-16 C
Find a place to stay: Hotels in Barcelona | Hostels in Barcelona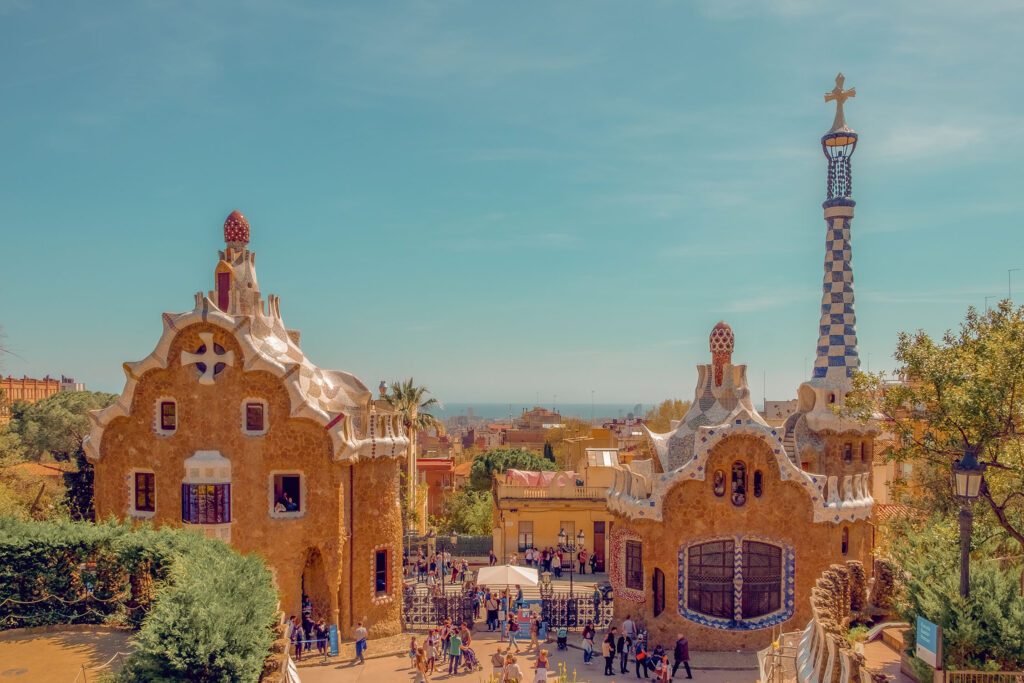 15. OAHU, HAWAII
We are wrapping up the 15th warm winter destination back in Hawaii! I mean Hawaii is really the perfect place to visit so I just had to include another island. Oahu has the big city of Honolulu, making it the most visited island but I suggest spending as little time in the city as you can. You're on the island for a reason! Check out the North Shore, Pearl Harbor, Byodo-in Temple, and the Makapu'u tidepools.  
A few of my favorite things to do here include visiting Ho'omaluhia Botanical Gardens, Waikiki Beach, eating the best seafood ever at Paia Fish Market, and visiting Halona blowhole. Check out my full Oahu travel guide here! 
Average winter temp: 64-79 F | 17-26 C
Find a place to stay: Hotels in Oahu | Hostels in Oahu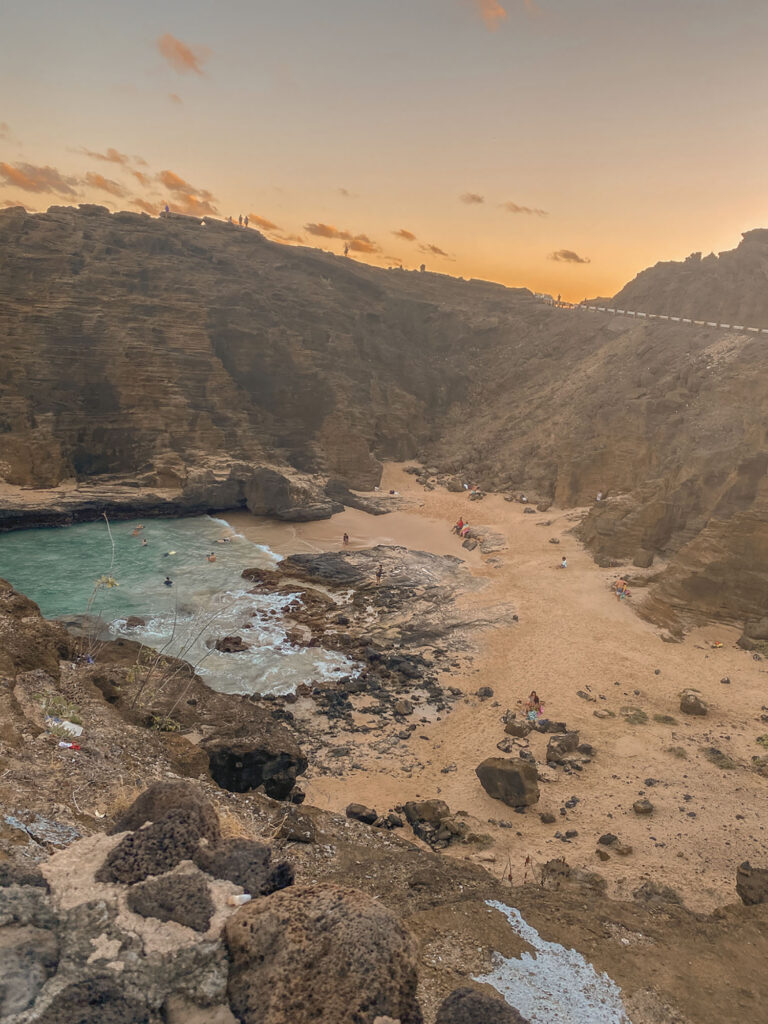 And that wraps up my top 15 warm winter destinations for your next vacation! I really don't think you can go wrong with any of these destinations. Let me know where you are going this winter and if you have any questions about these cities feel free to reach out! Comment below, DM me on Instagram or send me an email at sydabroad@gmail.com. 
Xx Syd.