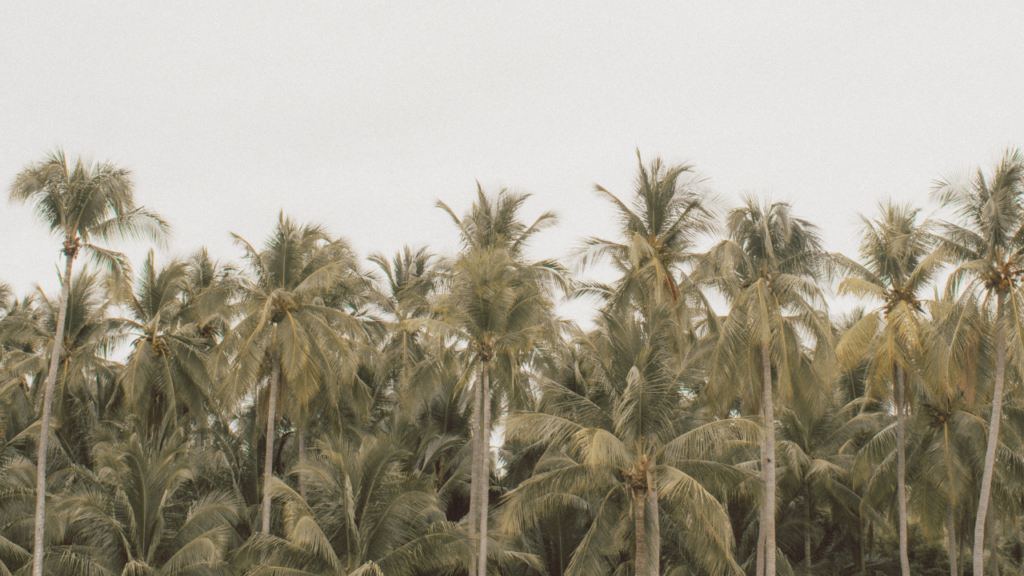 (Disclaimer: This post may contain affiliate links, which means we may receive a small commission at no extra cost to you.)
I recently visited Costa Rica with my friends and family and I'm going to be sharing all the things you need to know in this Costa Rica travel guide before visiting the country. I spent my time in Jaco, La Fortuna, and San Jose. This guide will be focused on these three cities, but I will touch on additional bucket list experiences that I missed and would love to experience next time I visit. 
Costa Rica is definitely a hot spot right now because of the country's relaxed covid restrictions. I'm also going to explain the Costa Rica travel restrictions and the process you need to go through before stepping foot into the country.
Alright, let's get into this detailed Costa Rica travel guide! 
Disclosure: This article is sponsored by CaliCase, a company that has created the most useful waterproof phone pouches. CaliCase was kind enough to let me try their product and let me tell you, this is definitely a travel essential. 
The CaliCase is not only completely waterproof, but it floats as well. Making it perfect for the beach, pool, kayaking, boat trips, unexpected weather, snorkeling, and more. My CaliCase was with me absolutely everywhere while in Costa Rica! Read more about the CaliCase here. 
Shop CaliCase here, and get 20% off with my code, "sydabroad."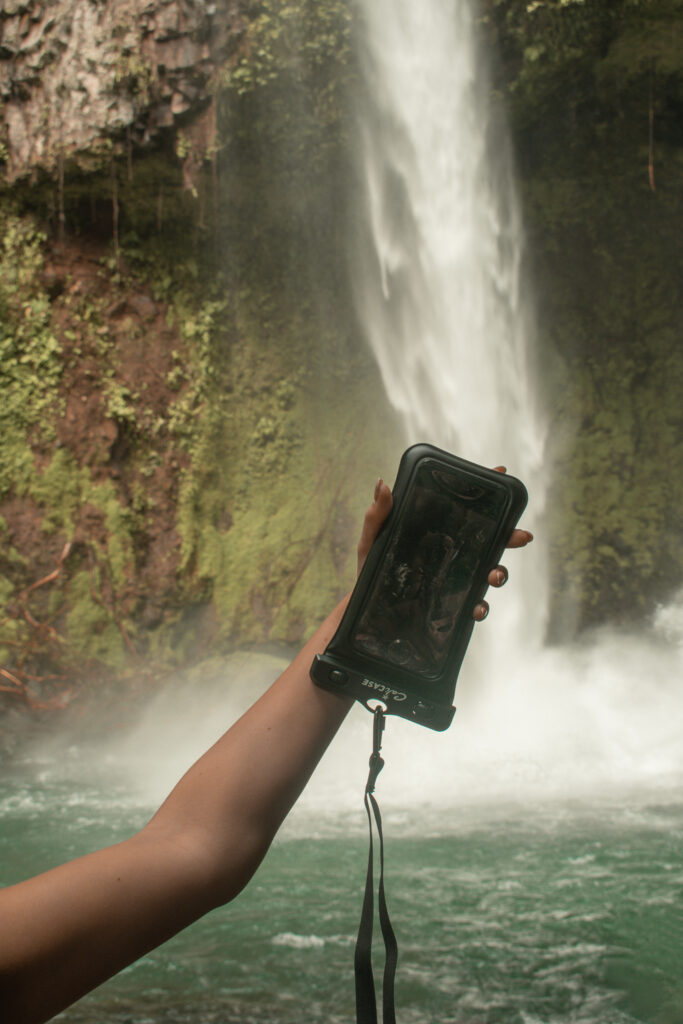 THE BASICS
CURRENCY:  Costa Rican Colón 
1 USD = 619 Costa Rican Colón
US dollars are accepted basically everywhere.
LANGUAGE: Spanish 
Language Barrier 
I am not the best Spanish speaker and I got around fine in Costa Rica. However, I do suggest brushing up on your Spanish before visiting. I love the app Duolingo for language learning and make sure to have Google Translate downloaded on your phone. 
CAPITAL CITY:  San José
VISA REQUIREMENTS
Typically citizens of the US, Canada, and the European Union do not need a visa to enter Costa Rica. You are required to have a ticket showing that you are exiting Costa Rica within 90 days.
PHONE & INTERNET
You will find wifi and internet pretty easily throughout the country. Especially in popular cities. If you are staying for a long period of time I suggest purchasing a local SIM card. 
TIPPING IN COSTA RICA
Tipping in restaurants in Costa Rica is not mandatory, however, leaving a bit of Costa Rican colons on the table is acceptable. If you go on a  guided tour, a tip of about $5 to $15 USD is considered polite.   
DAILY BUDGET
Although Costa Rica is the most expensive country in Central America, it is still an affordable place to travel. Traveling Costa Rica on a tight budget is doable. The average daily amount to budget is $65, however, it's possible to travel Costa Rica on as little as $35 per day.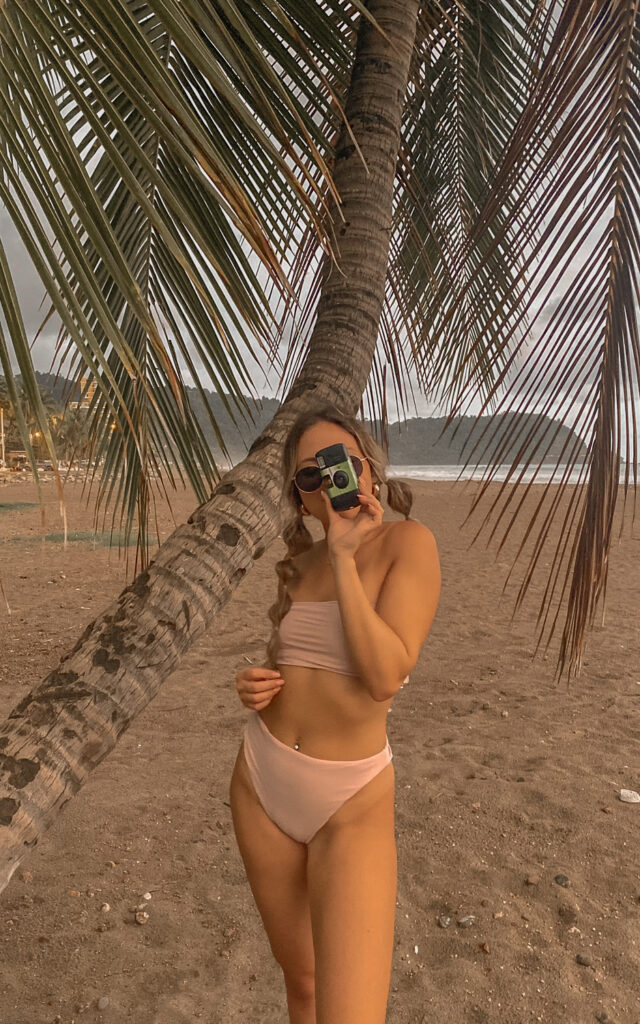 COSTA RICA TRAVEL RESTRICTIONS
ENTRY REQUIREMENTS
As of now, there are no covid testing requirements to get into the country of Costa Rica. Keep in mind that restrictions like this change quickly, so stay up to date on entry requirements here. At the time I visited, I had to complete a health pass and purchase trip insurance (I used Trawick International). After you complete the health pass you will receive a QR code that you will need when entering Costa Rica. Make sure your phone is charged! 
GOING BACK TO THE US FROM COSTA RICA 
In order to go back to the USA, you need a negative Antigen test result. There are various places to get tested in Costa Rica. I got tested in Jaco for about $70.
BEST TIME TO VISIT COSTA RICA
The high tourist season is from late November to late April. This is also the dry season. I recommend going during shoulder season, which is early November or May. 
I visited in May and this was ideal because there were not as many tourists and it wasn't full-on rainy season yet. Prices also tend to be cheaper if you avoid traveling during the high tourist season.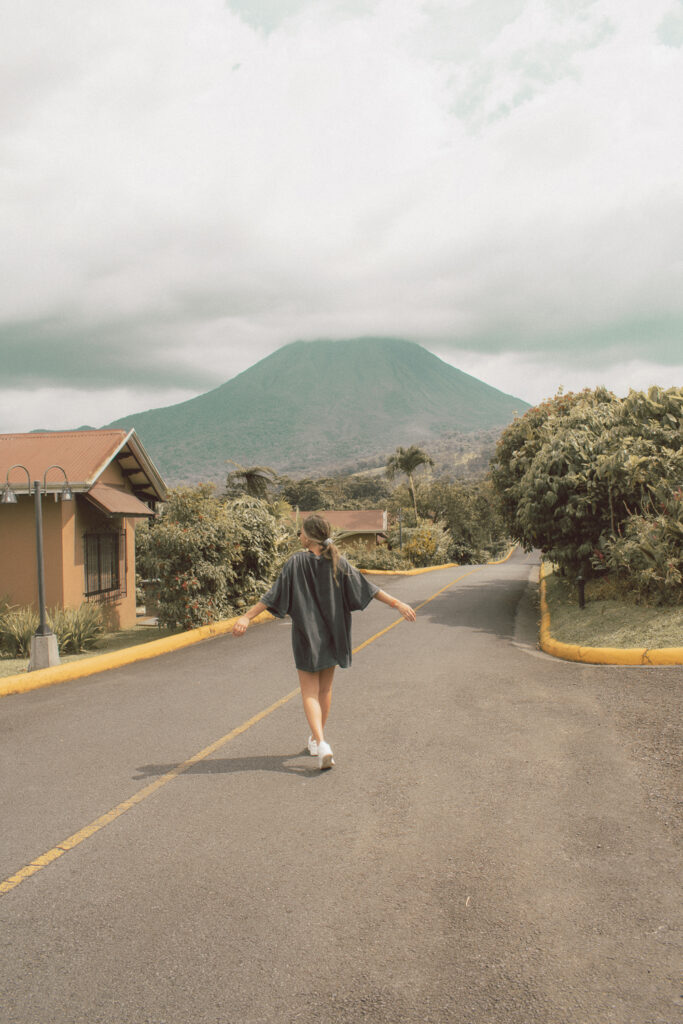 TRANSPORTATION
Alright, now for the car situation in Costa Rica. If you want to see a lot of the country, like us, you will probably jump to renting a car. I was on a family trip and we always rent cars because it's just easier. Well, I don't think we would rent a car again here in Costa Rica.
 I would honestly just recommend Ubering everywhere because it is so affordable. Between my family and the other family that was with us on the trip, we both had bad experiences with rental cars. One of the cars had a flat tire the first day we had it. The spare was also flat, so that was not a fun situation. 
Our other car ended up losing breaks completely on our drive from La Fortuna to Jaco. The roads were probably the scariest I have ever been on and losing breaks was terrifying. I'm so thankful we made it back to Jaco safely, because we easily could have gone over the mountain if this had happened seconds earlier or later. 
Basically, if you do end up renting a car and driving around the country, take the long way around so the roads are better. I believe the rental car cost about $400 for a week and I think Uber would be cheaper, especially if you are splitting the cost with others.  
BUCKET LIST THINGS TO DO IN COSTA RICA
This Costa Rica travel guide wouldn't be complete without sharing the best bucket list experiences to do in the country. So here they are! Although we did get to a lot on this list, there are a few things I would love to go back and experience in Costa Rica.

WATCH THE SUNSET IN JACO
The sunsets in Jaco are unreal. If you are in Jaco for a few days I recommend staying on the beach and taking in every sunset.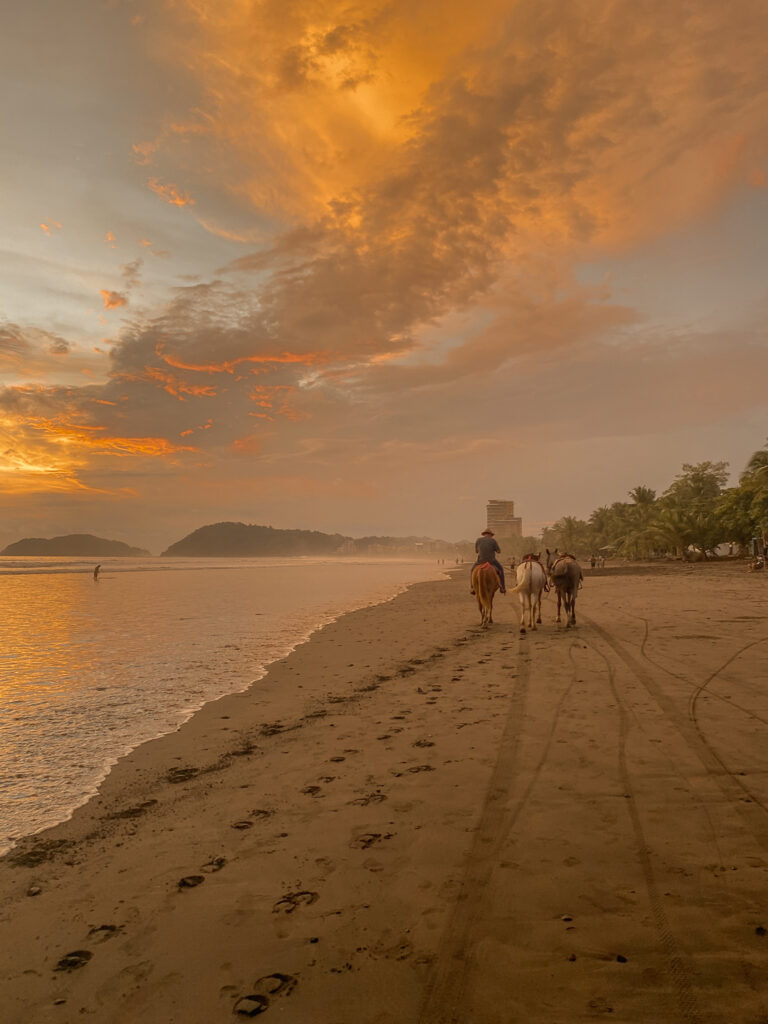 RIDE ATVS THROUGH THE JUNGLE
Riding ATVs through the jungle is a must in Costa Rica! This was by far one of my favorite parts of the trip. We booked the zipline & 2 hour ATV combo tour through Viator. It was perfect because it was 2 hours of ziplining and 2 hours of ATVs. 
Note: You WILL get extremely muddy while on ATVs so choose your clothing accordingly.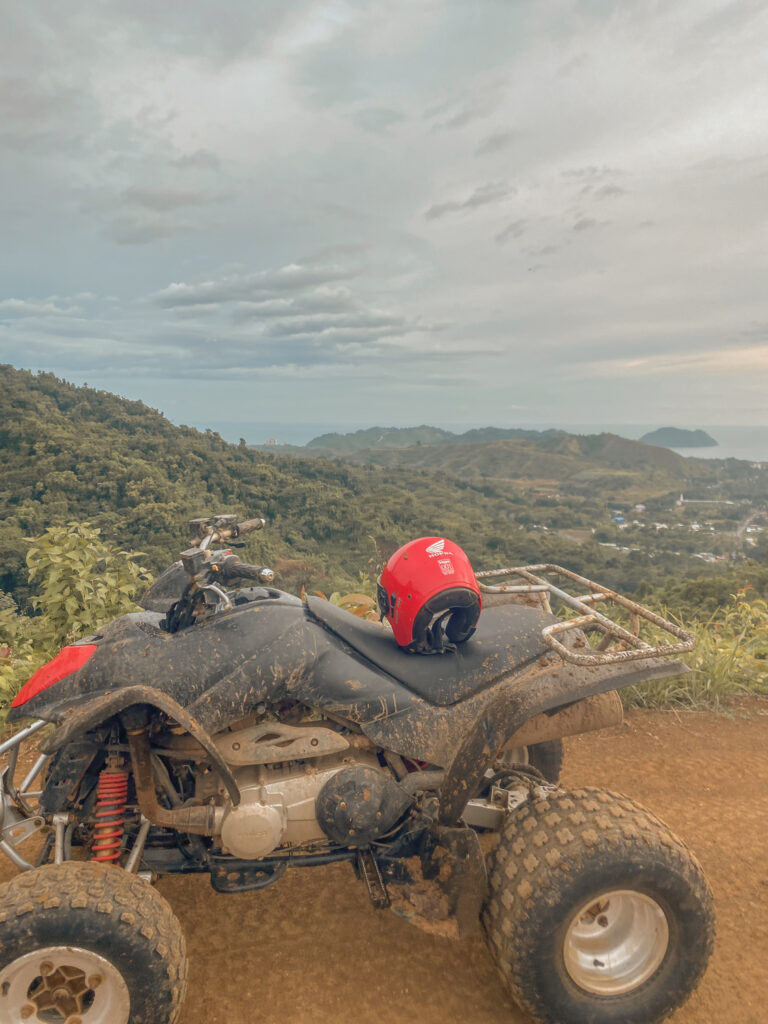 ZIPLINING
You cannot visit Costa Rica without ziplining through the jungle. Ziplining might just be the number one bucket list thing to do in Costa Rica! This was my first time ziplining and it was a blast. Definitely a thrill but so much fun! 
MANUEL ANTONIO NATIONAL PARK
Visiting Manuel Antonio National Park was another one of my favorites during the trip. Book a guided tour through the park to spot all the amazing animals! We saw sloths, monkeys, birds, and more. The park has a beautiful white sand beach, so after the guided tour, chill by the beach for the day!
We booked our tour through the Manuel Antonio National Park information center which costs $55 USD. Our guide's name was Beatrice, who was incredibly knowledgeable about everything.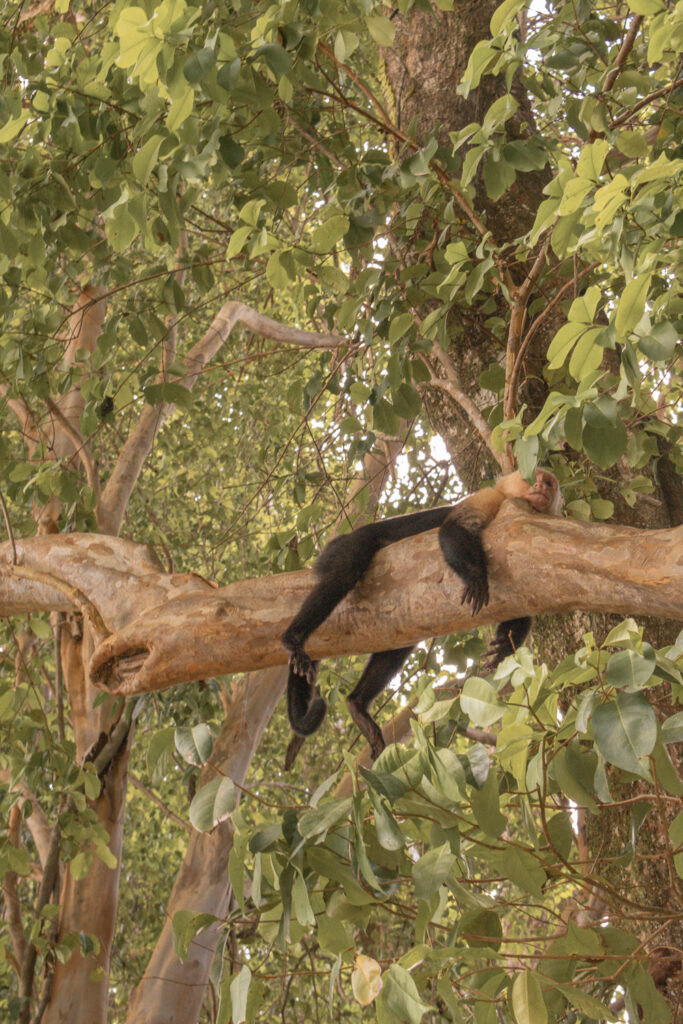 LA FORTUNA WATERFALL
La Fortuna waterfall was absolutely incredible. Let me tell you, the photos just don't do this place justice. You have to experience it for yourself. The entrance fee is $18 for adults. This was the biggest waterfall I have ever seen, and you are able to swim in it and the pools surrounding the falls.
Note: you need to be in somewhat good shape to hike to this waterfall. It's 500 steps down to get to the falls and you do have to eventually go back up. Which was the difficult part. 
HOT SPRINGS IN LA FORTUNA
If you are in La Fortuna, you need to experience the natural hot springs. I stayed at Arenal Springs Resort & Spa and we enjoyed the hot springs on the property. Many hotels in the area will have hot springs. Some hotels allow you to purchase a day pass if you are not staying there, to enjoy the hot springs.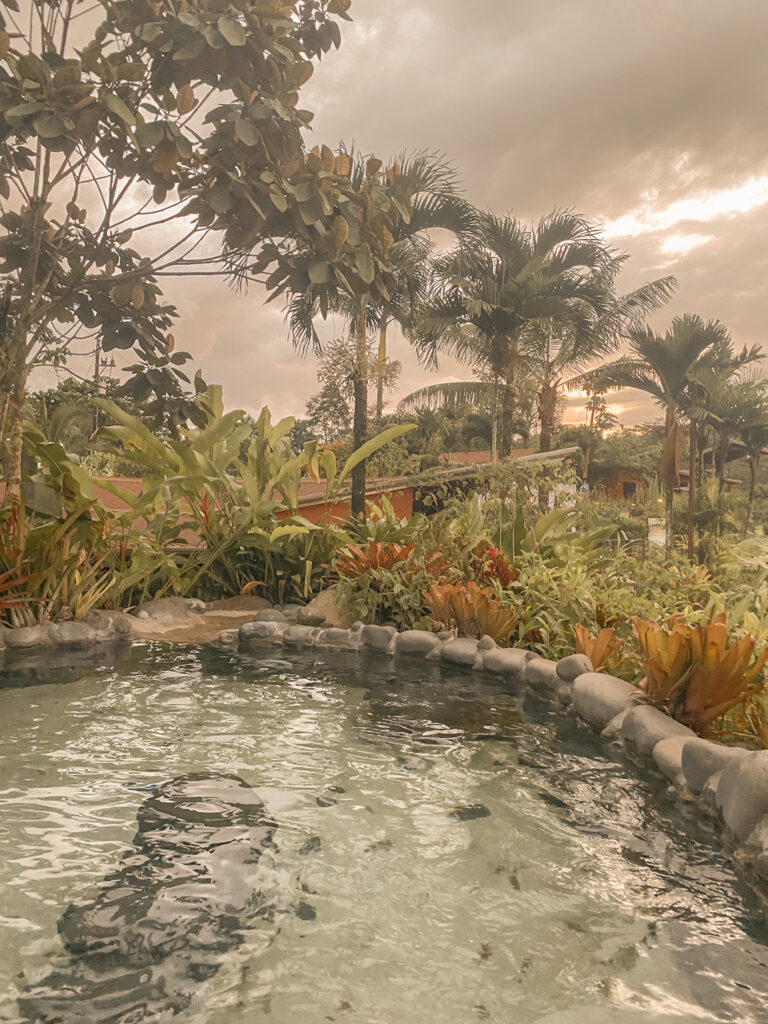 RIO CELESTE WATERFALL
Unfortunately, I did not get here on this trip but I would love to see this amazing waterfall next time. If you are spending a few days in La Fortuna, definitely check out Rio Celeste. It's about an hour and a half drive from the town of La Fortuna. 
MISTICO ARENAL HANGING BRIDGES PARK
The Mistico hanging bridges need to be included in your Costa Rica itinerary. This is such a beautiful park to explore with the iconic hanging bridges. You can choose to take a guided tour or walk the path on your own. We chose to explore the park on our own and had a great time. The entrance fee is $26 for adults and $16 for teens.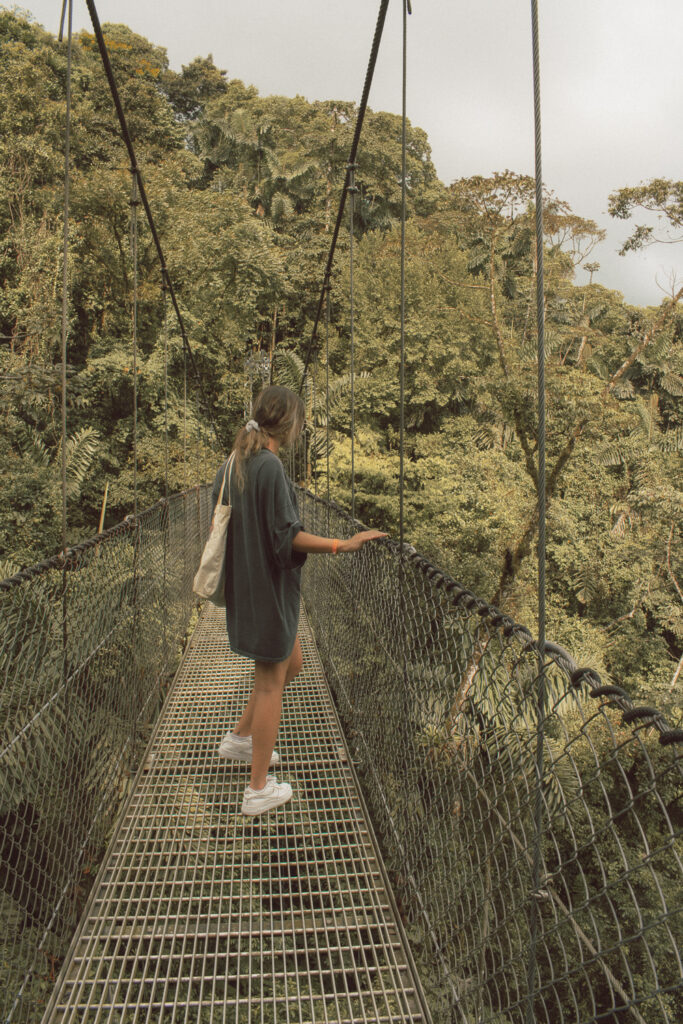 TRY LOCAL COSTA RICAN CUISINE AT A SODA
Sodas are local Costa Rican restaurants. So, if you are looking for some delicious local food, check out a Soda! You can find them everywhere. They are extremely affordable too, this meal pictured below was $4.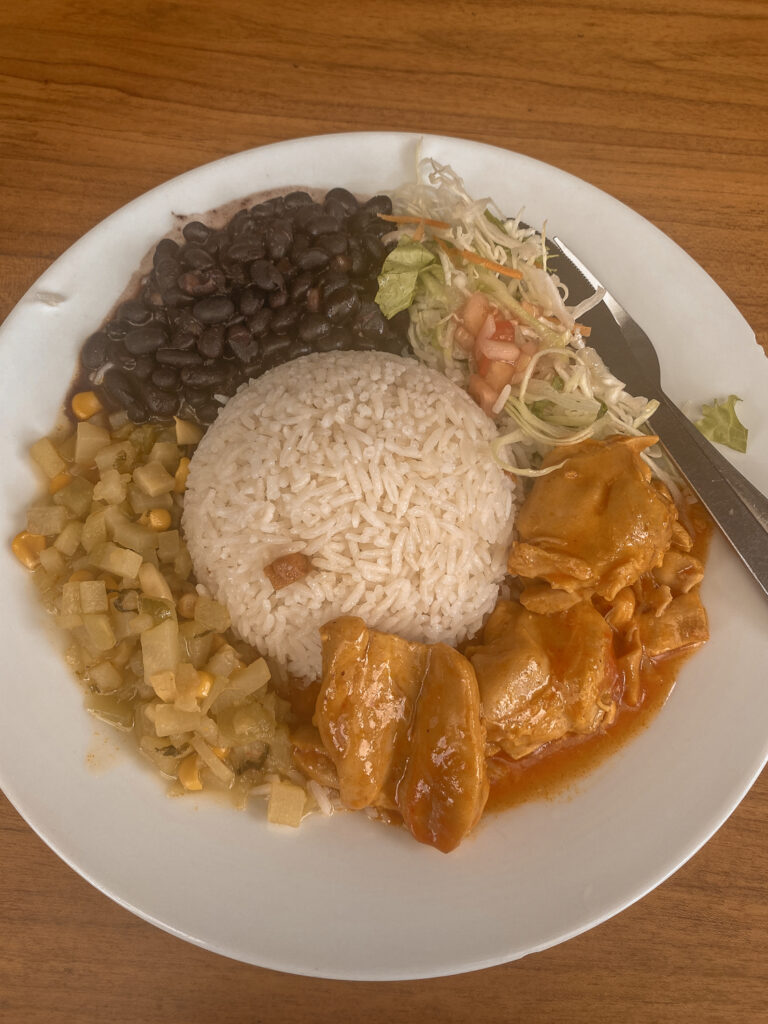 COFFEE AND CHOCOLATE TOUR
During this trip I did not get to a chocolate or coffee tour, but it's on my list for next time!
ONE WEEK COSTA RICA ITINERARY
I spent about 8 days in Costa Rica and we primarily stayed in the beach town of Jaco. It was great, but I wouldn't recommend spending most of your time here. The best part was the amazing condo we rented from Airbnb on Jaco Beach. It was perfect for a few families and was very affordable because we visited during shoulder season. You can find the Airbnb we stayed at here. 
Jaco was great, but you don't need more than three days here to see it all. I would split one week in Costa Rica up to 3 days in Jaco, 3 days in La Fortuna, and a day in San Jose.
JACO – 3 DAYS
In my opinion, the highlights in Jaco were the beach sunsets, the abandoned mansion hike, a brewery called Puddle Fish, and its close proximity to Manuel Antonio National Park. We did the ATVs and ziplining here, but you can do these activities anywhere in the country.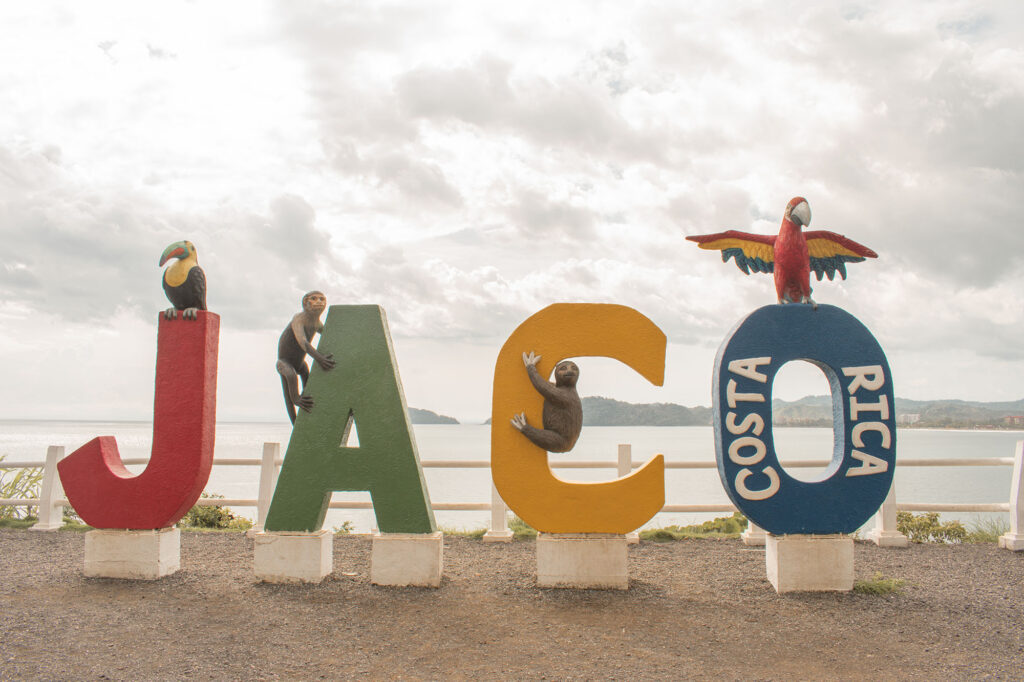 TO DO:  
ATV and zipline tour 
Surf lessons: I didn't get around to surf lessons what Jaco beach is one of the best places in Costa Rica for surfing
Manuel Antonio National Park 
Abandoned mansion hike: this was a highlight of the trip. Make sure to add this to your Costa Rica travel guide if you are in the area. It's a hike across from Puddle Fish Brewery (an AMAZING place, highly recommend). The hike took about 15-20 minutes to get to the top and I promise you this is the best view in Jaco.  
Watch the sunset on Jaco Beach 
Day trip to Tortuga Island: Tortuga island is a fun day trip if you want some time to relax and do water activities. We booked a Tortuga Island tour that included transportation to the island, all-you-can-drink margaritas and rum punch, lunch, banana boat rides, snorkeling, and beach chairs. It was a blast, to say the least. Something you should check out if you have an extra day in Jaco.  
Deep-sea fishing: I'm not much into fishing, however, we had some people in our group go on a deep-sea fishing trip and they said it was incredible. This is very expensive but they ended up catching about 4 massive tuna. We got to eat it the rest of the trip which was the best part!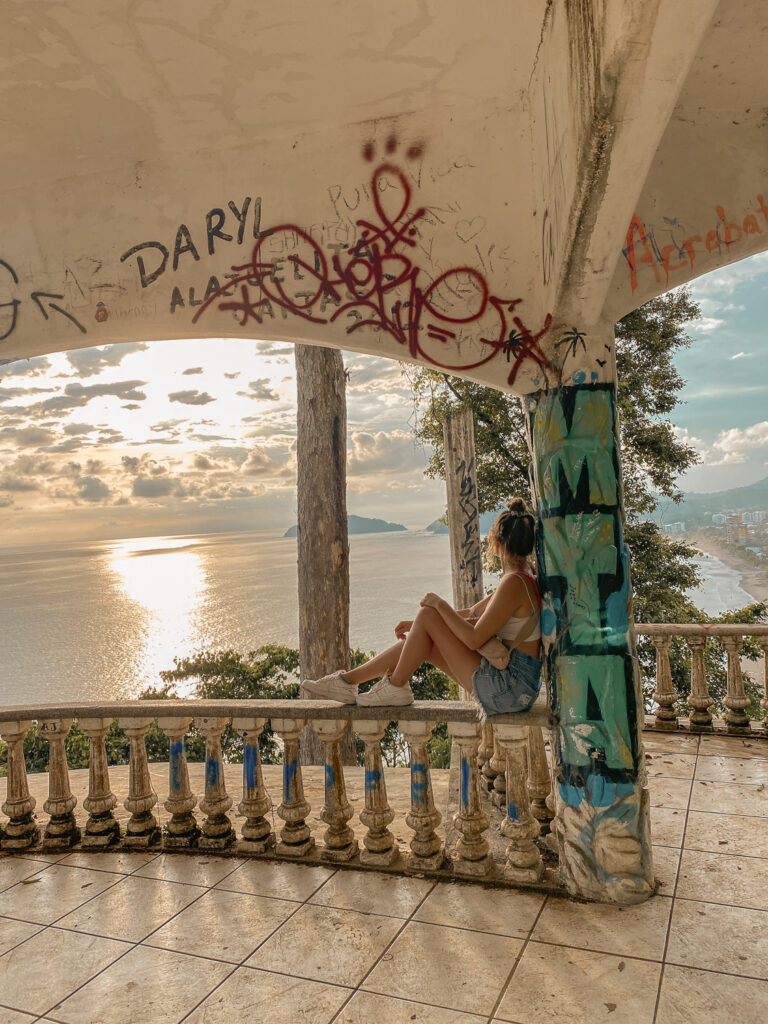 TO EAT:
There were many great places to eat in Jaco, I will have a full guide to Jaco coming soon here on the blog which will include more. For now, here is a quick overview. 
Coffee:  Cafe Bohio, Infusions
Pastries: Pachi's Pan
Beer, Drinks, Healthy bar food: Puddle Fish Brewery (you HAVE to go here) 
Great acai bowl and smoothie place in Plaza Tangeri 
Sushi: Tsunami Sushi
For lunch and dinner: There are great places along the main street in Jaco. For local food, check out a Soda.
TO STAY:
We stayed at an amazing Airbnb in Jaco that was perfect for a large number of people. A couple of friends and I stayed an extra day in Jaco so we booked a hostel. I really can't recommend the hostel we stayed at because it was just not that great at all. Yes, it was cheap and we had a place to sleep but it was the bare minimum. No AC, no hot water, we had to sleep in bug spray, and the door barely locked. It was in a great location though!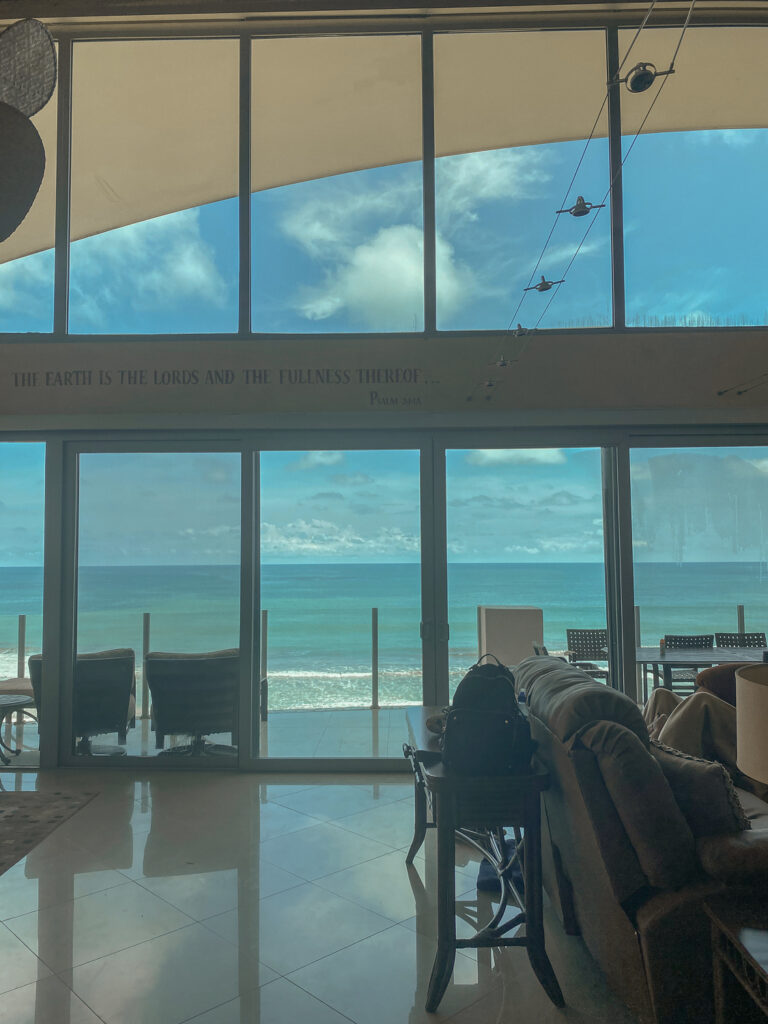 LA FORTUNA – 3 DAYS 
La Fortuna is a place I would go back to in a heartbeat. This town needs to be included in your Costa Rica travel guide. We spent about a day here and it was just not enough time. La Fortuna was definitely my favorite place we visited in Costa Rica.
TO DO:
La Fortuna waterfall 
Mistico hanging bridges
Rio Celeste Waterfall: about an hour and a half drive from La Fortuna 
Natural Hot springs 
Arenal Volcano National Park 
Sunrise yoga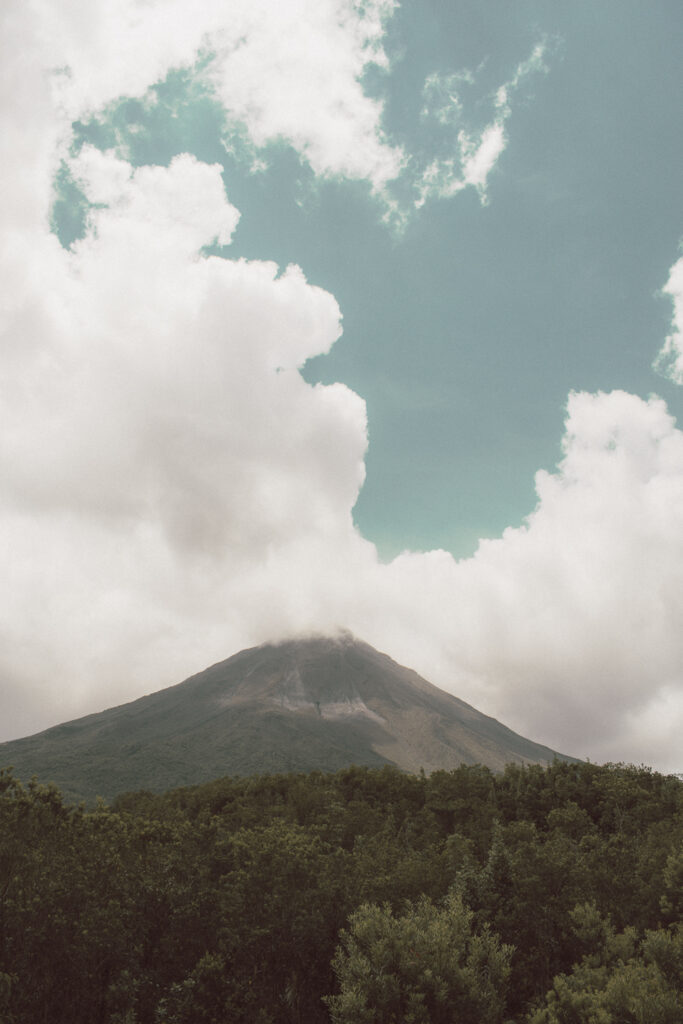 TO EAT:
 Soda la Hormiga is a must for local food. Absolutely delicious 
For amazing tacos: Spectacular Cantina, some of the best tacos I've ever had
Don Rufino
TO STAY:
Arenal Springs Hotel and Spa: We stayed here, and it was incredible.  
Airbnb
SAN JOSE – 1 DAY
Most people skip over the country's capital, San Jose, but in my opinion, it's worth a day. We too were not planning on spending any time here, but due to some bumps in the road on our way to Colombia, we ended up staying an extra day in Costa Rica. So we explored San Jose, and all three of us were surprised by the city! San Jose is easily walkable and there is so much culture here.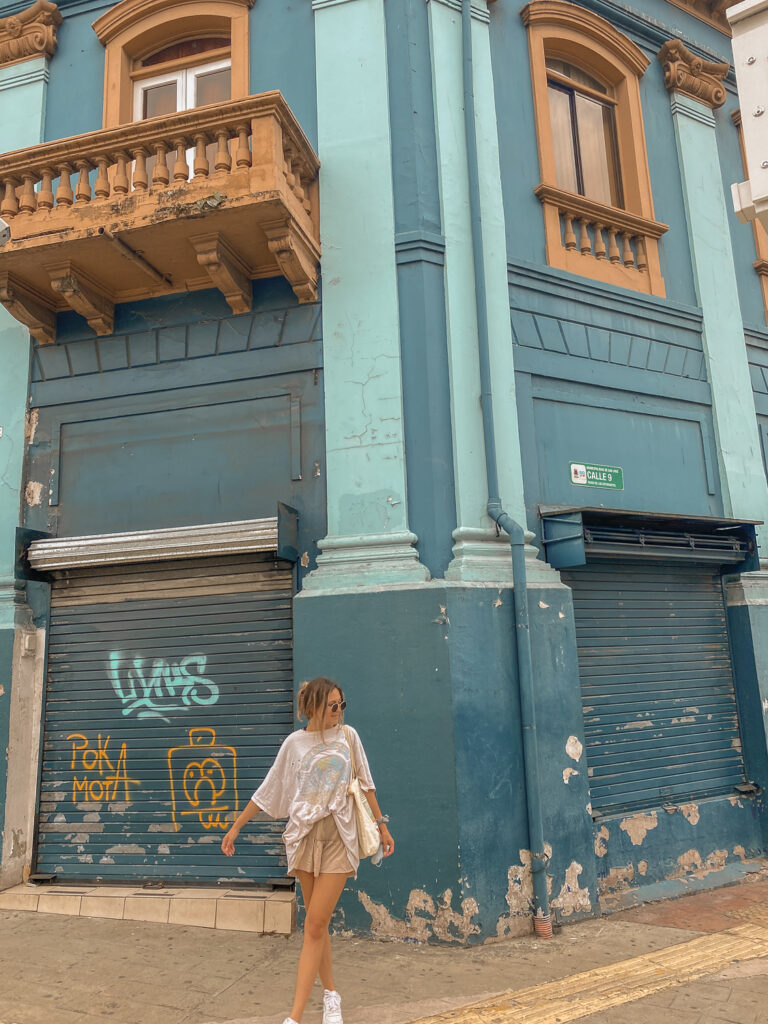 TO DO:
Explore the markets 
National Museum of Costa Rica 
Visit the parks 
Find cool street art in the city 
Museo del Jade 
TO EAT:
 Coffee at Alma de Cafe in the National Theater 
Brunch or lunch at Cafe Otoya 
Drinks and dinner at El Social 
TO STAY:
Capital Hostel de Ciudad: We stayed here and loved it! You can check out more hostels here at Hostel World. 
SAFETY IN COSTA RICA
I felt safe my whole time traveling in Costa Rica. Obviously don't go out late at night by yourself and keep an eye on your belongings to avoid pickpocketing. In my opinion, Costa Rica is a safe country to travel. At least I can speak for Jaco, San Jose, and La Fortuna. I also know of many female travel bloggers who have felt safe traveling solo in this country.
COSTA RICA PACKING ESSENTIALS
Bug spray 
Rain jacket 
Sunscreen 
Camera 
Swimsuits 
Day bag 
Waterbottle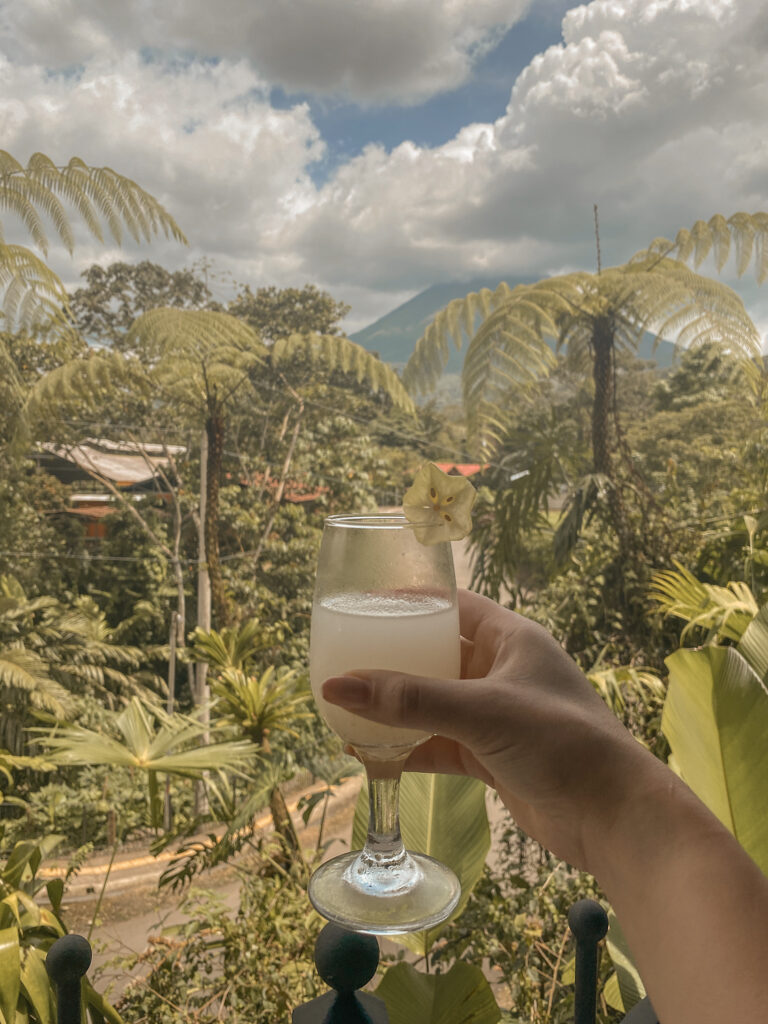 COSTA RICA TRAVEL GUIDE FINAL THOUGHTS
After a little over a week of traveling through Costa Rica, I can say that I loved it and cannot wait to go back! It was so much fun getting to explore the beaches, national parks, and even the city of San Jose. Next time I would love to spend more time in La Fortuna and visit Tamarindo's beautiful beaches. I hope you enjoyed this Costa Rica travel guide, if you have any questions about my trip, send me a DM on Instagram.
xx Syd.
PIN IT!