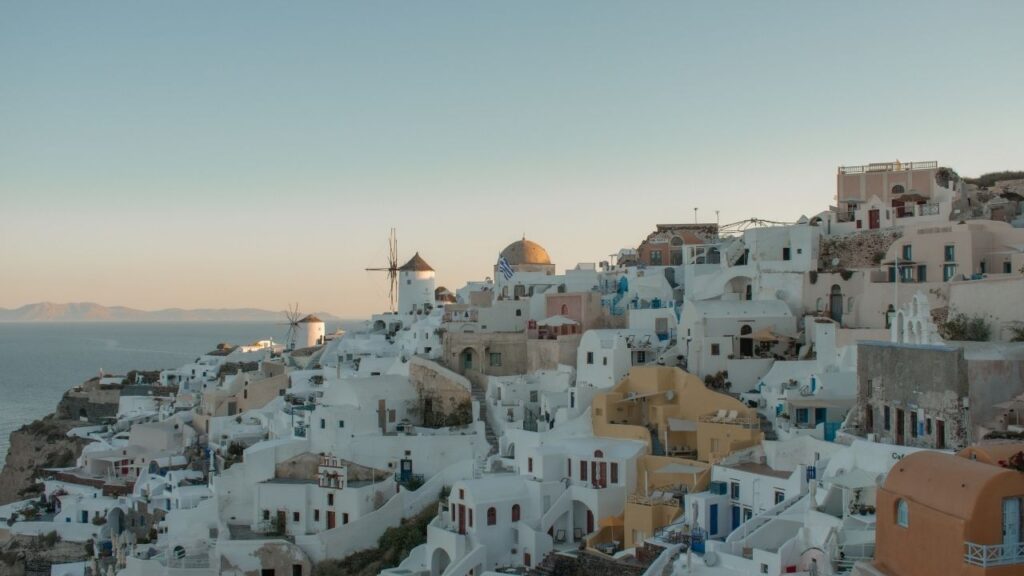 (Disclaimer: This post may contain affiliate links, which means we may receive a small commission at no extra cost to you.)
Santorini, Greece. One of the most beautiful places on earth! This Greek island had been on my bucket list for so long, it is so surreal to finally sit down and write this Santorini travel guide. If you are planning a trip, this in-depth guide is for you. I'm going to cover all you need to know before visiting, including where to eat, what to do in Santorini, your daily budget, how to get around the island, and more. 
I recently got back from the trip of a lifetime, backpacking Europe for 5 weeks, and our first stop was the country of Greece. We spent a total of 11 days in Greece visiting Athens, Mykonos, and Santorini. I absolutely loved this island, and if you are hesitant about making Santorini a stop on your island hopping list, don't be. Alright, let's get into this Santorini travel guide!
Disclosure: This article contains affiliate links.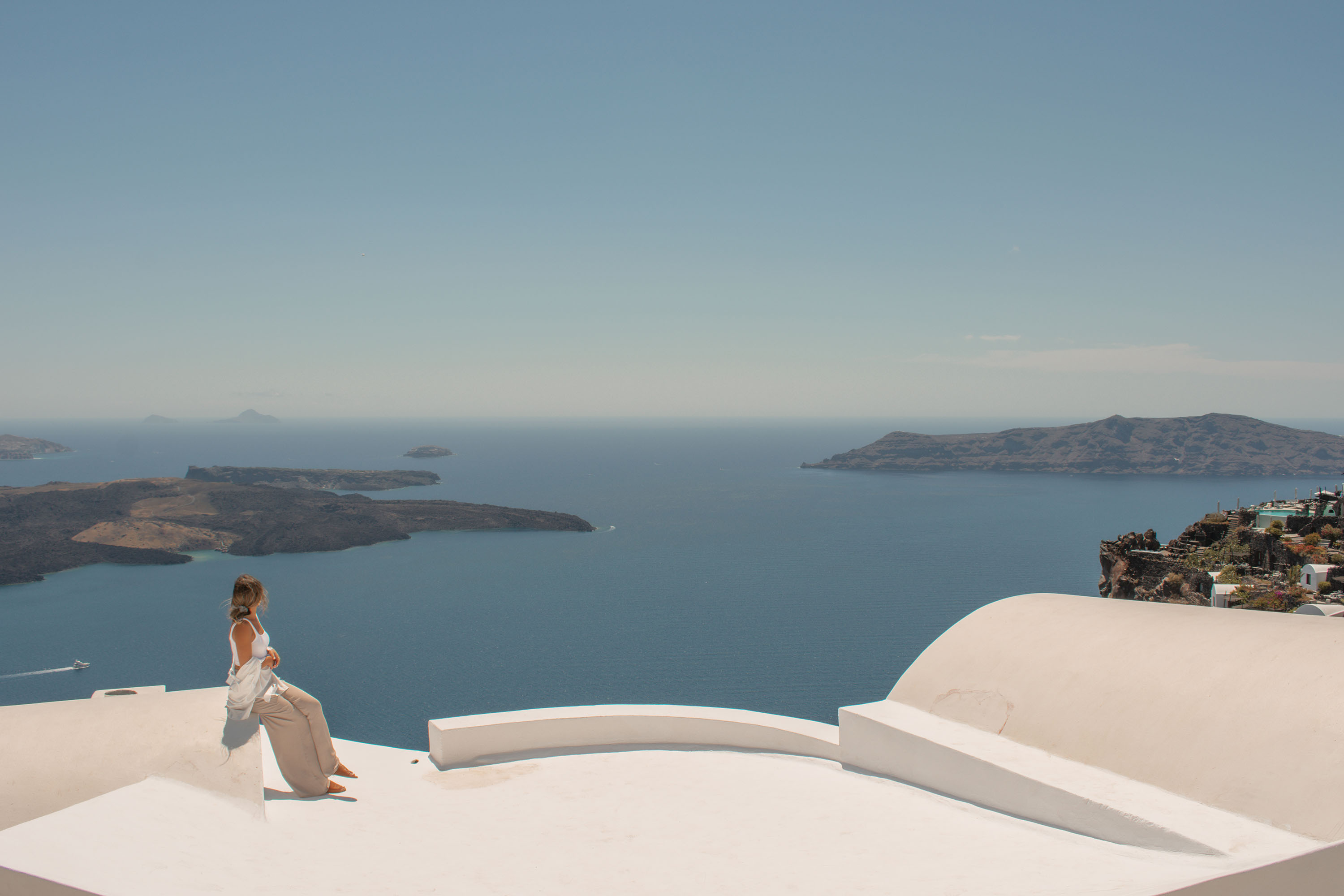 THE BASICS 
CURRENCY = Euro 
1 USD = .85 EURO 
LANGUAGE = Greek 
Although Greek is the official language, you'll find that practically everybody speaks English here. 
PHONE & INTERNET
I'm not going to lie, the phone service here isn't the best. You will find wifi in some cafes and restaurants but it's possible it might be spotty. If you are thinking about becoming a digital nomad in Santorini, I would make sure your accommodation has good wifi. 
DAILY BUDGET
Greece is an affordable country to visit in Europe. However, considering Santorini is one of the most popular islands to visit, it is quite expensive compared to the rest of Greece. I found it pretty comparable to US prices. You can spend loads of money here but it is also possible to travel the island on a budget. 
On a low budget I would plan to spend about 50 to 60 euros per day (not including accommodation) for a mid-range budget I would plan on spending about 100 euro per day. With a high budget, let's be honest, you could spend upwards of 300-500 per day. 
TIPPING IN SANTORINI 
Tipping in Santorini, similar to the rest of Greece, is optional. However, if you had nice service it's common to leave a gratuity between 5% and 10%. When on excursions, like sailing and catamaran cruises, it's typical to always tip your crew.
IS THE TAP WATER DRINKABLE?
No, I wouldn't drink the tap here. Even though mainland Greece is safe to drink the tap, the islands are a different story. Stick to buying water bottles.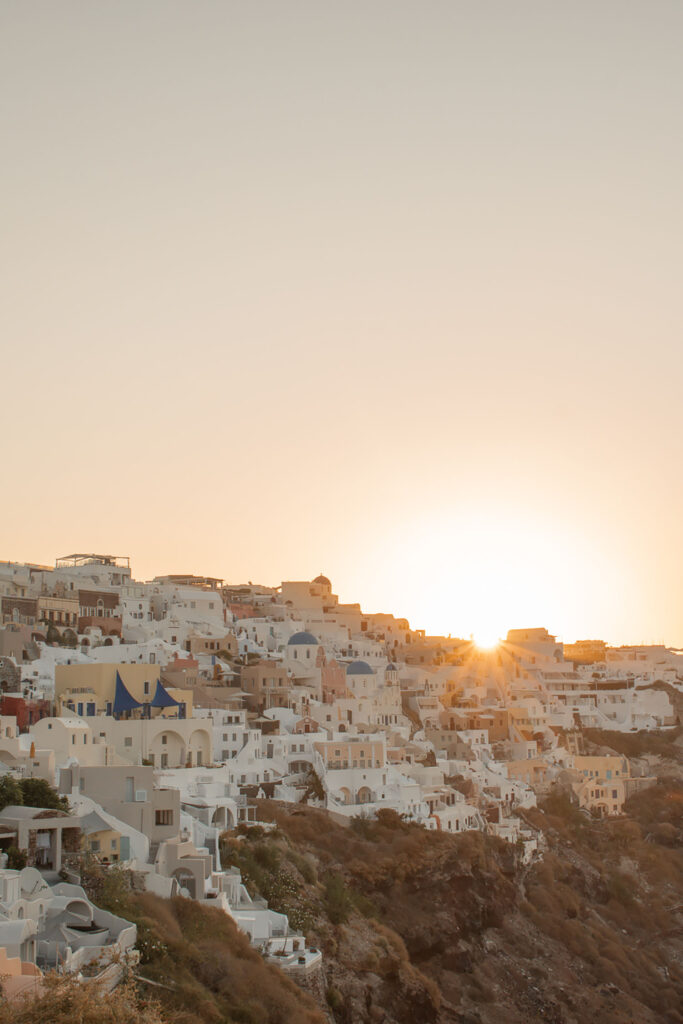 BEST TIME TO VISIT SANTORINI 
Shoulder season is the best time to visit Santorini, there are fewer crowds and the weather should be nice. This is between the months of September to October and April to May. 
However, I did visit in June of 2021 but it was right around the time when Greece had really re-opened for tourism. I think I got really lucky at this time because the weather was great, there were minimal crowds, and everything was open! 
If you want to visit Greece but avoid the stress of planning, think about traveling with EF Ultimate Break! They are a group travel company with trips all around the world. I went on a month-long Europe trip with EF in 2019 and it was absolutely incredible, they really take the stress out of traveling!
Check out their 2021 and 2022 trips here, and use my code, "UASYDNEY100" for $100 off your first trip with EF Ultimate Break!
BUCKET LIST THINGS TO ADD TO YOUR SANTORINI TRAVEL GUIDE
1. CATAMARAN CRUISE
This is a must for your Santorini travel guide! If I had to choose one thing to do in Santorini, a catamaran cruise would be it. I loved getting to see the island from a unique perspective and watching the sunset from the catamaran was absolutely unreal. 
I booked my catamaran cruise through Viator and it was about 6 hours long and included snorkel spots, all-you-can-drink wine and soft drinks, a delicious greek dinner, the volcano hot sprints, a swim near the red beach, white beach, and more! 
We met the best people on the tour, and yes, we did ask the crew to blast Mamma Mia as the sun was setting, and wow, what an experience. 
2. WINE TASTING 
Wine tasting in Santorini was like no other wine tasting I've experienced before. The views were absolutely incredible! There are a variety of different wine tours you can choose from, I will link the tour I booked below.  
We did a half-day wine tour through Get Your Guide, which consisted of 3 winery stops around the island with a tasting and guided tour. The tastings even came with small snacks! The wine tour included pick up and drop off as well, I highly recommend this tour. We ended up learning so much about greek wines, it was so interesting and one of the best days of the trip! 
The wineries we visited were Estate Argyros, Volcano Wine Museum, and Venetsanos Winery. Click here to check out the exact wine tour we did.
3. CLIFF JUMPING AT AMMOUDI BAY
If you're up for an adventure, you have got to go cliff jumping at Ammoudi bay in Oia. It was a bit confusing to find but you will see large brown stairs that lead all the way to the ocean, take those. 
BE prepared, it is a HIKE. It's like 300 stairs down and it does get tiring, so bring water! Going back up was definitely the toughest part. Once you are down, will go left through a few restaurants along the water and then climb around some rocks to get here. This is a popular spot, so I'm sure others will be headed that way that you can follow.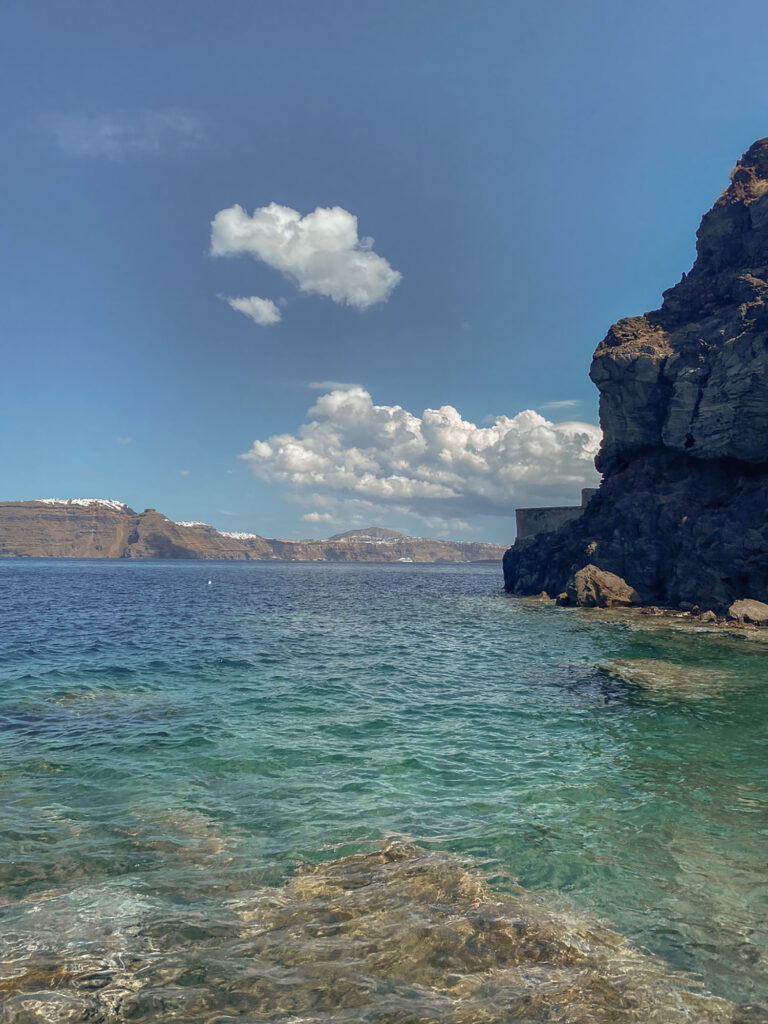 4. WATCH THE SUNSET IN OIA
You simply cannot go to Santorini and miss out on one of the best (if not the best) sunsets in the world! Head to Oia and get a good sunset spot, grab a bottle of wine, and enjoy! It does get crowded so go early to find a good spot. Oia Castle is a great place to watch the sunrise and sunset but get here an hour early if you're watching the sunset. 
On the other hand, it's so worth it to wake up at the crack of dawn to watch the sunrise at Oia Castle. It's seriously magic. There will be no one around and the island looks absolutely beautiful! Make sure to include sunset and sunrise in your Santorini travel guide.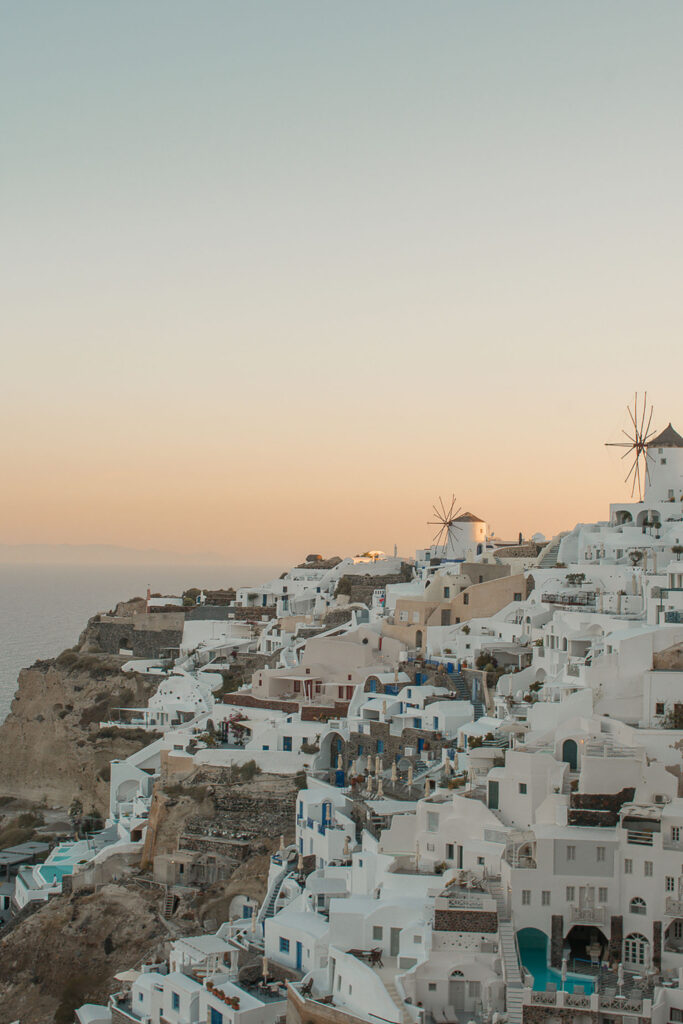 5. HIKE FROM FIRA TO OIA 
Unfortunately, I missed out on this hike when I visited, next time! You can find some stunning views from the hike from Fira to Oia. The hike is 6 miles long (one way) and passes through Fira, Firostefani, Imerovigli, and Oia. It should take approximately 2 hours and don't forget to bring water! It can get HOT.  
6. EXPLORE FIRA & SEE THE THREE BELLS OF FIRA
Because I stayed in Oia, this is where I spent most of my time in Santorini. We did visit Fira for an afternoon and it was great to shop around and enjoy the views. I think Fira, the capital of the island, is definitely worth a spot on your Santorini travel guide. If you are in Fira you have got to stop by Enigma Cafe for a freddo espresso, they were delicious and the views from this cafe are unbeatable.  
The Three Bells of Fira is part of a Greek Catholic church on this island of Santorini. You can find the Three Bells of Fira here: Thera 847 00, Greece If you type "Three Bells of Fira" into Google Maps, you should be able to find it too.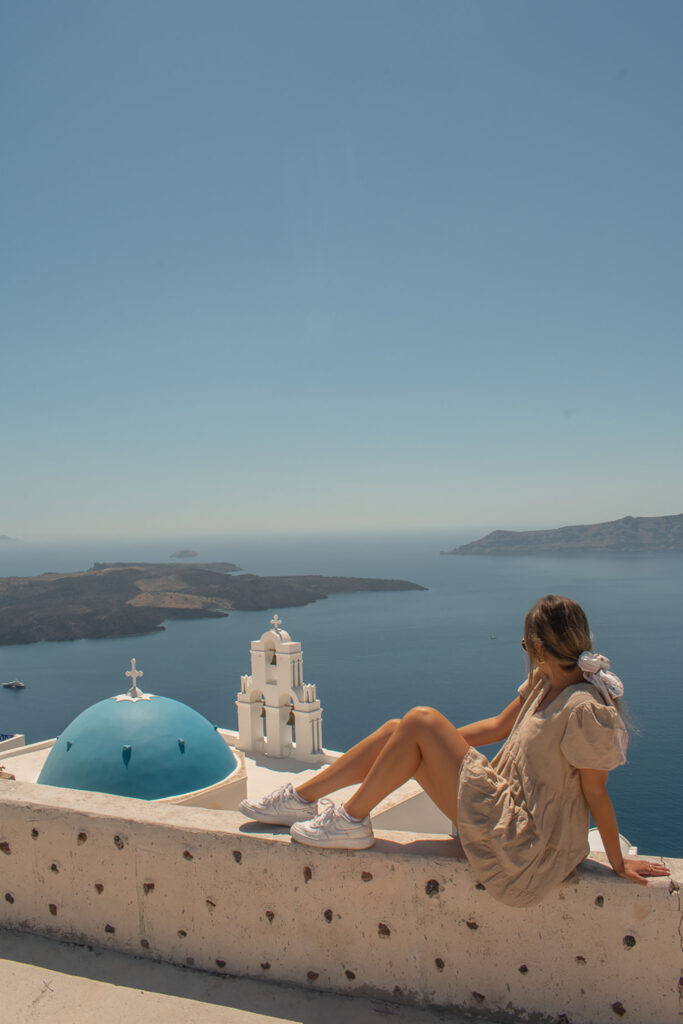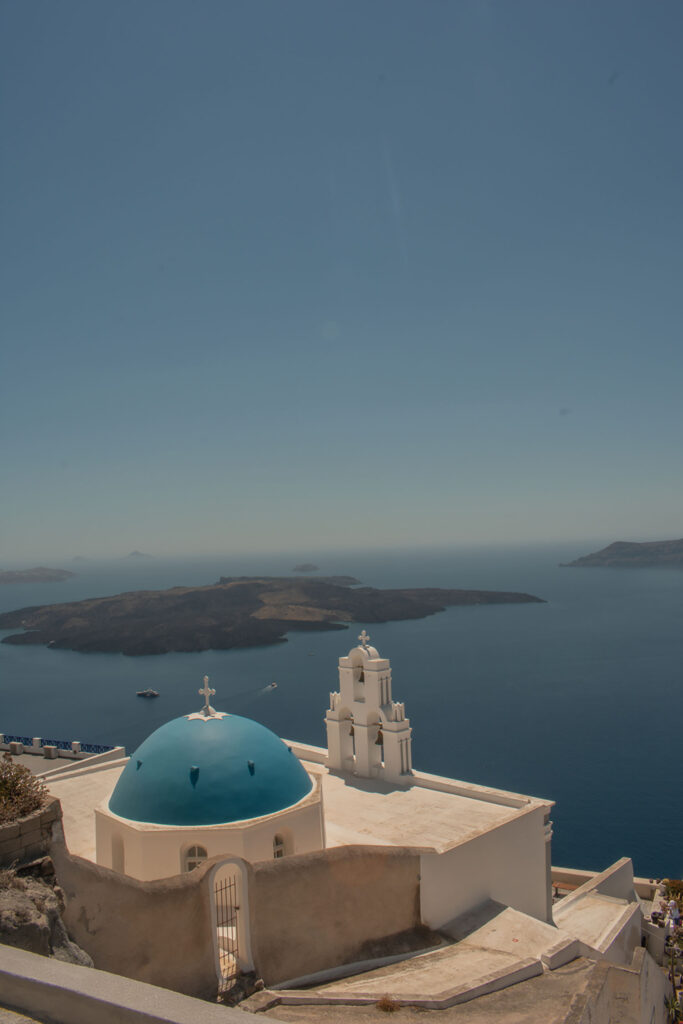 7. EXPLORE IMEROVIGLI VILLAGE 
Imerovigli village is the cutest town in between Oia and Fira. I honestly had not heard of it until we found out that this was the town to meet our bus for the wine tasting. We got to Immergovi Village a bit early and the views were unreal. There were quite a bit fewer people here too!
Check out these amazing photos we took here below. If you are a photographer, definitely add this stop to your Greece bucket list. 
8. EAT LIKE A LOCAL
Greek food is some of the best out there in my opinion. And you can find incredible seafood here in Santorini, so take advantage of the delicious Greek cuisine! Later in this Santorini travel guide I list out some of my favorite restaurants.
9. RENT QUAD BIKES AND VISIT RED BEACH AND BLACK  BEACH 
You can rent quads (ATVs) just about anywhere on the island for about 30 to 40 euros per 24 hours. They give you the freedom to go where ever you want, and I would definitely head to black beach and red beach if you get the chance. 
The island of Santorini isn't well known for its beaches so if you are a beach person, take advantage of these beaches! 
10. SHOP LOCAL
Support the local economy! Greece needs it. You will find so many cute souvenirs and gifts to bring home. Spend a day shopping around the quaint streets of Oia and Fira. 
Pick up a piece of jewelry with the Greek Evil Eye. You will see this symbol everywhere, wearing the Evil Eye is known to ward off negative energy and keep you protected and safe.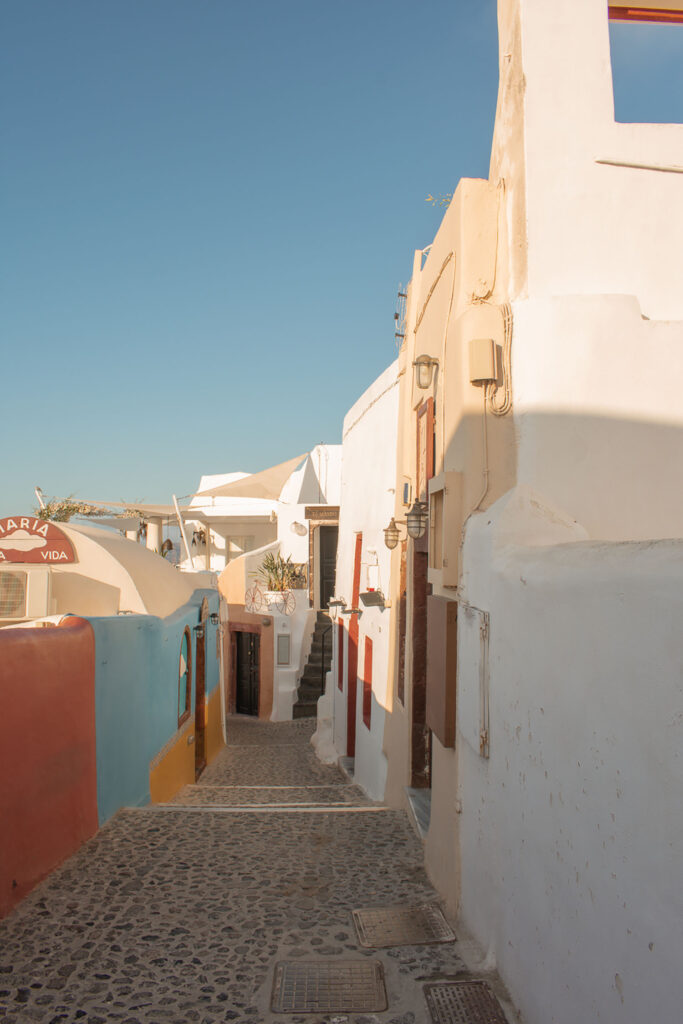 TRANSPORTATION IN SANTORINI, GREECE
HOW TO GET TO SANTORINI 
You will be getting to the island of Santorini by either plane or ferry. Santorini is pretty far from the mainland so if you are coming straight from Athens (or somewhere else on mainland Greece) I would fly.
However, if you are coming from another island close by, the ferry would be the better and cheaper option. I took a ferry from Mykonos to Santorini that took about 2 hours and cost about 40 euro.
Local airport: Santorini (Thira) National Airport (JTR)
Blue Star Ferries is a good ferry company to book with.
GETTING AROUND SANTORINI 
The best ways to get around Santorini are by bus or renting a quad. The bus is super-efficient and affordable. It costs around 1.80 euros to 2.50 euros and you will typically pay the driver once you board. In my opinion, the bus is the best way to get from town to town. Once you are in a town you can walk everywhere.
The towns in Santorini are much more spread out than I expected so take that into account when booking a place to stay.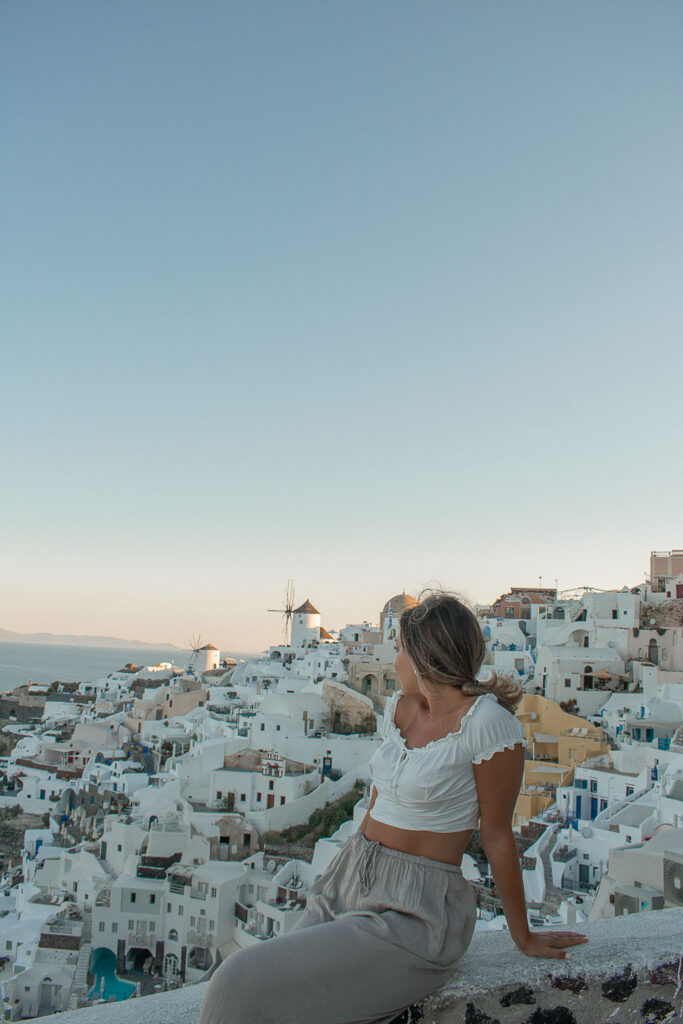 WHERE TO STAY IN SANTORINI, GREECE
Fira, Oia, Thira…? Oia. I highly recommend staying in Oia to make the most out of your time in Santorini. Oia is where a lot of the hot spots are in Santorini and the island is large. So commuting to Oia every day would cost you time and money. 
Your options in Oia are pretty much Airbnb or hotel. Unfortunately, there are no hostels that I know of in Oia. However, you can find some reasonably priced Airbnbs, just do your research! 
I stayed at Oia Sunset Apartments, we found this through Airbnb and split between 3 of us it was about 50 euro per person per night. 
If you don't choose to stay in Oia, here are a few hostel recommendations around this island:
Fira Backpackers Place
Youth Hostel Anna
Bedspot Hostel
Check out more hostels at Hostel World. This is where I find all of my hostels!
EAT AND DRINK IN OIA + FIRA
You've got to enjoy the delicious greek food Santorini has to offer! I have listed a few amazing places to eat and drink in Santorini. 
Pita Gyro: The BEST gyros. And they are affordable.  
Vitrin Cafe: you have got to try the crepes and waffles here. To die for. 
Enigma Cafe (Fira): Located in Fira, go for an afternoon freddo espresso and enjoy the unbelievable views. 
Elinikon: Delicious traditional greek cuisine. 
Skiza Cafe: Amazing pizza and pasta! 
Apsithia: great views from this restaurant, it's delicious too! 
Ammoudi Fish Tavern: Dine by the water!
Stoa Bar Santorini Fira
PK Cocktail Bar
SAFETY IN SANTORINI, GREECE 
Santorini is an incredibly safe place. It's safe for family's, solo travelers, and all. However, as always, be cautious of your surrounding, look out for pickpocketers, and petty theft. 
SANTORINI PACKING ESSENTIALS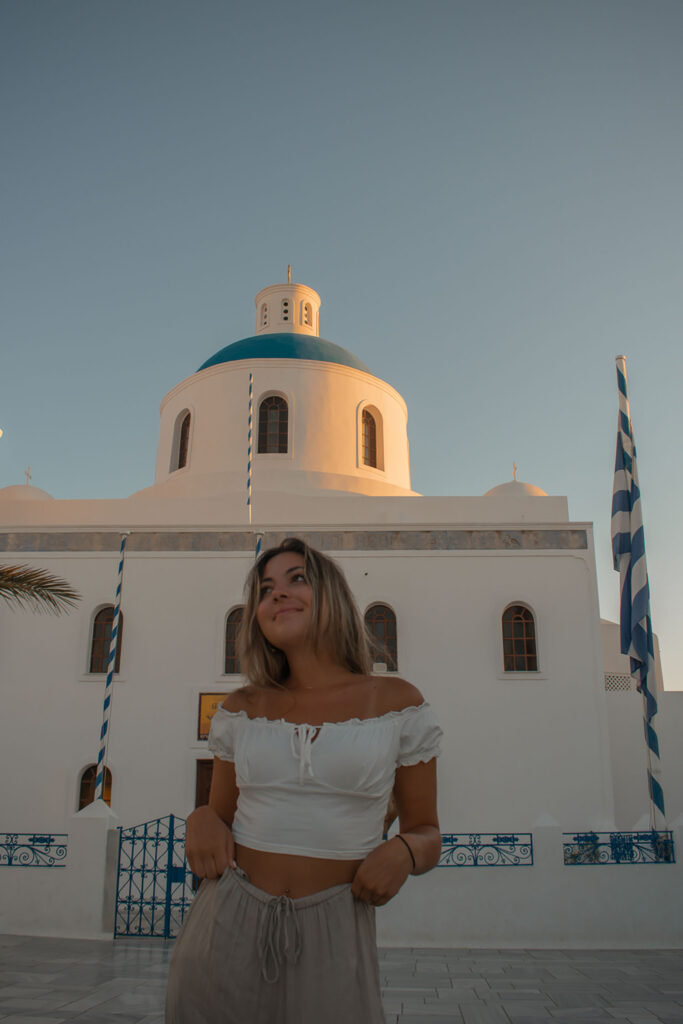 FINAL THOUGHTS ON THIS SANTORINI TRAVEL GUIDE
In my opinion, I think Santorini is 100% worth a visit at least once in your life. The sunsets are seriously unreal and it is just such a magical place! Santorini does tend to be on the more expensive side but an island but worth a spot on your Greece bucket list. Also, one last thing I want to point out, yes, the island is known for its romance and couples but I promise you will still have a blast with your friends!
I hope you enjoyed reading my Santorini travel guide! As always, if you have any questions about my time in Santorini, feel free to comment below, DM me on Instagram, or email me at sydabroad@gmail.com! 
xx Syd.
SHOP MY GREECE LOOK
PIN IT!