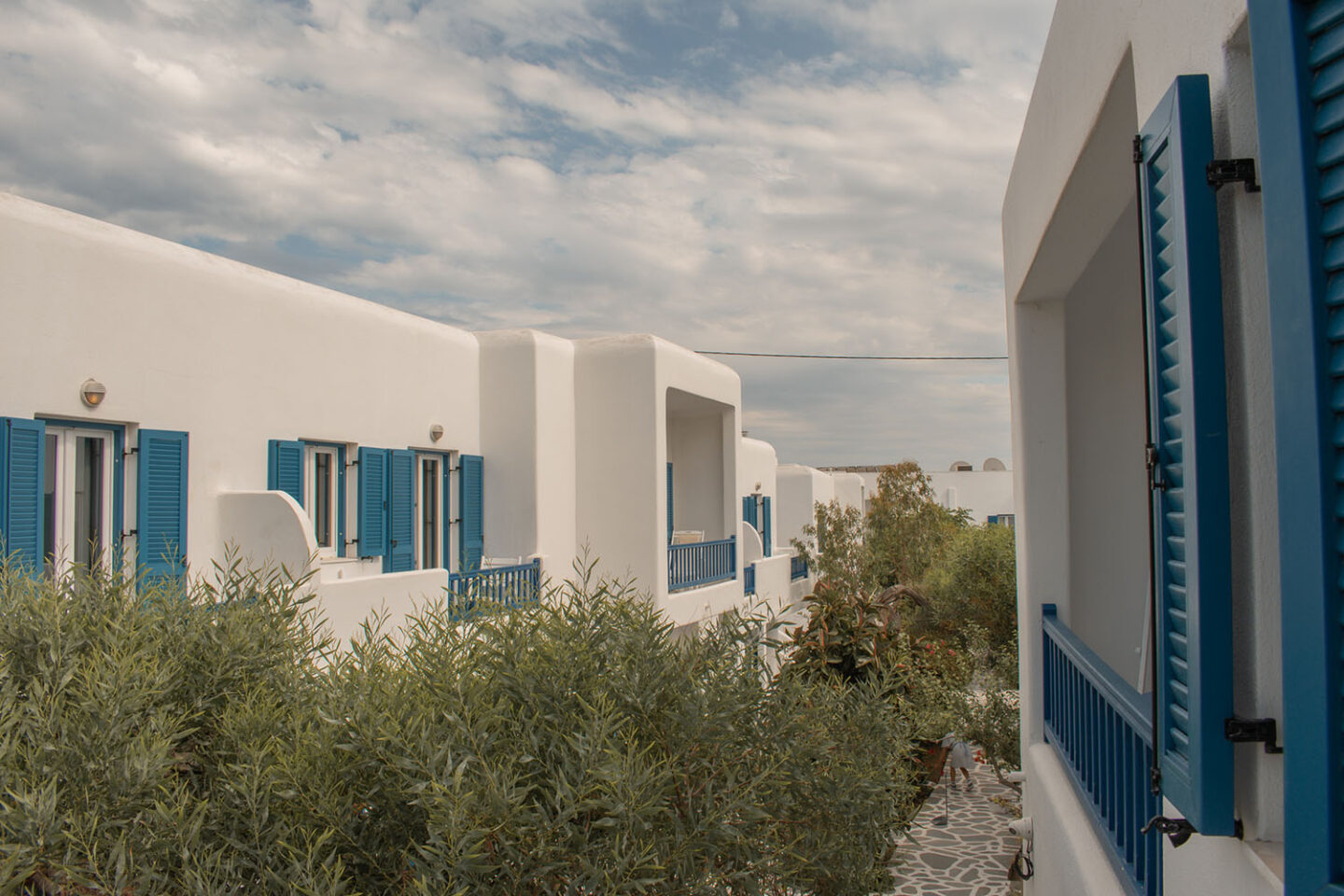 (Disclaimer: This post may contain affiliate links, which means we may receive a small commission at no extra cost to you.)

If you're looking for beautiful beaches, insane beach clubs, quaint cobblestone streets, and delicious seafood, Mykonos is the place for you. After traveling to Athens and Santorini, Mykonos just might be my favorite place I've visited in Greece and it might be yours too after reading this guide about all of the best things to do in Mykonos.
I spent a weekend on the island during my European backpacking trip and oh my gosh was it a weekend to remember. Everything about this island was perfect. Not to mention the many shades of blue and white all around Mykonos! If you're planning a trip, this article is for you. Let's dive into the ultimate Mykonos travel guide.
Disclosure: This article contains affiliate links.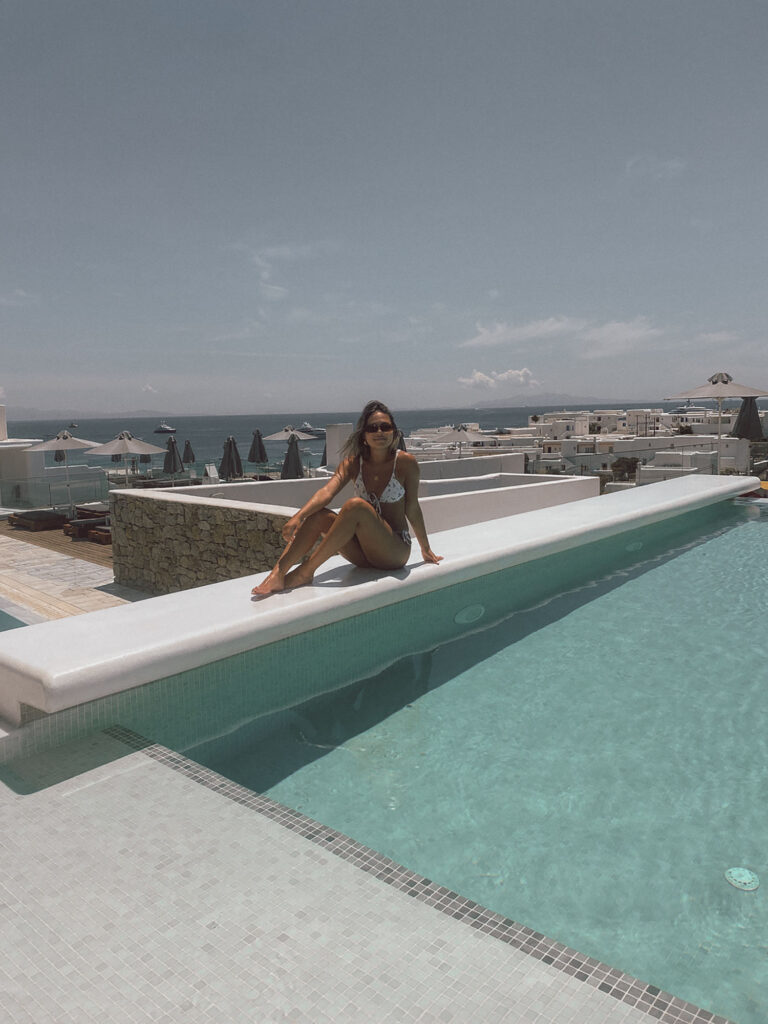 THE BASICS
CURRENCY = EURO

The currency in Mykonos is the Euro (EUR)
1 USD = .88 Euro
Many places in Mykonos will accept card payments but I find it helpful to keep some cash for small purchases. Cash on hand really helps if you are out to dinner and plan to split the bill with others. In most European cities they will not split the bill with card payments.
Having small bills is also helpful if you are negotiating at local markets. There are also plenty of ATMs around the island.
LANGUAGE = GREEK

Although Greek is the official language, you will find that many people speak English here. It is helpful to have the Google Translate app downloaded on your phone. And if you don't speak the language I would prepare a few basic phrases and sentences just to be polite.
PHONE & INTERNET

The wifi was great at my hotel. I think this is the case for many hotels. Yet, At times around the island, the service and wifi would be spotty. However, you will be able to find cafes that have pretty good wifi.
DAILY BUDGET

I found Mykonos to be a bit expensive, I would say a good budget is $100 per day for a low to mid-range budget. However, if you are on a backpacker's budget it is possible to travel Mykonos with a lower budget. I would say $60 – $80 is doable if you are eating off the beaten path at smaller cafes and doing fewer activities.
TIPPING IN MYKONOS

Tipping in Mykonos, similar to the rest of Greece, is optional. Yet, if you have nice service it's not uncommon to leave a gratuity between 5% and 10%. When on excursions, like sailing and catamaran cruises, it's always typical to tip your crew.
IS THE TAP WATER DRINKABLE?

No, don't drink the tap water on the island. However, it is okay to brush your teeth with tap water.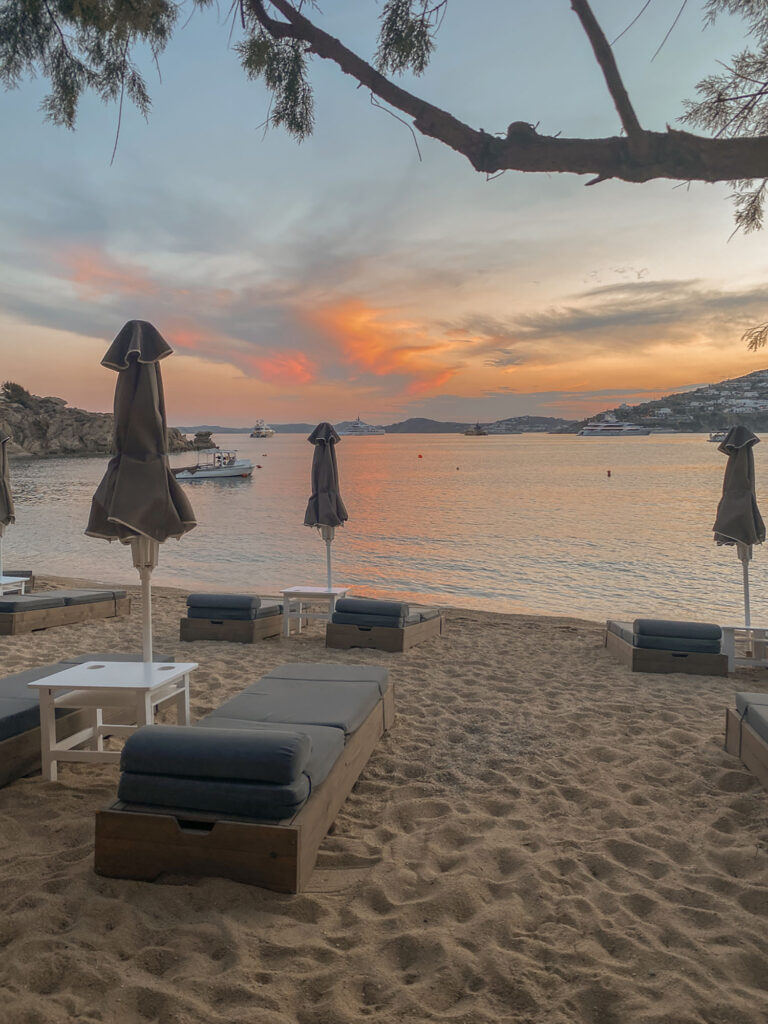 BEST TIME TO VISIT MYKONOS

Shoulder season is the best time to visit Mykonos, there are fewer crowds and the weather should be nice. This is between the months of September to October and April to May.

However, I did visit in June of 2021 but it was right around the time when Greece had re-opened for tourism. I think I got really lucky at this time because the weather was great, there were minimal crowds, and everything was open!

If you want to visit Greece and avoid the stress of planning, think about traveling with EF Ultimate Break! They are a group travel company with trips all around the world. I went on a month-long Europe trip with EF in 2019 and it was absolutely incredible, they really take the stress out of traveling.

Check out their 2021 and 2022 trips here, and use my code, "UASYDNEY100" for $100 off your first trip with EF Ultimate Break!
WHY YOU SHOULD INCLUDE MYKONOS IN YOUR ITINERARY
Yes, Mykonos is one of the top party islands in the world, but don't let this turn you away from this beautiful island if the party life isn't for you. Mykonos is so much more than its beach clubs! It has some of the most beautiful beaches, crystal clear water, the cutest town center, incredible dining, and amazing shopping. I promise it's worth a spot on your Greece itinerary!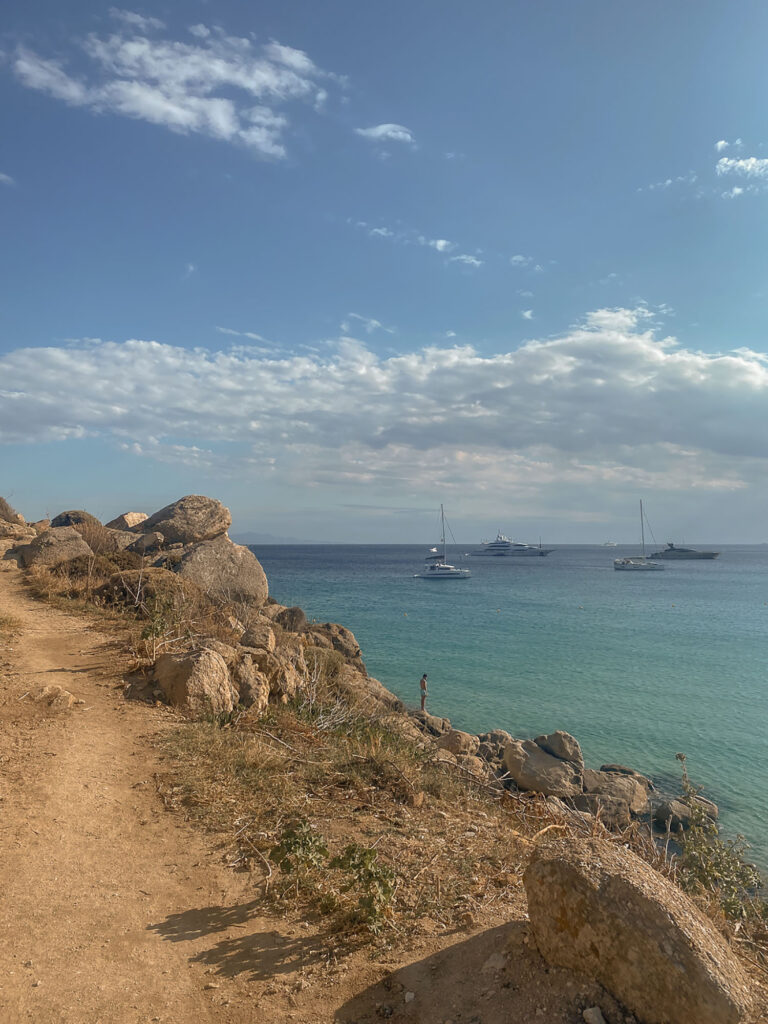 THE BEST THINGS TO DO IN MYKONOS, GREECE
DINE ON THE WATER IN LITTLE VENICE

One of the best things to do in Mykonos is watch a sunset in Little Venice. It's such a picture-perfect area located right in Mykonos Town. There are plenty of restaurants along the water (and yes, they are a bit more expensive) but I promise it's well worth the experience to dine here for dinner at least once during your weekend in Mykonos.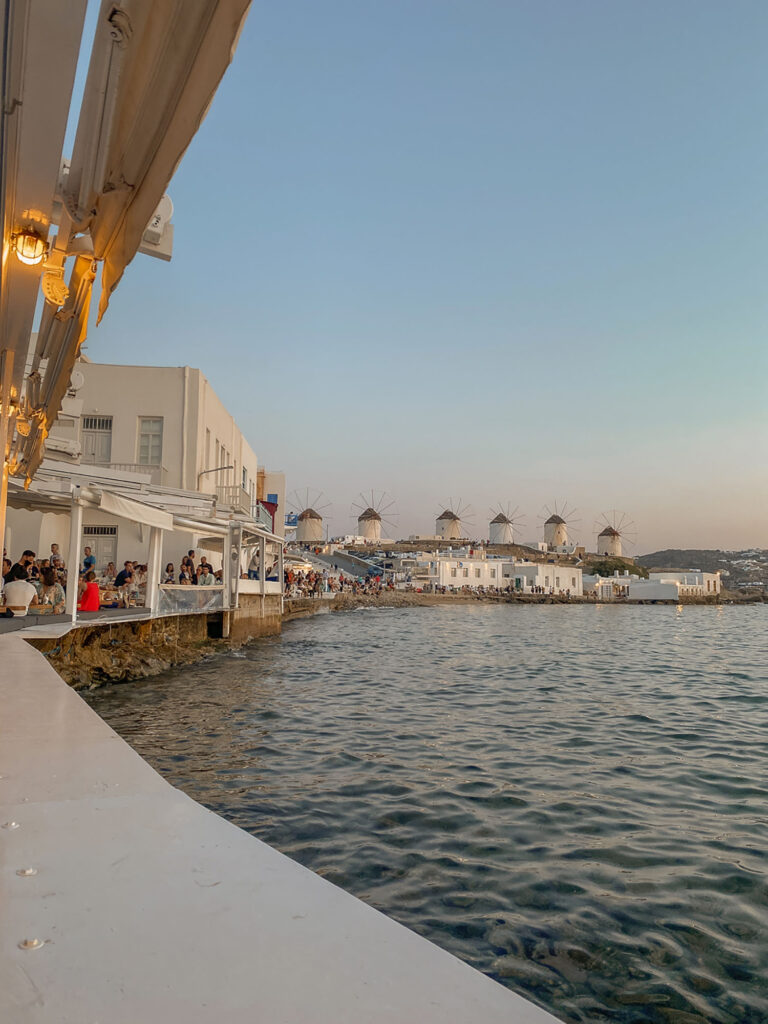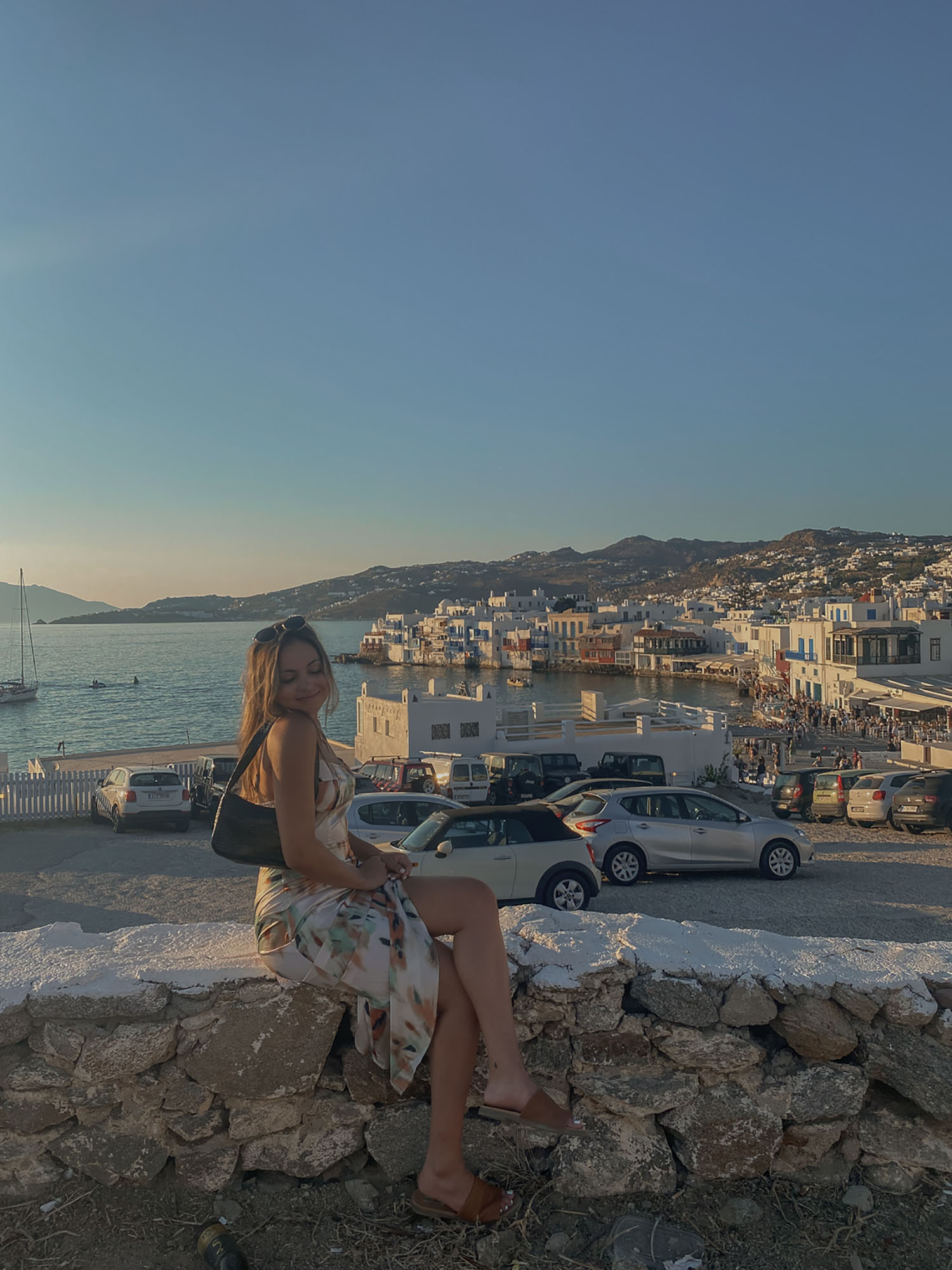 SPEND TIME ON THE WATER

You simply cannot visit an island and miss the beach! Here are some of the best beaches in Mykonos:
Paraga Beach: A friend visited this beach and loved it!
Platis Gialos Beach: This is where our hotel was located and this beach was nothing but perfect.
Ornos Beach
Paradise Beach
Lia Beach
The water is incredible on this island, we spent every day at some point enjoying the beach. Mykonos is also a great place to take a sunset cruise or catamaran trip!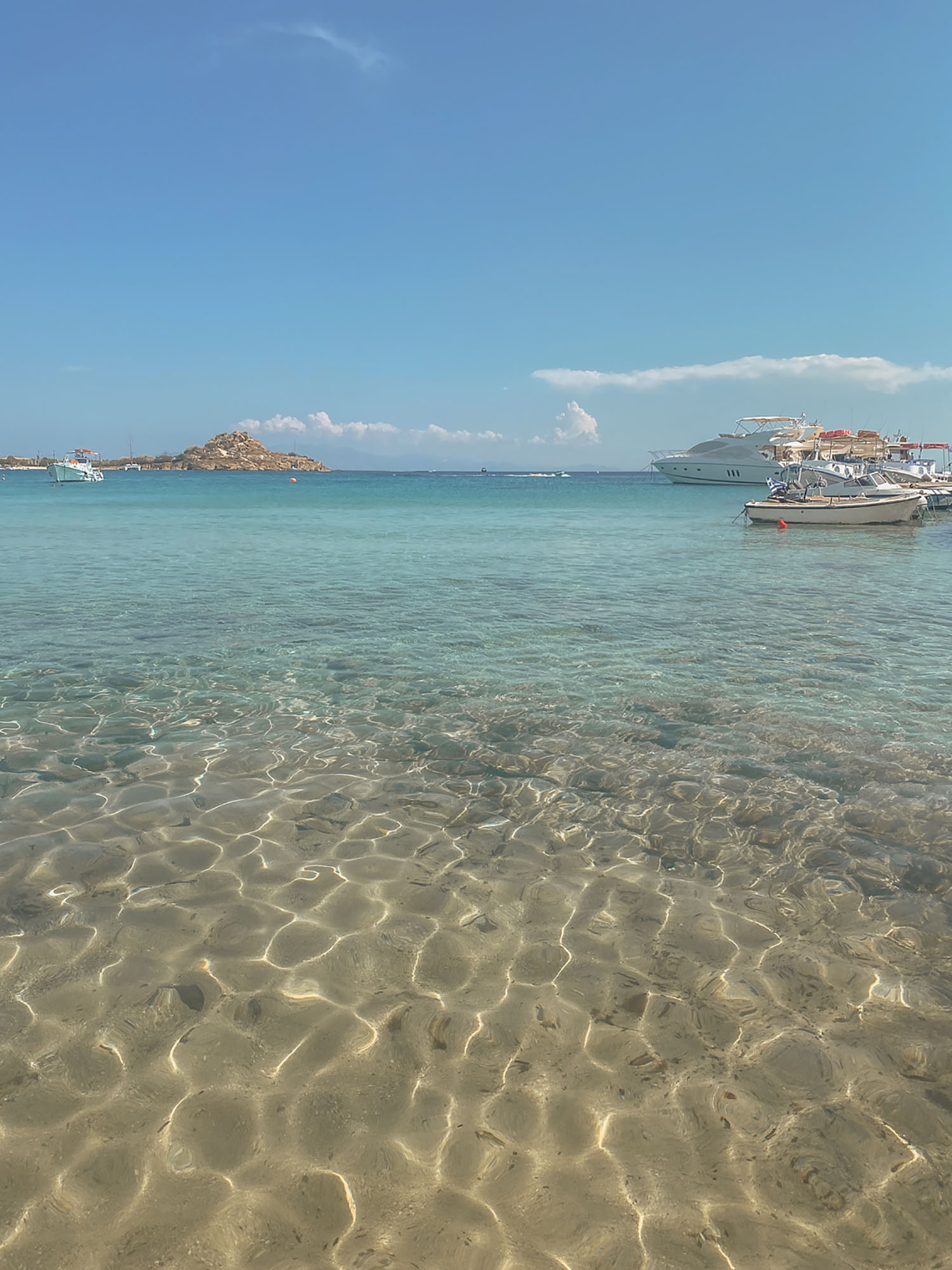 MYKONOS WINDMILLS

I'm sure you've seen these famous windmills all over social media. They are located right next to Little Venice so there's no reason why you shouldn't check them out! This is also a perfect photography spot in Mykonos.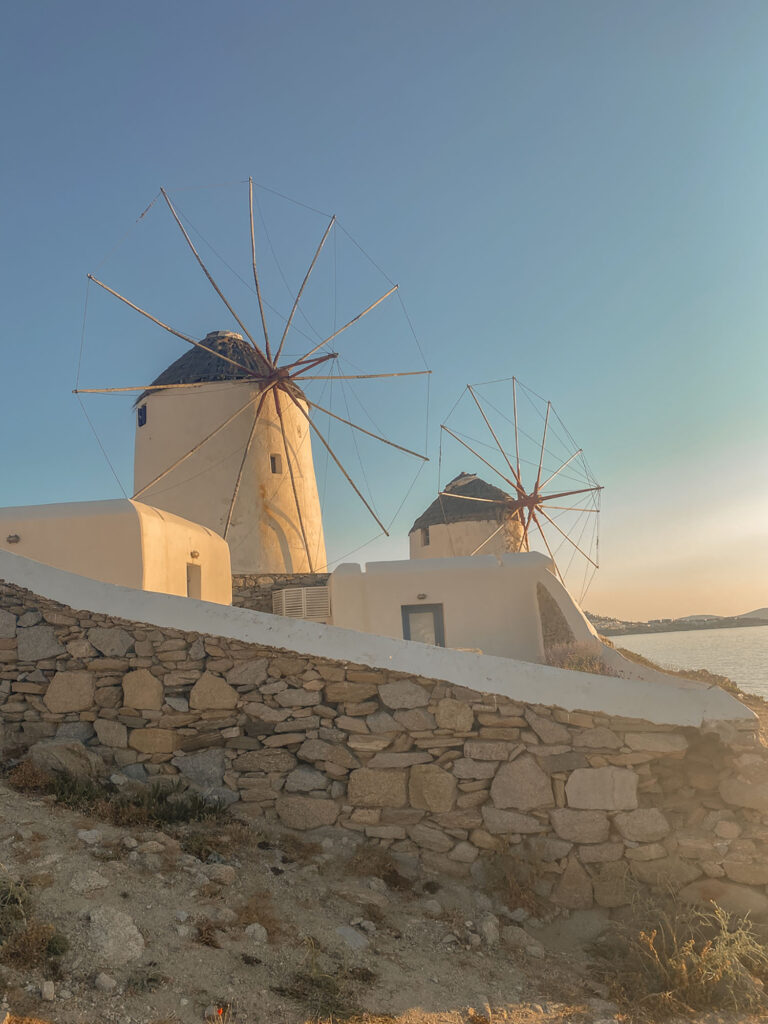 WATCH THE SUNSET AT SCORPIOS

Okay, if anything you HAVE to visit Scorpios. I have never been anywhere like Scorpios, this place is a total vibe, to say the least. It's a beach club in Mykonos, and although they do have some crazy nightlife I recommend going for dinner or a sunset cocktail and apps.
This was literally the most zen experience of my life. We sat on cushions right next to the ocean on the sand. The decor was very Moroccan-inspired, the music so so good, the drinks were fantastic, and we even got a couple of snacks that were delicious! Visiting Scorpios is 100% one of the best things to do in Mykonos!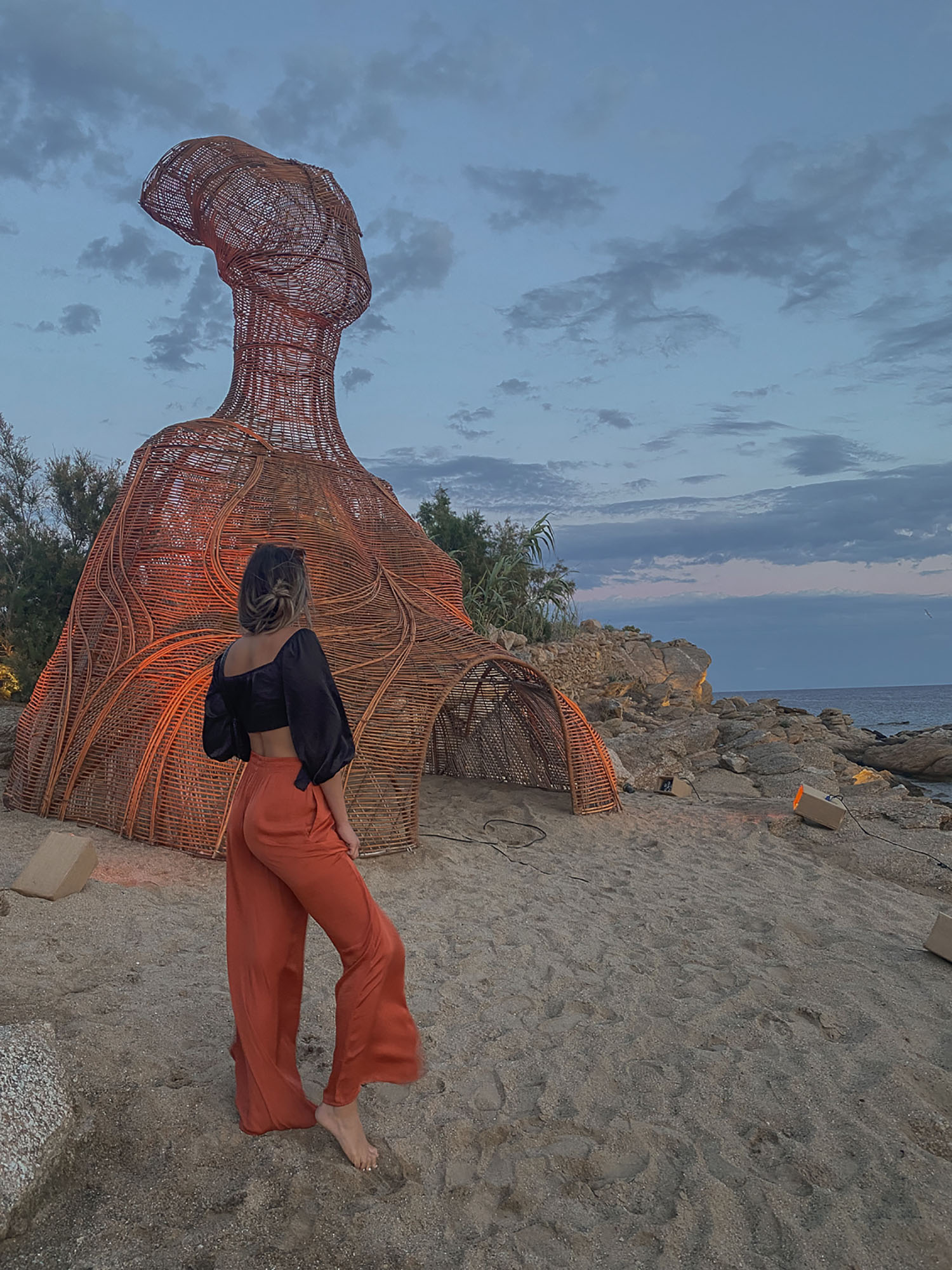 PARTY AT TROPICANA

Okay, if you aren't into the club scene skip over this one. Tropicana is one of the best beach clubs in Mykonos and one the craziest! Like I mentioned earlier in the article I visited right as Greece was reopening due to the pandemic. During this time Greece had made music illegal to play at bars, clubs, etc… (crazy right?!). Well, the day I arrived in Mykonos was the day music had become legal again…so the beach clubs… were insane. But in the best way possible! Everyone was so happy to dance and enjoy music again!
GET LOST IN MYKONOS TOWN

Wandering around Mykonos town is like walking through a fairy tale. The white cobblestone streets, boutiques, and cafes make it the perfect place to get lost.
Mykonos Town itself is all walkable. Also, the windmills and Little Venice are located here. It does get very crowded, so if you want some time to yourself in Mykonos town I would wander around before the island wakes up. This is also a perfect time for photos. Getting lost in Mykonos town might just be the best thing to do on the island.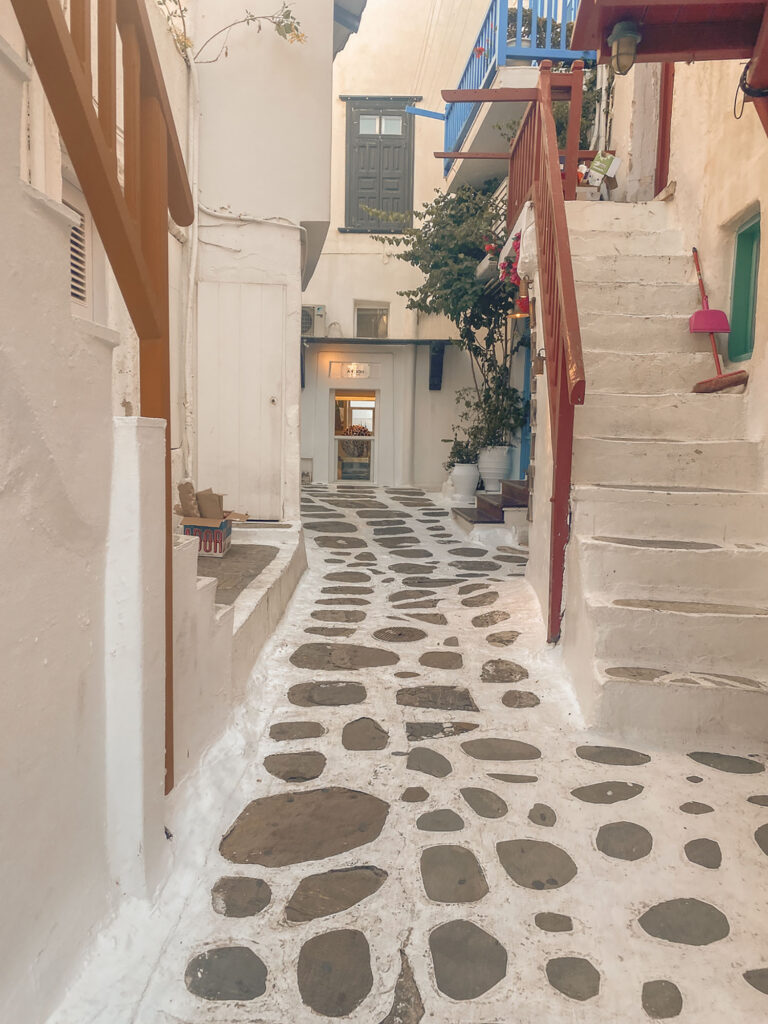 VISIT DELOS ISLAND

Delos Island is an archaeological site in the Aegean Sea's Cyclades archipelago. It's about a 30 to 45 minute boat ride from the island of Mykonos. This island was home to the Greek God, Apollo. I didn't get to visit Delos Island during my weekend in Mykonos but this is a great half-day trip if you are looking for a fun adventure.
CHURCH OF PANAGIA PARAPORTIANI

This is a beautiful church located in the neighborhood of Kastro, in Mykonos town. You have to make sure to stop by to see this amazing church. And the view of the ocean from here is incredible! It's also a great photography spot on the island.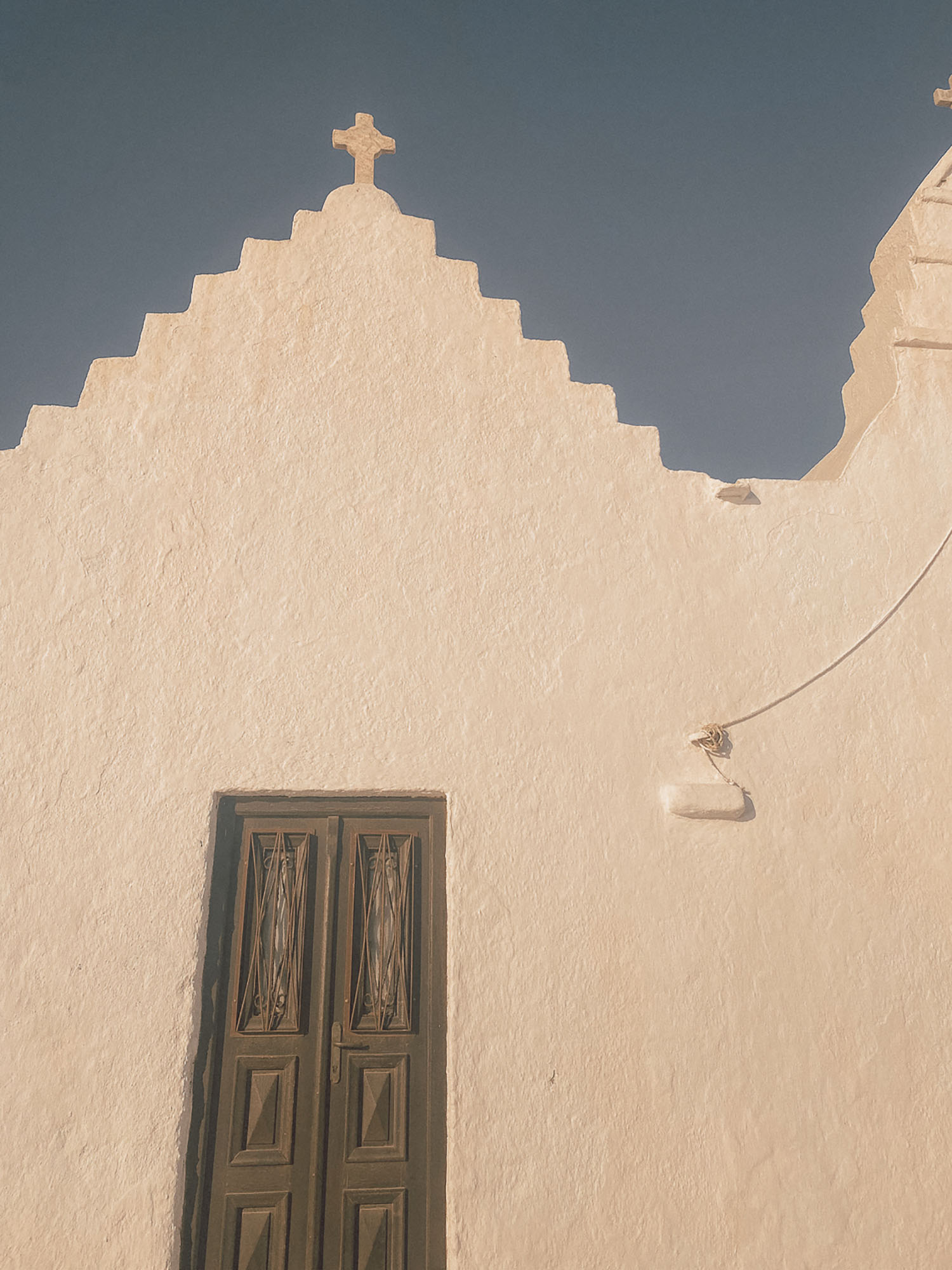 ARMENISTIS LIGHTHOUSE

If you are looking for amazing views of the sea, head to Armenistis Lighthouse. Go during sunset for even better views. The lighthouse is located in the northeast part of the island and is about 7 kilometers from Mykonos town.
TRANSPORTATION IN MYKONOS

HOW TO GET TO MYKONOS

You will likely arrive in Mykonos via ferry. There are two ports in Mykonos, called Chora and Tourlos. To get from the port to your accommodation I would check to see if your hotel arranges transfers. This is the best option! If not, there are plenty of taxis and buses hanging around by the ports.
On the other hand, you might arrive via plane. If so you will arrive at Mikonos Airport (JMK). If you are visiting Athens and Santorini as well, check out The Abroad Blog's guide to visiting Santorini from Athens! 
GETTING AROUND IN MYKONOS

The best way to get around the island is either by bus or taxi. The bus system is very efficient and connects many towns and popular areas. It's also affordable. Taxis on the other hand can be a bit more pricy but an efficient way to get around.
For instance, we would take a taxi to and from our hotel (Hotel Acrogiali) to Tropicana Beach Club when we went out for the night and it cost us about 25 euro each way.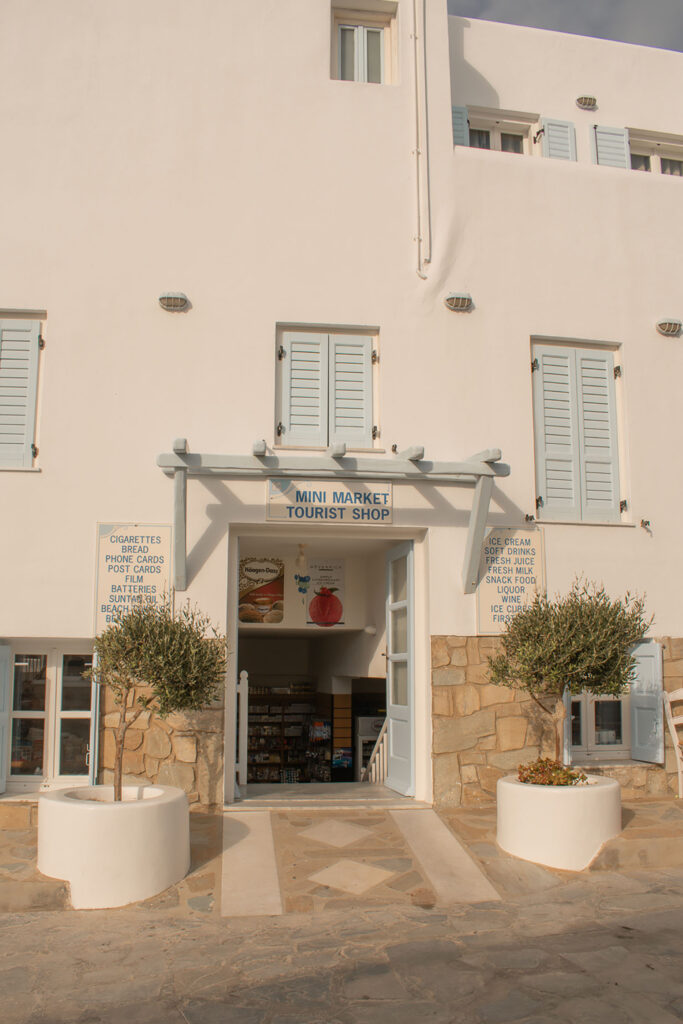 WHERE TO STAY IN MYKONOS
I stayed at Acrogiali Beach Hotel and it was absolutely incredible. It's right on the beach of Platis Gialos and there are so many great restaurants around the area. It's also a short walk from Scorpios and many other hot spots on the island.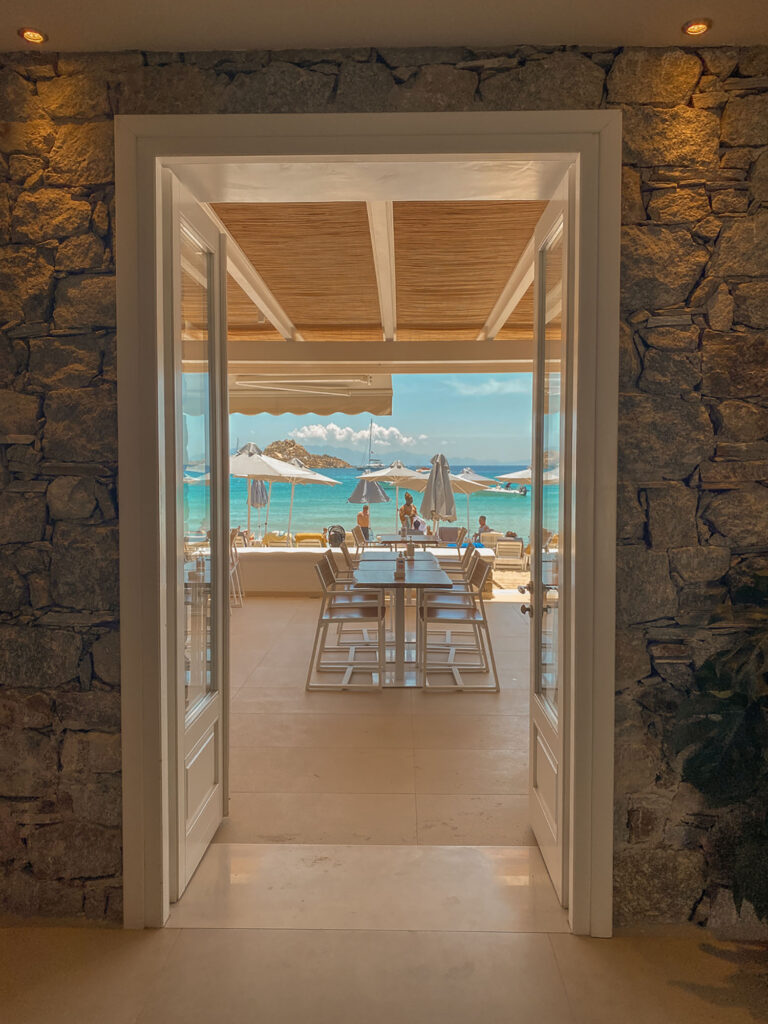 Paraga Beach Hostel is a great budget accommodation to stay at. I know someone who stayed here and they enjoyed it! To find hostels, I recommend Hostel World.
FIND A PLACE TO STAY IN MYKONOS
EAT + DRINK IN MYKONOS
There is no shortage of amazing food to eat on this island! Check out my guide on the best foods to try in Greece here.
Scorpios: amazing drinks and food. A must during your weekend in Mykonos.
Taverna Sunset: This was right in Little Venice, the view was the BEST dinner view I have ever experienced. The food was delicious too, we had greek wine and I got the grilled shrimp.
Yialo Yialo: This restaurant just steps away from our hotel. It was incredible. We tried the greek salad, salmon pasta, and fried calamari. Oh, and alot of wine. Yialo Yialo also has great cocktails, get the espresso martini!
Nikolas Taverna: Another great dinner spot! You have to try the fried feta (feta me meli) I ordered the mushroom and prosciutto pasta and it was incredible.
180 Mykonos: this is an amazing sunset spot and cocktail bar.
Interini: I've heard amazing things about this restaurant. Definitely worth adding to the list.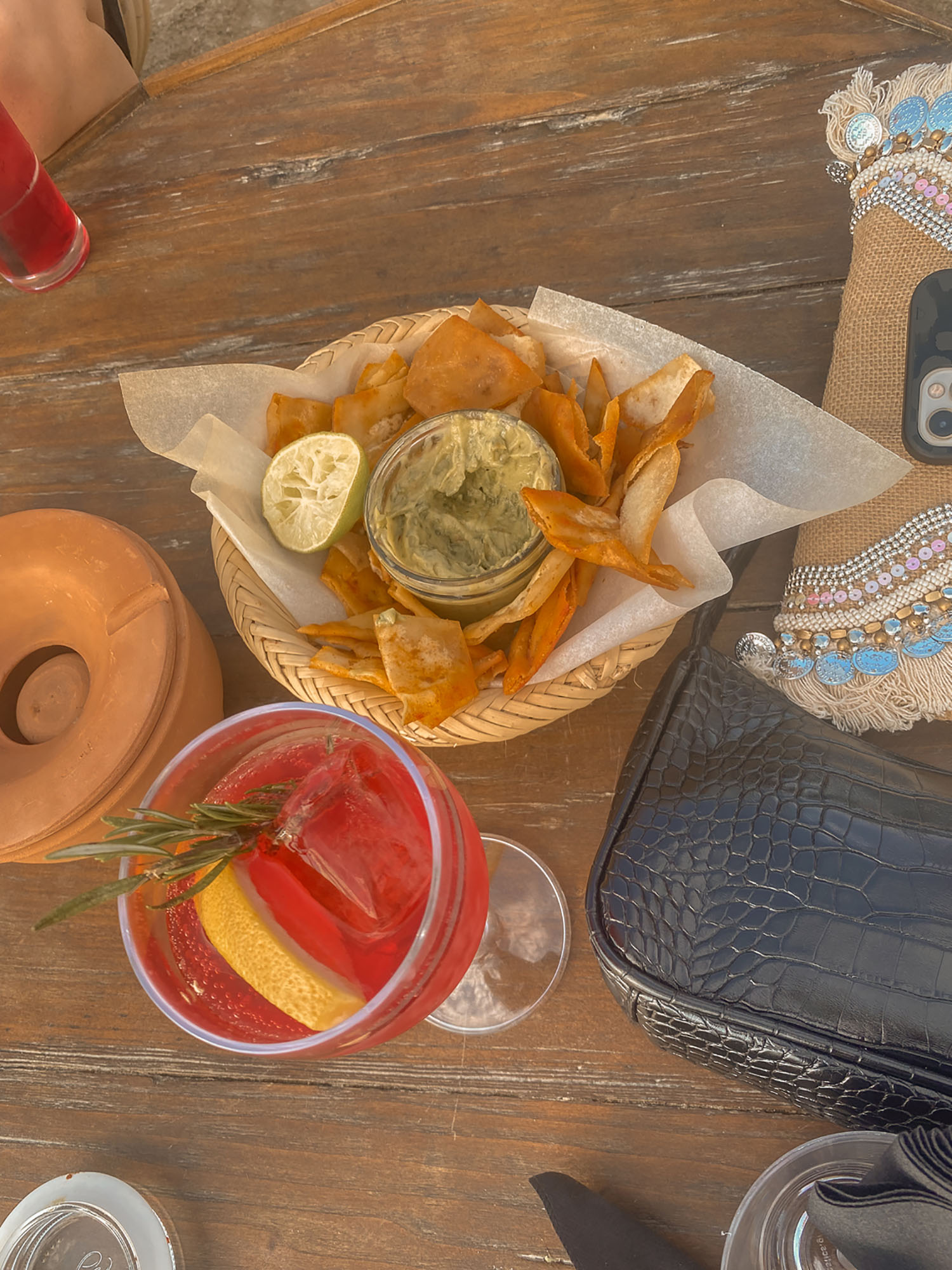 SAFETY IN MYKONOS

Mykonos is a safe place but be careful when out late at the clubs. Just don't do anything you wouldn't do at home. Watch your belongings, your drink, and don't get too drunk. Definitely wear a fanny pack or a small purse that stays close to you when you're out at night.
MYKONOS PACKING ESSENTIALS
Swimsuit
Comfortable sandals
Lightweight dresses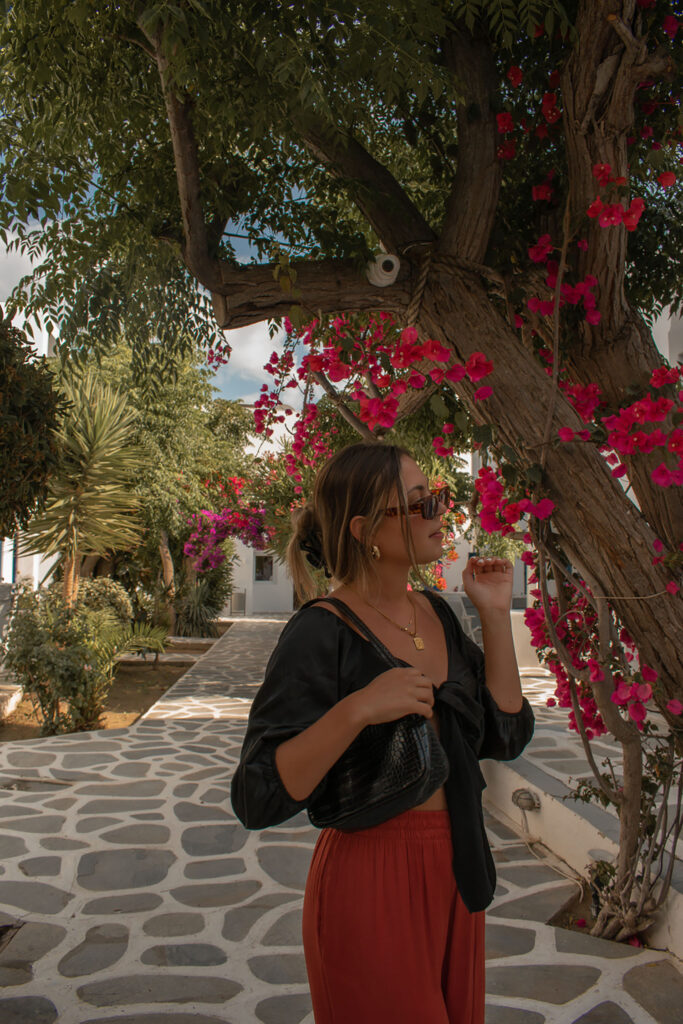 FINAL THOUGHTS ON THE BEST THINGS TO DO IN MYKONOS

The island of Mykonos is well worth a visit whether you like to party or not! It's seriously one of the most beautiful places I have ever traveled to with so many great things to do and see. I hope this Mykonos travel guide was helpful. As always, if you have any questions about Mykonos or Greece in general please reach out! Feel free to DM me on Instagram, comment below, or email me at sydabroad@gmail.com.
Syd xx.
SHOP MY TRAVEL FAVORITES
PIN IT!