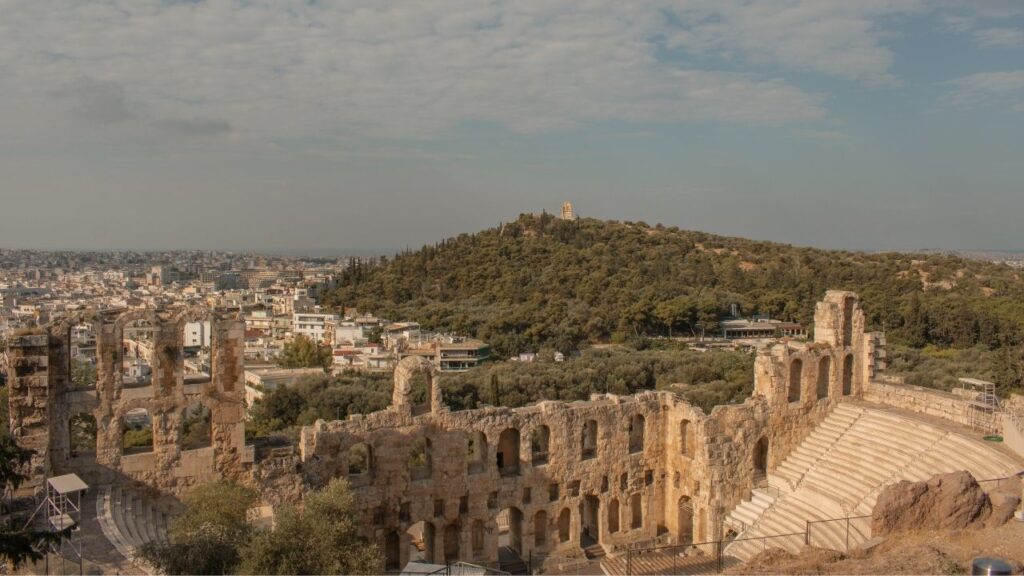 (Disclaimer: This post may contain affiliate links, which means we may receive a small commission at no extra cost to you.)

If you are thinking about visiting Athens, Greece, this travel guide is for you! I spent a little less than 2 months backpacking Europe, and Athens was my first stop. Although many people will choose to skip over the city of Athens and head straight to the Greek islands, I think this city is worth a visit. In this guide, I will tell you all you need to know about how to spend 3 days in Athens, Greece. Along with a full itinerary and all. Alright, let's get into the best things to do in Athens!
Disclosure: This article may contain affiliate links
THE BASICS
CURRENCY = Euro

1 USD = .85 EURO
LANGUAGE = Greek

Although Greek is the official language, you'll find that many people speak English here.
PHONE & INTERNET

From my experience, the phone service was pretty good throughout Athens. You can also find wifi at almost every cafe and restaurant.
DAILY BUDGET

I found Athens to be pretty affordable. The average daily budget for Athens, Greece is about 45 to 70 euros. With this budget, you can get a nice dorm bed in a hostel, delicious street food, some Greek wine, and you'll have a bit extra for activities. Athens is definitely not the most affordable city in Eastern Europe, however, compared to Western Europe your money will go pretty far.
TIPPING IN ATHENS

Tipping in Athens, similar to the rest of Greece, is optional. However, if you had nice service it's common to leave a gratuity between 5% and 10%. When on excursions or guided tours, it's always typical to tip your guides.
IS THE TAP WATER DRINKABLE?

Yes, it is safe to drink tap water in Athens. When dining at restaurants always ask for tap water to save a bit of money. I also really enjoyed my Stojo collapsable water bottle during the trip. It was a necessity in the heat and easy to store when I didn't need to use it.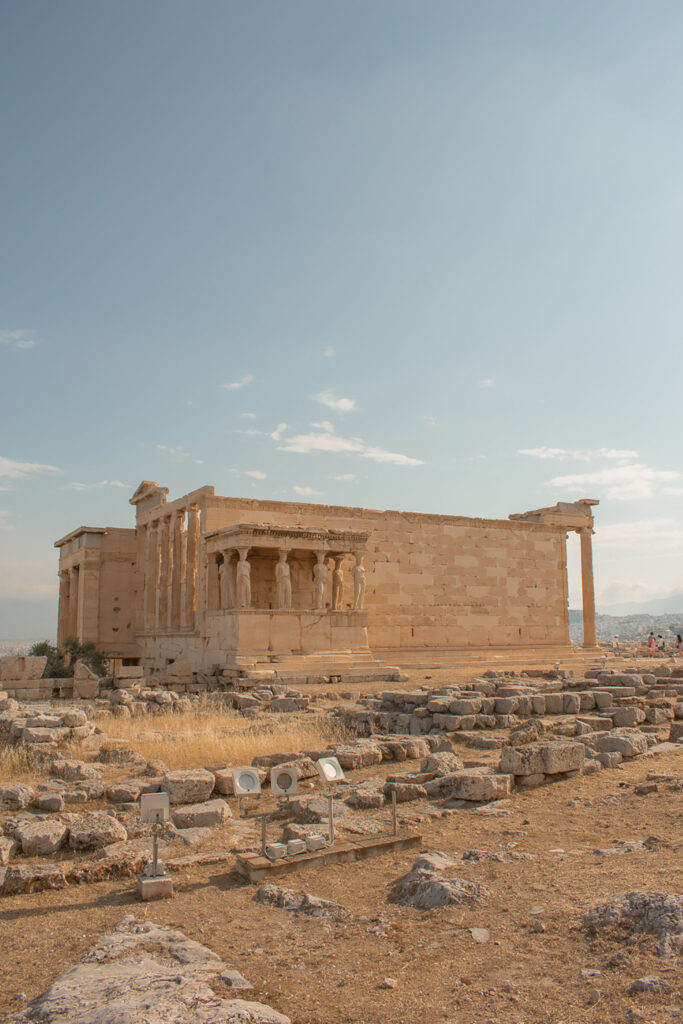 BEST TIME TO VISIT ATHENS

Between March and May and from September to November. There will be fewer crowds, the weather is nice, and you might find Athens to be more affordable considering it is not peak tourist season.
I visited at a strange time, in June of 2021 right when Greece was opening again to tourists. It was pretty hot at this time but the crowds were not bad which made my experience so much better. I think pre-covid times in June might have been a lot with all the crowds.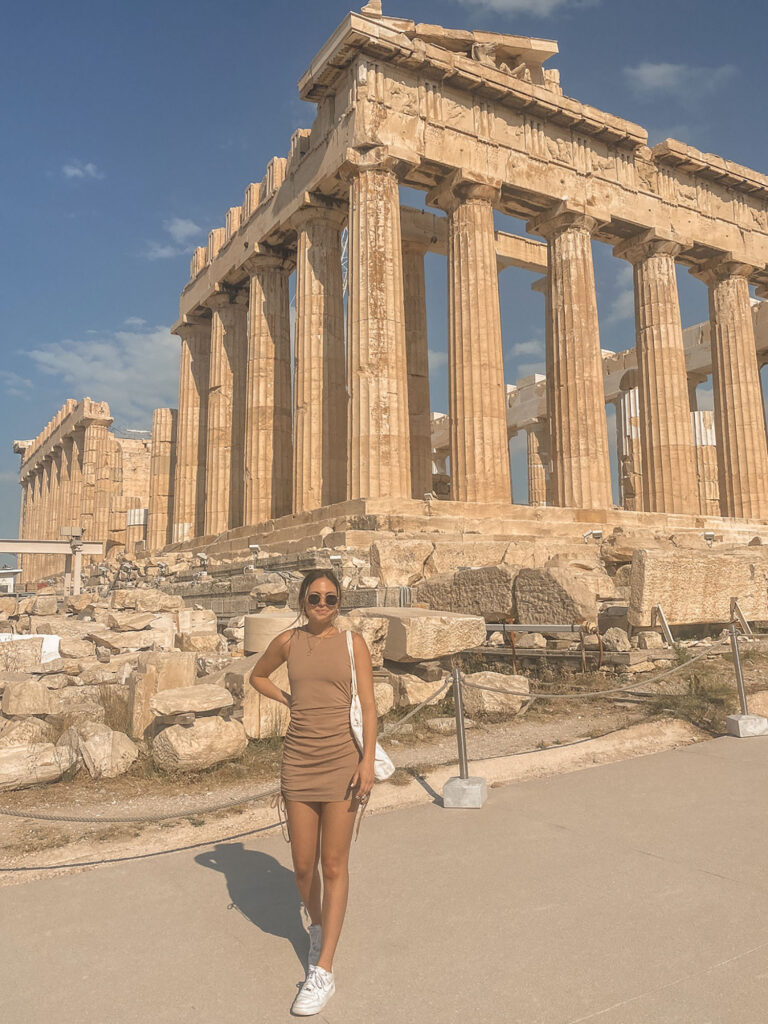 WHY YOU SHOULD INCLUDE ATHENS IN YOUR GREECE ITINERARY

So, many people will suggest skipping over Athens completely and head straight to the islands. I understand, but I really do think you should include 2 to 3 days in Athens on your Greece itinerary.
Athens honestly surprised me, I really enjoyed this city. I loved how walkable it was, we didn't take a taxi once. There are really pretty neighborhoods to explore, some incredible street food, and let's not forget the history.
Visiting the Acropolis in person was surreal! I highly recommend squeezing Athens into your trip. Also, did you know that Athens has beaches?! There is a lot more to do here than you may think!
ATHENS BUCKET LIST

If you only choose 5 things to do during your 3 days in Athens, I think these activities should be at the top of your list:
The Acropolis
Acropolis Museum
Explore the Plaka Neighborhood
Enjoy traditional Greek food
Walk through the National Garden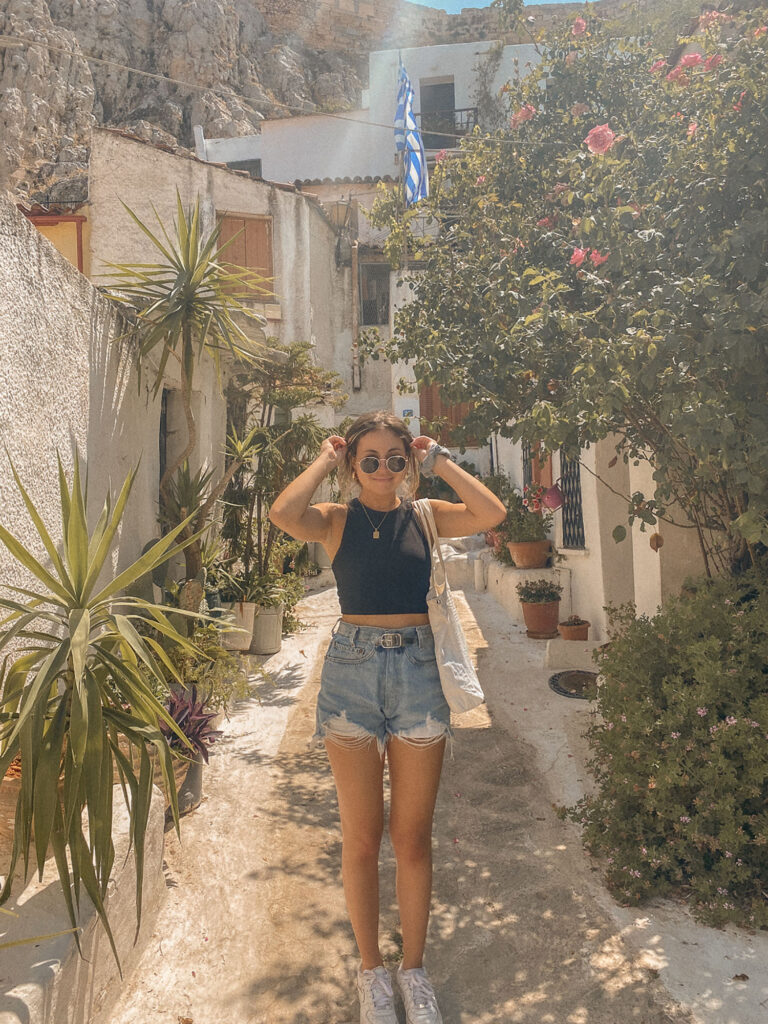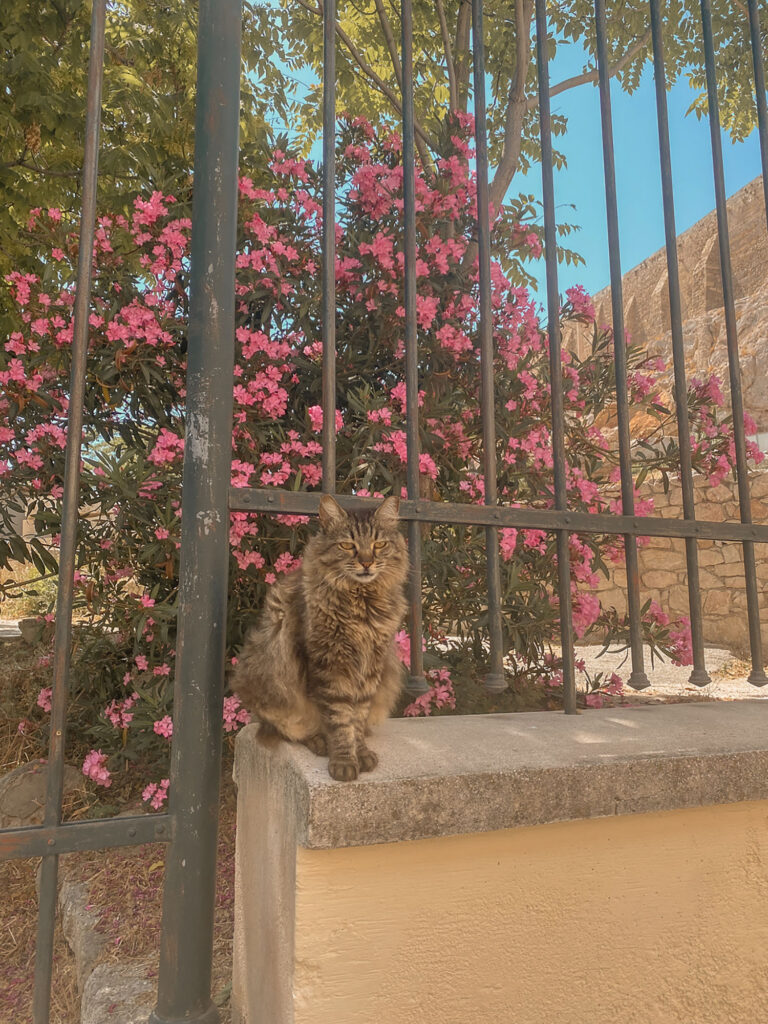 3 DAYS IN ATHENS, GREECE – ITINERARY
Now, let's get into how to spend 3 days in Athens!

DAY 1

FREE WALKING TOUR OF ATHENS
Taking a walking tour of Athens is a great way to get a good feel of the city and learn about its history. I also love doing walking tours at the beginning of a trip because I always end up with the best recommendations and tips for the city!
Google "free walking tours in Athens" and you will find many options! If you are staying at a hostel, they will likely have recommendations as well. Don't forget to tip your guide!

THE ACROPOLIS MUSEUM
This was such a cool museum to visit! The Acropolis Museum is an archaeological museum focused on the findings of the archaeological site of the Acropolis of Athen, and a great activity to do to get a break from the sun. Take your student ID if you have one, it cost 5 euros for students and the regular price is 10 euros.

TEMPLE OF OLYMPIAN ZEUS
The Temple of Olympian Zeus in Athens, Greece is a temple that was built in honor of the God, Zeus. You can see what's left of the temple in the center of Athens, tall columns and a few statues.
If you purchase a ticket that includes multiple sights around Athens, The Temple of Olympian Zeus is included.

ANAFIOTIKA NEIGHBORHOOD
The cutest, quaint, little neighborhood! I was obsessed with this place. Search for "Anafiotika" in your Google maps and head that way. If you are into photography, you can't miss this neighborhood during your 3 days in Athens.
DAY 2

THE ACROPOLIS
The Acropolis is an ancient city located above Athens and home to many remains of ancient buildings. The Parthenon is the most famous. Make sure the Acropolis is the first thing on your to-do list for the day. You will beat the crowds and the heat, be prepared to visit right when it opens. In the summers if it gets too hot they will actually close the Acropolis at times, so it's best to go first thing in the morning.

ROMAN AGORA + OTHER HISTORIC SIGHTS
I'll be honest, the Acropolis is definitely the coolest of the sights in my opinion, but the others are ready great to see as well. I definitely recommend checking out the Roman Agora and the Ancient Agora, many of the ruins included in your ticket are a close distance too.

WANDER AROUND PLAKA
Plaka is a beautiful neighborhood in Athens, and a must to include in your Athens travel guide. Here, you will find souvenir shops, cafes, bars, and more! The atmosphere is unbeatable.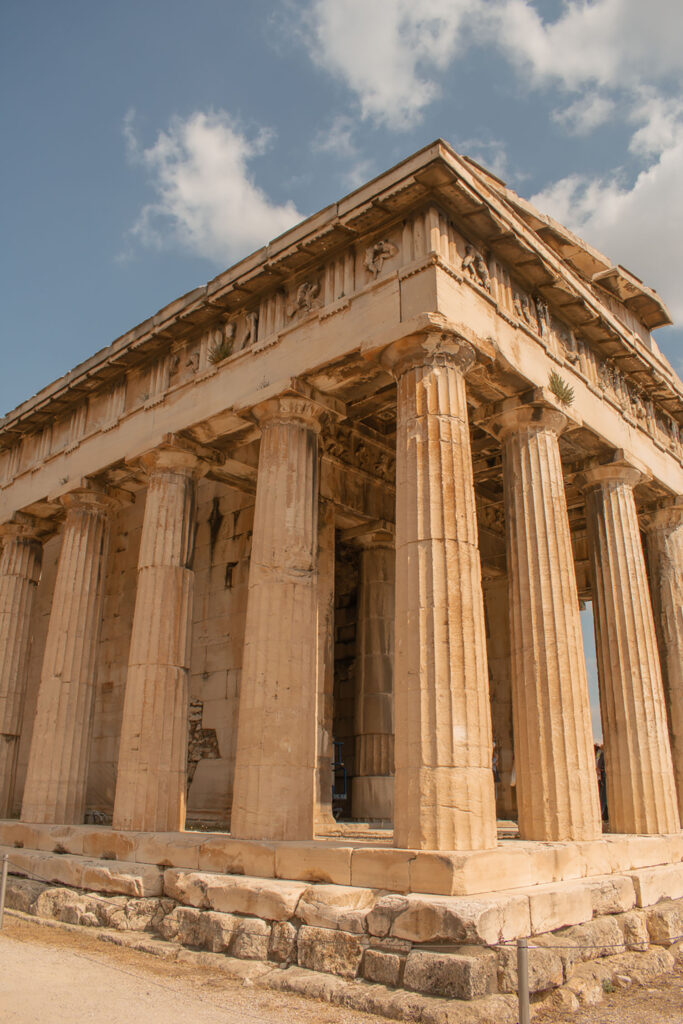 DAY 3
NATIONAL GARDEN
The National Garden is a public park in the center of Athens. It's a nice place to walk around and take a break from the city. You'll find it directly behind the Greek Parliament building.

SHOP DOWN ERMOU STREET
This is the place for shopping! Ermou street is a great place to shop around and people watch. You'll find all the popular brands like Zara, Bershka, and more.

ATHENS FLEA MARKET
Athens Flea Market, also known as Monastiraki Flea Market is a must during your 3 days in Greece. There are all sorts of unique things to find as souvenirs or gifts! From my understanding, it's open every day of the week. However, if you're planning on going soon I would double-check with the staff at your hotel or hostel.
You can find some great things at good prices, I picked up a beautiful ring here for only 8 euros!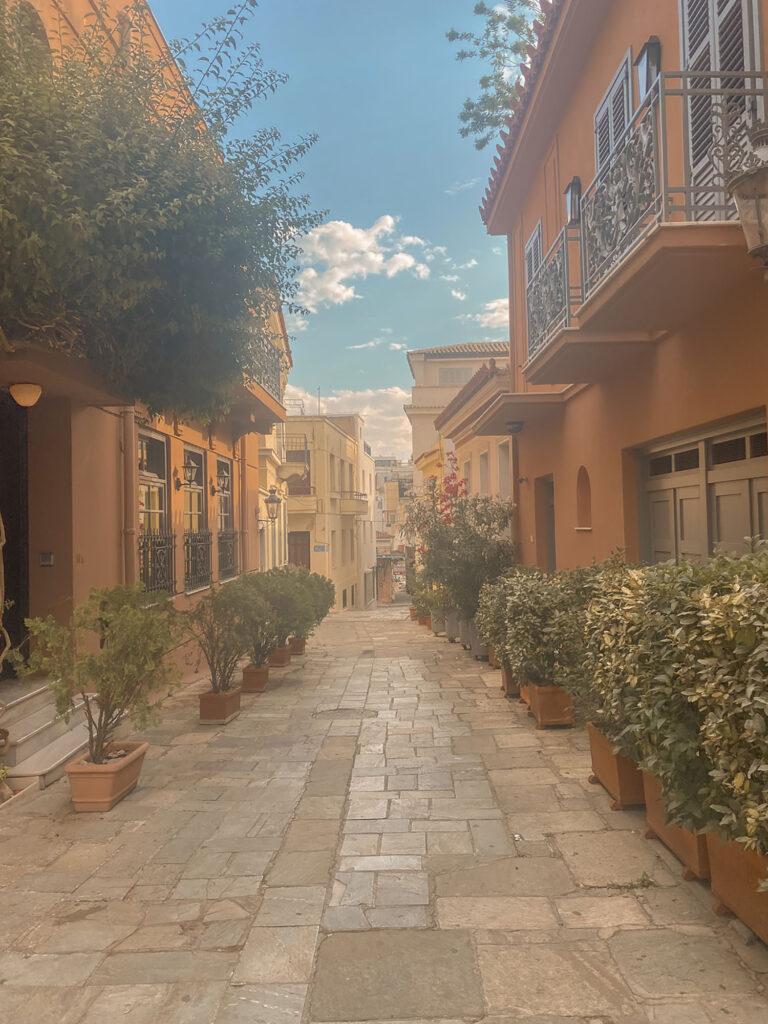 WHERE TO STAY IN ATHEN, GREECE

I stayed at Athens Hub Hostel and I cannot say enough great things! This hostel cost us about 17 euros per night for a dorm bed, the hostel was in a great location (walking distance from literally everything), and the staff was great. Athens Hub Hostel also had a nice workspace downstairs with a bar and cafe.
For additional places to stay in Athens check out Hostelworld or Airbnb. My top tip for finding accommodation in Athens is to stay in the city center. This way you won't spend any money on transportation. Unless you visit a beach or head to the airport.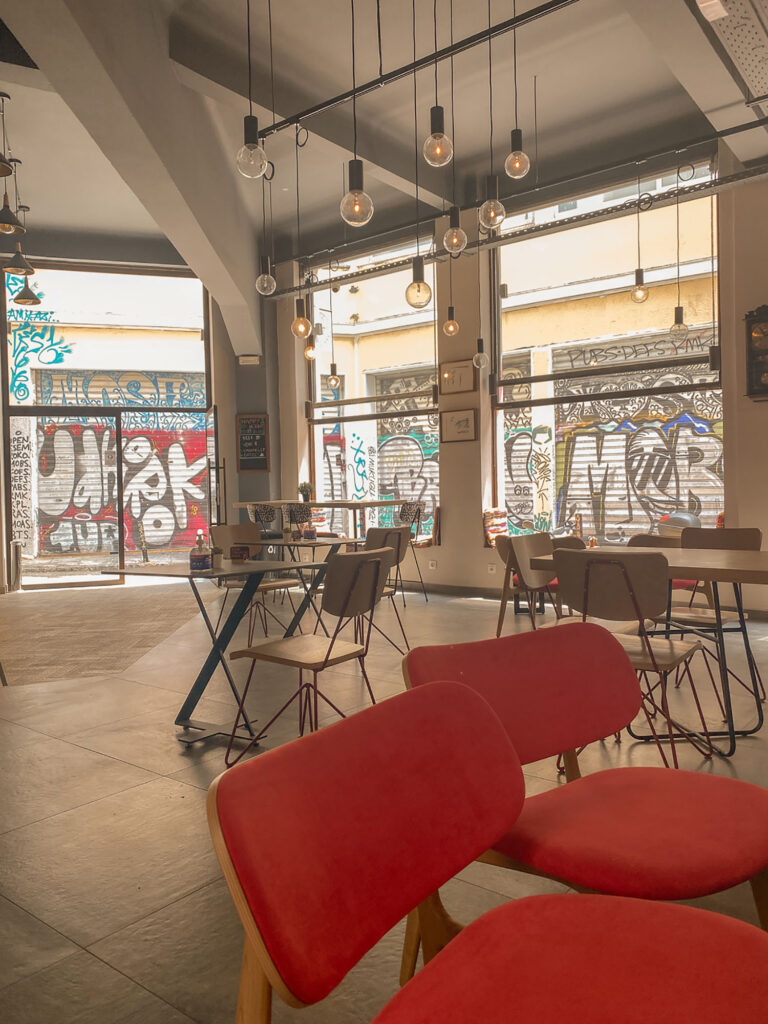 EAT + DRINK IN ATHENS
Just Made Unique Sandwhiches and Coffee: Obviously some great sandwiches and coffee
Fresko: Gelato and Icecream
Vegan Beat: The BEST vegan gyros, yes vegan
Geros Top Moria: Incredible authentic Greek food. Definitely head here to try some new dishes
Zaf: A nice cafe/restaurant. We had a great charcuterie board here
School Pizza Bar: Delicious italian food
A for Athens: Rooftop bar with tasty drinks
Coffee Berry: Delicious coffee, pick up a freddo espresso or freddo cappuccino
Six Dogs: Go for food and drinks during the day or go at night for more of a club seen. This place has a cool vibe
Monouka: Visit for the views. They are incredible! It's a rooftop bar and restaurant. We went for an afternoon espresso
TIPS FOR YOUR 3 DAYS IN ATHENS
Buy the 30 euro pass that gets you into multiple sights and gives you 3 days to see the sights, you can purchase at any entrance. With your ticket you will be able to visit the Acropolis, Ancient Agora, Roman Agora, Hadrin's Library, Olympion, Kerameikos, and Aristotles Lykeion.
Take your student ID if you have one! You can save money at the Acropilos museum and more.
Get to the Acropolis early, it gets hot and crowded.
Stay in the city center to avoid having to use transportation.
Hit up the happy hours for the best deals.
Order tap water at restaurants to avoid paying for water.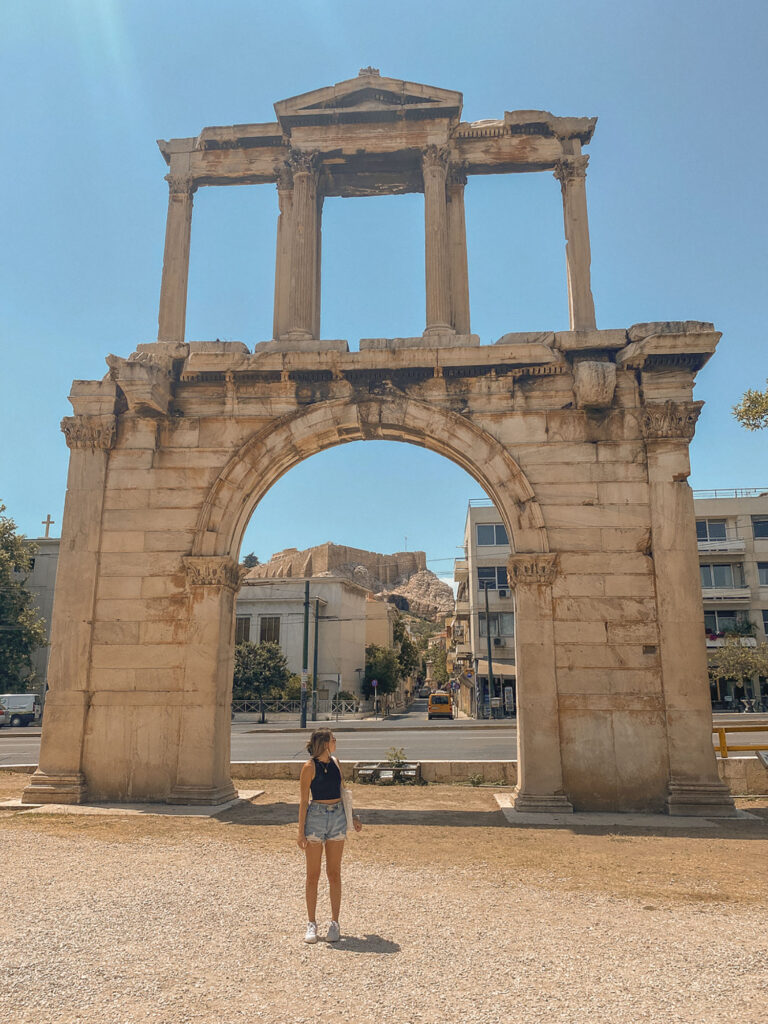 TRANSPORTATION IN ATHENS, GREECE
HOW TO GET TO ATHENS
You will most likely fly into Athens International Airport (AIA) unless you are arriving via ferry. If you are arriving by ferry you will likely port at Piraeus.
GETTING AROUND ATHENS

Taking the Athens metro from the airport is very efficient. Stay in the city center and you can walk just about everywhere. We stayed at Athens Hub Hostel and it was perfect!
To get from Athens airport to the city center take line 3 towards Monastiraki station. The ticket will cost you about 9 euros. Check Google Maps too, there might be a better route to get to your accommodation.
The trip from the airport to the center of town will take about 45 minutes to an hour.
SAFETY IN ATHENS, GREECE

I found Athens to be a very safe place. Obviously, don't do anything stupid like walking down sketchy streets at night. If you use common sense, Athens is a safe city. I would say the main worry is pickpockets and petty theft. Make sure you are aware of your belongings at all times.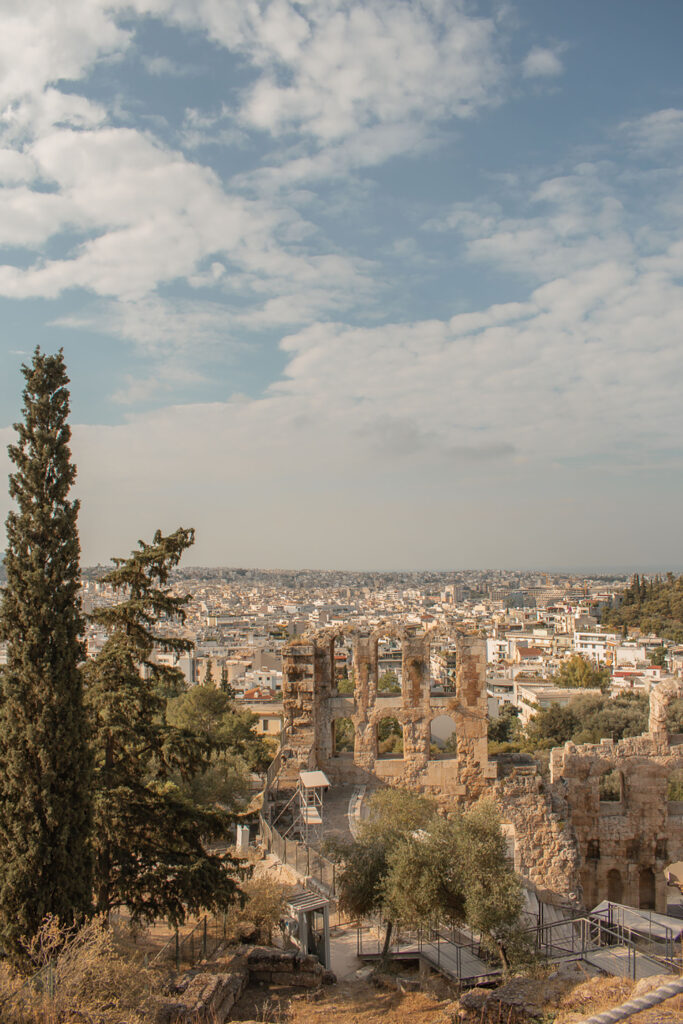 FINAL THOUGHTS ON SPENDING 3 DAYS IN ATHENS

Overall, I think Athens is a great start to your Greece trip. Although it's not comparable to places like Santorini or Mykonos, 3 days in Athens is a good amount of time to see all that this city has to offer! I do think Athens was really enjoyable because of the fewer crowds, I can see how the crowds would get a bit annoying. But I highly recommend making a stop, especially if you are flying into Athens airport anyway.
I hope you enjoyed reading my Athens travel guide! As always, if you have any questions about my time in Athens, feel free to comment below, DM me on Instagram, or email me at sydabroad@gmail.com!
xx Syd.
SHOP MY GREECE LOOK
COPY EMBED CODE
PIN IT!