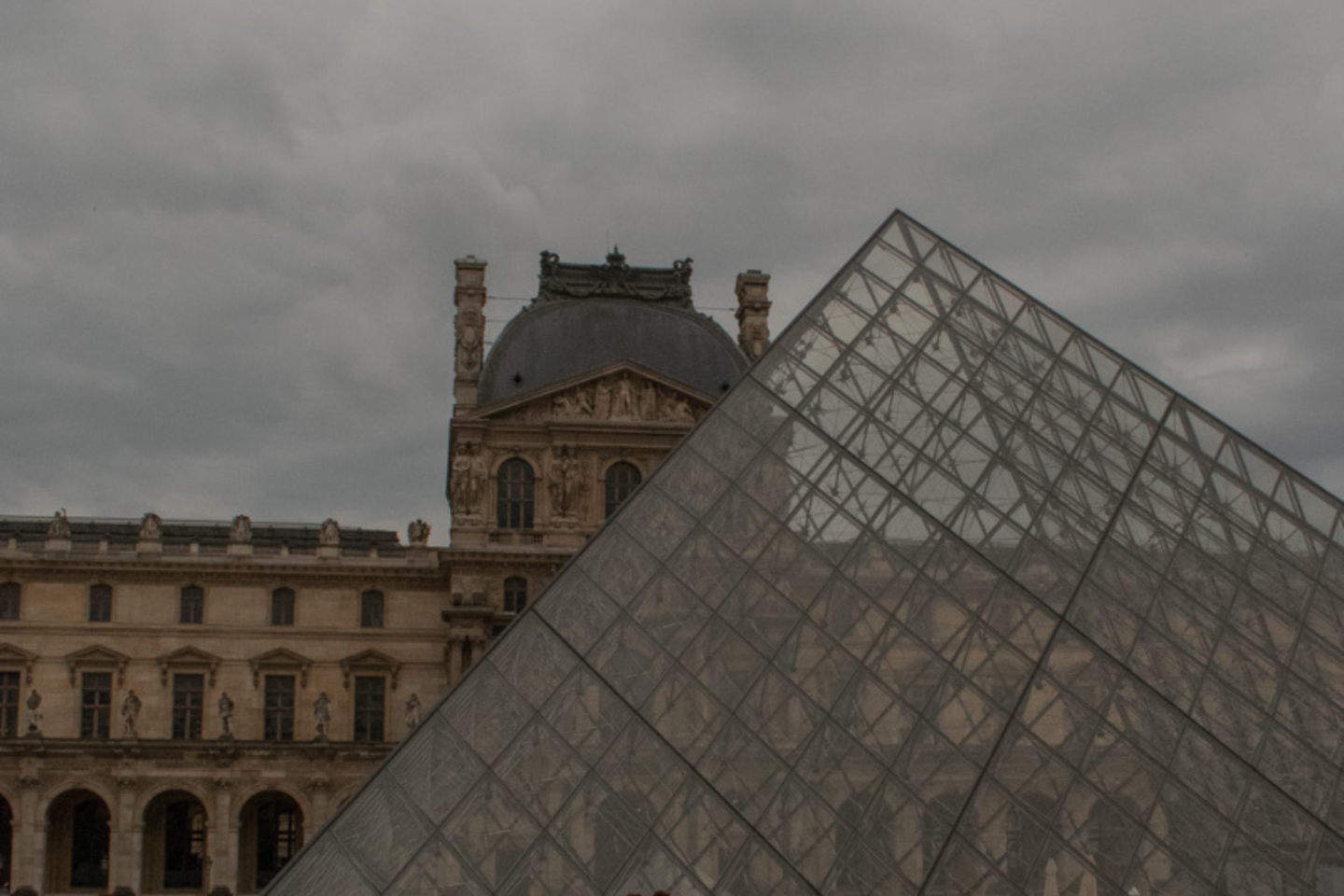 (Disclaimer: This post may contain affiliate links, which means we may receive a small commission at no extra cost to you.)

Are you looking for the best things to do in Paris, France? Then this travel guide is for you!
From the beautiful museums and parks to the history and culture, Paris is truly a city like no other. If you are planning a trip to Paris, this guide covers all of the best things to do in the city, where to eat, how to get around, where to stay, and more! 
I've now visited Paris twice so I thought it was about time to write a guide about the city. I know there are many mixed opinions on Paris – some hate it and others love it. Well, I have to say I wasn't the biggest fan at first but the second time I visited, the city really grew on me. Anyways, I think it's definitely worth a spot on your European bucket list – so let's get into the guide! 
This post is all about the best things to do in Paris, France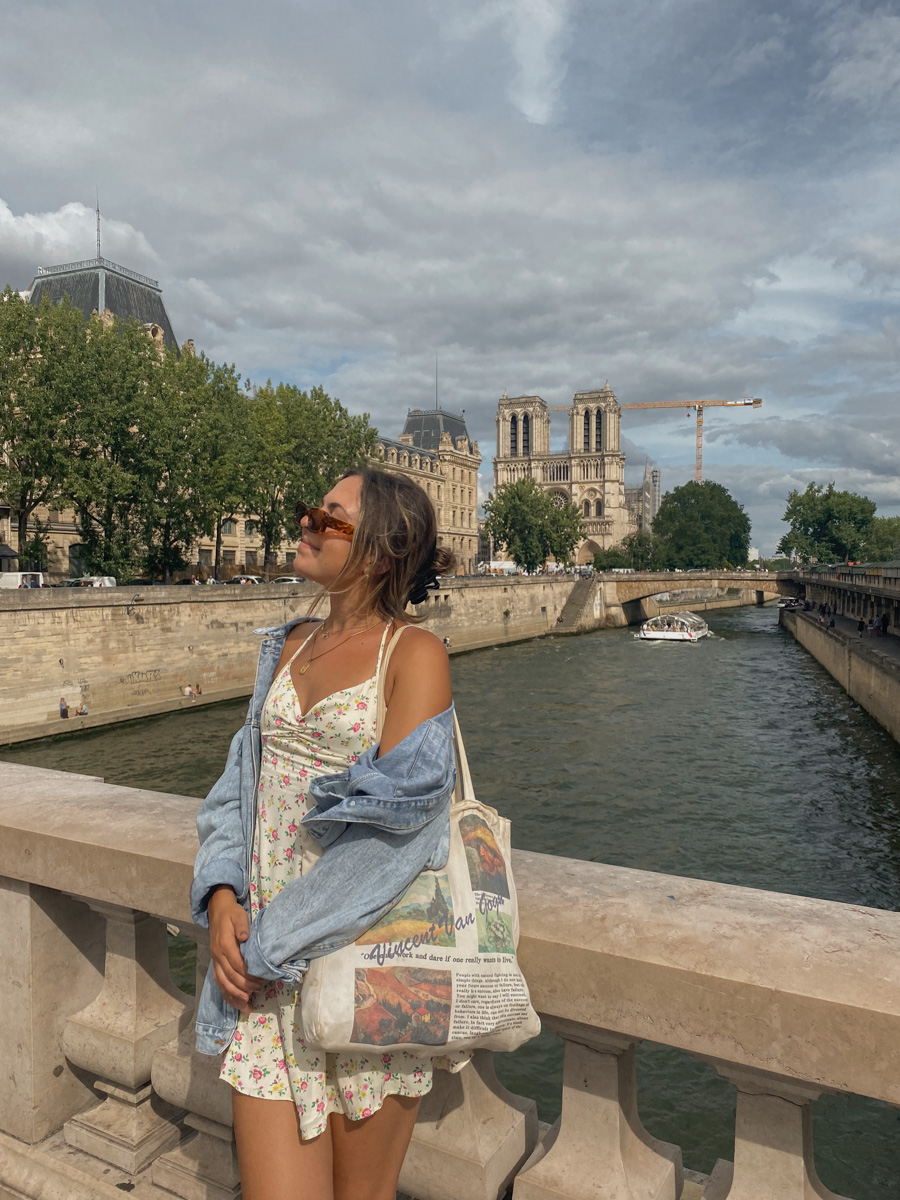 THE BASICS 
CURRENCY = EURO 
The currency in France is the euro. (EUR)
1 USD = .93 Euro
Many places in Paris will accept card payments but I find it helpful to keep a bit of cash for small purchases. Cash is really useful if you need to tip a guide, split a restaurant bill, or shop at a local market. Also note, there are plenty of ATMs throughout the city. 
LANGUAGE = FRENCH
The national language is French. However, you will find that some people speak English since Paris is a popular tourist destination. I do suggest brushing up on your French to be respectful to the locals. It's good to know basic French phrases in order to get around the city. I use the Duolingo app to learn new languages. 
PHONE & INTERNET 
From my experience, I never had an issue with the phone and internet in Paris. There was cell service just about everywhere. And a majority of the cafes and restaurants had wifi available. Basically, every hotel and hostel should have wifi as well. 
DAILY BUDGET
Paris is not a cheap city to visit. But it is possible to do it on a budget. I have a budget guide to Paris that you can read here. As for a low to mid-range budget expect to spend about 100 to 160 euros per day. If you're not on a budget, the sky is really the limit in Paris. 
TIPPING IN PARIS 
Bills in France will include a service charge so tipping is not expected in most places. If you do decide to tip after a great meal, in general, 5% to 10% is good. However, make sure to tip your guide if you partake in an activity like a free walking tour. 
IS THE TAP WATER DRINKABLE? 
Yes, tap water is safe to drink in Paris.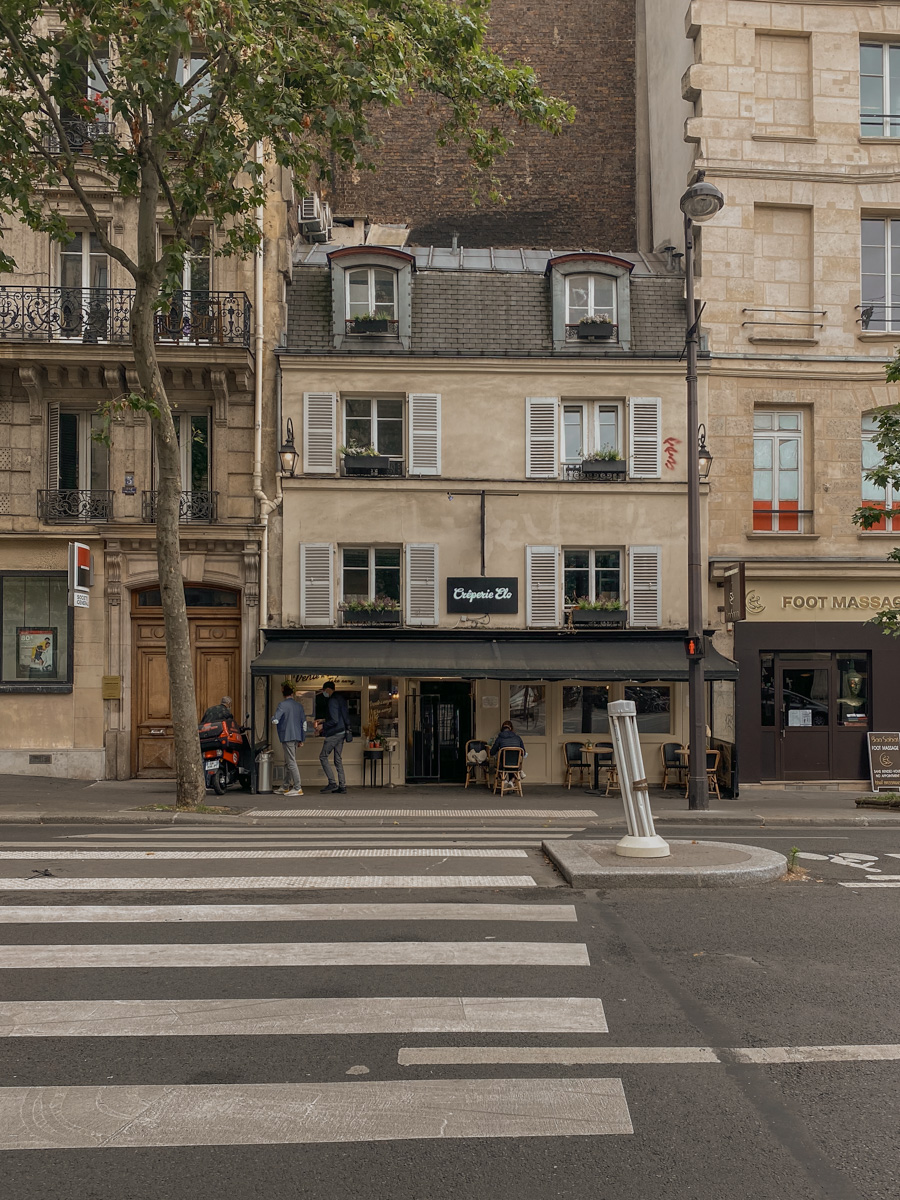 14 BEST THINGS TO DO IN PARIS, FRANCE 
1. THE LOUVRE + OTHER MUSEUMS 
I'm sure you are familiar with the Louvre, a massive art museum in Paris, France. It's a central landmark of the city located on the Right Bank of the Seine. 
The Louvre is famous for da Vinci's Mona Lisa – which is actually quite a small piece of art – and famous for so much more. You can spend hours in this museum and barely scratch the surface. 
I do recommend visiting because it is an amazing museum. I suggest buying your tickets online to avoid waiting in lines and make sure to give yourself at least 3 hours to explore. The Louvre is open every day from 9 AM to 6 PM (except Tuesdays). But make sure to check before your trip for the most up-to-date information.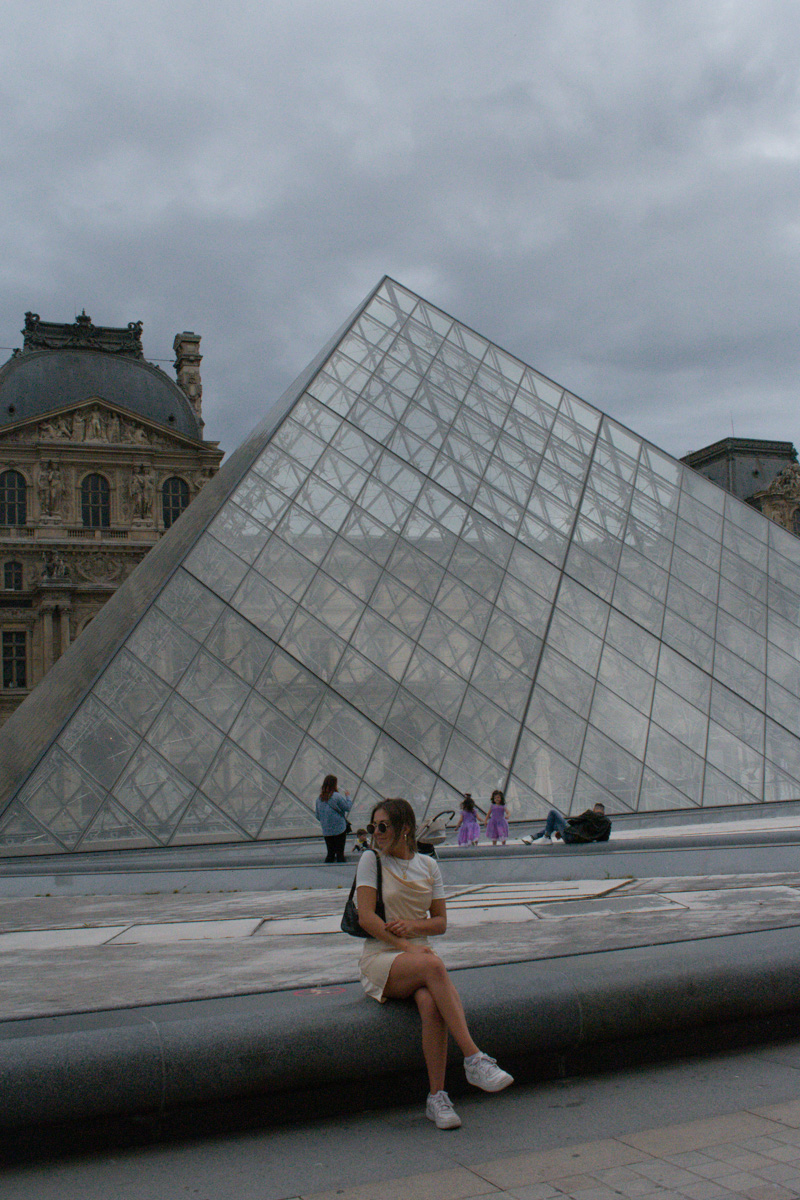 MORE MUSEUMS TO VISIT IN PARIS
Here are a few other museums to visit in Paris. Although there are well over 100, so there's absolutely no way to visit them all. A fun fact is that Paris and Mexico City are the cities with the most museums in the world
Musée d'Orsay 
Musée de l'Orangerie 
Musée des Arts et Métiers
Jeu de Paume 
& so many more. 
2. VISIT SOME OF THE MOST UNIQUE COCKTAIL BARS IN THE WORLD 
Paris has some incredible speakeasies and cocktail bars. They are expensive but so unique and worth it to have a cocktail or two. Here are a couple of bars that I visited in Paris. 
LAVOMATIC 
Lavomatic is a speakeasy where you have to go inside a laundromat to get inside. It was the coolest experience. I went when it was pretty crowded so there was a line to get inside but well worth the wait.
Once you are directed inside the laundromat, you open one of the washing machines, open it up and this is how you enter the bar. It is a pretty small space so get here early if you don't want to wait to get inside. The cocktails were great and you even sat on little chairs decorated as soap boxes. It was so much fun. 
Lavomatic is closed Sunday and Monday so keep this in mind. 
LITTLE RED DOOR 
Little Red Door is on the list of one of the world's 50 best bars. And it really was incredible. Like the other, there was a long line to get inside but I think I was there on a busy weekend night so expect a crowd if you are going during a popular time.
The drinks were pricy (typical Western prices – think NYC cocktail bar), but they were the most unique cocktails I've ever had. I can't even explain how creative the menu was, it's not your typical cocktail menu. And watching the bartenders make the drinks was a show in itself. As I write this, Little Red Door is ranked as the 5th best bar in the world. You have to visit!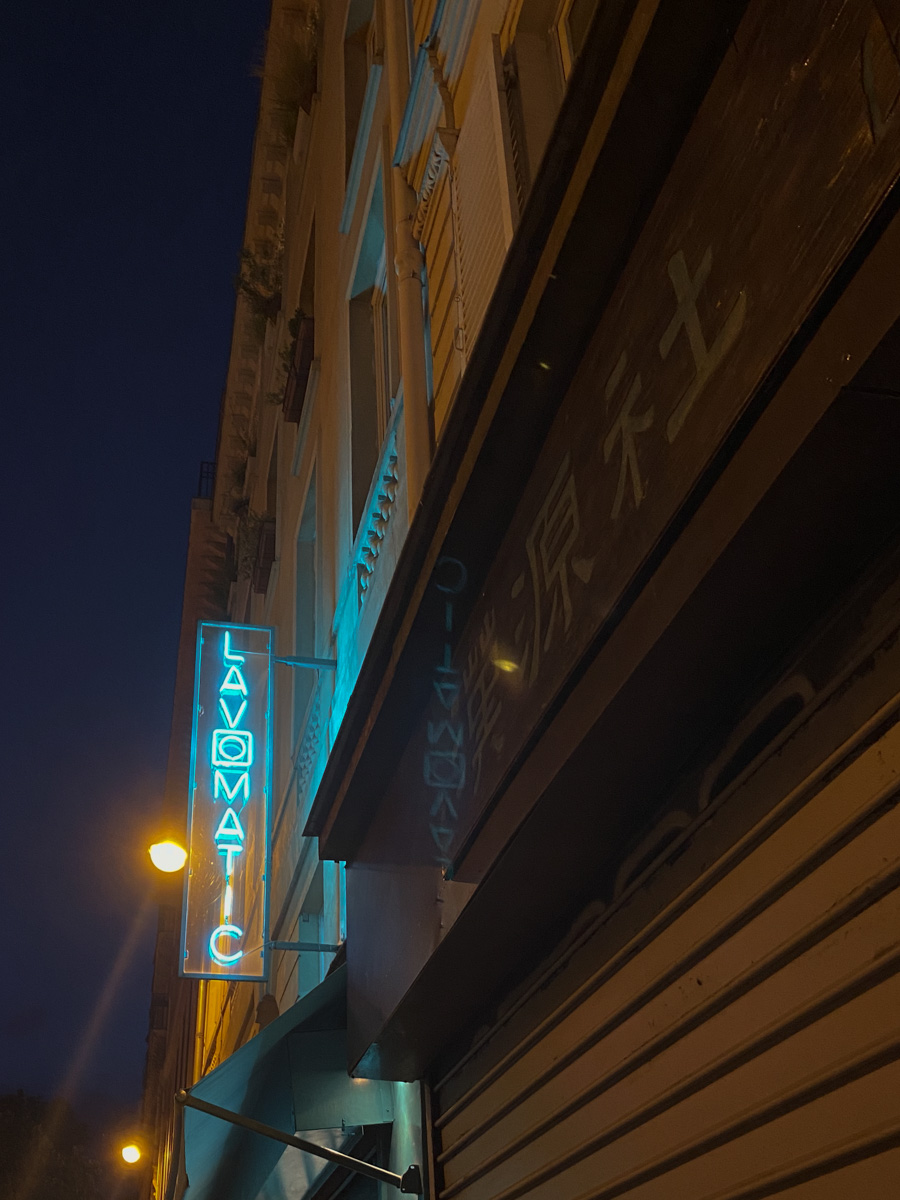 3. PICNIC AT CHAMPS DE MARS IN FRONT OF THE EIFFEL TOWER 
One of my favorite things I did in Paris was a picnic in front of the Eiffel Tower. If it's a nice sunny day you need to do this! 
We picked up fresh produce, charcuterie, wine, and a baguette at the market in Montmartre after exploring that area and then headed to Champs de Mars – the green park in front of the Eiffel Tower – for a little picnic. This park is also obviously a great photo spot of the Eiffel Tower.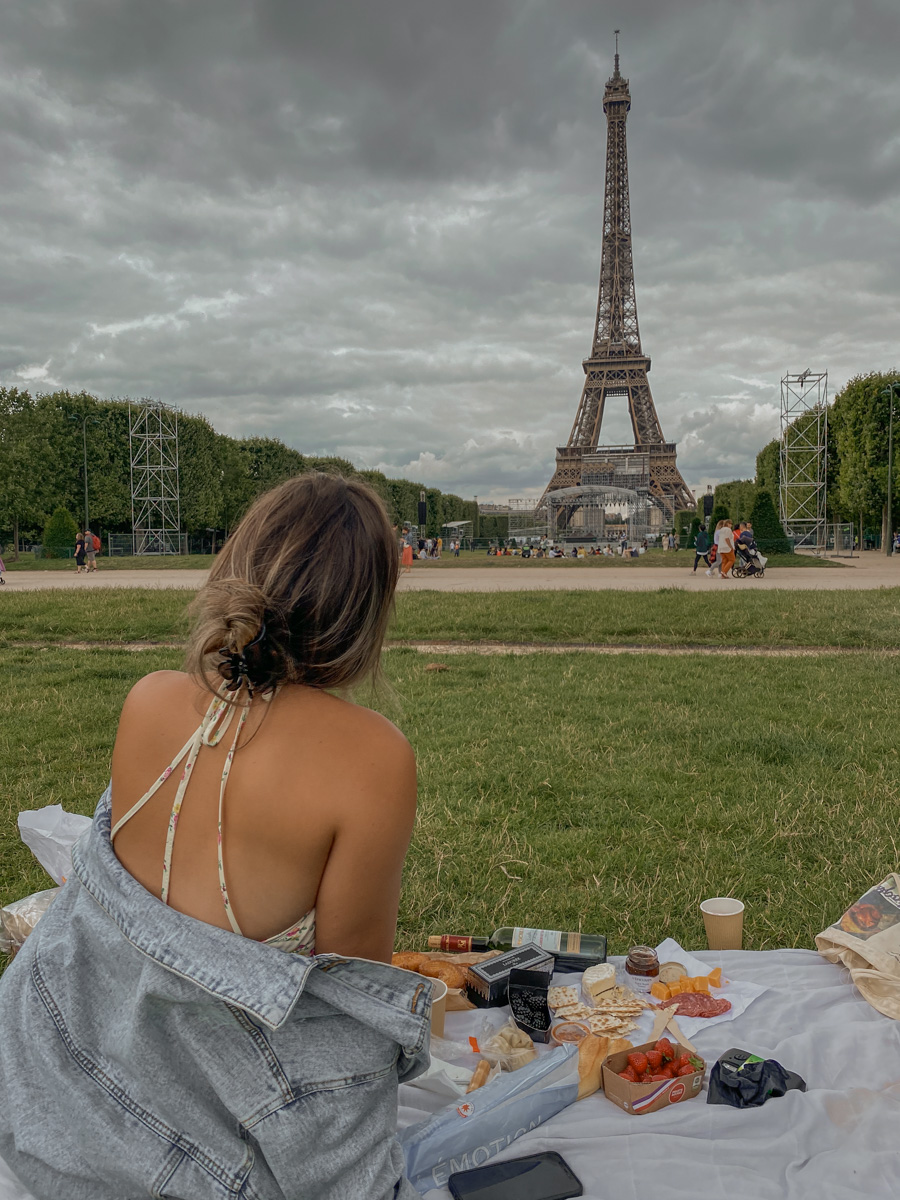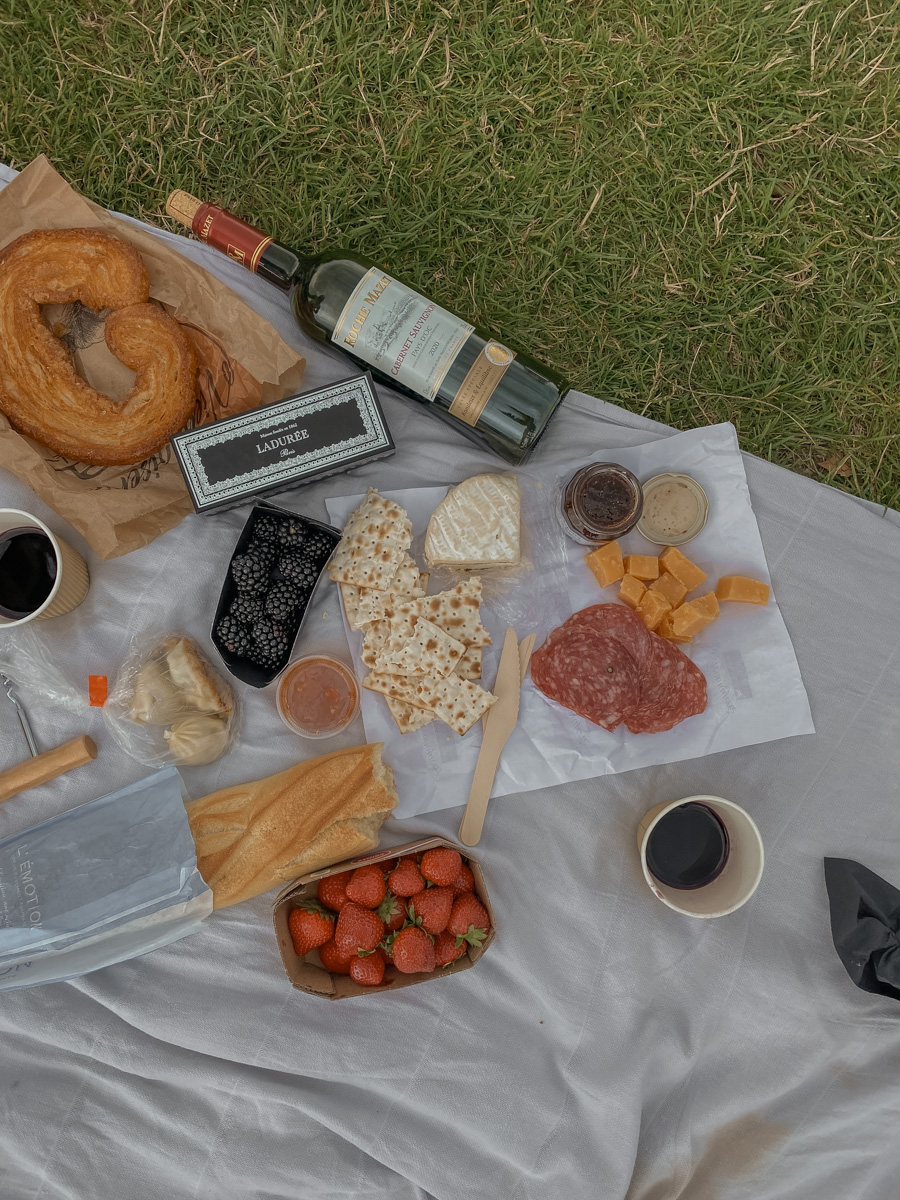 4. GO TO THE TOP OF THE EIFFEL TOWER
During my first trip to Paris, I went up to the top of the Eiffel Tower and you really do get incredible views of Paris. I would say it's only really worth it if it's a clear day. You can book Eiffel Tower summit tours here.
5. EXPLORE THE MONTMARTRE NEIGHBORHOOD 
Montmartre is the dreamiest neighborhood in Paris's northern 18th arrondissement. I would plan to spend a couple of hours exploring the area. It's a nice, more relaxed vibe than busy downtown Paris.
You've probably seen photos of the pink building – La Maison Rose – all over the internet. It's actually a French restaurant and if you want to eat here, I suggest making a reservation on their website.
I listed out a few other highlights in Montmartre. 
HIGHLIGHTS IN MONTMARTRE: 
Sacre-Coeur
La Maison Rome
Explore the local market 
The 'I Love You Wall'
Musée de Montmartre 
The Sinking House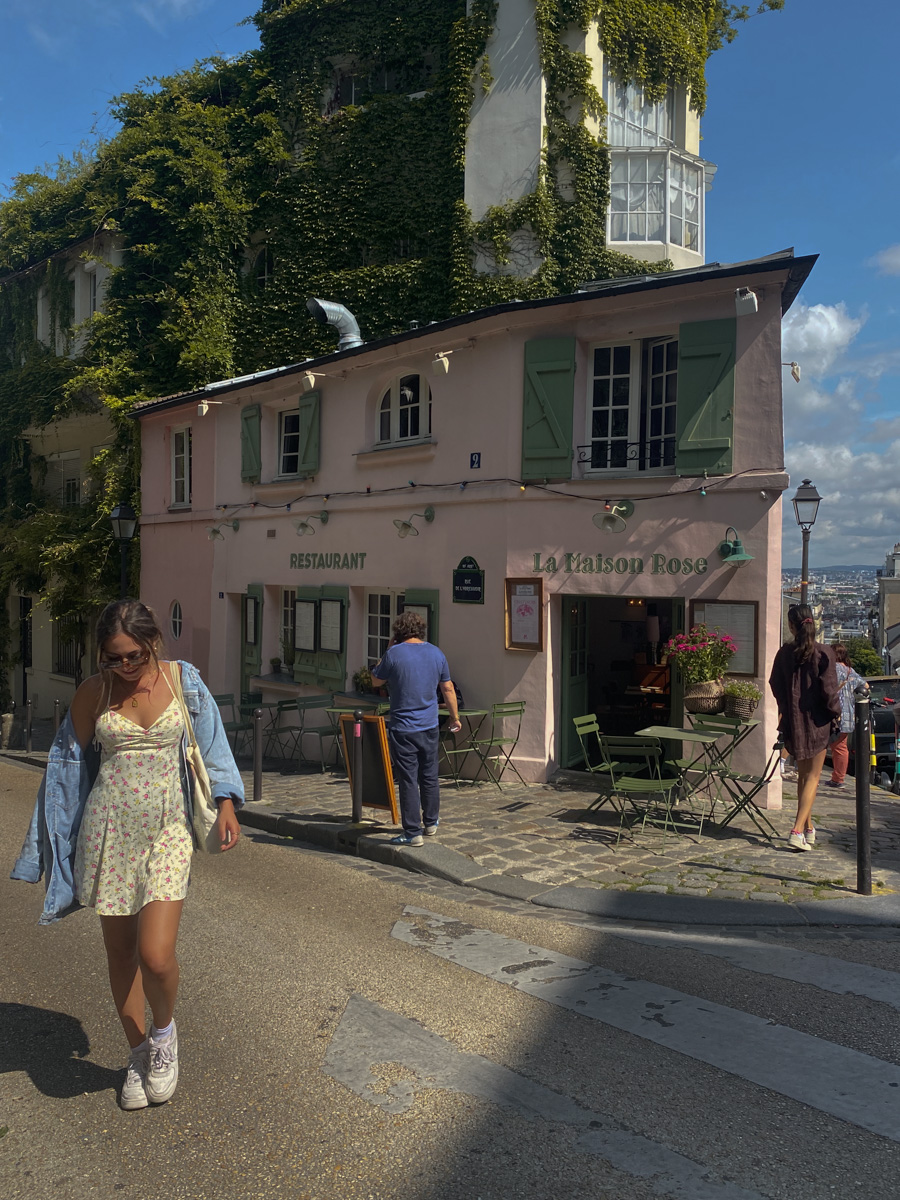 RELATED POST: HOW TO SEE PARIS ON A BUDGET
6. ARC DE TRIOMPHE
The Arc de Triomphe is an iconic Paris landmark that you have to visit if it's your first time in the city. You can see it for free or go up the monument for 13 euros for great views of Paris. 
If you don't have the time to go up, I think it's still worth walking around the base for a little bit. It's amazing. 
NOTE: To get to the center, you don't need to cross all of those lanes of traffic. You actually go underground to get to the center.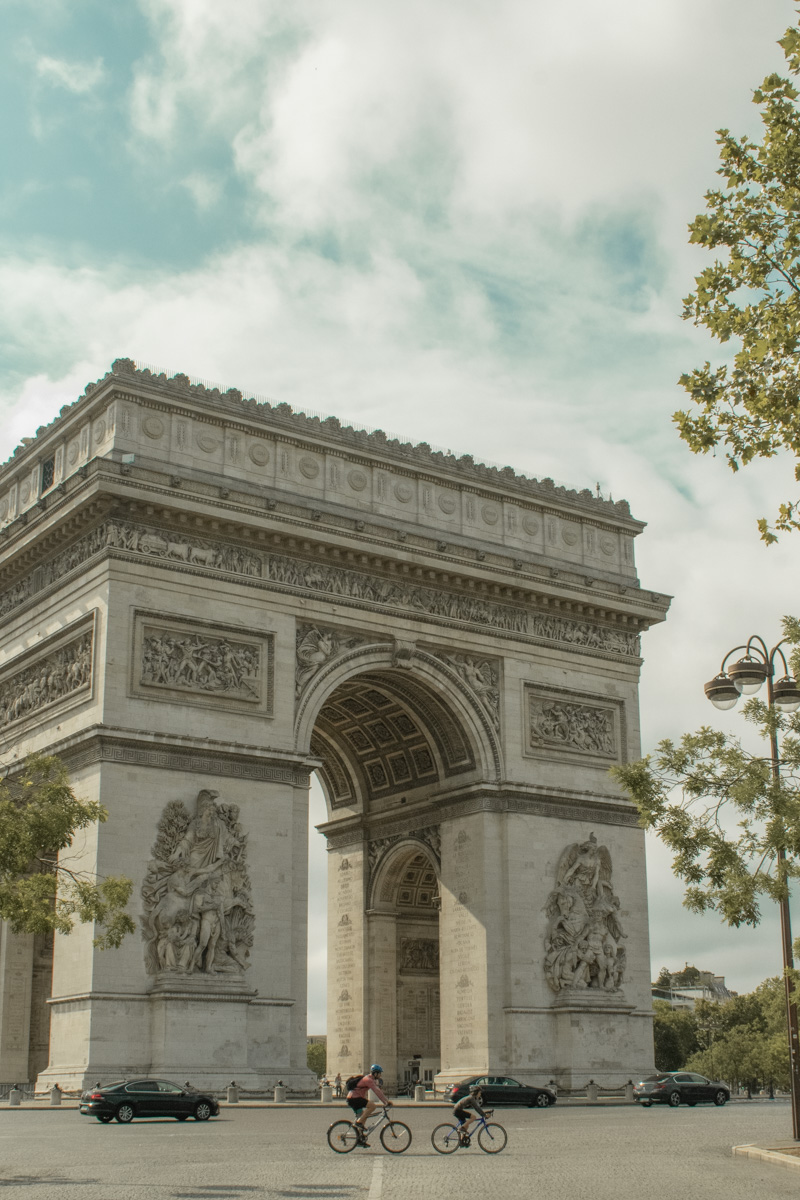 7. CHAMPS ÉLYSÉES
While you are in the area visiting the Arc de Triomphe, make sure to check out Champs-Élysées, the avenue leading to the Arc de Triomphe. Here you'll find so many shops, restaurants, boutiques, and cafes. 
Here you can visit the famous Ladurée for macaroons, they are delicious I definitely suggest picking up a few.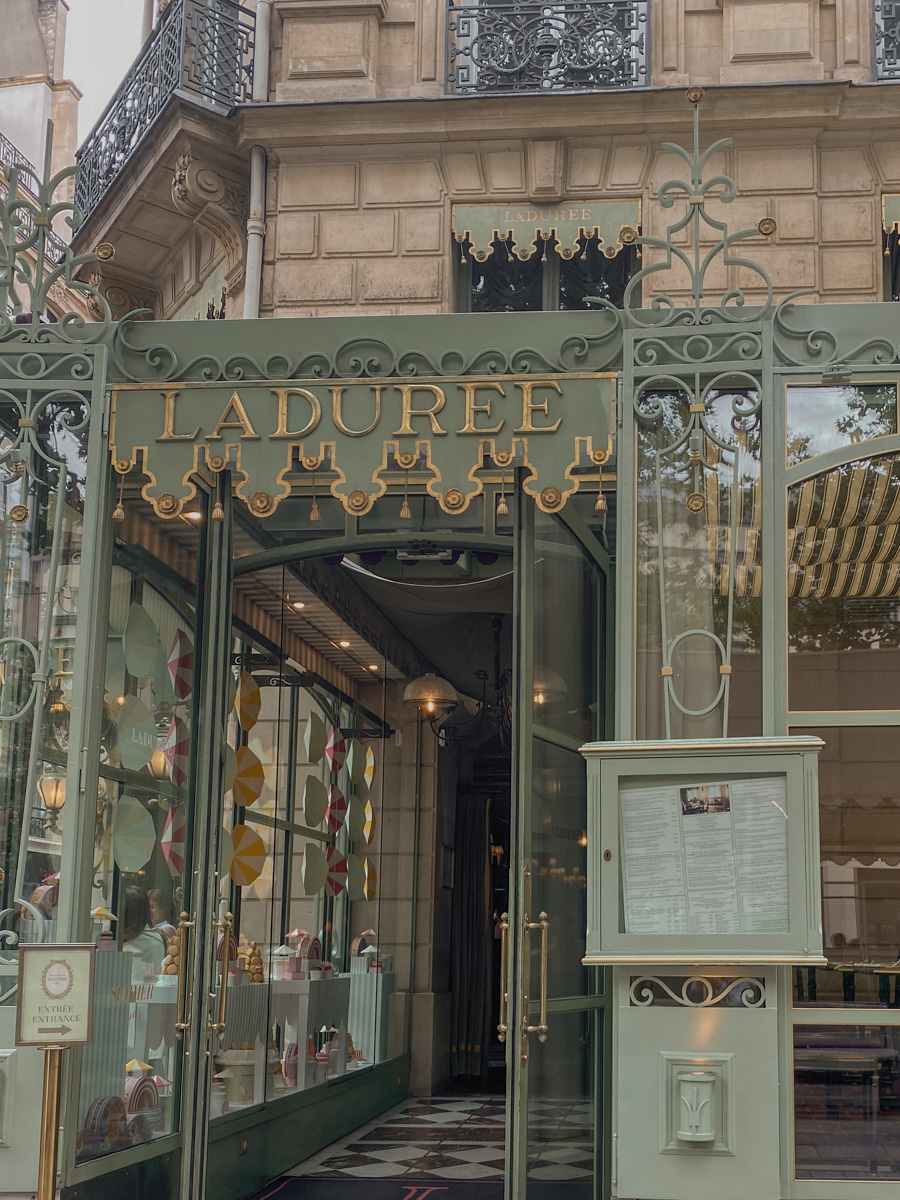 8. SHAKESPEARE AND COMPANY
If you're someone who is into literature, Shakespeare and Company needs to be on your Paris bucket list. It's one of the most famous bookstores in Paris opened in 1951 by George Whitman. The bookstore is located on Paris's Left Bank.
9. FOOD TOUR OF THE CITY 
Paris has some incredible cuisine. I'll touch on some of the best restaurants in the city later in this guide but here are some foods to try while you are in Paris. You can even book a guided food tour of the city. 
FOODS TO TRY IN PARIS:
Macaroons 
French onion soup 
Croissants 
Croque Madame
Quiche  
Crepes  
Gelato 
Escargot
Ratatouille 
French hot chocolate 
French omelet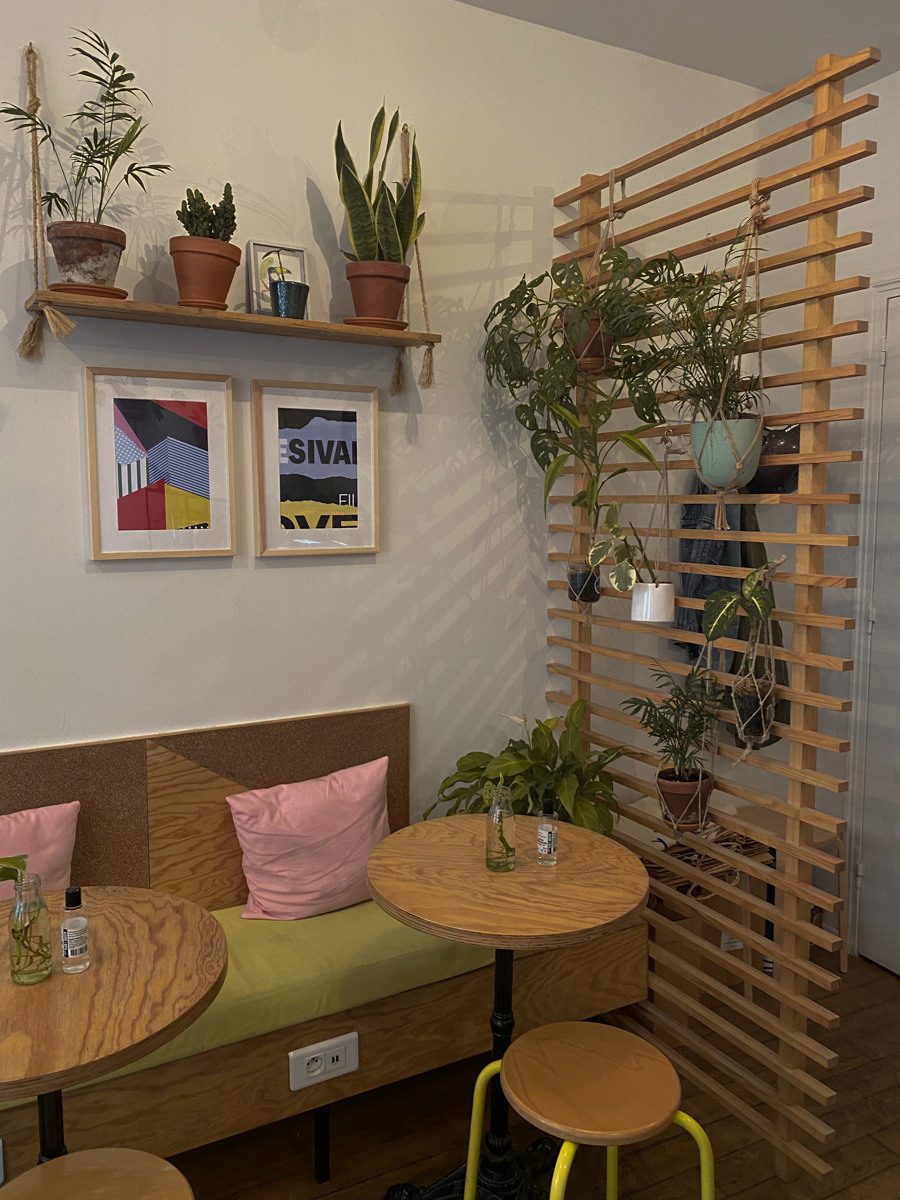 10. OPÈRA NATIONAL DE PARIS 
A unique thing to do in Paris is the Paris Opera. Or at least just tour the opera house because it's stunning. You can book a ticket to an evening show or take a tour of the Palais Garnier. 
The Palais Garnier is a massive opera house built for the Paris Opera from 1861 to 1875. The theater architecture is absolutely stunning. You can book a self-guided tour for around 14 euros or there are a variety of different guided tours you can book here. 
11. RIVER CRUISE ALONG THE SEINE
A Seine riverboat cruise is a great way to start your visit to the city. Many tours will have a guide pointing out all the highlights and different facts about Paris. 
You can book cruises for as little as 15 euros and they also have dinner and lunch cruises that will start at about 40 to 50 euros.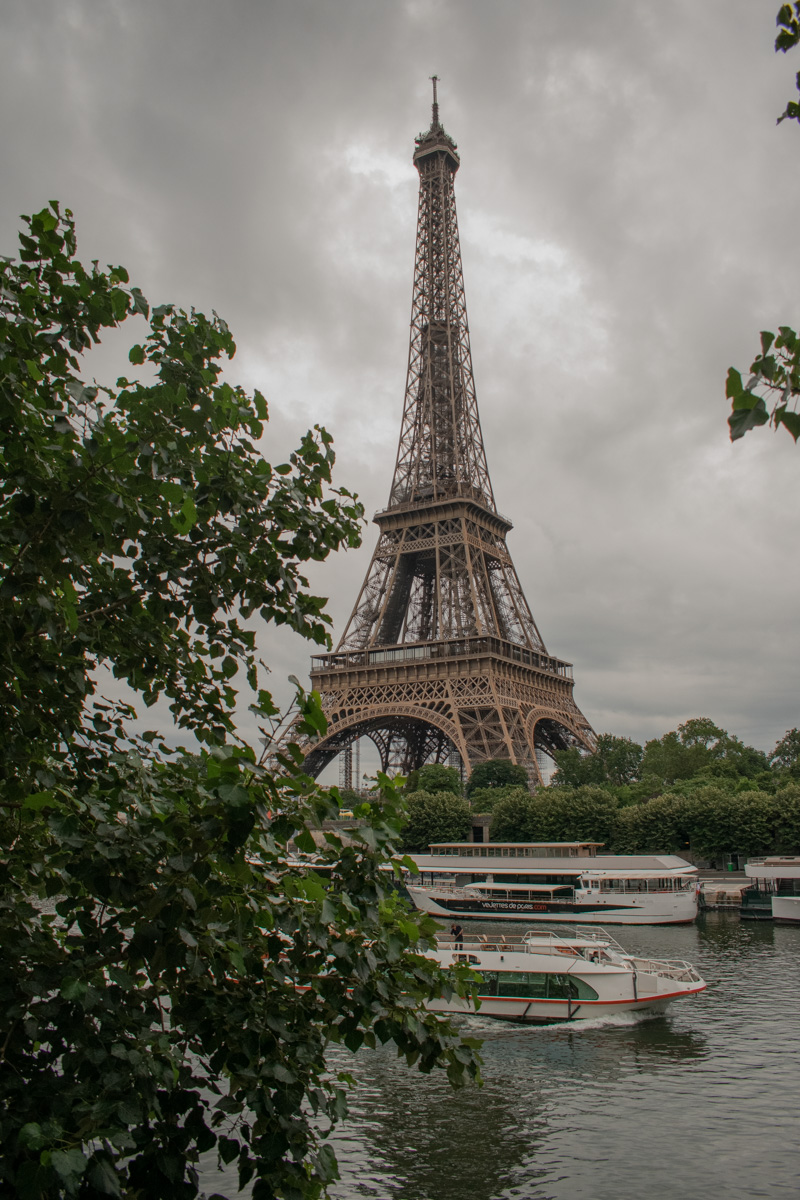 12. BOQUINISTES 
A great way to spend a sunny afternoon in Paris is to walk along the Seine and check out the Boquinistes. These are open-air bookshops along the river. You can find the most beautiful vintage prints and used books. Definitely pick up a souvenir here! 
13. CATACOMBS OF PARIS 
One of the most interesting things in the city of Paris is visiting the Catacombs. The Catacombs of Paris are underground caves in Paris that hold the remains of more than six million people. It's one of the most intriguing guided tours you can do in the city. 
14. DAY TRIP TO VERSAILLES 
If you are spending a good amount of time in Paris, it's worth using a day to take a trip to the Palace of Versailles. The Palace of Versailles is located about 40 minutes outside of the city and is the former royal residence built by King Louis XIV. 
You'll want to spend a few hours here, there is so much to see! And don't forget the gardens. I suggest booking a guided tour – you'll learn so much more.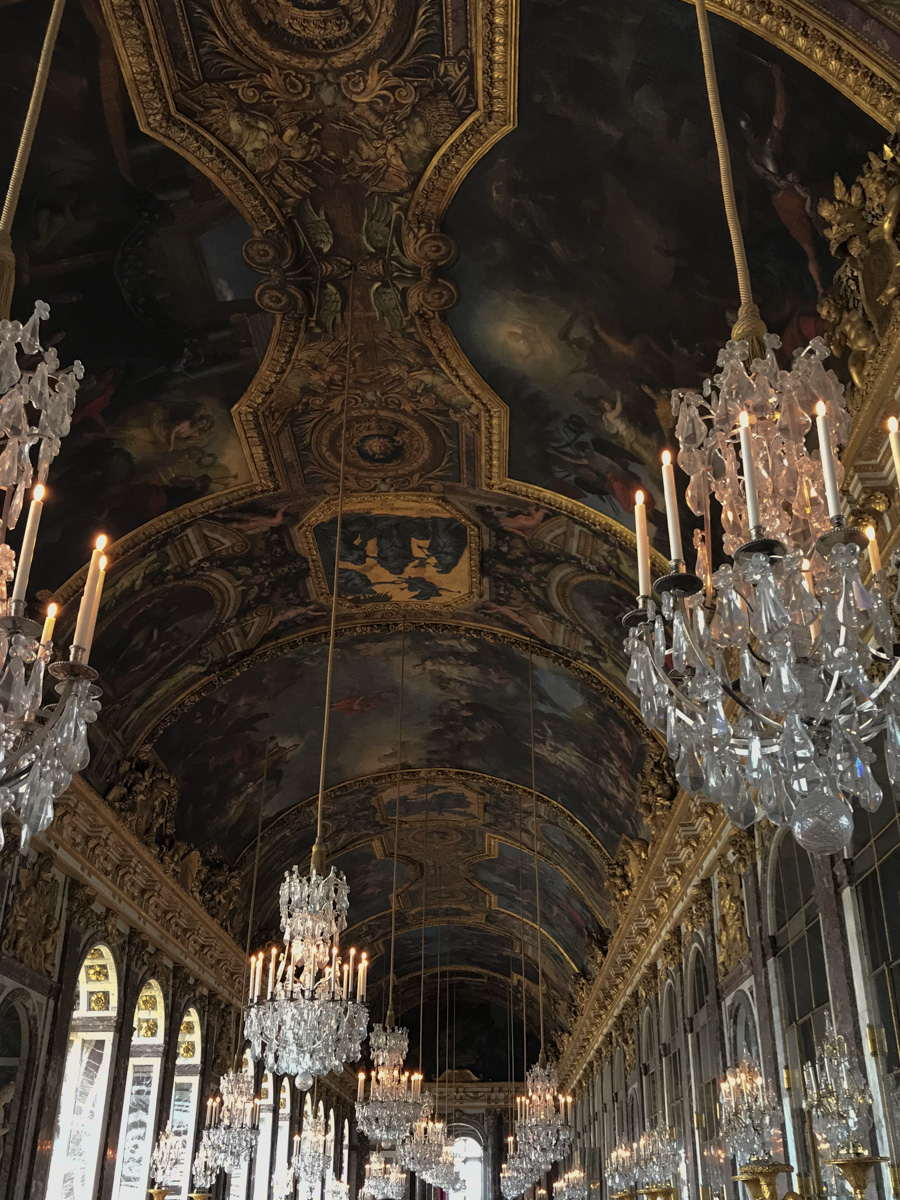 RELATED POST: 14 BEST THINGS TO DO IN VIENNA, AUSTRIA
TRANSPORTATION IN PARIS 
HOW TO GET TO PARIS 
You will likely be flying into the city or taking a train. There are many train stations and airports surrounding the city but here are the most common. 
AIRPORTS: 
Paris Charles de Gaulle Airport (CDG): The largest international airport in France and located about 30 minutes away from the city center. 
Paris-Orly Airport (ORY): The second international airport in Paris, located about 20 to 30 minutes from the city center. 
Paris Beauvais Airport (BVA): Typically used for charter and low-cost airlines this airport is located near the city of Beauvais. This is where I flew into and although it's farther from Paris (about an hour and a half drive) there are buses that will take you right into the city center. 
HOW TO GET AROUND PARIS
You will do a lot of walking in this city. If you aren't within walking distance of certain locations, the metro is usually the most efficient way to get around. There is a lot of traffic in Paris so taxis and Uber do take a while to get from place to place.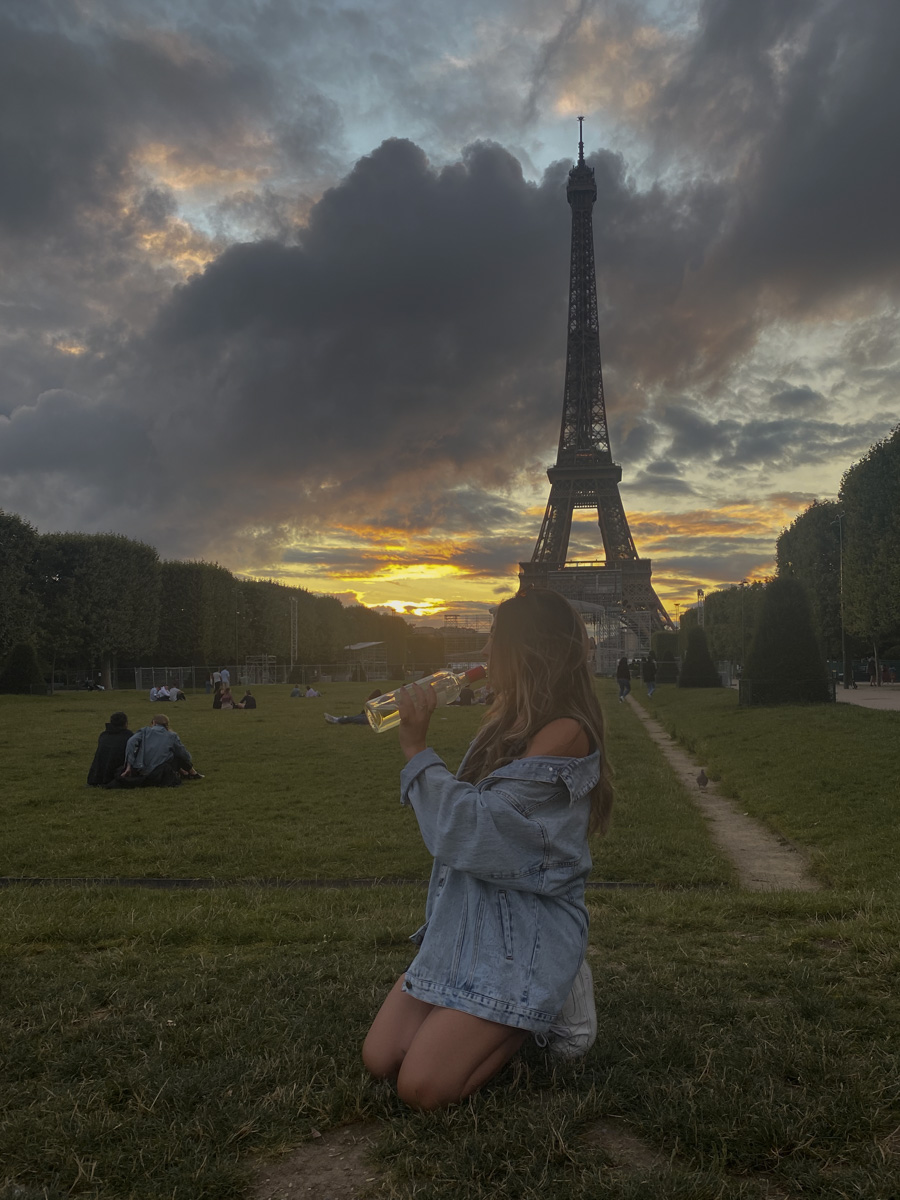 WHERE TO STAY IN PARIS
I stayed at JO&JOE Paris the first time I visited – it's a great budget option but it is farther from the city center. On my second visit, I stayed at the Moxy Paris Bastille, a boutique hotel located in the city center. The location was incredible. 
FIND A PLACE TO STAY IN PARIS 
EAT + DRINK IN PARIS
Cafe de Flore 
Pink Mamma 
Creperie Elo
28 Boulangerie 28
Ladurée
Le 52
Yellow Tucan 
Lavomatic
Little Red Door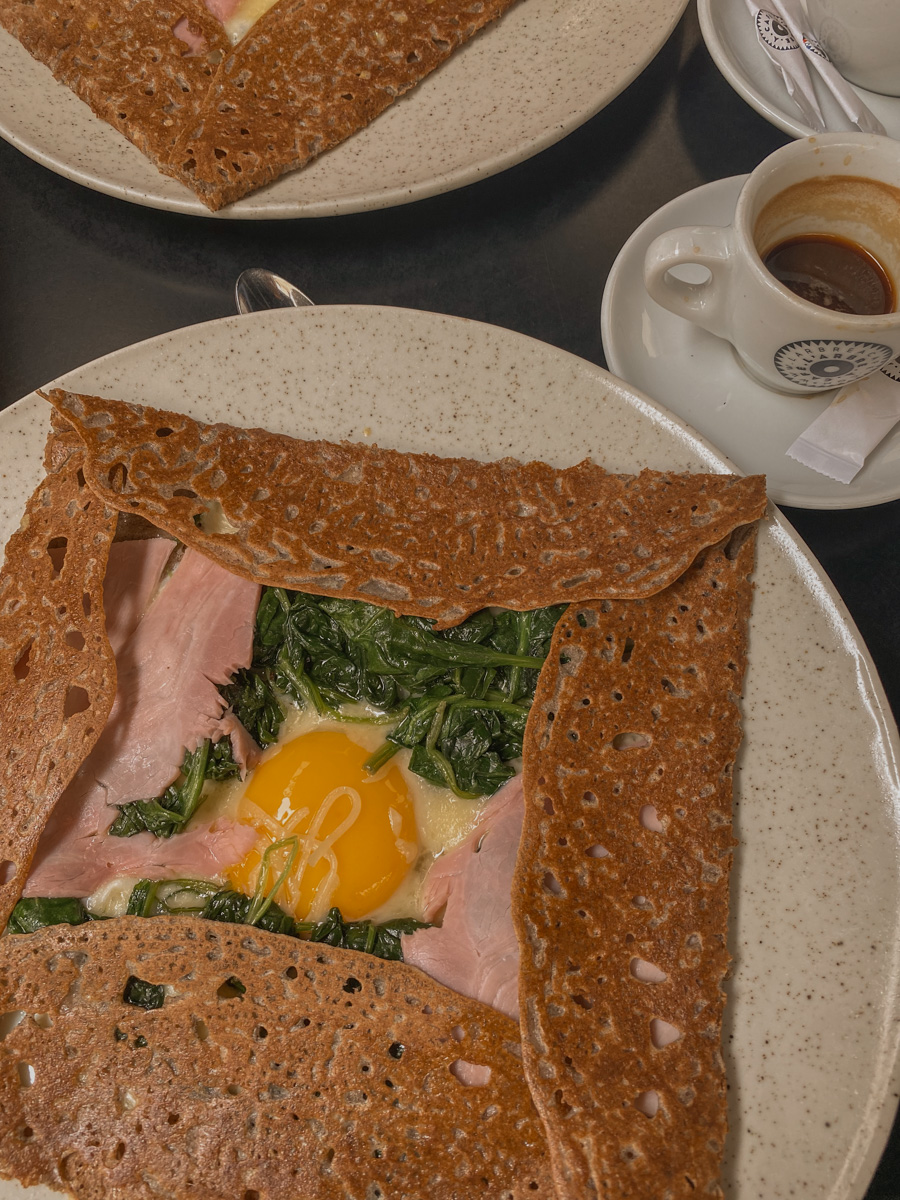 And that's a wrap on all the best things to do in Paris, France! I hope this was helpful in planning your trip. If you have any questions, DM me on Instagram, comment below, or email me at sydabroad@gmail.com. 
RECOMMENDED TOURS IN PARIS
PIN IT!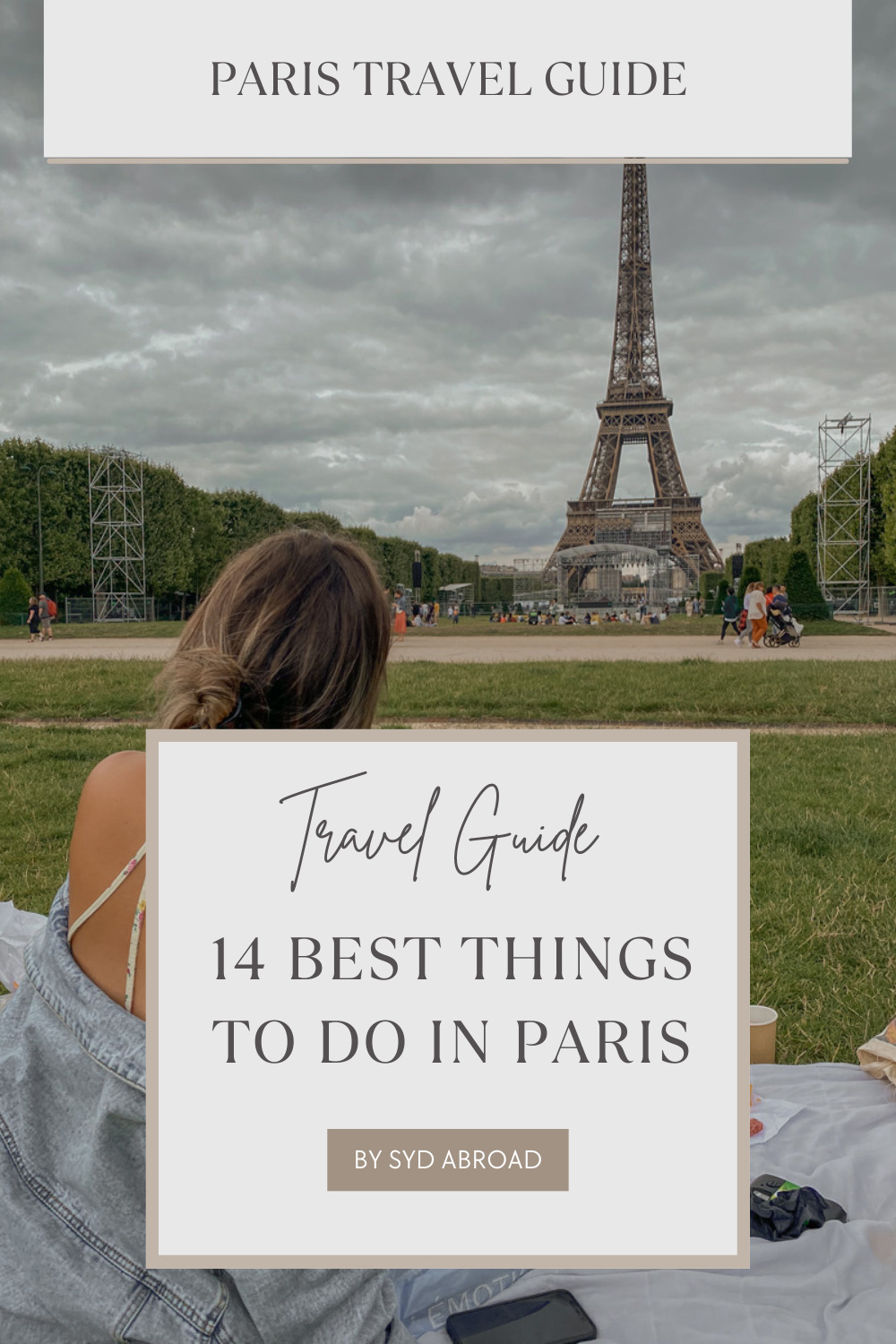 WANT TO SUPPORT?
I always appreciate it when friends and family reach out wanting to support Syd Abroad. If you'd like to support the blog, here are a few brands that I am affiliated with. All you do is click the links, and I will receive a small commission at no extra cost to you!