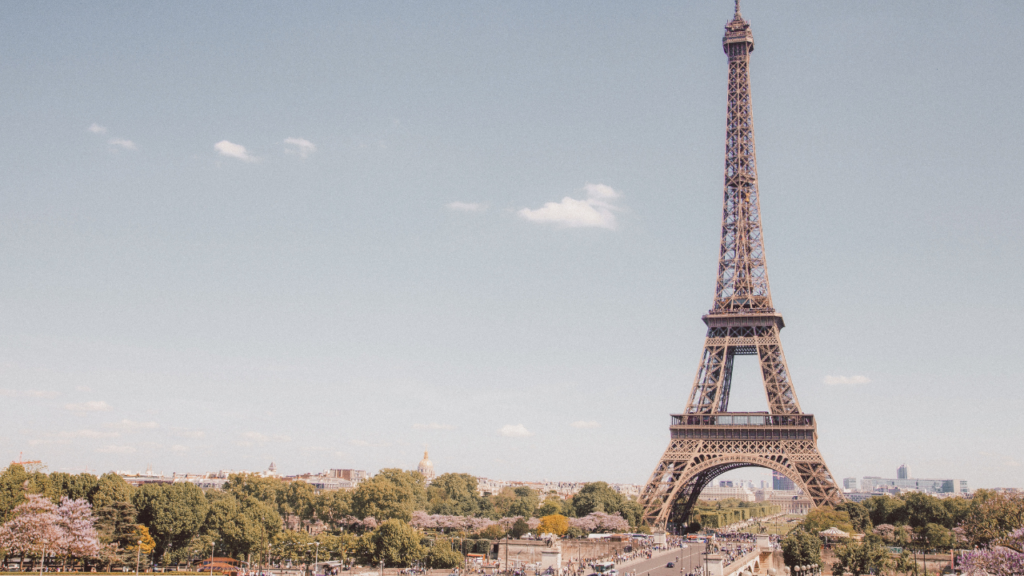 (Disclaimer: This post may contain affiliate links, which means we may receive a small commission at no extra cost to you.)
Bonjour! We're headed to Paris for a hot minute in this blog post. But even better, we're going to talk about how to do Paris on a budget. Because yes, this city can get pricey. I visited Paris with EF Ultimate Break during my summer trip to Europe and it was amazing! EF Ultimate Break is a tour group company with trips all around the world including some incredible places like Thailand, Costa Rica, and even Hawaii.
Disclosure: This article contains affiliate links.
I absolutely loved traveling with EF Ultimate Break, it made traveling go incredibly smoothly. So many things were already planned for us including walking tours, transportation, and accommodation just to name a few. They seriously take the stress out of traveling.
If you are interested in taking a trip with EF, you can get $100 off your first trip with my code, "UASydney100," happy travels!
THE BASICS
Language: French
Currency: Euro
As for the city, I feel like Paris gets mixed reviews and I understand why. Honestly, I feel like I need to go back. Compared to cities like Florence, London, and Lucerne, it really didn't "wow" me like I expected to. During my three days in Paris, the weather was rainy and cold which of course wasn't ideal. Paris has amazing parks and outdoor areas to explore and I'm sad that we didn't get to experience them. Overall I did like Paris, however, I want to go back and explore this city even more because I know it has so much more to offer than just my experience in the city in three days.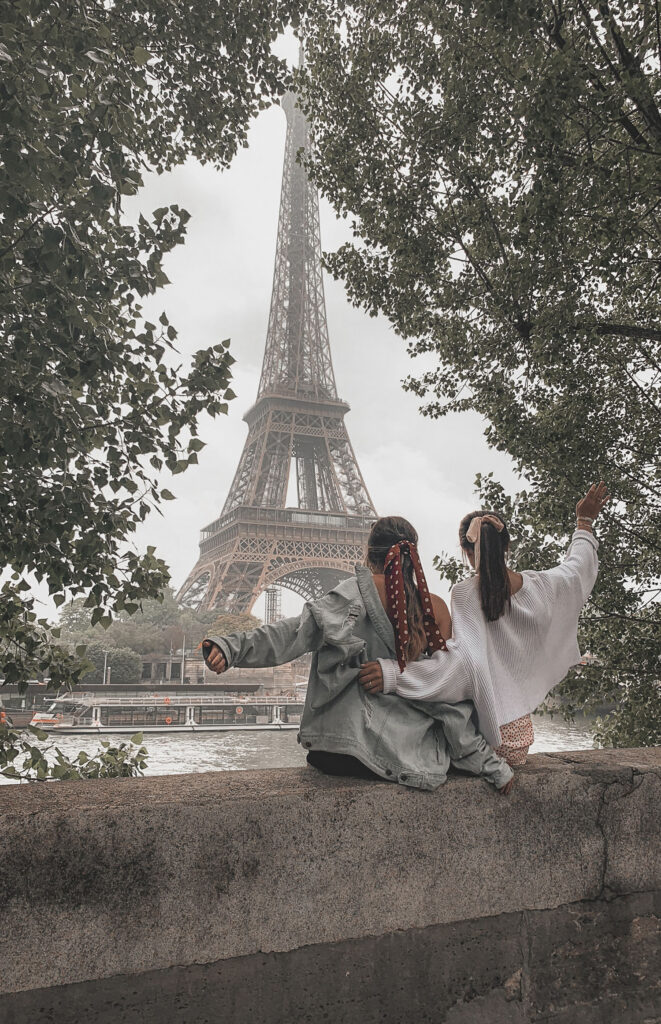 DAILY BUDGET IN PARIS

Paris is an expensive city. A mid-range trip to Paris costs about $120 – $150 dollars a day. However, we are doing Paris on a budget. I would budget anywhere from $50 – $90 per day. That is what I did during my weekend in Paris. Depending on what you're doing you might even spend less.
HOW TO GET TO PARIS

BY AIR

There are three airports in Paris, Charles de Gaulle, Orly, and Beauvais. The main airport is Paris Charles de Gaulle Airport (IATA). Google Flights is one of my favorite travel resources to use when booking flights domestically and internationally.
BY TRAIN

This is how I arrived in Paris. I came via train from Amsterdam, which was about a three and a half hour train ride. The trains in Europe are incredibly nice and the views are great along the way. I definitely believe this is the best way to get around Europe!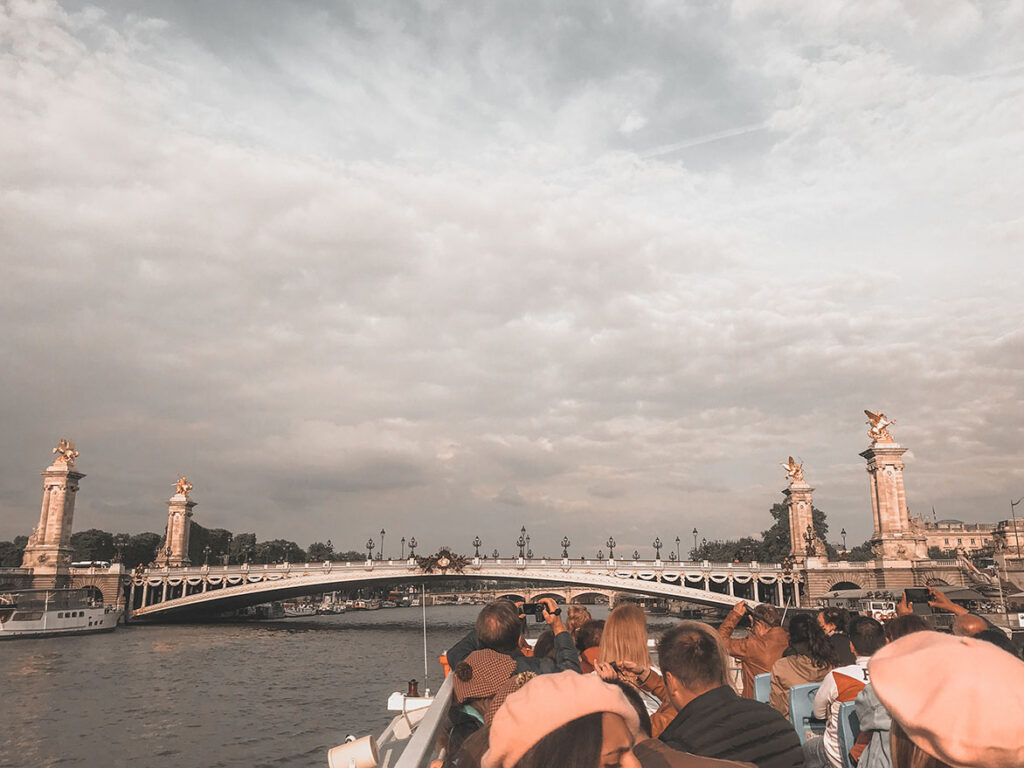 WHERE TO STAY IN PARIS ON A BUDGET

I suggest staying in a hostel. They are the BEST for budget traveling and just traveling in general. I love the people you meet and the activities that hostels offer. Most of the time hostels will offer free walking tours. I recommend using Hostel World to book your hostels. This way you can check out real reviews to make sure you get the best place.
I stayed at Joe&Joe Paris – Gentilly and I had a great stay.
HOSTEL RECOMMENDATIONS IN PARIS:
Joe&Joe Paris – Gentilly
Le Village Montemarte by Hiphophostels
Résidence Internationale de Paris
The People Hostel – Paris 12
HOW TO GET AROUND PARIS ON A BUDGET

The best way to get around Paris on a budget is by using the metro. It's efficient, easy to use, and affordable. A single metro ticket cost about 2 euros. You can purchase a day pass which will cost you about 12 euros.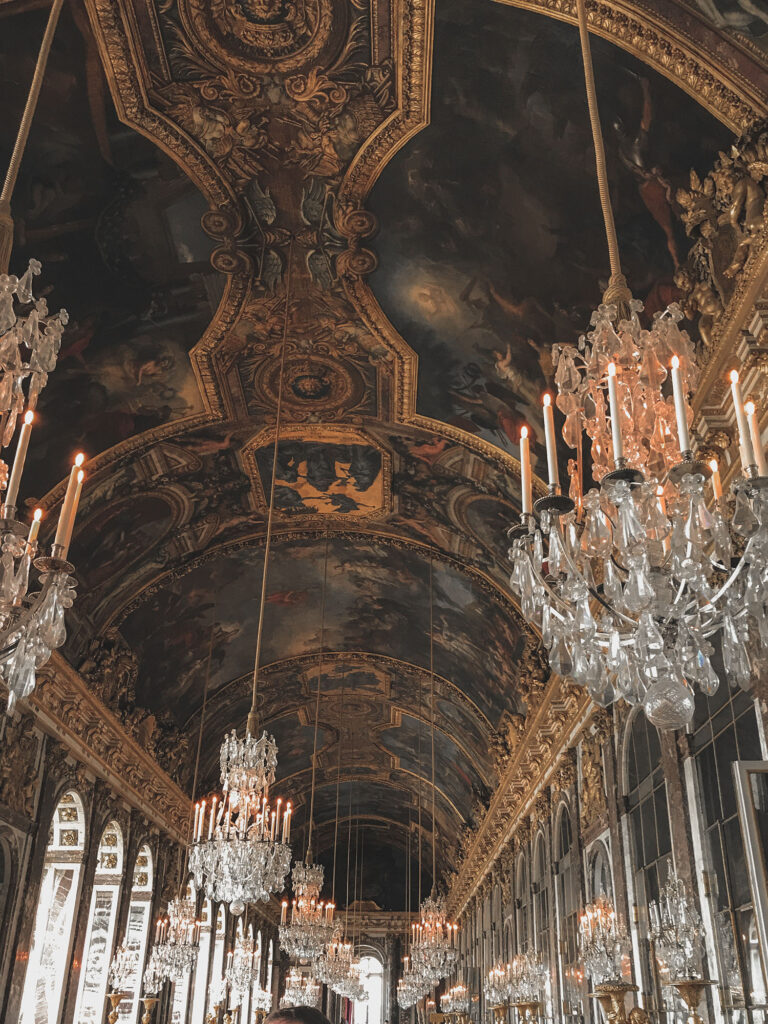 FREE THINGS TO DO IN PARIS
Considering we are talking all things Paris on a budget in this article, here is a list of free things to do in the city.
WALK THE SEINE

The seine is the main river that runs through Paris. Pick up an espresso and enjoy your morning or afternoon walking along the river. You can see gorgeous views of the Eiffel tower too. This is a must to add to your list of things to do in Paris.
FREE WALKING TOUR

I love staying at a hostel because many offer free walking tours. This is a great way to get to know any city you are in. You can even take affordable bus tours to get to know your way around Paris.
PICNIC NEAR THE EIFFEL TOWER

Stop at Rue Cler Market Street or Marché Saxe-Breteuil pick up some fresh produce, a baguette, cheese, and then head to the Eiffel Tower for a picnic. Oh, you might want to grab some wine as well. For the best view of the Eiffel Tower, head to Champ de Mars, a nice grassy area near the tower.
EXPLORE THE FREE MUSEUMS

First off, make sure you are in Paris on the first Sunday of the month. All state museums are free for everyone on the first Sunday of each month! I have listed some free museums to check out in Paris below. However, if there is a particular museum you want to visit, do some quick research to see if they offer any free entrance days.
FREE MUSEUMS IN PARIS:
Musée Carnavalet
Modern Art Museum of the City of Paris
The Orangerie
Musée Bourselle
ARC DE TRIOMPHE AND CHAMPS-ÉLYSÉES

Go check out the Arc de Triomphe for free. You can even go up to the top of the Arc de Triomphe for free if you are EU citizen ages 18 to 25. If not, a ticket to the top is about 13 euros, which isn't too bad for Paris. I just walked under the Arc de Triomphe which was great in my opinion.
While you are here, stroll down the famous street of Champs-Élysées. It's a beautiful area to explore. You can do some window shopping or pick up a few souvenirs from your trip!
NOTRE DAME

Did you really visit Paris if you didn't see Notre Dame? Notre Dame de Paris is a cathedral church, the most famous of the Gothic cathedrals of the Middle Ages. It's wonderful to see in person.
LOUVRE PYRAMID

A standard ticket to the Louvre costs 15 euros, but you can get to the outside, with the view of the famous Louvre Pyramid, for free.
Entrance to the Louvre is free for everyone under the age of 18 all the time and on Friday evenings it's free for everyone under the age of 26. So if you are a traveler under the age of 26, head to the Louvre on a Friday evening.
I personally did not have the time to go inside the Louvre when I visited. However, I definitely would want to on my next visit. If you can't get in for free, I think buying the ticket is worth it.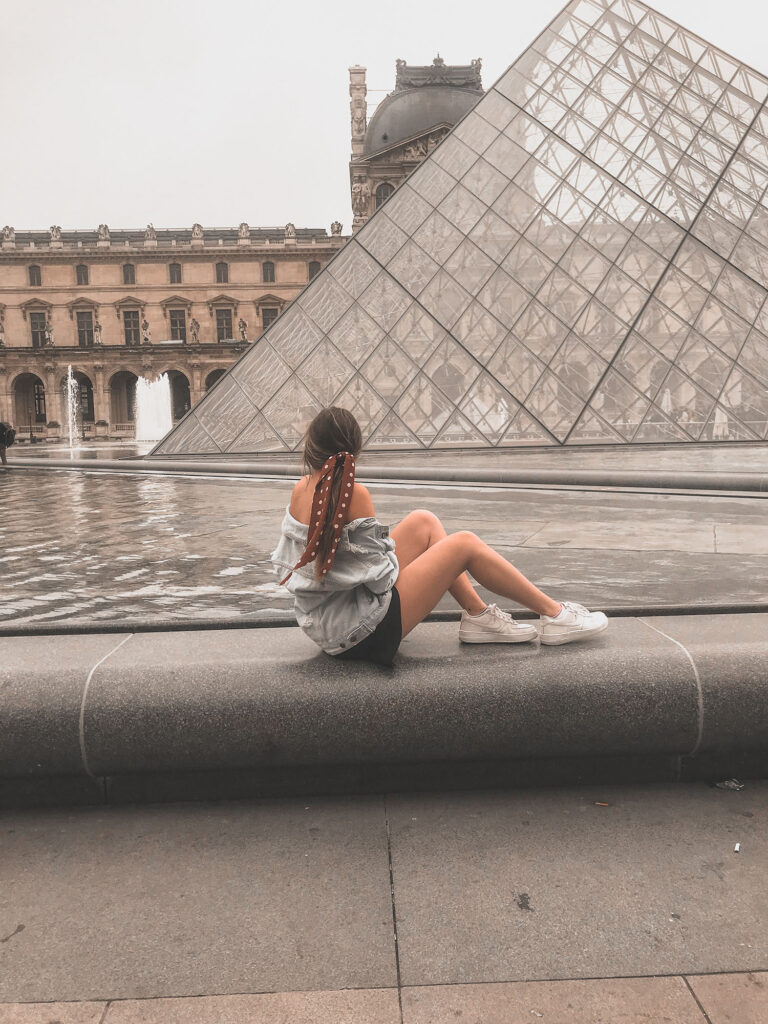 WALK THE COLORFUL STREET OF RUE CREMIEUX

If you're looking for an Instagrammable spot in Paris or simply pretty architecture, this is the place for you. Rue Crémieux is a street in the 12th arrondissement of Paris and has the prettiest painted house fronts. There are really so many beautiful buildings and streets to see in Paris on a budget.
HUNT FOR EMILY IN PARIS FILMING LOCATIONS

This is a fun one if you have seen the show Emily in Paris. Here are some of the locations that they filmed at:
Pont Alexandre III
La Maison Rose
Place de l'Estrapade
Palais Garnier
Jardin du Palais Royal
WALK AROUND MONTMARTRE

Montmartre is a great area to explore in Paris. It's known for its artistic history, nightclub district, and the Basilica of the Sacré-Cœur on its summit.
ADDITIONAL THINGS TO DO IN PARIS
PALACE OF VERSAILLES – 40 EUROS

The Palace of Versailles was the royal residence of France from 1682 until the start of the French Revolution in 1789. Visiting Versailles was by far my favorite part of my trip to Paris. Although this is a blog on how to do Paris on a budget, I think visiting the Palace of Versailles is worth the splurge. The cost is 40 euros and it was worth every penny. I loved learning about French history during my guided tour at Versailles. It really is an incredible place to see in person.
TOP OF THE EIFFEL TOWER – 26 EUROS

There are so many amazing views of the Eiffel Tower all around the city but I just had to go to the top while I was in Paris. Going to the top of the Eiffel Tower had been on my bucket list for as long as I could remember, so the 26 euro fee was worth it in my opinion. The views of Paris from up here are absolutely incredible!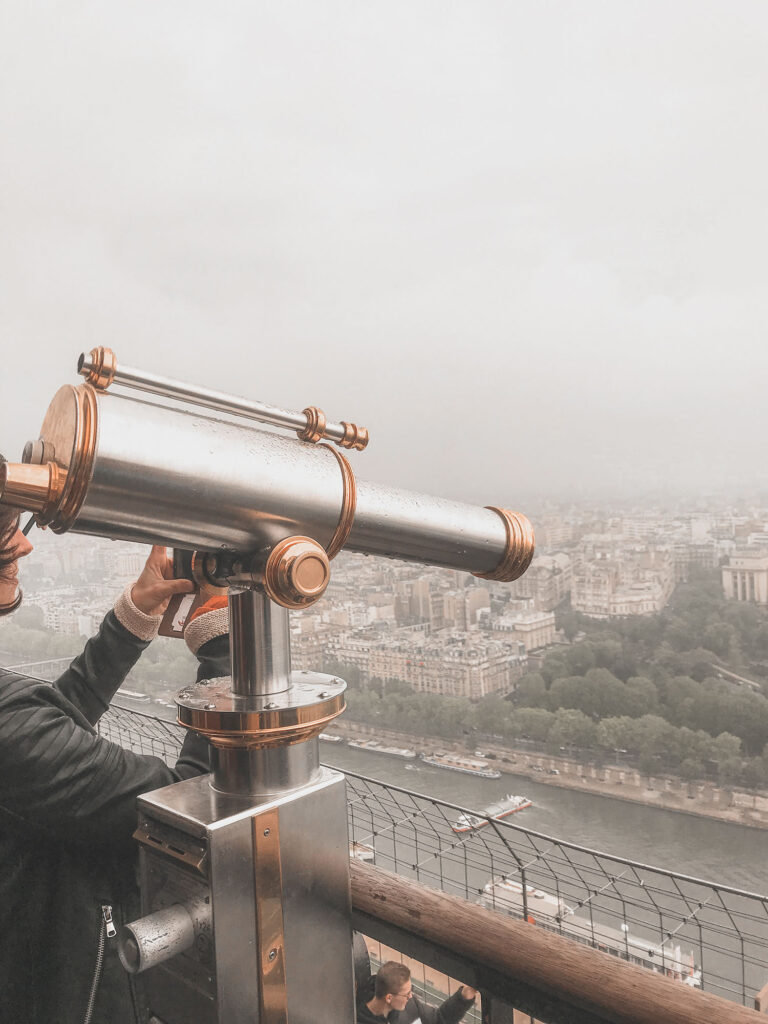 CRUISE THE SEINE – 20 EUROES
During my weekend in Paris, I did a river cruise down the Seine and I loved it for a unique view of the city. You can find all types of different cruises with the most basic being about 15 euros and dinner cruises up to 200 euros. Cruising down the Seine was an incredible experience and well worth it for a small price.
AFFORDABLE PLACES TO EAT IN PARIS
Cloud Cakes
Breizh Cafe
Bistrot Victoires
Chez Gladines
Hank Burger
Pizza Rossi
L'as Du Fallafel
BUDGET BREAKDOWN

Accommodation: 25 – 35 euros
Transporation: 12 euros
Activities: free – 40 euros
Food: 10 – 20 euros
Okay, so basically you could spend a ton of money in Paris if you wanted to. And it is easy to spend a lot. However, Paris on a budget IS possible! Just opt out of doing pricey activities every day, stay at hostels, and eat at local markets.
ADDITIONAL TIPS FOR PARIS ON A BUDGET
Take advantage of the free things to do
Stay in a hostel close to activities you want to do in order to spend less money on transportation
Eat at local markets at affordable restaurants
Visit the free museums on the first Sunday of a month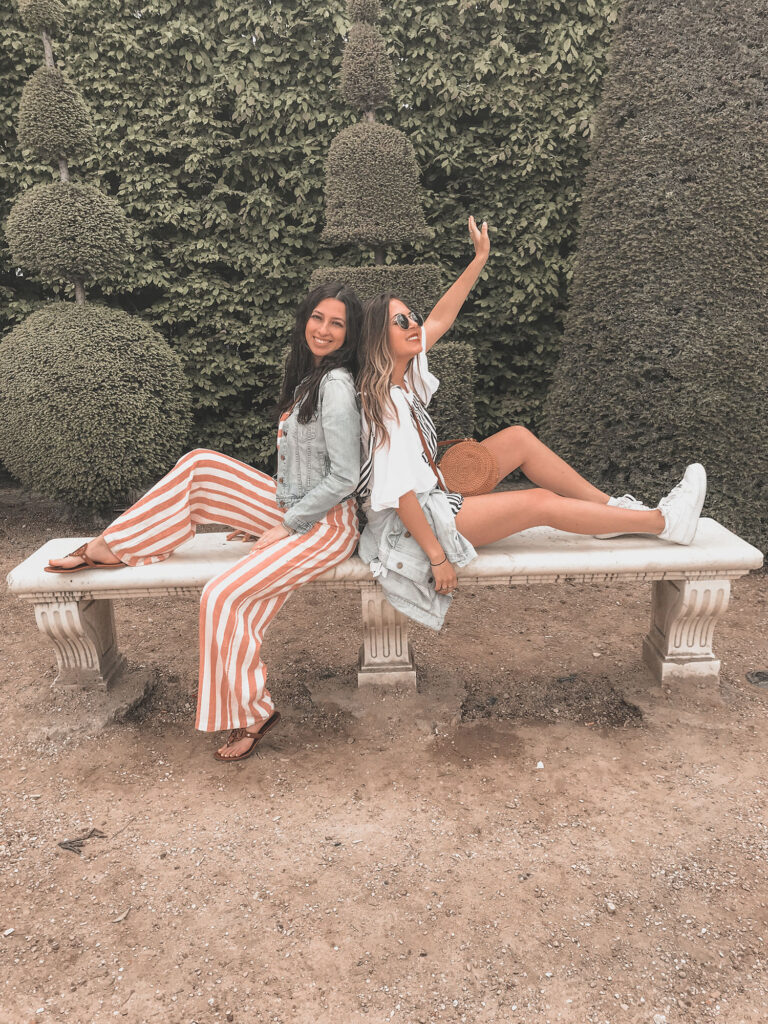 FINAL THOUGHTS

I did have very high expectations for this city because duh, it's a childhood dream. I had an incredible time in Paris and I do love the city but it's not my favorite European city. It is touristy, expensive, and some parts are pretty dirty. However, I do believe Paris should be on everyone's bucket list. I would love to go back and explore more, especially with nice weather to enjoy the parks. Spending a day at the Palace of Versailles was definitely the highlight of my trip. Oh, and trying escargot was pretty fun too! Let me know your thoughts on Paris if you have ever been in the comments below.
xx Syd.