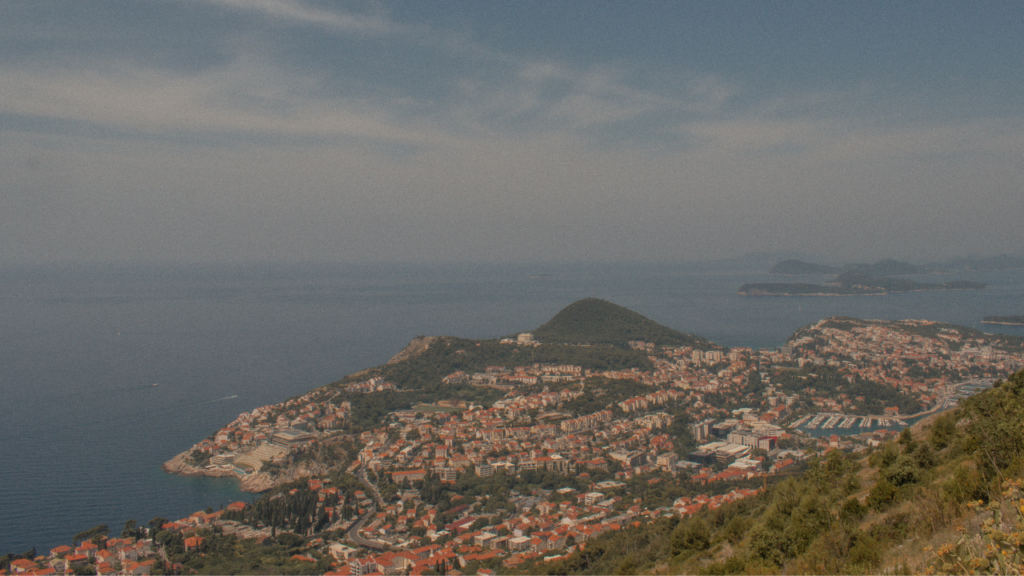 (Disclaimer: This post may contain affiliate links, which means we may receive a small commission at no extra cost to you.)

Croatia is open and if you are looking for the best things to do in Dubrovnik, this in-depth Dubrovnik travel guide is for you! In this article, I'll let you in on where to stay, what to see, where to eat & drink, the basics of this city and more.
I recently went on a backpacking trip to Europe, and Croatia was my second stop following Greece. Let me tell you Croatia is a gem. This country is absolutely beautiful, especially the city of Dubrovnik. During my 2 weeks in Croatia, I spent time in Dubrovnik and Split with a couple of day trips included in my itinerary.
Dubrovnik is a city that takes you back in time. Its medieval architecture and quaint streets are just a couple of reasons why this city is a must to visit on the Dalmation Coast. After my 3 days in Dubrovnik, I see why people around the world fall in love with this little city. And after reading this guide, you will too!
Disclosure: This article contains affiliate links.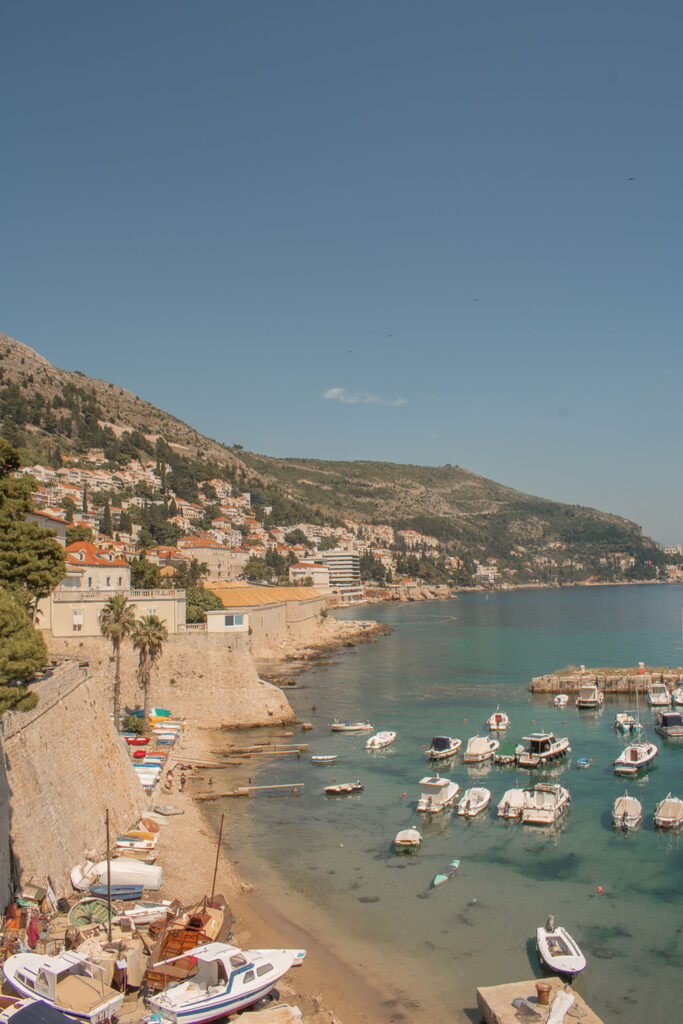 HOW MANY DAYS DO YOU NEED HERE?

The city is small, I think 2 to 3 days in Dubrovnik is perfect but add an extra day if you want to do a day trip. Dubrovnik is a great hub for day trips. You can visit other cities or islands in Croatia or even other countries like Mostar, Bosnia & Herzegovina or Kotor, Montenegro!
BEST TIME TO VISIT

Shoulder season is the best time to visit Dubrovnik in my opinion. I did visit in June, peak tourist season, but since Croatia had recently opened back up due to covid (I visited in 2021), we got lucky with the crowds. This city is small and I truly can't imagine what it's like with thousands and thousands of tourists and multiple cruise ships. I suggest trying to avoid the crowds.
If you are looking into visiting Croatia, you should check out EF Ultimate Break for a group trip! I did a 3 week Europe trip to London, Paris, Barcelona, and more with EF Ultimate break and absolutely loved it. It's a great way to travel if you are looking to make friends and don't want to worry about the planning. If you decide to travel with EF Ultimate Break, use my code "UASYDNEY100" for $100 of your first trip!
DUBROVNIK CURRENCY

The currency in Croatia is Croatian Kuna (HRK)
1 USD = 6.50 Kunas
Although many places will accept card payments, make sure you have kuna on you for small purchases or when splitting the bill with friends. There are plenty of ATMs in the old town to withdrawal money. Dubrovnik does tend to be a bit expensive compared to the rest of the Balkan countries so be prepared to pay more than you thought.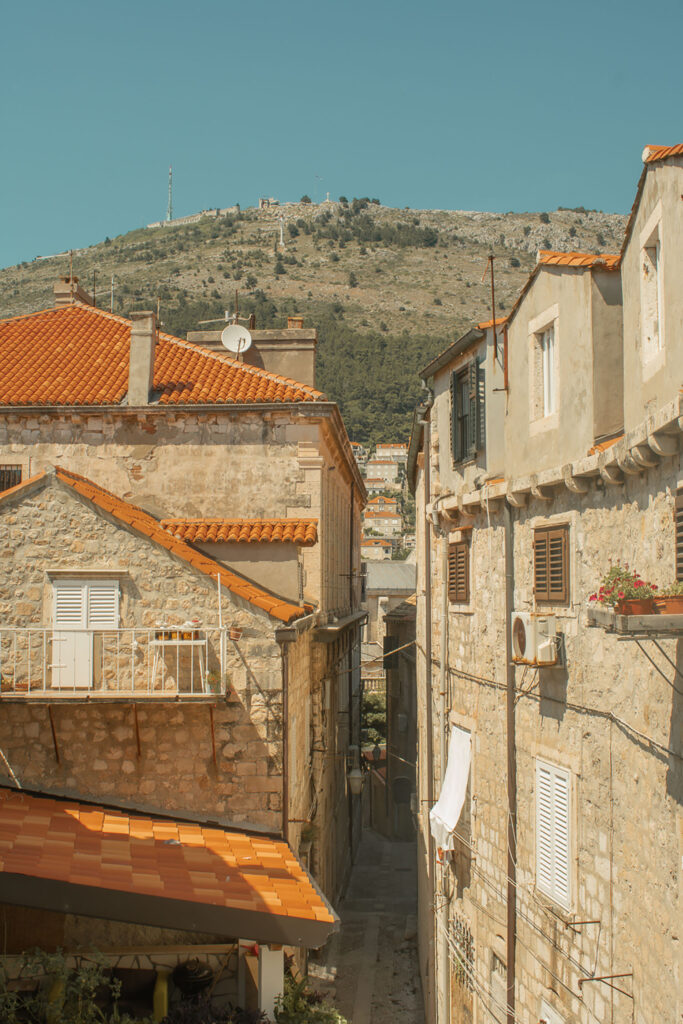 HOW TO GET TO DUBROVNIK
You will likely arrive in Dubrovnik by plane or ferry. The airport in Dubrovnik is about 10 miles from the city center. The airport is small and easy to navigate. To get to the old town from the airport you can take a shuttle bus that will cost you about 9 USD. It's very efficient to get back and forth.
On the other hand, if you are arriving from another island or city nearby you might be arriving via ferry. If this is the case you will be arriving at the Dubrovnik Ferry Terminal. This is located about a 30 to 40 minute walk or a quick drive away.
TOP 15 THINGS TO DO IN DUBROVNIK

1. WALK THE CITY WALLS

If you didn't know, the old town of Dubrovnik is surrounded by massive stone walls that were once used to protect the people living inside the city. Now, these walls are probably the number one attraction in the city of Dubrovnik.
You can walk all the way around the city walls and get some of the most incredible views from up here. There are a few things to keep in mind before this activity. For one, it gets HOT. Especially if you visit mid-day, there is basically no shade. I visited mid-day in June and it was freaking hot so I suggest waking up early to avoid the crowds and the heat.
Although we did end up avoiding the crowds because I think it was that hot out that no one was crazy enough to take part in this activity besides us Lol. The city walls cost 200 kunas and you have to pay in kuna or by card. You can purchase tickets at the entrance online. This ticker also gets you into Fort Lovrijenac. The whole walk around the city walls will take you about one and a half to two hours depending on how many times you stop. This is definitely one of the top things to do in Dubrovnik, so don't miss this!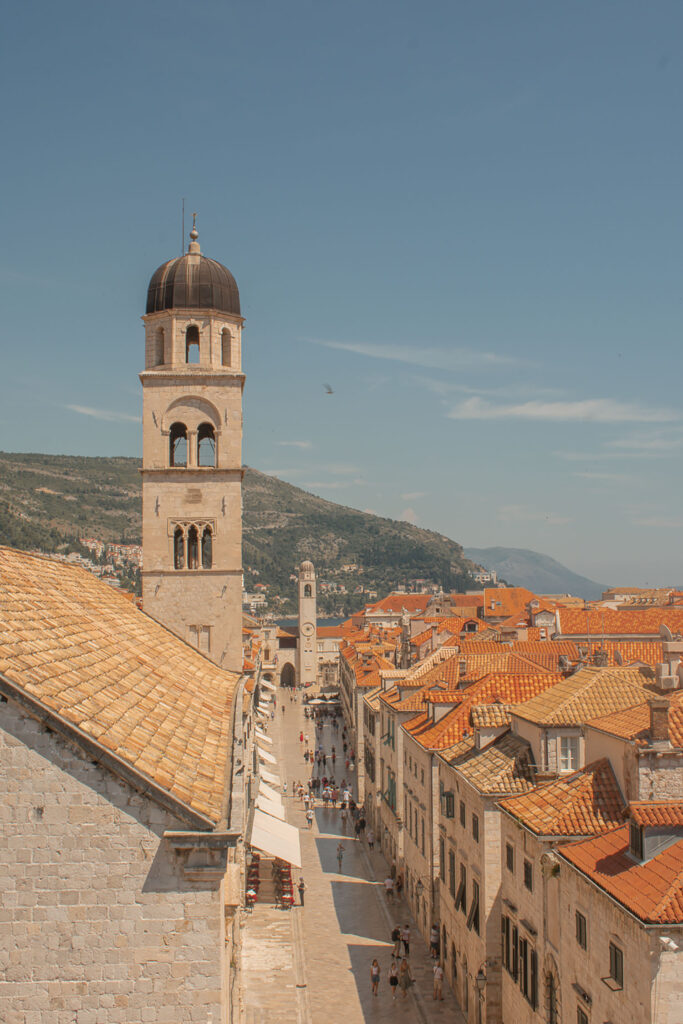 2. DUBROVNIK CABLE CARS

This was another highlight of our 3 days in Dubrovnik. The Dubrovnik cable car is another must for great views of the city. The cost is 90 kunas for a one-way ticket or 170 kunas for a round-trip ticket. The ride takes about 5 to 10 minutes each way.
The cable car is located right outside the city walls, within walking distance. If you are up for more of an adventure and some even better views, I suggest riding the cable car up and hiking down.
It's a very common route and takes about 45 minutes from top to bottom. It IS a workout that's for sure. But I was in a skirt the whole time, so the hike is definitely doable. Ask the people at the top where the trail entrance is and they will let you know. It's rocky, so make sure you are wearing sneakers.

3. THE ABANDONED HOTEL BELVEDERE

Visiting this abandoned hotel was probably one of the most unique things I've ever seen. The Hotel Belvedere was a 5-star hotel that was bombed in 1991 during the Croatian War of Independence. It was only open for six years at the time it was destroyed.
Now, people come to see what's left of it and take in more incredible views of Dubrovnik. This place is definitely off the beaten path. I visited because my hostel took a group to go see it, if it wasn't for that I would have had no idea it existed! If you do visit, just keep in mind that it can be extremely dangerous. There is broken glass everywhere, wires, stairwells, and elevator shafts. Just be careful if you visit.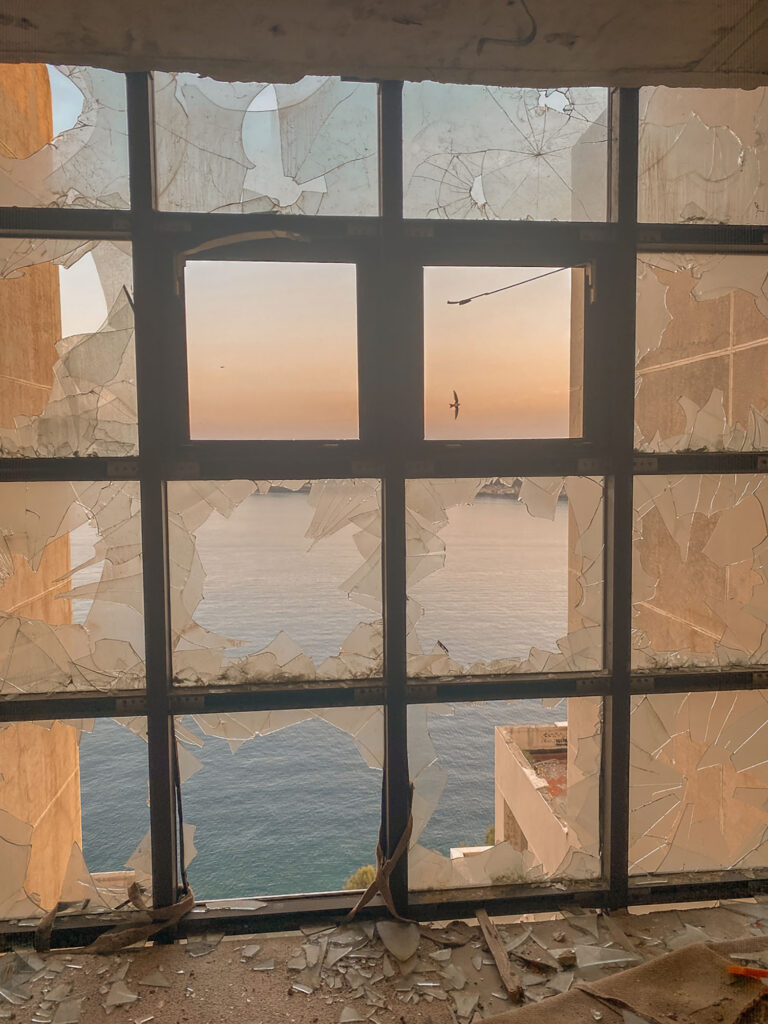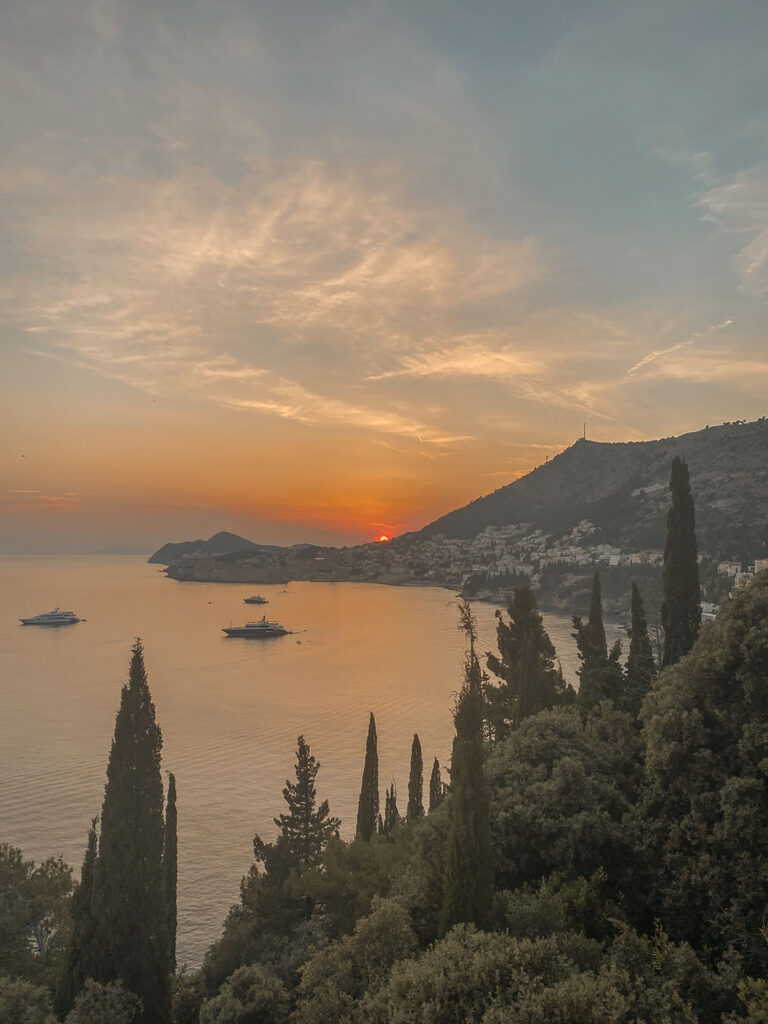 4. WALKING TOUR OF THE OLD TOWN

A walking tour of Old Town Dubrovnik is a must! I learned so many fun facts about the city and got the best recommendations of things to do and places to eat.
I always love doing walking tours at the beginning of my time in a city because the local guides have the best recommendations! You can most likely book a walking tour through your accommodation. If not you can book online by searching "free walking tours Dubrovnik." Don't forget to tip your guide at the end!

5. LOVRIJENAC FORTRESS

Lovrijenac or St. Lawrence Fortress is a fortress built around the year 1018 right outside the walls of the city of Dubrovnik. It's just a short walk from the Pile Gate entrance. Be prepared for a lot of stairs up to the top. I 100% think this is worth the visit and it's about 200 kunas to enter. However, if you bought a ticket for the city walls, your ticket will cover the entrance fee for Fort Lovrijenac too.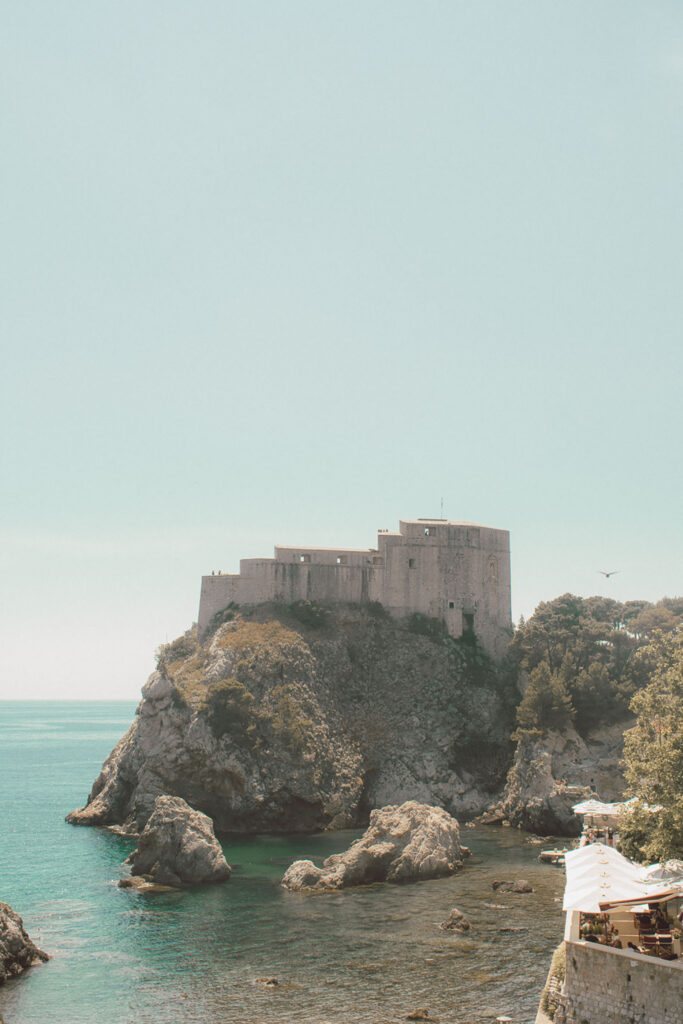 6. LOKRUM ISLAND

Lokrum is a small island in the Adriatic Sea very close to the city of Dubrovnik. This is a fun activity to do for a few hours in the afternoon. To get to the island, you will purchase a ticket for 100 kunas right outside the city walls before you get on the boat.
This ticket price includes the boat ride there and back and your entrance to the island. The boat leaves every half an hour so there is plenty of times to visit! On the island, you will find spots to swim, beautiful parks, a botanical garden, and places to grab a drink or a quick bite to eat. I really enjoyed spending an afternoon here. Honestly, you don't need too much time here in my opinion, but a few hours is the perfect amount of time.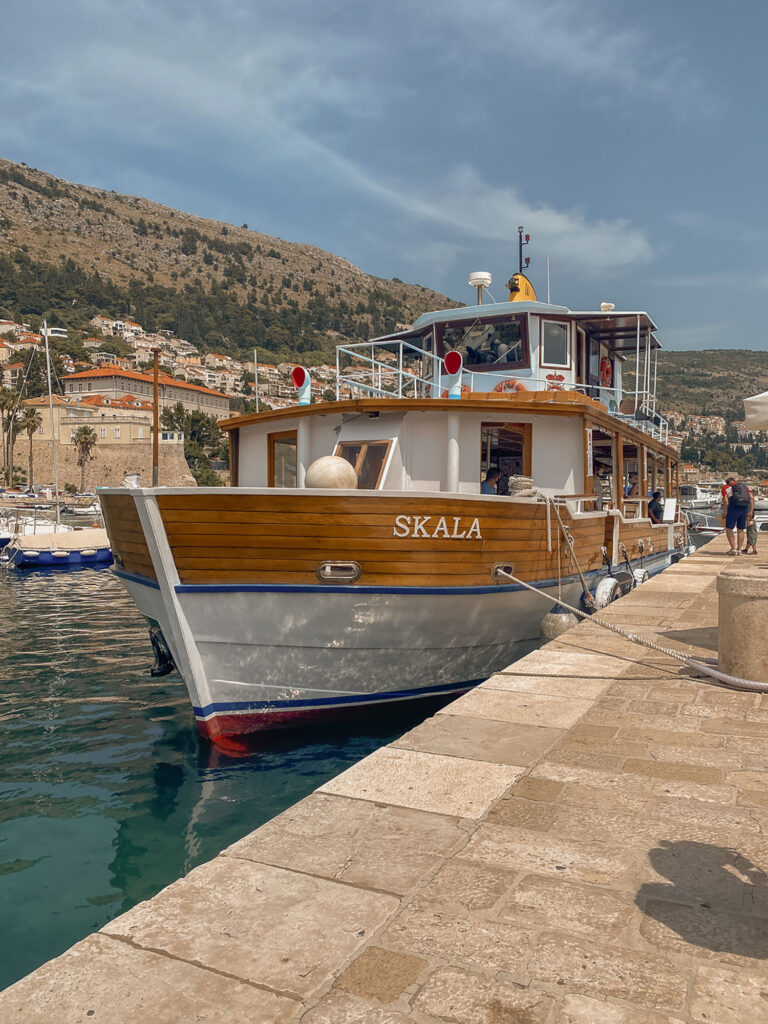 7. BUZA BEACH BAR

If you want to go for a swim or a drink, this is the place to be! Buza beach bar is a great spot to grab a drink with a view. It's located right on the side of a cliff and the vibes here are great. Grab a local Croatian beer while you are here. You can also do some cliff jumping! Walk down to the edge and you'll find people chilling in the water too! Buza Beach Bar is one of the best things to do in Dubrovnik.
8. RECTOR'S PALACE
Rectors Palace is located in the center of Old Town Dubrovnik. It's a palace built in the 15th century that used to be the seat of the Rector of the Republic of Ragusa. Now, you can admire the beautiful Gothic style and even take a tour of the palace.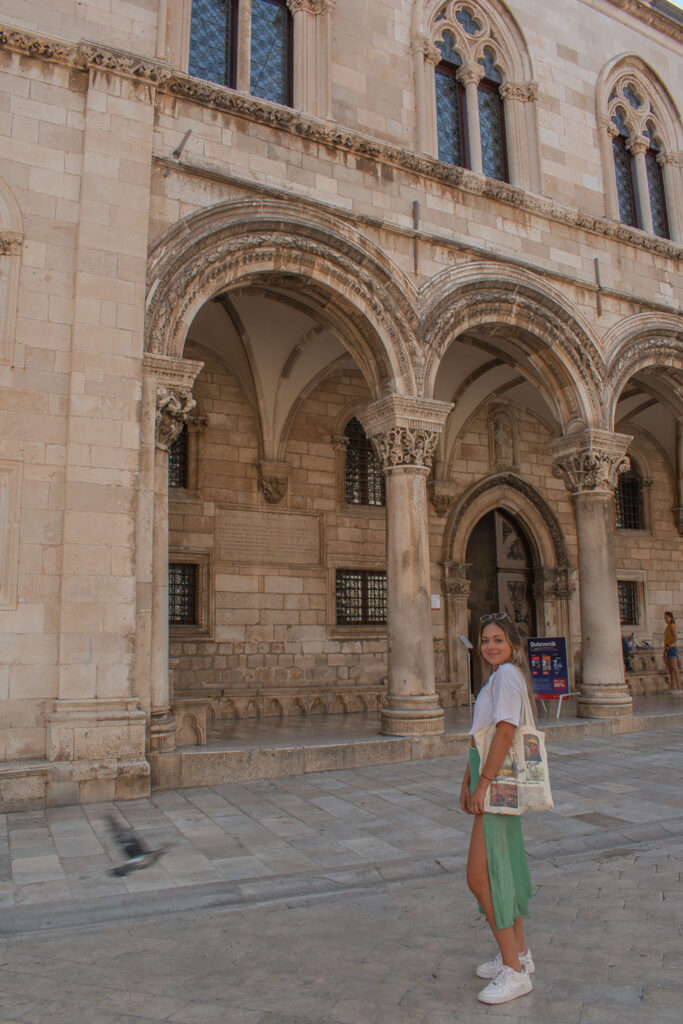 9. OLD PHARMACY
The Old Pharmacy, or the Franciscan Pharmacy, was founded in 1317 and is the oldest functioning pharmacy in Europe. Stop in and pick up some rose moisturizer or lavender oils. You can even visit the Old Pharmacy Museum and see various pharmaceutical tools and more.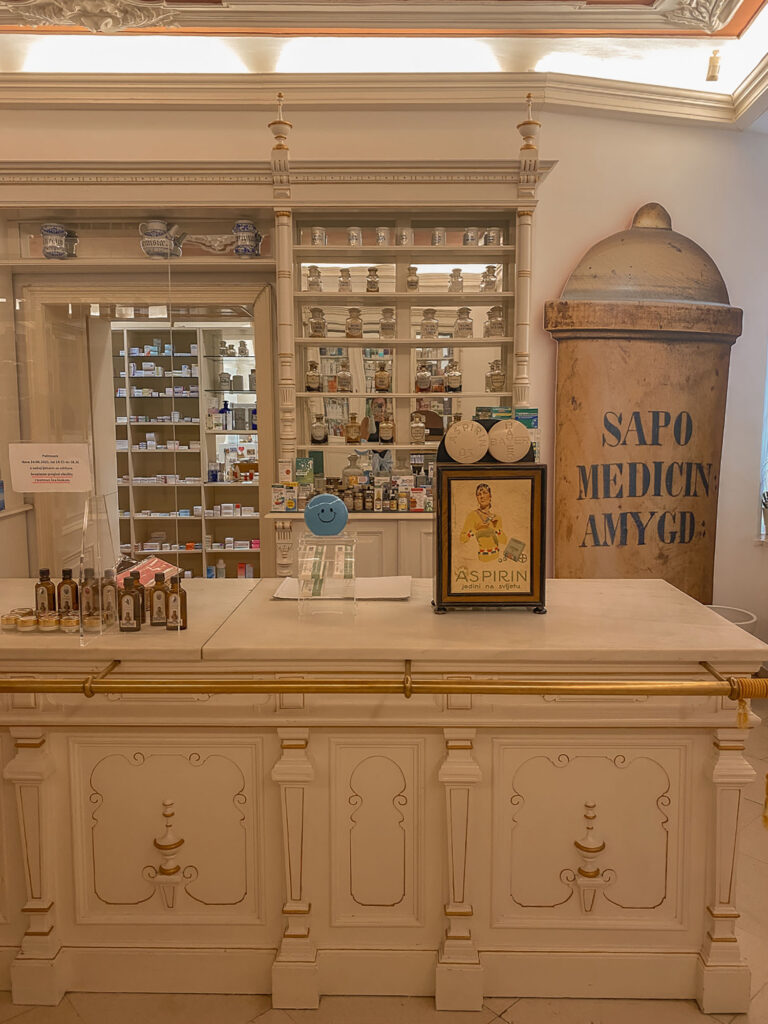 10. LOCAL FARMERS MARKET
The local farmers market is located right in the old town square of Dubrovnik. It's a great place to pick up some fresh fruits and veggies. You should also try the rose-coated almonds, they are delicious! Croatia is famous for its lavender, and it's a great souvenir to pick up. Grab some fresh lavender lotion or oil while you are here!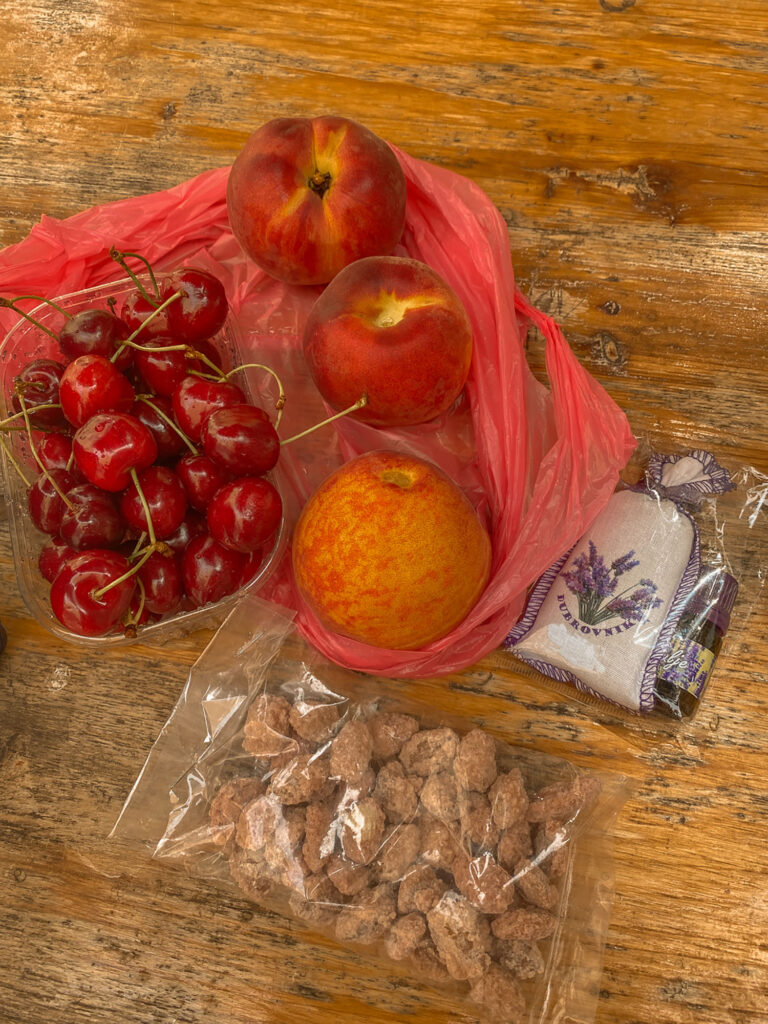 11. JESUIT STAIRS
If you are a Game of Thrones fan, you might recognize these famous stairs, known as the walk of shame stairs. The Jesuit Stairs are near Rector's Palace, and if you want a good photo I suggest waking up early to avoid the crowds.
12. GET LOST IN THE SMALL STREETS
The side streets within the walls of the old town are absolutely beautiful! You can't visit Dubrovnik without getting lost in the small streets, finding cute boutiques, and great souvenirs to bring home with you. There are also great photo opportunities if you wander around the old town.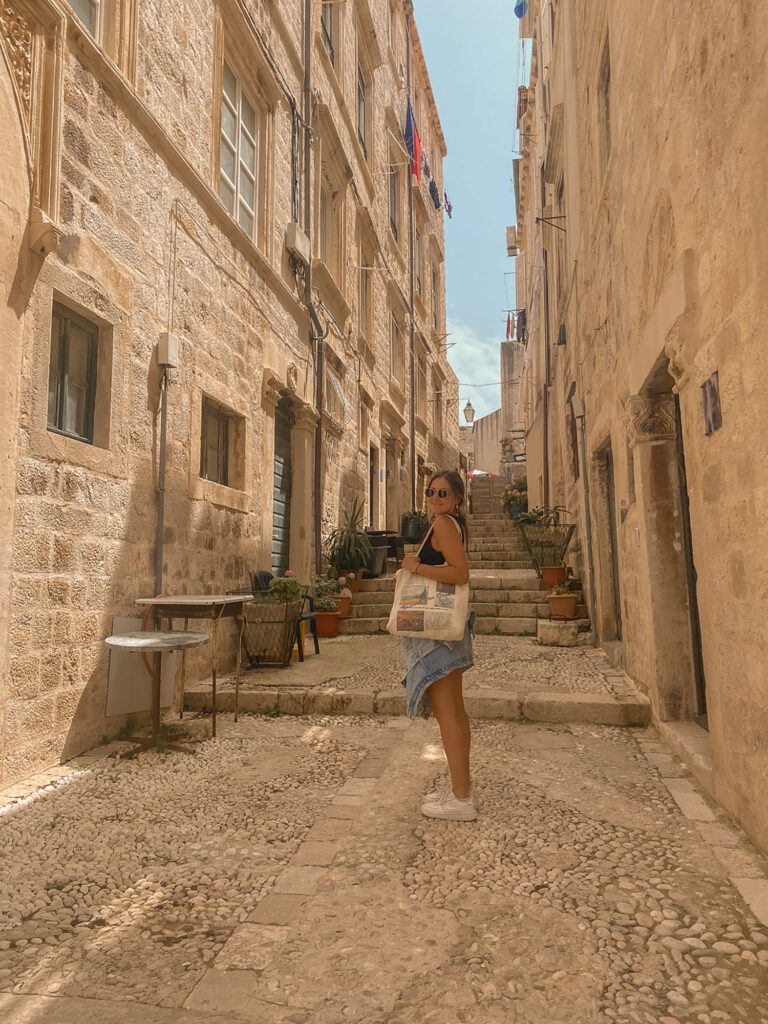 13. CHURCHES & MONASTARIES
There are many beautiful churches and monasteries in Dubrovnik. Check out St. Saviour's Church, Franciscan Monastery & Museum, and the Dubrovnik Cathedral.
14. KAYAKING TOUR
For a unique perspective of the city, go on a kayaking tour! You can book at the port in Dubrovnik or online.

15. DAY TRIP TO MONTENEGRO

Dubrovnik is a great hub for day trips! It's close to places like Mostar, Hvar, Vis, and Montenegro. We took a day trip to Montenegro and I HIGHLY recommend it. This was definitely a highlight of my Europe trip. Montenegro is a small country in the Balkans and seriously a hidden gem. We booked the day trip through our hostel (Hostel Angelina) and it only cost us about 80 USD. Worth every penny.
EAT AND DRINK IN DUBROVNIK
The food in Dubrovnik is incredible! Here are a few great options to eat and drink in Dubrovnik:
EAT
Cogito coffee: The best coffee!
Dubrovnik Oyster & Sushi: We went here for sushi and it was delicious.
Mliner: For croissants or a quick breakfast.
Barba: Seafood, street food at a great price! Try the shrimp burger and the fried oysters.
Tavulyn: A great place for lunch or dinner.
Boccapiena: Ice cream and gelato.
Captain Candy: To get your sweets fix!
Oliva Pizzeria: Great pizza!
DoDo Bar: For coffee and drinks.
DRINK
Buzz Bar
Buza Bar
Cave Bar More
D'Vino Wine Bar
WHERE TO STAY IN DUBROVNIK

If you are on a budget and looking for a hostel I could not recommend Hostel Angelina enough. It was in the perfect location, right in the center of the old town, the staff was incredibly helpful, the rooms were clean, and the vibes were so fun here! I recommend booking hostels through Hostel World.
Hostel Angelina was located inside the city walls and I loved it. Almost everything you will want to see is located inside the walls or a short distance outside. I suggest booking a place to stay within the old town city walls.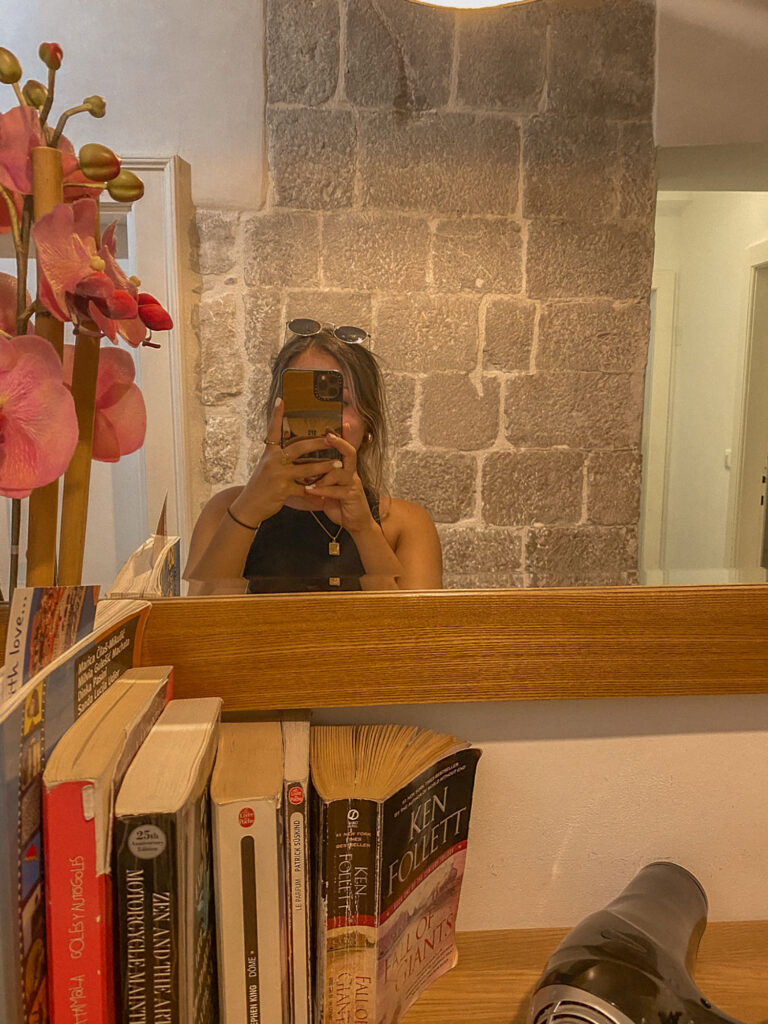 SAFETY IN DUBROVNIK

This city is incredibly safe. Dubrovnik is safe for families and solo female travelers. I felt completely fine walking around day and night. Obviously, be cautious of your belongings and use common sense but Dubrovnik is a very safe place to visit!
FINAL THOUGHTS ON THE BEST THINGS TO DO IN DUBROVNIK
I absolutely loved this city. It truly felt like I had stepped back in time with all the medieval architecture and views that looked like they were out of a movie. Dubrovnik, Croatia is a place that needs to be on your bucket list if it isn't already!
I hope you enjoyed this post full of the best things to do in Dubrovnik. As always, if you have any questions about my time in Croatia, feel free to comment below, DM me on Instagram, or email me at sydabroad@gmail.com!
xx Syd.
PIN IT!