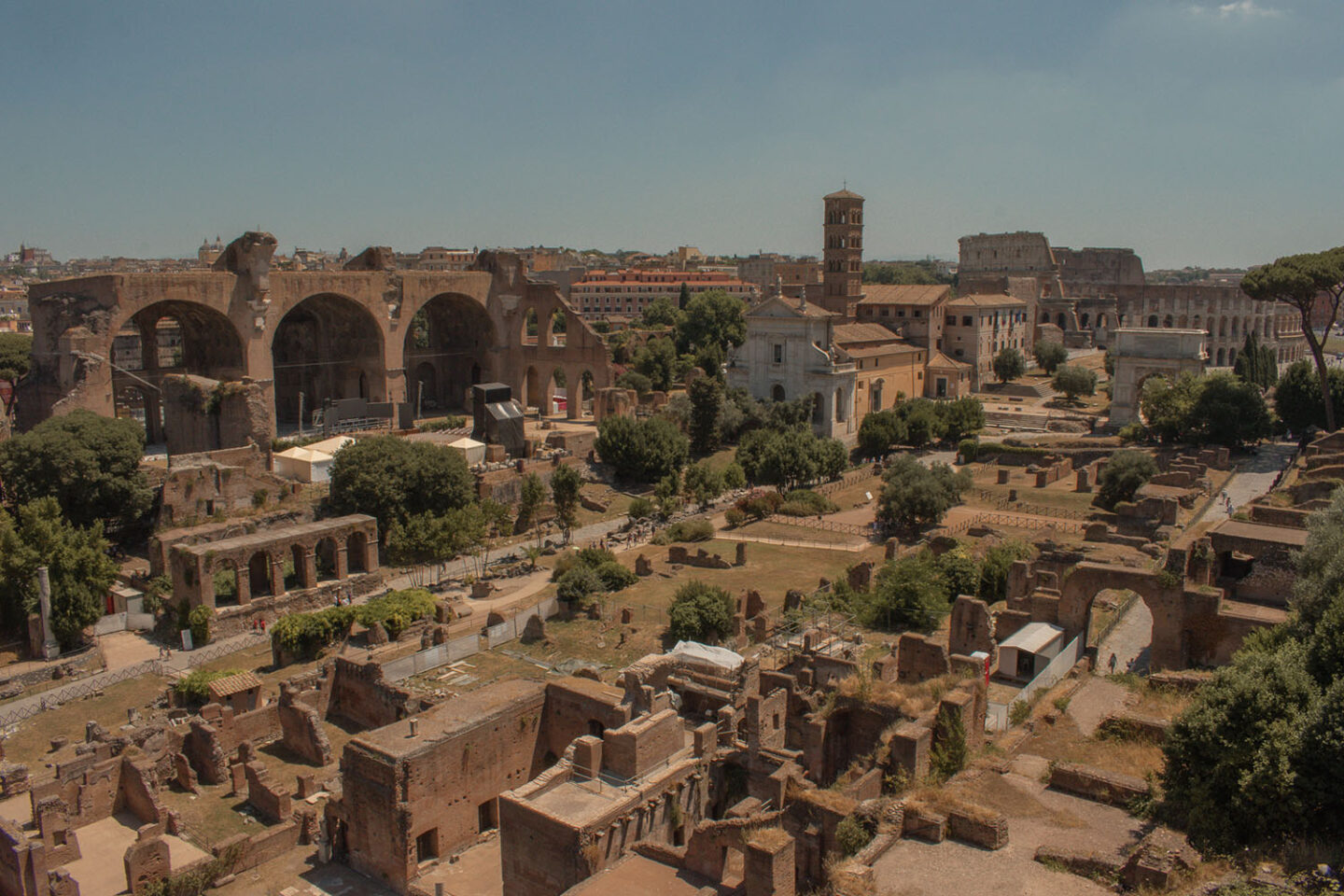 (Disclaimer: This post may contain affiliate links, which means we may receive a small commission at no extra cost to you.)

Rome is one of the oldest cities in the world with fascinating history, beautiful architecture and of course, delicious cuisine! This is a city that is most likely already on your bucket list, and if it's not, it definitely needs to be! There are so many amazing cities in Italy like Milan, Venice, and Florence. They all are so special in their own way, and that includes the city of Rome. In this guide you'll discover sites you can't miss, great places to dine in the city, and all the best things to see in Rome, Italy. Now let's get into this travel guide!

Disclosure: This article contains affiliate links.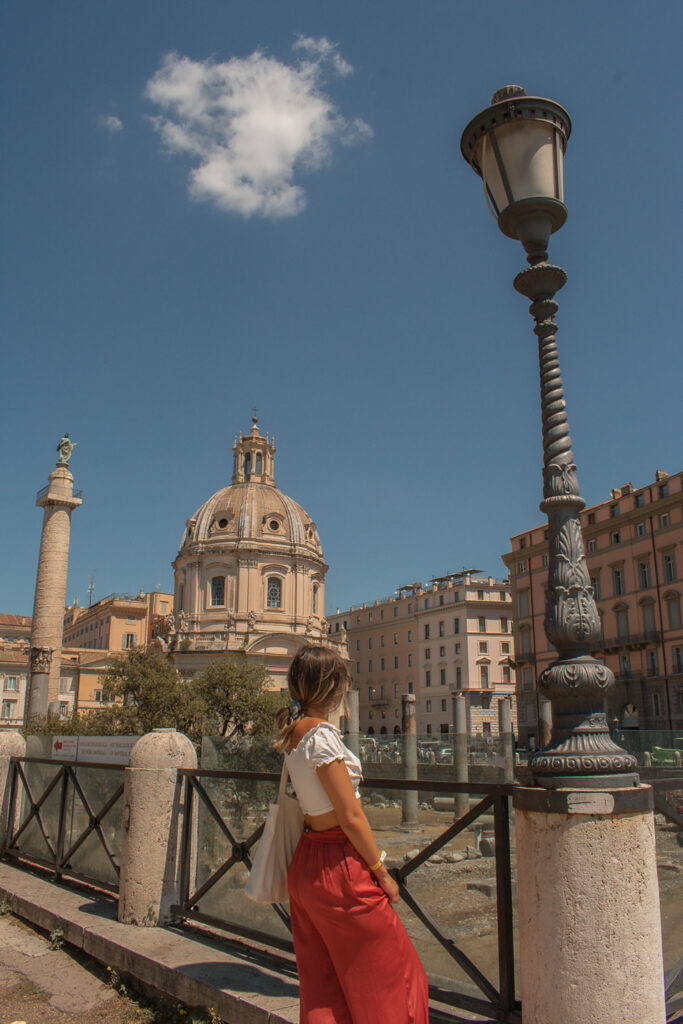 THE BASICS
CURRENCY = EURO

The currency in Rome is the Euro (EUR)
1 USD = .88 Euro
Many places in Rome will accept card payments but I find it helpful to keep some cash for small purchases. Cash on hand really helps if you are out to dinner and plan to split the bill with others. In most European cities they will not split the bill with card payments.
Having small bills is also helpful if you are negotiating at a local market. There are also plenty of ATMs around the city.
LANGUAGE = ITALIAN

Although Italian is the official language, you will find that many people speak English here. It is helpful to have the Google Translate app downloaded on your phone. And if you don't speak the language I would prepare a few basic phrases and sentences just to be polite.
PHONE & INTERNET

From my personal experience, I never had a problem with the phone and internet service. I found that many restaurants and cafes had fast reliable wifi and my accommodation did as well. If you are a digital nomad and will need to reliable internet connection during your trip, I would check with your accommodation just to be sure.
DAILY BUDGET

Compared to cities like Florence, Venice, and Bologna, Rome can be on the more expensive end. It is one of the most visited by tourists in the world. For a mid-range budget, I would put aside about $100 per day (or about 87 euros). However, it is possible to travel to Rome on a backpacker's budget. Stay at a hostel, cook some of your meals, and avoid shopping a lot, this will help you save money in Rome.
TIPPING IN ROME

There is not a strict tipping rule in Rome, however, it is considered polite if you were provided with good service. In general, tips are not expected in restaurants so it's entirely up to you.
Here is something to keep in mind, a coperto, which is basically a table charge. This is common in many restaurants and will be a separate line item on the bill usually for table service and bread.
IS THE TAP WATER DRINKABLE?

Yes, it is safe to drink tap water in Rome, and most of Italy actually. You will find old fountains throughout the city and it's completely safe to drink out of these! If you do like taking extra precautions when traveling I suggest purchasing a water bottle with a filtered straw.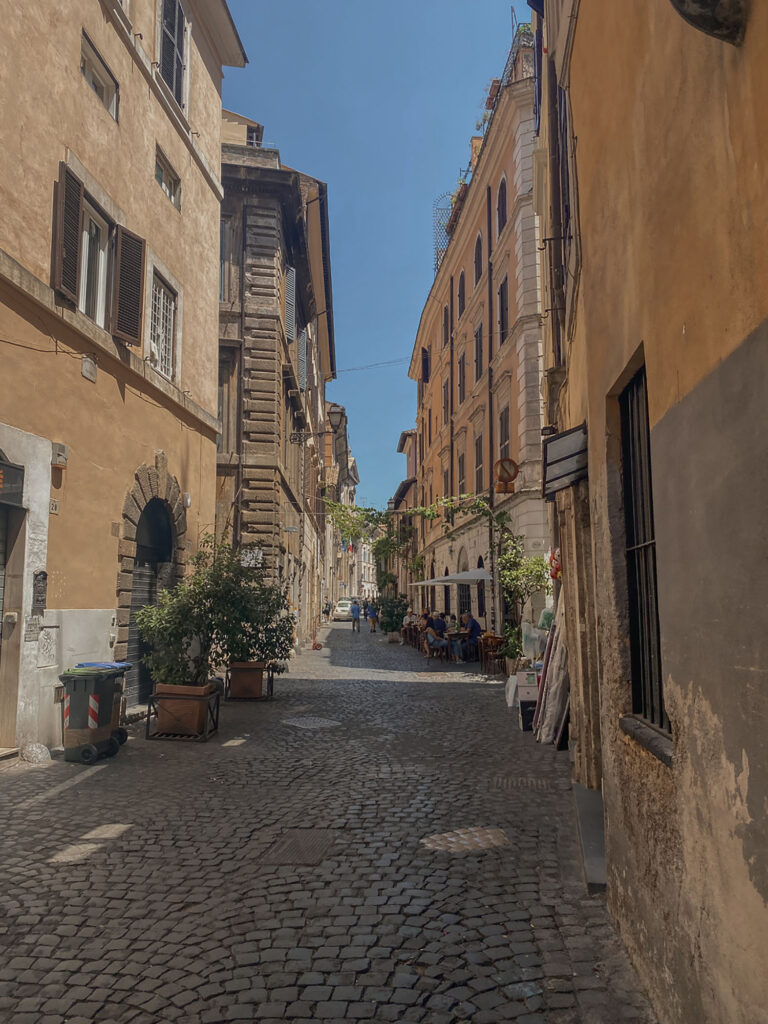 BEST TIME TO VISIT ROME

The city of Rome is a dream to visit all year round but October through April are considered the best months to visit. This is because the high tourist season is over and the weather is cooler. You will find it less crowded and overall more affordable.
Yet, both times I have visited Rome have been during the summer. And from my personal experience, I still have an incredible time! It can get insanely hot during the summer though, so keep that in mind.
My first time in Rome was with EF Ultimate Break, a group travel company and my second visit to Rome was on my own during my summer backpacking trip. Both trips were absolutely incredible! During my EF Ultimate Break trip, we got to see so many places in Italy including Venice, Florence, Orvieto, Burano, Lake Como, and Bologna. If you want the stress taken out of planning a trip I highly suggest checking out EF!
To save $100 off your first trip with EF Ultimate Break, use code "UASydney100" at check out. Feel free to reach out if you have any questions about traveling with them!
14 OF THE BEST THINGS TO SEE IN ROME

1. THE VATICAN

The Vatican is definitely one of Rome's must-sees. Vatican City is a city-state in Rome ruled by the Pope and the headquarters of the Roman Catholic Church. It's also famous for its iconic art and architecture.
I recommend giving yourself a good half-day to explore because it's massive. Also, make sure you have dressed appropriately. Your shoulders and knees need to be covered. As for tickets, you can purchase them ahead of time online to avoid the long line. I also suggest purchasing an audio guide if you aren't doing a guided tour. There are so many fascinating things to learn here! Tickets to the Vatican cost 8 to 17 euros. Make sure you see the Sistine Chapel at the end, it's incredible.
TIP: It was HOT when I visited. Make sure you bring water and if you don't want to wear long sleeves all day I suggest bringing a lightweight wrap or button-down you can throw on before you go inside. I also love traveling with my collapsable water bottle. It's so easy to take places.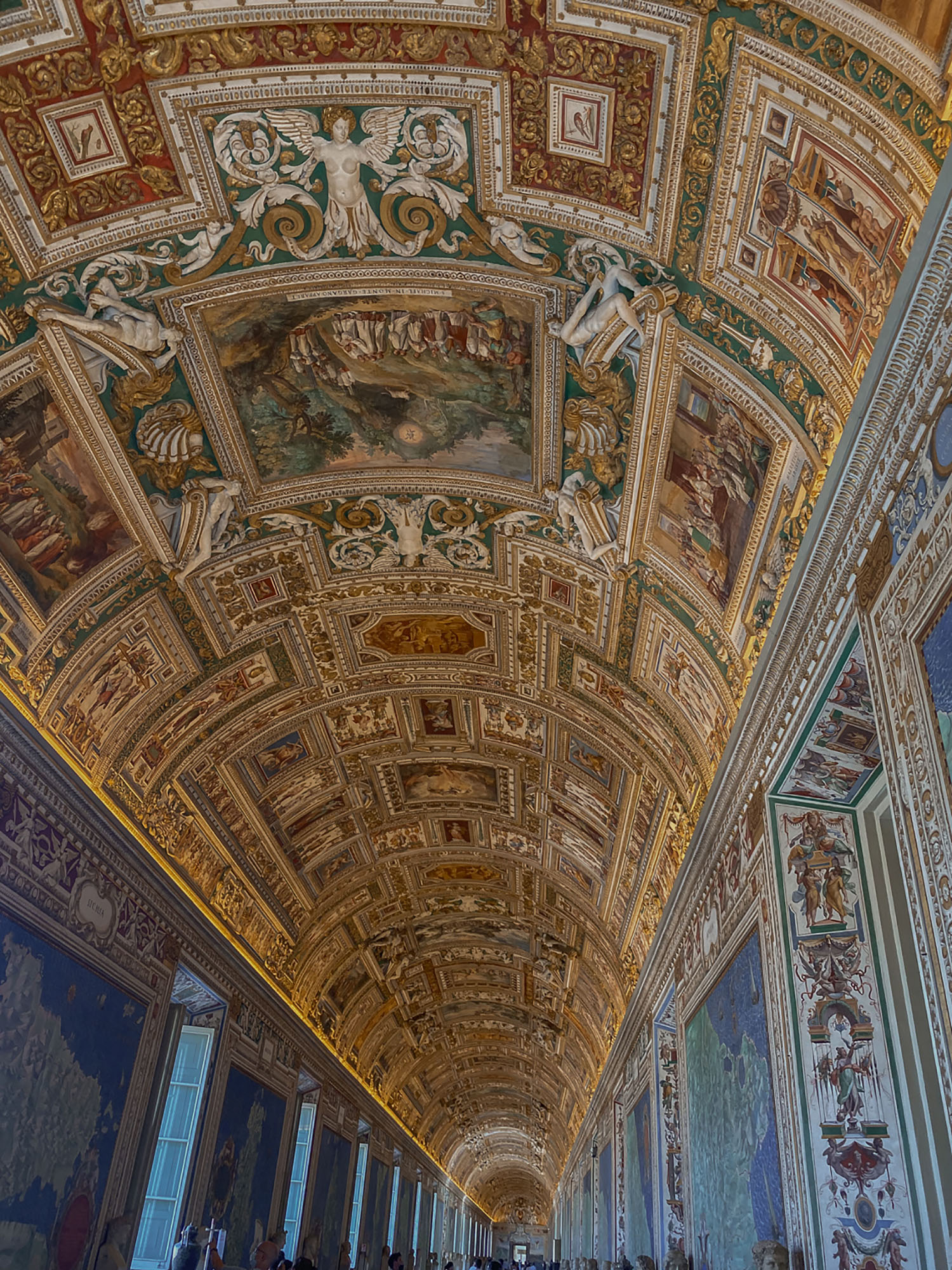 2. TOUR THE COLOSSEUM
Did you actually visit Rome if you didn't tour the iconic Colosseum? There is so much fascinating history to learn here so I highly recommend doing either a guided tour of the Colosseum or purchasing an audio guide. I would give your self about two to three hours to see the Colosseum.
TIP: Buy the combined ticket that gets you into the Colosseum, Roman Forum, and Palatine Hill. The ticket cost 29 euro.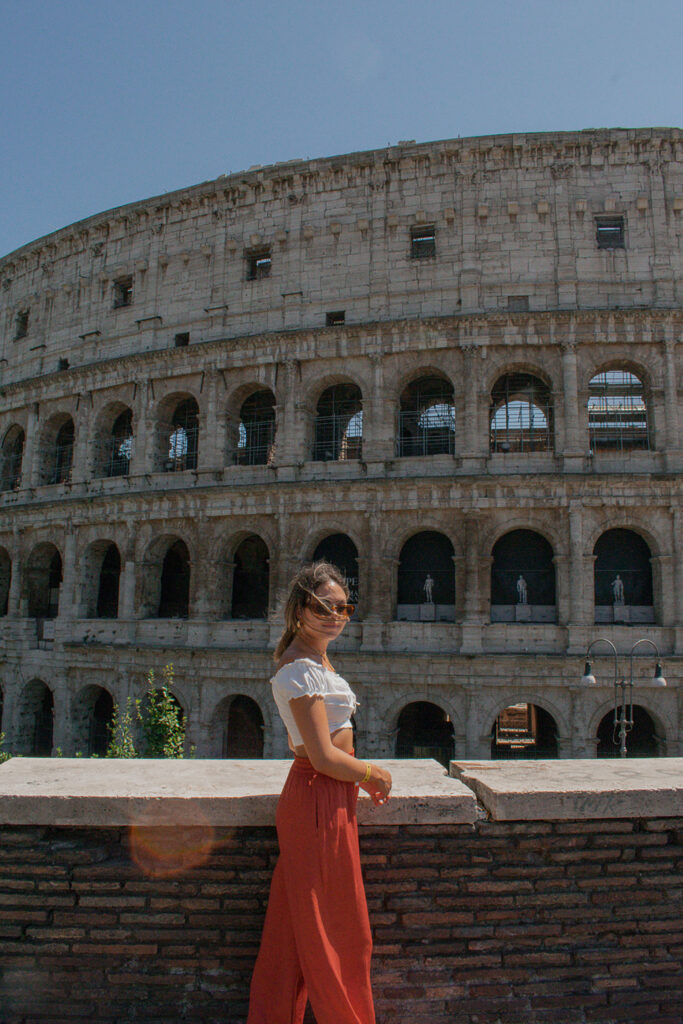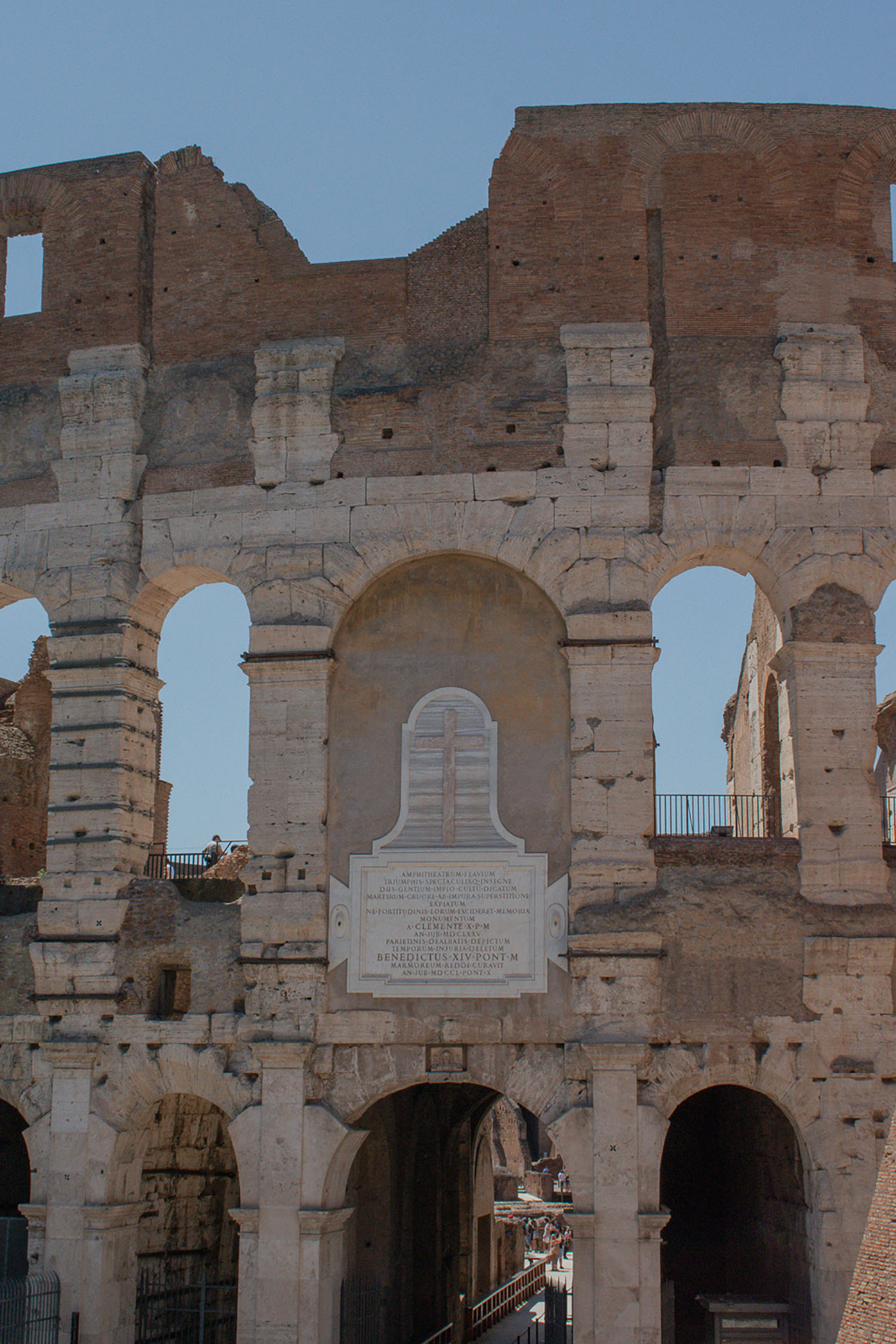 3. ROMAN FORUM

The Roman forum fell to ruins after the fall of the Roman Empire. Now, you can see all the ruins from what used to be ancient government buildings in the city center of Rome. If you have purchased the combined ticket, entrance to the Roman Forum is included.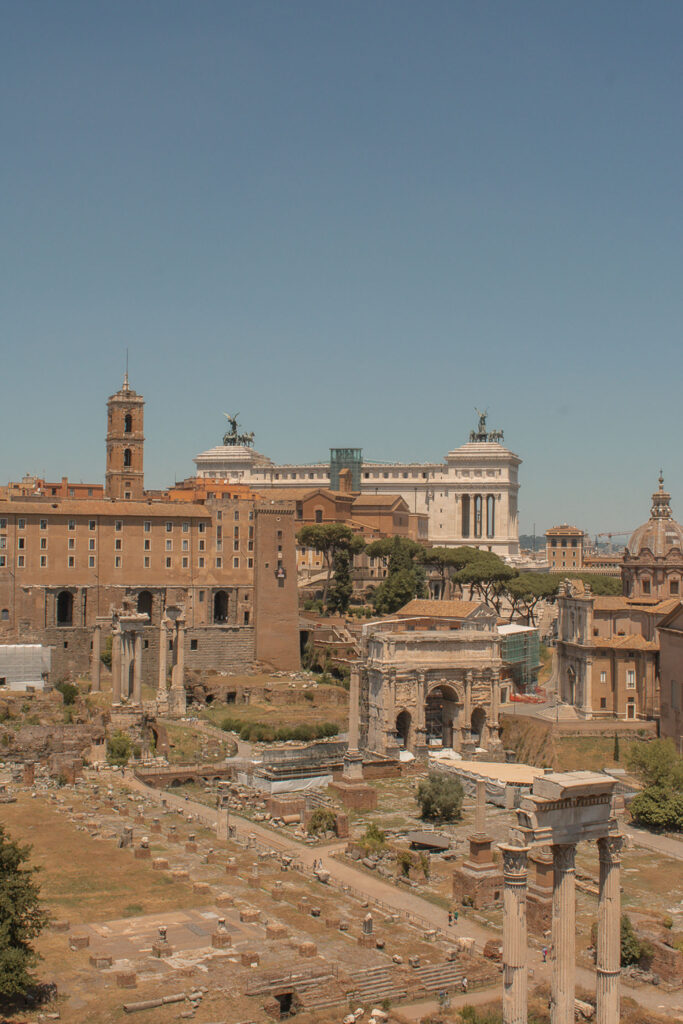 4. ROME FOOD TOUR

Rome has some of the best food I have ever had! If you are a foodie I suggest taking a food tour of the city. You can find street food and do this on your own or book a guided tour.
Eating your way through the city is an excellent way to get to know Rome! You have got to try pasta, pizzas, desserts, wines, and more. What better way to start your trip to Italy than by taking a food tour in the capital city. Add this to your list of things to do in Rome, You can also check out guided food tours here.
5. MAKE A WISH AT THE TREVI FOUNTAIN

The Trevi Fountain is located in the Trevi district in Rome. It is also one of the oldest water systems in the city and a very popular tourist attraction. This is by far one of the best things to see in Rome!
It's absolutely beautiful, and don't forget to make a wish! If you are looking to get some good photographs of the Trevi Fountain, you need to wake up at sunrise and head over to the fountain. Not only will you get a great photo without the crowds, but it's such a different vibe when you have the entire place to yourself. It's pretty incredible and well worth the early wake-up call.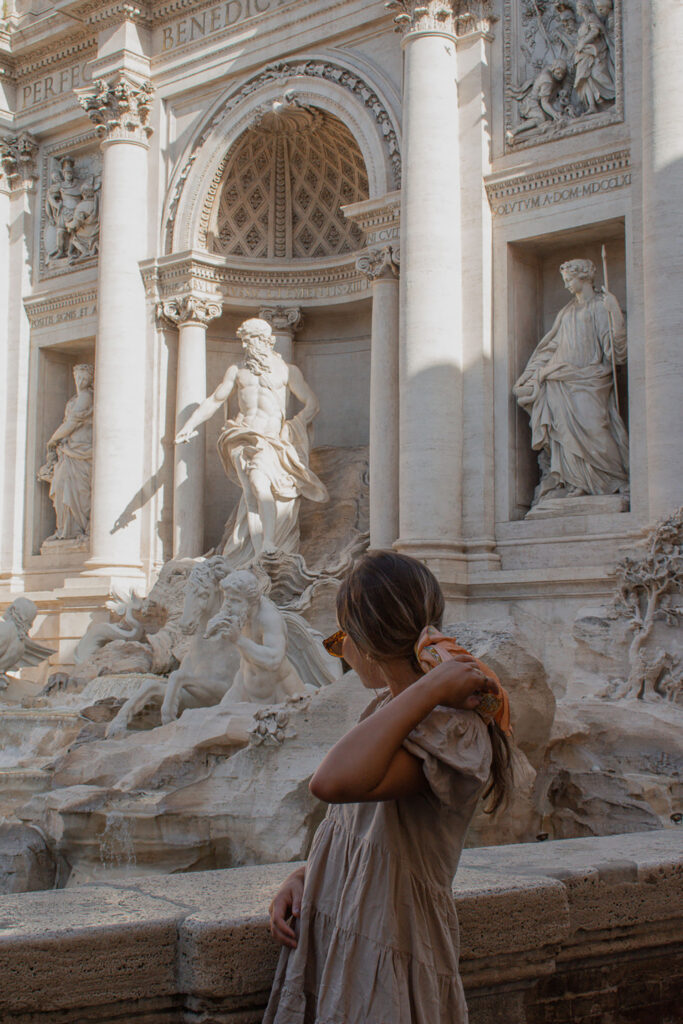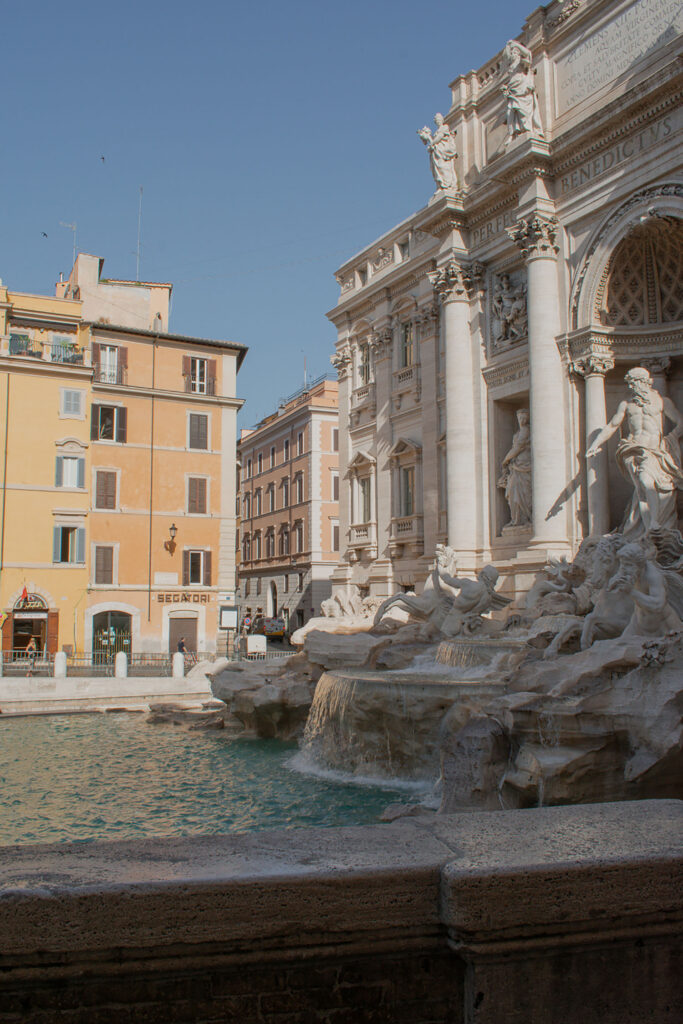 6. THE SPANISH STEPS

The Spanish Steps are the longest and widest steps in Europe and one of the best things to see in Rome. They represent figuratively and metaphorically the close relationship between the Sacred and the Eternal City. Like the Trevi Fountain, I suggest waking up early to have the place to yourself. The steps are located a short walk from the Trevi Fountain.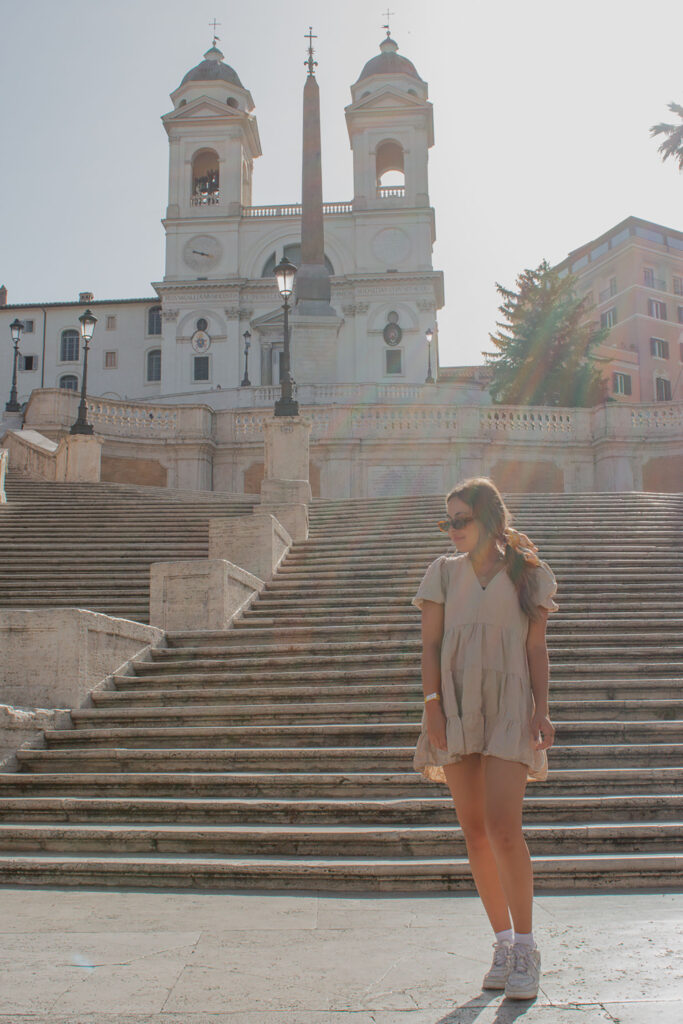 7. TAKE A COOKING CLASS

Alright, this might be one of the most fun things to do in Rome! Learning how to make homemade pasta in Italy is such a fun way to spend the afternoon. The best part is, you get to eat it at the end! I had a great time meeting new people and learning from the chefs. I also love to cook, but this was the first time I made pasta from scratch. The homemade pasta was amazing. The meal was complete with appetizers and even a glass of wine! You can check out cooking classes here.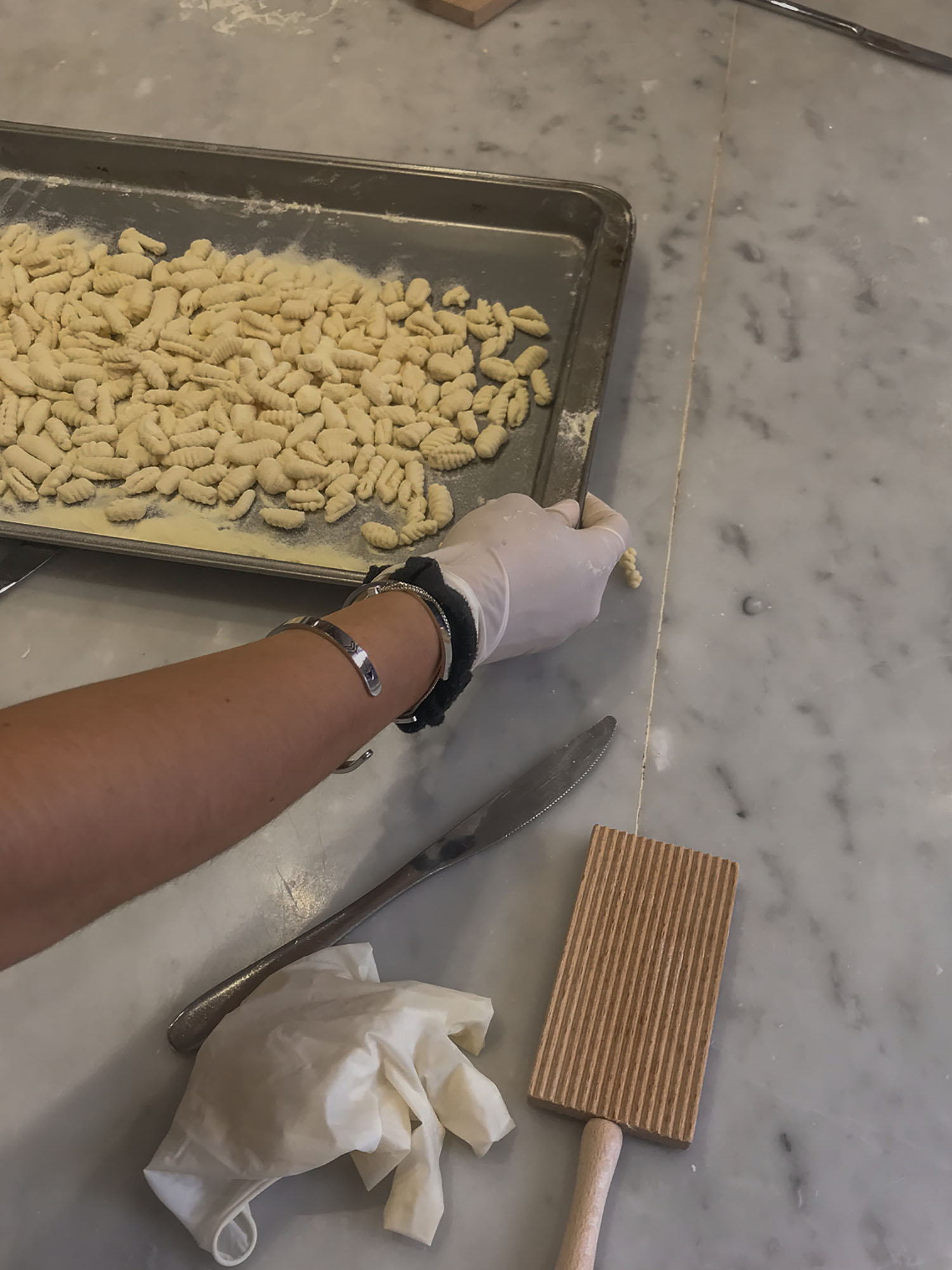 8. VISIT THE PANTHEON

In ancient times, the Pantheon was a temple for Roman gods. It is one of the most iconic structures in the city of Rome, something you definitely have to see during your time in the city. The Pantheon is a short walk away from the Trevi Fountain.
9. FIND THE BEST VIEWS OF THE CITY

To find the best views of Rome, head to Ponte Umberto, Pincio Hill, or Gianicolo (Janiculum Hill). Everywhere you look in Rome is beautiful but these are a few iconic viewpoints.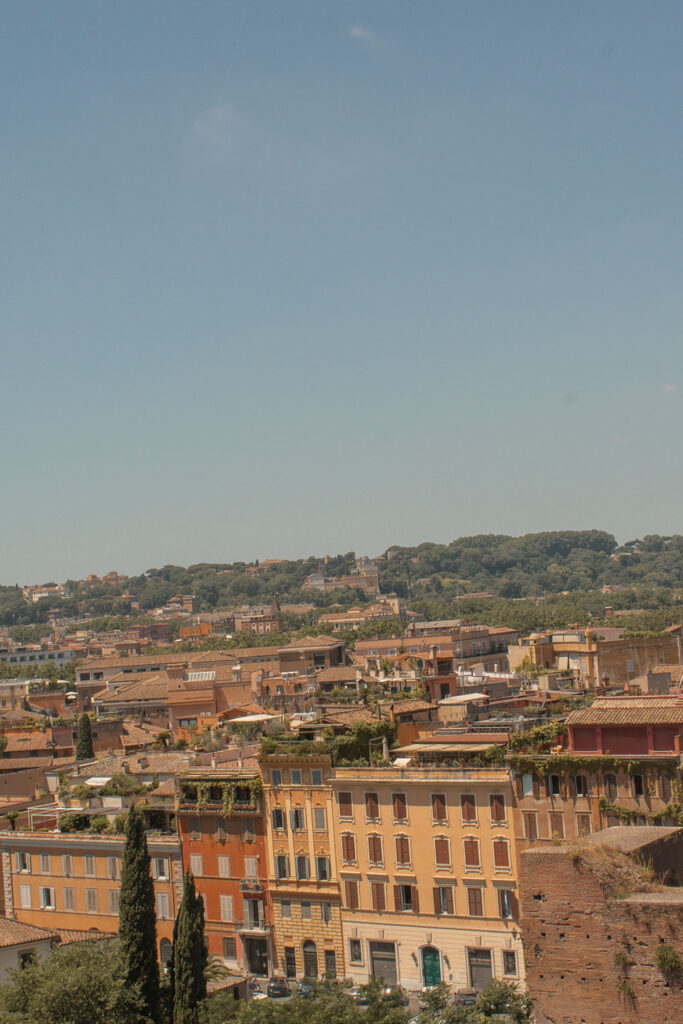 10. PIAZZA NAVONA

Piazza Navona is a beautiful square in Rome, and a great place to wander around and people watch! It's famous because it is built on the site of the stadium built in Ancient Rome during Emperor Domitian's rule.

11. ALTARE DELLA PATRIA
Altare della Patria is the massive white building you will see if you are walking to the Colosseum from the city center. The building was built to honor Victor Emmanuel, who was the first king of unified Italy. Inside, there are historic sites, an observation deck, and a museum. To go inside it will cost you about 7 euros.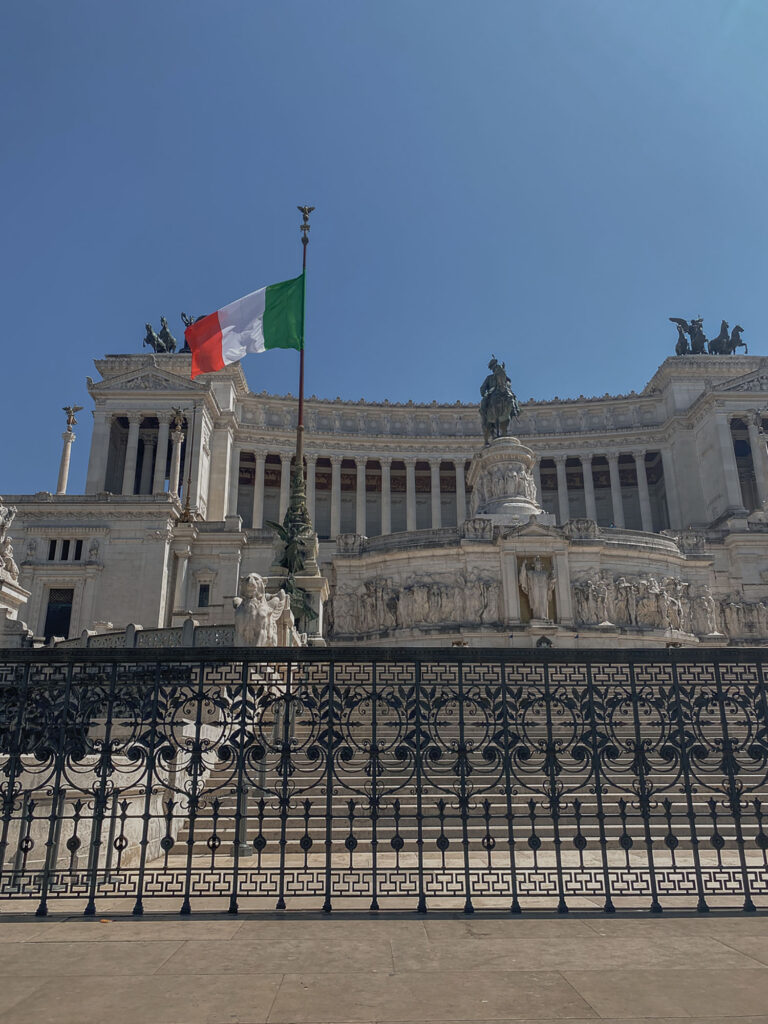 12. VILLA BORGHESE

For a city break, head to Villa Borghese. It's a garden and park in Rome and home to a few buildings (like the Villa Borghese Museum). It's a stunning spot to visit! Definitely, one of the best things to see in Rome.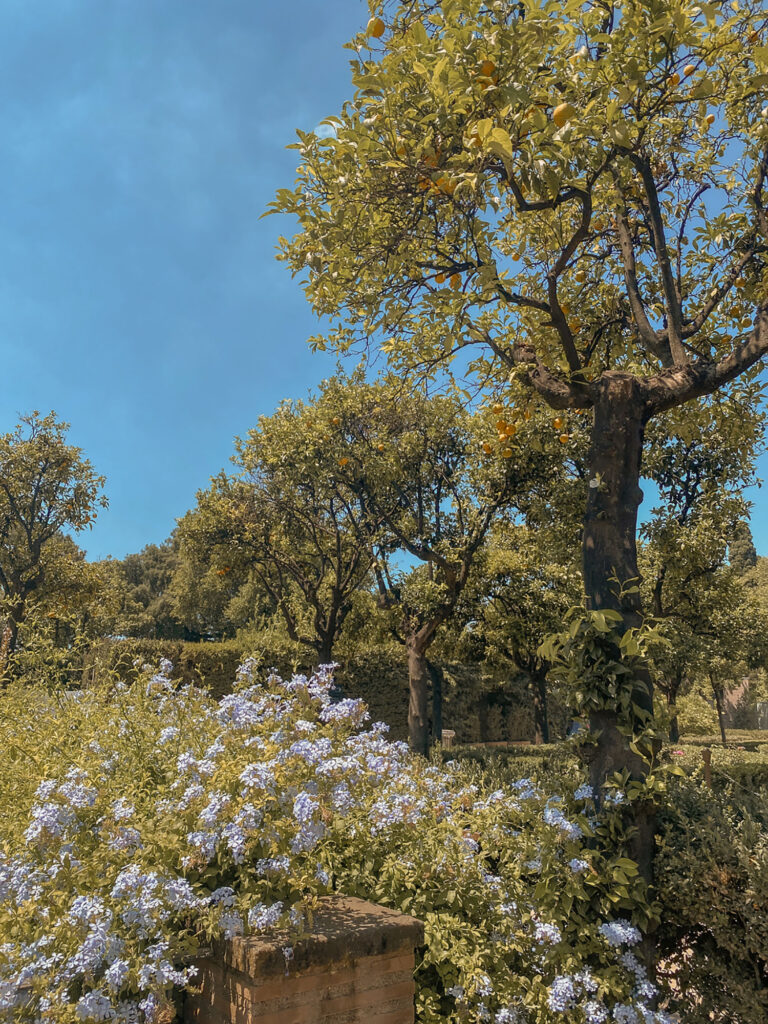 13. GET LOST IN TRASTEVERE

For the cutest neighborhood in Rome, head to Trastevere! Its cobblestone streets and beautiful buildings with greenery make it the perfect place to spend some time. There are also some incredible restaurants and cafes. This neighborhood is relaxing and a truly enjoyable place to explore.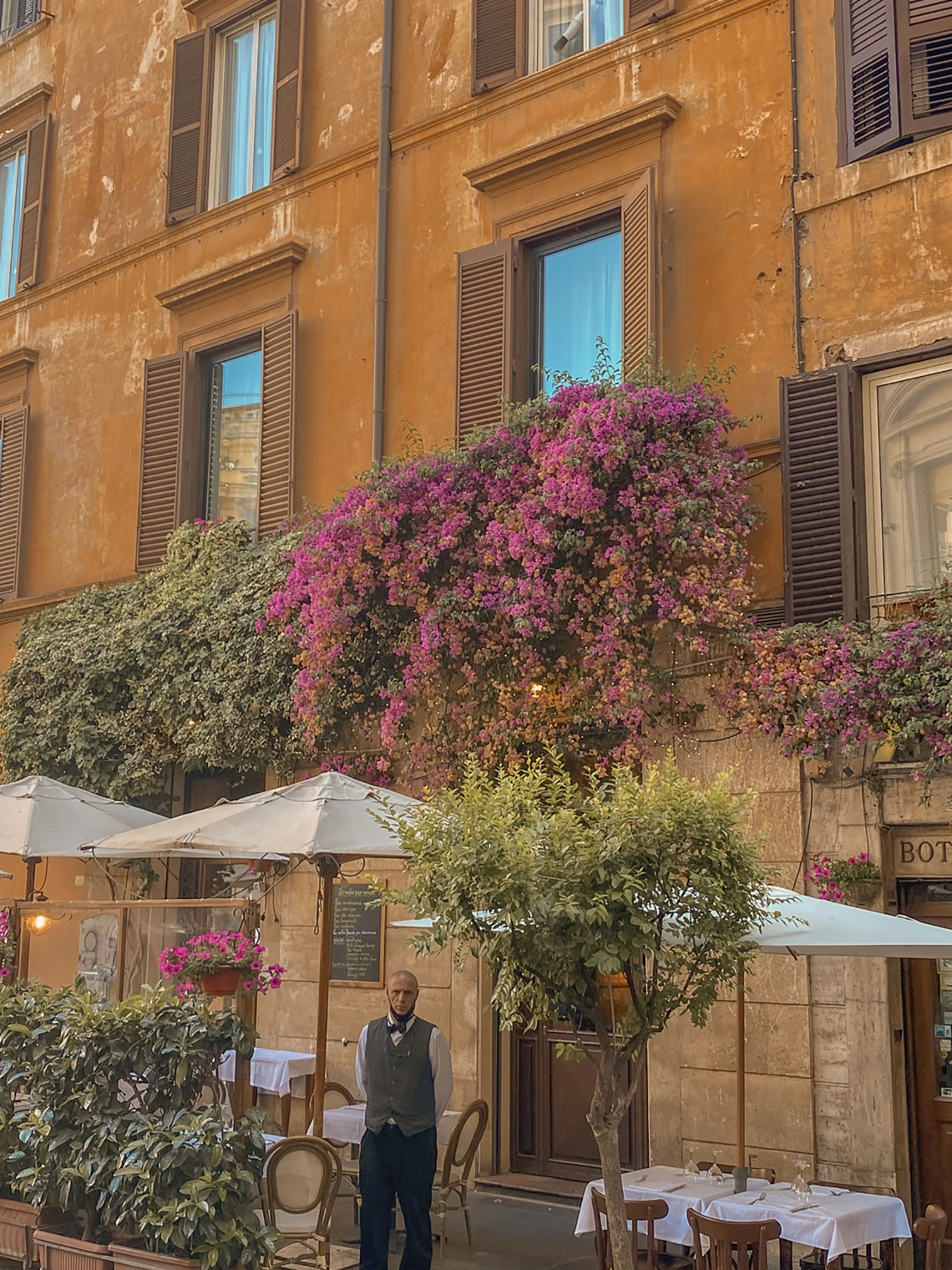 14. NIGHT MARKET AT RIVER TIBER


Check to see if the night market is up and running during your visit, I am not too sure about the schedule. Anyway, if you are able to visit, you totally should! This was such a fun way to spend the evening. My sister and I went with a few friends from our hostel and we had a blast! There were bars, restaurants, and little shopping stands everywhere! It's definitely a great spot for some great nightlife.
TRANSPORTATION IN ROME

HOW TO GET TO ROME

There are two airports in Rome, Leonardo da Vinci International Airport in Fiumicino (FCO) is the main airport, and Ciampino Airport (CIA), which is for low-cost airlines. Both FCO CIA are about 25 to 30 minutes from Rome's city center.
The easiest way to get to the city center is to hop on public transport to Rome Termini station, this is the city's main station. If you are traveling by train you will likely arrive at Rome Termini station.
From FCO airport take the Leonardo Express, a train connecting the Fiumicino airport to Termini station. It's quick, efficient, and affordable. The journey will take about 30 minutes and cost about 14 euros.
GETTING AROUND IN ROME

Rome is a great city to explore on foot. I guarantee you will be walking a lot so pack comfortable shoes! The metro is also a great way to get around the city, it cost 7 euros for a 24-hour pass. You can purchase metro tickets at the stations and many convenience stores sell them as well.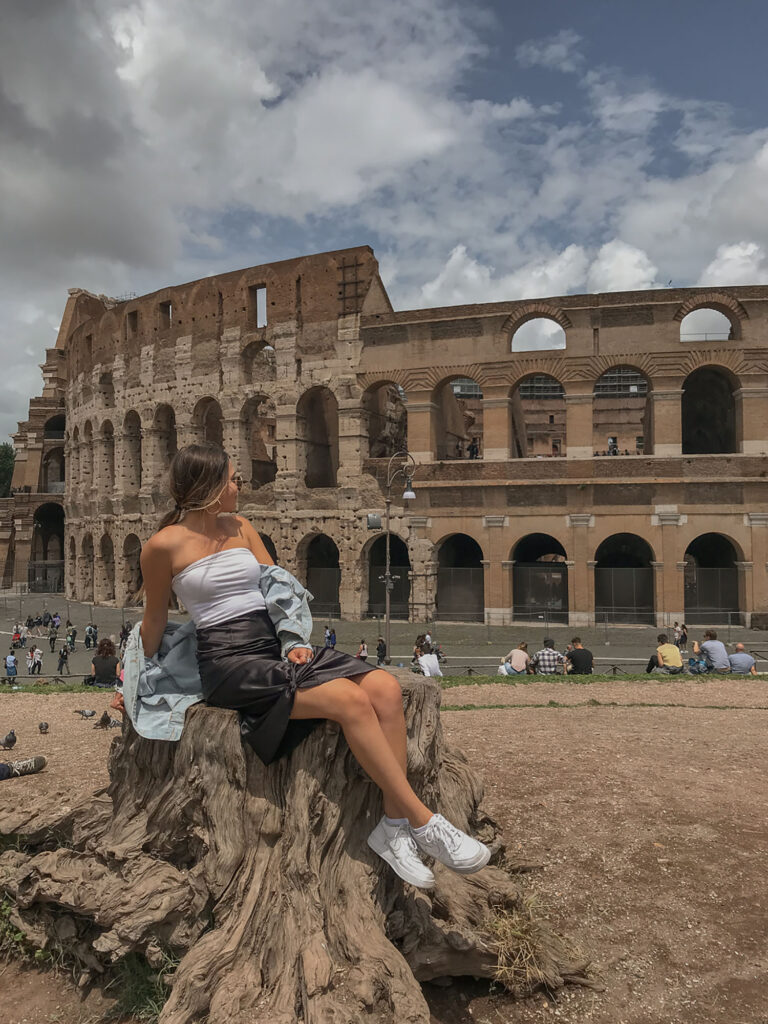 WHERE TO STAY IN ROME
Budget:

I highly recommend Yellow Square hostel if you are on a budget. I stayed here during both of my visits to Rome. It's affordable, in a great location, and it's so easy to meet people! This is definitely one of my favorite hostels I have stayed in while traveling.
Check out Hostel World for more, this is my go-to site for finding hostels when I travel.
Mid-range:
Luxury:
FIND A PLACE TO STAY IN ROME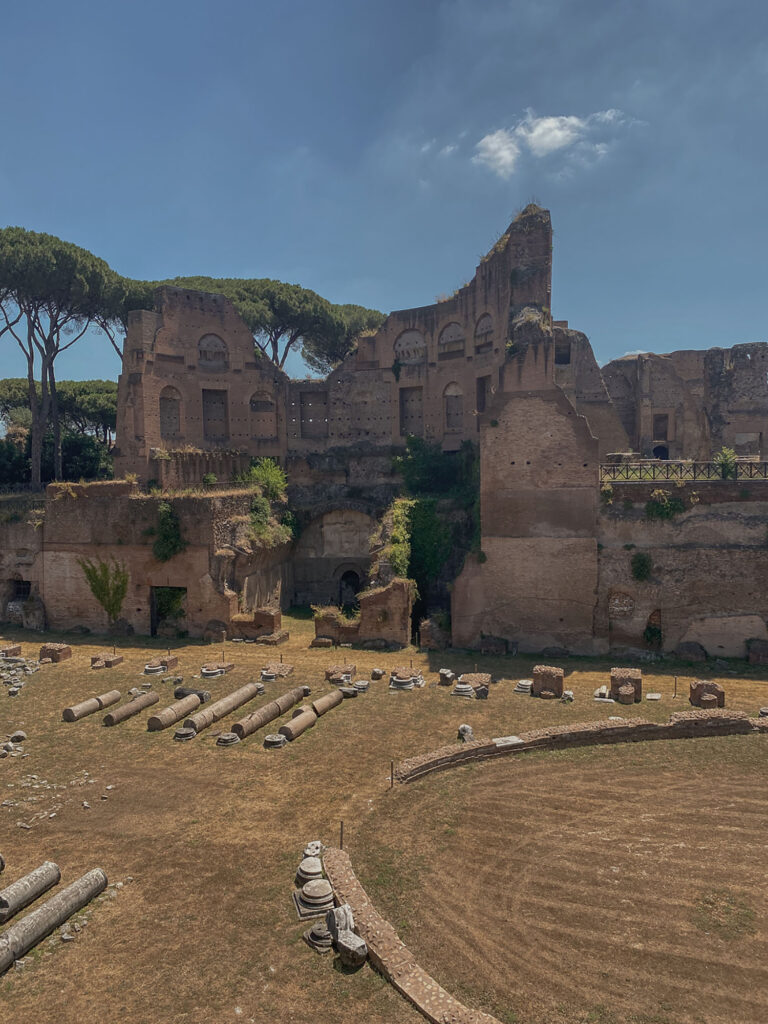 EAT + DRINK IN ROME
Rome has some of the best cuisines in the world! There is no shortage of amazing places to dine in this city. Here are a few recommendations to get you started.
La Famiglia: delicious and affordable, try the cacio e pepe pasta
II Gelato di San Crispino: hands down the BEST gelato I have ever had. We went here like everyday during our time in Rome. It's also a short walk from the Trevi Fountain.
Papa Re: literally the most amazing italian food! And it's located in the trendy neighborhood of Trastevere, you can't miss this place.
Osteria Angelino dal 1899
Ristorante Colosseo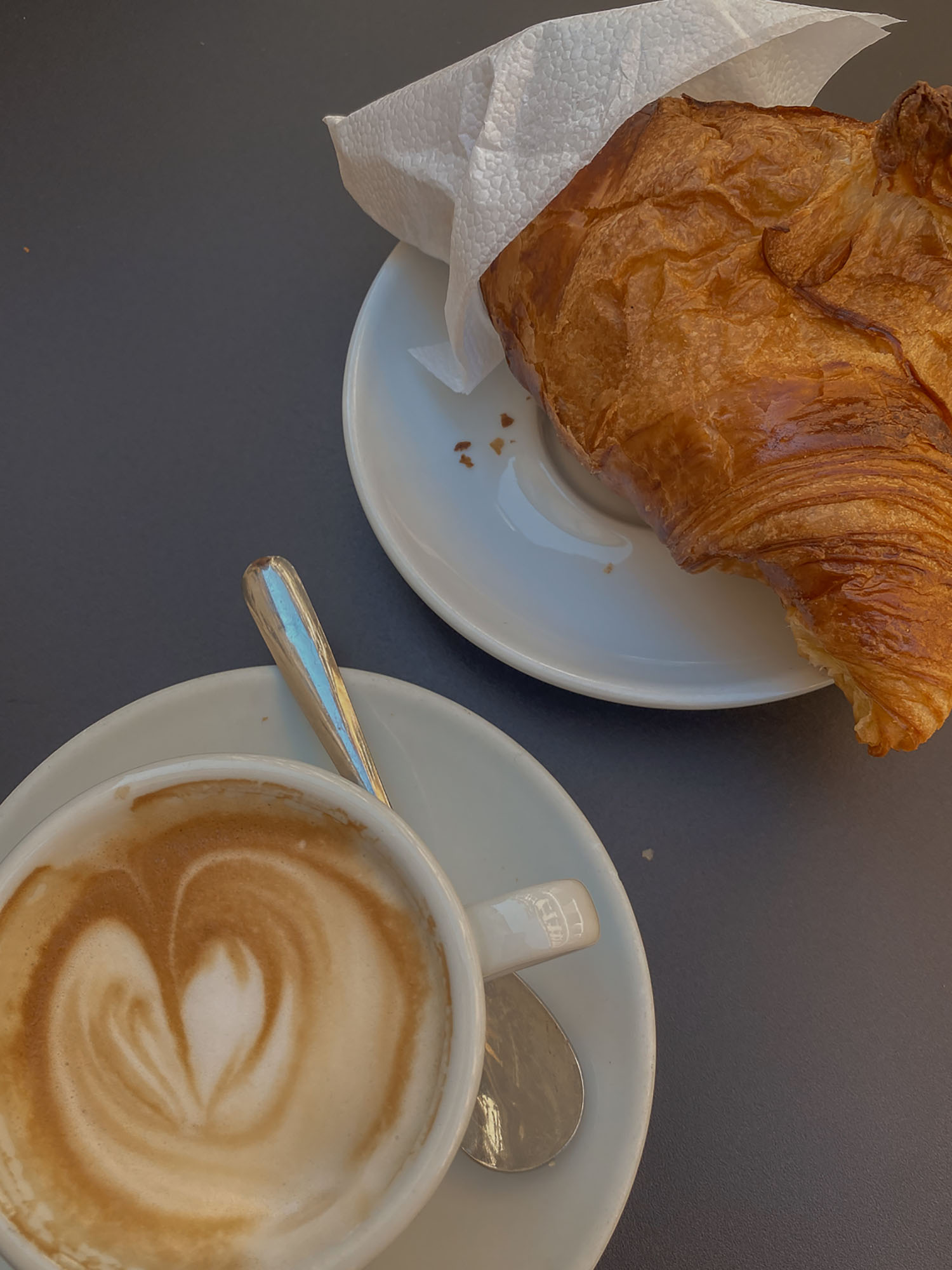 SAFETY IN ROME

Rome is a very safe city. The most common safety issue is petty theft, like pickpocketing. Always keep an eye on your belongings. I suggest wearing a fanny pack.
ROME PACKING ESSENTIALS
TRAVEL TIPS FOR ROME
Rome is a city to explore by foot – so pack comfy shoes.
Get the combined ticket that includes entrance to the Colosseum, Palatine hill, and Roman forum. Keep in mind you don't have to visit all three sites in one day with this ticket.
Don't get confused when there's an extra chage on your restaurant bill called a "coperto". This is a table charge usually for the service and bread. So you technically do not need to tip and it's mostly not expected.
FINAL THOUGHTS ON THE BEST THINGS TO SEE IN ROME
I have to say, I do love so many European cities like London, Paris, Venice, Madrid, and more. But… I absolutely love the city of Rome! My two visits to this city have been some of the best times of my life. This is such a lively and beautiful city with so much to offer. If you are thinking about planning a trip, DO IT! I promise you will have the time of your life. Anyway, I hope enjoyed this travel guide full of the best things to see in Rome! As always, if you have any questions about Rome or Italy in general, please reach out! Feel free to DM me on Instagram, comment below, or email me at sydabroad@gmail.com.
xx Syd.
SHOP MY TRAVEL FAVORITES
PIN IT!