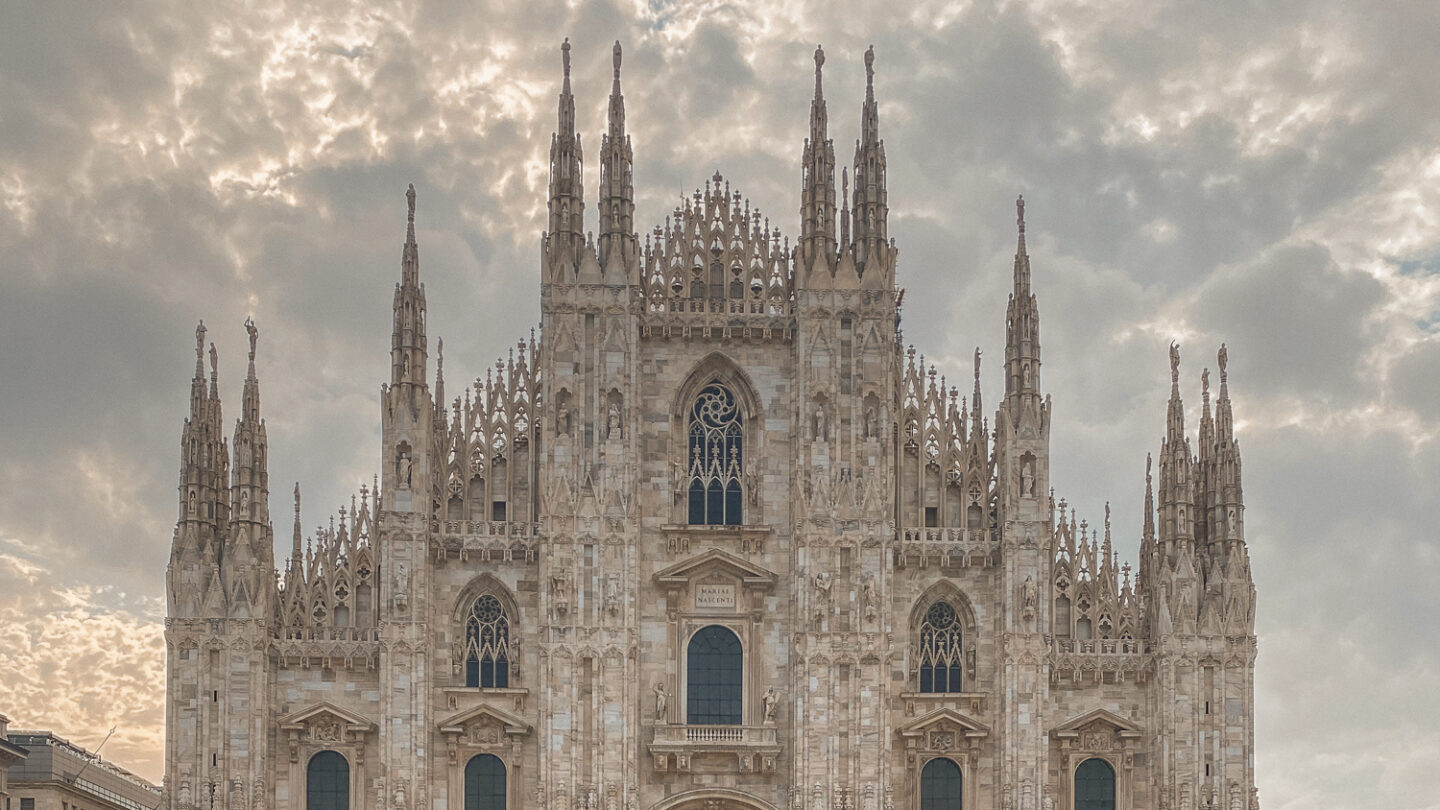 (Disclaimer: This post may contain affiliate links, which means we may receive a small commission at no extra cost to you.)
Only have 24 hours in Milan? Well, this Milan travel guide is full of all the best things to do in the city.
Welcome to Milano, the fashion capital of the world. A city full of culture, art, rich history, and obviously – fashion. In this post, we're diving into restaurants you can't miss, must-see sites in Milan, how to get around the city, a complete one-day itinerary, and more.
Milan is quite unique compared to other Italian cities like Rome, Venice, and Florence. But it's certainly one that should be on your bucket list. Keep reading to find out all you need to know if you're spending 24 hours in Milan. (or even a few days!)
This guide is all about how to spend 24 hours in Milan, Italy.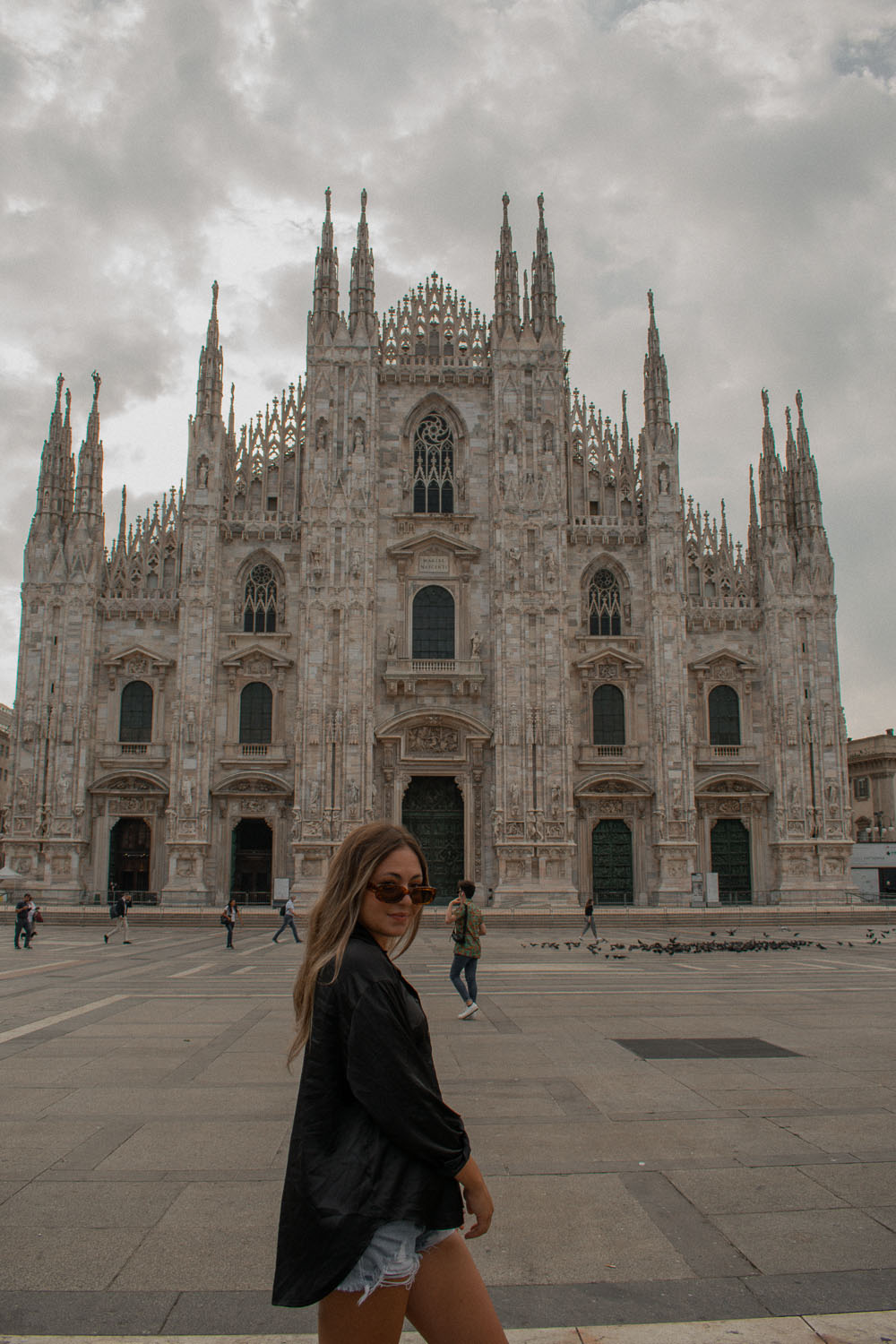 THE BASICS
CURRENCY = EURO
The currency in Milan is the euro. (EUR)
1 USD = .88 Euro
Many places in Milan will accept card payments but I find it helpful to keep a bit of cash for small purchases. Cash is really useful if you need to tip a guide, split a restaurant bill, or shop at a local market. Also note, that there are plenty of ATMs throughout the city.
LANGUAGE = ITALIAN
Italian is the official language in Milan. However, you will find that many people speak English. I do not speak Italian and I got around perfectly fine. It is helpful to have the Google Translate app downloaded on your phone. If you don't speak Italian, I suggest learning a few phrases to be polite.
PHONE & INTERNET
Although I wasn't in Milan for long, I never ran into an issue with my phone and internet service. I found that many cafes and restaurants had fast and reliable wifi.
DAILY BUDGET
Milan can be as budget-friendly or expensive as you want. I would say it's one of the pricier cities in Italy but can be affordable if you do all the budget-friendly things. Stay in a hostel, walk or take the public transportation (it's super efficient), limit the cocktail bars, and you'll be good to go. I'd say to budget anywhere from 45 to 70 euros per day.
IS THE TAP WATER DRINKABLE?
Yes, tap water is safe to drink in Milan.
BEST TIME TO VISIT MILAN
In my opinion, Milan is great to visit year-round. You'll always find lots to do. I visited in June, and although that's peak tourist season, I had a great time!
To avoid the huge crowds and the heat, visit anytime from April to May or September to October.
24 HOURS IN MILAN – ITINERARY
MILAN'S TOP 5
Duomo di Milano
Fondazione Prada
Navigli canal
Galleria Vittorio Emanuele II
Quadrilatero Della Moda
DUOMO DI MILANO
The Duomo di Milano is first on the list because it's Milan's most iconic structure and something you simply cannot miss. This is the most breathtaking cathedral I have ever seen.
The Duomo is the Nativity of Saint Mary and the cathedral church of Milan. Yes, you see photos all over Instagram, but nothing compares to seeing this cathedral in person. I suggest going bright and early for photos if you want to avoid crowds. If you look close enough, you might see a resemblance to the Statue of Liberty on top of the Duomo.
Book a ticket to visit the Duomo here.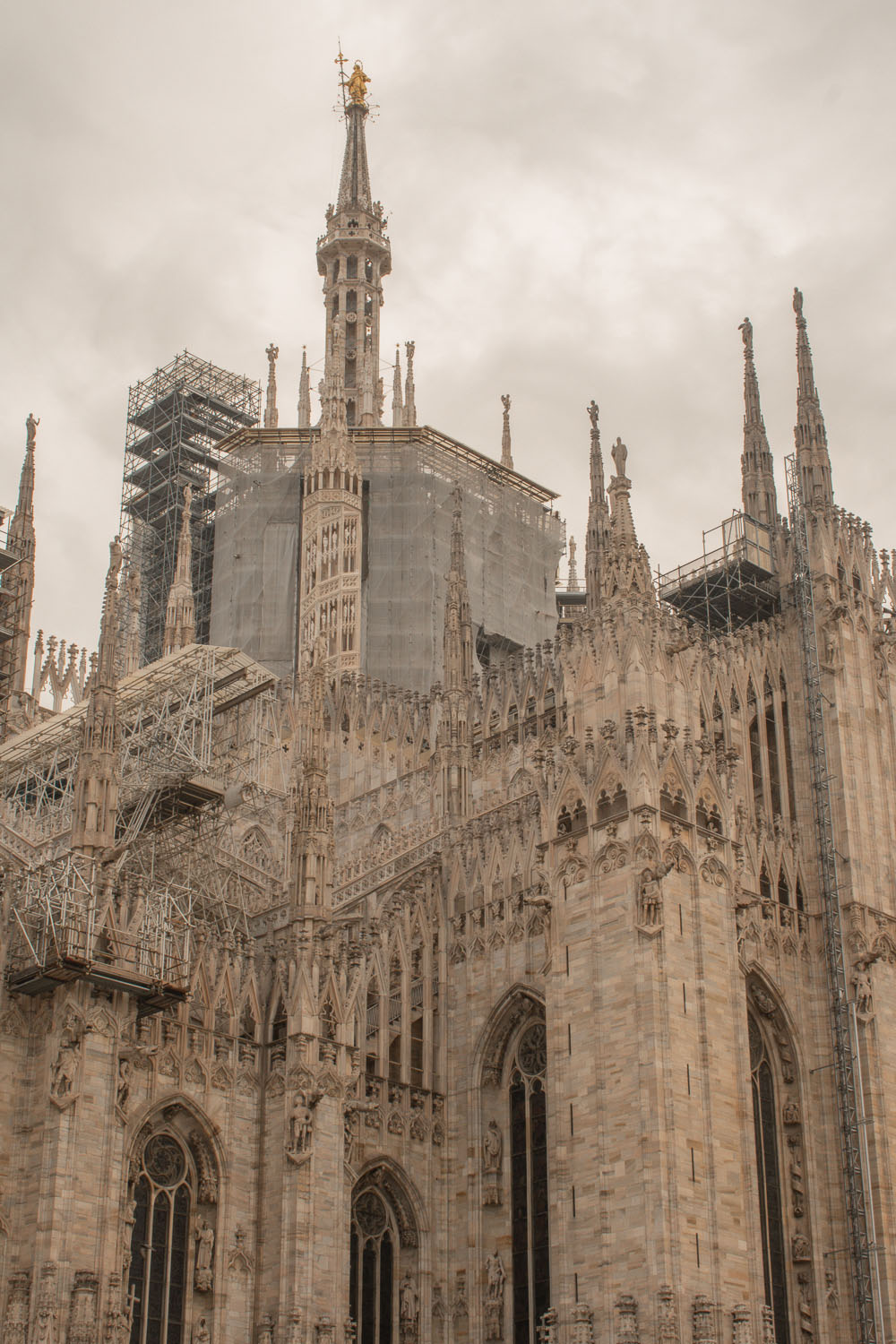 GALLERIA VITTORIO EMANUELE II
Another beautiful structure in Milan. Located right next to the Duomo, the Galleria Vittorio Emanuele II opened in 1877 and is one of the oldest shopping malls in the world. It's also where the first Prada store was open.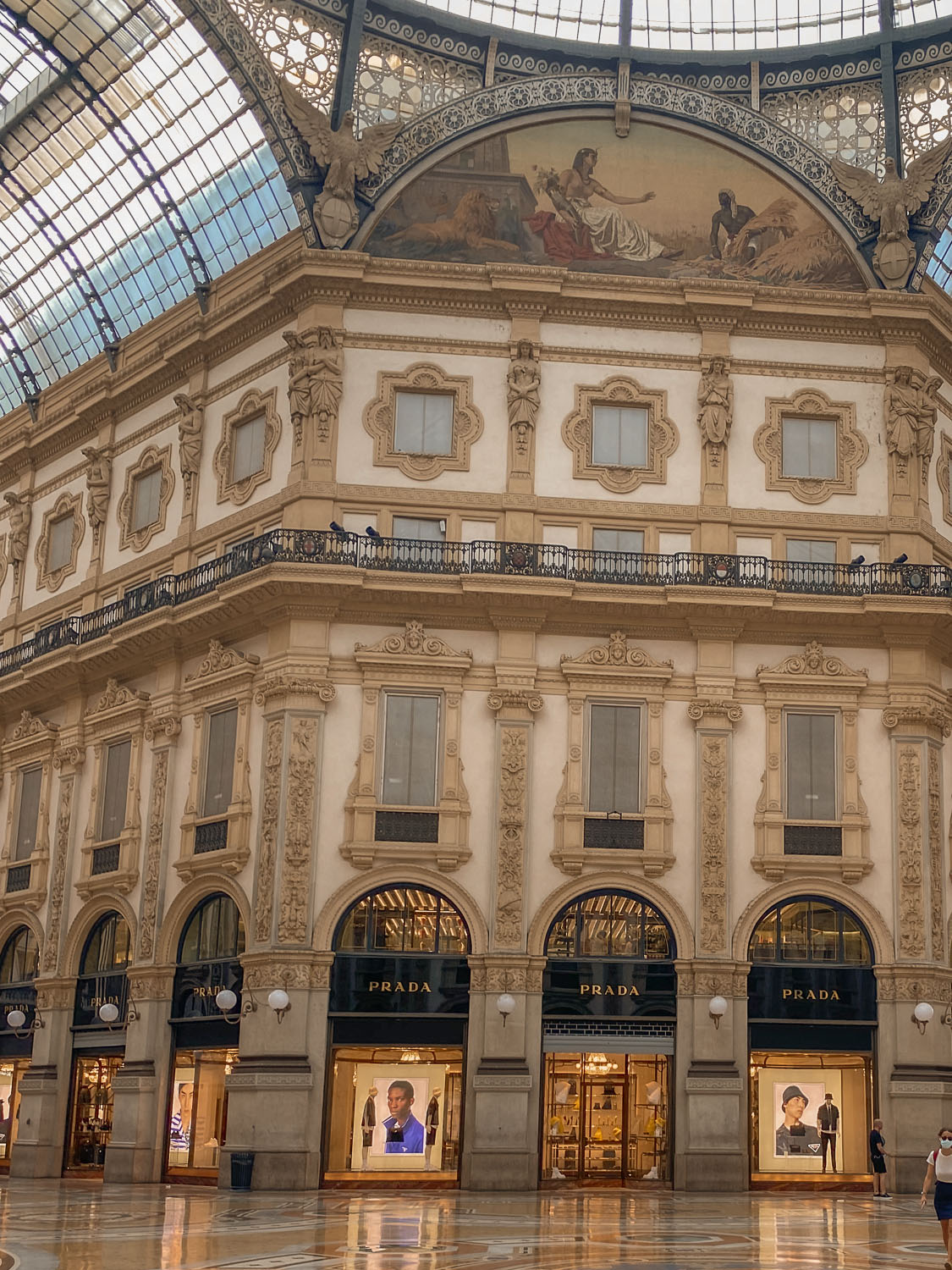 WALKING TOUR OF MILAN
I always love starting out my visit to a new city with a walking tour. It's a great way to learn about the city and see all the hotspots. Walking tours are also an excellent way to meet people and discover hidden gems in the city from a local's perspective.
I signed up for my walking tour online through City Walkers. We met right in the city center near the Duomo. The tour was amazing and our guide, Marco, was the absolute best. A few historical sites we got to see include the Church of San Nazaro In Brolo, Statale University, Merchants Square, the Theatre, and Square Alla Scala, we even got to see a university graduation!
RELATED POST
:
FLORENCE BUCKET LIST, THE BEST THINGS TO DO IN FLORENCE
]
LUNCH AT NAVIGLIO GRANDE
Did you know there's a mini Venice in Milan? The Naviglio Grande is a system of interconnected canals in and around Milan. After your walking tour, head to Naviglio Grande for a bite to eat. This main canal is lined with incredible restaurants and cafes. You can't go wrong with a slice of pizza and an Aperol spritz near the water.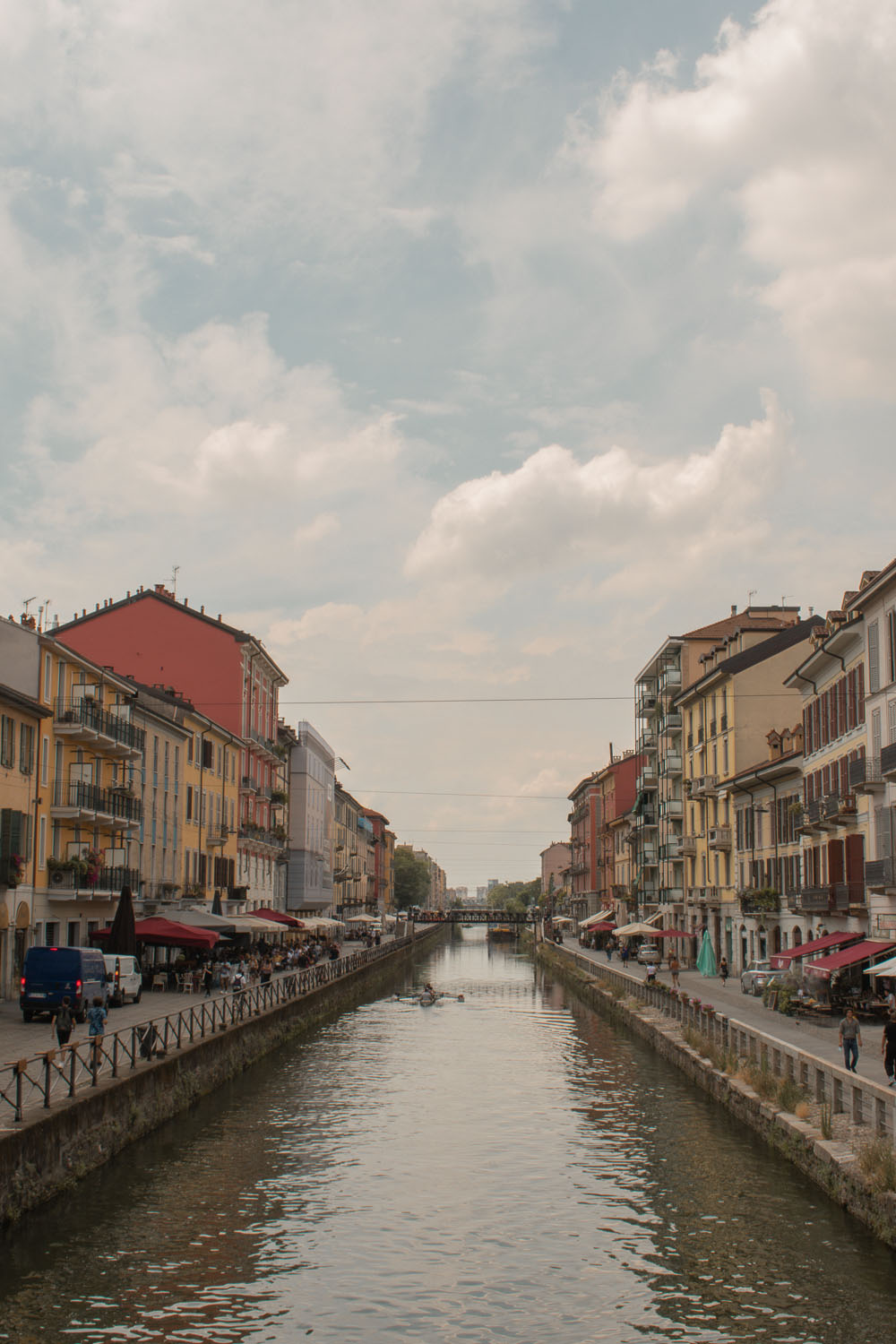 FONDAZIONE PRADA
Fondazione Prada is a museum created by architecture firm OMA, and led by Rem Koolhaas. The museum is located at L.go Isarco, 2, 20139. If you want to take fashion to a whole new level, you can't miss Fondazione Prada. Its only locations are here in Milan as well as Venice. This was probably the most unique and interesting museum I have ever visited. A couple of the highlights include a building covered in gold, yes ~real~ gold. As well as a pink marble elevator.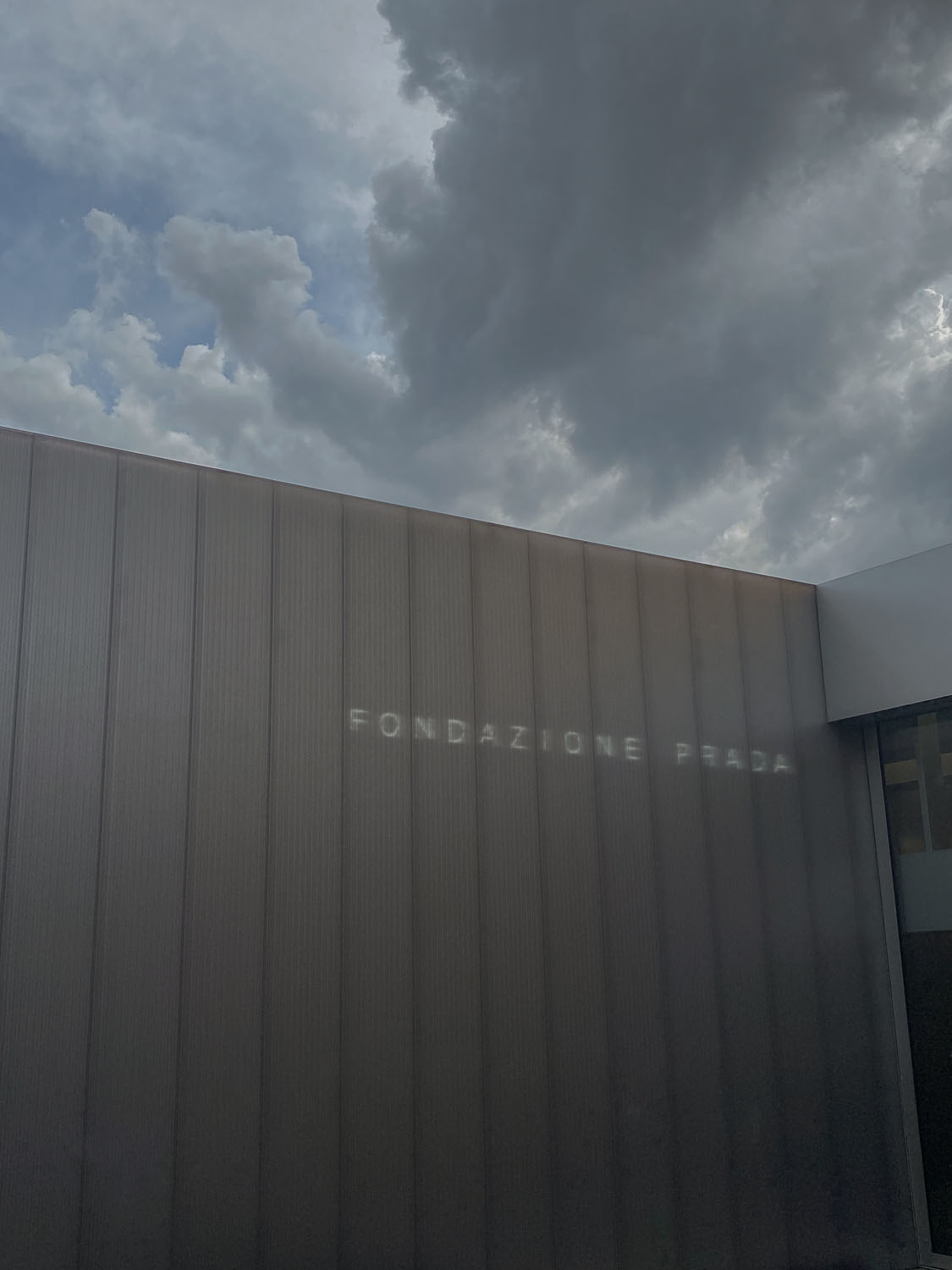 ENJOY A MILANESE DINNER
End your busy day with a classic Milanese dinner. We ate at Trattoria Sabbioneda and had cotoletta alla Milanese and plin, a Milanese pasta dish.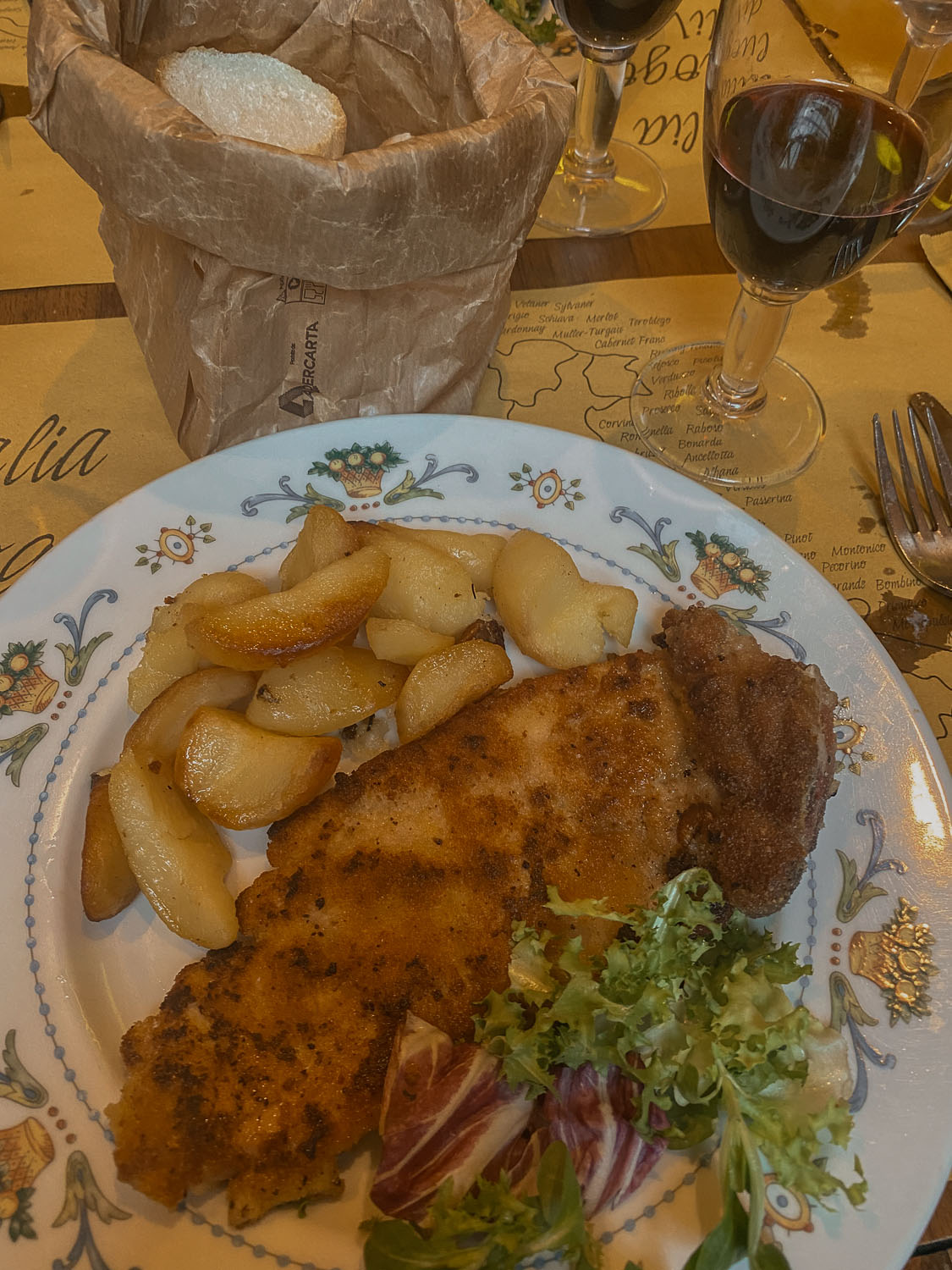 TERRAZZA APEROL FOR DRINKS
After dinner head over to Terrazza Aperol and end your evening with a cocktail and a view. If you are obsessed with Aperol spritz (like me) this is the place for you. This bar not only has one of the best views of the Duomo, but it's all orange and Aperol-themed. They have a cocktail menu with every Aperol drink you can imagine. Small snacks come along with your drinks as well. Which makes the high price tag a bit more worth it. This is an expensive bar, but well worth it for one drink, to enjoy the atmosphere, and the view.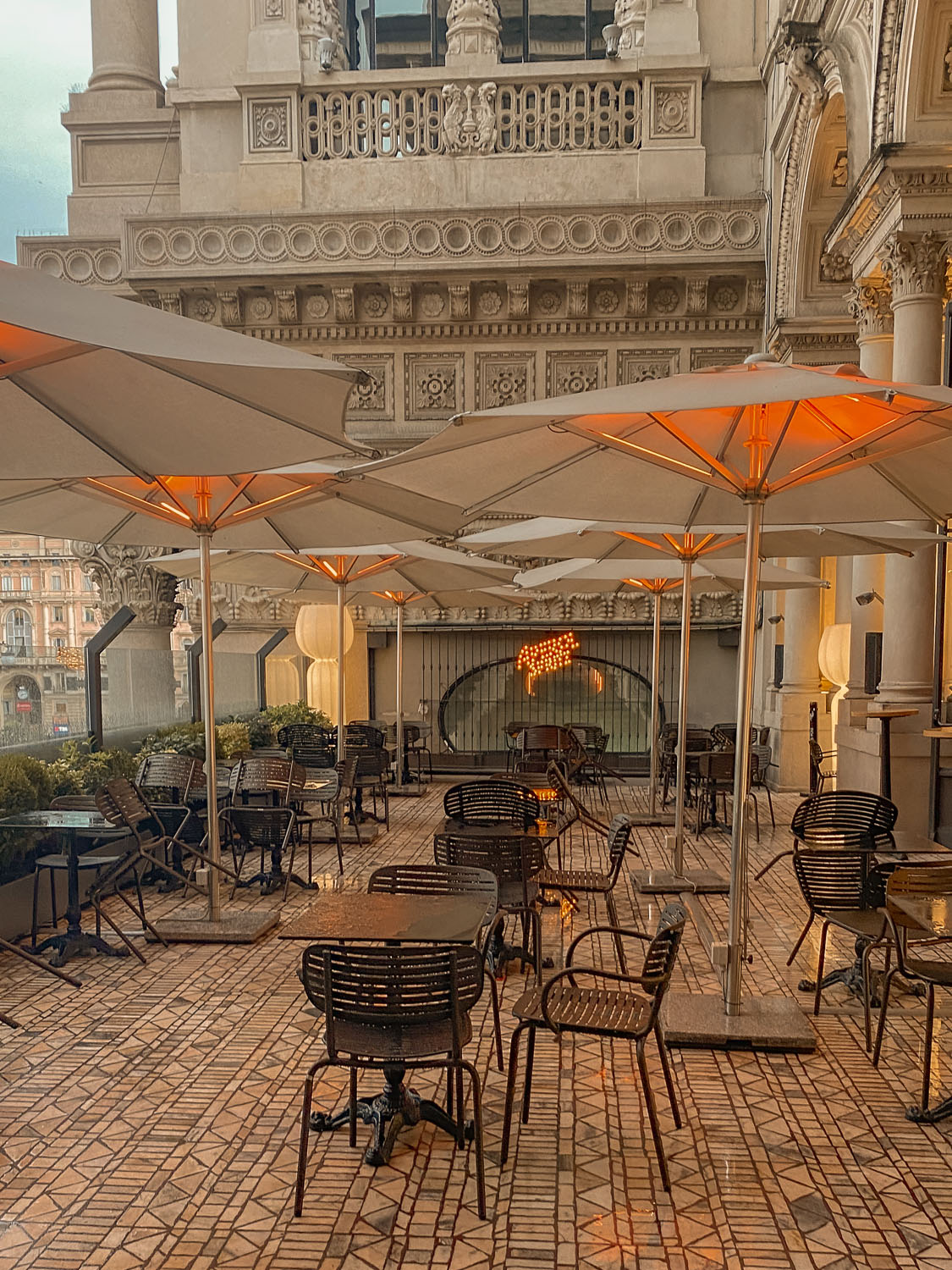 ADDITIONAL THINGS TO DO IN MILAN
Piazza dei Mercanti: The old market of the city, a short walk from the Duomo
Piazza Affari: Another short walk from the Duomo, the stock exchange square. You'll find a fascinating statue here!
Museo del Novecento: A great museum to visit in the city.
Quadrilatero Della Moda: The main shopping street in Milan. Make sure to stop by a Zara – they are incredible here in Milan!
Sempione Park
WHERE TO STAY IN MILAN
There are plenty of great places to stay in Milan. Personally, I travel on a budget and hostels are usually my go-to. They are centrally located, affordable, and a great place to make friends.
During my 24 hours in Milan, I stayed at Ostello Bello Grande and I couldn't recommend it enough. The rooms were nice, it was a very social hostel in the perfect location. We got great lunch and dinner recommendations from the staff as well!
I always book my hostels through Hostel World, that's how I found this one!
[
RELATED POST
:
14 OF THE BEST THINGS TO SEE IN ROME, ITALY]
FIND A PLACE TO STAY IN MILAN
If you are looking for a nicer accommodation in Milan, I have listed a few options:
Boutique accommodation in Milan:
Luxury accommodation in Milan: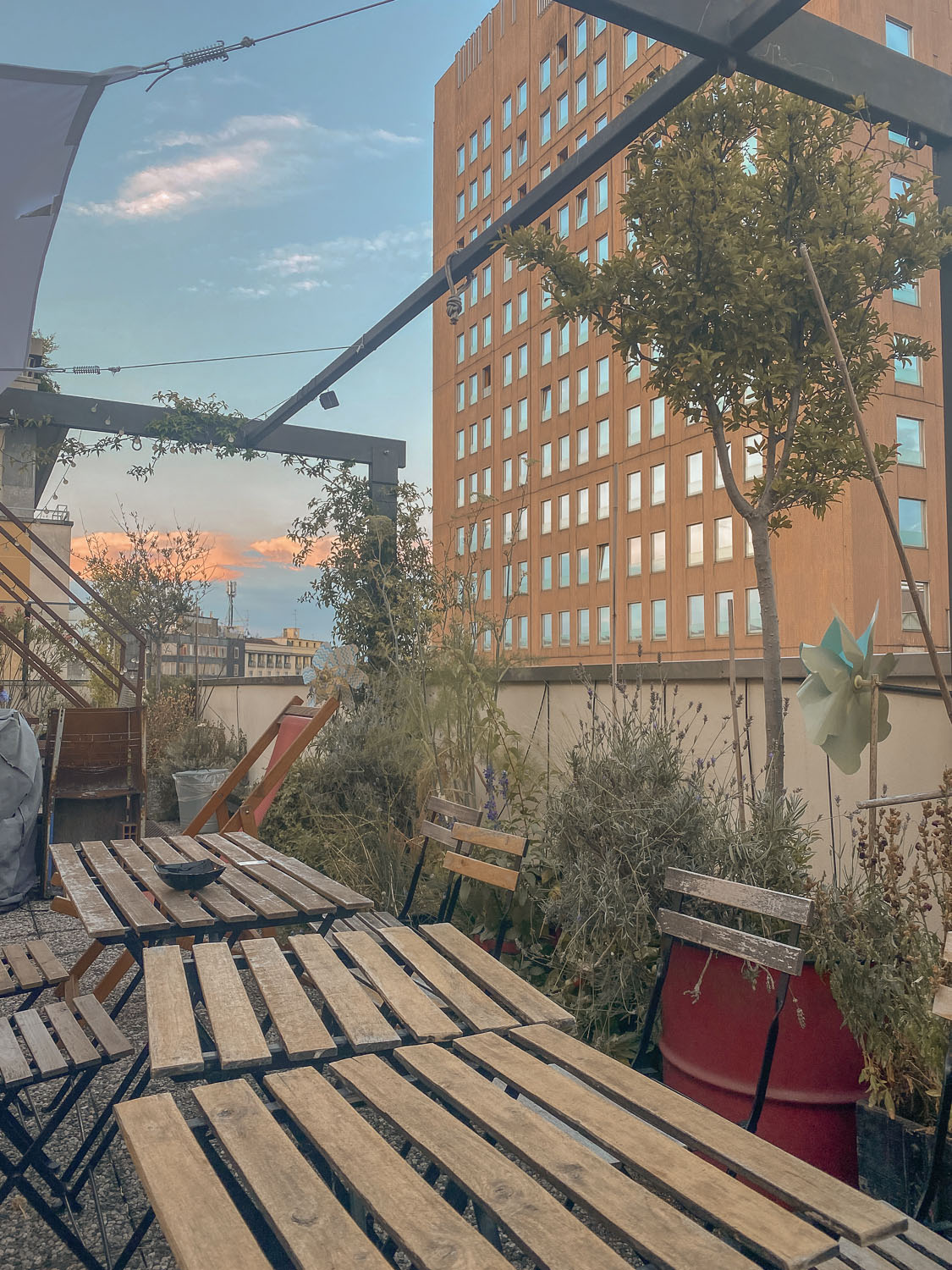 TRANSPORTATION IN MILAN
HOW TO GET TO MILAN
Milan is an easy city to get to no matter where you are coming from. If you are coming from a nearby Italian city you will likely arrive at the central train station, Milano Centrale.
On the other hand, Milan has three airports, yes three. They all vary in proximity to the city center which my sister and I learned the hard way. Milan's three international airports include Malpensa, Linate, and Bergamo airport. Linate is the closest and Bergamo is the furthest from the city center.
Make sure you are smart and look at what airport you are flying in and out of. When booking flights on a whim, you need to pay attention to the details. We flew from Rome to Milan and arrived at the closest airport to the city. Then, we came across a 20 euro flight to Paris from Milan, which we couldn't pass up so we booked the flight but didn't think that we would be flying out of an airport almost an hour away.
Well, making this realization on the way to your 7 AM departure flight was not fun. We realized we had to hustle quickly to this airport, with no option but to get an Uber. An expensive uber. Don't make the mistake we did and be prepared for your flight lol.
HOW TO GET AROUND MILAN
Milan is a fairly easy city to walk. Most of the hot spots are within walking distance if you are centrally located. If you are going to and from the airport, visiting Fondazione Prada, or somewhere else outside the city, take public transportation.
There are a variety of different subway passes you can purchase, a one-way ticket will cost you 1.50 euro and an unlimited day pass will cost you about 4.50 euro.
A note on transportation in Milan
Uber is available in Milan, however, they only have Uber Black. AKA the pricier Ubers. We found this out the hard way when we had no option but to Uber to the airport since we were already running late for our flight.
EAT + DRINK IN MILAN
NOTE: Many restaurants will close during the day between lunch and dinner. if you are looking for a late lunch we found it hard to find a restaurant open. Yet, markets are open, so we picked up some snacks for a little picnic on our hostel rooftop.
RESTAURANTS + CAFES
Colazione al Bar Duomo: A cafe with incredible views of the Duomo
Trattoria Sabbioneda: For traditional Milanese food
Berberé: For pizza
Luini: A Bakery
Taglio: A great restaurant in Navigli
Pasta d'Autore Milano: For delicious pasta
COCKTAIL BARS
Terrazza Aperol
Terrazza Duomo 21
Monkey Cocktail Bar
Kilburn Cocktail Bar Milano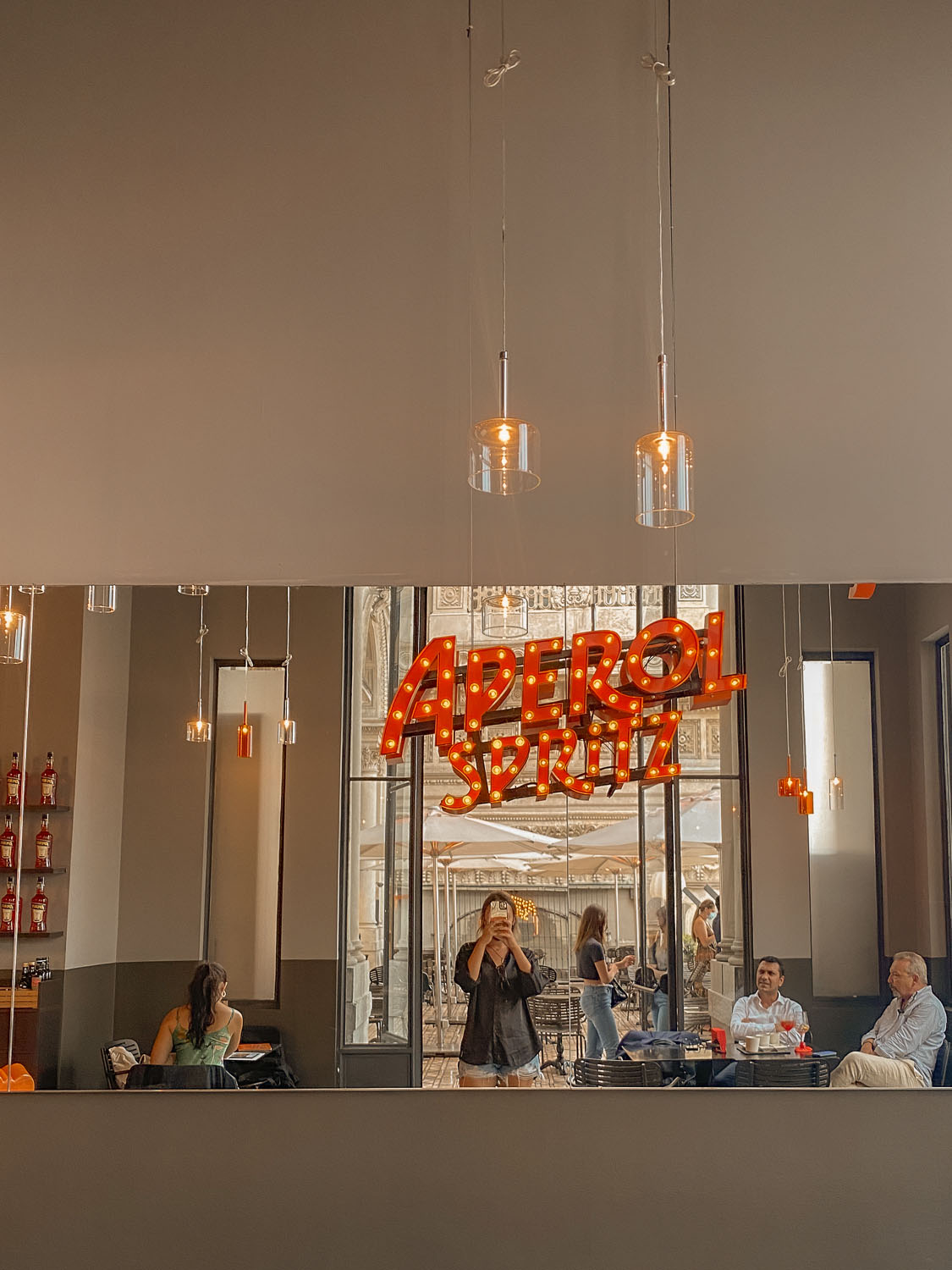 24 HOURS IN MILAN PACKING ESSENTIALS
FINAL THOUGHTS ON 24 HOURS IN MILAN
Milan is most definitely not your average Italian city. It's industrial, a city full of hustle, culture, and incredible fashion. Because of the big city feel it's not many people's the first choice to visit when in Italy. I do prefer places like Rome and Florence to Milan, but this city does have great things to offer and I think worth spending a day or two.
I hope this Milan itinerary was helpful! If you have any questions, feel free to DM me on Instagram, comment below, or email me at sydabroad@gmail.com.
RECOMMENDED TOURS IN MILAN
PIN IT!
WANT TO SUPPORT?
I always appreciate it when friends and family reach out wanting to support Syd Abroad. If you'd like to support the blog, here are a few brands that I am affiliated with. All you do is click the links, and I will receive a small commission at no extra cost to you!
TRAVEL ESSENTIALS + FASHION