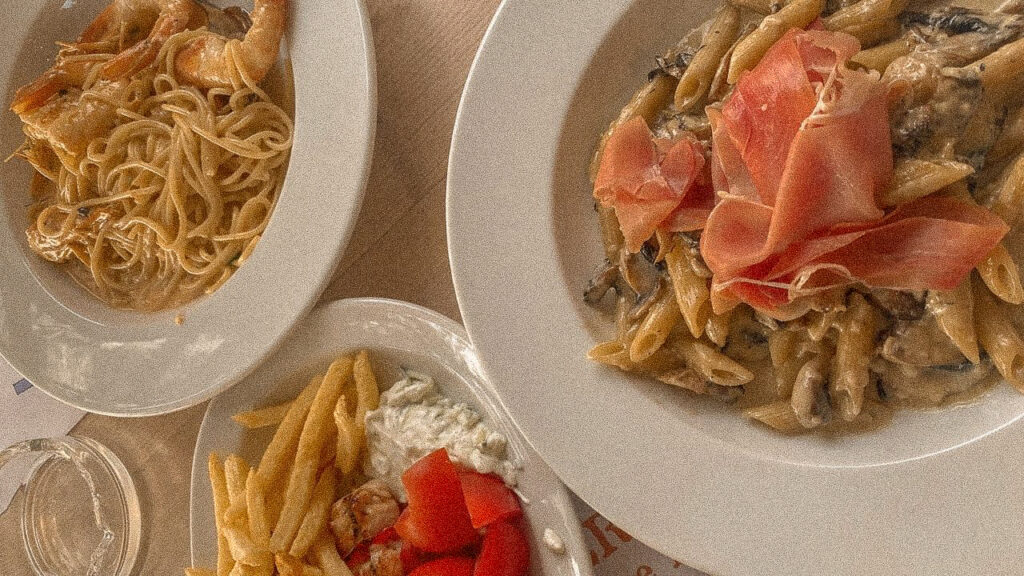 (Disclaimer: This post may contain affiliate links, which means we may receive a small commission at no extra cost to you.)
If you're visiting Greece, you are in for not only a good time but some good food too! Mediterranean food is by far some of the best (in my opinion). And because Greece has an influence from nearby countries, like Turkey and Italy – you are going to find some amazing cuisine here. So, in this blog post, I'm going to tell you all the incredible foods to try in Greece. I recently got back from a European backpacking trip and I spent about 10 days in Greece. During my time in this beautiful country, I visited Athens and the islands of Santorini and Mykonos.
Disclosure: This article may contain affiliate links.
Alright, let's get into 15 of the best foods to try in Greece!
15 DELICIOUS FOODS TO TRY IN GREECE
GYROS

These might just be my favorite greek food. A gyro is typically roasted meat served in a pita with tomato, onion, tzatziki, and even french fries! I ate so many gyros during my time in Greece. You will find these at about every corner on every street. They are the perfect greek street food, affordable too!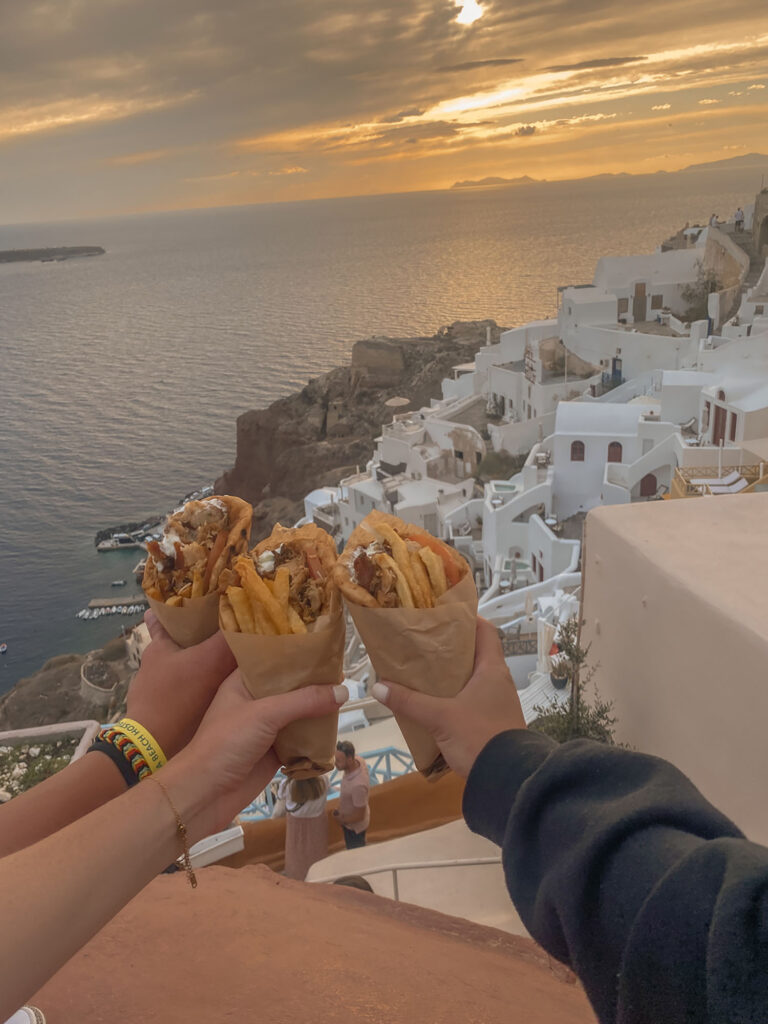 DOLMADES

Dolmades are stuffed grape leaves. You typically order these as an appetizer at many Greek restaurants. They weren't my favorite greek dish but definitely deserve a try!
FETA ME MELI

If you like cheese you cannot miss this delicious dish. Feta me meli is feta cheese wrapped in a phyllo dough pastry, drizzled with honey. It is seriously amazing. Try it as an appetizer or order one to split with the table.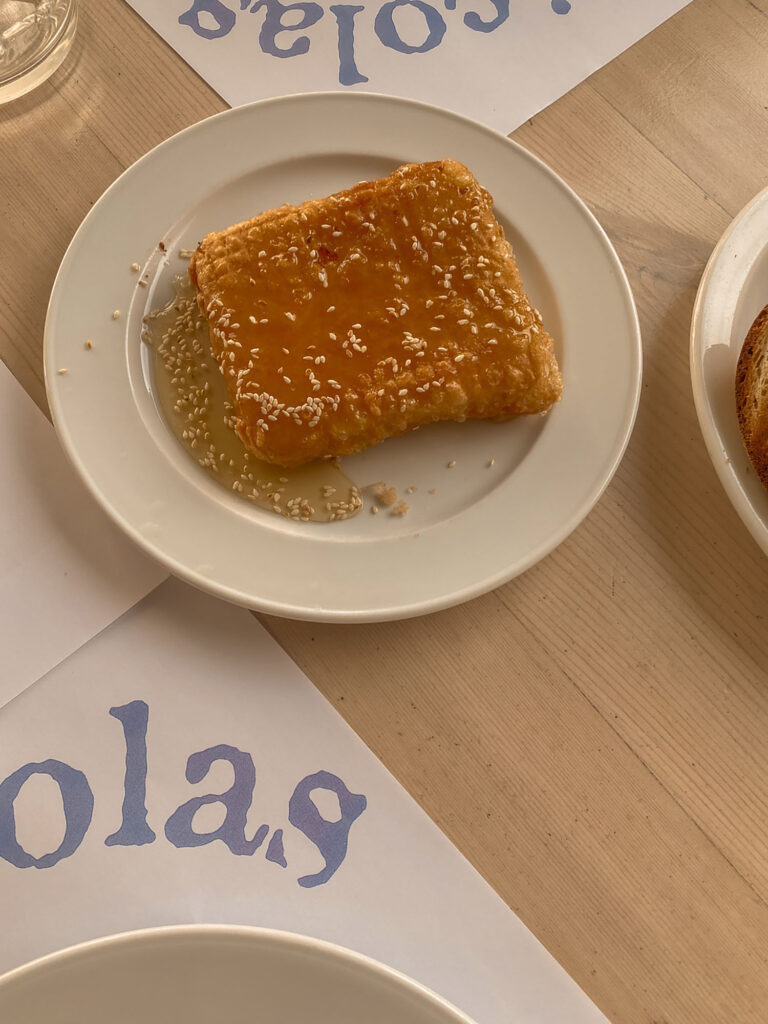 TRADITIONAL GREEK SALAD

Did you know traditional greek salads don't have lettuce? The greek salads you will find in Greece contain cucumbers, tomatoes, onions, olives, green pepper, and feta with a light dressing and they are delicious. Greek salads are such a refreshing, light dish. Perfect for a hot summer day in Athens or Santorini.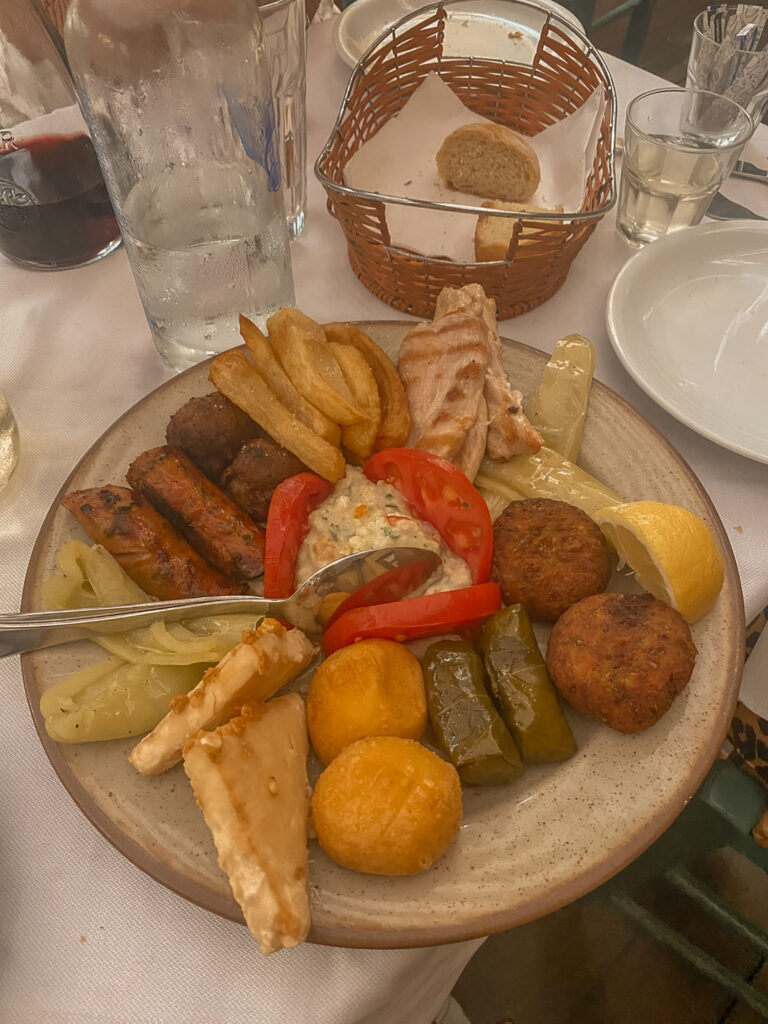 MOUSSAKA

Moussaka is similar to a lasagna. It is an eggplant or potato-based dish, sometimes containing ground meat. Moussaka is freaking delicious! It tends to be on the heavier side so I suggest trying it for dinner.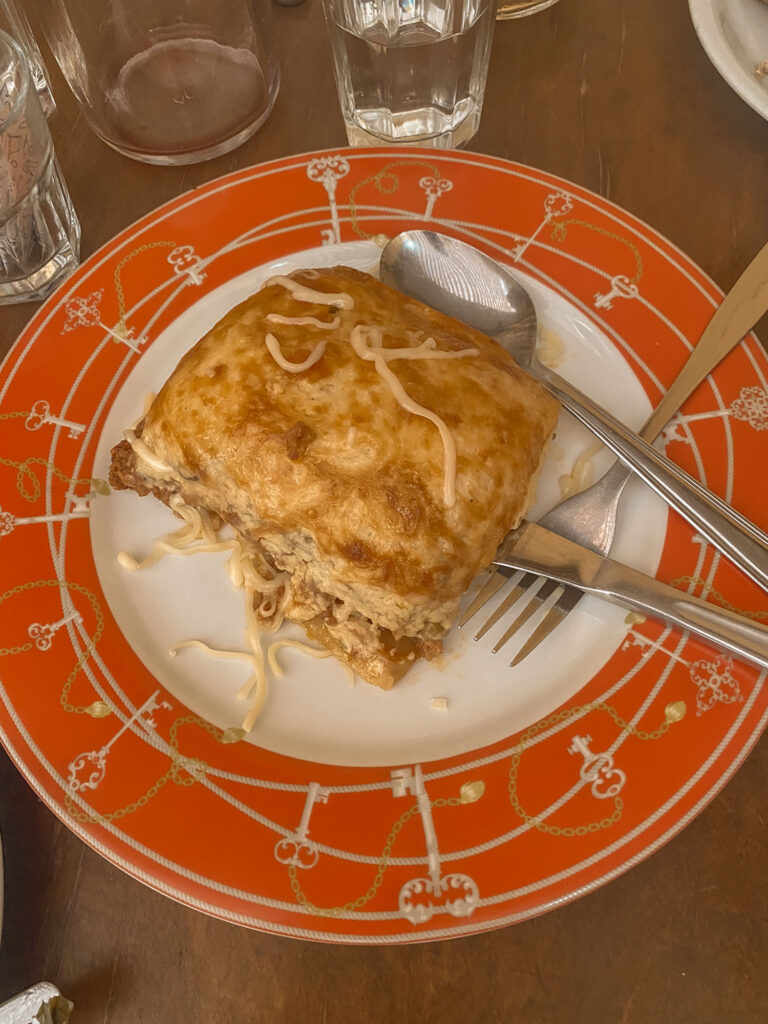 SPANAKOPITA

The best quick snack! Spanakopita is a pastry that could be filled with just about anything! The most common is probably feta and spinach, and it is the perfect light meal or snack. I would always find small cafes or vendors selling them on the streets.
TZATZIKI

I'm sure you're familiar with this one! Tzatziki is a sauce or a dip made from yogurt, cucumber, garlic, and lemon. And it's even better in Greece, I swear. It's the best beach snack paired with pita bread.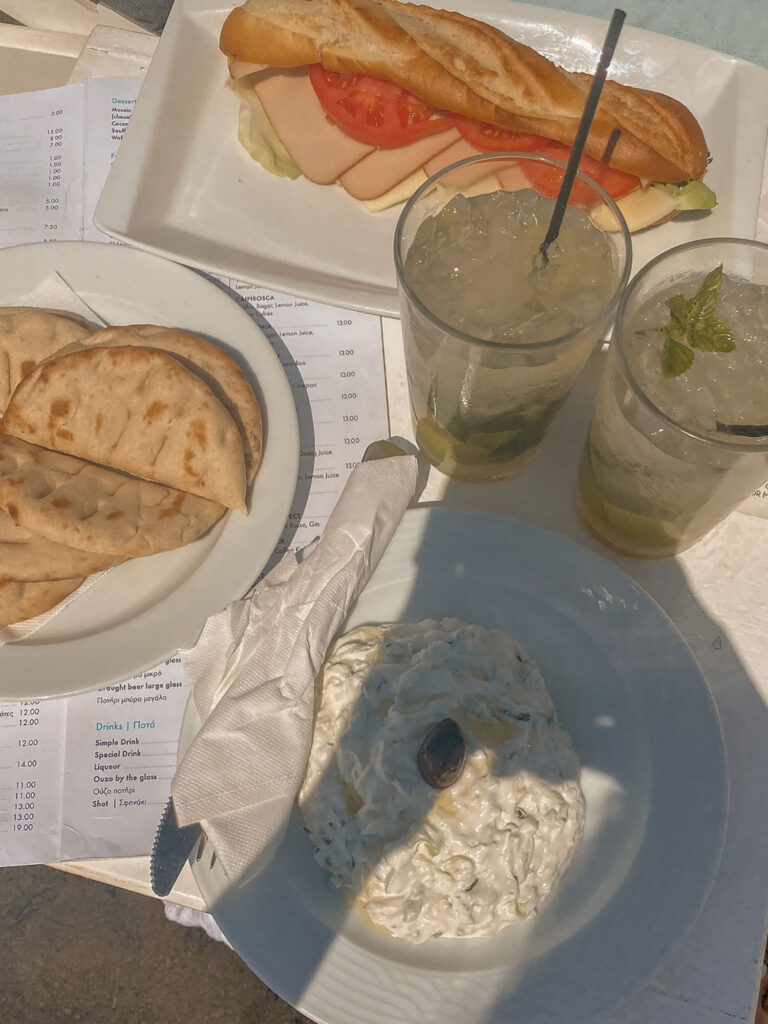 SAGANAKI

If you are a cheese lover this is another greek dish you should try. Saganaki is similar to halloumi, it is a type of grilled cheese. It makes the perfect appetizer!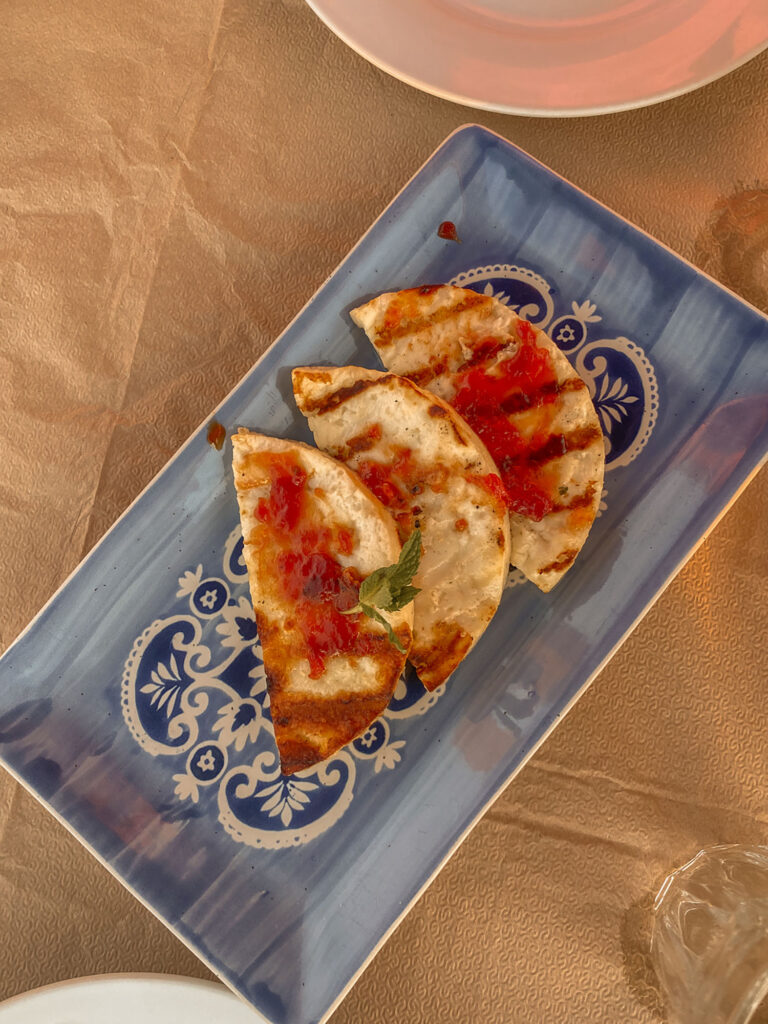 SOUVLAKI

Souvlaki is a popular Greek fast food consisting of skewers of small pieces of meat (usually chicken or pork) and sometimes veggies. It is typically served with french fries and tzatziki and definitely one of the best foods to try in Greece!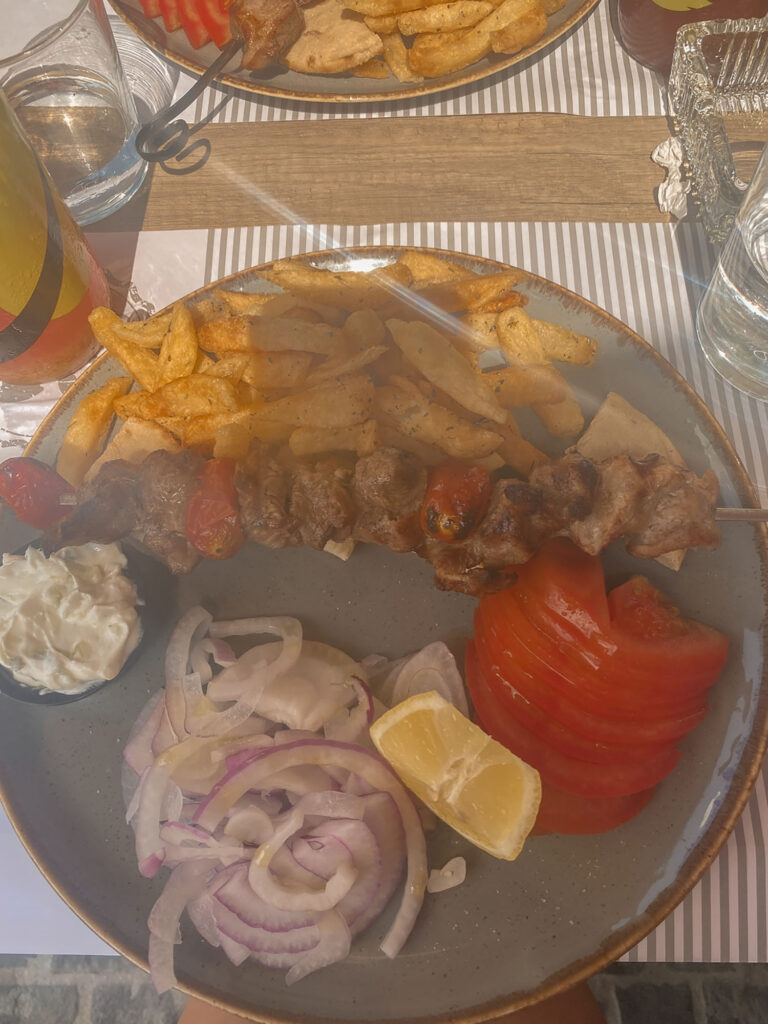 GREEK COFFEES

I think greek coffee is some of my favorite. Order a Freddo espresso or Freddo cappuccino, they are the cold version of a frappuccino and espresso. Served with a delicious foam on top. I love these because they are not too sweet, however, you can add sweeteners at most cafes. I swear I had one like every day. You could also opt for a traditional Greek coffee which is typically served black, almost similar to an espresso.
GREEK WINE

Greek wines are primarily white because green grapes grow much better in Greece's climate. I went on a wine tasting tour in Santorini and I really enjoyed tasting all of the delicious wines! I definitely suggest doing a wine tasting if you are visiting the island of Santorini.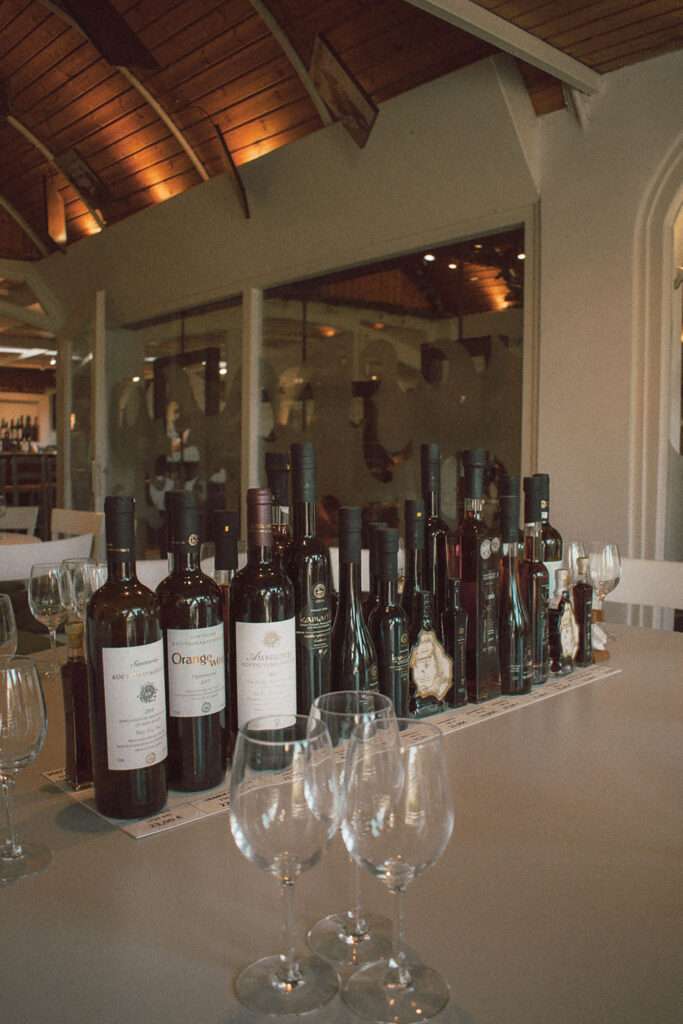 LOUKOUMADES

This is a delicious dessert dish consisting of a fluffy and crisp bite-sized type of doughnut. They are absolutely delicious, a must on your list of foods to try in Greece. If you are in Athens, check out Lukumades. My friends and I picked some up here and they were so good! Sometimes Loukoumades will be referred to as greek donuts.
SEAFOOD DISHES

Greece is THE place for seafood. Especially if you are visiting the islands. It is incredibly fresh and so delicious! I had some of the best seafood dishes in Santorini and Mykonos. A few great seafood dishes to try in Greece are shrimp or prawns, salmon, squid or calamari, lobster, or even octopus!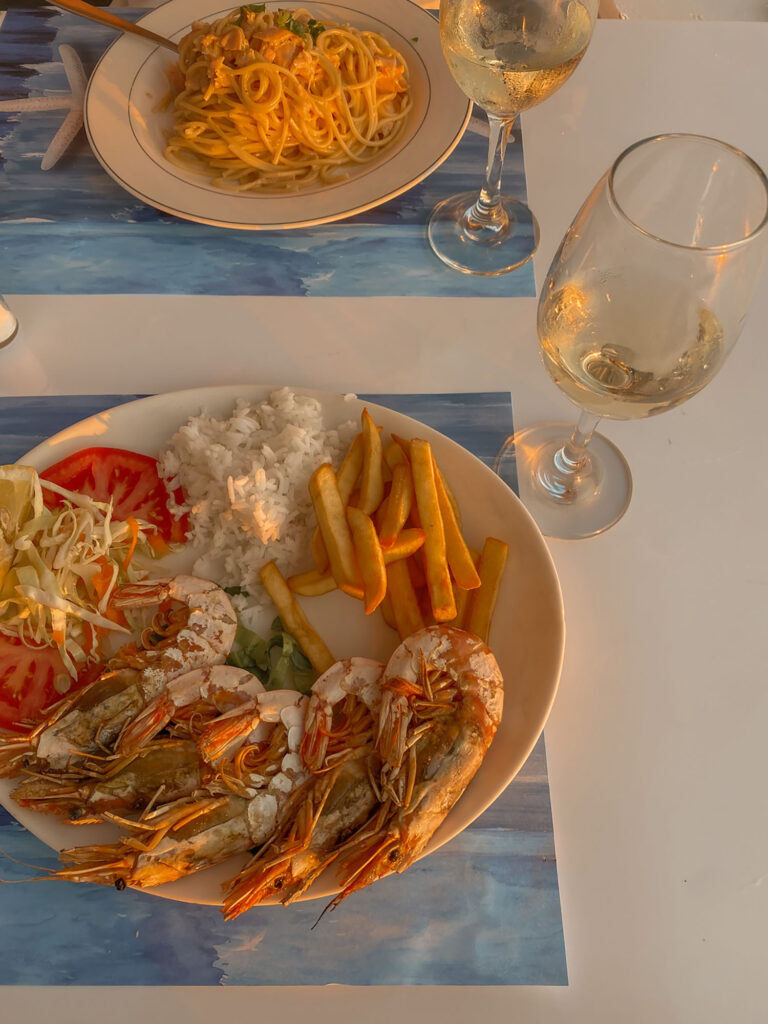 BAKLAVA

Okay, I know this is a Turkish dessert, BUT you can find some incredible baklava in Greece so I had to include it on the list! You might even find it tastes a bit different in Greece compared to Turkey because the greeks sort of have their own version of baklava. Baklava is a layered pastry dessert filled with honey and chopped nuts.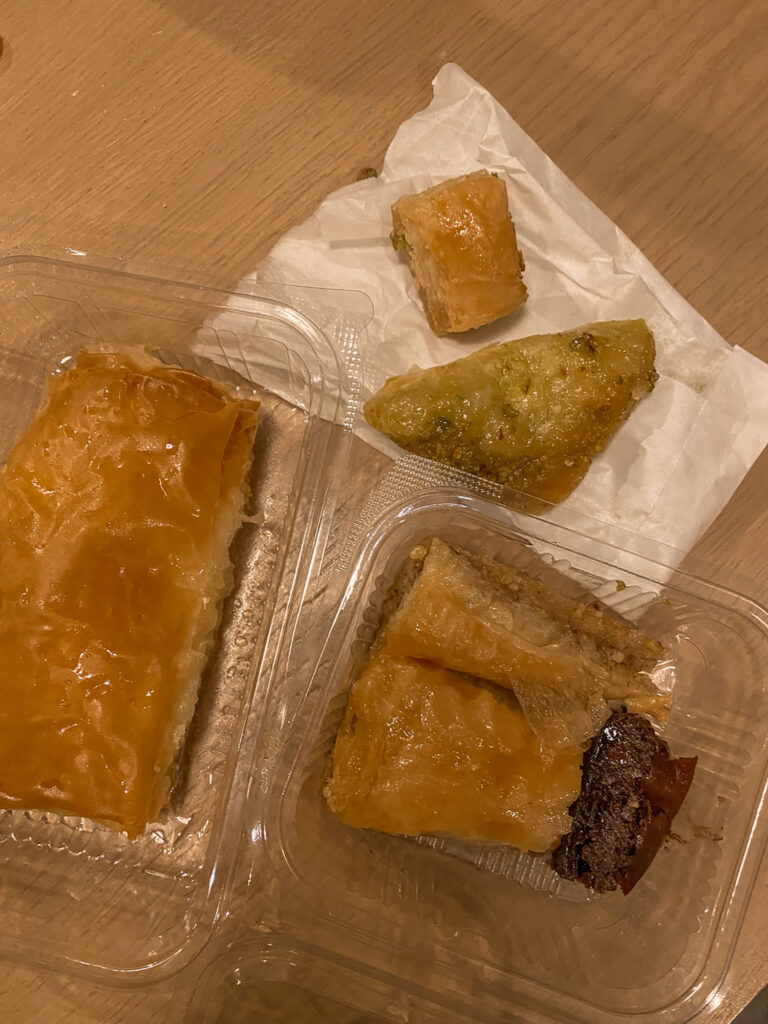 AMYGDALOTA
Amygdalota or greek almond cookies are a traditional Greek dessert. I was served these after a meal and was trying so hard to pinpoint what they tasted like! Finally came to the conclusion of almonds, and they are very good. These almond cookies are the perfect snack to bring home with you too.
FINAL THOUGHTS ON THE BEST FOODS TO TRY IN GREECE

I really do think Greece had some of the best cuisines in the world so there are plenty of delicious foods to try in Greece during your trip! My favorite way to try things when traveling is to get multiple dishes for the table and share. This way everyone gets a taste of everything. It's such a fun way to eat too!
If you are looking to visit Greece any time soon I highly recommend traveling with EF Ultimate Break! They are a group travel company with trips all around the world. I went on a month-long Europe trip with EF in 2019 and it was absolutely incredible, they really take the stress out of traveling!
Check out their 2021 and 2022 trips here, and use my code, "UASYDNEY100" for $100 off your first trip with EF Ultimate Break.
I hope you enjoyed reading about the best foods to try in Greece! As always, if you have any questions about my time in Greece, feel free to comment below, DM me on Instagram, or email me at sydabroad@gmail.com!
xx Syd.
PIN IT!