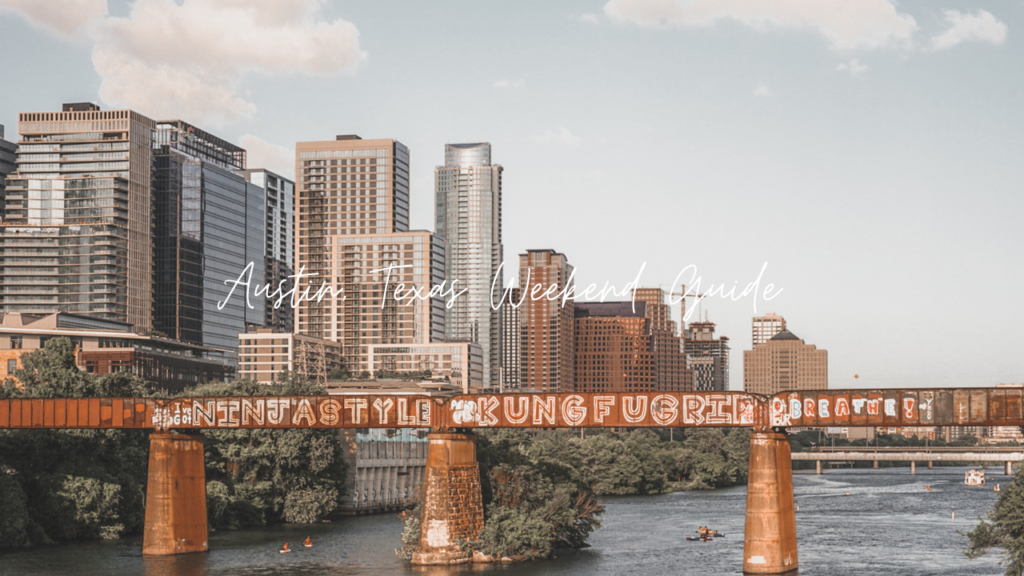 (Disclaimer: This post may contain affiliate links, which means we may receive a small commission at no extra cost to you.)
Austin, Texas, there's really no place like it! I was born and raised here so I might be a little biased but I think everyone would agree that Austin is an amazing city. And for a girl's trip? Say no more. In this guide, I'm going to show you how to plan the best girls weekend in Austin, Texas!
Did you know that Austin is the live music capital of the world? You will find live music on just about every corner and in many restaurants! Just another reason why it's the perfect city for a girl's getaway, a bachelorette party, a birthday celebration, or simply just because.
Disclaimer: This article contains affiliate links.
There are endless things to do in Austin so I promise you won't run out of ideas. Use this guide as inspiration for your weekend in Austin itinerary! I'm going to share many different things to see, to do, and restaurants to eat at in Austin.
However, there is just simply no way to do it all in one weekend. I mean I have lived in Austin basically my whole life (aside from college) and have yet to do everything in this Austin travel guide!    
Where To Stay In Austin, Texas
South Congress Hotel
This hotel is amazing. South Congress Hotel has character, it's in the perfect location, and it's super unique and fun! A few summers ago, my friends and I spent a day here hanging out at the pool and it's definitely a fun place to be. 
Austin Motel 
The Austin Motel has a fun charm to it as well. It really fits in with the "Keep Austin Weird" vibes. If you are looking for a unique place to stay in a central location, the Austin Motel is for you!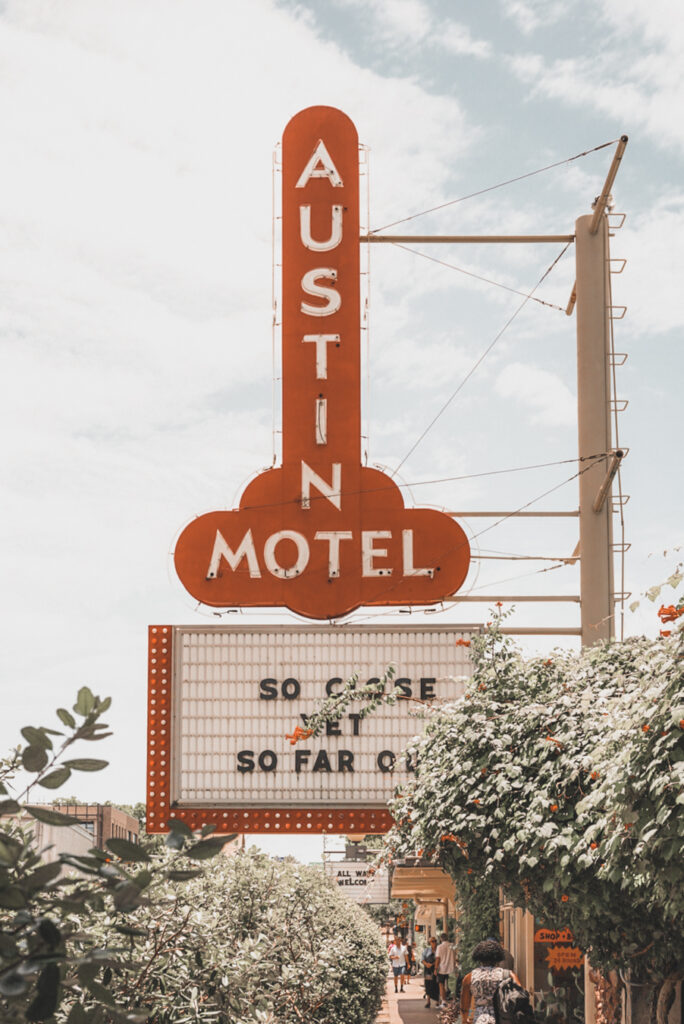 Kimpton Hotel Van Zandt
This hotel is more of an upscale place to stay. Hotel Van Zandt is also centrally located just a few steps away from Lady Bird Lake!
Airbnb
Of course, Airbnb is always a great option in just about every city you visit. There are some nice Airbnbs around the city of Austin, and most of the time they will be more affordable than staying at a hotel.
FIND A PLACE TO STAY IN AUSTIN
The Best Way To Get Around Austin
Uber and Lyft
This is definitely the best way to get around the city during your girls weekend in Austin. I wouldn't suggest renting a car only for a weekend. You'll end up taking Ubers anyways because I promise, you will be doing some drinking at some point! 
Scooters
If you are going a short distance, hop on a scooter to get from point A to point B. These things are so fun to zoom around the city in! They work like Uber. You will download the app, scan a barcode, and pay.
If you are traveling to or from Dallas to Austin, a great way to get from city to city is by bus! Find bus tickets from Dallas to Austin here.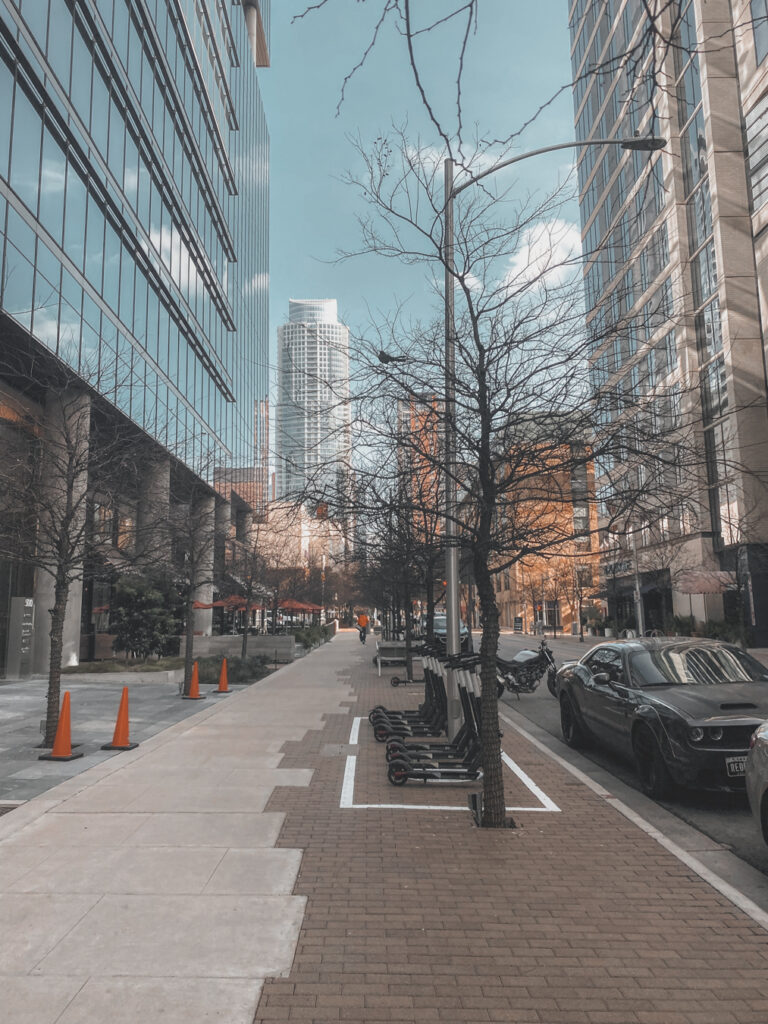 To Eat
Austin is filled with so many incredible cafes and restaurants. So you better come hungry to this city! Here is a collective list of the best places to eat in Austin. I can't include every great restaurant Austin has to offer in this guide, but if there is a certain type of food you are craving, I guarantee there is a delicious spot to eat at! 
The Best Cafes and Coffee Shops in Austin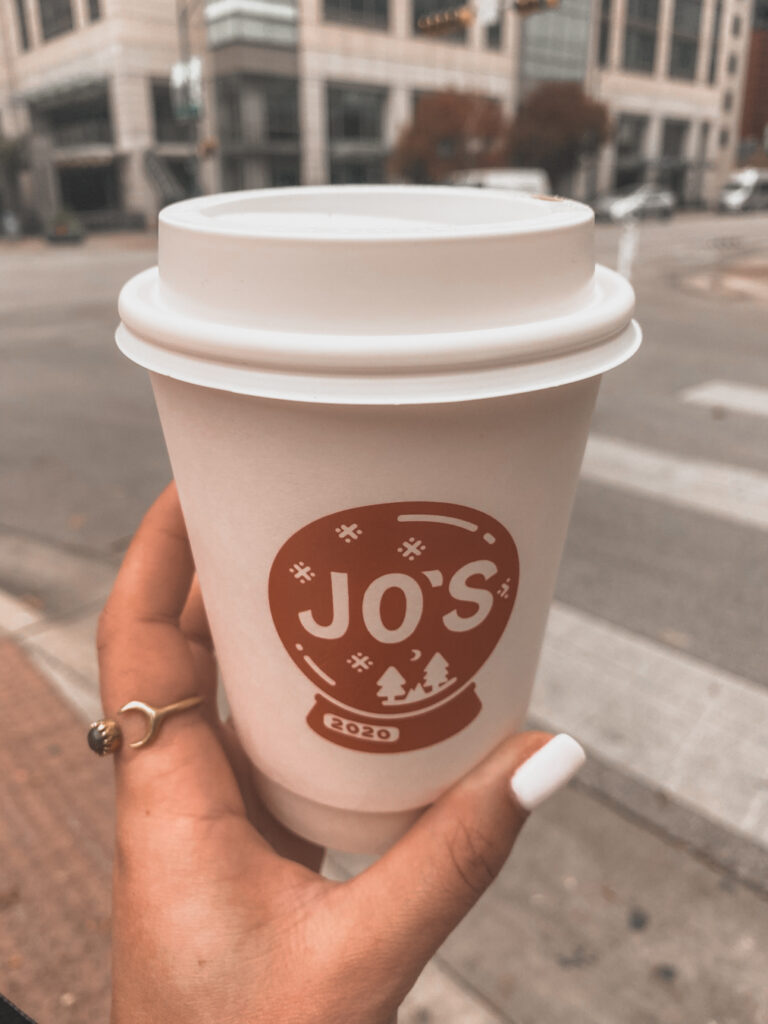 Mozart's Coffee Roasters: Motzarts is a vibe. Not only do they have great coffee, but the atmosphere is also amazing! It's right on the water, a great place to sip some coffee and chat.  
Jo's Coffee: Jo's Coffee in Austin has always been a favorite of mine. You might also recognize the famous "I love you so much" painting on the side of Jo's building at the South Congress location! 
Civilgoat Coffee: Okay, I haven't been here yet but it's on my list. Not only does their coffee look incredible, but they have a pet goat you can play with! 
The Perfect Spots For Brunch and Lunch in Austin
Flower Child: I ate at Flower Child for the first time a few weeks ago and it is incredible! They have delicious vegetarian, vegan, and paleo dishes made with fresh ingredients.
Home Slice Pizza: Home Slice located in the South Congress area. The perfect place to stop and grab a slice of pizza in the middle of shopping around SoCo. 
True Food Kitchen: Great healthy options.
Hopdoddy's: For the best burger ever.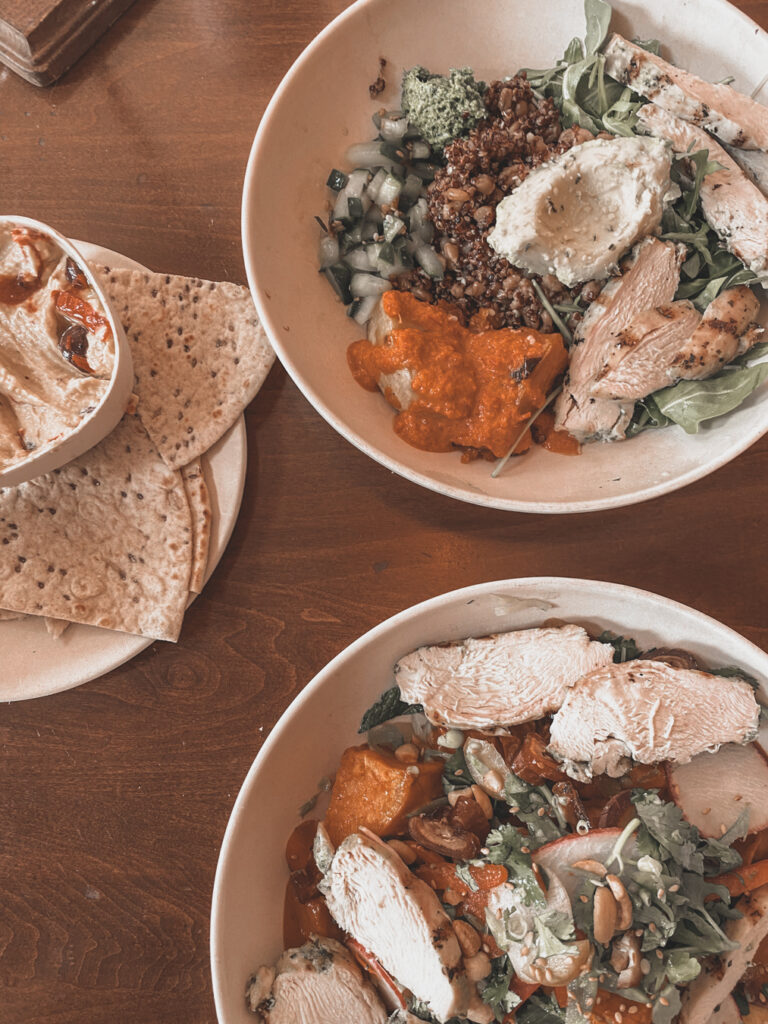 For Mexican Food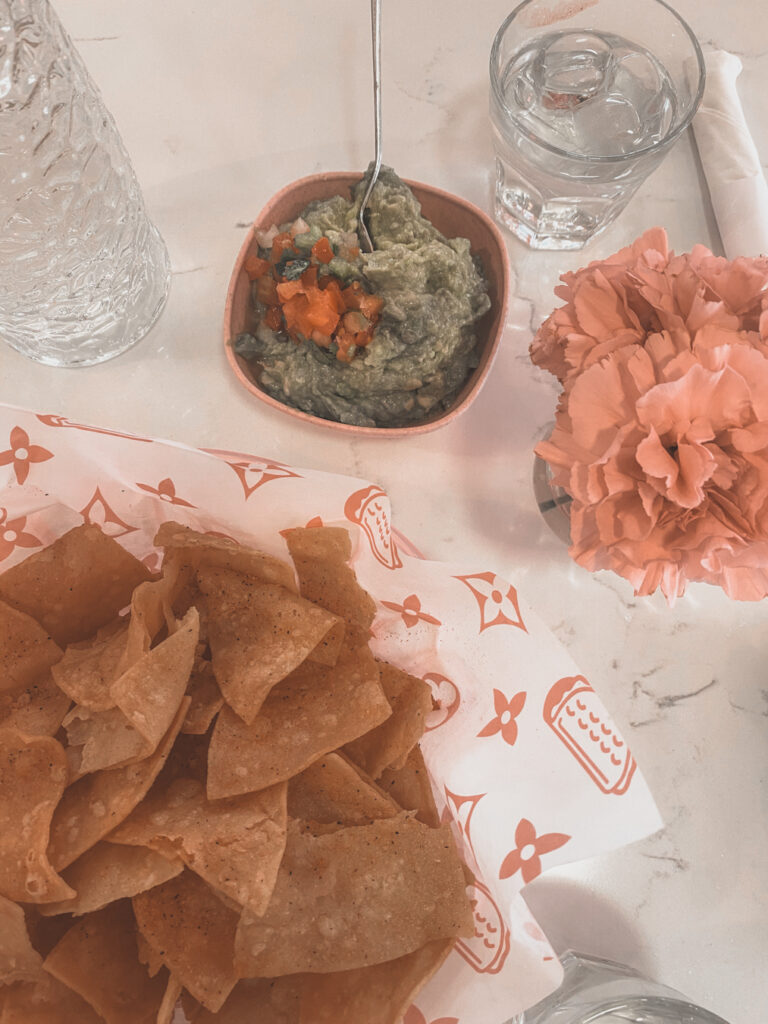 Guero's Taco Bar: some of the best Mexican food you will find. 
Torchy's Tacos: these tacos are amazing! Get the trashy trailer park. 
Hula Hut: Hula Hut in Austin is one of my all-time faves. Not only is the food great, but the atmosphere is perfect. Sit outside with a view of Lake Austin, enjoy some Mexican food and yummy cocktails! 
Taquero Mucho: AMAZING Mexican food and the perfect all-pink instagrammable spot for brunch. Check out my review on Taquero Mucho in Austin, here.
Matt's El Rancho: Make sure to get a spicy margarita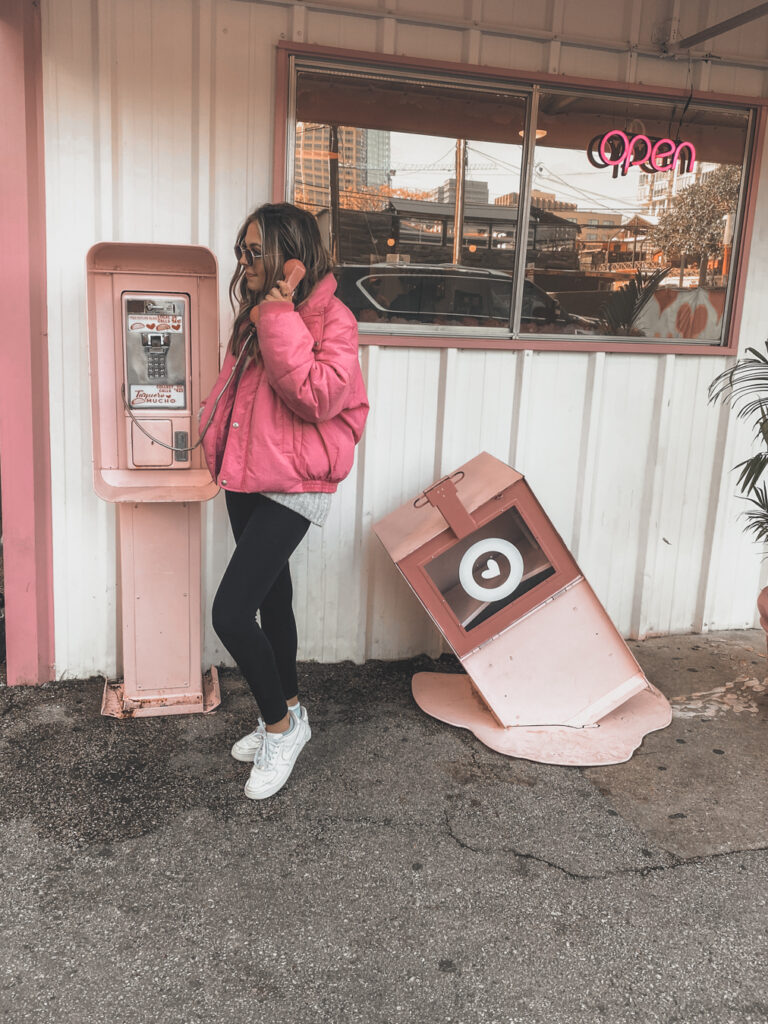 For Barbecue
The Salt Lick: Did you really come to Texas if you didn't get BBQ? The Salt Lick is my go-to for barbecue in Austin. You can even do wine tastings here! 
Franklin Barbecue: I'm embarrassed to say I've lived in Austin for 22 years and have NEVER been here. Franklin BBQ is one of the most talked about barbecue destinations in the country. Safe to say it's definitely worth a visit during your girls weekend in Austin. 
Food Trucks In Austin Texas
Emojis Grilled Cheese 
La Barbecue 
Veracruz All Natural 
Poke Me Long Time
The Mighty Cone
More Restaurants For Your Girls Weekend In Austin
RA Sushi: Delicious sushi and pretty city views.
Odd Duck
Jack Allen's Kitchen 
Evangeline Cafe: For Cajun food. 
Perla's: For fresh seafood. 
For Sweets
Gordoughs: Delicious donuts.  
Amys Ice Cream: Try the Mexican vanilla.  
Elizabeth St. Cafe: For macaroons. 
Halcyon: For s'mores and great vibes.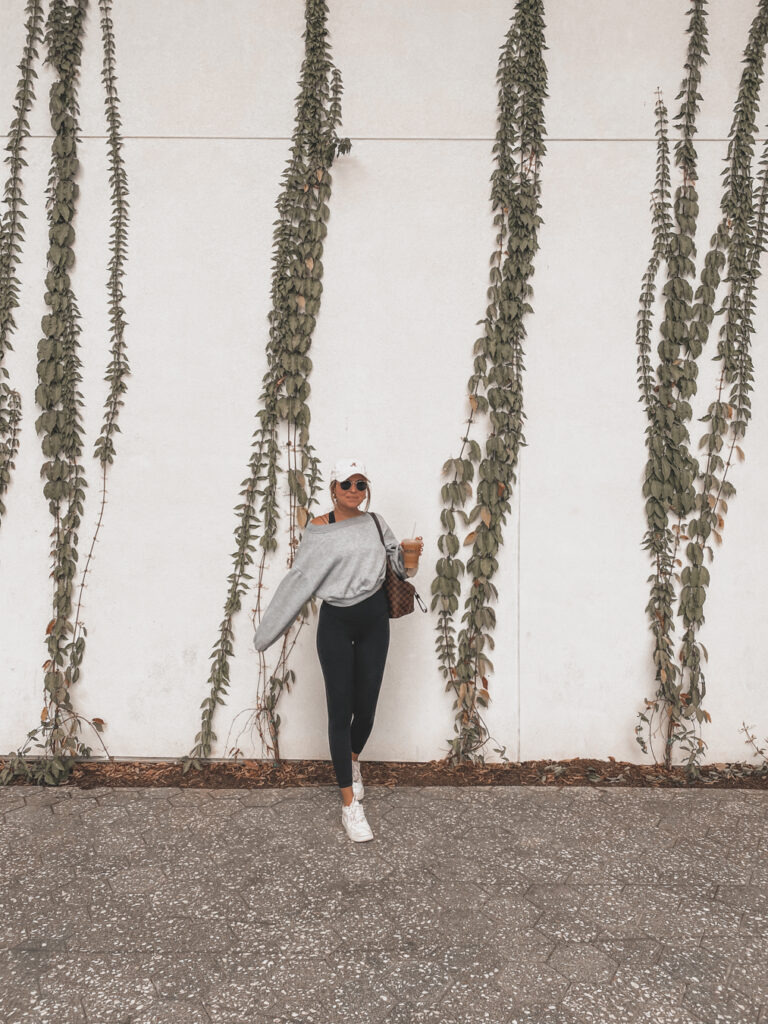 The Best Things To Do In Austin, Texas
Outdoor Activities In Austin
Hike Mount Bonnell
When I say hike, I do not mean ~hike~ this is a simple lookout point to get to for beautiful views of Lake Austin and the surrounding hills. It's a free activity to do in Austin and only a set of steps to get from top to bottom.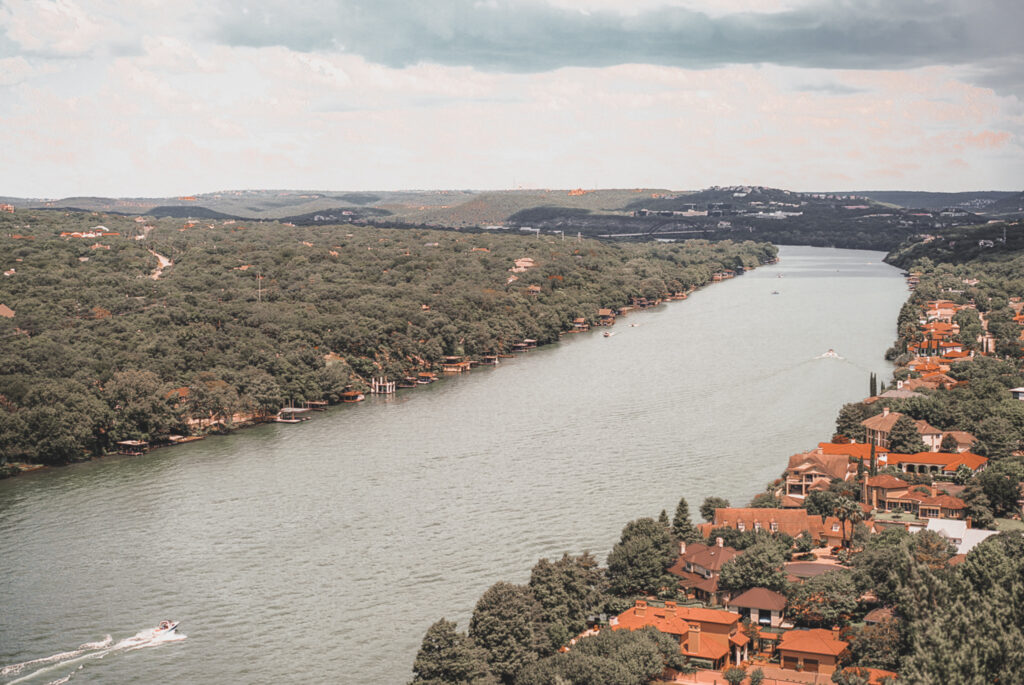 Have A Picnic At Zilker Park
Spending time at Zilker Park is one of my favorite things to do in Austin! Grab some food-to-go (or snacks from Whole Foods) and enjoy it at Zilker. It's the perfect place to people watch and see so many cute puppies!
Cool Off In Barton Springs
Barton Springs in Austin is a set of four natural water springs located in Barton Creek. During a hot summer day, Barton Springs is the place to be.
[
RELATED POST
:
MINI GUIDE: 10 OF THE BEST WINERIES IN FREDERICKSBURG, TEXAS
]
Paddle Board on Lady Bird Lake
Another one of my favorite things to do in Austin and something that should be on your Austin itinerary! Rent paddleboards at SUP ATX or you could even kayak if paddleboarding isn't for you. This is the perfect way to spend a hot afternoon in Austin and get in a little exercise as well!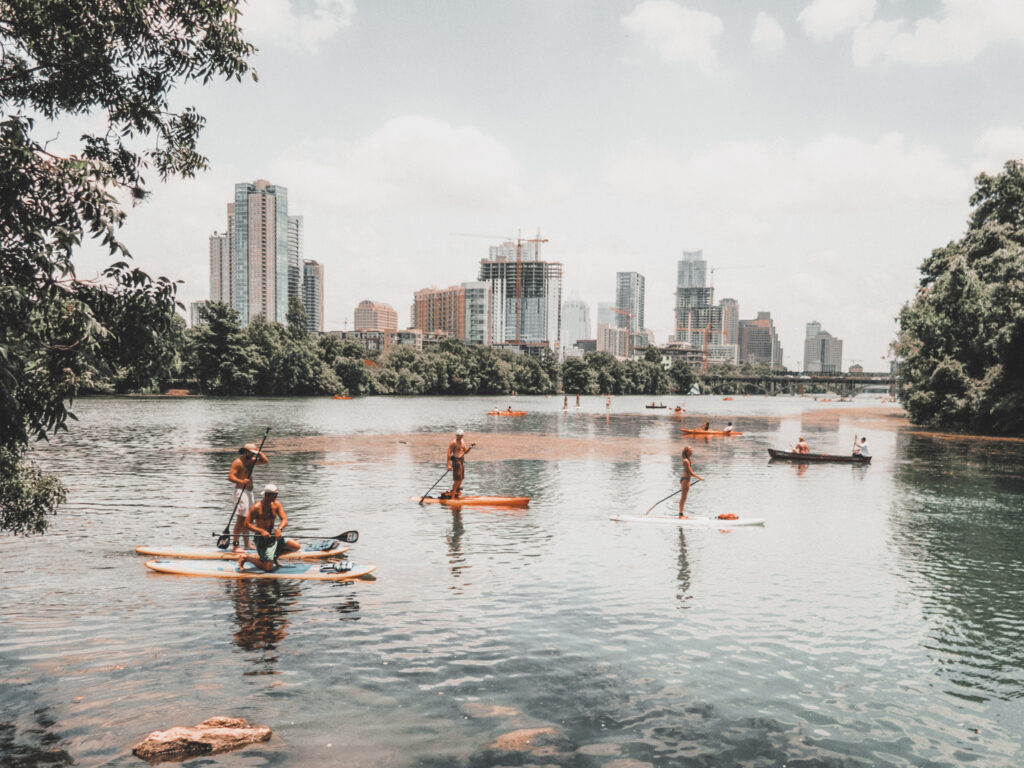 Walk Along Town Lake Trail
This is a very popular 10-mile trail in the city of Austin. Grab a coffee and chat with your friends or go for a morning run!
Things To See During Your Girls Weekend In Austin
Watch The Bats Under The Congress Avenue Bridge
This sounds weird but it's cool to see! Watch the largest urban bat colony in North America come out from under the Congress Avenue Bridge over Lady Bird Lake. This is a popular tourist attraction in Austin that you can see any night of the week. there are estimated to be about one million Mexican free-tail bats.
Austin Street Art And Graffiti
There is so much cool street art and wall murals in Austin, Texas! You can find many of the famous wall murals in the South Congress area. Here are the exact addresses of some popular wall murals:
I Love You So Much: 1300 S. Congress Ave.  
Greetings From Austin: 1720 S 1st St.  
Willie For President: 100-130 E Elizabeth St.
You're My Butter Half: 2000 E Martin Luther King Jr Blvd.
Peace Love Austin: (pictured below) 2nd St. and Colorado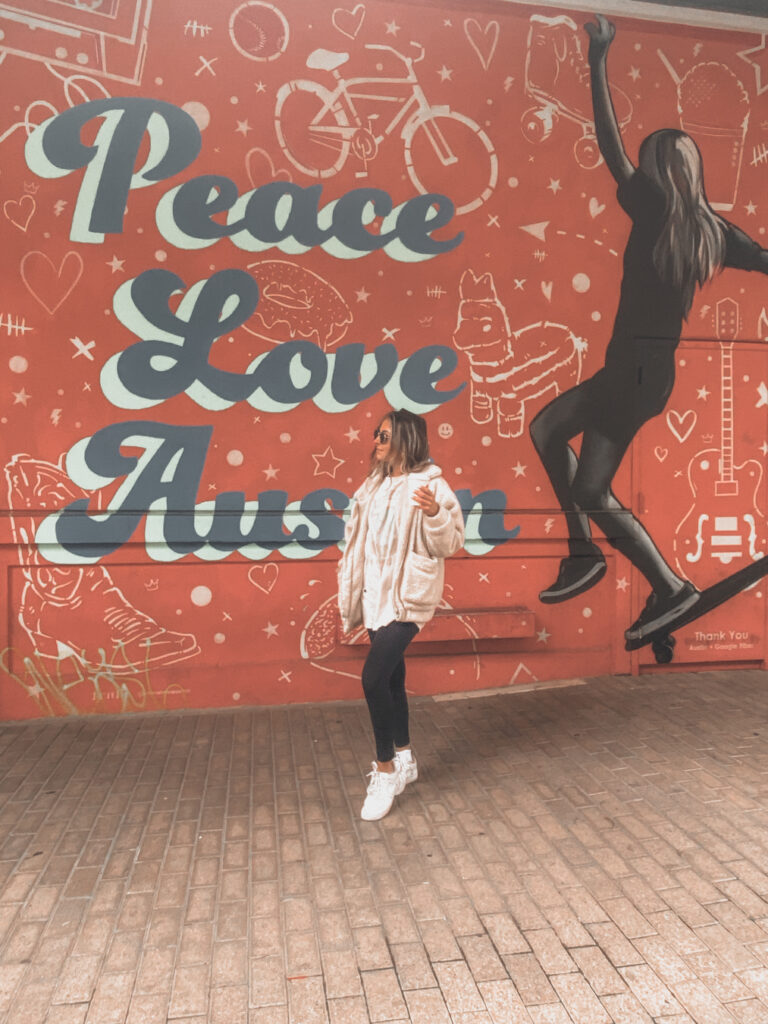 Admire The Blanton Museum Of Art
The Blanton Museum of Art is one of the largest university art museums in the United States. There are so many beautiful things to see here and it's the perfect place to be to take a break from the Austin heat. Basic adult tickets are $12 and they do offer student discounts.
Live Music In The Live Music Capital Of The World
Did you really visit Austin if you didn't see live music? That might be a bit harder to find right now thanks to covid, but I can still guarantee that you will find some fun spots! Here are the best places to see live music in Austin, Texas:
Broken Spoke
Continental Club & Gallery
ACL Live at The Moody Theater
Stubb's Bar-B-Q
Victory Grill
Antone's Nightclub
Elephant Room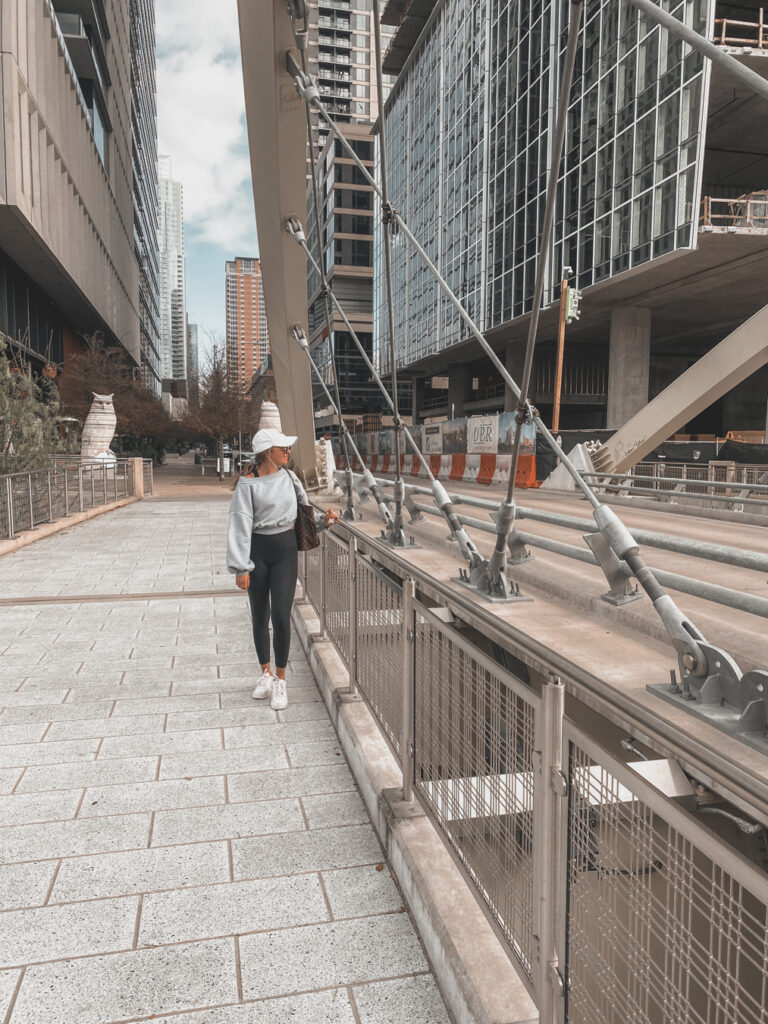 To Do
Tour The Texas Capitol Building
Did you know the Texas Capitol stands almost 15 feet taller than the nation's Capitol in Washington D.C.? Everything is bigger in Texas! The Capitol usually offers free guided tours but I believe this is on hold due to the pandemic. If you are visiting past these pandemic times check out the free tours.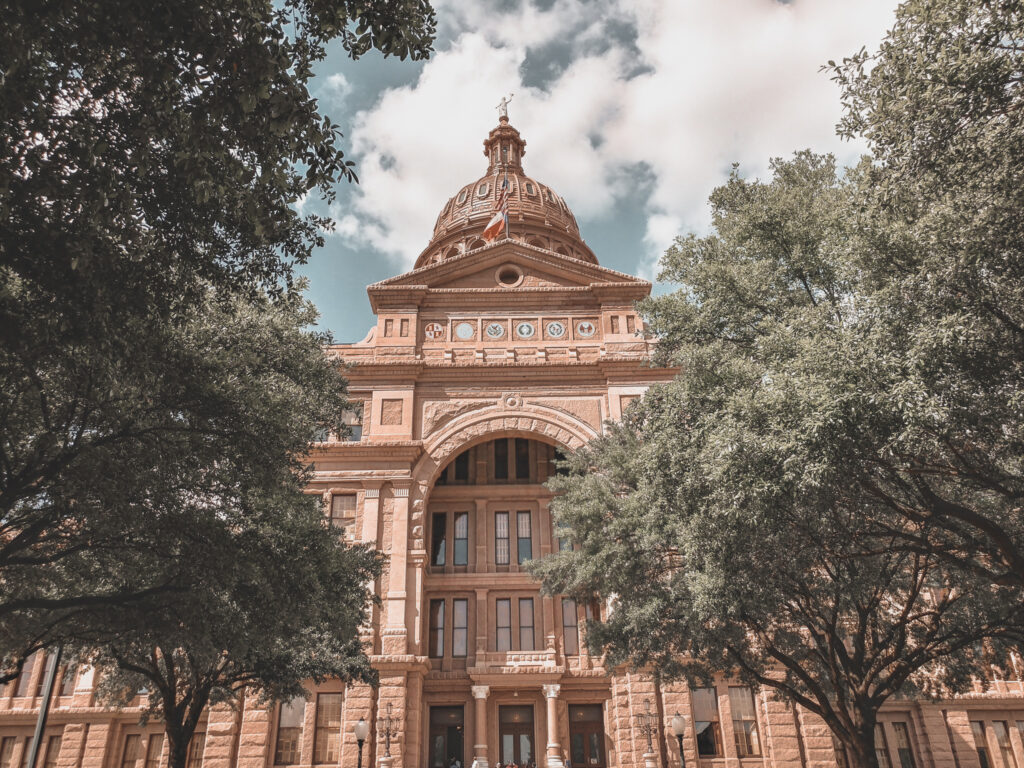 Relaxing Afternoon At Milk + Honey Spa
Is your girls weekend in Austin really complete without a trip to the spa? Spend a couple of hours getting pampered with a new manicure, a massage, or a facial.
Have A Glass Of Natural Wine At LoLo Wine Bar
Another perfect thing to add to your Austin girls trip itinerary! LoLo wine is on east 6th street and a great mid-day stop. This is an all-natural wine bar and bottle shop. You can grab a bottle to-go or enjoy a few glasses here.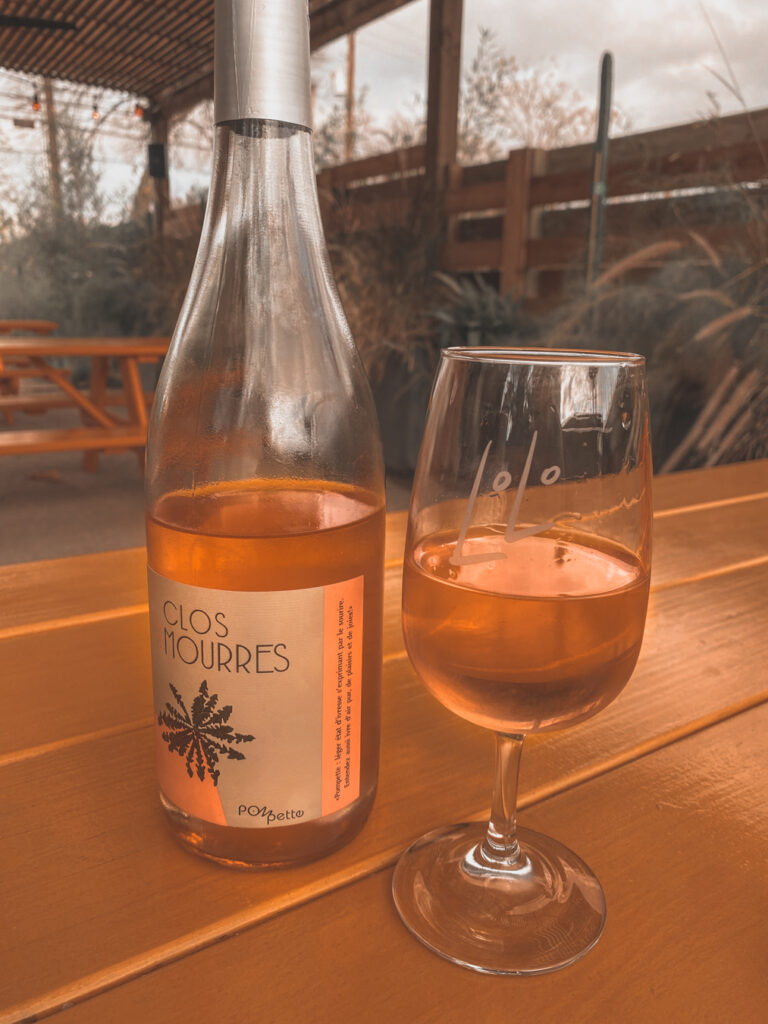 Shop At The Domain
The Domain is a beautiful shopping area in Northwest Austin. It's great for an afternoon of shopping and eating! The Domain is filled with cute boutiques, coffee shops, and restaurants. They just opened Pressed Juicery, and I'm so excited about this! If this seems up your alley, add the Domain to your girls weekend in Austin.
Spend A Day Exploring The Wineries In Fredericksburg
Alright, you're going to need a whole day for this. Whether you fit this into your girls weekend in Austin or not, wine tasting in Fredericksburg needs to be on your bucket list!
Fredericksburg is a city in the Texas hill country known for its incredible wineries. It's about an hour and a half away from the city of Austin but well worth a spot on your girls trip itinerary!
[
RELATED POST
:
THINGS TO DO IN ROSEMARY BEACH: THE BEST OF 30A
]
Areas to explore in Austin, Texas
2nd Street
2nd street is the cutest area to shop around in. Grab a coffee and pick up some funky Austin souvenirs at a boutique.
South Congress
I've touched on South Congress a few times in this article. It is a spot you can't miss on your list of things to do in Austin! Check out the wall murals, grab a burger at Hopdoddy Burger Bar or a slice of pizza at Home Slice, and you might even see live music on the street!
Rainey Street
You can't miss bar hopping Rainey Street during your weekend in Austin! Rainey Street is the place to be, packed with trendy bars, historic homes, and some good food.
6th Street
6th Street is the mini Bourbon Street of Austin! This is the place to find the craziest nightlife in Austin.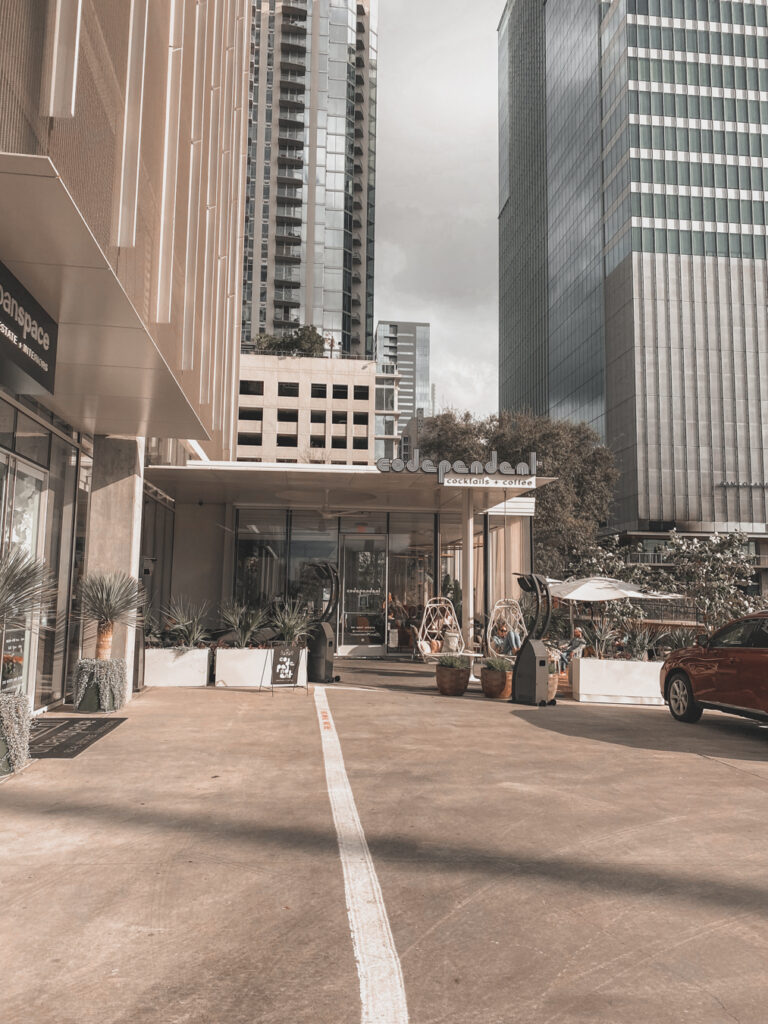 Nightlife in Austin, Texas
Rainey street
6th Street
Azul Rooftop Lounge
Maggie Mae's
Wilderwood Restaurant and Bar
The Roosevelt Room
Midnight Cowboy
The Tipsy Alchemist
Don't Forget To Pack
Final Thoughts On How To Have The Best Girls Weekend In Austin
This city is truly a city like no other with an endless amount of things to do in Austin! Austin is definitely near the top of my list of the best girls trip destinations in the USA, alongside Nashville, Las Vegas, New York, and New Orleans of course! I just love the big city feel with all of the outdoorsy things to do. I hope you love my city just as much as I do when you visit. Let me know what's on the top of your girls weekend in Austin bucket list?
RECOMMENDED TOURS IN AUSTIN
xx Syd.
PIN IT!
OTHER POSTS YOU MAY LIKE: