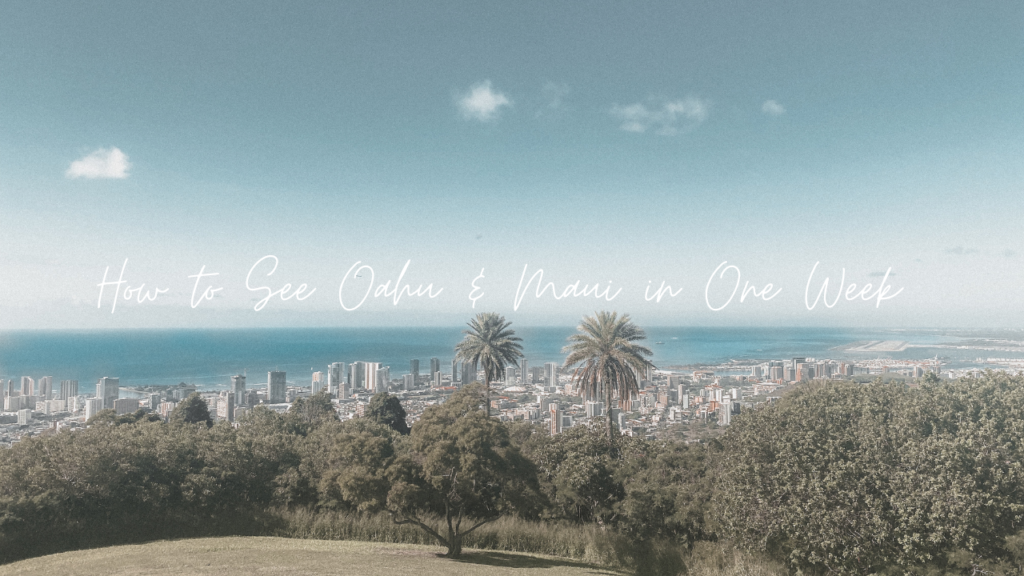 (Disclaimer: This post may contain affiliate links, which means we may receive a small commission at no extra cost to you.)
Are you trying to figure out how to see Oahu and Maui in one week? This blog post covers it all! I recently took a family trip to Hawaii and these islands blew me away. They were freaking gorgeous! Hawaii really does have it all. From the clear blue water for snorkeling to the beautiful views and incredible hikes, Hawaii is a place that absolutely everyone can enjoy!
In this guide, you can expect a detailed 7-day Hawaii itinerary for the islands of Oahu and Maui. I'll let you know the best places to stay, how to get around the islands and even the covid test process for getting to Hawaii. Alright, let's get to it, Hawaii is most definitely a place you'll want to add to your 2021 bucket list! 
Disclaimer: This article contains affiliate links.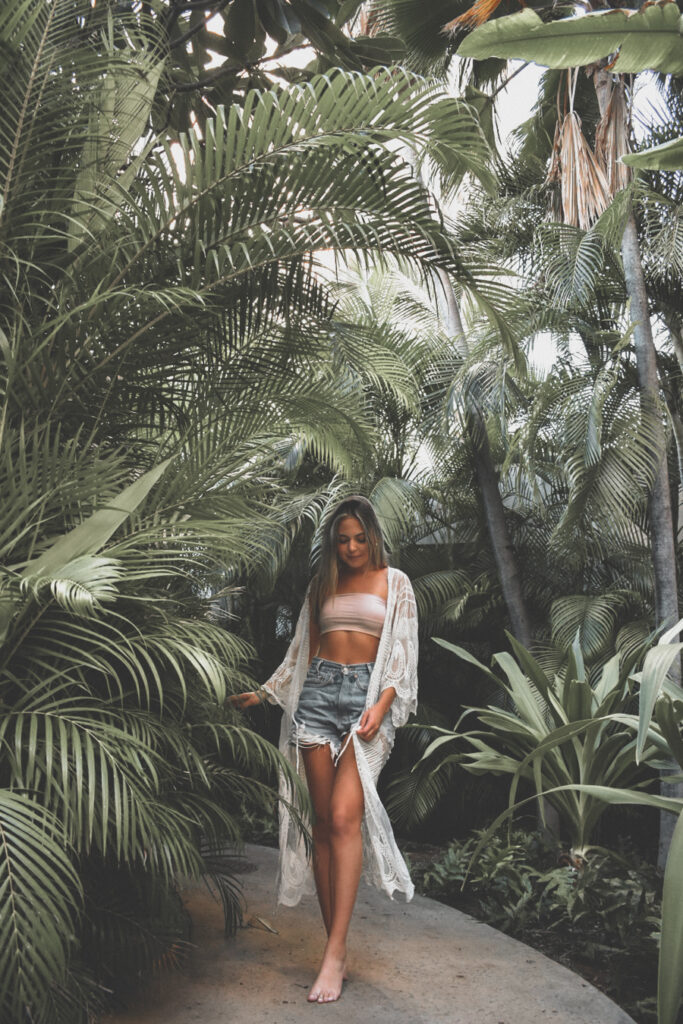 Getting To The Islands Of Hawaii 
Covid Restrictions
Alright, the short answer is, yes, it was an extreme hassle getting to the islands of Hawaii but most definitely worth it. I visited in December 2020 so these were the current Hawaii covid travel restrictions at the time. For the most up-to-date information visit gohawaii.com
For tips on traveling during a pandemic, click here.
First, Get Covid Tested From A Trusted Clinic
The first step for getting approved to travel to Hawaii is to obtain negative covid test results from a TRUSTED partner with the state of Hawaii. This means you cannot just go to any clinic and get tested, you need to check hawaiicovid19.com to make sure it is an approved clinic. This was the rough part. 
Being from Austin, TX there were relatively no clinics in the city that offered the correct test. We ended up driving 3 hours to Houston and arrived to find out that the clinic had closed for the day due to weather. And NO one had alerted us, we had appointments and all. So yeah, not ideal.
Somehow by luck, we ended up finding another clinic approved by Hawaii that could get us in that same day in the city of Houston. They were rapid tests, so we got our results back within 30 minutes. I still do not know how we managed to get this done. I honestly did not think that we would be visiting Hawaii when the first clinic had closed. 
Next, Register With The State Of Hawaii And Upload Your Results
Keep in mind that your covid test needs to be taken within 72 hours of your arrival in Hawaii. After you have your negative test results you will need to register with the Hawaii safe travels program and upload your results. You will then be emailed a QR code and this is what you need upon arrival in Hawaii. 
After you land, you will go through a screening process, your QR code will be scanned, and you are good to go! 
That's a summarized description of what needs to be done before your trip to Hawaii but check for updates! As you know, things change fast with all of these covid travel restrictions. 
On another note, inter-island travel has its own set of restrictions. So, check for the latest information on inter-island travel.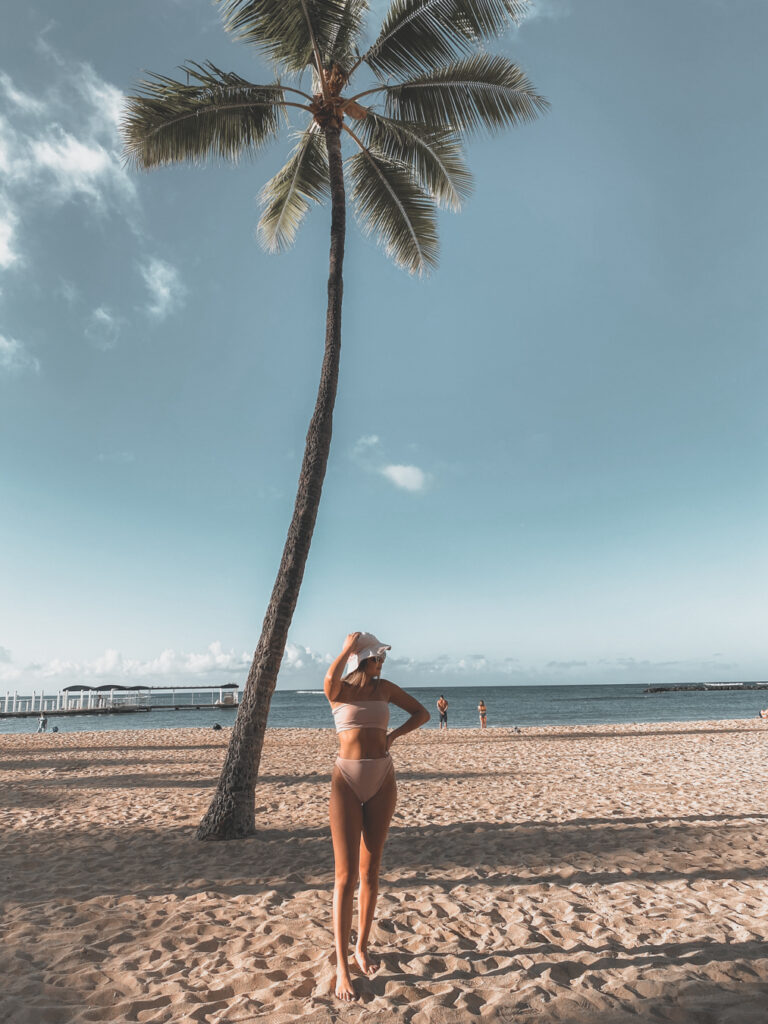 Breakdown of Your 7-Day Hawaii Itinerary 
Day 1 – Travel day, arrive in Maui
Day 2 – Explore Lahaina, Kaanapali Beach, and Sunset Cruise
Day 3 – Road to Hana and Maui Winery 
Day 4 – Snorkel Trip and Haleakala National Park
Day 5 – Oahu North Shore, Kualoa Ranch, Byodo-in Temple
Day 6 – Ho'omaluhia Botanical Gardens and Waikiki Beach
Day 7 – Tantalus Lookout Point, Makapu'u Tide Pools, and Shopping
This 7-day Hawaii Itinerary covers 3 full days in Maui and 3 full days in Oahu. Use this itinerary as a rough guide for your next trip to Hawaii. Pick and choose what activities you would like to do and what restaurants you would like to visit. Create your own personal Oahu and Maui itinerary! 
Island One: Maui Travel Guide
Where To Stay In Maui 
We stayed at an Airbnb near Kaanapali beach and loved it! This area is the perfect place to be in my opinion. For a quieter area, stay in Paia town. And another option is to stay near the south end of the island near Wailea. I have listed some accommodation options below.
Airbnb: if you are booking your first stay with Airbnb,

click here for a discount!

 
Kaanapali Beach Hotel 
Royal Lahaina Resort
Wailea Beach Resort
How To Get Around Maui 
You will definitely want to rent a car. I suggest renting a jeep, especially if you plan on doing the Road to Hana.
Day 1
Travel Day, Arrive in Maui 
For me, day one was primarily a travel day. We got in pretty late and we were exhausted from all the travel. If this is the case for you as well, I suggest stopping at an ABC store (they are everywhere and have literally everything you will need!), grab a bottle of wine,  some snacks, and go chill at your accommodation. If you get in early enough to grab a sit-down dinner, I have listed Maui restaurant recommendations later in the article.
Day 2
Explore Lahaina, Kaanapali Beach, and Sunset Cruise
Start your day early to make the most of your time in Maui! Explore the town of Lahaina, and grab a coffee. We picked up a coffee at Bad Ass Coffee and it was delicious! The coffee shops use local Kona coffee beans and it's delicious. 
After exploring for a bit, grab some breakfast at the Sunrise Cafe in Lahaina and take a look at the Banyan tree. This tree is 150 years old and is absolutely massive! 
Next, spend your afternoon relaxing at Kaanapali Beach. There is a public parking lot for beach access as well as a nice grassy area with picnic tables to eat some food if you pack any! The beach is pretty big and wasn't too crowded at all when I visited. This is a great way to spend your afternoon in Maui.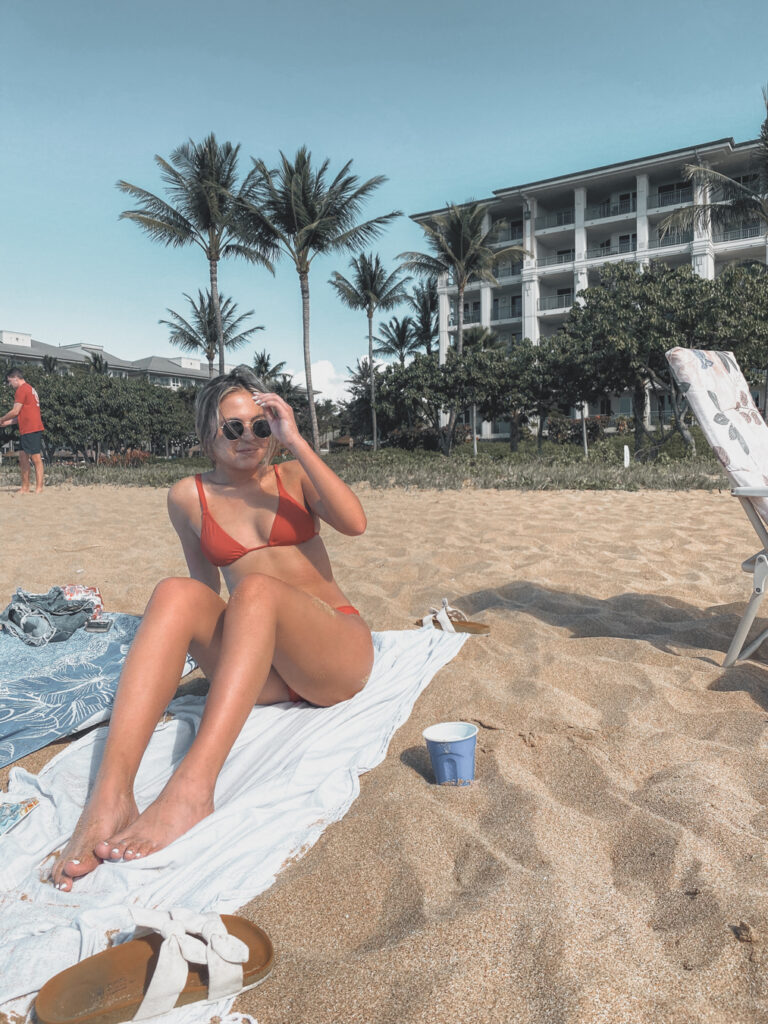 After your full day in the sun, go back to your room, change clothes, and get ready for a sunset cruise with Sail Trilogy. This was definitely a highlight during our time in Maui! We did the Lahaina Sunset Sail and it was incredible. The cruise was 2 hours long and included 2 drinks, appetizers (which were freaking delicious!), and dessert.
You really get the best service and experience on the Sail Trilogy Tours and the boats themselves are amazing. If you are still hungry after the cruise, go grab dinner in Lahaina. There are so many restaurant options!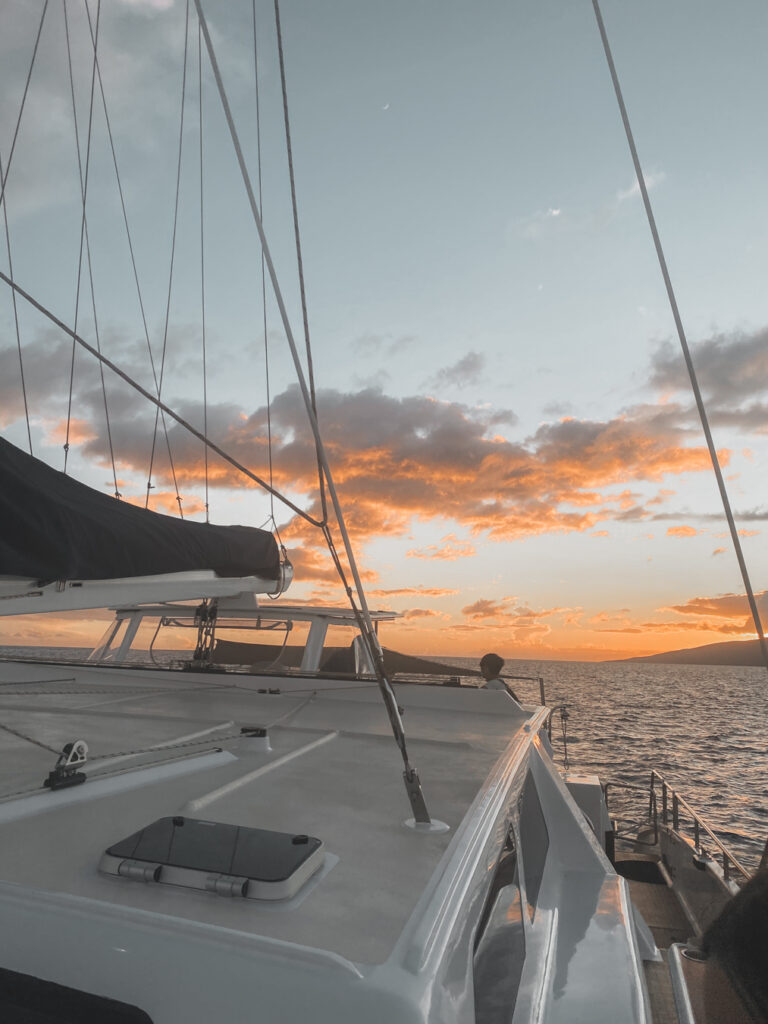 Day 3
Road to Hana and

MauiWine

 
Even if you don't do this on day three, you NEED to make sure to fit the Road to Hana into your Maui itinerary! This is an absolute must while in Maui. You will seriously see it all on the road to Hana. The road to Hana is an all-day adventure so plan on leaving your Airbnb at around 6 am and getting back at around 5 pm. 
Click here to check out my article on the road to Hana. This blog post covers it all. If you are planning on driving the road to Hana, definitely check out this resource! 
Once you arrive in Hana town, most tourists will turn around and drive back the way they came. However, we ended up driving all the way around the island. If you decide to do this, the roads are INSANE. I mean, like you need a jeep and very confident driving skills if you plan on continuing the drive. There are points where the road is not paved and you are inches away from a massive cliff.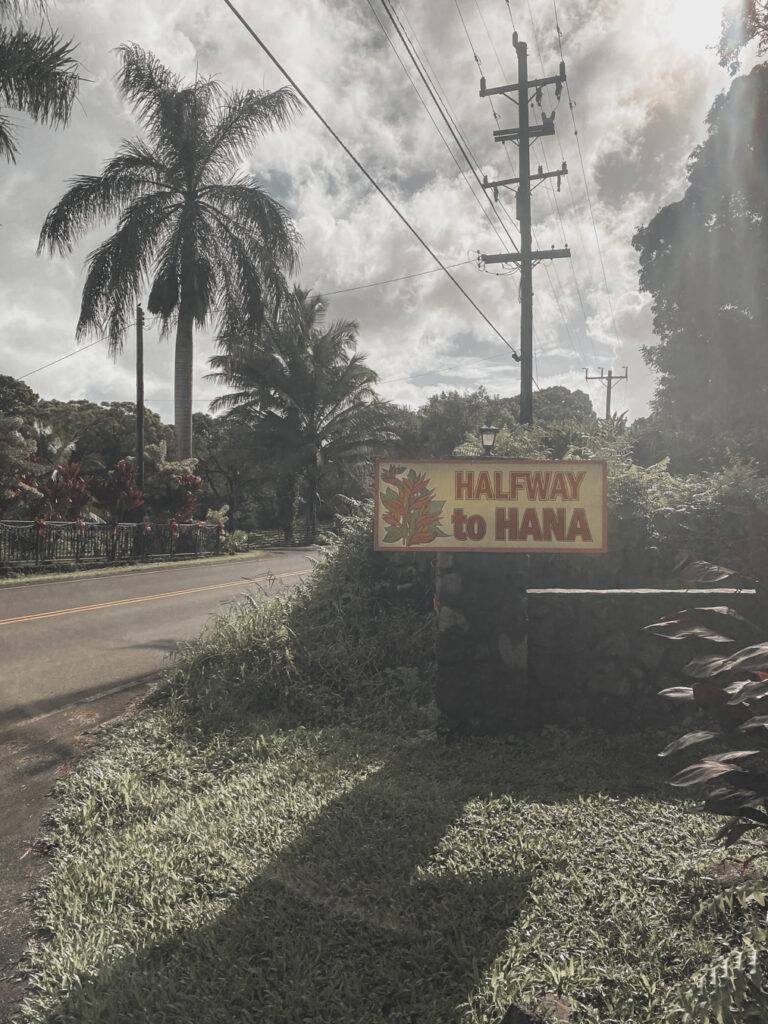 That being said, If you continue the drive, once you get back into civilization, you will come across MauiWine! This is a perfect quick stop after a long day. You can also choose to fit this somewhere else into your 7-day Hawaii itinerary, but MauiWine is definitely worth a visit!
Day 4
Snorkel Trip and Haleakala National Park
Alright, today is another long day but something that NEEDS to be on your 7-day Hawaii itinerary! I mean, did you really visit Hawaii if you didn't snorkel? Start your day with a sunrise snorkel trip. We booked with Trilogy tours again. And no, this is not sponsored or anything they just really have the BEST tours!
You seriously can't go wrong with whichever snorkel trip you choose to do. We did the Discover Molokini tour and loved it! The trip was 5 hours long and included a delicious breakfast with fresh Kona coffee, two snorkel spots, an incredible Hawaiian lunch, and two cocktails. Literally the absolute BEST trip! We even got to swim with sea turtles!
 One of my favorite things to do was jump off the boat during snorkel breaks. It was so much fun. Also swimming with sea turtles was definitely a bucket list experience! After snorkeling is when we got lunch and we even got to do some whale watching. Seriously the perfect morning. 
After the Maui snorkel trip, we explored more of Haleakala National Park. We drove all the way to the highest point, which was literally above the clouds. It was crazy how just hours before we were underwater and now we were at 10,000 feet elevation. It was also freezing up there. Like 40 degrees Fahrenheit. Pack a jacket.
Next, spend your evening exploring Lahaina town and grab a yummy seafood dinner.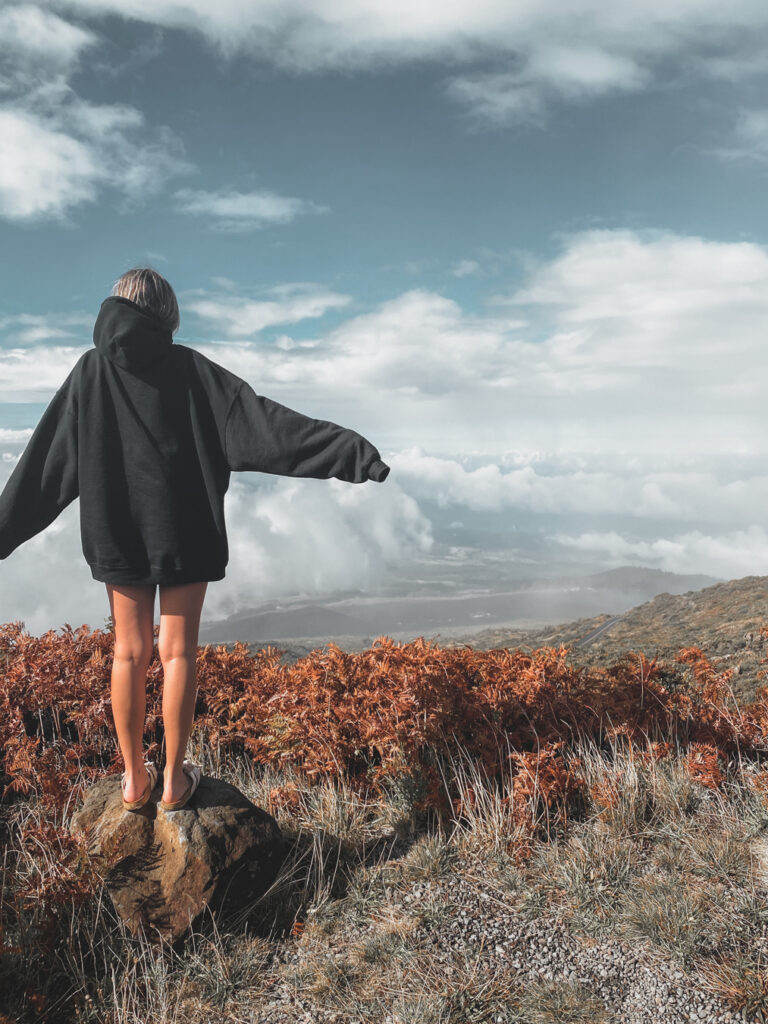 The Best Places To Eat In Maui
Breakfast and Coffee
Kihei Caffe
Maui Coffee Roasters
Island Vintage Coffee
Sunrise Cafe
Bad Ass Coffee
Lunch and Dinner
Sansei Seafood & Sushi Bar: some of the best sushi I have ever had! 
Paia Fish Market: incredible
Mama's Fish House: probably the most popular spot on the island
Kimo's
Cheeseburger In Paradise
Lahaina Fish Co
Thai Food by Pranee: located in Hana town – best Thai food ever!
Island Two: Oahu Travel Guide
Where To Stay In Oahu 
If you want to be close to all the action, stay in Honolulu near Waikiki Beach. If you want fewer crowds, stay near the North Shore. Here are some recommendations on where to stay in Oahu:
Airbnb
Hilton Hawaiian Village Beach Resort: we stayed here, it was a great place and on the beach, however, I don't think I would stay here again because the crowds were insane 
The Royal Hawaiian Waikiki 
North Shore Marriott
How To Get Around Oahu
You will need to rent a car, especially if you plan on driving to the North Shore. I imagine Uber fees rack up quickly.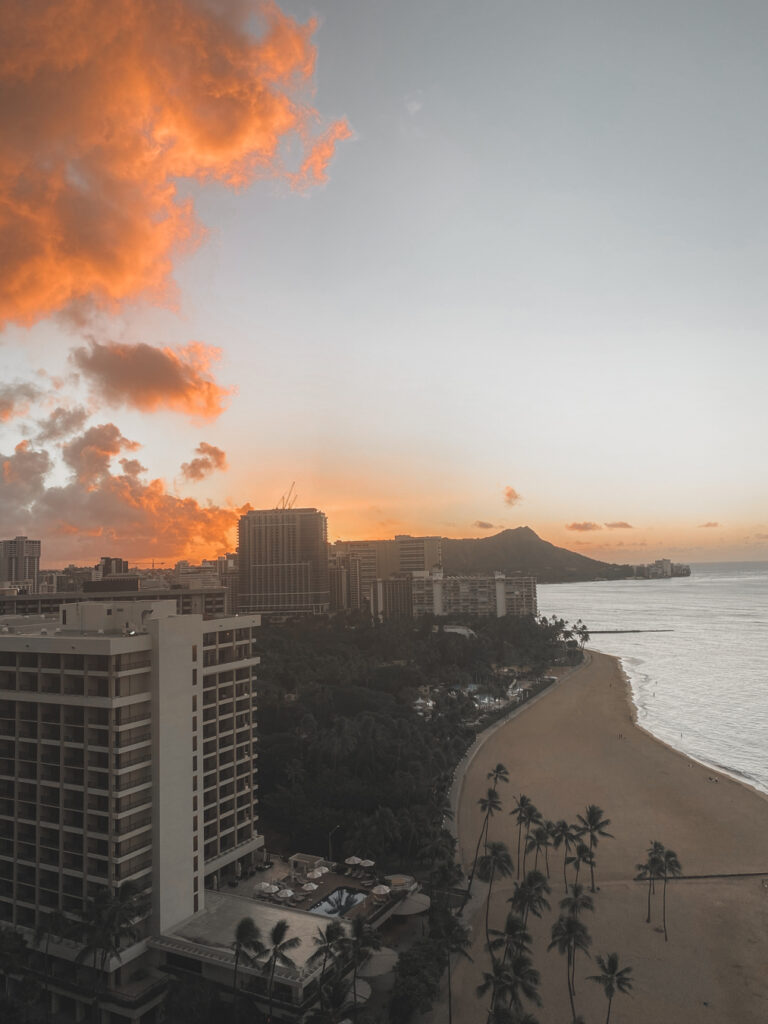 Day 5
Oahu North Shore, Kualoa Ranch, Byodo-in Temple
Hop on an early flight and head to Oahu! Pick up the rental car when you land and then head to the North Shore. I suggest doing this if you can't check in early. We changed into swimsuits after landing and started exploring the island.
Get the best and freshest breakfast at the Sunrise Shack on the north shore and watch surfers at the Banzai Pipeline. Next, keep driving along and make a stop along the way at Kualoa Ranch, where Jurassic Park was filmed, and then at the Byodo-in Temple. 
We stopped for just a short time at Kualoa Ranch to use the restrooms and check out the gift shop. You could easily spend a day here if you want. They have so many different tours you can book.
On the other hand, I highly suggest stopping at the Byodo-in Temple. It is absolutely beautiful, and you will feel as if you are in Asia. The entrance fee $5 for general admission.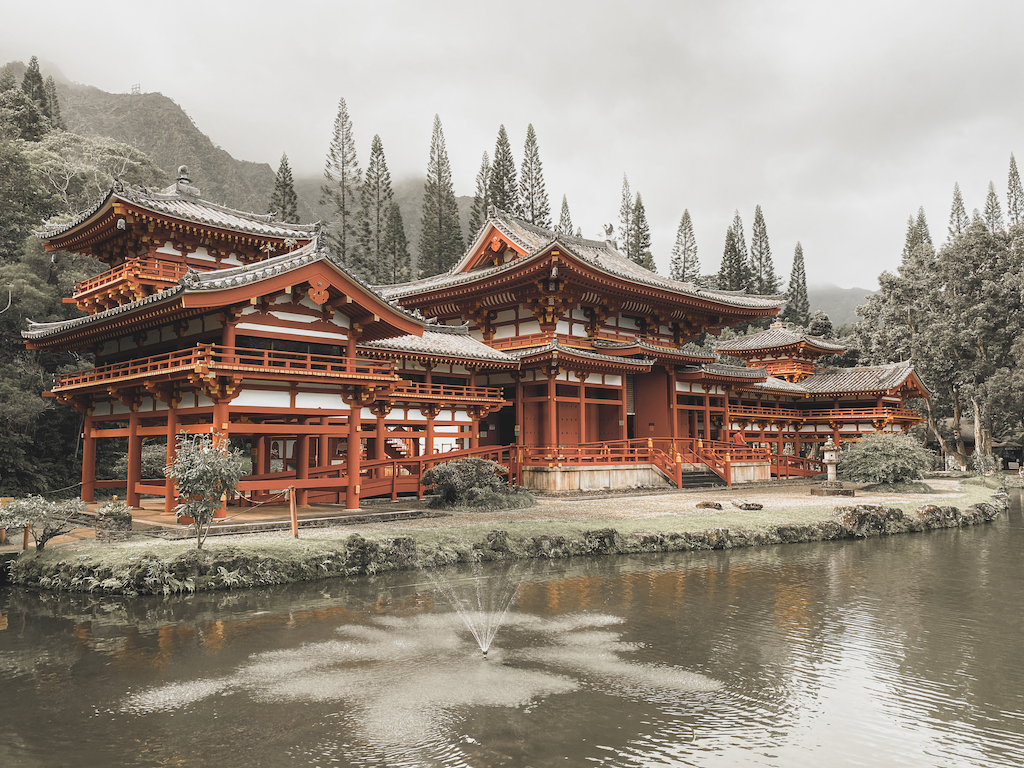 After the temple, head to either Kailua Beach or Bellows Beach. These two beaches are hands down some of the prettiest you will find on the island of Oahu. Bellows Beach is on an airforce base and only open on the weekends so make sure to check online before visiting. 
The Best Places To Eat On The North Shore Of Oahu: 
Kono's Northshore
Poke For The People
Haleiwa Beach House
Giovanni's Shrimp Truck
Ted's Bakery
Day 6
Ho'omaluhia Botanical Gardens and Waikiki Beach
As the 7-day Hawaii itinerary comes to an end, there are still some things to do on the island that you can't miss. Stop at a cafe for breakfast, grab a coffee and then head to Ho'omaluhia Botanical Garden. This place is beautiful you will definitely want to check it out.
Also, I suggest doing one of Hawaii's beautiful hikes if you have time one morning. The top three most popular hikes on Oahu are:  
Diamon Head hike 
Pillbox Hike 
Crouching Lion Hike
Unfortunately, I didn't get to do this during my one week in Hawaii but maybe next time! During the afternoon spend some time relaxing on Waikiki Beach or at your hotel if you have beach access.
After laying out in the sun all day, get ready for dinner and head to Paia fish market (if you didn't already go in Maui!) this restaurant is amazing! Spend the rest of the evening exploring Honolulu.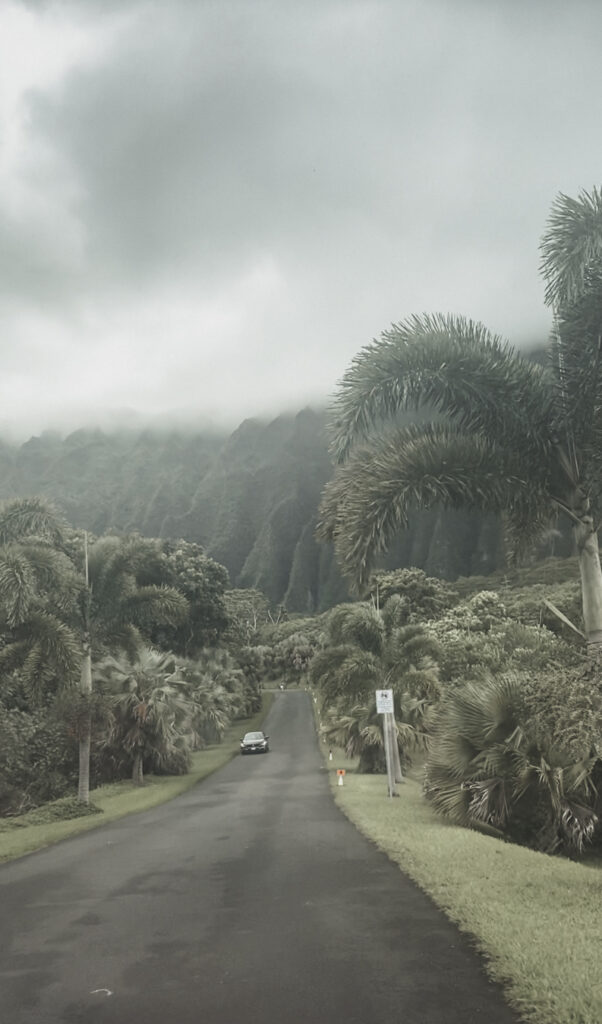 Day 7
Tantalus Lookout Point, Makapu'u Tide Pools, and Shopping
Depending on the departure time of your flight, this will determine your last day in Hawaii. Luckily, our flight was an overnight flight so it didn't take off until pretty late. I definitely suggest trying to book a late flight because it basically gives you a whole extra day in Hawaii! 
Our last day on Oahu consisted of getting breakfast at Arvo Cafe and then heading to Tantalus Lookout. This is a beautiful lookout over the city of Honolulu and the bright blue ocean. The lookout point is simple to get to, you just drive straight up to the lookout point. 
Next, you can spend your time shopping around Honolulu and picking up some last-minute souvenirs. Grab some poke for lunch, some yummy boba tea, and you can't leave Hawaii without enjoying Hawaiian shaved ice.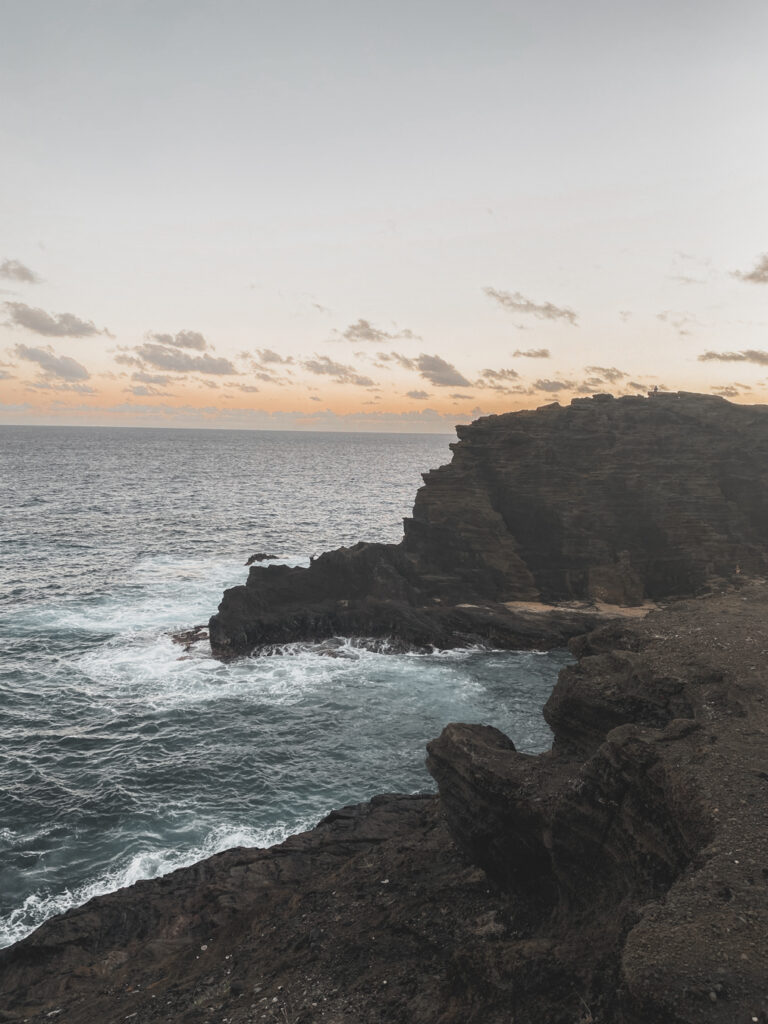 Later, head to the east side of the island to check out the Makapu'u tide pools and the Halona blowhole. It is seriously beautiful over here! This needs to be on your list of things to do in Oahu! You can even swim in the tide pools.
On the way to the airport grab a quick bite to eat before your long-haul flight. We went to Olay's Thai and Lao cuisine in China Town and it was freaking delicious. But I will list out some of the best restaurants in Oahu below so you have some options. 
The Best Places To Eat In Oahu 
Breakfast and Coffee
Arvo Cafe
Island Vintage Coffee
Ali'i Coffee Co
Kona Coffee Purveyors
Morning Glass Coffee
Lunch and Dinner
Olays Thai and Lao Cuisine
Duke's Waikiki
Paia Fish Market Waikiki
Roy's Waikiki
Poke Bar
Helena's Hawaiian Food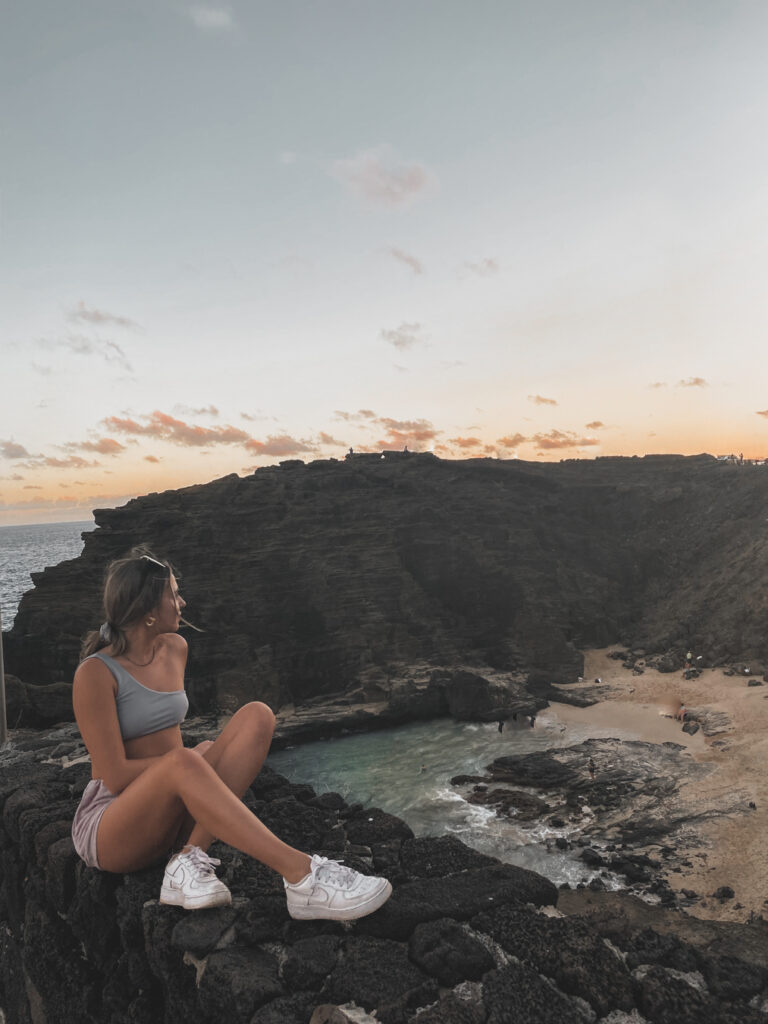 Final Thoughts On Exploring Oahu And Maui In One Week
And that's how you do Oahu and Maui in one week. You by no means need to follow this exact 7-day Hawaii itinerary step by step, but I hope you got some ideas for your own trip from this guide! I have to say, if you want to do all of these activities but want a more relaxing vacation, you will need a few more days in Hawaii. Overall, Hawaii was absolutely beautiful! It really is the "Southeast Asia of America!" I could see the similarities to Thailand with the mountains and beautiful beaches all in one view. Our days were packed with plans but I thought it was perfect and totally worth it! If you have ever visited Hawaii, what island did you visit and how did you like it? 
xx Syd.
PIN IT!