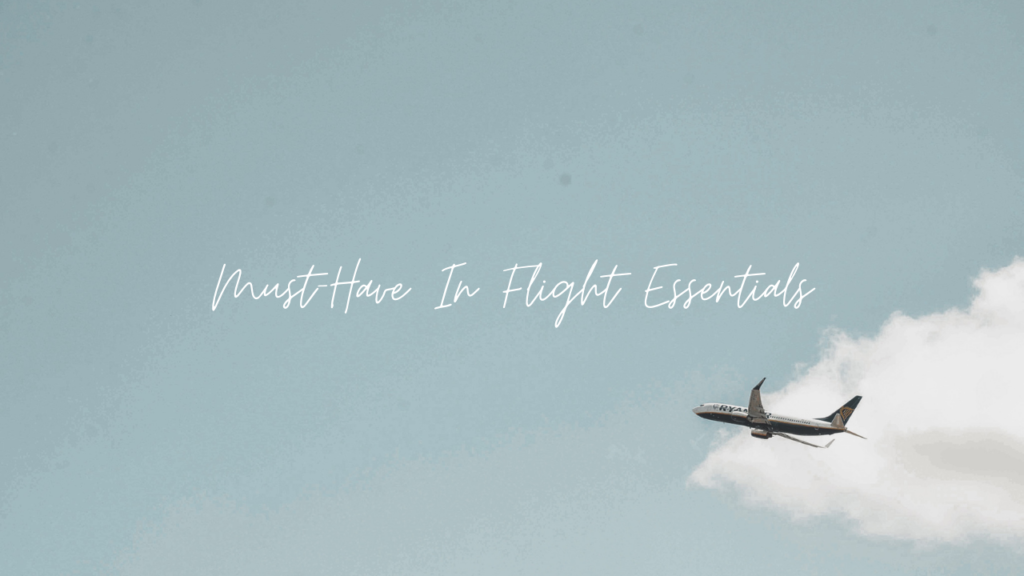 (Disclaimer: This post may contain affiliate links, which means we may receive a small commission at no extra cost to you.)
Being prepared for a long haul flight is a must. And this is most definitely the case for 2021. If you've ever been on a long flight, you know the drill. And if you haven't, I'm here to share ALL the long haul flight essentials you might need. Trust me, it's better to be over-prepared than underprepared. Can you imagine taking off for your 24-hour journey and then realizing you forgot headphones?! Yeah, me neither.
The longest flight I have ever been on was a 15-hour flight from San Francisco to Hong Kong when I was headed to Thailand. It was insanely long but I felt pretty prepared for it. In this guide, you will find more than 25 in-flight essentials you might need. Near the end, I'm also sharing some life-saving long haul flight tips and how to beat jet lag. Alright, let's get into it! Here are the best long haul flight essentials you need to survive your next trip.
Disclaimer: This article contains affiliate links.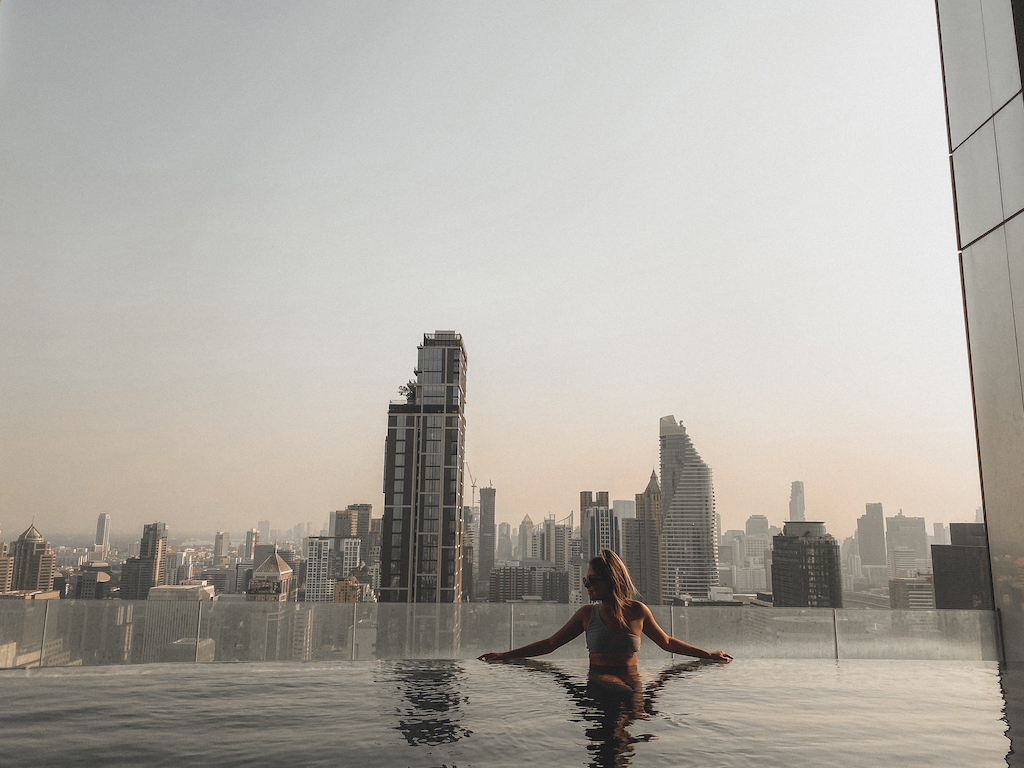 Before Your Long Haul Flight
In The Airport
Airport lounge access! This isn't for everyone and I personally have not done this, but it's a good little tip that I found out about recently. In the airport, you can pay a reasonable fee for lounge access. Airport lounge access typically costs anywhere from $30 to $60 dollars and includes food, showers, couches, and more. If you have a flight prior to your long flight, this might be a good place to change, shower, and get some food before your next flight.
The Right Carry-On Bag

The first long haul flight essential you need to make sure you have is the perfect carry-on. Having the right carry-on is critical to hold all of your belongings and ensure that you can find things easily. I love using my CalPak carry-on or my North Face backpack. Both have held up great through the years! Here are a few other carry-on recommendations.
Shop Carry-On Luggage
Click here to find useful tips for flying during a pandemic.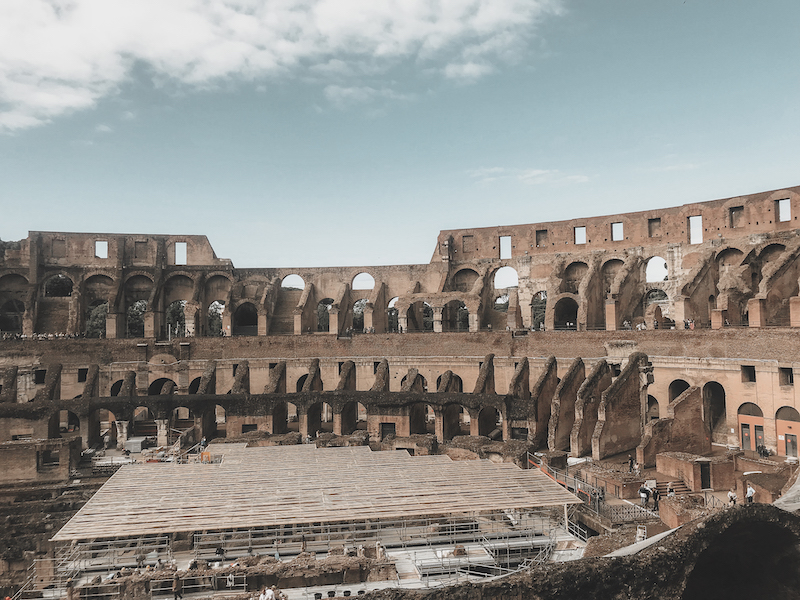 Long Haul Flight Essentials For The Plane

Entertainment and Electronics

The first category, and maybe the most important, is entertainment. In my opinion, you have got to have some form of entertainment for a long haul flight! I honestly don't know how else you would make it through Lol. Here are a few recommendations:
Noise-canceling Headphones:

I love using my

AirPods

or

beats noise-canceling headphones

Downloaded movies, tv episodes, podcasts, music: Make sure everything is downloaded prior to take-off just in case you don't have wifi on the flight.
Phone charger: You never know when a phone charger might come in handy!

Portable charger:

And you never know when there will be no outlet in sight.
Laptop/IPad: Bring this if you need it. You could spend some time doing work or watching a movie
Cell Phone
Snacks
Snacks are a necessity on my list of long haul flight essentials! It's good to have some backups just in case that airplane food does not live up to your standards. Here are my fave snack ideas:
Small meal: Pre-making a sandwich, wrap, or salad is a good idea if you aren't into airplane food. It's also great to have a small meal on hand if you want to avoid the costs of airport meals. I love these

bento boxes

from amazon. I have used mine a few times to pack a nice snack or a small meal.
Snacks: For my all-time favorite travel snacks,

click here!

Gum
Tea: I always pack some

sleepy tea

for my long haul flights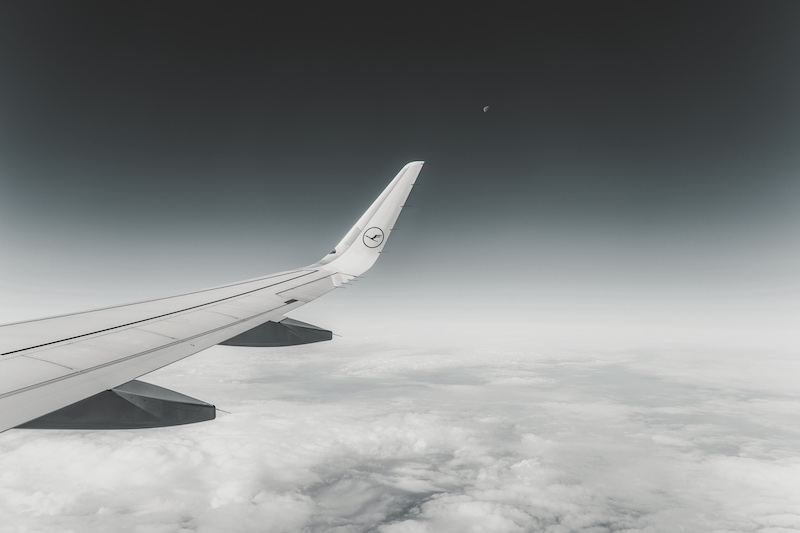 Sleep and Comfort

Sleep is so so important! And if you can manage to sleep on the flight, it will go by a lot faster. This was definitely the case for me on my 10-hour flight to London. Listed below you will find the best sleep aids and things that will help you stay cozy on that long flight.
Sleep Aid: Melatonin, Dramamine, Benadryl. This stuff will knock you out.
Sleep mask: lights out! A cozy sleep mask is a must for a long plane ride.
Sleep podcast: I discovered the sleep podcast, Sleep With Me, before my trip to Europe. Just pop in some headphones and listen to the podcast as you are falling asleep. It really does help!
Fuzzy socks: I don't know about you, but my feet are always freezing on flights!
Travel scarf: Okay, I love my scarf from Lululemon. It folds up so small and I use it as a blanket on airplanes.
Neck pillow: Definitely one of the best long haul flight essentials.
Slippers: Slippers are perfect for getting up to go to the restroom. I always wear my heaviest shoes on the plane (which tend to be sneakers), and if I have to get up in the middle of sleeping to pee, I do NOT want to put on sneakers.
Blue light glasses: Blue light glasses are really just great for any situation. If you plan on winding down with a movie, definitely pop on some blue light glasses. This will help you sleep better
Sweat pants: Bring some sweats in your carry-on bag. If you have a layover before your long haul flight, you will want to change then! Put on your comfy clothes right before you get on that long plane ride.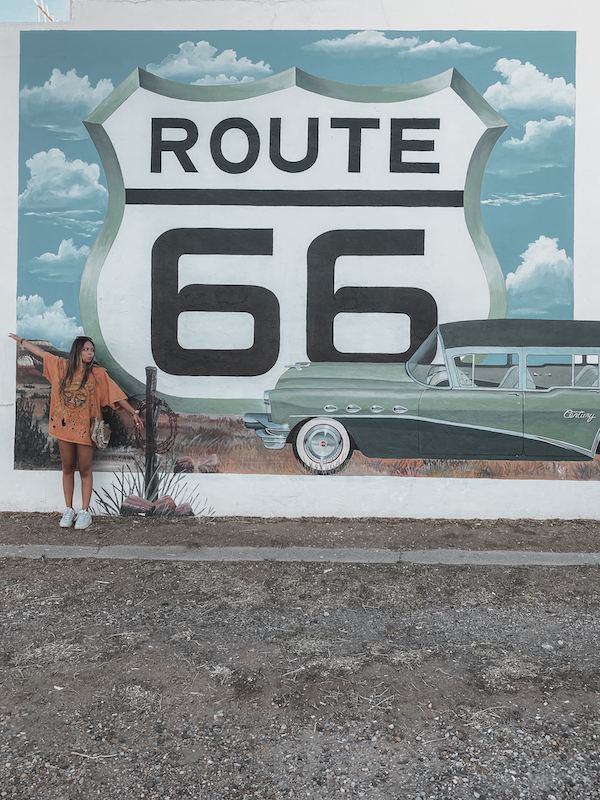 Travel Documents

Okay, maybe this is the most important on the list of long haul flight essentials. You won't get very far without these documents! Don't forget them!
Pen: For filling out forms. If you are leaving your home country you will definitely want a pen.
Documents required for entry: Make sure you know (and have!) all the required documents for entry to the country you are visiting. Whether that's a visa, passport, or nowadays – covid negative documentation.
Cash in the local currency, ID, passport, COPY of your passport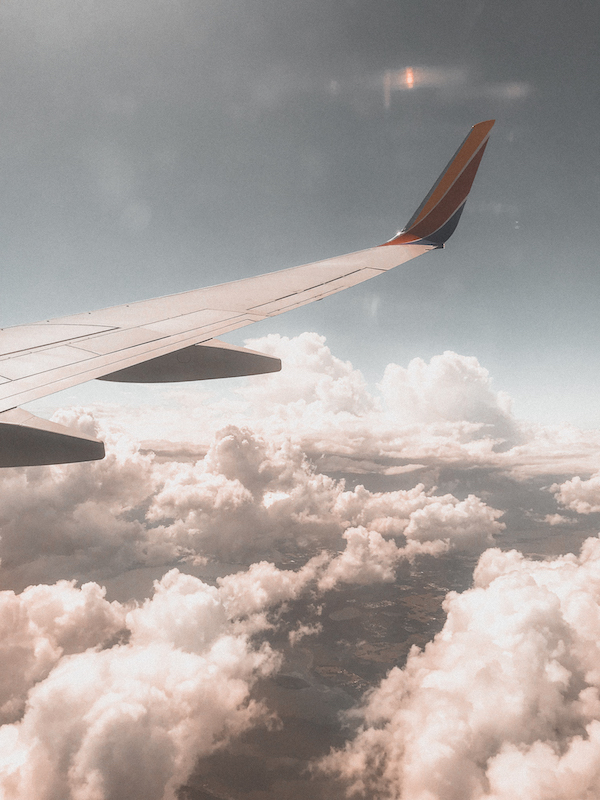 Health

Your health is extremely important when flying. I mean there is no time to get sick before a vacation! And that is especially the case now, flying during a pandemic. You need to make sure you take all precautions to avoid getting sick while traveling. Here are some products that will help with your health while flying:
Compression socks: Compression socks are a must for a long haul flight. The purpose of compression socks is to apply pressure to your lower legs, helping to maintain blood flow and reduce discomfort. This helps, trust me.
Peppermint essential oil: If you tend to get headaches or motion sickness during flights and need a quick fix, this is for you. Dab some peppermint essential oil on the sides of your forehead. This works wonders for me.
Advil: Or any other medicine of that sort
Mask: Duh. And bring extras just in case you lose one.
Hand sanitizer: Pretty self-explanatory too. Keep those germs away. I am loving this spray hand sanitizer by the brand Mrs. Meyer's.
Wet wipes: Wipe down those germs
Reusable Water bottle: Opt-in for a more sustainable option rather than a plastic water bottle. You will also avoid the absurd prices at the airport.
Motion sickness meds: Get yourself some Dramamine just in case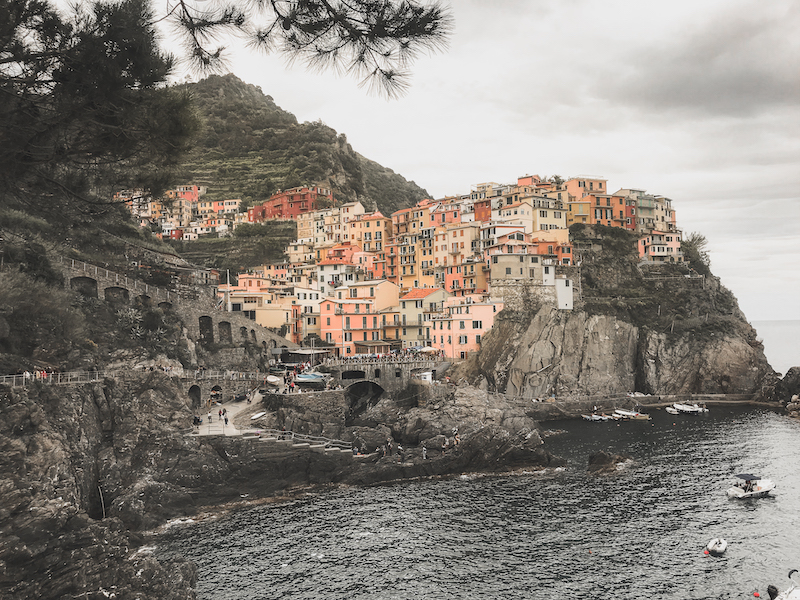 To Freshen Up And For When You Land

I don't know about you but I always feel absolutely disgusting after a flight. Even if it's only 30 minutes. So, this category is essential! I feel SO much better freshening up on the plane and after I land. This really does make a world of difference.
Facial spray: The best for a quick refresh.
Summer Friday's Jet lag mask: This mask is everything. I swear by it! I love putting it on mid-flight or right before I'm about to fall asleep.
Eye gels: Say goodbye to under-eye circles with some eye gels. They feel nice on your skin too!
Lotion: Lotion is one of the top long-haul flight essentials! Your skin gets incredibly dry in flight and especially on a very long one.
Lip balm/chapstick: I might have a slight obsession with chapsticks, I always have like 5 lip products with me. I love Burt's bees chapstick, the Laneige lip mask, and Glossier's Balm Dotcom.
Clear pouch: Having a clear pouch makes life so much easier when trying to find your products! Check out this super cute one from Stoney Clover Lane.
Baby Wipes: Since you can't take a shower, baby wipes are the next best thing.
Sunglasses: Don't forget the sunnies!
Minimal makeup: This is totally optional, but if you have somewhere to be right after your flight, having a bit of makeup might be a good idea.
Deodorant wipes: I find that a pack of deodorant wipes squeezes into a packed carry-on bag a bit better than a stick of deodorant. Sometimes I feel a bit more refreshed using the wipes instead of the stick during a long flight.
Perfume: I love having a small bottle of perfume to travel with. Check out these travel perfume bottles from Amazon.
Toothbrush/toothpaste and face wash: This is essential! As soon as I hopped off my 15-hour flight, I went straight to the bathroom, brushed my teeth, and washed my face.
Extra clothes & underwear: Don't forget an extra pair of underwear! You will feel SO much better by changing your whole outfit.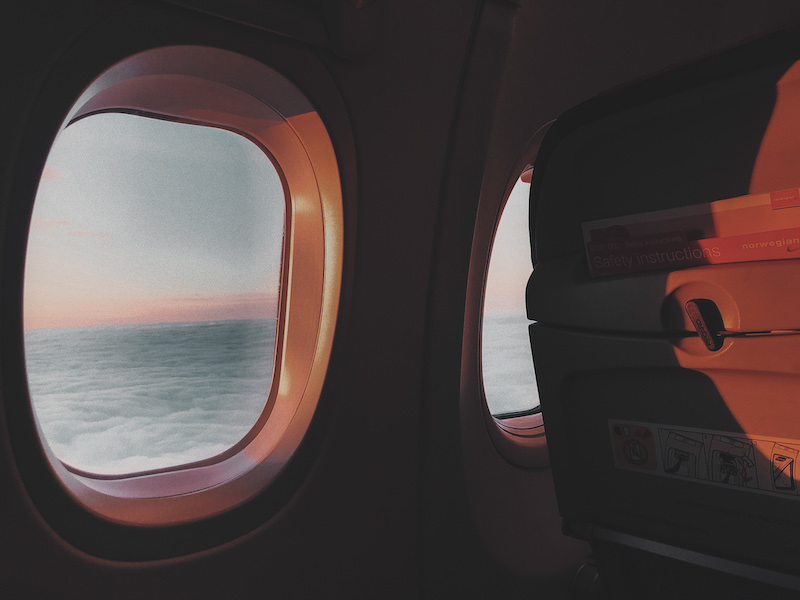 Long Haul Flight Tips
Stretch as much as you can
Wear layers, most planes tend to be cold but it's always good to wear layers on planes
Don't forget to drink water! This will help with jet lag and just make you feel so much better when you arrive
Change before your longest leg of the trip
Tips On How To Beat Jet Lag

Set Your Phone To The Time Zone You Will Be Landing In

Before you take off, set your phone to the time zone that you will be landing in. Honestly, it helps! I did this on my flight to London and before I left for Bangkok. Changing your clock will put you in the mindset of the time zone you will eventually be in. When you take off, if it's bedtime there, then try to sleep! And vice versa.
Get Busy As Soon As You Land

Traveling is exhausting. And it's ~very~ exhausting when you have a 20+ hour day of traveling. I know it's so tempting to just go straight to a nap but try to avoid this! Grab a coffee and start walking around the city. Stay as active as possible until bedtime.
Time Your Meals

This tip on how to beat jet lag is similar to the clock tip. Time your meals around the time zone you will be entering. This means, even at the airport, (or even the whole day before your flight takes off) eat your meals around the time zone you will eventually be in. So if you really want dinner, but dinner time isn't for another 4 hours – wait! This could help your jet lag when you land.
Drink Water

This jet lag tip is pretty self-explanatory. Hydrate! Your body needs water. I know it's annoying having to get up and use the bathroom every few hours on a flight, but your body will thank you later.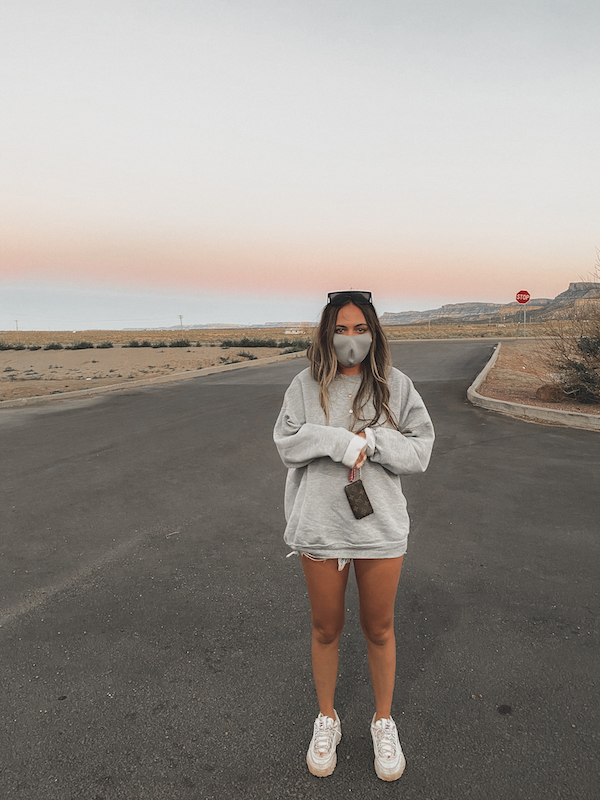 Final Thoughts

Long flights don't have to be miserable! If you are prepared – take that time to disconnect and chill. And I know it can definitely be stressful packing for a long haul flight. I don't know about you, but I always think I am forgetting something when packing! I hope this long haul flight essentials guide was helpful. Let me know in the comments one thing you can't live without during a flight?
xx Syd.
SHOP MY LONG HAUL FLIGHT ESSENTIALS
PIN IT!