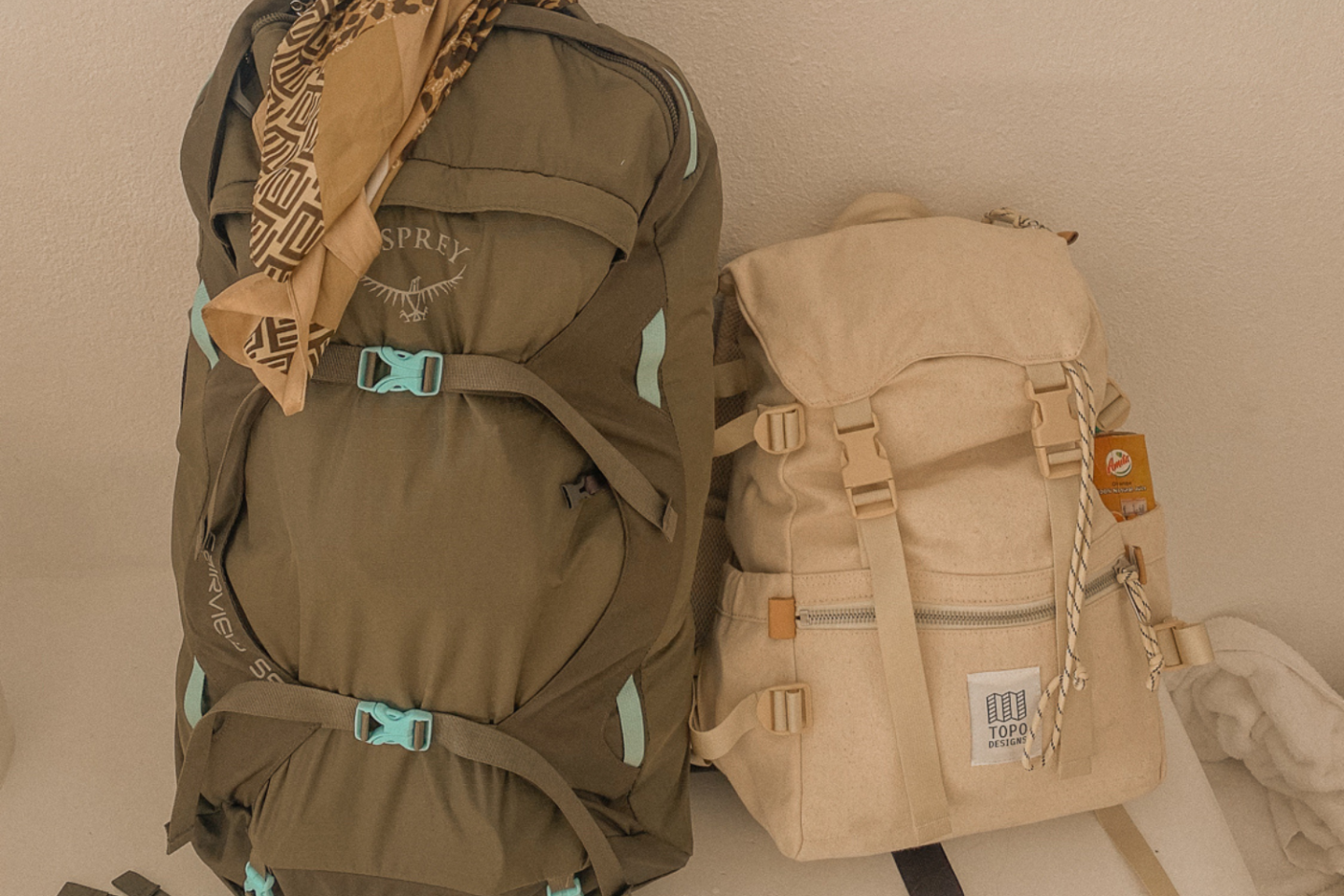 (Disclaimer: This post may contain affiliate links, which means we may receive a small commission at no extra cost to you.)
Going on a trip soon? Here are the best bags for traveling. 
If you're like me and are always on the lookout for a new bag to bring along on an adventure, this post is for you. With so many out there, it's difficult to find a bag that's cute, functional, and durable. Here are my 11 favorite travel bags. 
This post is all about the best bags for traveling that everyone should know about.
BEST BAGS FOR TRAVELING
1. OSPREY FAIRVIEW 55
If you're planning a backpacking trip, go get this bag asap! I've taken this bag to Costa Rica and Colombia, a European backpacking trip, and more. It's incredible. 
Not only is this bag durable, but it has excellent back support and a chest strap, and it zips all the way open like a suitcase. This makes it so easy to find your things! The Osprey Fairview 55 also comes with a detachable day pack for extra space. 
The backpack is compact enough to fit in the overhead bin a majority of the time. There were only a couple of instances in Europe where I ran into it being too large because I was on such a small plane, so it had to get checked. If the bag does get checked, it has a zipper around all the straps that turn the bag into basically a handheld suitcase. So nothing gets destroyed in-flight. The details on this bag are perfect!
2. LULULEMON EVERYWHERE BELT BAG
Okay, I know the Lululemon belt bag is basic and everyone has it but it's worth it. It comes in a zillion colors, it's durable and holds so much. I can't stress enough how important it is to travel with a fanny pack, especially in places where pickpocketing is common.
3. DAGNE DOVER BELT BAG
Dagne Dover creates the nicest bags. I have this belt bag and absolutely love it! The neoprene material is a very durable and unique touch. You really can't go wrong with any product from Dagne Dover.
4. TRAVEL MAKEUP CASE
This is one of the top-rated travel makeup cases on Amazon and I can attest to how great it is. It seriously holds every makeup product you would need and keeps it all so organized.
I always end up throwing hair products in here as well because it's so spacious. There's a compartment for makeup brushes and I love how you can rearrange the inserts to make them fit what you need. This is seriously one of the best bags for traveling!
5. TOPO DESIGNS ROVER PACK
Another backpacking essential. When I pack for a backpacking trip, my Osprey and this Topo Designs Rover Pack are my go-to. This backpack is the perfect airplane carry-on bag and day pack. 
I love how everything is so secure in this backpack. It also comes in a variety of fun colors!  
6. CALPAK PACKING CUBES
Packing cubes technically aren't a bag but trust me, the CalPak packing cubes are worth it. I prefer the CalPak cubes because they are so dang durable and have lasted me years. I tried cheap packing cubes from Amazon and they ripped the second I tried to zip all my clothes up.  
[
RELATED POST
:
20+ LONG HAUL FLIGHT ESSENTIALS YOU NEED
]
7. BASIC TOTE BAG 
A basic tote bag is one of my top travel essentials. If you are going anywhere, a tote bag is a must! It can be used as a day bag, beach bag, or laundry bag, for groceries… so much potential. Totes are also easy to pack in your main travel bag. I love this trendy one from Amazon.
8. BEIS WEEKEND BAG
Beis has incredible travel products! I love this weekender bag for smaller trips. It also has all the storage you can think of. I am obsessed with this chic tan color.
9. HARD SHELL LUGGAGE
It's always good to have a hard shell luggage set and this BEIS 21 luggage is durable and chic! Hard shell luggage is so important to keep your things secure and dry (in case it rains). I also find that hard shell luggage holds more that the soft side suitcases.
The best places to purchase hard shell luggage:
10. CAMERA BAG
This chic, minimalistic, camera bag is perfect for on the go. If you are a photographer or content creator like me it's always important to keep your tech gear organized and protected. The Brevite camera bag does just that.
11. BEIS ON THE GO ESSENTIALS CASE
The BEIS on the go essentials case is perfect for storing tech gear, beauty products, medications, and really anything that needs a place. It's incredibly functional, and the clear case makes it easy to find exactly what you are looking for.
[
RELATED POST:
YOUR NEW SUMMER ESSENTIAL: THE CALICASE WATERPROOF PHONE POUCH
]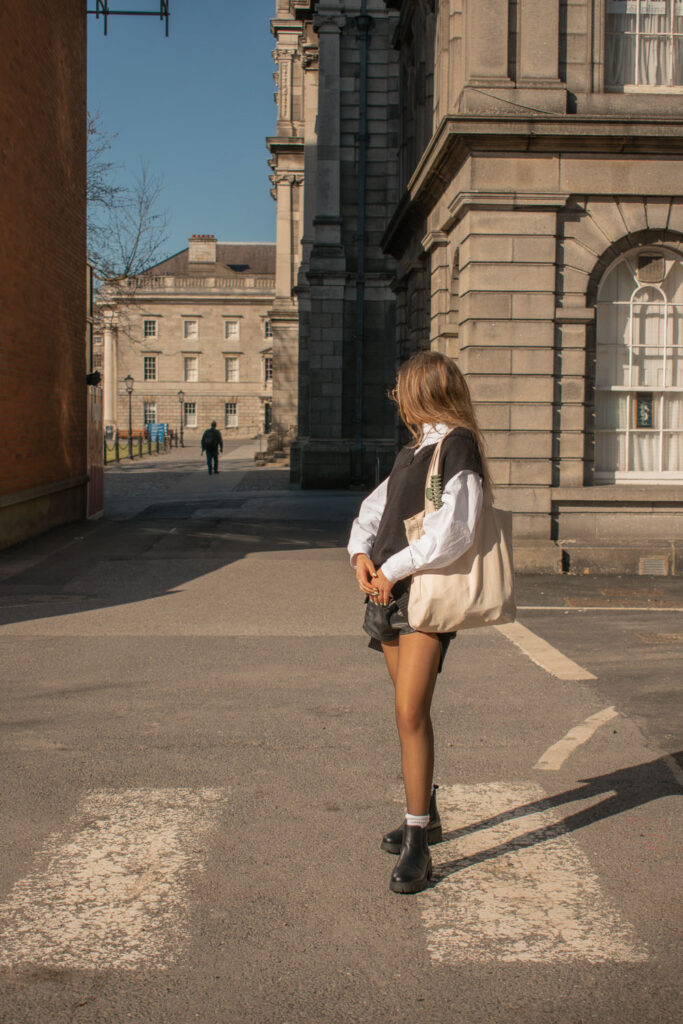 FINAL THOUGHTS ON THE BEST BAGS FOR TRAVELING
And that wraps up this post all about the best bags for traveling. I hope you found this article helpful! If you have any questions, comment below, DM me on Instagram or email me at sydabroad@gmail.com.   
PIN IT!
WANT TO SUPPORT?
I always appreciate it when friends and family reach out wanting to support Syd Abroad. If you'd like to support the blog, here are a few brands that I am affiliated with. All you do is click the links, and I will receive a small commission at no extra cost to you!