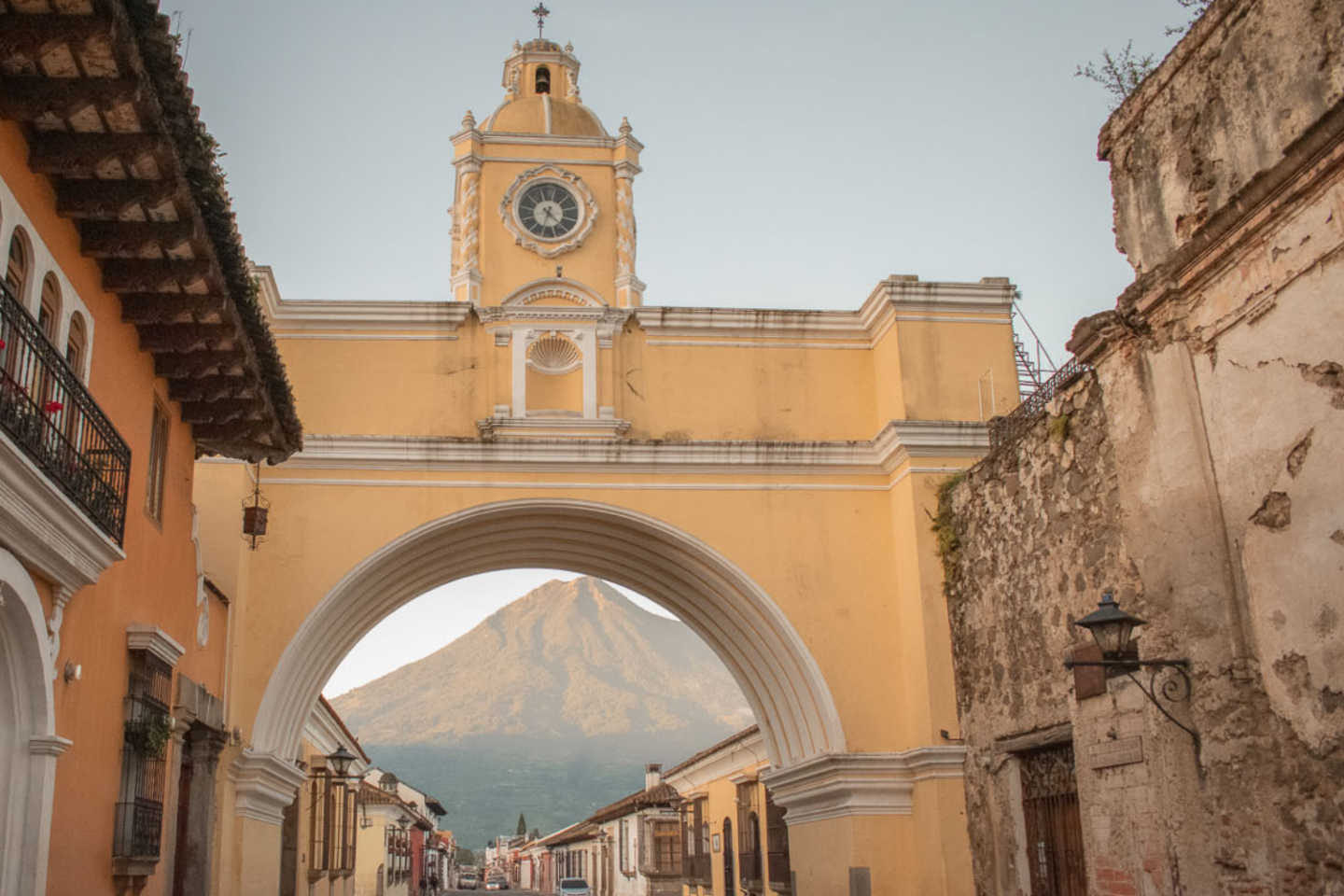 (Disclaimer: This post may contain affiliate links, which means we may receive a small commission at no extra cost to you.)
If you are planning a trip to Central America any time soon, this Antigua Guatemala travel guide is for you!
Welcome to the picturesque colonial town of Antigua, Guatemala. I recently got back from a solo trip to Antigua and in this guide, I'm going to share everything you need to know before you visit. Keep reading to find the best activities in Antigua, where to stay, how to get around, delicious cafes, and more! 
I spent just about 4 days in Antigua, Guatemala and that was simply not enough. When I tell you this was seriously one of the most incredible places I have yet to visit, I mean it. Antigua is a small colonial town located about 25 miles from Guatemala City surrounded by three volcanos, making it one of the most unique cities in the world. I mean, what other city is surrounded by volcanoes? Antigua's laid-back atmosphere and very rich culture most definitely make it worth a spot on your bucket list, so let's get into this Antigua Guatemala travel guide!
This post is all about the ultimate Antigua Guatemala travel guide.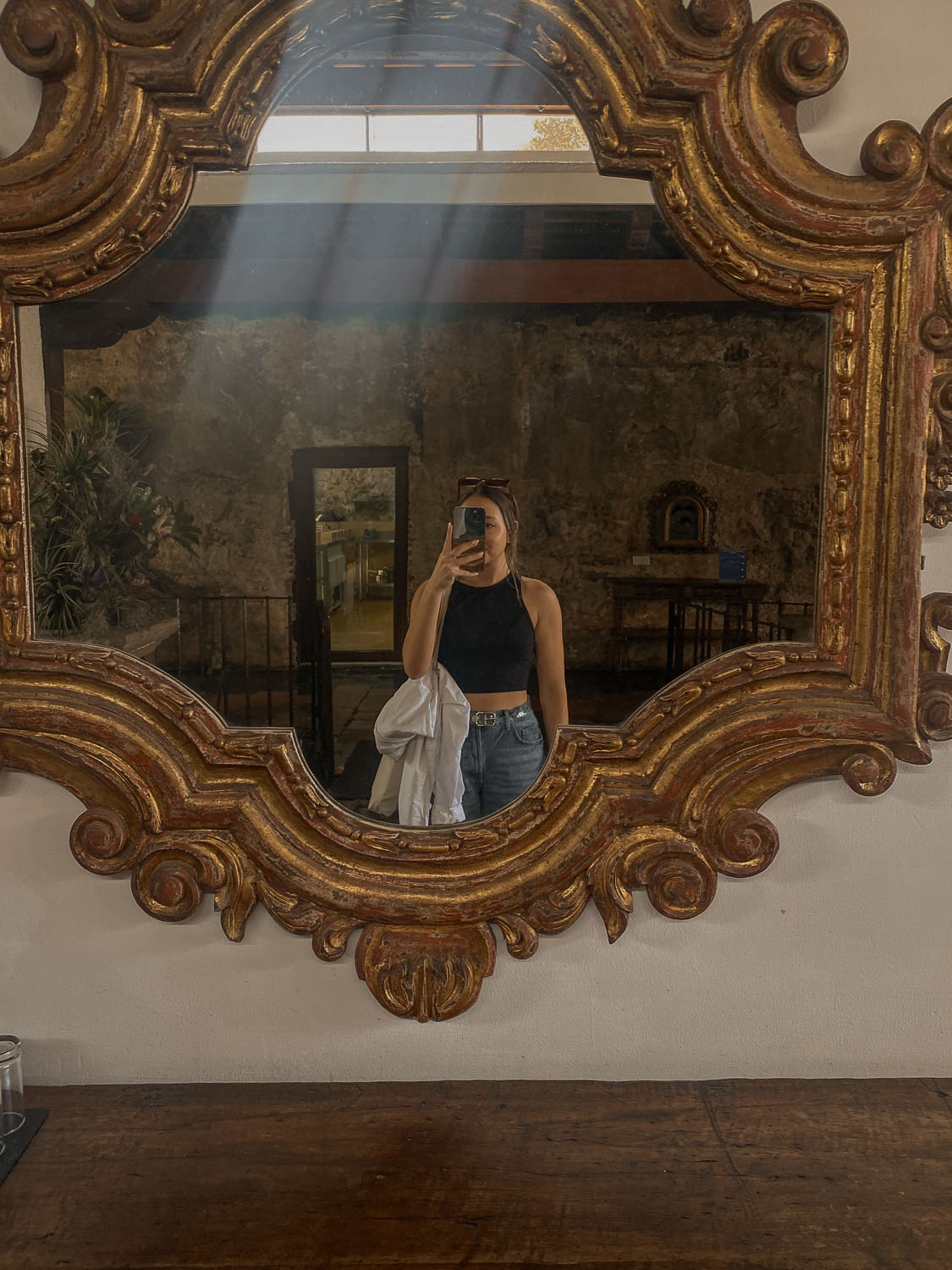 THE BASICS
CURRENCY = GUATEMALAN QUETZAL  
The currency in Guatemala is the quetzal. (GTQ)
1 USD = 7.7 Guatemalan Quetzal
Many restaurants and shops do accept card payments but I also found that I needed cash for many activities as well. There are plenty of ATMs in the city center, "BAC" ATM is a reliable ATM to use in Antigua. You can find them in the main square.
LANGUAGE = SPANISH
The local language is Spanish, however, I found some people did speak English. I know a bit of Spanish here and there but I'm not fluent whatsoever. Everyone was really patient with me and Google translate was really helpful! Basically, don't worry if you don't speak Spanish, you will get around fine. However, I do suggest learning a few phrases to be polite.
PHONE & INTERNET
Antigua is a digital nomad hot spot with cafes on every corner and great spots to work! You will find so many places with reliable wifi in the city.
DAILY BUDGET
Antigua is an affordable city to visit. Expect to pay 3 to 8 USD for a meal, 12 to 20 USD for a hostel, and 5 to 10 USD for activities. You can budget as little as 20 to 35 USD per day if you are traveling on a budget. The most costly activity I did was the Acatenango overnight trek (about 65 USD) but it was well worth it!
IS THE TAP WATER DRINKABLE?
No, avoid tap water in Antigua and Guatemala in general. Pick up bottled water or use a Life Straw. Most likely your accommodation will provide a place to fill up your water bottle with fresh filtered water.
TIPPING IN ANTIGUA
From my experience at restaurants and cafes, most of the time the tip was included. Make sure to tip if you are doing any activities. For instance, on a walking tour, tip the local guide.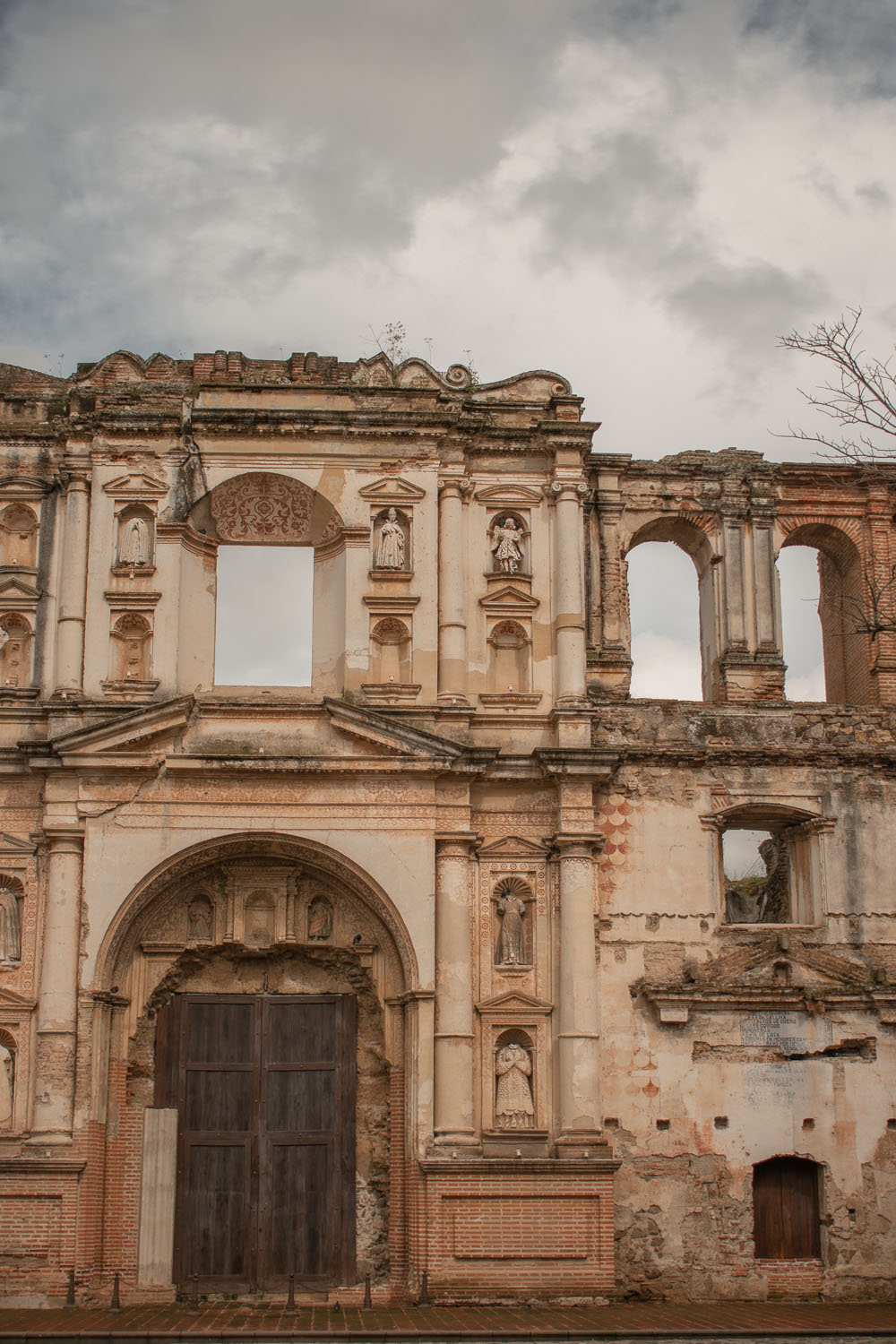 THE ULTIMATE ANTIGUA GUATEMALA TRAVEL GUIDE
HOW MANY DAYS IN ANTIGUA? 
I only spent about three and a half days in Antigua and I easily could have spent over a week. To get the most out of the city I suggest staying five days (especially if you are going to do the overnight volcano trek to Acatentango). I promise you won't get tired of this little colonial town. There really is so much to explore. 
BEST TIME TO VISIT ANTIGUA GUATEMALA
Ideally, for the best weather, the time to visit Guatemala is from November to April (the dry season). However, I did visit in June during the rainy season and it was honestly perfect. I ended up getting really lucky with the weather as it only rained during my first day in Antigua. It was also much easier to book last-minute tours and I didn't find the city too crowded. 
THINGS TO DO IN ANTIGUA GUATEMALA
CONVENTO SANTA CLARA
The Santa Clara Convent ruins are the remains of a religious complex from the early 1700s. The convent and church were founded by nuns from Puebla, Mexico. 
There is so much to explore here – the beautiful courtyard with its fountain, the remains of the convent, a church, and even underground tombs. I didn't end up going into the tombs but I explored the ruins for a while. 
This is a great place to bring a picnic or a coffee and relax and enjoy the beautiful views. Entrance to Convento Santa Clara cost Q40, account for about an hour here. 
I had the most perfect solo afternoon exploring these ruins! After picking up a coffee from Artista de cafe, I headed over to Convento Santa Clara to check it out before I left. I went about an hour and a half before closing and there was practically no one there. It was incredible being able to enjoy the place for myself.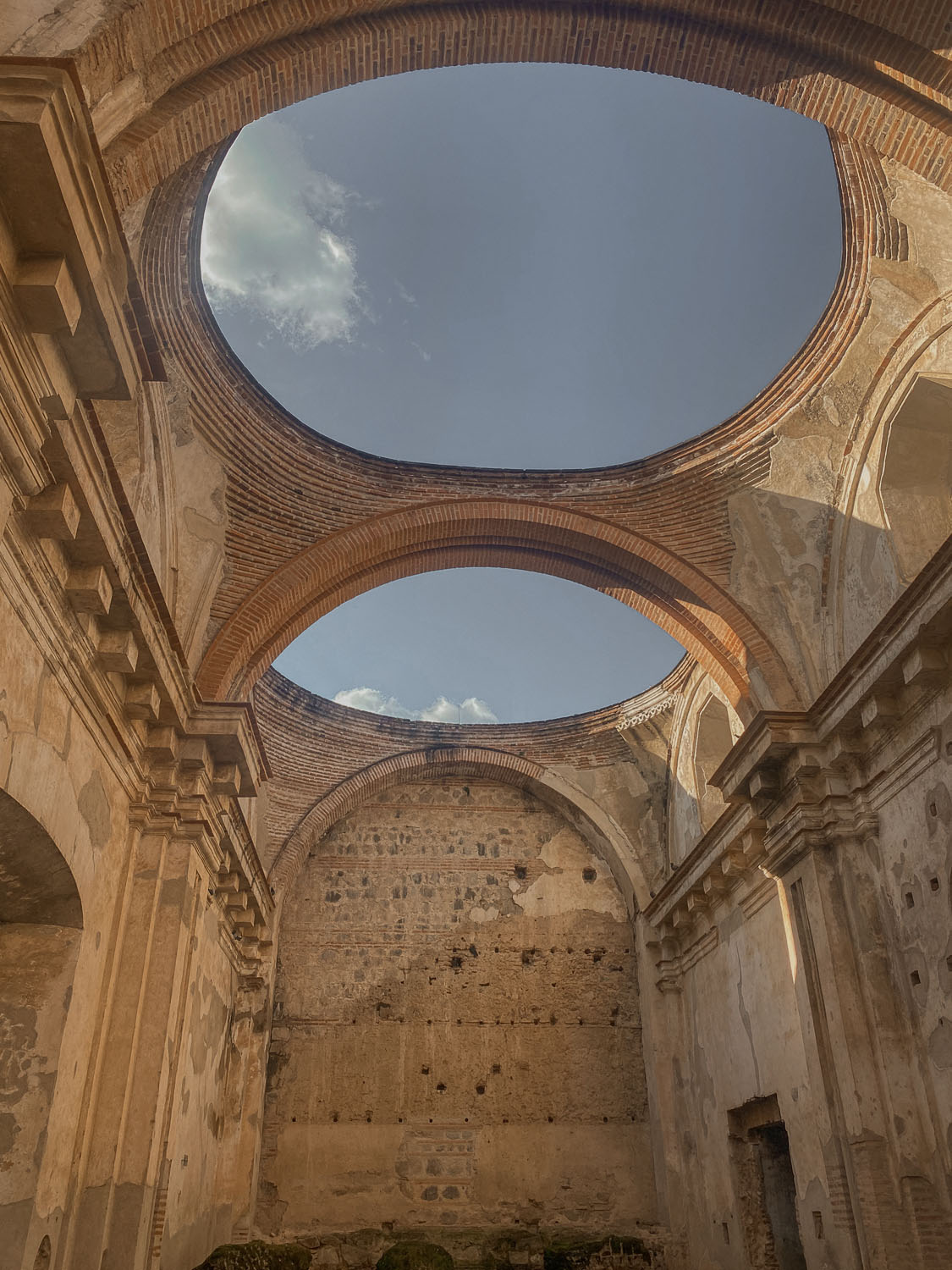 CERRO DE LA CRUZ
You can't miss the short hike to Cerro de la Cruz for the best views of the city. It's honestly not much of a hike, anyone can do it. From the base of the stairs, it probably took about 10ish minutes to reach the top. Plan to spend as little or as long as you'd like here. I think this is the perfect picnic spot if the weather is good! A must on your Antigua Guatemala travel guide.
[RELATED POST: HOW TO SPEND ONE WEEK IN COSTA RICA]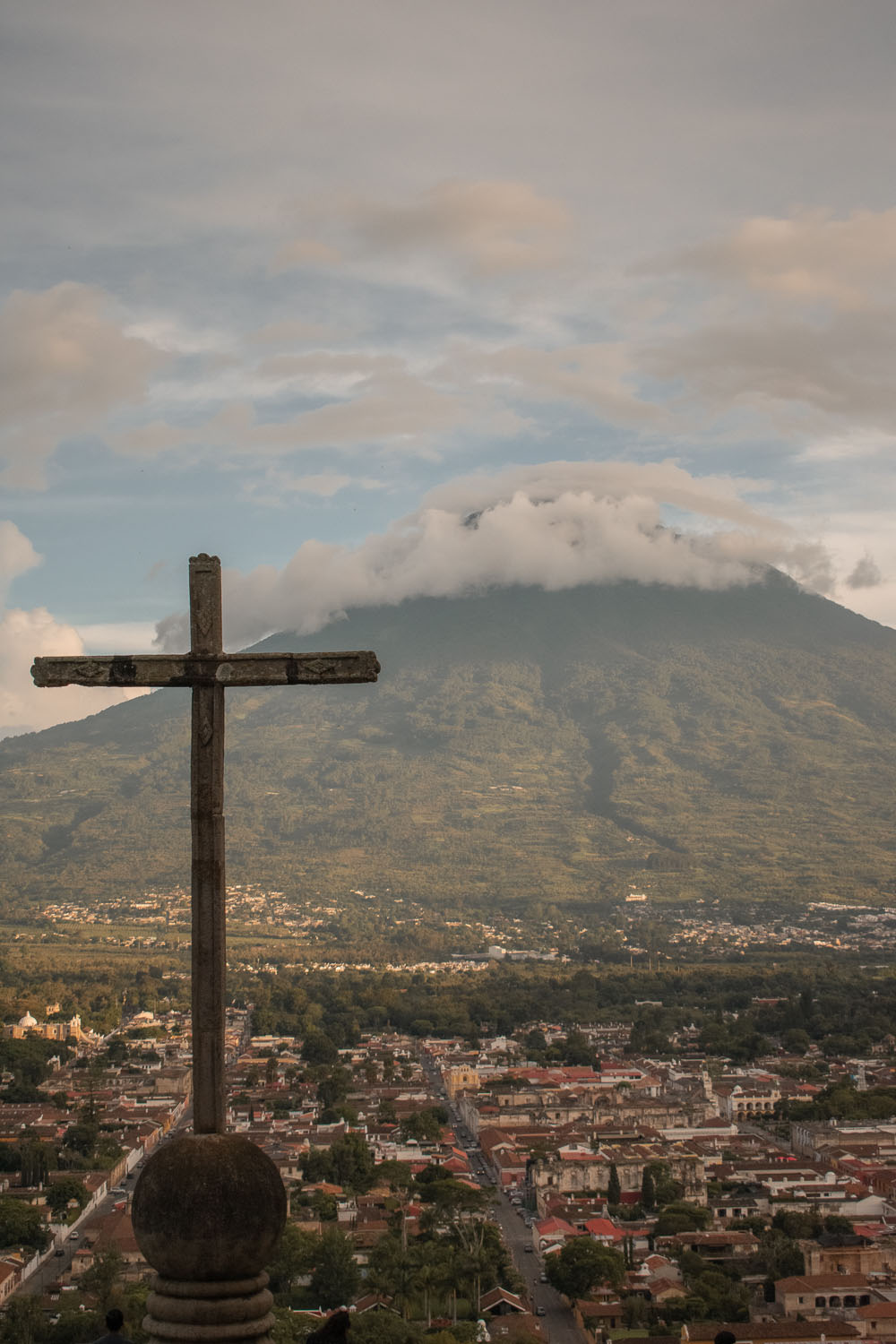 PARQUE CENTRAL
Parque Central is a small park centrally located in the city's square. It's a great place to chill in the shade, people-watch, or pick up a souvenir. You will find locals selling handcrafted items and many cute shops nearby.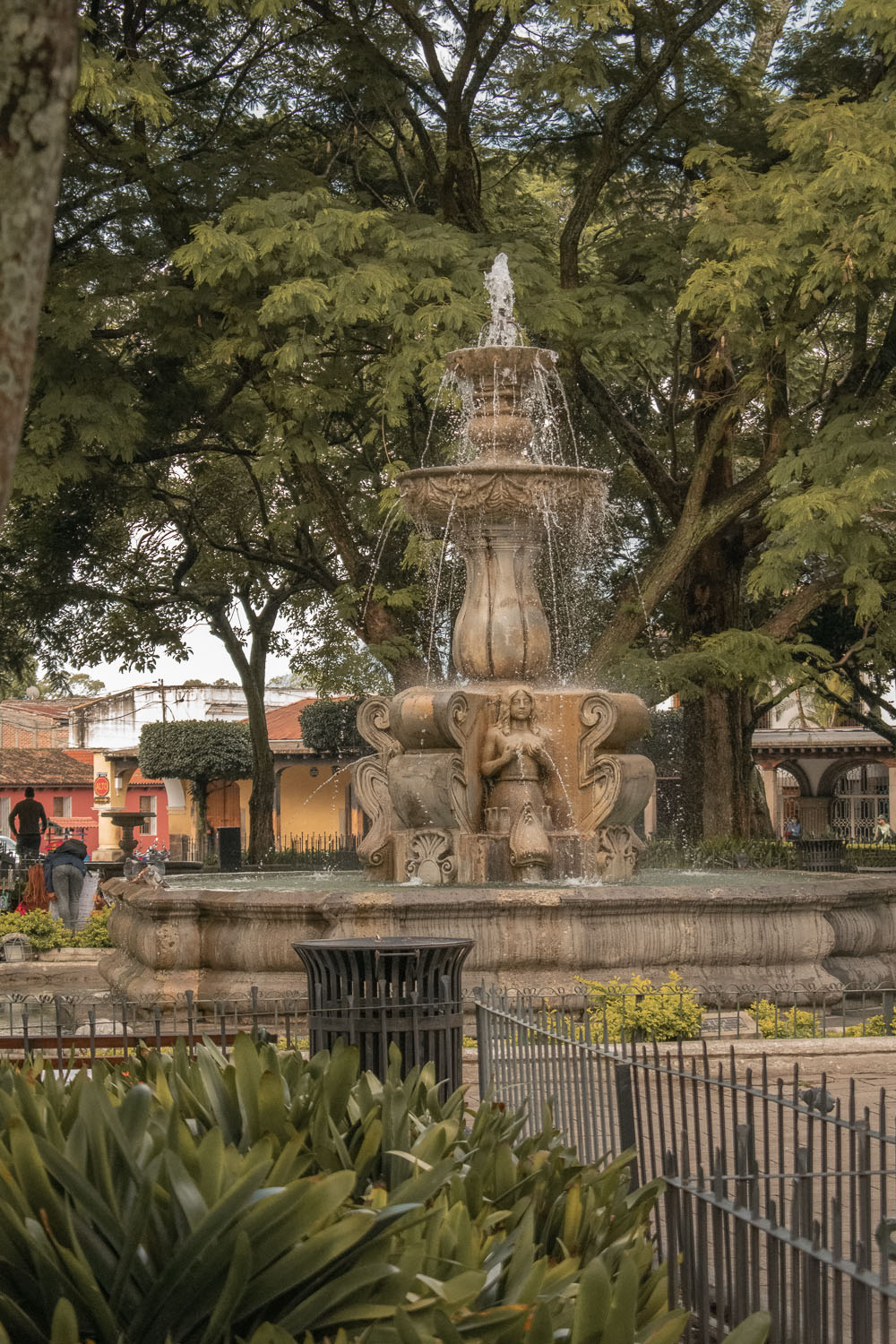 SANTA CATALINA ARCH
Your Antigua Guatemala travel guide isn't complete without this on the list! The most notable landmark in the city, the Santa Catalina arch, was built in 1694 and connected the Santa Catalina Covent to a school on the other side of the street. The nuns could not come into contact with the outside world and so they needed to reach the school somehow. Hence, the Santa Catalina arch was built with a hidden walkway inside that the nuns used to cross.
Now, the Santa Catalina Arch is the most photographed spot in the city. On a clear day, you can capture the arch with a perfect view of the volcano in the background. If you are looking to take good photos, come here early in the morning (like before 8 AM) so you can have it practically to yourself. Otherwise, it's incredibly crowded in the afternoon.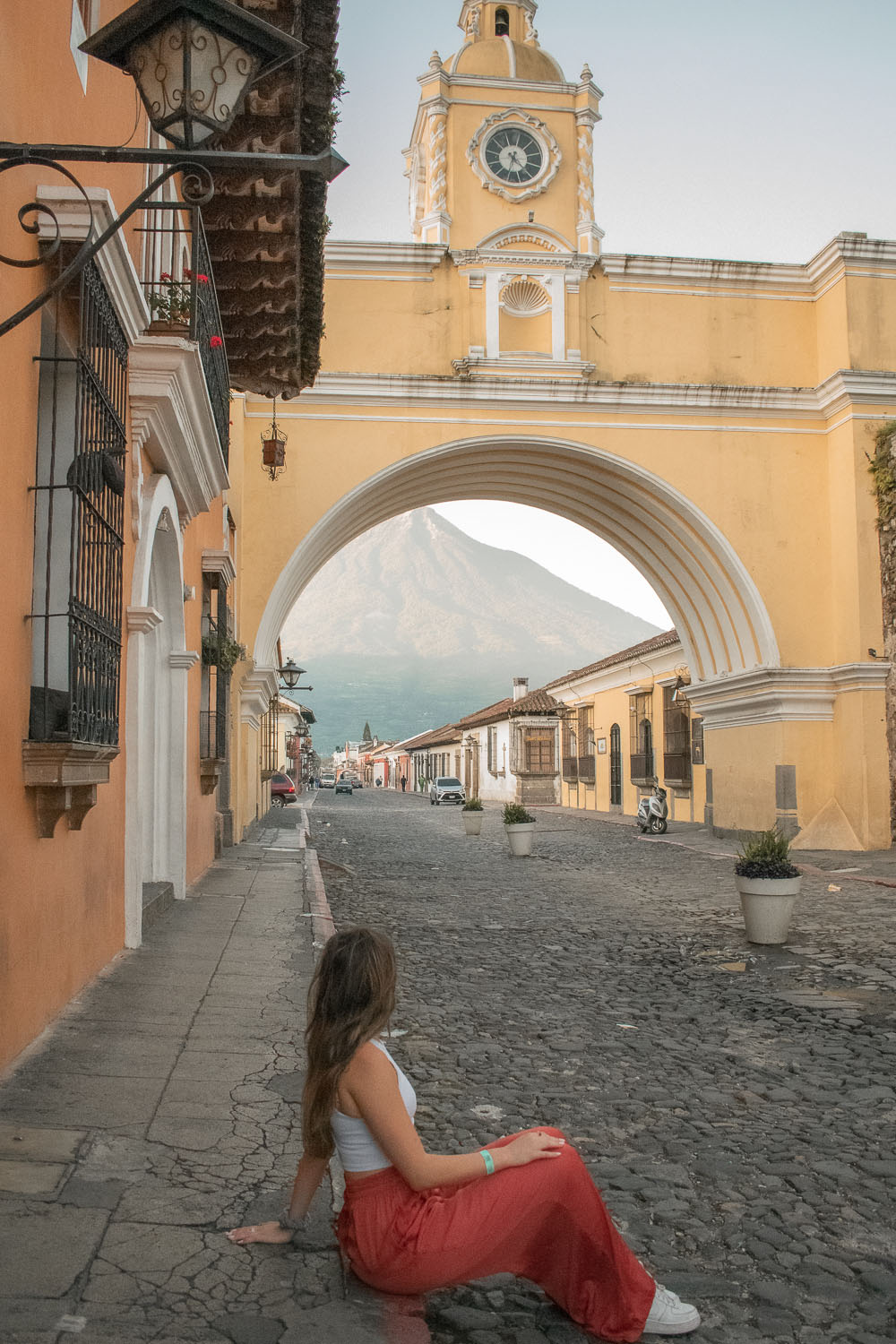 ANTIGUA GUATEMALA CATHEDRAL
Located right next to Parque Central in the main square, you won't miss the Antigua Guatemala Cathedral. The original building was built in 1541 but many earthquakes damaged the original building leading to the construction of the new building in 1680. It's a beautiful place to peak inside if it's open!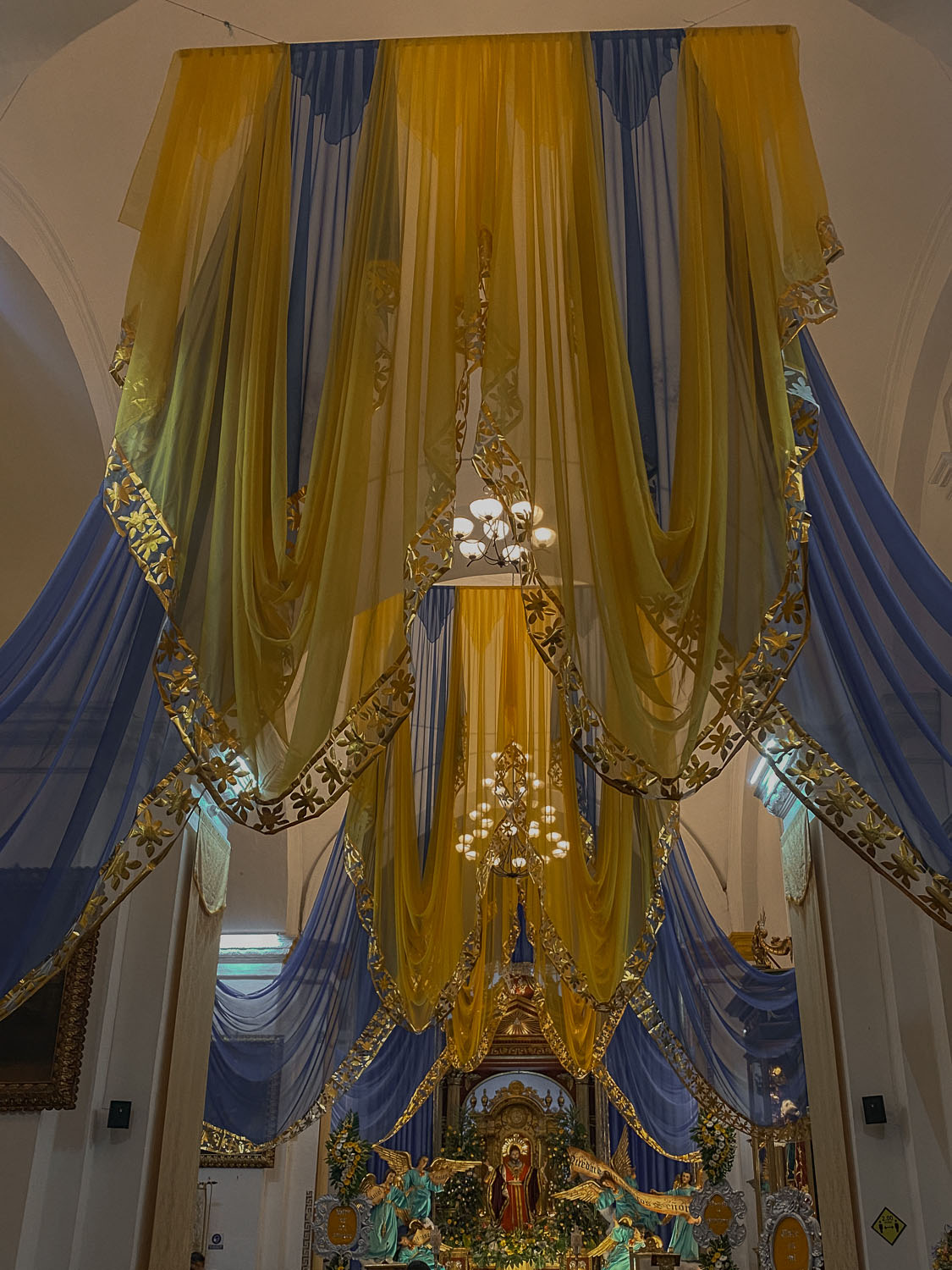 CASA SANTO DOMINGO MUSEUMS
I love to visit museums when I travel, and the museums here at Hotel Casa San Domingo are a must when in Antigua! It was such a unique place to see because there are six museums and two art galleries all located on the beautiful hotel property. The museums are located in what was once the convent of Santo Domingo.

There are a couple of galleries at the front of the hotel that you can see for free and to access all of the museums, it cost Q40. You will find art that dates back to the ancient Mayan culture, archaeological artifacts, paintings, glassware, sculptures, and more. Well worth it in my opinion, and a great activity if it's raining. I enjoyed exploring the museums and learning about Antigua's rich history.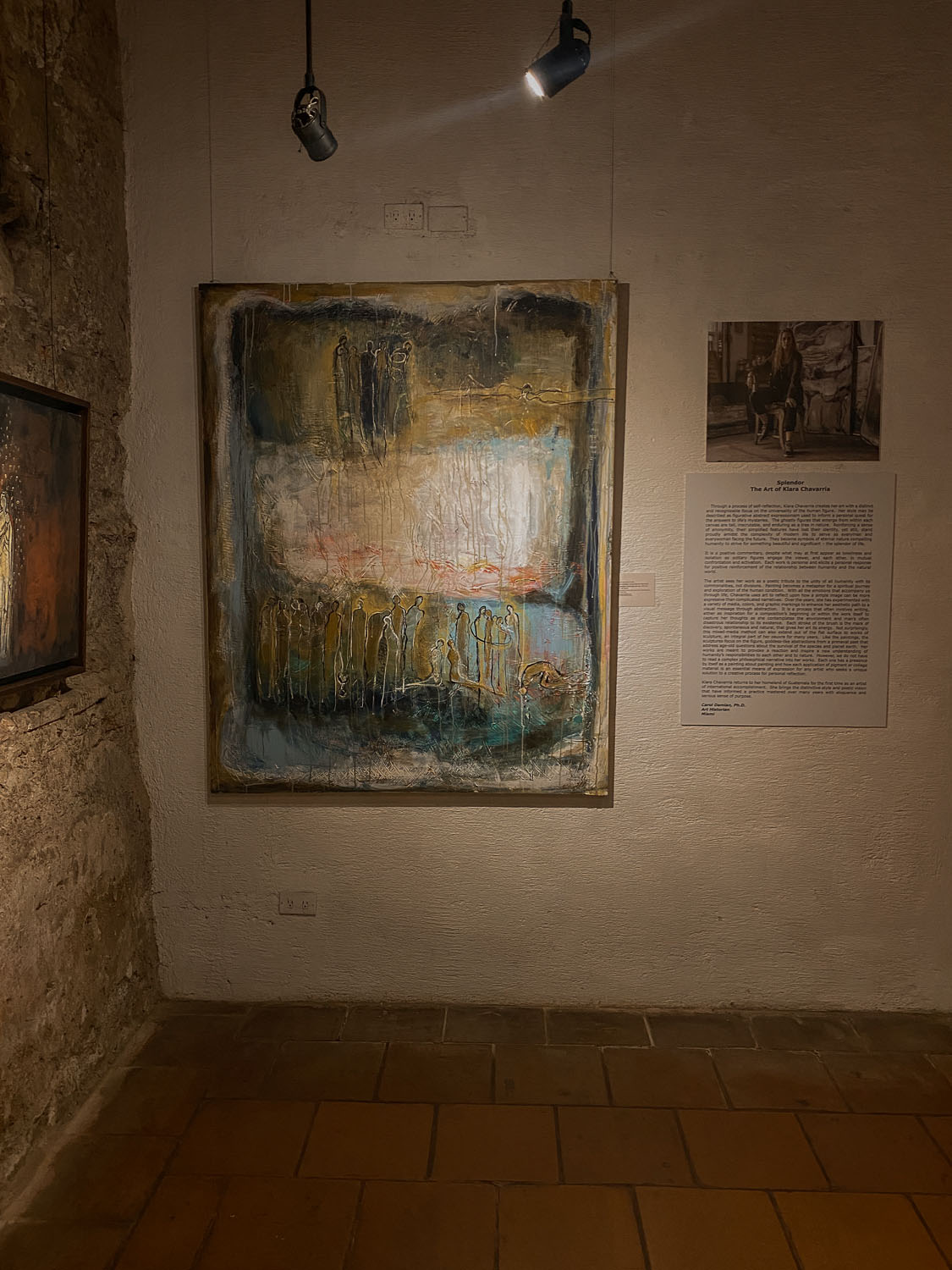 HOBBITENANGO
Hobbitenango is essentially an amusement park attraction inspired by the movie, Lord Of The Rings. It's located about a 20-minute drive away from Antigua. I really wanted to visit during my trip, but unfortunately, I didn't have the time. There are plenty of activities to do here including, ax throwing, archery, mini golf, a tree swing, and more
To get to Hobbitenango from Antigua I suggest taking an Uber or visiting the Hobbitengo office in Antigua and booking a shuttle. It's a great way to spend a few hours in the afternoon and there are great photo opportunities here as well!
LA MERCED CHURCH 
If you are into architecture you have to stop by La Merced. Its unique Baroque style architecture makes it an eye-catching place to see! It's open to the public daily from 9 am to 6 pm.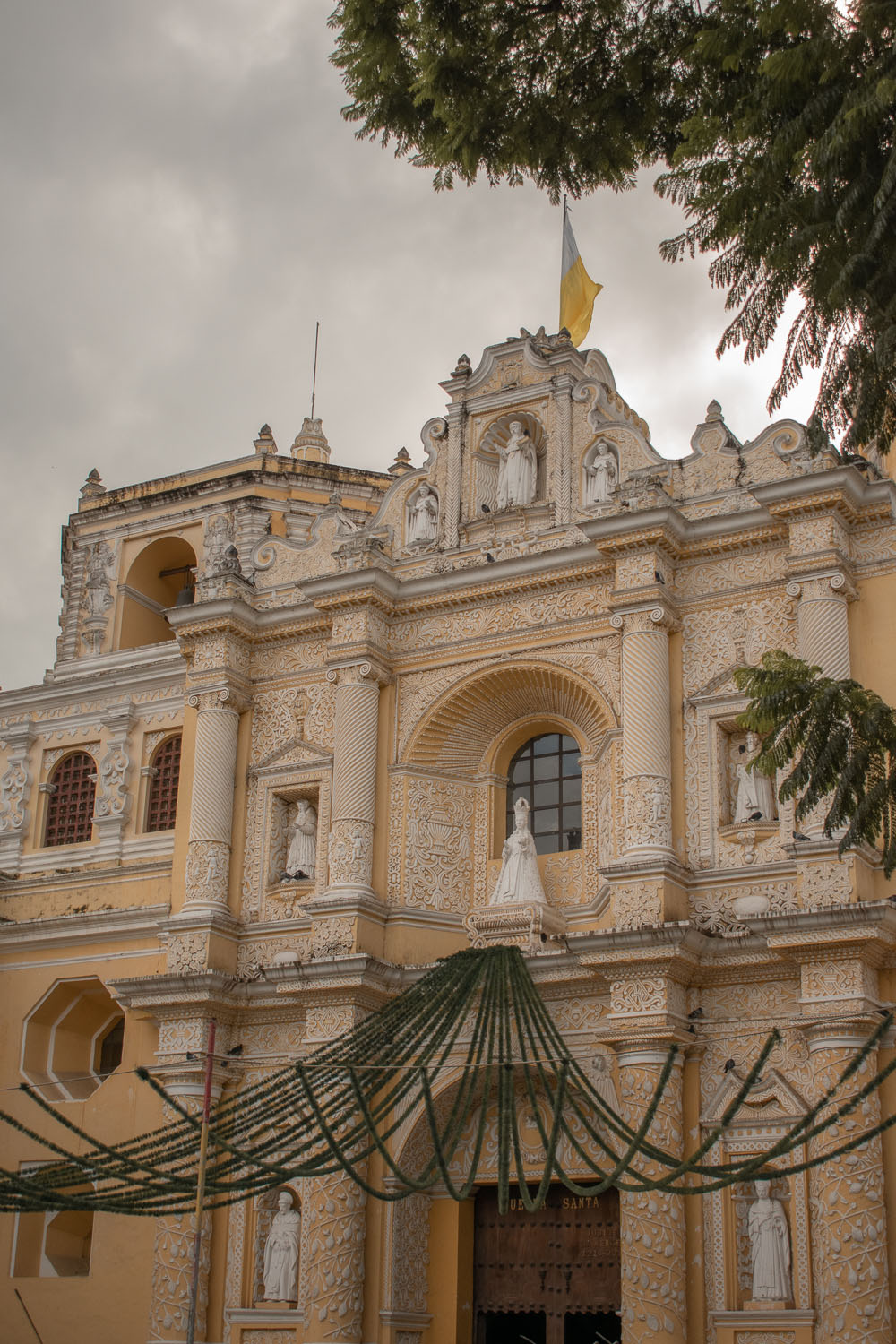 VOLCAN ACATENANGO TREK
This is the bucket list thing to do while in Antigua. Not going to lie, I was pretty nervous. I haven't done too much hiking and had never done an overnight trek. This trek was quite literally the hardest thing I have ever done, but so incredibly rewarding. I got to see sleep on a volcano and watch a volcano erupt so many times! It was absolutely amazing. I will have a full blog post about the Acatenango trek and my experience soon. 
PACAYA VOLCANO HIKE
This was the hike I was originally signed up for and then I joined some friends from my hostel on the overnight Acatenango trek. If I had a few weeks in Antigua I would definitely do this hike as well. The Pacaya volcano hike is a half-day hike that cost about 25 USD. It's not nearly as taxing on your body and much quicker than hiking Acatenango. If you don't have the time for Acatenango, then I suggest the Pacaya hike. You have to do at least one volcano hike while in Antigua! Also, I've heard you can actually roast marshmallows with the lava on this hike, so fun! 
Book the Pacaya Volcano hike here.
WALKING TOUR OF ANTIGUA
There's no better way to get to know a city than by doing a walking tour. Unfortunately, I never got the chance to take an official walking tour (which I usually never miss) but time got the best of me.
To find a free walking tour, google "free walking tours Antigua Guatemala" or ask the front desk at your accommodation. My hostel had a walking tour scheduled for every week that anyone could join. Also, make sure to tip your guide! Another option is to download the "GPS My City" app. There are a variety of curated walking tours you can take on your own. The app gives you the route and the specific site information you can read about. 
CHOCOLATE MUSEUM
The Choco Museo is another great rainy day activity. It's located right in the town square near the park. They offer chocolate-making classes and more. A friend and I escaped the rain and stopped in to taste local chocolate and chocolate tea, everything was delicious!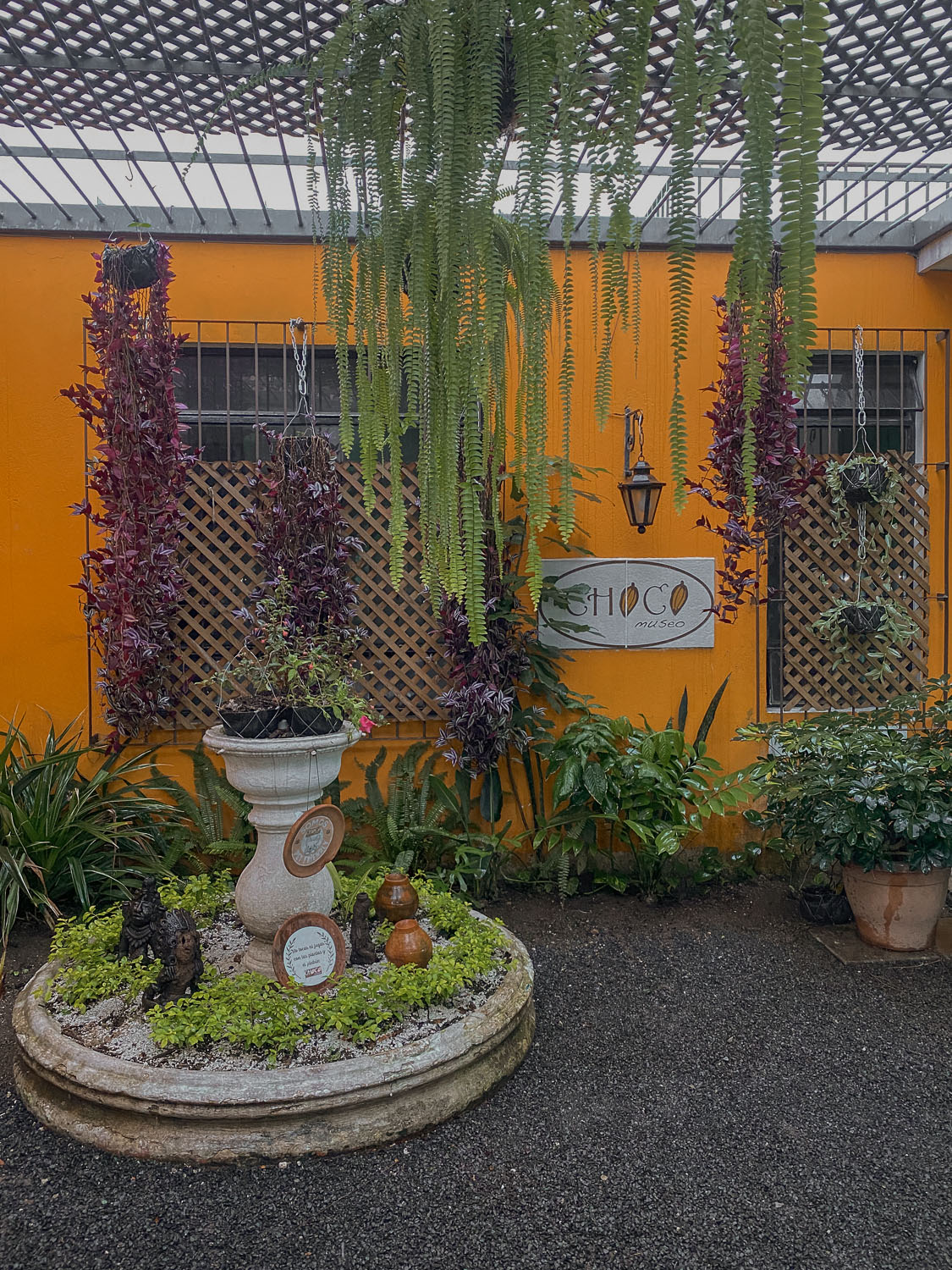 EXPLORE THE LOCAL MARKET
At the local market, you will find a variety of handmade local goods. Everything from jewelry to blankets, and so much more. This is the perfect place to pick a souvenir or a gift for someone. The market is also covered, so if it's raining, check it out.
EAT + DRINK IN ANTIGUA  
RESTAURANTS + BARS
Antigua Brewing Co: such a fun vibe, they have a great rooftop and good beer.
Ulew Cocktail Bar: for cocktails 
Angie Angie: I had a pasta dish that was absolutely incredible! This place was a bit nicer so we went on our last evening. 
La Pasta Nostra: I tried the carbonara and a pizza, both were delicious! 
Kombu: For ramen 
Rincon Tipico: If you go to one restaurant in Antigua, it has to be this one. Here, you'll find the most delicious local Guatemalan food. I couldn't read the menu so I ordered the "Menu del Dia" (menu of the day) and it was so dang good. The dish came with juice, fresh Guatemalan tortillas, a soup, chicken, rice, and potatoes. All of this was around 3 USD! Probably my favorite meal of the trip! 
Kabuki: For great sushi!
Casa Escobar: Apparently Casa Escobar has great steaks! I was recommended this place by a friend. 
Ta'cool: yummy tacos!
Cafe Boheme: They have great coffee, sandwiches, salads, and smoothie bowls!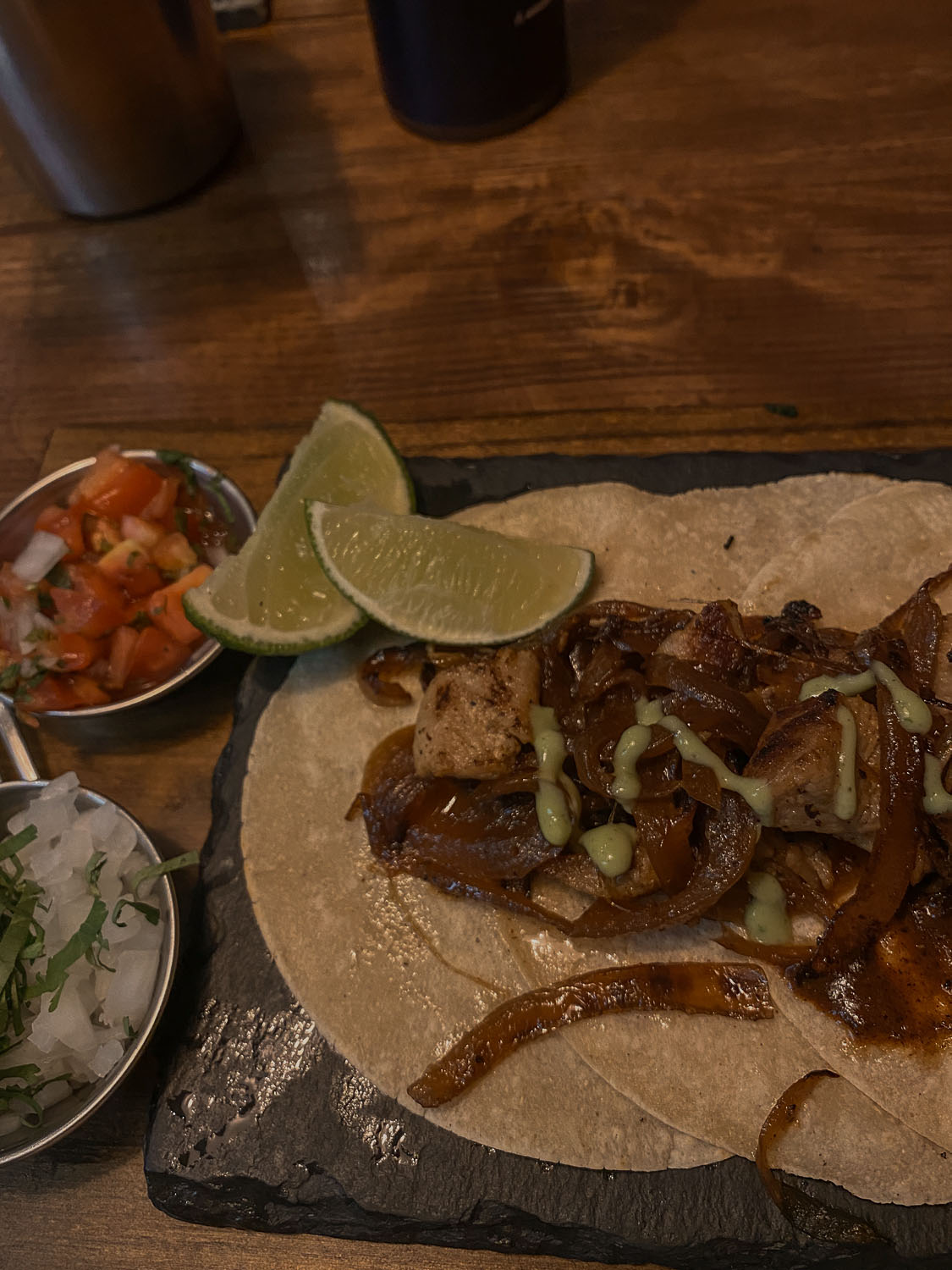 CAFES
Artista de Cafe 
12 Onzas: This was my favorite cafe. 
Starbucks: I know basic, but it's such a pretty Starbucks to go look at.
Fat Cat
Cafe Sol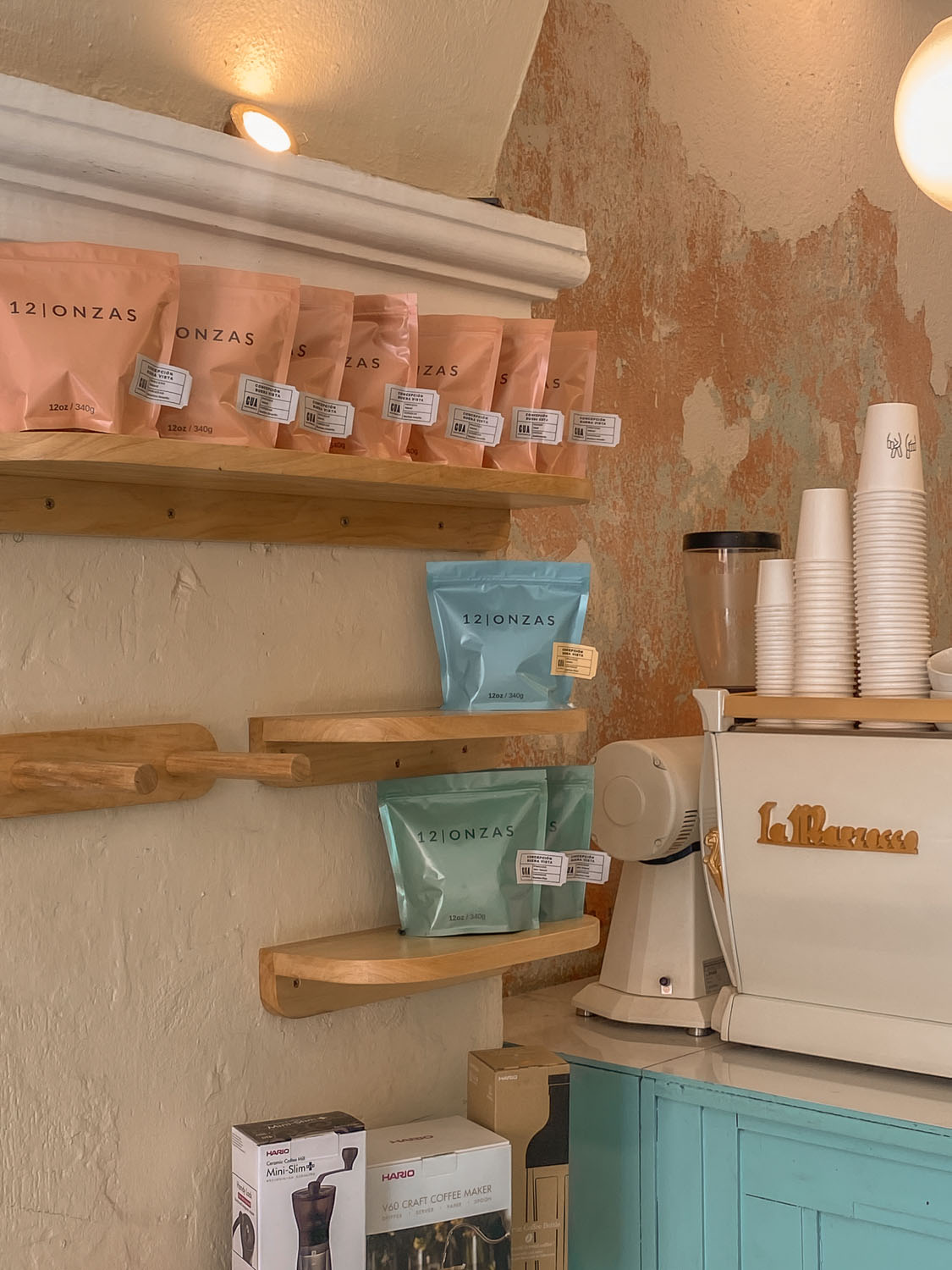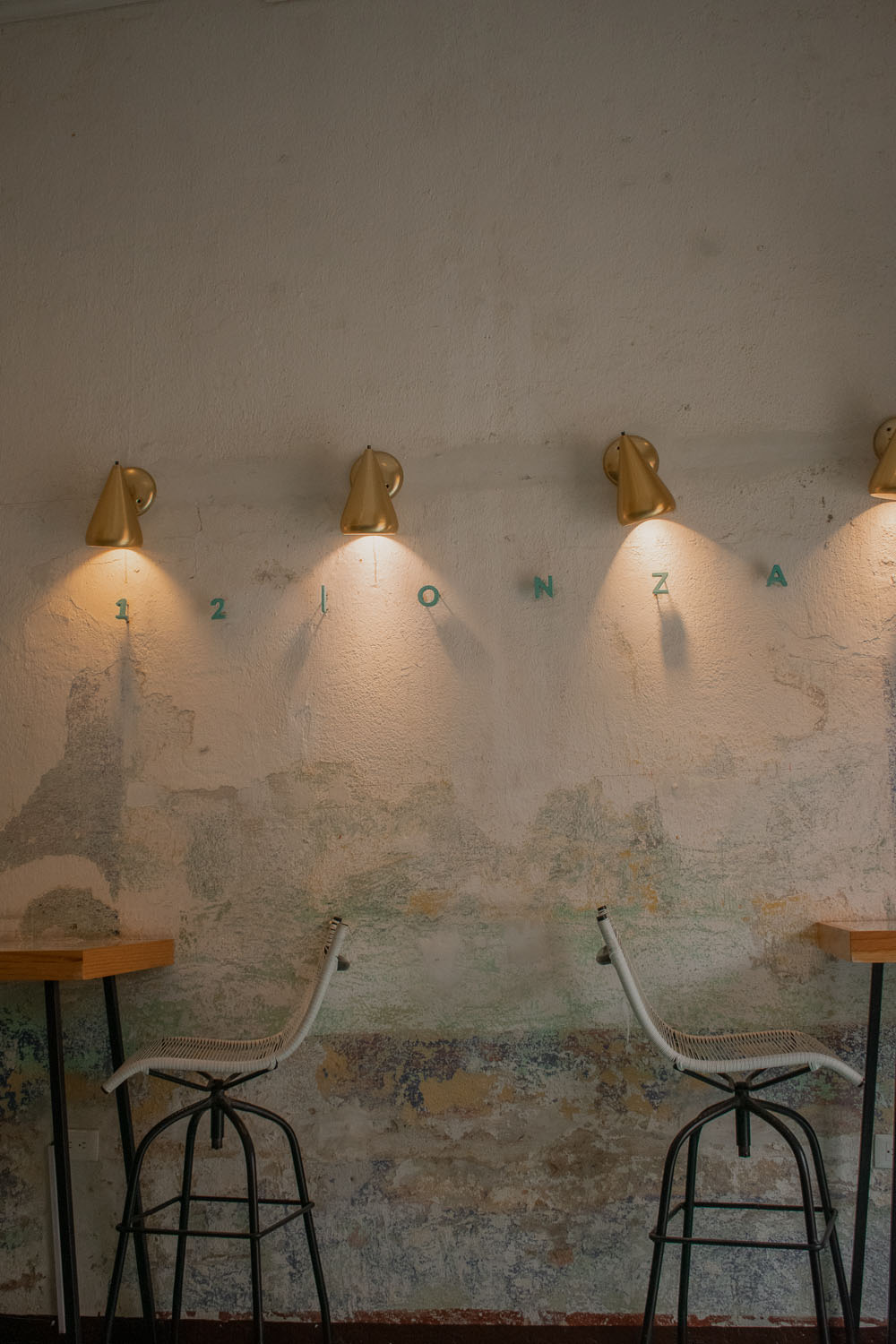 WHERE TO STAY IN ANTIGUA
 I personally stayed at Adra hostel and absolutely loved it! I was a bit hesitant because their dorms are large (18 or 24 beds), but the rooms were so spacious it didn't feel like there were that many people staying in the room. The bathroom situation was great, there is a rooftop terrace, and Adra Hostel offers free breakfast every morning, and it was so delicious! They also offer private rooms.
When I left for my 4 am airport shuttle they even gave me a packed lunch to bring along. Adra doesn't have a kitchen so if you are staying in Antigua long-term and plan on cooking your own food, this might not be the place for you.
I have a friend who stayed at Tropicana and enjoyed it. This hostel is much more of a party hostel. I also have heard good things about Somos hostel.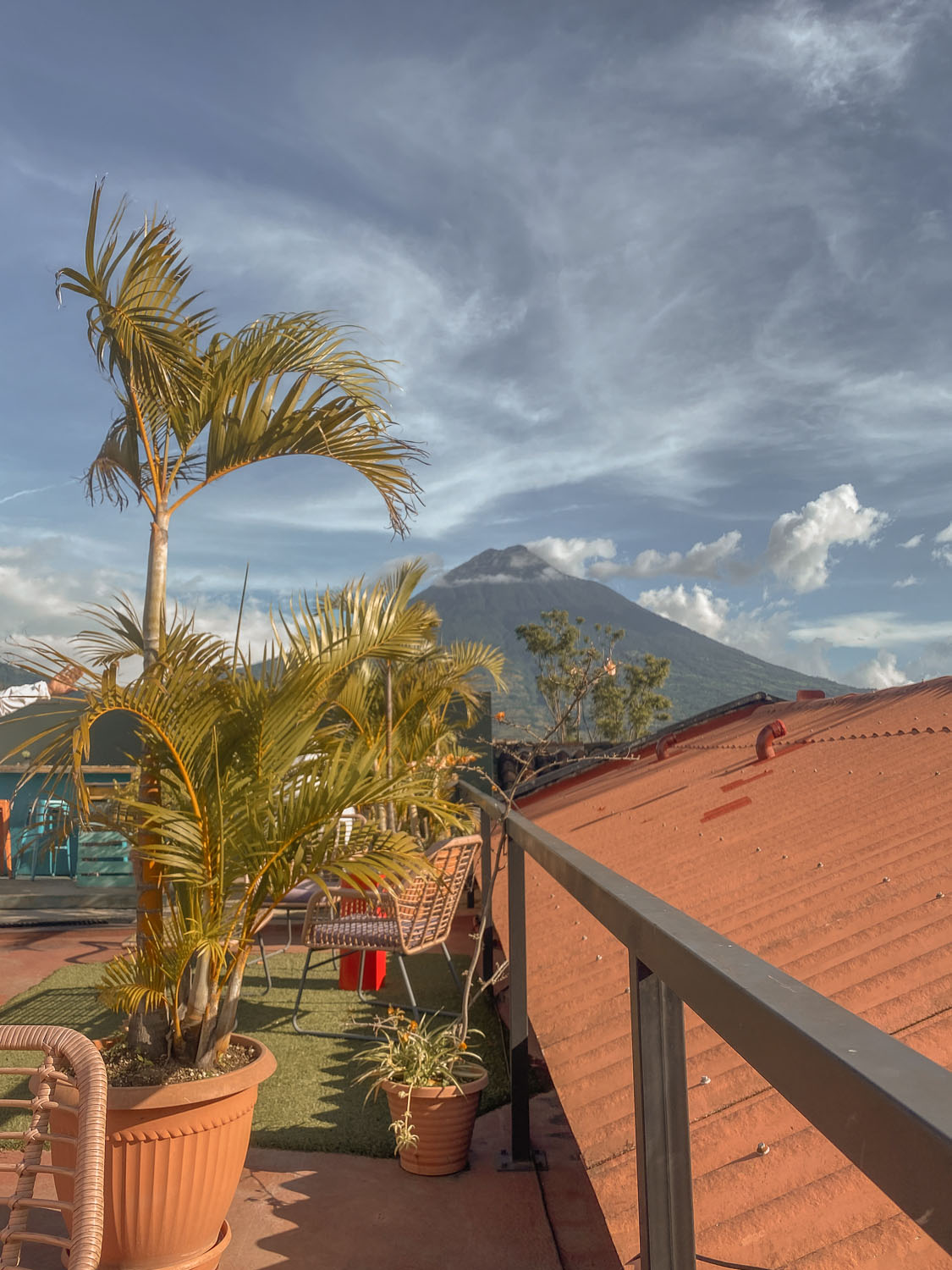 FIND A PLACE TO STAY IN ANTIGUA
Boutique accomodation in Antigua:
Luxury accommodation in Antigua: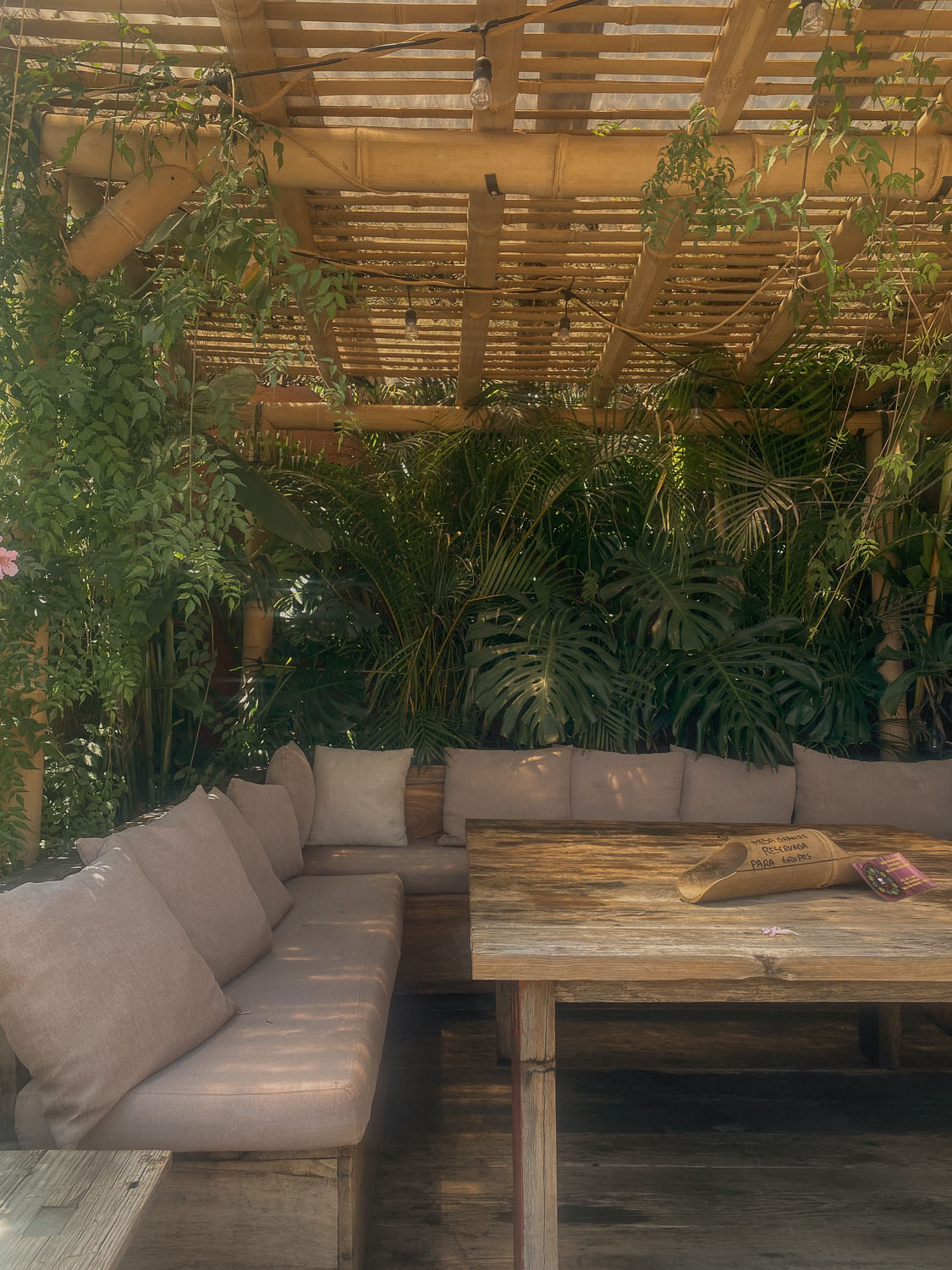 TRANSPORTATION IN ANTIGUA
HOW TO GET TO ANTIGUA
Getting to Antigua from Guatemala City's airport is actually quite simple. On the way to Antigua, I booked a GuateGo shuttle, which was excellent and I couldn't recommend it enough. I booked my shuttle ahead of time online and they gave detailed instructions on where to meet and what to look for at the airport.
The ride was great and I got dropped off right at my hostel. Although Guatemala city is only 25 miles from Antigua, account for at least an hour's drive to your accommodation in Antigua. The traffic can be horrible and if it's the rainy season, mudslides can cause a detour. When I left Guatemala, I booked an airport shuttle from my hostel that cost Q125.
[
RELATED POST
:
19 PHOTOS OF ANTIGUA GUATEMALA TO INSPIRE YOUR NEXT TRIP
]
HOW TO GET AROUND ANTIGUA
One of my favorite things about Antigua is that you can walk just about everywhere! I never once needed a car to drive anywhere. If you are doing day trips such as Hobbitenango or a volcano trek you will either have transportation included in your tour or you can uber/taxi. But as far as getting around the town itself, you will only be walking! 
MAP OF ANTIGUA WITH ACTIVITIES + MORE
SAFETY IN ANTIGUA
When I mentioned to people that I was going to Guatemala alone, the first question they asked was is it safe? I feel like the country gets a bad rap on safety issues when in reality, most of the country is probably just as safe as your hometown. 
Guatemala City is known not to be very safe but Antigua was a city where I felt 100% comfortable the entire time. I will have a whole solo guide to Antigua article up on the blog soon, but just know I felt safer walking around Antigua than in my city of Dallas, Texas. Obviously, you want to be smart wherever you go – but Antigua is a very safe city to visit. 


GUATEMALA PACKING ESSENTIALS
FINAL THOUGHTS – ANTIGUA GUATEMALA TRAVEL GUIDE
This post was all about the ultimate Antigua Guatemala travel guide.
Antigua really blew my expectations. I knew it was going to be great, as I have heard wonderful things. But it really was one of my favorite trips and one of my top favorite cities I have ever visited. It's just incredibly unique and there is so much to do for it being such a small city. I know there are so many cities on your bucket list already, but I think everyone should visit Antigua at least once in their life! As always, If you have any questions, comment below, DM me on Instagram, or email sydabroad@gmail.coom! I
RECOMMENDED TOURS IN ANTIGUA
PIN IT!
WANT TO SUPPORT?
I always appreciate it when friends and family reach out wanting to support Syd Abroad. If you'd like to support the blog, here are a few brands that I am affiliated with. All you do is click the links, and I will receive a small commission at no extra cost to you!