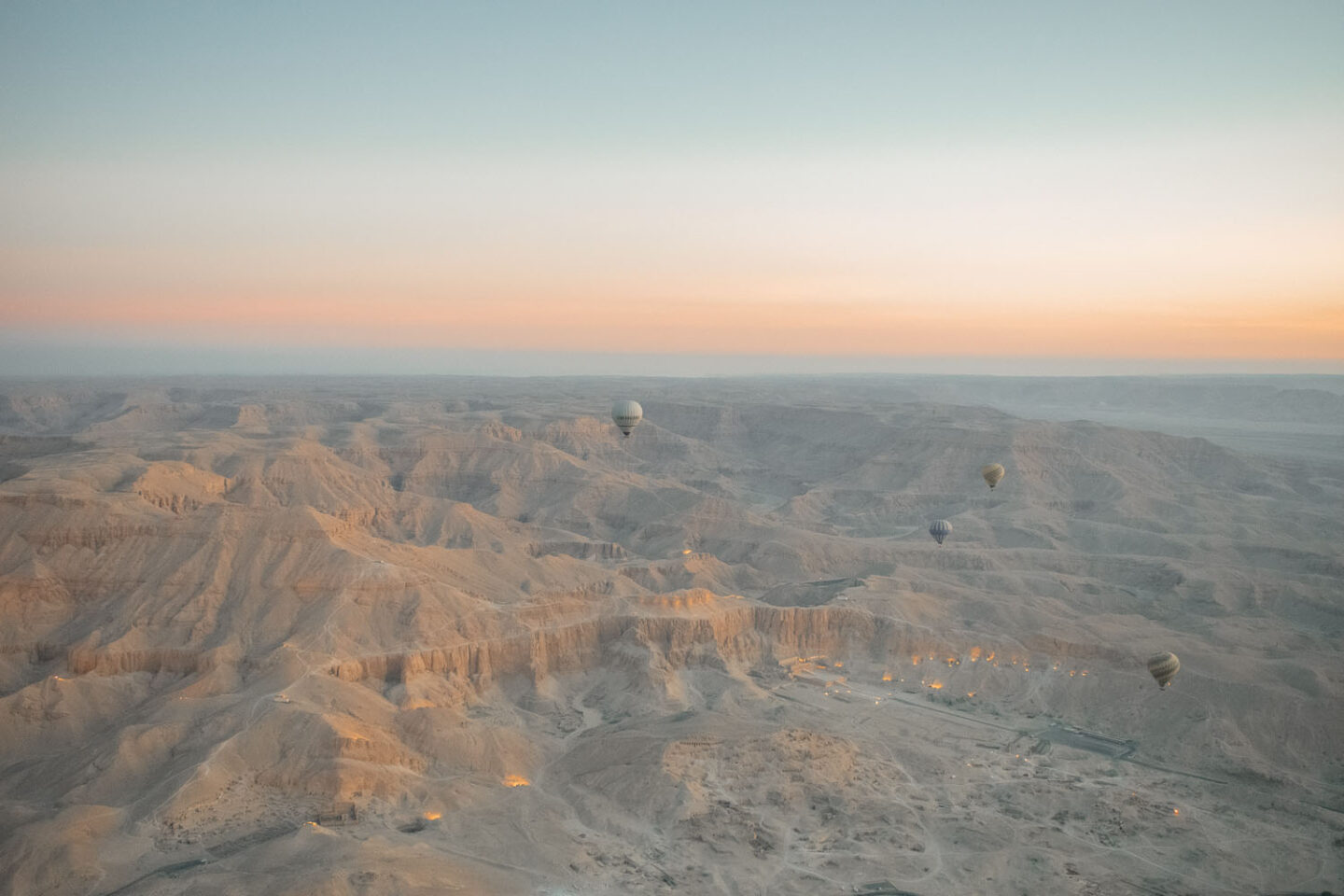 (Disclaimer: This post may contain affiliate links, which means we may receive a small commission at no extra cost to you.)
If a hot air balloon ride in Luxor, Egypt isn't on your bucket list already, it definitely should be! Here is a complete guide to everything you need to know before you go.
This post is all about what to expect on a hot air balloon ride in Luxor, Egypt.
MY EXPERIENCE: HOT AIR BALLOON RIDE IN LUXOR
I traveled to Egypt with EF Ultimate Break, a tour company that hosts trips all around the world. It was an incredible way to experience Egypt and especially because they handle all the planning. Which really takes the stress out of traveling.
When traveling through a country like Egypt, especially as a woman, it can take a lot of planning and research ahead of time. Going with a tour company made everything so much simpler. I didn't have to worry about booking a thing, or transportation, and every question I had was answered by our wonderful guide.
If you are interested in traveling with Ef Ultimate Break, I do have a code, "UASydney100" that will get you $100 off your first trip. And if you have any questions about the tour company, feel free to reach out!
With that being said, the hot air balloon ride in Luxor was an optional excursion I signed up for through EF Ultimate Break. They had everything planned out so I didn't do any of the bookings myself. However, I'll share my experience with you, and what I suggest from the research I have found.
The main takeaway from this article is that a hot air balloon ride in Luxor was 100% worth it and probably the most incredible thing I have ever done. Seeing Luxor from above along with the sunrise was unreal.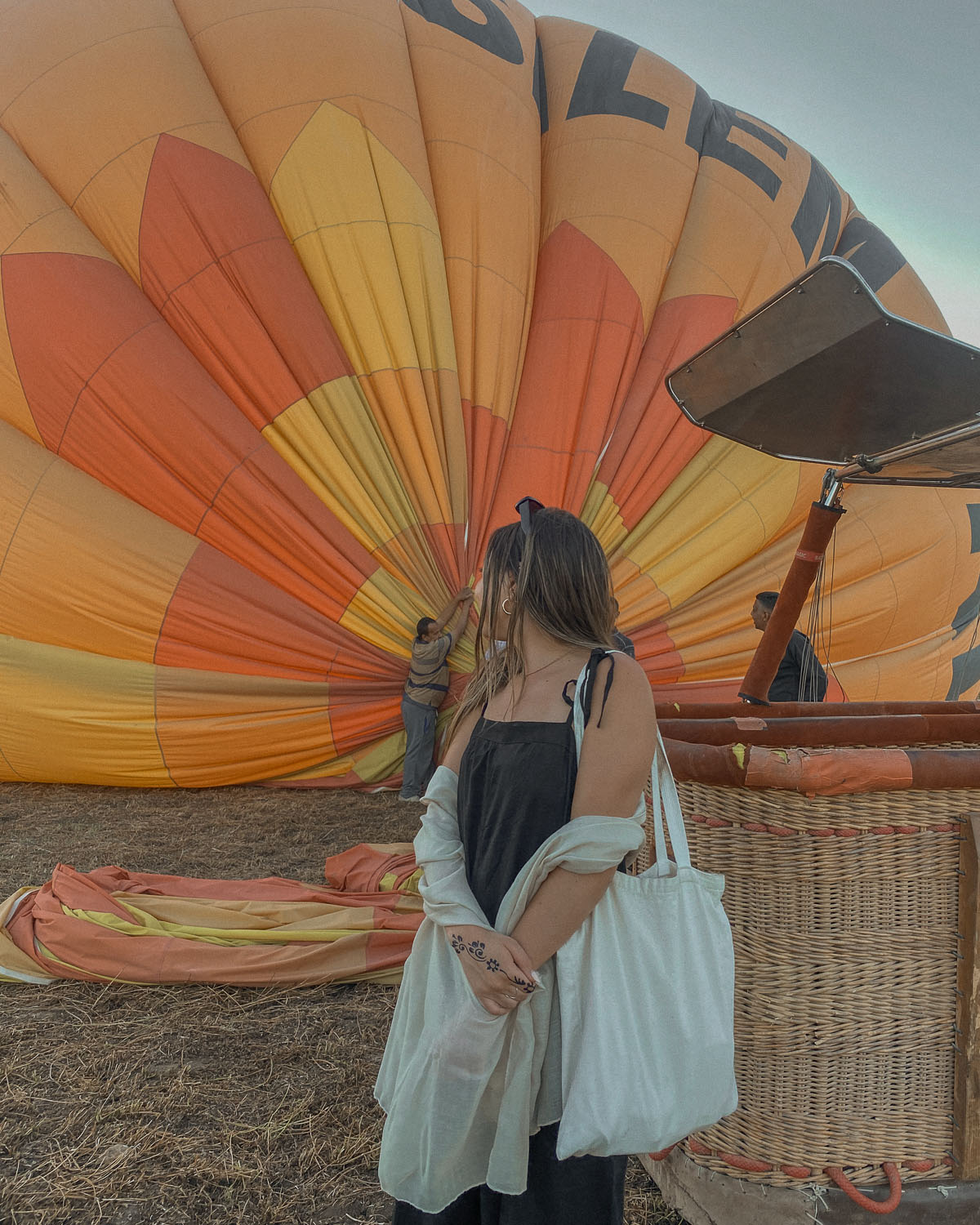 HOW TO CHOOSE A COMPANY

As I said above, I traveled around Egypt with a tour company, so my hot air balloon ride was planned ahead of time. Because of that, I'm not sure about the exact company I booked through but there are many options to choose from.
After doing some research on my own, a few reliable companies are Hot Air Balloon in Luxor, Sunrise Ballooning Luxor Hot Air Balloon, and HodHod Soloman Hot Air Balloon Luxor. I suggest doing a quick google search, reading reviews and info on their websites then choosing for yourself. I have linked a few tour options below for you to check out!
HOW LONG DOES A HOT AIR BALLOON RIDE IN LUXOR TAKE?
The whole journey takes about 5 hours (4 am to 9 am) so yes, that means your wake-up call will be an early 3 am. The actual hot air balloon ride itself takes about 45 minutes.
My sister and I set so many alarms so we made sure not to miss it. I was staying on a Nile River cruise ship docked in Luxor. We met in the lobby of the ship by 4 am then started the journey to the balloons, and it is a journey – it takes some time to get there.
From the ship, we boarded a little boat with snacks and tea that took us across the Nile. After that, we hopped into a few vans and drove to where the hot air balloons were taking off.
Let me tell you driving in Egypt is no joke, the ride quite literally felt like Mario Kart on the bus ride to the balloons lol. After we finally arrived we waited around while the balloons were lit and filled with hot air. Watching this was insane, they are massive! So much bigger than I imagined.
Each balloon holds 20 or so people and the basket is divided into smaller sections. After the captain was ready, we all hopped into the balloon which was a bit of a climb. I suggest wearing pants or if you have a dress – shorts underneath. I'll touch more on what to wear during the hot air balloon ride later in this article.
[
RELATED POST
:
THE TOP 11 BEST BAGS FOR TRAVELING
]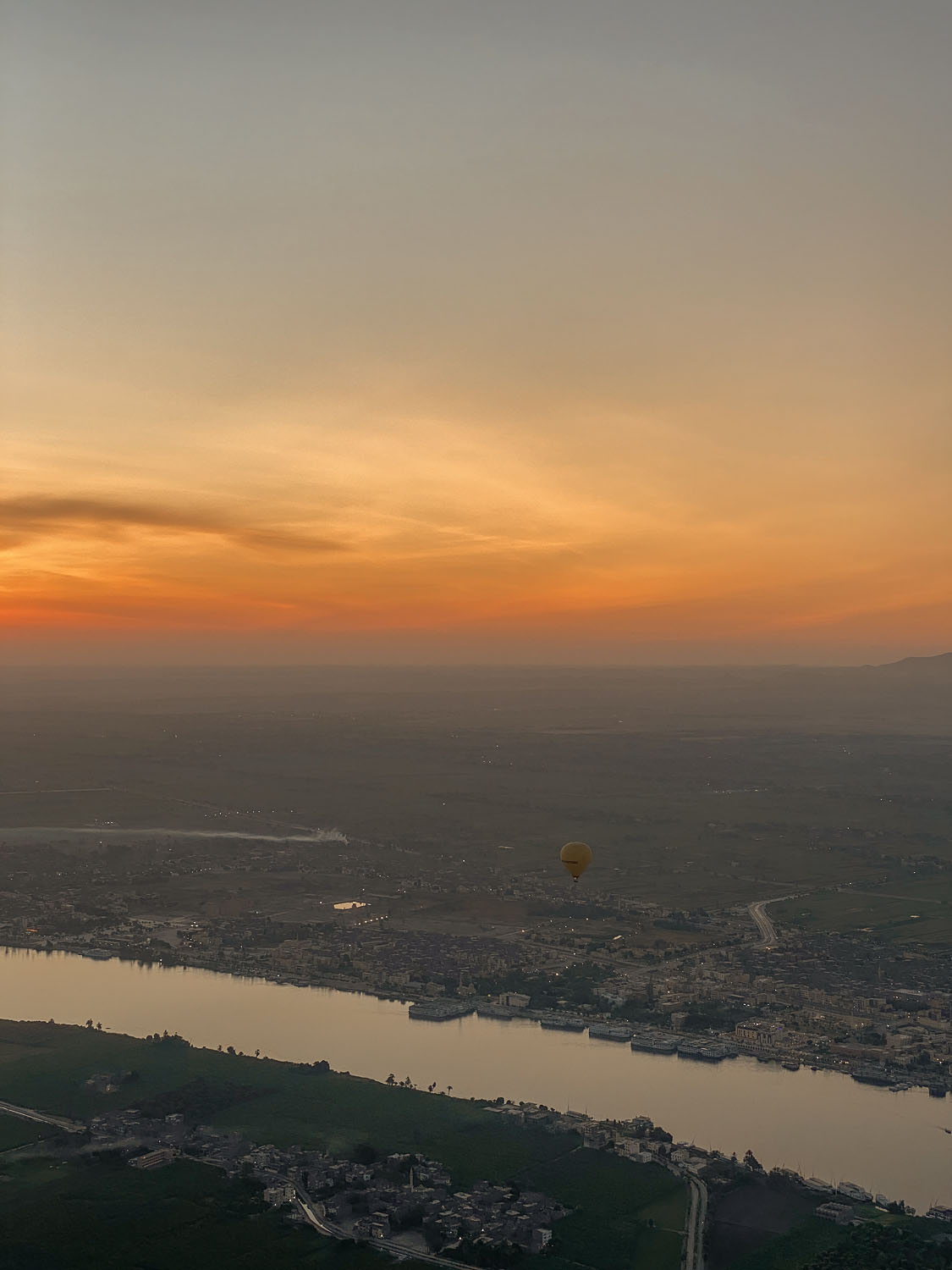 LUXOR FROM ABOVE

Ascending into the sky was soo crazy. It was a surreal moment. I was a little nervous as we were going up but I quickly got used to it. The balloons are so calm and rise up so slowly. Hot air balloons actually move slower than an elevator.
From above not only did we see the incredible sunrise and about a zillion different colors in the sky, but we also got to see the Nile River, Hatshepsut's Temple, and The Valley of the Kings. Words can't describe how incredible this experience was.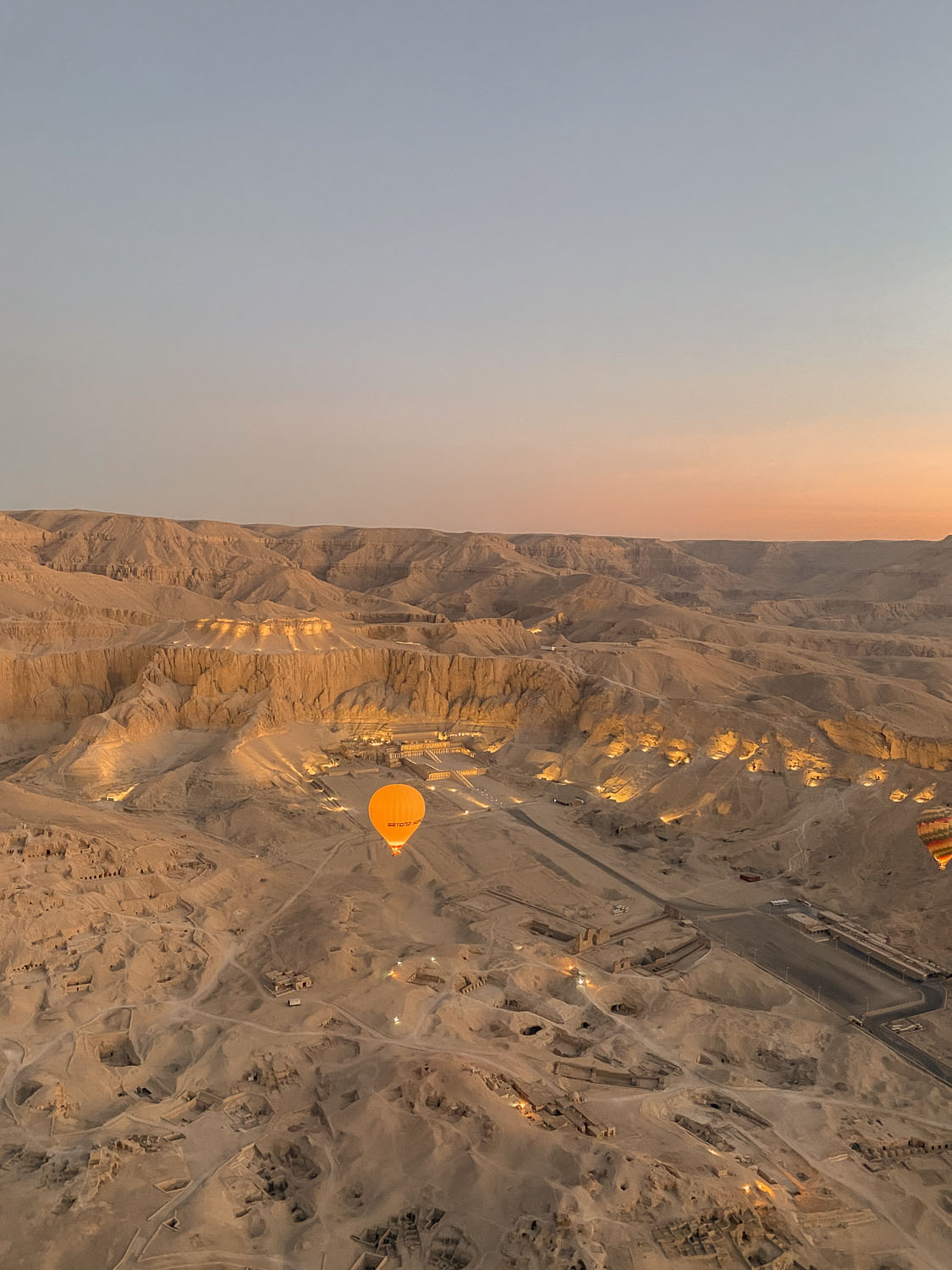 HOT AIR BALLOON RIDE IN LUXOR: THE LANDING

The entire hot air balloon ride in Luxor takes about 45 minutes. Your pilot will give you instructions on how to prepare for landing, which you need to listen to. The balloons land where ever the wind takes you so there isn't much control to plan out where you land.
We had a pretty smooth landing, basically, we were told to hang on to the basket with both hands and squat down into the basket. We had a few little bumps but it didn't flip over or anything crazy! I actually thought the landing was pretty fun.
Our balloon landed in a field right next to a donkey lol. All of the balloons are being tracked, so after the landing, a group of men came to help out and drive us back.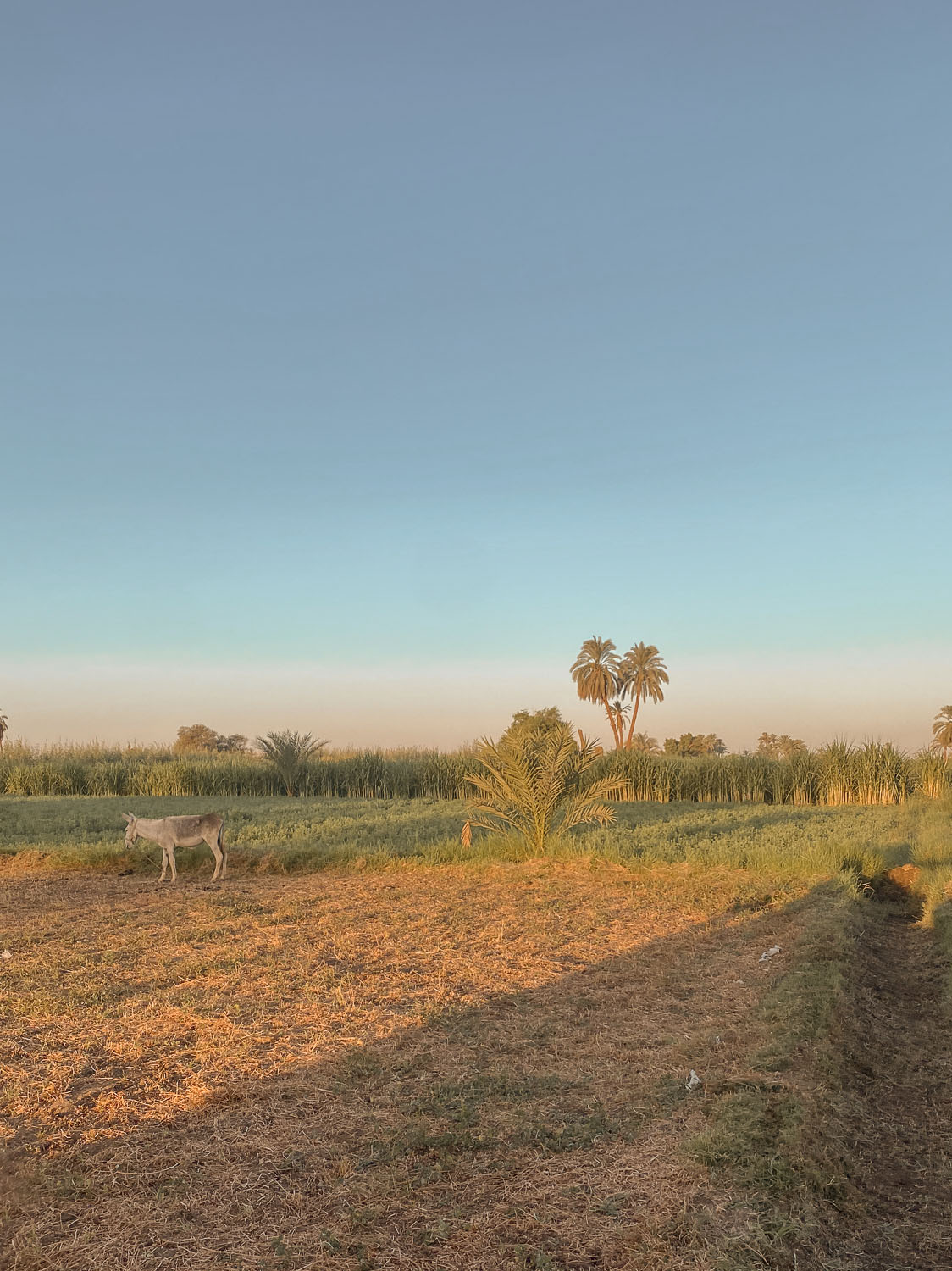 THE COST

Depending on what company you decide to book with it will cost anywhere from 80 to 130 USD. Luxor is the place to ride a hot air balloon, it's one of the most affordable places to ride a hot air balloon in the world.
SAFETY
Yes, safety is definitely an important factor when it comes to riding a hot air balloon, especially in Luxor. Although there have been incidents, hundreds of people do this every single day, and it is safe.
Since incidents that happened years ago, there have been higher precautions set in place. For instance, if the weather is slightly too bad, or too windy, balloons won't run that day. The pilots are also extremely well trained and have been doing this for years. It's important to listen to the safety briefings and listen to your pilot.
FLIGHT TIMES

Okay, yes, there are different flight times but you HAVE to do the sunrise balloon. Not only is the weather always better and calmer in the mornings but the colors in the sky are magic.
It was well worth the 3 am wake-up call. I promise you do not want to miss out on this experience. Book the sunrise hot air balloon ride.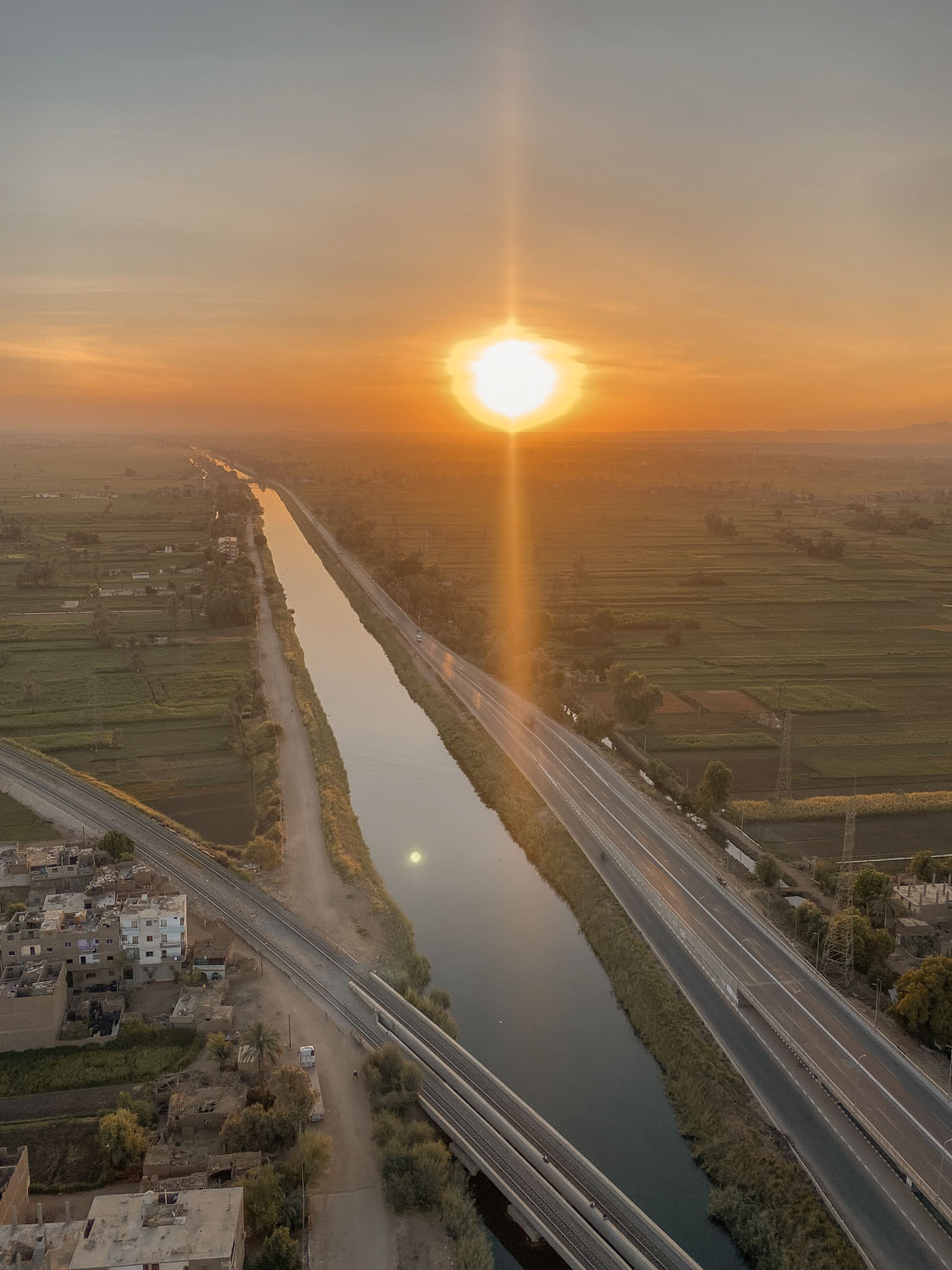 IS PHOTOGRAPHY ALLOWED?

So I was a little skeptical if I should bring my DSLR camera or not. My guide told me it would not be allowed and to leave it in the hotel. But I really wanted some cool shots. So, after doing research, I decided to bring it along.
Basically, cameras technically are not allowed but many people bring them anyway. I read that most people will not check your bag and the pilots flying the balloons usually don't care so I risked it for the photos and brought my camera along. And I didn't have a single problem!
Honestly, if you want to bring your camera, I would. Just make sure to have it hidden in a tote bag or bigger purse when you get to the balloons just to avoid it getting taken for some reason.
I do not regret bringing my camera at all, because look at these shots! And in the worst case, I could have left it on the bus or something.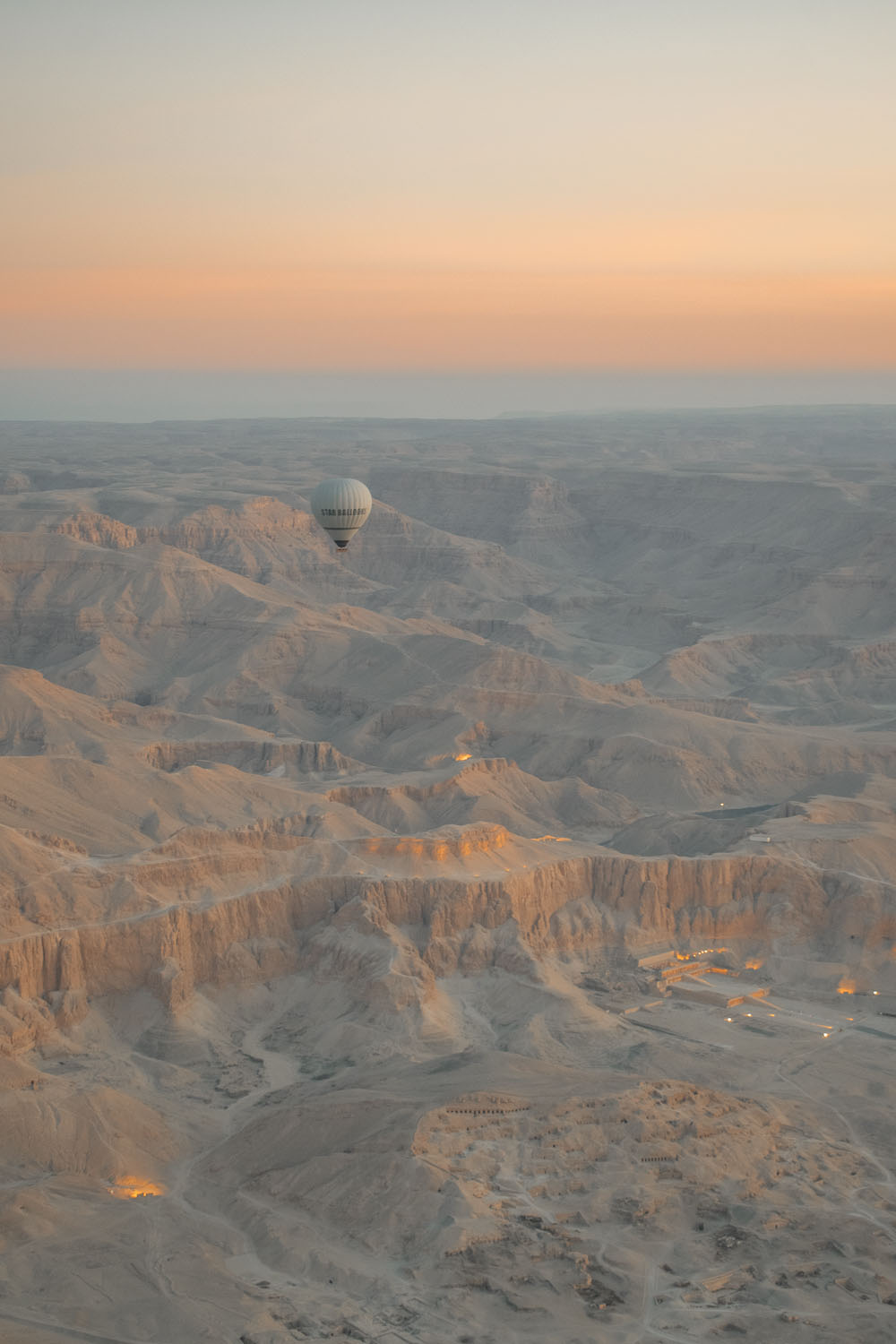 THE WEATHER
The weather is an important factor to keep in mind. If it's slightly too windy or raining for some reason, the balloons won't fly because it's too dangerous. You will likely have better weather in the mornings. Another reason to book the sunrise tour.
TIPPING YOUR PILOT
Make sure to bring about 20 pounds or so to tip your hot air balloon pilot at the end. This is equivalent to 1 USD. I believe we were told to tip anywhere from 20 to 40 Egyptian pounds by our tour guide.
[
RELATED POST
:
SOLO TRAVEL: 11 TIPS FOR YOUR FIRST SOLO TRIP
]
WHAT TO WEAR DURING A HOT AIR BALLOON RIDE IN LUXOR
You may not think you need to take into account what you are going to wear but you do. The main reason is that getting into and out of the balloon basket is not the smoothest thing. You are not going to want to wear a dress or skirt without any shorts underneath.
I wore a flowy jumpsuit with pants and it was perfect. You might also want to bring a lightweight scarf for shall if you get chilly easily. Although in the dead of summer, it was not cold at all for us.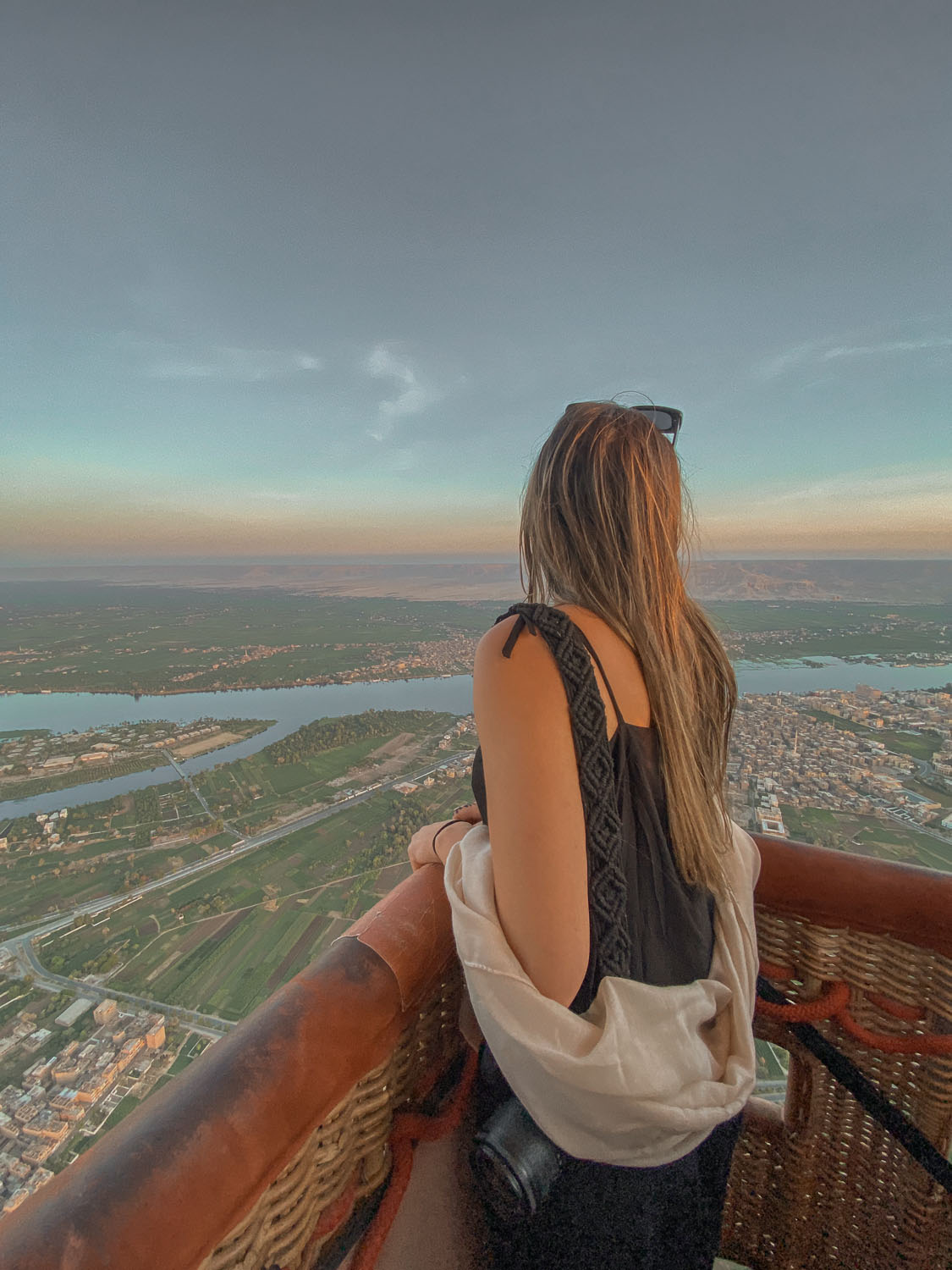 HOT AIR BALLOON RIDE IN LUXOR – FINAL THOUGHTS

Riding a hot air balloon in Luxor was probably the most amazing travel experience I've ever had. Seeing the colors of the sunrise and Luxor from such a unique perspective was incredible.
This was my first time riding in a hot air balloon so it was a bit of an adrenaline rush but well worth the ride. I assume if you are reading this post then you have a hot air balloon ride booked, so enjoy it! As always, if you have any questions about a hot air balloon in Luxor or traveling Egypt in general, comment below, DM me on Instagram or email me at sydabroad@gmail.com!
RECOMMENDED TOURS IN LUXOR
PIN IT!
WANT TO SUPPORT?
I always appreciate it when friends and family reach out wanting to support Syd Abroad. If you'd like to support the blog, here are a few brands that I am affiliated with. All you do is click the links, and I will receive a small commission at no extra cost to you!