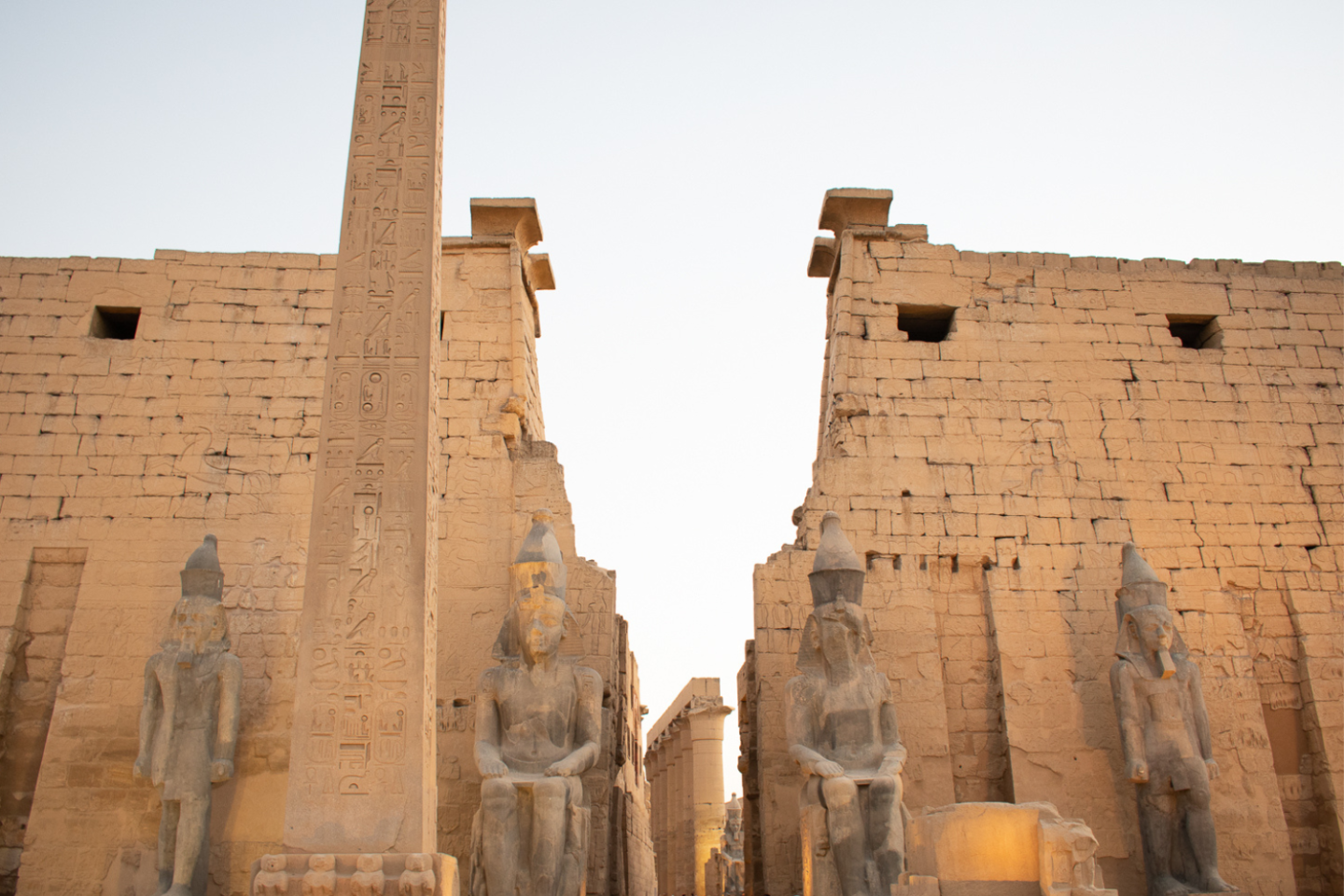 (Disclaimer: This post may contain affiliate links, which means we may receive a small commission at no extra cost to you.)
If you are looking for the best things to do in Luxor, Egypt,  keep reading!

Luxor – an ancient city split between the Nile river in southern Egypt, is definitely one you can't miss when traveling through Egypt. After you visit the city's capital, Cairo, fly down south to experience all that Luxor has to offer. 
I visited Luxor with EF Ultimate Break and it was nothing short of incredible. Everything from exploring the temples, and watching the sunrise from a hot air balloon to taking in the Nile River views was perfect. In this guide, I will share all the best things to do in Luxor and some helpful tips to know before visiting. 
This post is all about the best things to do in Luxor Egypt.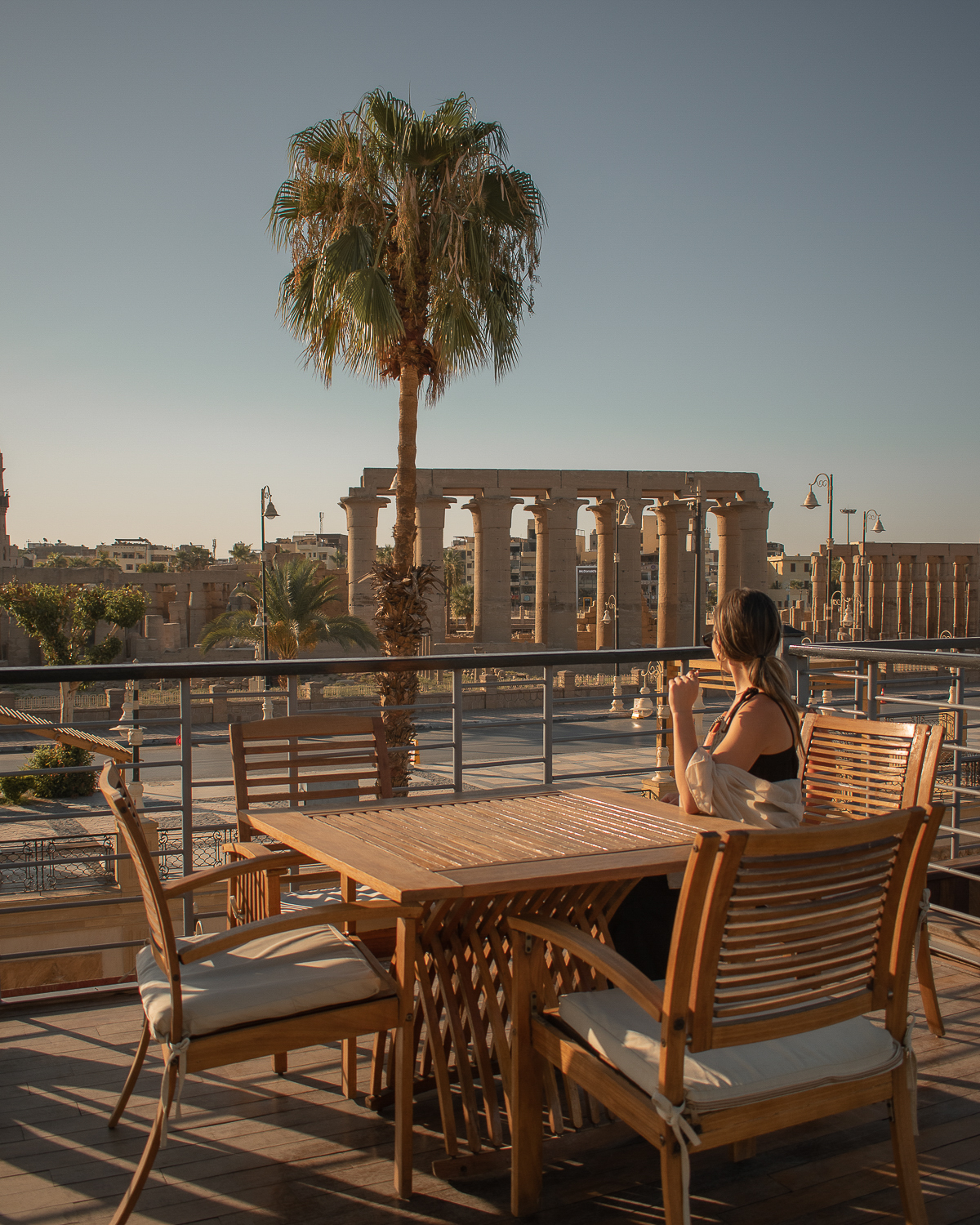 THE BASICS 
CURRENCY = EGYPTIAN POUND 
The official currency in Egypt is the Egyptian Pound. 
1 USD = 30.8 Egyptian Pounds
You will likely need cash during your entire trip to Egypt. It's rare that places accept cards unless you are in a nice hotel and at times a nicer restaurant. 
If your bank allows, I suggest ordering local currency before your trip. However, Egyptian Pounds are hard to get (especially in the US) my bank couldn't order them, so I waited to use an ATM at my hotel when I arrived. 
TIP: I suggest using the Charles Schwaab debit card for traveling. There are zero foreign transaction fees with this card so you can pull out cash as much as you want without the extra fees. They will reimburse your account for any ATM fees. It's an incredible card. 
LANGUAGE = ARABIC 
Egypt's local language is Arabic. Although some people speak English it's beneficial to brush up on a few common words and phrases in Arabic. 
PHONE & INTERNET 
The cell service and wifi are definitely so-so here. Depending on where you are, the service might work just fine or not at all. I wouldn't have any high expectations of your phone working well everywhere. 
In Luxor, I stayed on a Nile Cruise and had basically no service and the wifi was horrible. But it was quite nice to have a break from my phone! 
DAILY BUDGET
Egypt is an extremely affordable destination to visit. Aside from your hotel, you can plan on spending around 30 to 40 US dollars per day on a mid-range budget. You can honestly spend as little as 20 dollars a day or even less. 
 This is one of those destinations where you can make it as cheap or luxurious as you want. Depending on the places you shop and activities you partake in – will affect your budget. But all and all, Egypt is an extremely affordable country to visit. 
IS THE TAP WATER DRINKABLE?
No. Do not drink tap water in Egypt. 
Although in Cairo, it is safe to brush your teeth with tap water. I know some who didn't want to risk it the entire trip but I did brush my teeth with the water in Egypt and never had a problem.  
TIPPING IN EGYPT 
Tipping is customary in Egypt. It's typical to leave a 10% to 15% tip at restaurants and cafes. It's also important to tip when doing activities such as riding camels, a hot air balloon ride in Luxor, or tipping your crew after a Nile cruise. 
Tipping in Egyptian pounds at the end of your experience or dinner is great, but US dollars typically work as well if it's a small bill. I ran into a few cases where the locals actually preferred US dollars to their own currency. 
THE BEST THINGS TO DO IN LUXOR, EGYPT
1. HOT AIR BALLOON RIDE
A hot air balloon ride in Luxor is a must. Seriously, this was probably the coolest experience I've ever had. I have a full guide here detailing everything you need to know about hot air balloon rides in Luxor. 
Although it's an early wake-up call, I suggest doing a hot air balloon ride for sunrise. The colors in the sky are unreal and you can see Queen Hatshepsut's temple and the Valley of the Kings. It's a bucket list experience.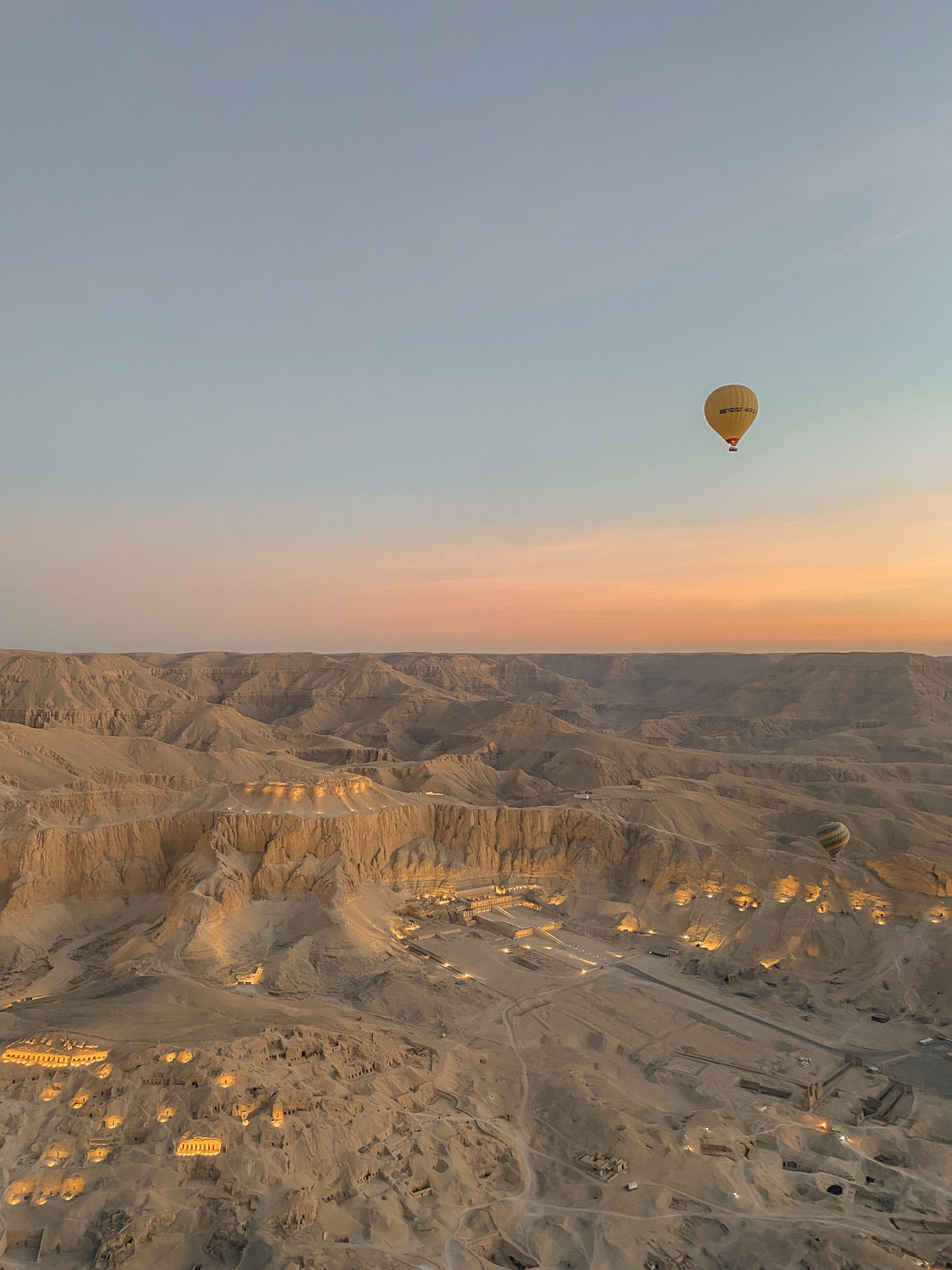 2. KARNAK TEMPLE, LUXOR
The biggest temple in all of Egypt is Karnak Temple. I swear photos just don't do this place justice, it's massive. It's actually one of the largest religious complexes in the world. 
The hieroglyphics and detail all around the Karnak complex are just incredible, to think how well-preserved this temple is after 2,000 years is insane. Make sure to give yourself enough time here to explore the massive complex, and don't forget to see the Avenue of the Sphinx. 
I suggest at least 2 hours here and I really enjoyed having a guided tour to learn more about Karnak Temple. If you want to visit with fewer crowds, because yes it gets crowded, visit bright and early at 6 AM when it opens. 
Currently, the entrance fee to Karnak Temple is 150 Egyptian Pounds.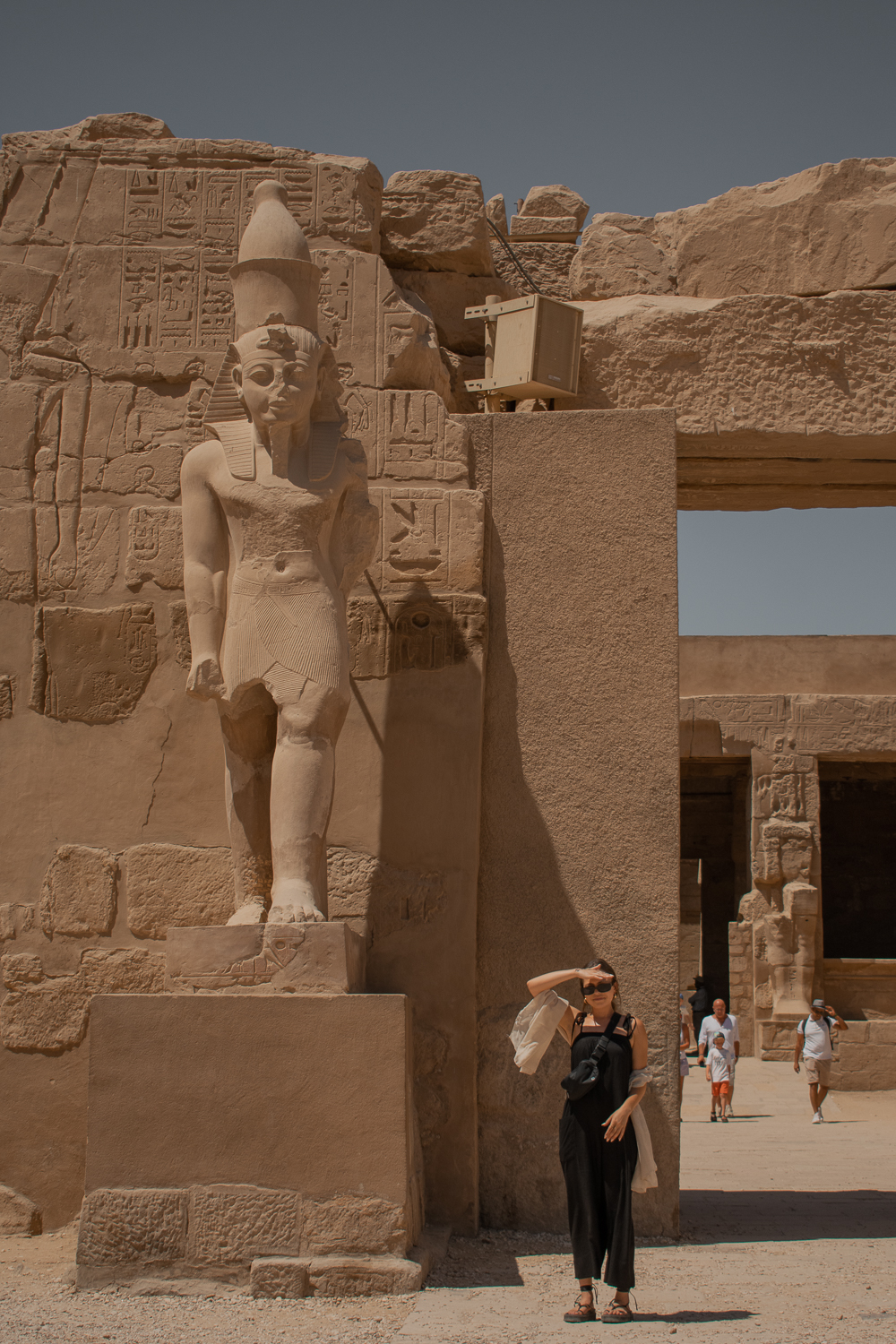 3. SOFITEL WINTER PALACE
Sofitel Winter Palace is a five-star hotel situated near the Nile River in Luxor. For a mix of history and luxury, you have to check this hotel out. The Sofitel Winter Palace was built in 1886 and it absolutely stunning. 
If you can stay here – great – I would in a heartbeat because it's beautiful. However, if you are staying in a different hotel or a cruise ship on the Nile (as I was) it's worth it to have lunch or a few drinks here. 
The hotel was a short walk away from our Nile cruise ship and we walked around, enjoyed the beautiful interiors, and sat out back near the pool for some appetizers. If you are into architecture and interior design, you can't miss the Sofitel Winter Palace. 
4. LUXOR TEMPLE
Another temple you ~obviously~ can't miss in Luxor is Luxor Temple. Located on the east bank of the Nile River (quite literally in the middle of the city), Luxor temple was built in approximately 1400 BC. You'll notice the massive obelisk in front of Luxor temple, and the twin of this obelisk was gifted to the french, so you can find it standing in Paris now.
It's truly as if you are exploring back in time when you walk through Luxor Temple. I visited during the sunset, and although it was stunning, it was also very busy. So, if you want to avoid the crowds, visit right when the temple opens at 6 AM. 
The current entrance fee to Luxor Temple is 160 Egyptian Pounds.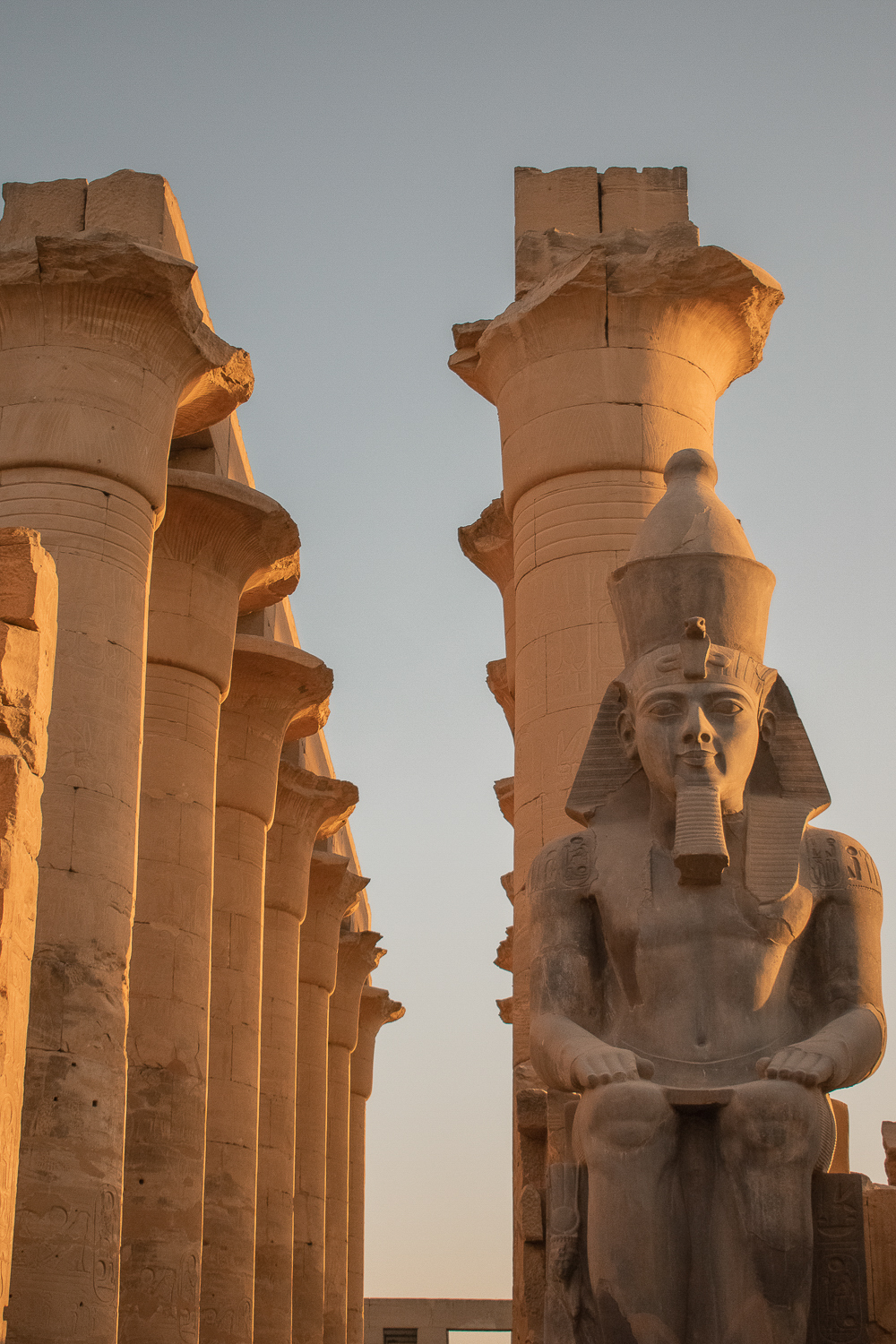 5. VALLEY OF THE KINGS  
The Valley of the Kings is about a 40 minutes drive from Luxor located on the west bank of the Nile. This archaeological site is one of Egypt's most fascinating places to visit. 
The Valley of the Kings was the major burial ground for most of the royal pharaohs and is where the famous King Tutankhamun and Ramses II were buried. There are over 60 tombs and underground corridors all around. 
The details in these tombs are incredible, you can still see many of the colors and detailed hieroglyphics. Fun fact, the more colorful and exquisite the pharaoh's tomb is, the longer they lived. They could have it designed and built just as they wanted it to be.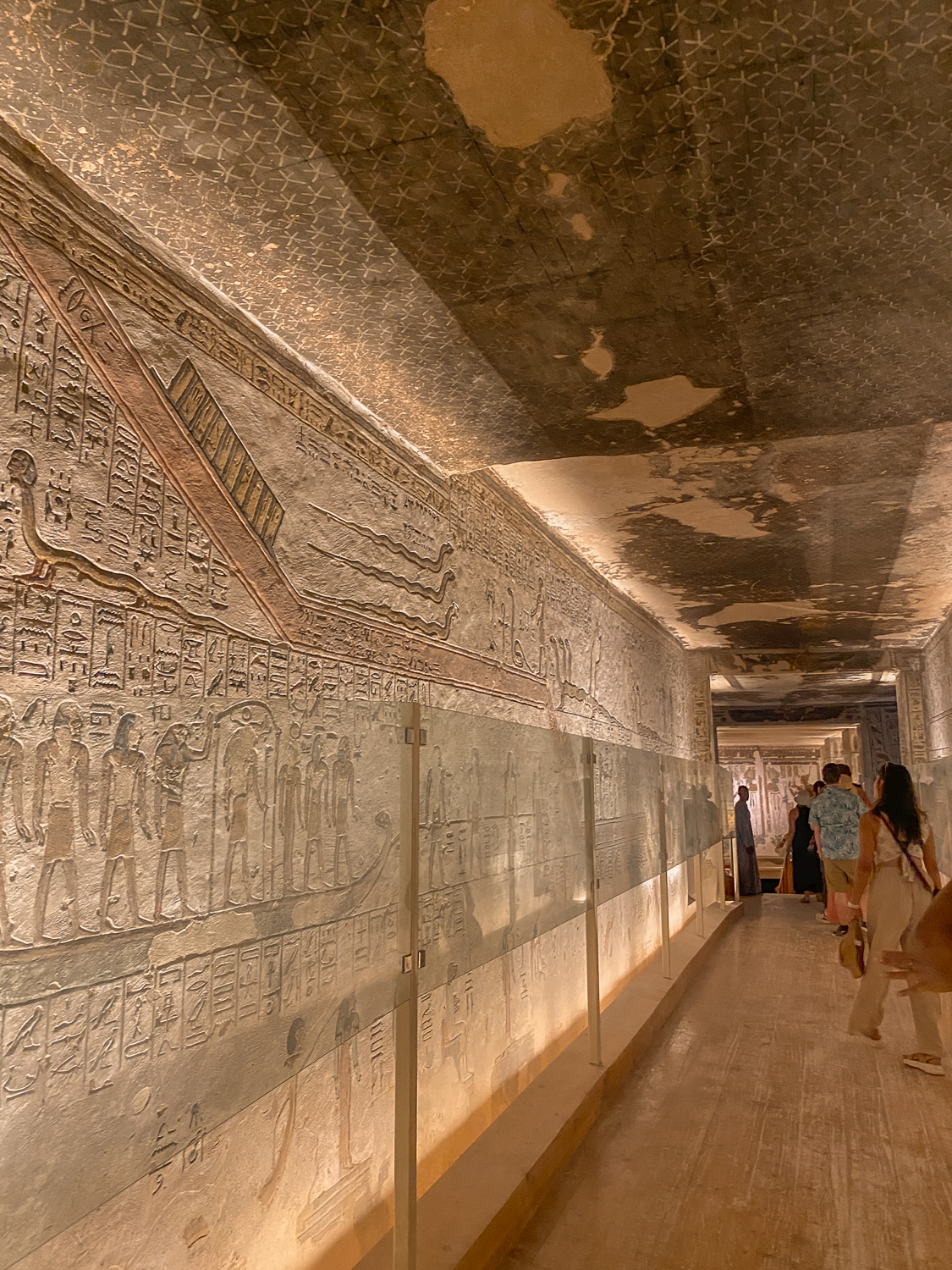 King Tut's tomb isn't very intricate compared to other pharaohs because he died so young. And what I found really interesting, is that he didn't really do that much as a pharaoh. The reason King Tut is so famous is that his tomb was completely intact when it was excavated – with King Tut still inside. Yes, you can actually see King Tut's mummy in his tomb. It's the most fascinating thing. 
There is really nothing quite like Egyptian History, and visiting the Valley of the Kings takes you back in time. Also, know that it gets hot out here and I mean really hot – especially if you are here in the dead of summer. So I suggest going early in the morning. 
The ticket price is 240 Egyptian pounds. This includes most of the tombs but you need to buy an extra ticket for King Tut's tomb – which I highly suggest purchasing. 
Note: Many articles state that to bring a camera in, you will be charged extra. This is typically the case for many sites in Egypt but from my experience, I was never once stopped because of my camera. I traveled with my Nikon D3400, so it is pretty small. I suggest leaving your tripod at home because, in many places, tripods are not allowed. 
6. COLOSSI OF MEMNON
The Colossi of Memnon are two massive stone statues that stand at the front of the ruined Mortuary Temple of Amenhotep III. The statues symbolize the rule of the King over Egypt. 
The Colossi of Memnon are a short drive away from the Valley of the Kings and Hatshepsut's Temple and worth a quick stop. You really don't need more than 10 minutes here.
7. TEMPLE OF HATSHEPSUT 
Hatshepsut's Temple is a mortuary temple built during the reign of Queen Hatshepsut. She was the first and only one of three women who became Pharoh in over 3,000 years. 
The Temple of Hatshepsut is a short drive from the Valley of the Kings. Don't forget water and sunglasses because the lack of shade here makes it quite hot. There was a little area selling snacks and drinks and lucky enough for us they were selling ice-cold popsicles, which is just what we needed in this Egyptian heat.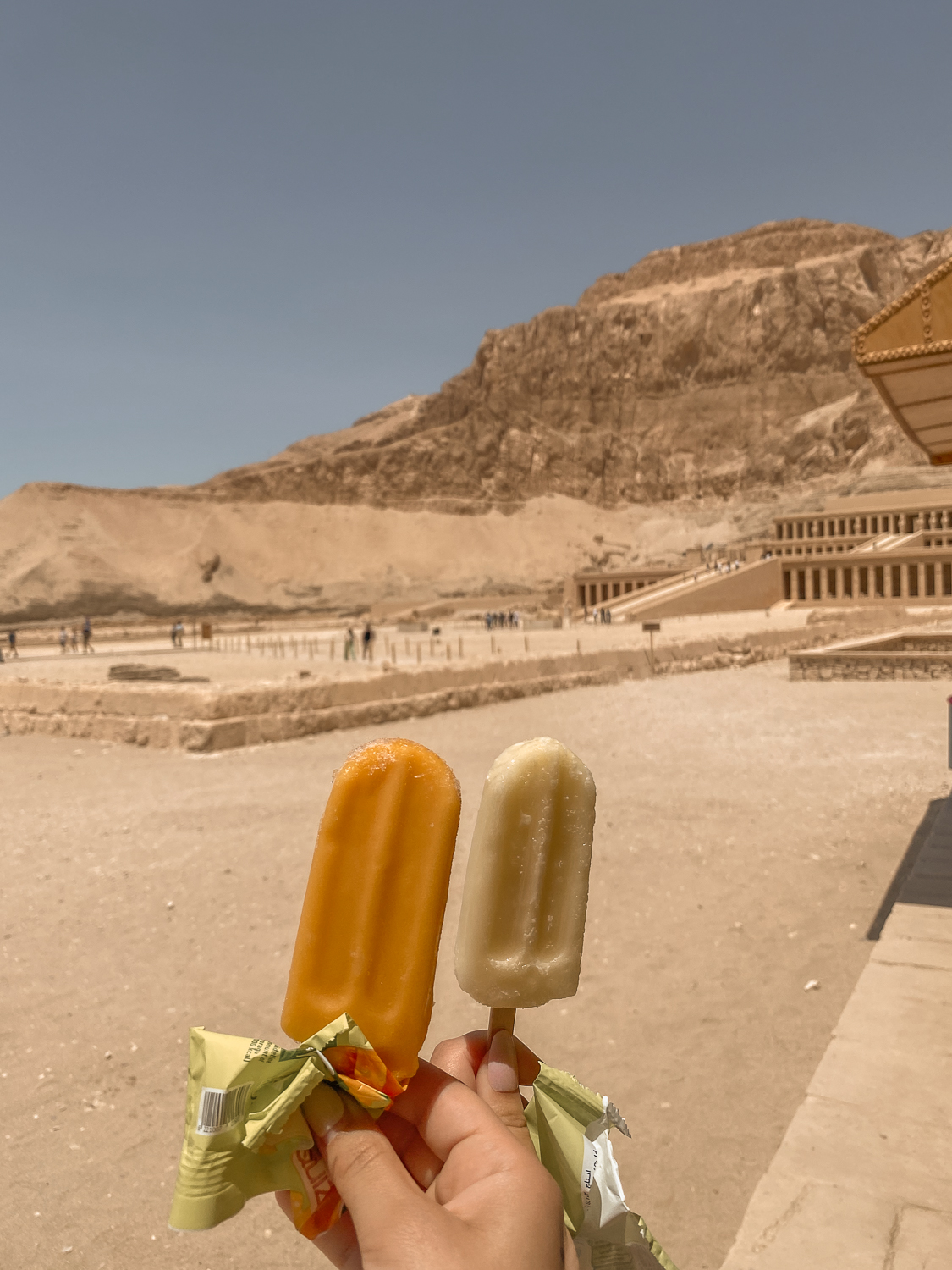 8. LUXOR MUSEUM 
The Luxor Museum is an archaeological museum located in Luxor, Egypt. To get out of the sun, the museum would be a nice place to visit. 
However, their hours seem to be so-so because technically the museum hours are 9 AM to 4 PM and 5 PM to 10 PM every day but I tried to visit during these hours and they were closed. So it all just depends on the day I guess. They will typically close for 1 to 3 hours during the day. 
Tickets for Luxor Museum cost 100 Egyptian pounds. 
9. MUMMIFICATION MUSEUM
Another museum to check out in Luxor if you have the time is the Mummification Museum. The museum is dedicated to ancient Egyptian mummification so I'm sure it would be very interesting to check out. 
My friends and I tried to visit but like Luxor Museum, they decided to close during the day so we didn't get the chance to see this museum either. The museum hours online show 9 AM to 1 PM and then 5 PM to 8 PM but I think you just have to get lucky. And I am sure during high tourist season they are actually open during their scheduled hours. 
RELATED POST: ALL YOU NEED TO KNOW ABOUT A HOT AIR BALLOON RIDE IN LUXOR
10. SOFRA RESTAURANT & CAFE 
For some delicious local Egyptian cuisine in the most quaint spot. Stop in Sofra Restaurant & Cafe for either lunch or dinner. My friends and I went for dinner and it was fantastic! 
We walked straight from our Nile cruise ship and let me tell you, the scariest thing in Egypt is crossing the street because of all the traffic – so yeah that was our biggest challenge. But definitely worth the chaos. 
We had fresh juices and appetizers, and for dinner, I tried the shakshuka. The food was amazing. 
WHERE TO STAY IN LUXOR
During my time in Luxor, I stayed on our docked Nile cruise ship. This is the case for many in Luxor because if you experience a Nile cruise almost all of them will begin or end in Luxor. 
However, there are great places to stay in Luxor, like the Sofitel Winter Palace hotel. We stopped in here for lunch and it's an amazing place.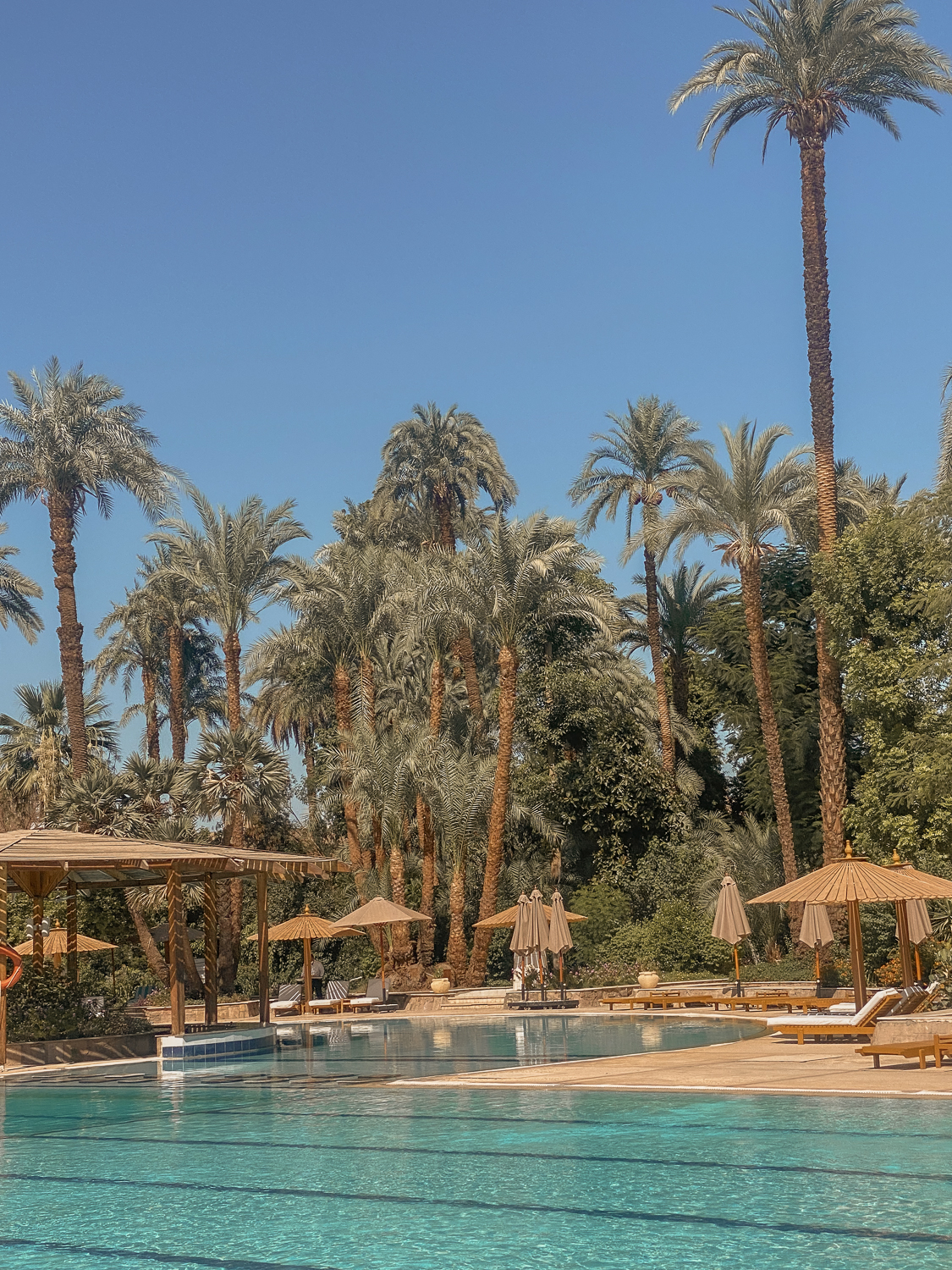 FIND A PLACE TO STAY IN LUXOR
HOW TO GET TO LUXOR 
CAIRO TO LUXOR
If you are coming to Luxor from Cairo, you'll want to fly into Luxor International Airport. It's about an hour's flight from Cairo and internal tickets are pretty affordable in Egypt. Especially on EgyptAir, which is Egypt's largest airline. 
You can also ride an overnight train to get from Cairo to Luxor. A much longer option but a more affordable alternative depending on when you are traveling. 
LUXOR TRAVEL TIPS
Luxor is quiet during the day: You'll notice that compared to nighttime, the streets of Luxor in the daytime are very quiet. Many restaurants and shopping will be closed as well so double check museum and restaurant hours before you head out. 
At Markets: You have to bargain when you visit markets and honestly many stores. Almost everything is wayyy overpriced in hopes to scam tourists so don't fall for the scams and haggle low. Also, bring small bills.   
Crossing the street: Crossing the streets in the evening in Luxor was the craziest experience ever. Like the traffic is insane and no one uses traffic lights or crosswalks. 
Attire: To my surprise, many places didn't require covered shoulders and knees. The only place in Egypt I had to cover my shoulders was in the Mosque of Muhammad Ali in Cairo. I do suggest carrying a shaw to cover up if you are in a crowded area – this is respectful of the culture and you want to try to blend in as much as you can.  
McDonald's!: Okay this isn't really a tip but on our way back from dinner my friends and I decided to stop a Mcdonald's for dessert because wouldn't you be curious as to what the heck Egyptian McDonalds was like!? Well we got cookies and cream McFlurries and they were great – they did taste similar to US McDonalds. But it was a fun experience. And the place was packed.   
I hope you enjoyed this guide with all of the best things to do in Luxor! If you have any questions about Luxor or Egypt in general feel free to comment below, DM me on Instagram, or email me at sydabroad@gmail.com.  
RECOMMENDED TOURS IN LUXOR
WANT TO SUPPORT?
I always appreciate it when friends and family reach out wanting to support Syd Abroad. If you'd like to support the blog, here are a few brands that I am affiliated with. All you do is click the links, and I will receive a small commission at no extra cost to you!