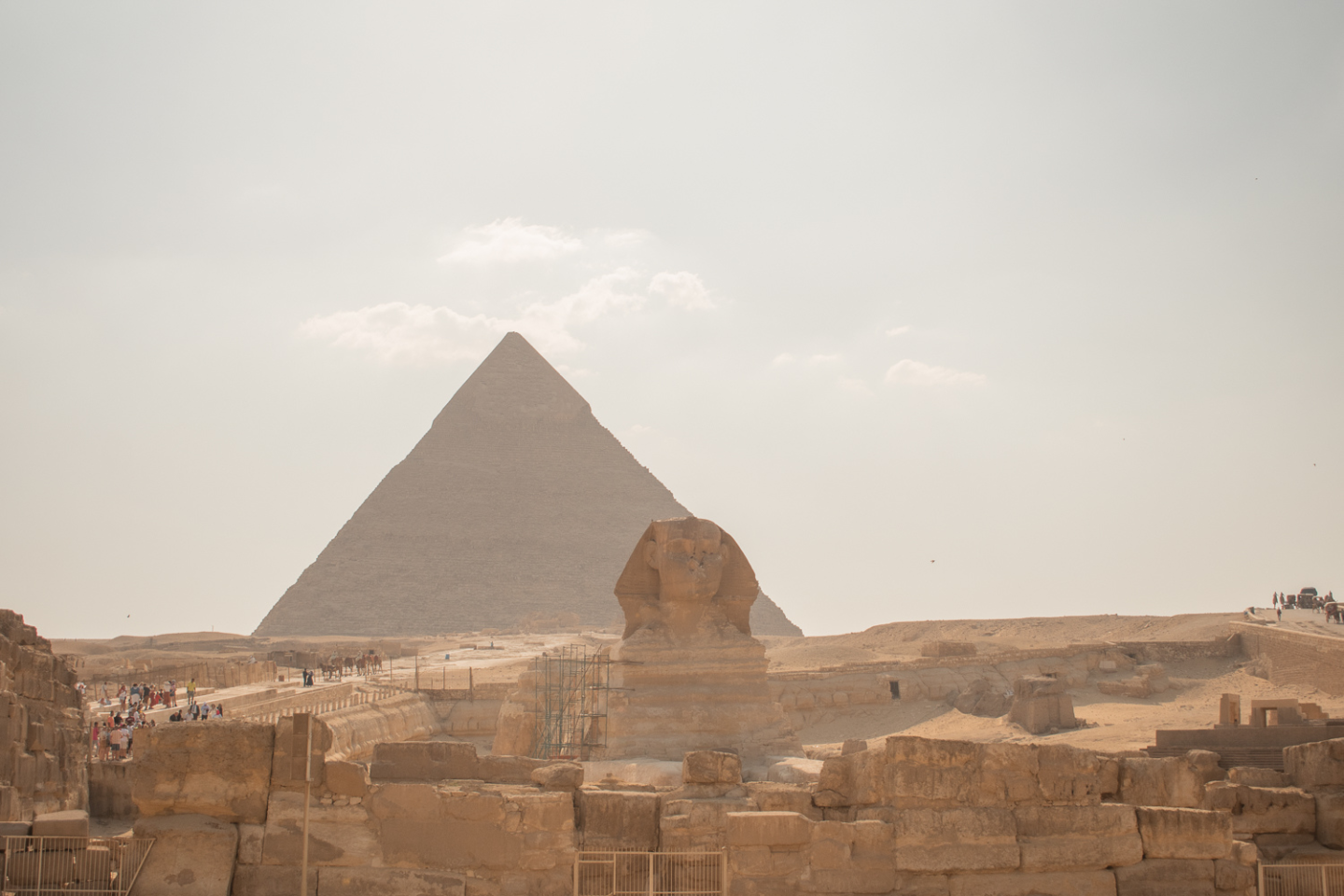 (Disclaimer: This post may contain affiliate links, which means we may receive a small commission at no extra cost to you.)
If you are planning a trip to Egypt, here are the best things to do in Cairo! 
Cairo is the massive capital city of Egypt with endless things to see and places to explore. I narrow down the best things to see in this guide so if you are visiting Cairo any time soon, then keep reading! At the end of this guide, I have included where to stay in Cairo and an interactive map with all of these locations, and more. 
This post is all about the best things to do in Cairo, Egypt. 
THE BASICS 
CURRENCY = THE EGYPTIAN POUND (EGP)
The official currency in Egypt is the Egyptian Pound. 
1 USD = 30.8 Egyptian Pound
You will likely need cash during your entire trip to Egypt. It's rare that places accept cards unless you are in a nice hotel and at times a nicer restaurant. 
If your bank allows, I suggest ordering local currency before your trip. However, Egyptian Pounds are hard to get (especially in the US) my bank couldn't order them, so I waited to use an ATM at my hotel when I arrived. 
TIP: I suggest using the Charles Schwaab debit card for traveling. There are zero foreign transaction fees with this card so you can pull out cash as much as you want without the extra fees. They will reimburse your account for any ATM fees. It's an incredible card. 
LANGUAGE = ARABIC 
Egypt's local language is Arabic. Although some people speak English it's beneficial to brush up on a few common words and phrases in Arabic. I love Duolingo for learning languages.
PHONE AND INTERNET 
The cell service and wifi are definitely so-so here. Depending on where you are, the service might work just fine or not at all. I wouldn't have any high expectations of your phone working well everywhere. 
If you are staying at a nice hotel, the wifi will likely work just fine. This was the case for me. On the streets in many cities, however, not so much. 
DAILY BUDGET
Egypt is an extremely affordable destination to visit. Aside from your hotel, you can plan on spending around 20 to 40 US dollars per day on a mid-range budget. You can honestly get by on even less.
 This is one of those destinations where you can make it as cheap or luxurious as you want. Depending on the places you shop and activities you partake in – will affect your budget. But all and all, Egypt is an extremely affordable country to visit. 
IS THE TAP WATER DRINKABLE?
No. Do not drink tap water in Egypt. 
Although in Cairo, it is safe to brush your teeth with tap water. I know some who didn't want to risk it the entire trip but I did brush my teeth with the water in Egypt and never had a problem.  
TIPPING IN EGYPT 
Tipping is customary in Egypt. It's typical to leave a 10% to 15% tip at restaurants and cafes. It's also important to tip when doing activities such as riding camels, a hot air balloon ride in Luxor, or tipping your crew after a Nile cruise. 
Tipping in Egyptian pounds at the end of your experience or dinner is great, but US dollars typically work as well if it's a small bill. I ran into a few cases where the locals actually preferred US dollars to their own currency.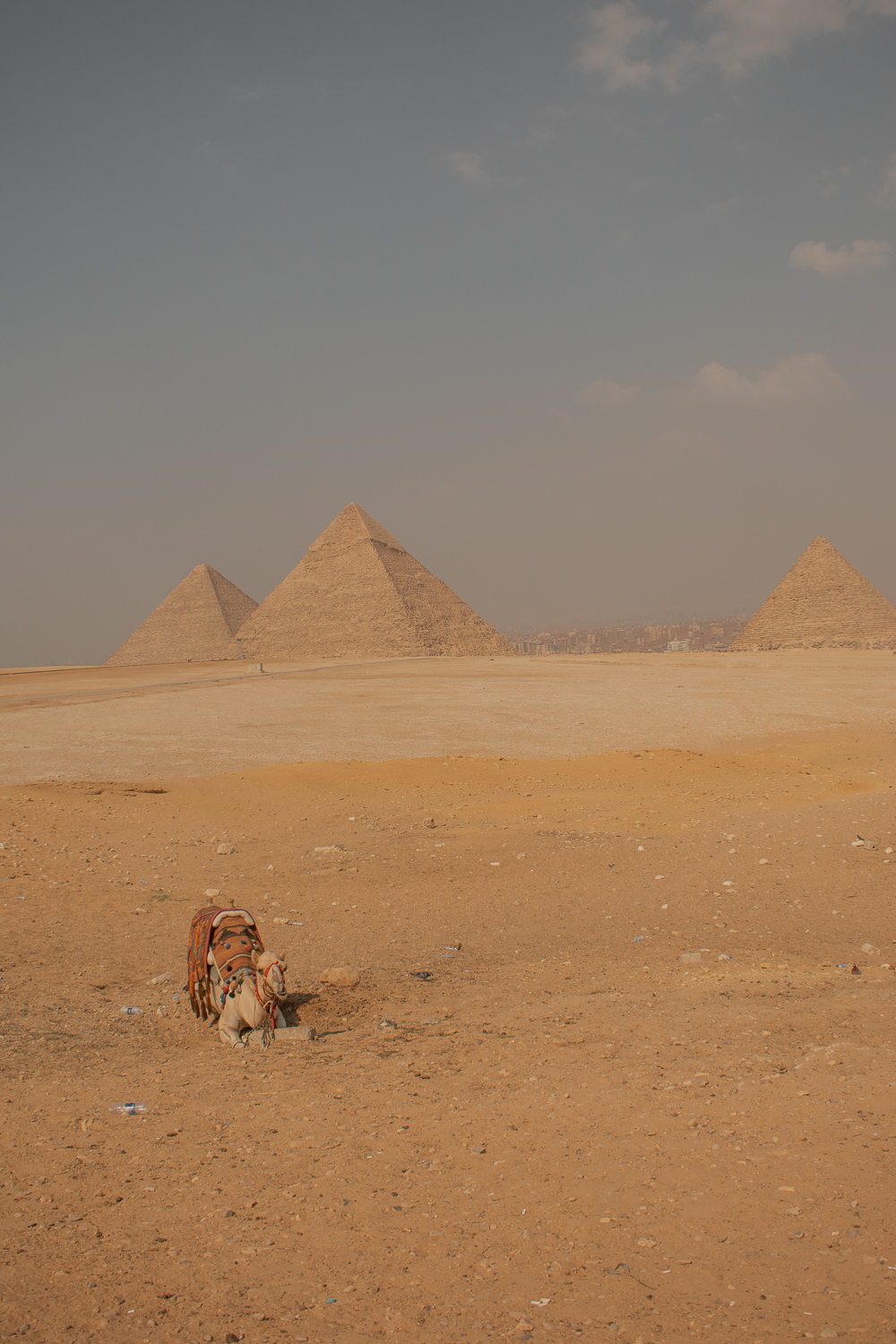 BEST THINGS TO DO IN CAIRO 
1. PYRAMID OF DJOSER
The number one reason people visit Cairo is of course – the famous Pyramids of Giza, which is a must-do, but did you know the Pyramid of Djoser at the Saqqara complex is actually the oldest pyramid ever known? 
Also known as the Step Pyramid, The Pyramid of Djoser served as the burial grounds for the ancient Egyptian capital of Memphis. The Pyramid was built for King Djoser. 
I suggest visiting early in the morning to avoid the crowds and the heat. The entrance fee is 60 Egyptian Pounds.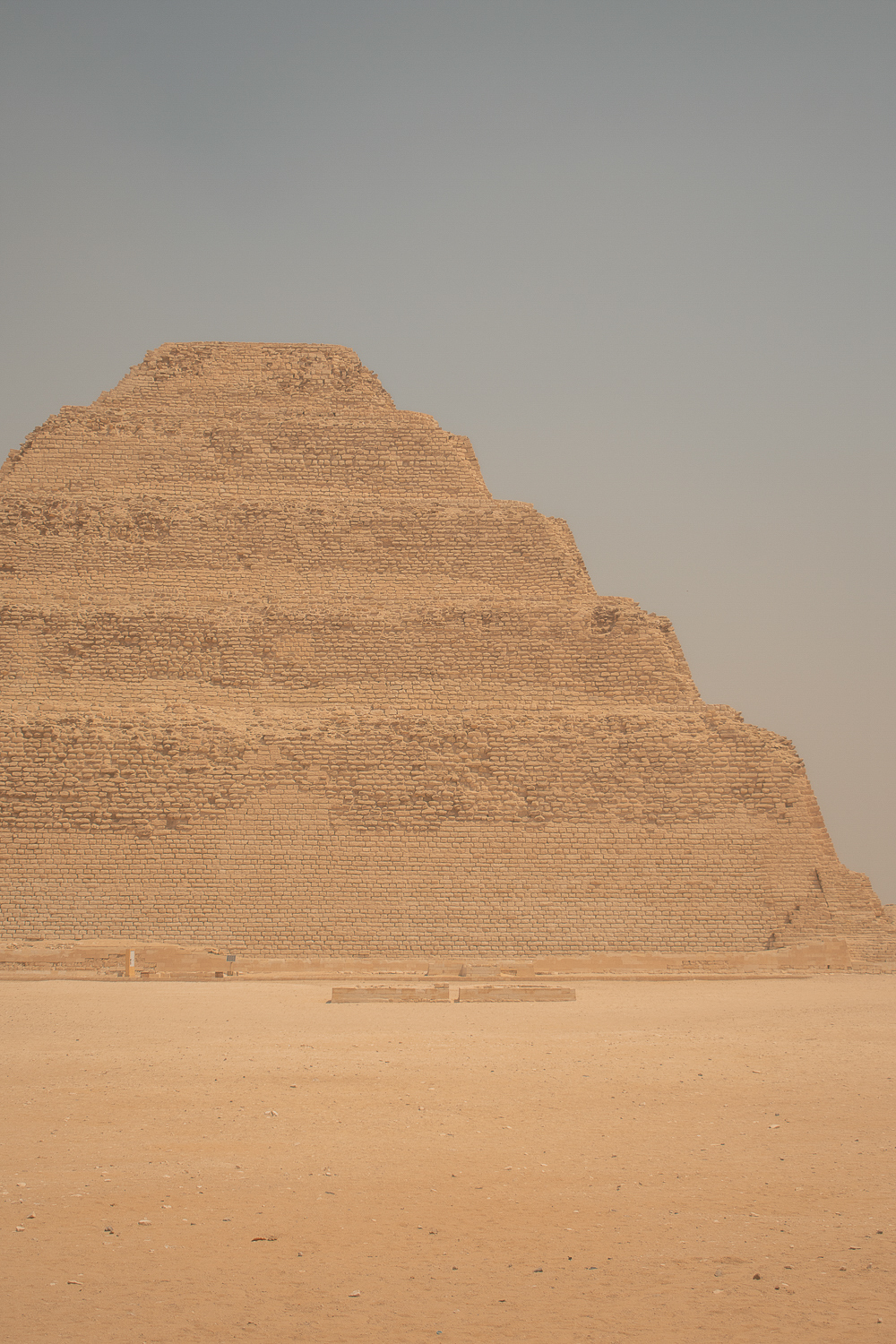 2. A LOCAL PAPYRUS SHOP
If you are looking to pick up a souvenir in Egypt, make sure to get papyrus. Papyrus is essentially Egyptian art created on a paper-like material made out of the papyrus plant. This was considered the first ever "paper." 
I learned how papyrus was made and purchased mine at Key of Like Papyrus in Cairo but there are plenty of papyrus shops around the city. It was such a fun experience, we were welcomed with hibiscus tea and learned all about this Egyptian art.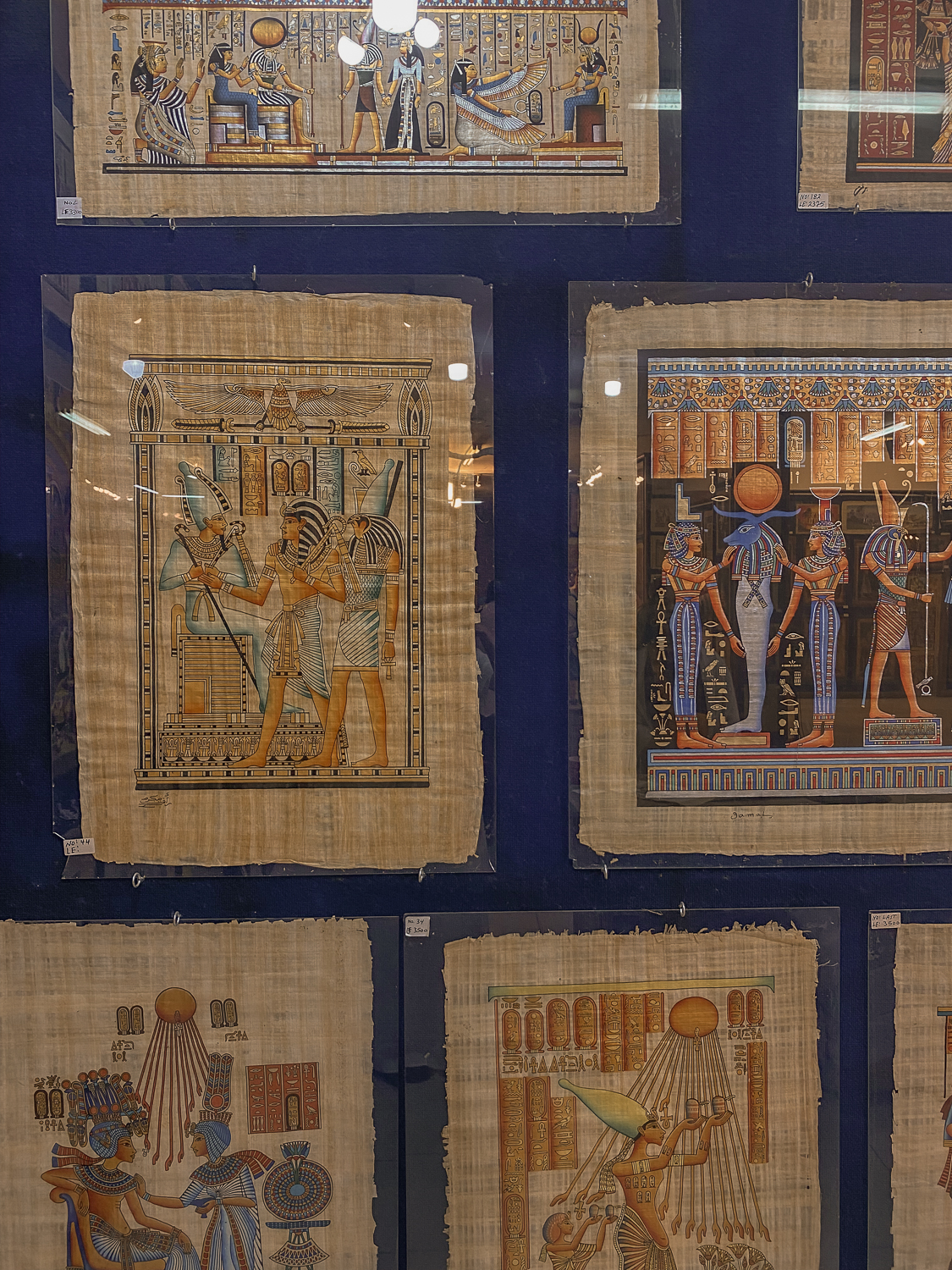 RELATED POST: ALL YOU NEED TO KNOW ABOUT RIDING A HOT AIR BALLOON IN LUXOR
3. PYRAMIDS OF GIZA 
Obviously, the Pyramids of Giza are probably number one on your Egypt bucket list. Make sure you spend enough time here because the Giza Pyramid complex is massive, I really wish I had more time to explore. I was on a group trip so my time here was limited.  
First off, it helps if you are on a tour bus because you can drive from stop to stop around the complex. Our first stop was at the biggest pyramid, The Great Pyramid. At this stop, you are able to enter the pyramid. I didn't do this for the sake of time – I wanted to enjoy my time outside of the pyramid. 
The typical cost of visiting the Pyramids of Giza is 240 pounds but if you want to go inside the pyramid, the cost is 440 pounds per person.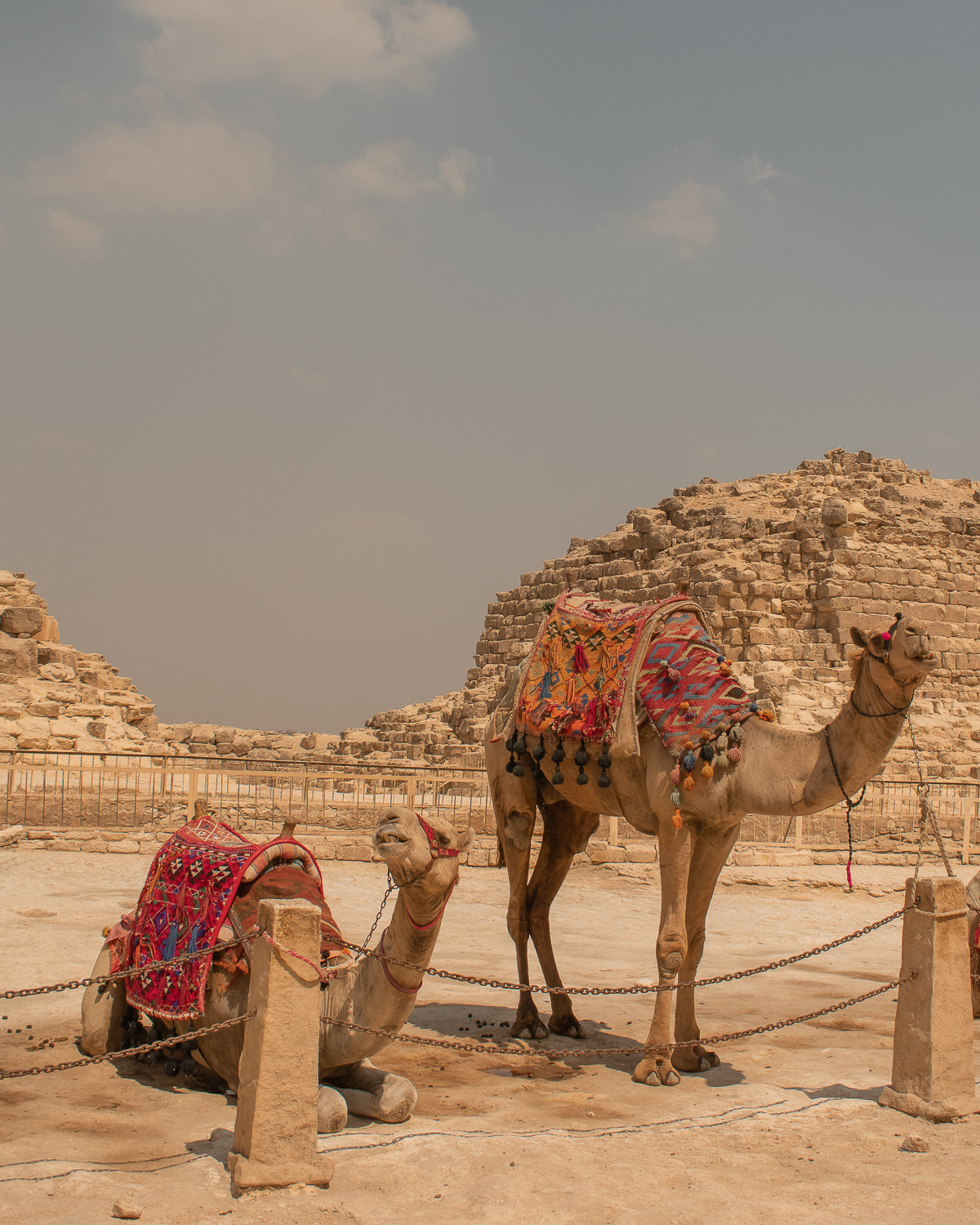 Our second stop at the Giza Pyramids was for a view of all three pyramids and to ride camels. The cost to ride a camel at the Pyramids of Giza is 100 pounds and then a 20 to 40 pound tip at the end (or 1 or 2 USD). To be honest I didn't feel great about riding these animals because they didn't seem they were taken care of that great. I wouldn't do it again if I were to go back. 
Our third stop was the Great Sphinx of Giza, probably the most iconic spot. 
4. THE GREAT SPHINX OF GIZA 
Although the Sphinx is part of the Giza Pyramid complex it's a hike away from the main pyramids. Make sure to stop by the Sphinx and tour this area of the complex. The Great Sphinx of Giza is a 4,500-year-old stone monument with a human's face on a lion's body.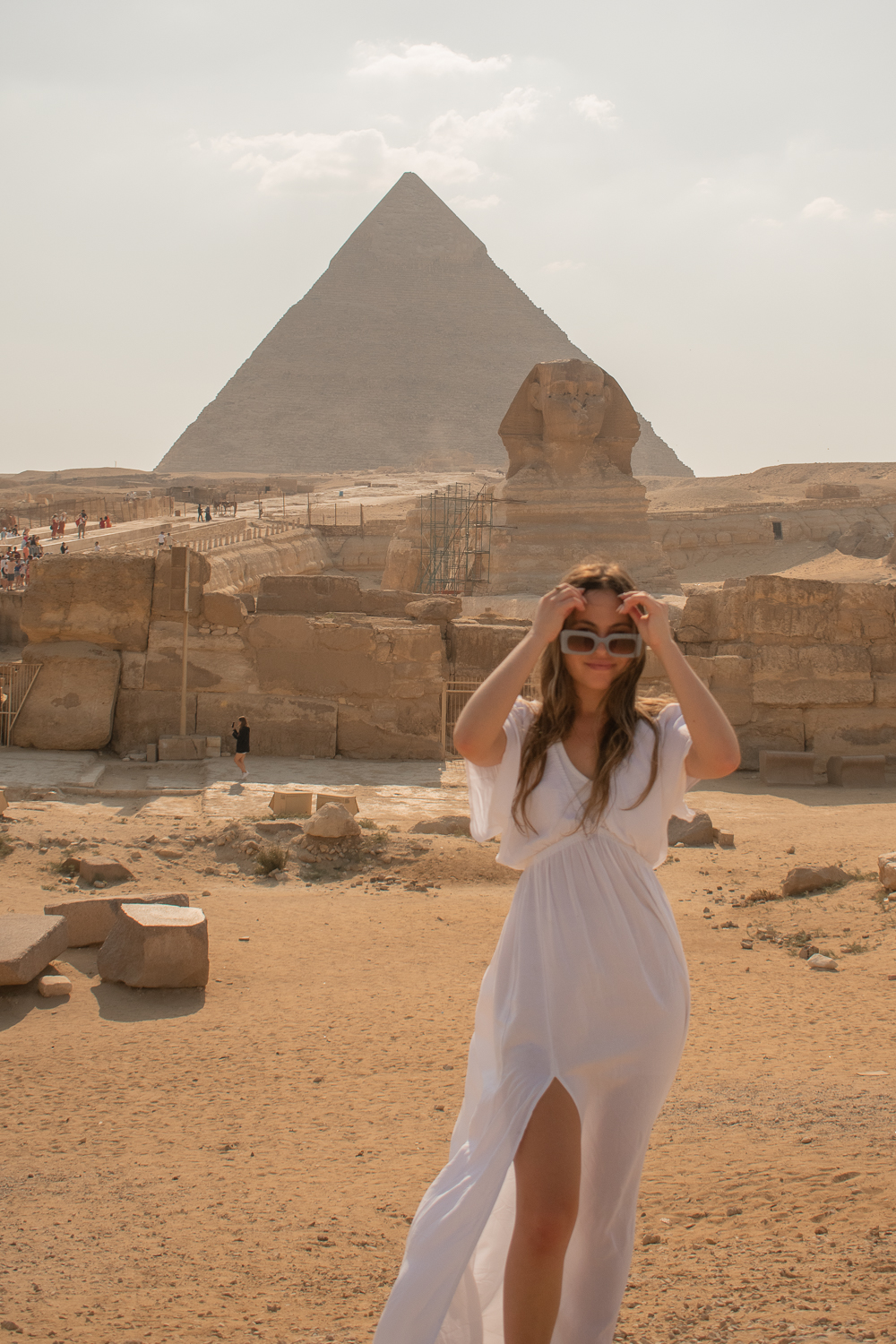 5. THE MUSEUM OF EGYPTIAN ANTIQUITIES (THE EGYPTIAN MUSEUM)
Another thing you can't miss in Cairo is the Egyptian Museum. It holds an extensive collection of Egyptian antiquities and is the oldest archaeological museum in the Middle East. 
This museum was the most unique museum I have ever visited, here you can see mummies, King Tut's tomb, and so much more. Something to keep in mind, it is hot in here. And I mean hot. There is no AC and when you are here during the hottest months (June through August) – it's hot. I suggest taking a phone fan. 

I also suggest doing a guided tour, I learned so much more with a guide than if I were to go on my own. Another thing to note is this museum is busy. So be prepared for crowds. 
The Egyptian Museum is open every day from 9:00 AM to 5:00 PM. Tickets cost 200 pounds for adults and 100 pounds for students. 
NOTE: The New Cairo Museum, The Great Egyptian Museum, will finally open in 2023, so if you are visiting once it's open, you will have to go check it out! 
6. NILE RIVER 
Because the Nile River passes through the city of Cairo, you should definitely visit the Nile in Cairo. Especially if you don't have time to experience a Luxor, Aswan, or cruise the Nile. 
Here, there are plenty of restaurants, casino ships, and shows. You can also do a felucca ride on the Nile which is a traditional sailboat.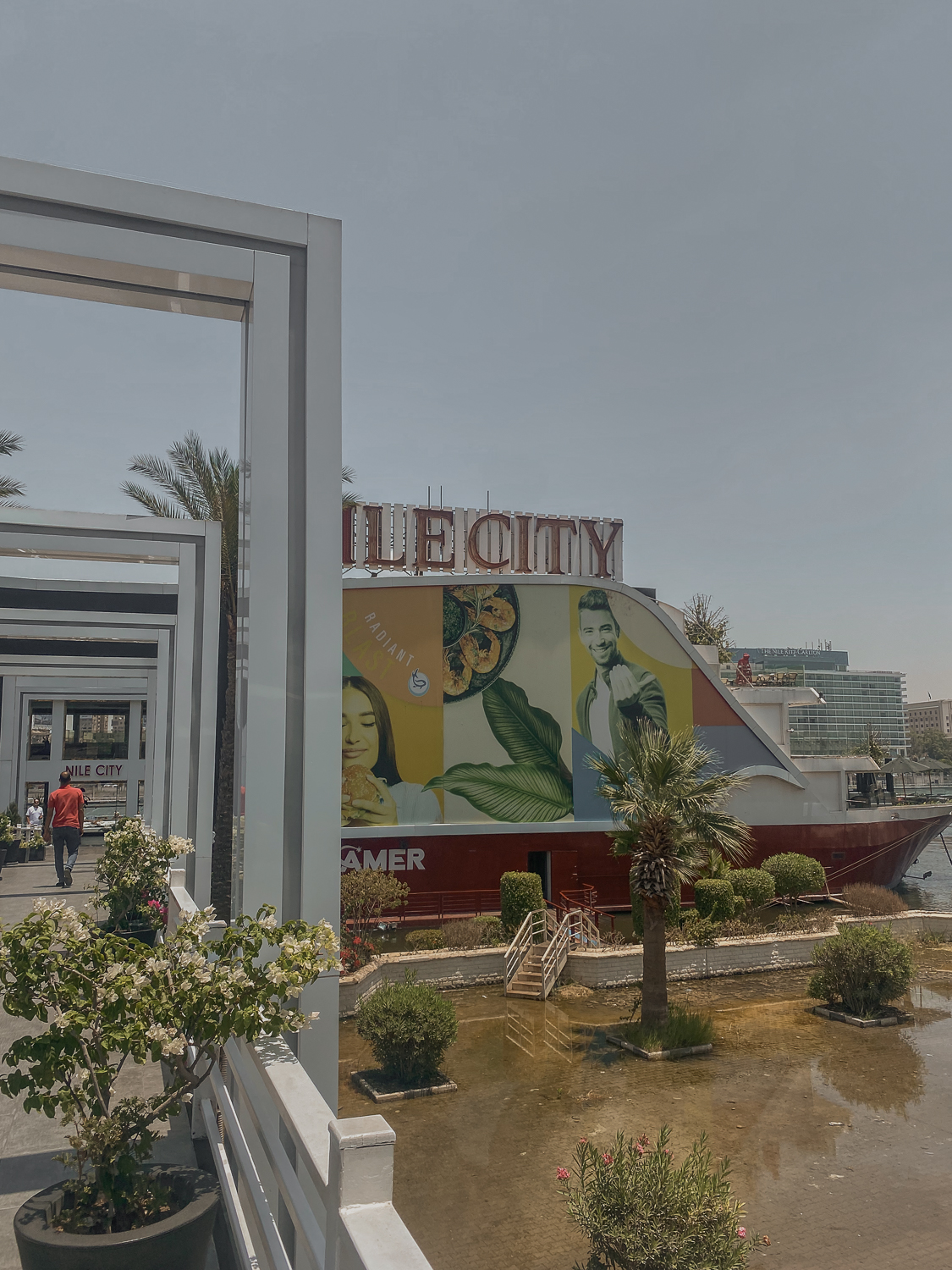 7. MOSQUE OF MUHAMMAD ALI
The Mosque of Muhammad Ali is situated in the Cairo Citadel of Saladin which was built in the 12th century. 
The Mosque of Muhammad Ali is such a beautiful structure and very unique to Cairo because of its Islamic design. If you are into architecture, you can't miss it. This Mosque is seriously a work of art and even more stunning on the inside.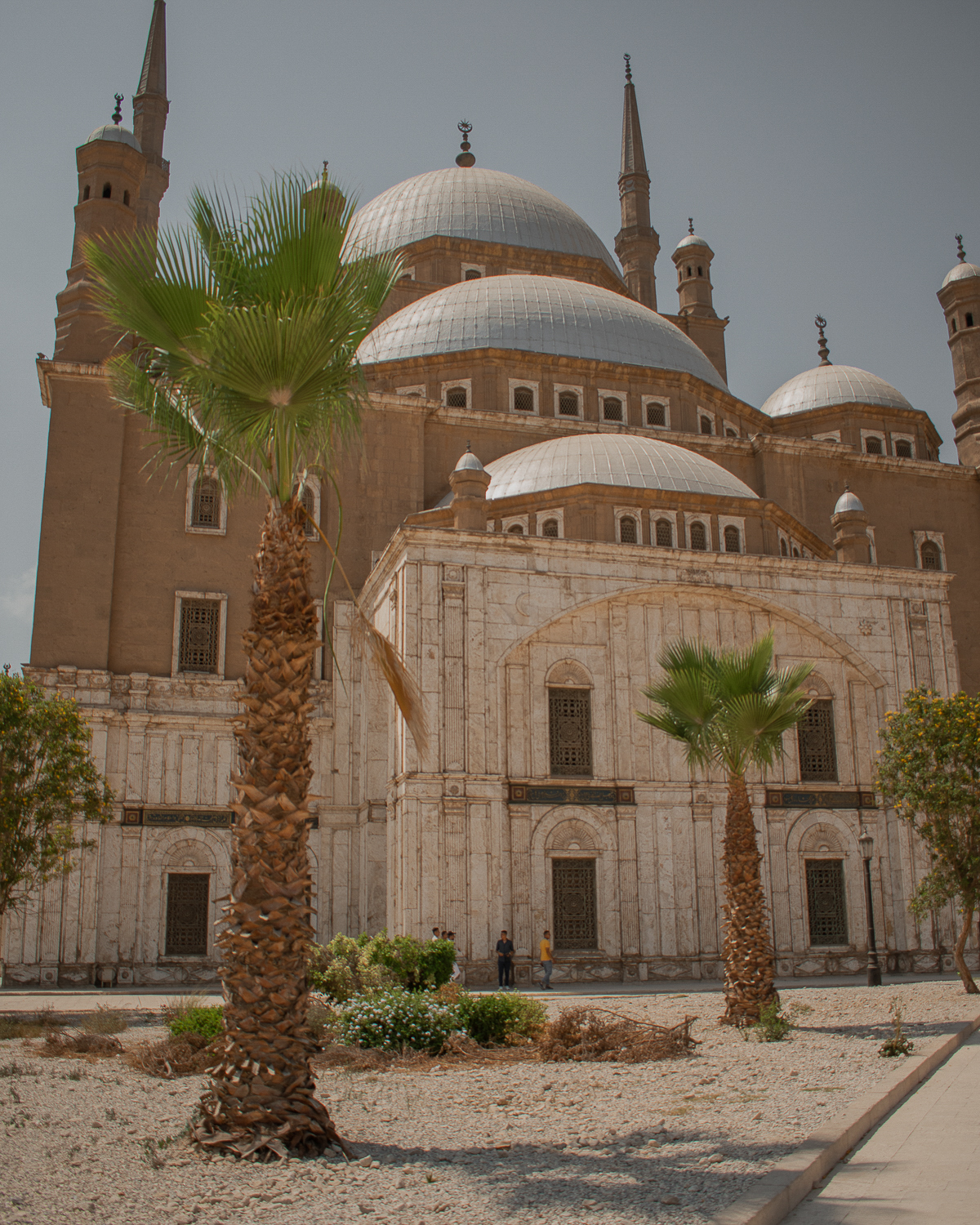 The Citadel costs 100 Egyptian pounds for adults. I spent about an hour here because I was on a group tour but I would have loved to spend more time. It was so pretty to explore and don't forget to see the amazing view of the city from the back of the Mosque. You can spot the pyramids in the distance if you look close enough.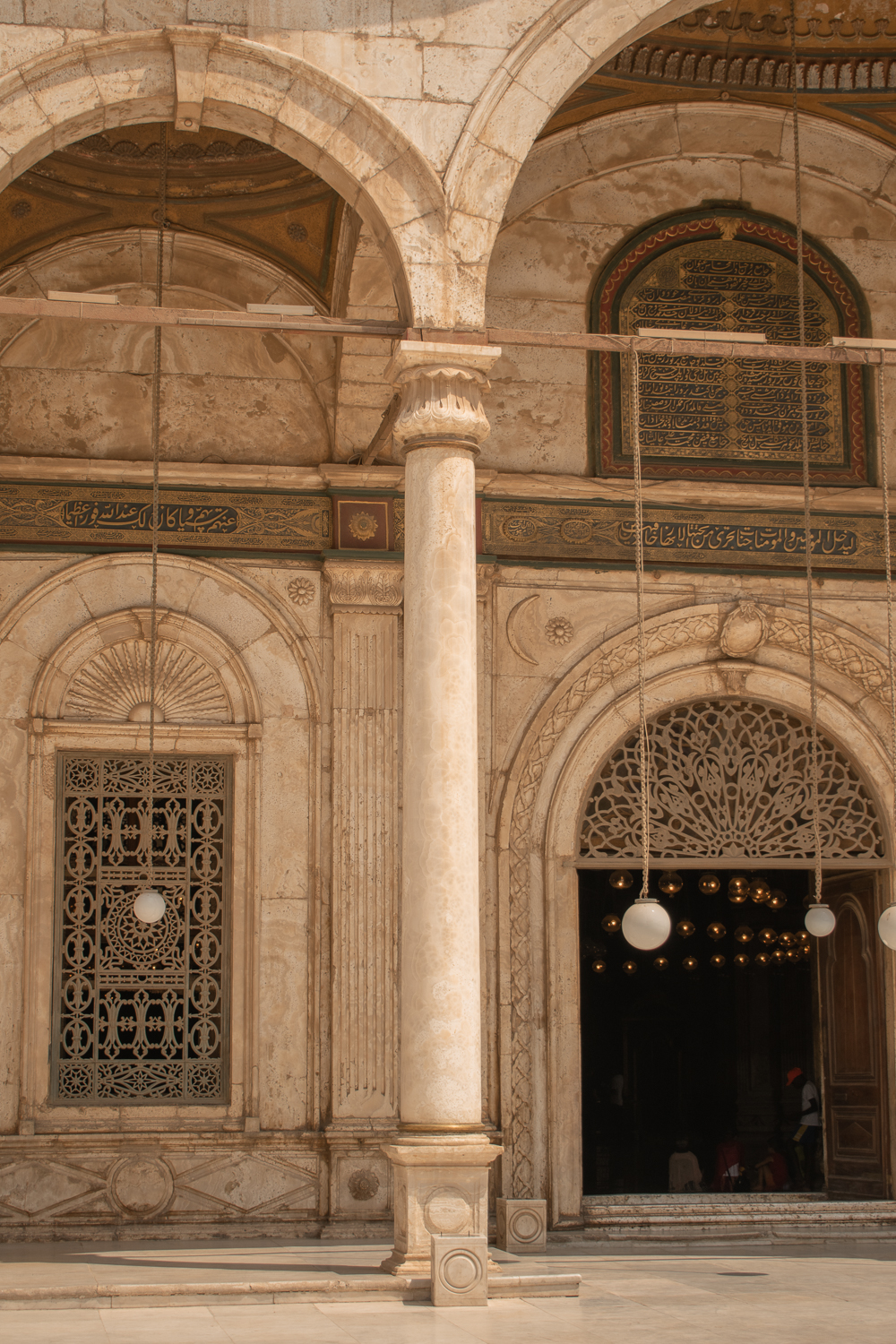 Make sure you cover up your knees and bring something to cover your shoulders when entering the mosque. You will also need to take your shoes off to go inside the mosque.
8. KHAN EL-KHALILI 
For any souvenir you can imagine, head to Khan El-Khalili Market. It's one of Cairo's most bustling markets selling perfumes, textiles, lanterns, jewelry, spices, and so much more.  
As for shopping at markets in most of the city, you will need to haggle because almost everything will be well overpriced. I'd start by asking for half the price of what they are offering, maybe even less. 
If you are a lady, be prepared to be catcalled and haggled, it's very common from my experience in this country, just ignore them and you will be fine. Many of the locals are very friendly! 
9. CAIRO TOWER
Cairo Tower once was the tallest building in all of Africa and now it's the tallest in North Africa. You can visit the tower from 9:00 AM to 1:00 AM and tickets cost 60 pounds. From the top of the tower, you can see the entire city, the pyramids, and the Nile. 
RELATED POST: 17 PHOTOS TO INSPIRE YOU TO VISIT EGYPT – EGYPT PHOTO INSPO
AREAS TO EXPLORE 
Old Cairo: This historic part of the city 
New Cairo: East Cairo
Coptic Cairo: A neighborhood in Old Cairo
MAP OF CAIRO WITH ACTIVITIES
WHERE TO STAY IN CAIRO 
I hope you enjoyed this travel guide with all of the best things to do in Cairo, Egypt. If you have any questions about traveling Egypt, feel free to email me at sydabroad@gmail.com, comment below, or DM me on Instagram. And keep an eye out for more Egypt blog posts! 
RECOMMENDED TOURS IN CAIRO
WANT TO SUPPORT?
I always appreciate it when friends and family reach out wanting to support Syd Abroad. If you'd like to support the blog, here are a few brands that I am affiliated with. All you do is click the links, and I will receive a small commission at no extra cost to you!