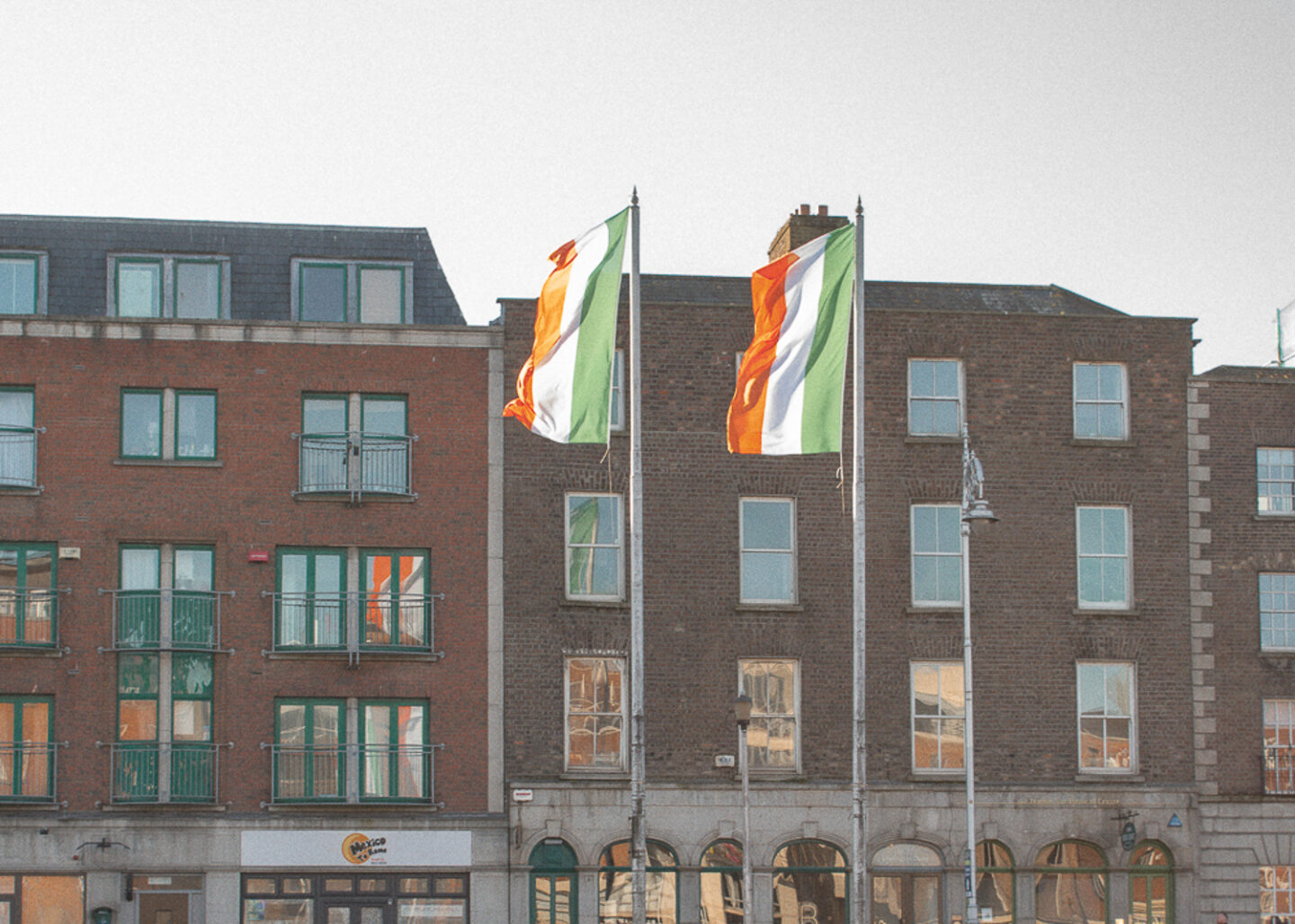 (Disclaimer: This post may contain affiliate links, which means we may receive a small commission at no extra cost to you.)
St. Patrick's Day in Dublin is something that needs to be on your bucket list. Although this holiday is fun to celebrate pretty much anywhere you are, there's just something about celebrating in Ireland, where St. Patrick's day originated. 
In this guide, I'm sharing all that you need to know before you visit. Where to stay in Dublin, what to expect, what to bring, and more. I traveled to Ireland for Saint Patrick's Day in March of 2022 but this guide is updated for St. Patrick's Day 2023. 
This post is all about how to celebrate St. Patrick's Day in Dublin, Ireland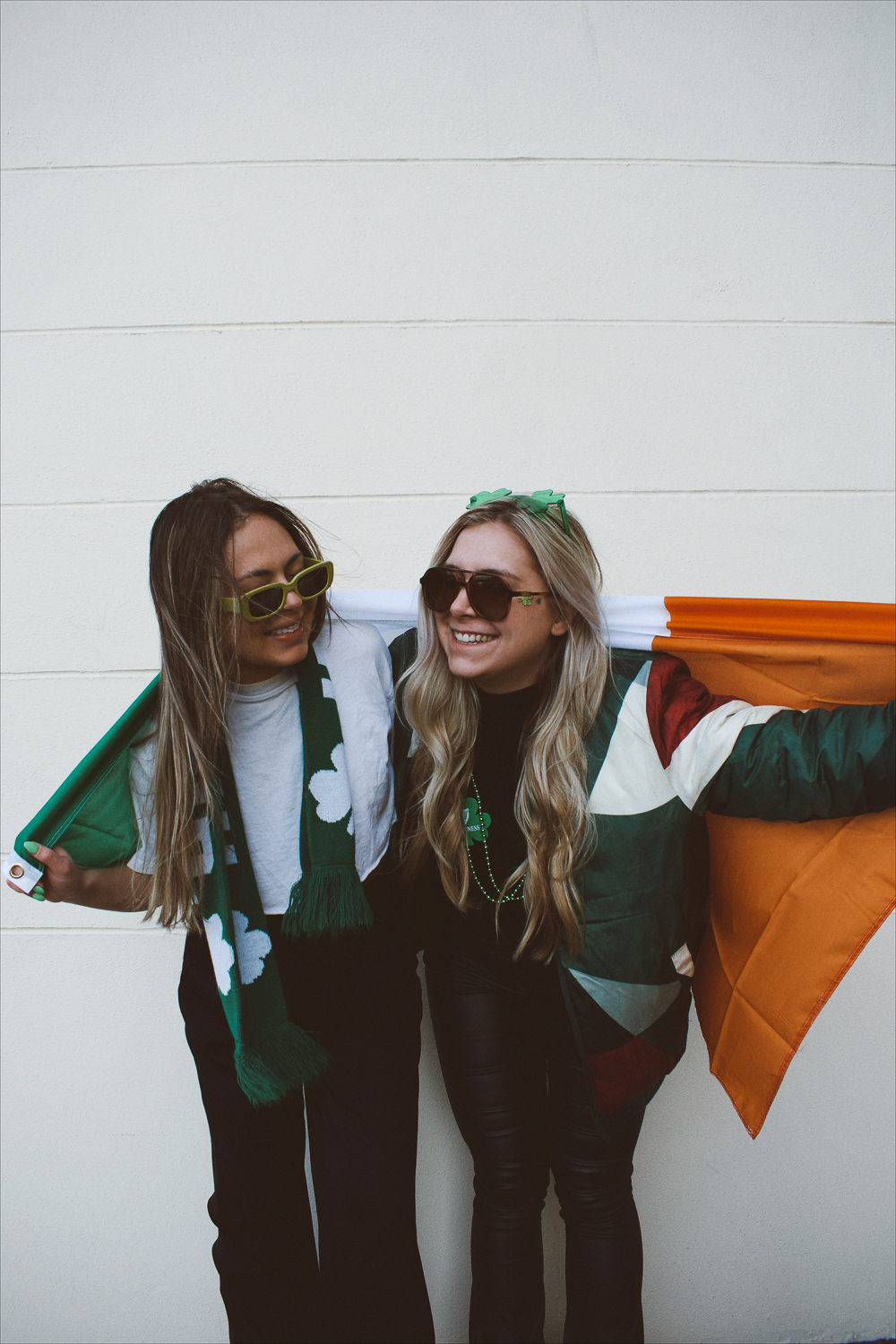 ST. PATRICK'S DAY IN DUBLIN
WHEN IS THE CELEBRATION? Saint Patrick's Day in 2023 is celebrated on Friday, March 17th
Although the primary celebration along with the parade is celebrated on Friday, March 17th, 2023, there will be celebrations going on the entire week and throughout the weekend. 
I suggest going at least a day early and staying through the weekend to see all that Dublin has to offer. It really is such an amazing city. I took an overnight flight and arrived in Dublin Wednesday afternoon and stayed through Sunday. Although I would have loved to have more time to see this incredible country, I got a good taste in the short amount of time I had. 
RELATED POST: 3 DAYS IN DUBLIN, IRELAND: THE ULTIMATE ITINERARY
THE WEATHER  
Prepare for cold and rainy. I got extremely lucky when I went because I did not see rain once, which is extremely rare for this time of year in Ireland. It was nice and sunny the entire trip but pretty chilly in the mornings and evenings. The temperature in Ireland in March typically falls in the 40s to 50s (Fahrenheit).  
Check out this blog about what to wear in Dublin and I have an article coming soon about what all you need to pack for St. Patrick's Day in Dublin.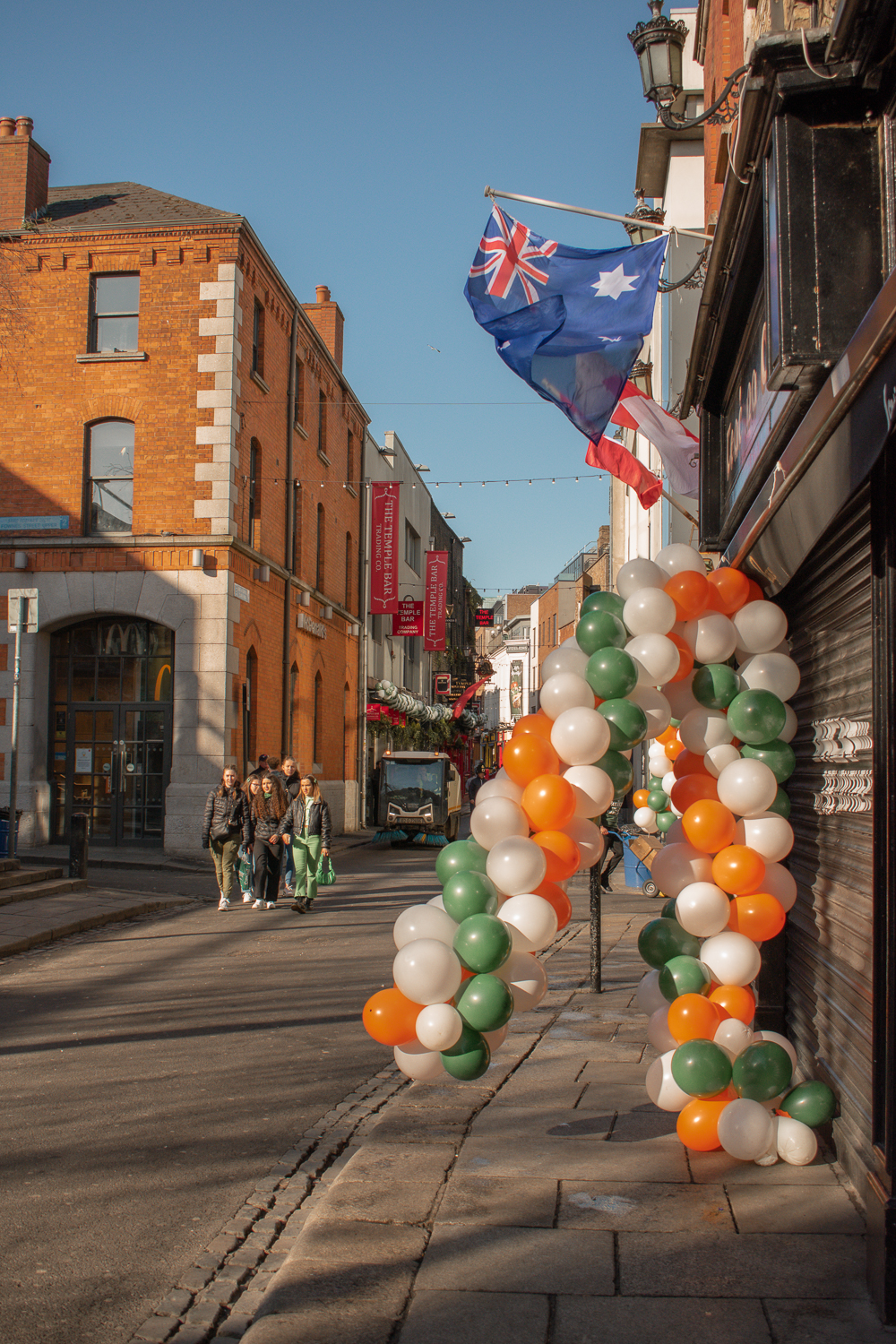 WHERE TO STAY IN DUBLIN, IRELAND
Find your accommodation asap! Normally I wouldn't stress too much about finding a place to stay early on, but for St. Patrick's Day in Dublin, yes. Because everything fills up SO fast and gets extremely expensive. I usually stay in hostels because they are centrally located and affordable, but even the cheapest hostels were well over 100 euros per night for a crappy bunk bed. 
My friend and I ended up staying at Hotel Ibis Dublin and it was perfect for what we needed. We did have to take a taxi or bus into the city center but we had our own basic room and the hotel was affordable. Nothing luxurious at all but it did the job! 
FIND A PLACE TO STAY IN DUBLIN
WHAT TO DO ON ST. PATRICK'S DAY IN DUBLIN
IRISH BREAKFAST 
Start off St. Partick's Day in Dublin by heading to a local cafe in town to grab a warm Irish breakfast. Trust me, you will need a lot of fuel for a long day of drinking and being on your feet. 
We went to Chicobo and the food was delicious. Our taxi driver insisted we start our day at this restaurant with an Irish breakfast and obviously we couldn't say no.  
TIP: choose somewhere close to the city center so you can walk to the parade after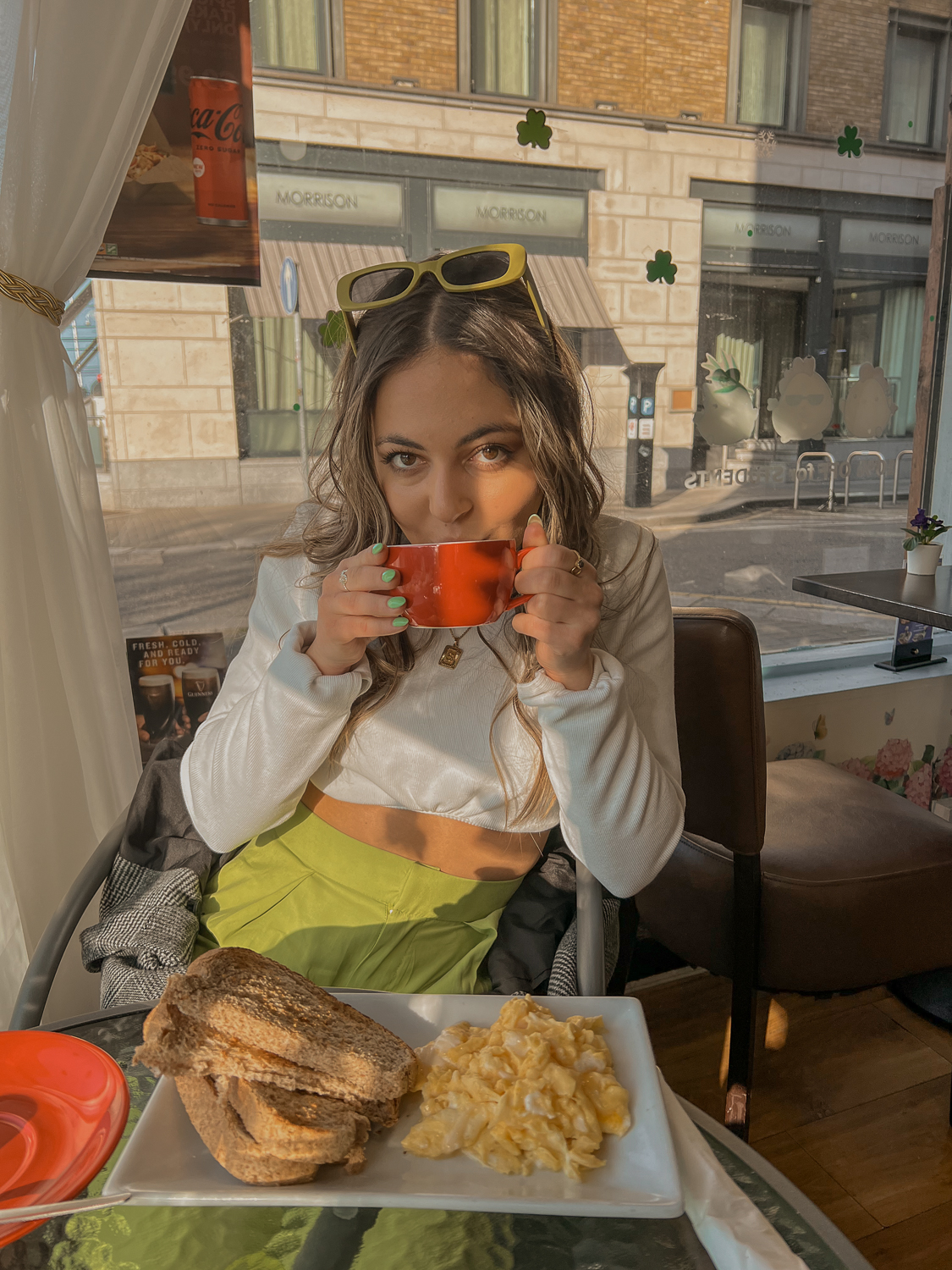 SAINT PATRICK'S DAY PARADE
The Saint Patrick's day parade in Dublin might be the number one thing to do in the city. Hundreds and hundreds of people will gather in the streets hours before the parade starts. So if you want to see the parade, get there early. I recommend watching the parade on O'Connell street. This was a great area to be in. 
Once we found our spot we went to a nearby cafe to pick up a warm coffee for the long wait. Although It was a long wait (about two hours before the parade started), it was honestly just fun being in the energy of it all and people-watching. The parade in March of 2022 was the first one since the pandemic so everyone was just so happy to be there.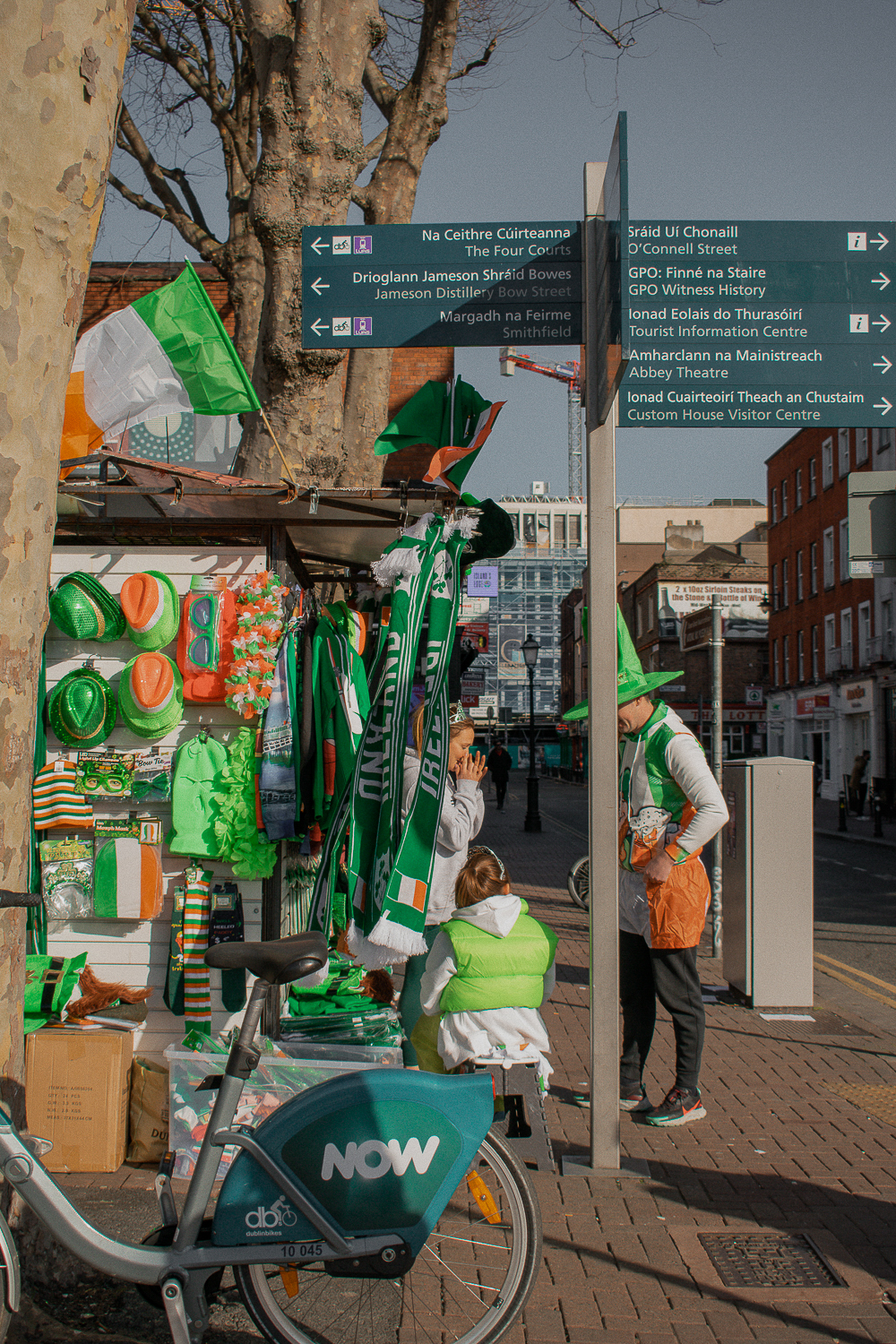 The Saint Patrick's Day parade in Dublin is on Friday, March 17th at about noon. (in 2022 the parade lasted about two and a half hours)
Alright, so for the actual parade it was really great to see but if you've seen a parade before, you know what to expect. That being said, It really was amazing and I think if it's your first time in Dublin for Saint Patrick's day, I wouldn't miss it. But if I were to go back, I probably wouldn't mind skipping the parade or at least not staying the entire time. Between waiting for it to start and the actual parade, it does take up some time …but you can't start drinking too early in the day so it's the perfect activity. 
RELATED POST: 11 OF THE MOST INSTAGRAMMABLE PLACES IN DUBLIN, IRELAND
HIT UP THE PUBS
After the parade, it's obviously time to hit up the local pubs and drink Guinness! There are seriously pubs on every corner so you will not have a problem trying to find one. A few of my favorites were the Brazen Head pub, Stag's Head, and Bad Ass Cafe. Another great spot to find all the local pubs is on Camden Street. I suggest having a few pints of Guinness (because duh, you're in Ireland) and a baby Guinness shot – they are so dang good!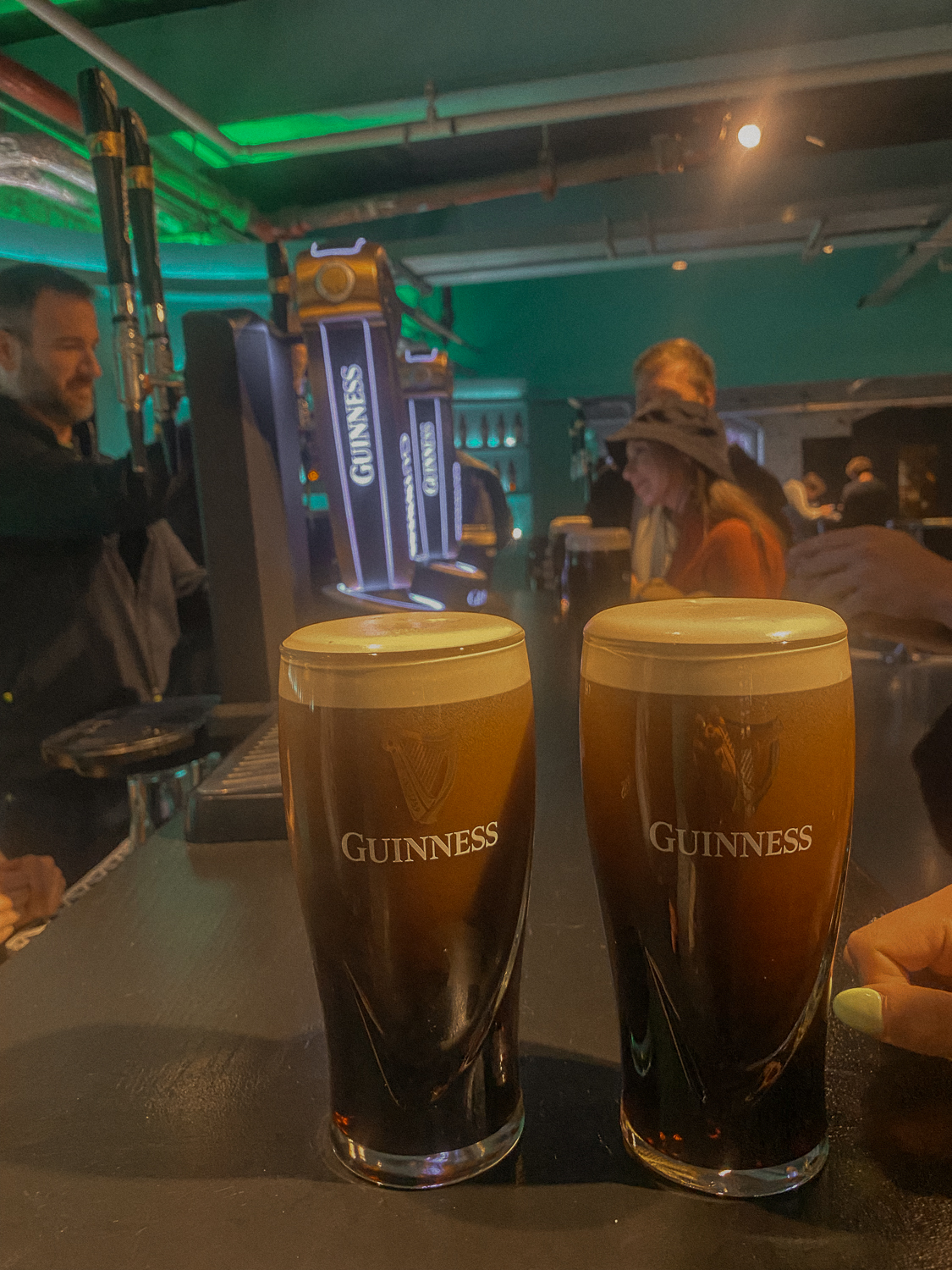 TEMPLE BAR DISTRICT 
You've probably heard of the popular Temple Bar, which is located in the Temple Bar District of Dublin along with many other pubs and restaurants. This area is really cool and definitely worth spending some time but it is very touristy. AKA prices are much higher over here. 
Check out additional things to do in Dublin here.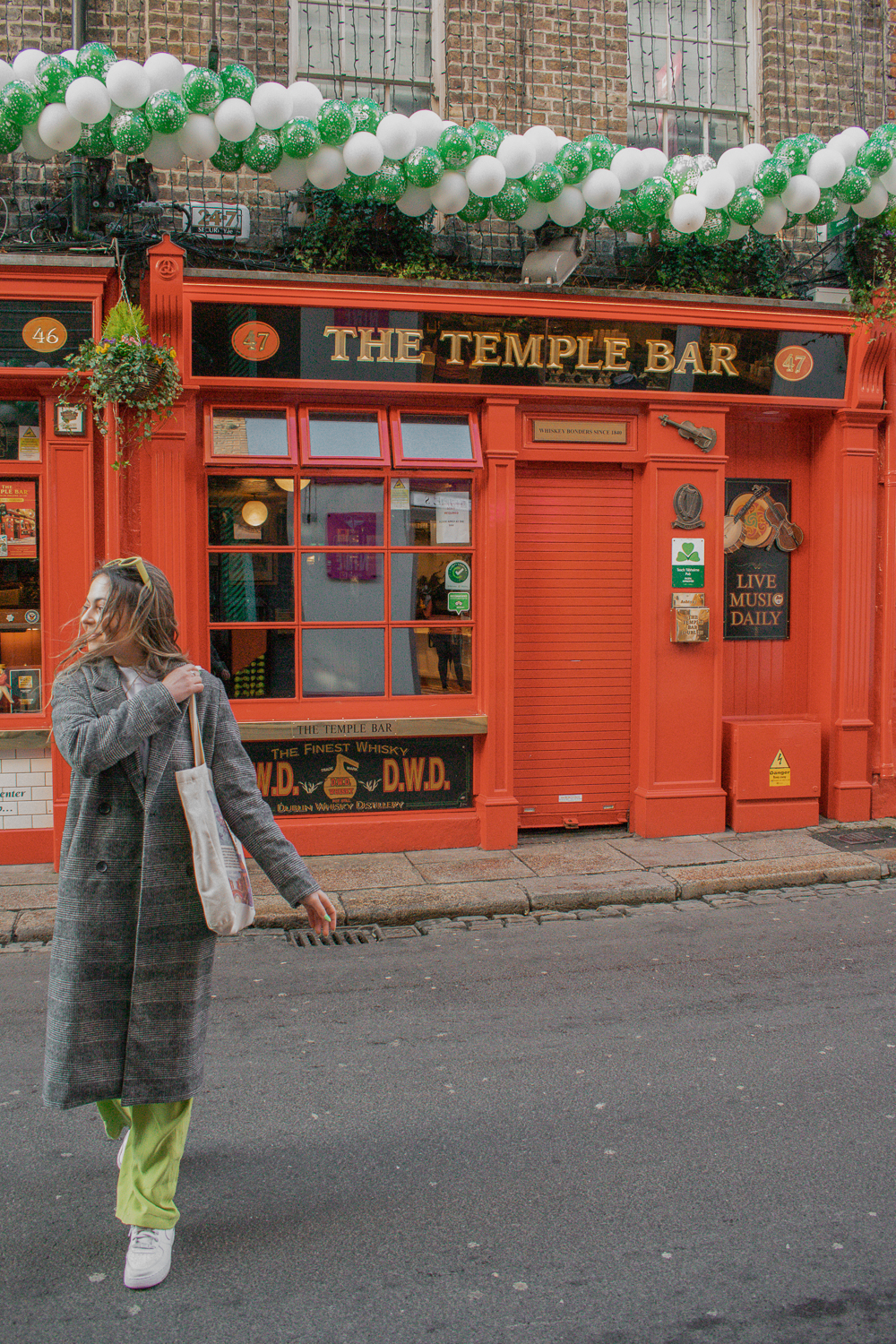 IRISH CUISINE FOR DINNER
After drinking way too many pints of Guinness all day, you should eat a local Irish meal for dinner. There are plenty of places to find local food around the city. While you are in Dublin try soda bread, Irish stew, and Guinness cake at least once! 
TIPS FOR SAINT PATRICKS DAY IN DUBLIN 
Book accommodation in advance, rooms get expensive and fill up quickly
Pack for the rain 
Download the "Free Now" app to get around. Uber and taxis are also an option
Get to the city center early on St. Patrick's Day to avoid road closures 
Pack something green and pack comfy shoes 
Watch the parade from O'Connell Street
Watch your belongings closely to avoid pickpockets 
Have cash! ATMs might eat your card (this happened to me and my friend and I, we were stranded without cash when we really needed it)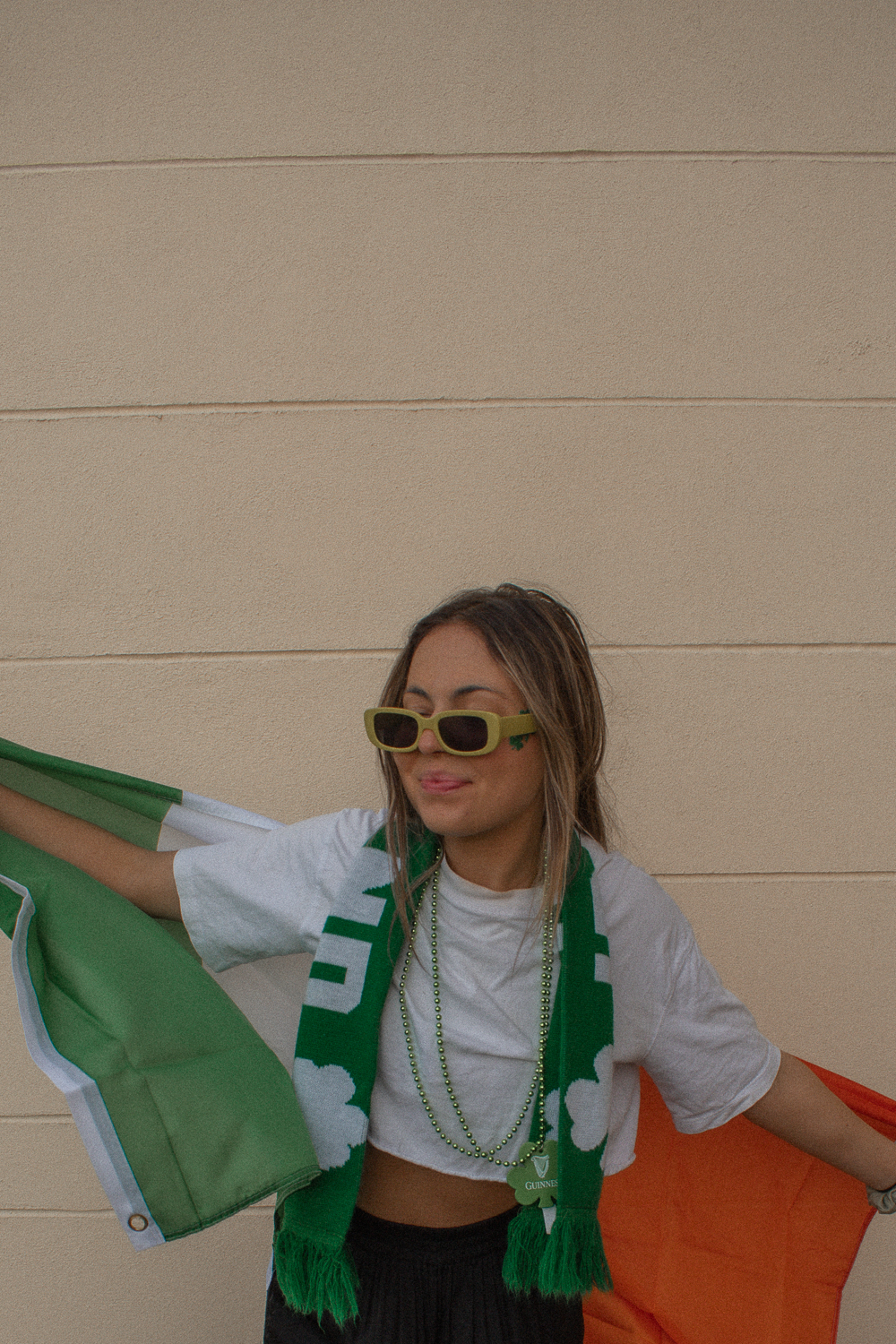 ST. PATRICK'S DAY IN DUBLIN – FINAL THOUGHTS
And that's a wrap on how to spend St. Patricks Day in Dubin. Make sure to check out my full travel guide to Dublin to plan the rest of your trip to Ireland! If spending St. Patrick's day in Ireland isn't already on your bucket list, you need to add it asap. This was seriously one of the most fun weekends of my life. Highly recommended everyone do this trip at least once! As always, if you have any questions, DM me on Instagram, comment below, or email me at sydabroad@gmail.com.
RECOMMENDED TOURS IN DUBLIN
PIN IT!
WANT TO SUPPORT?
I always appreciate it when friends and family reach out wanting to support Syd Abroad. If you'd like to support the blog, here are a few brands that I am affiliated with. All you do is click the links, and I will receive a small commission at no extra cost to you!