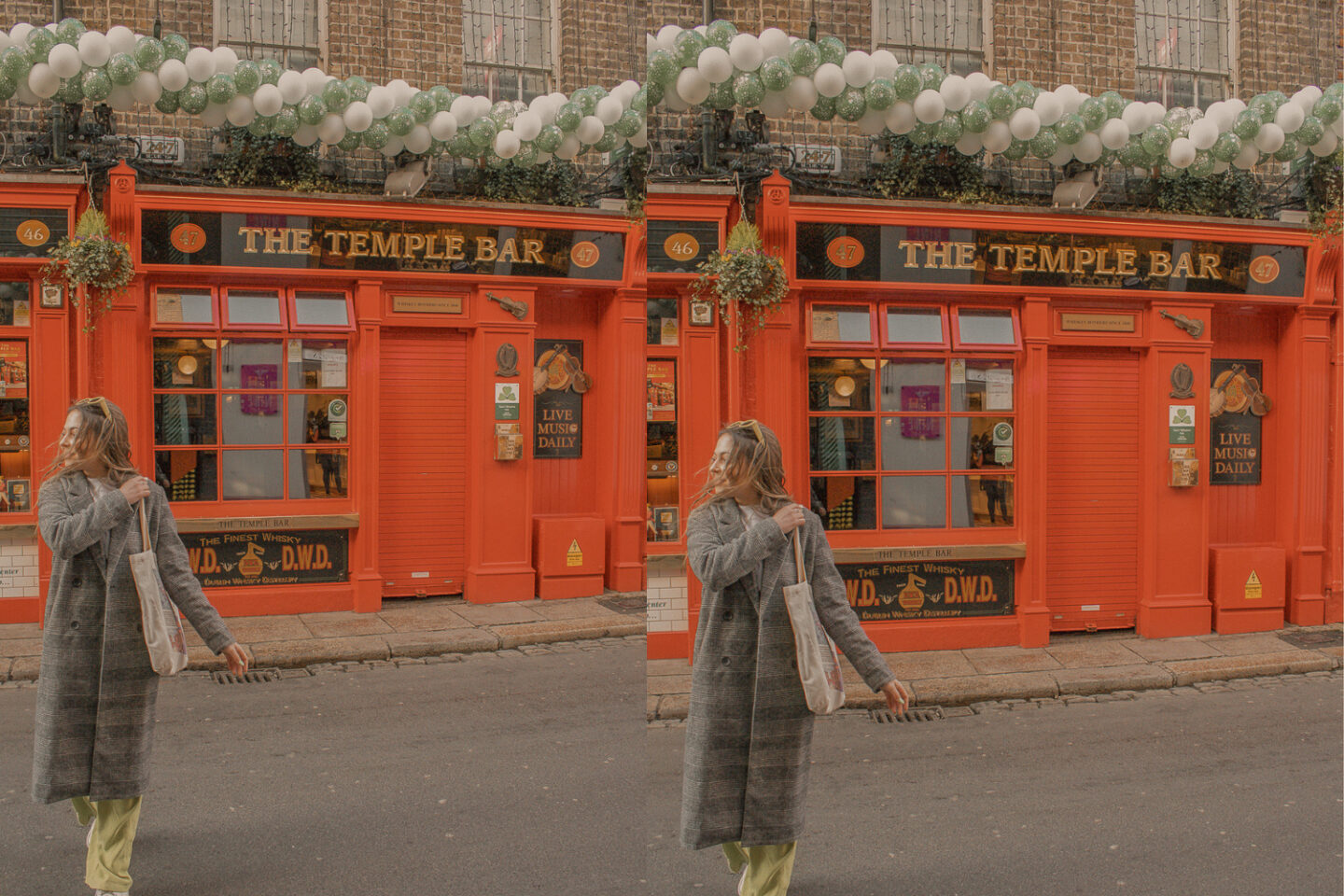 (Disclaimer: This post may contain affiliate links, which means we may receive a small commission at no extra cost to you.)
Alright, so you're going to celebrate St. Patrick's Day in Dublin and you are wondering what the heck to pack. Well, I've got you covered – I visited Dublin in March of 2022 for St. Patrick's Day so ill share all you need to know before you go. I have a full guide updated for 2023 with helpful tips for spending St. Patricks Day in Dublin linked here. Alright, now let's get into this Saint Patrick's Day packing list. 
This post has all you need for your St. Patrick's Day packing list in Dublin, Ireland.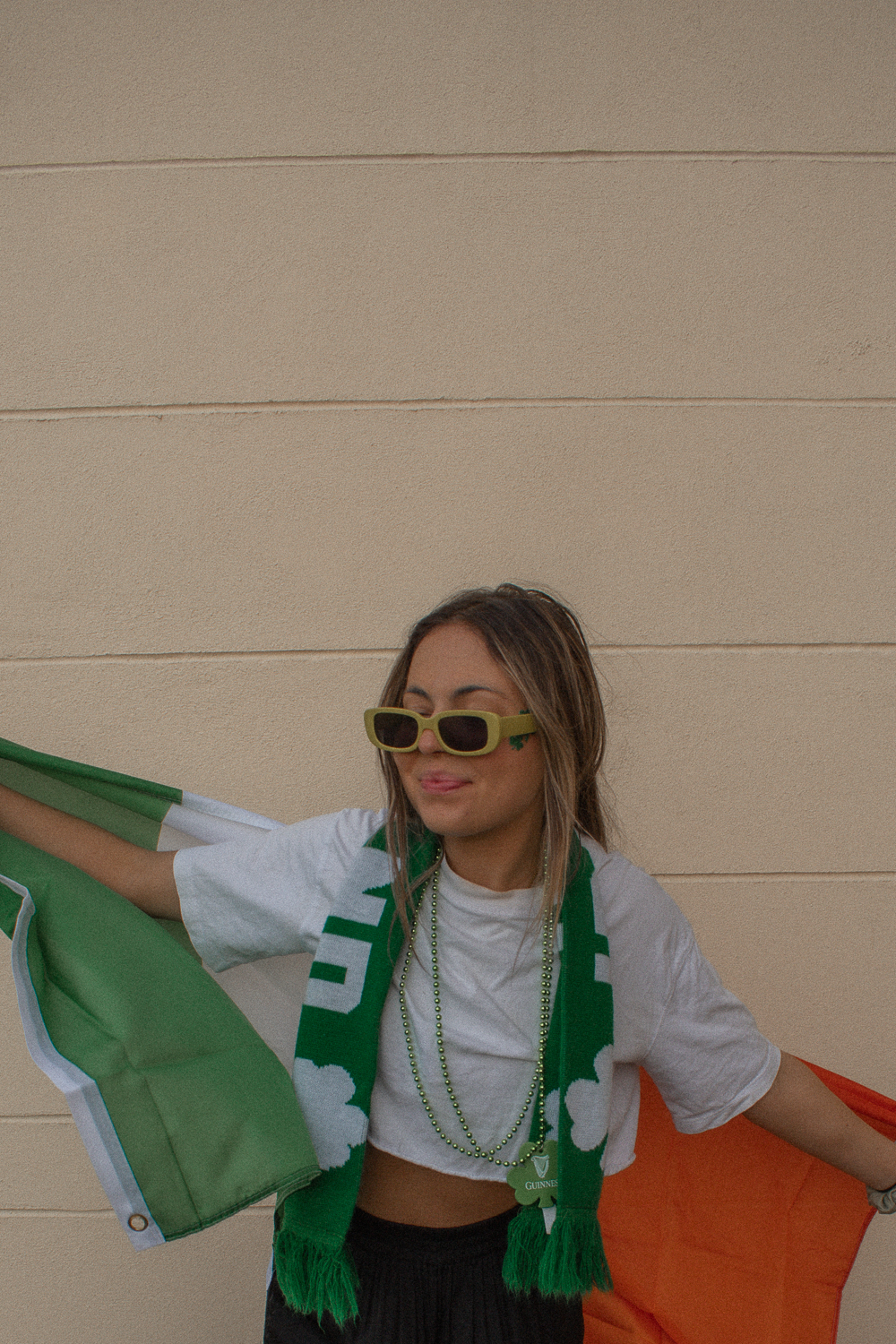 ST. PATRICKS DAY PACKING LIST: 11 THINGS YOU CAN'T FORGET
1. RAINCOAT
It is very likely that you will need one of these. Dubin is a rainy city, especially this time of year. I like this small, easy-to-pack, raincoat from amazon. I did get lucky during my trip as it didn't rain once. Which is super rare. 
2. TRAVEL ADAPTER
If you are traveling from North America, you will need an adapter. This adapter from amazon is perfect. 
3. TOTE BAG
I always love traveling with a tote so that I can hold all my things while I'm out and about all day. 
RELATED POST: ALL YOU NEED TO KNOW ABOUT SPENDING ST. PATRICK'S DAY IN DUBLIN, IRELAND
4. WALKING SHOES
Good, comfy walking shoes are essential on your St. Patrick's Day packing list. It's also important to bring shoes that are good for the rain as well. I lived in my Nike Airforce 1 shoes (my go-to travel shoes at this point) and these cute boots from amazon.  
5. GREEN CLOTHES
A must for your St. Patrick's Day packing list. Bring at least one piece of green clothing. I packed cute green pants from Forever 21 that made the perfect outfit until I had to throw them away because of someone throwing up all over me… bring some extra clothes, just in case. 
6. SHAMROCK STICKERS
I suggest ordering some cute face stickers before you go! You can always find fun things in Dublin but it's nice to be prepared. Also, they are likely cheaper to buy from amazon. 
7. PORTABLE CHARGER
You will be out all day. Your phone is bound to die eventually so be prepared and bring a portable charger 
8. LAYERS
Pack layers AND extra clothes… You quite literally never know what's going to happen. I packed (and wore) layers because I am always freezing and it did get pretty chilly at night.
Well, under my cute green St. Paddy's day outfit I wore a long sleeve athletic top and leggings which turned out to be a literal lifesaver. Halfway through St. Patrick's Day, I was in a pub and some drunk person literally threw up all over me so the outfit had to go straight in the trash. Luckily, I had a whole other outfit on under so we kept the day going. This is a very unlikely occurrence but I'm glad I was prepared lol. 
RELATED POST: WHAT TO WEAR IN DUBLIN: OUTFIT INSPO + PACKING TIPS
9. BELT BAG
In crowded places, especially in the evenings at bars and pubs, it's important to keep your things close. Belt bags are perfect for keeping your essentials close to you at all times. Pick pockets are around, specifically on St. Patrick's Day, so just be aware of your stuff.
10. GREEN SUNGLASSES
I recommend bringing all the fun green accessories you can because why not! I loved these trendy green sunnies from amazon.
11. WATERPROOF CASE
I bring my waterproof phone case, the CaliCase with me on just about every trip. Not only is it perfect for summer beach trips but rainy and cold trips too. You can throw your phone in the CaliCase if it starts pouring rain. I also like how you can fit a couple of cards and cash in the phone case as well.
ADDITIONAL THINGS TO PACK
Warm coat
Sweatshirt
Jeans
Warm socks
Beanie
Reusable water bottle
Camera
RELATED POST: 3 DAYS IN DUBLIN, IRELAND: THE ULTIMATE ITINENRARY FOR FIRST TIME TRAVELERS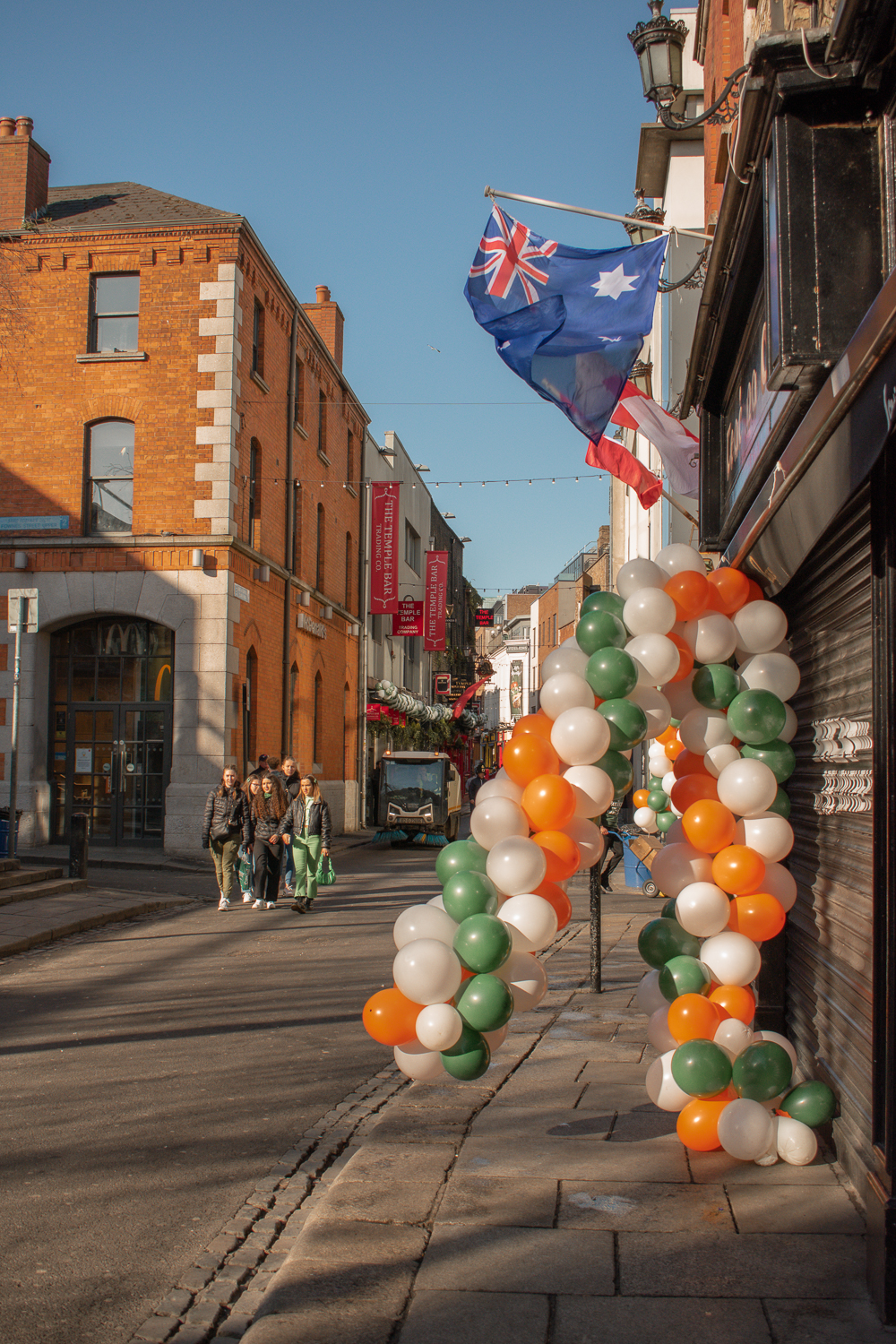 ST. PATRICK'S DAY PACKING LIST – FINAL THOUGHTS
I hope this St. Patrick's Day packing list was helpful! I also have a blog post all about what to wear in Dubin so check that out along with my Dublin travel guide if you are visiting soon! As always, if you have any questions about Dublin, DM me on Instagram, comment below, or email me at sydabroad@gmail.com.
PIN IT!
WANT TO SUPPORT?
I always appreciate it when friends and family reach out wanting to support Syd Abroad. If you'd like to support the blog, here are a few brands that I am affiliated with. All you do is click the links, and I will receive a small commission at no extra cost to you!