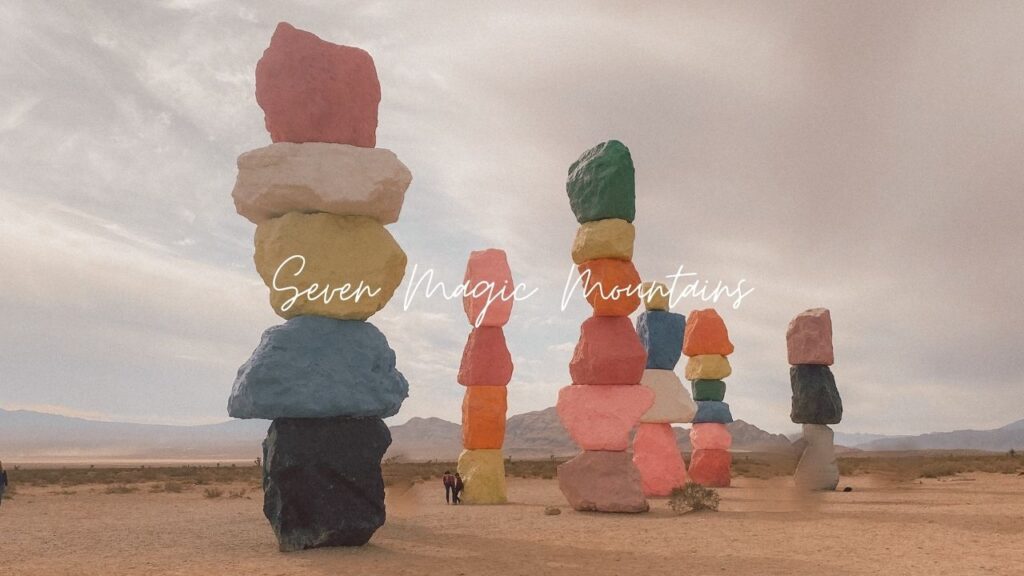 (Disclaimer: This post may contain affiliate links, which means we may receive a small commission at no extra cost to you.)
What Are The 7 Magic Mountains?
So what the heck are the 7 magic mountains Las Vegas that you are seeing all over Instagram these days? Well, the 7 magic mountains is a desert art installation featuring 7 painted boulders created by New York's Art Production Fund and the Nevada Museum of Art. The 7 magic mountains cost about 3 million dollars and took four years to create. 
I finally got the chance to visit this famous art installation during my last trip to Las Vegas, Nevada! I had been to Las Vegas a countless number of times and always happened to miss this fun site right outside of the city. art has always been something I admired so I was excited to finally see the structure that I had seen all over Instagram, in person. 
Disclosure: This article contains affiliate links.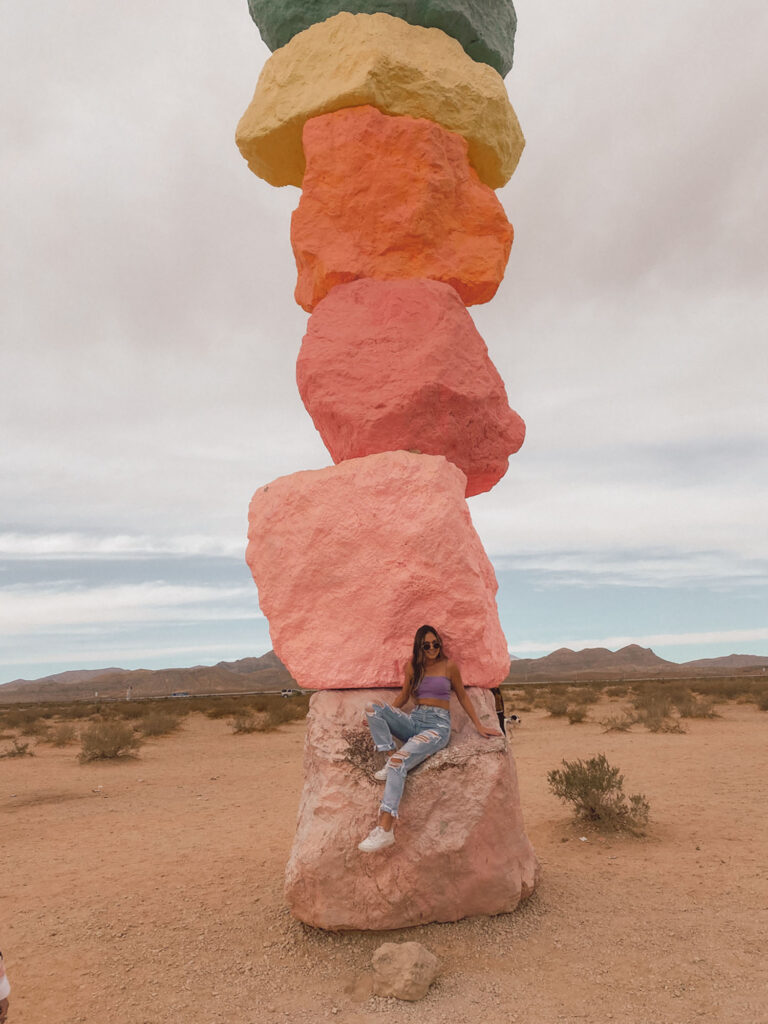 Is It Worth Visiting? 
In my opinion, yes! It's not too far from Las Vegas, it is a super unique piece of art, and a nice break from the craziness of the strip. I loved having a mini 7 magic mountains photoshoot to break up the partying during my weekend in Las Vegas! 
Seven Magic Mountains Location
Address: S Las Vegas Blvd, Las Vegas, NV 89054
From Las Vegas – about 30 minutes
It will take about 26 miles to get to the 7 magic mountains from Las Vegas. Follow I-15 S to exit 25 then turn left to Las Vegas Boulevard. Follow this road for about 8 miles and the art installation will appear on your left. 
From Los Angeles – about 4 hours
From LA it will take you about 244 miles via I-15 North. once you turn right onto NV-161 toward Las Vegas Blvd, drive about 5 miles and the 7 magic mountains Las Vegas will appear on your right. 
How Much Time Do You Need?
Honestly, you don't need to spend more than an hour here. Admire the art and have a little 7 magic mountains photoshoot if that's your vibe. Then keep on with your road trip or go back to living it up in Vegas! 
Parking At The 7 Magic Mountains Las Vegas
There IS a parking lot that is free to park in.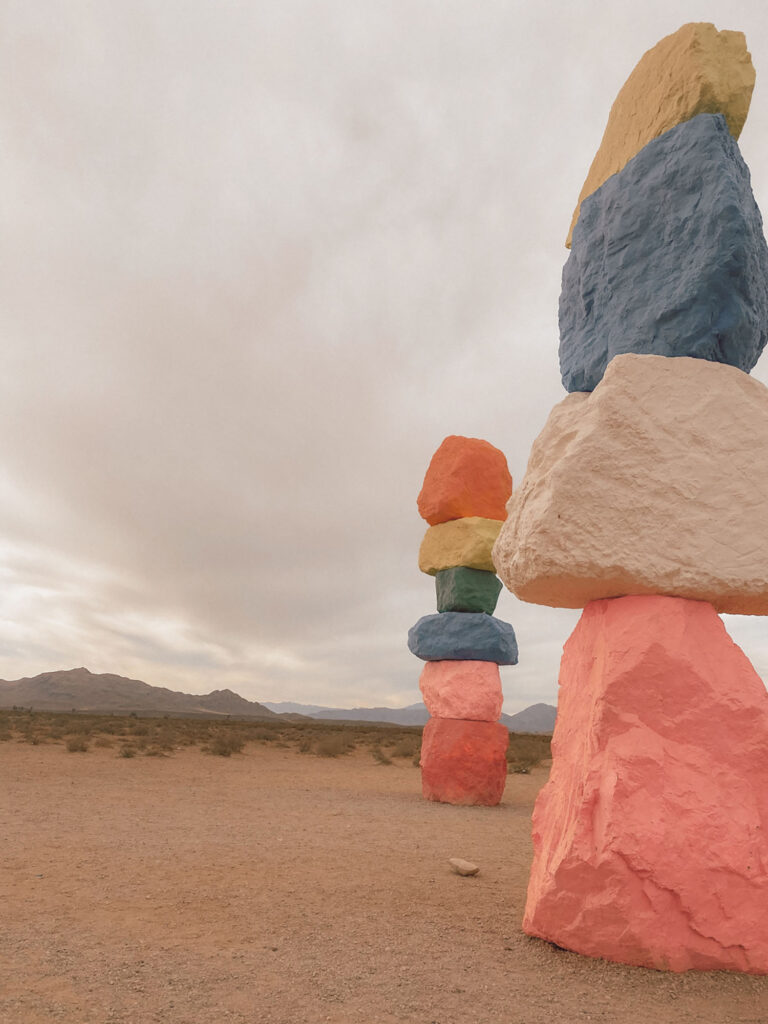 What To Know Before You Visit 
Go Early: This has become a highly popular Instagram spot so expect crowds. I suggest going as early as possible to avoid the crowds. And yes, there will still be crowds on a Monday morning. 
No Restrooms: There are no public restrooms here, so keep this in mind before visiting. 
It's FREE: The 7 magic mountains cost is free to enter! 
7 magic mountains weather: For the majority of the year, expect warm weather. You are in fact in the desert! So bring water and wear light clothing. 
Call 702-381-5182 and follow the prompts to learn more about the artist, the artwork, and additional land art in Southern Nevada. 
Don't leave any trash!
What To Bring
Camera: I love traveling with disposable cameras and my Nikon D3400
Sunscreen: it will most likely be hot, wear your sunscreen! 
Water Bottle: Make sure you have your water bottle filled up, you'll want it.
Snacks: Bring some snacks just in case! Especially if this is a long road trip for you. Check out my favorite road trip snacks here. 
Dress appropriately: It's hot so wear light clothing.
Tip: If your goal is to get fun photos at the 7 magic mountains Las Vegas, wear neutral colors to pop in front of the colorful rocks. 
Find A Place Place To Stay
Final Thoughts On The 7 Magic Mountains 
 I loved visiting the 7 magic mountains Las Vegas! I think it's a great photo opportunity if you are a content creator and simply a unique art installation if you are into art. It is the perfect road trip stop, so if you are driving through Nevada I highly recommend a quick stop. If you are exhausted from the hustle during your weekend in Las Vegas, take a break and visit the 7 magic mountains!
xx Syd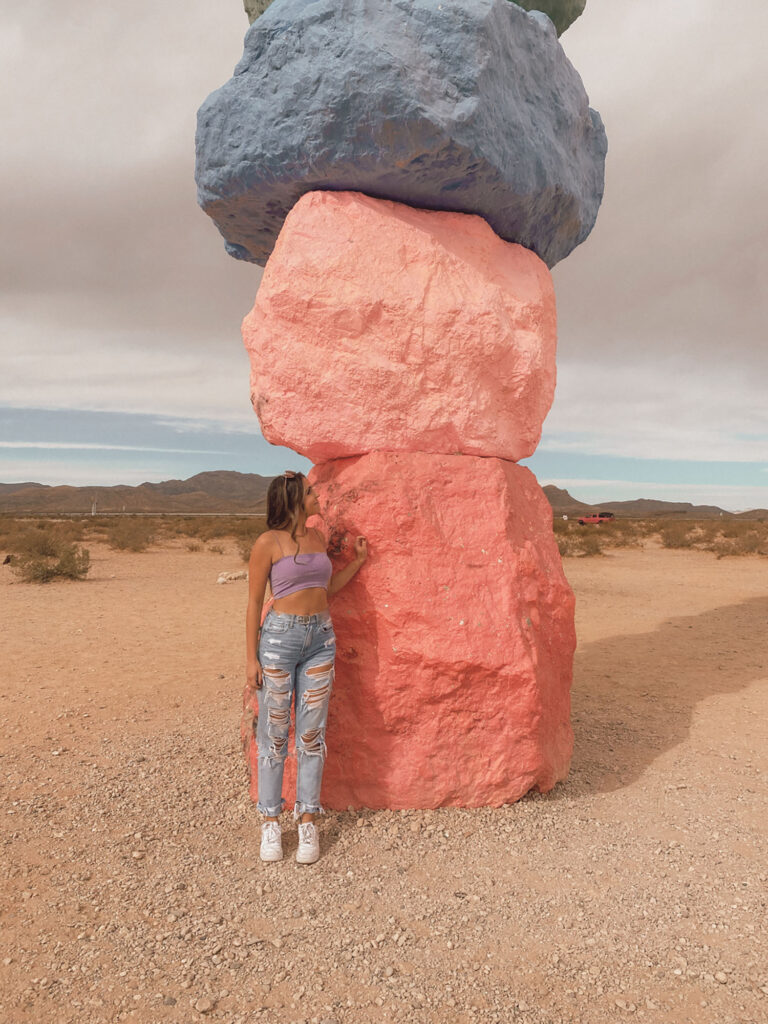 Shop My 7 Magic Mountains Look
PIN IT!