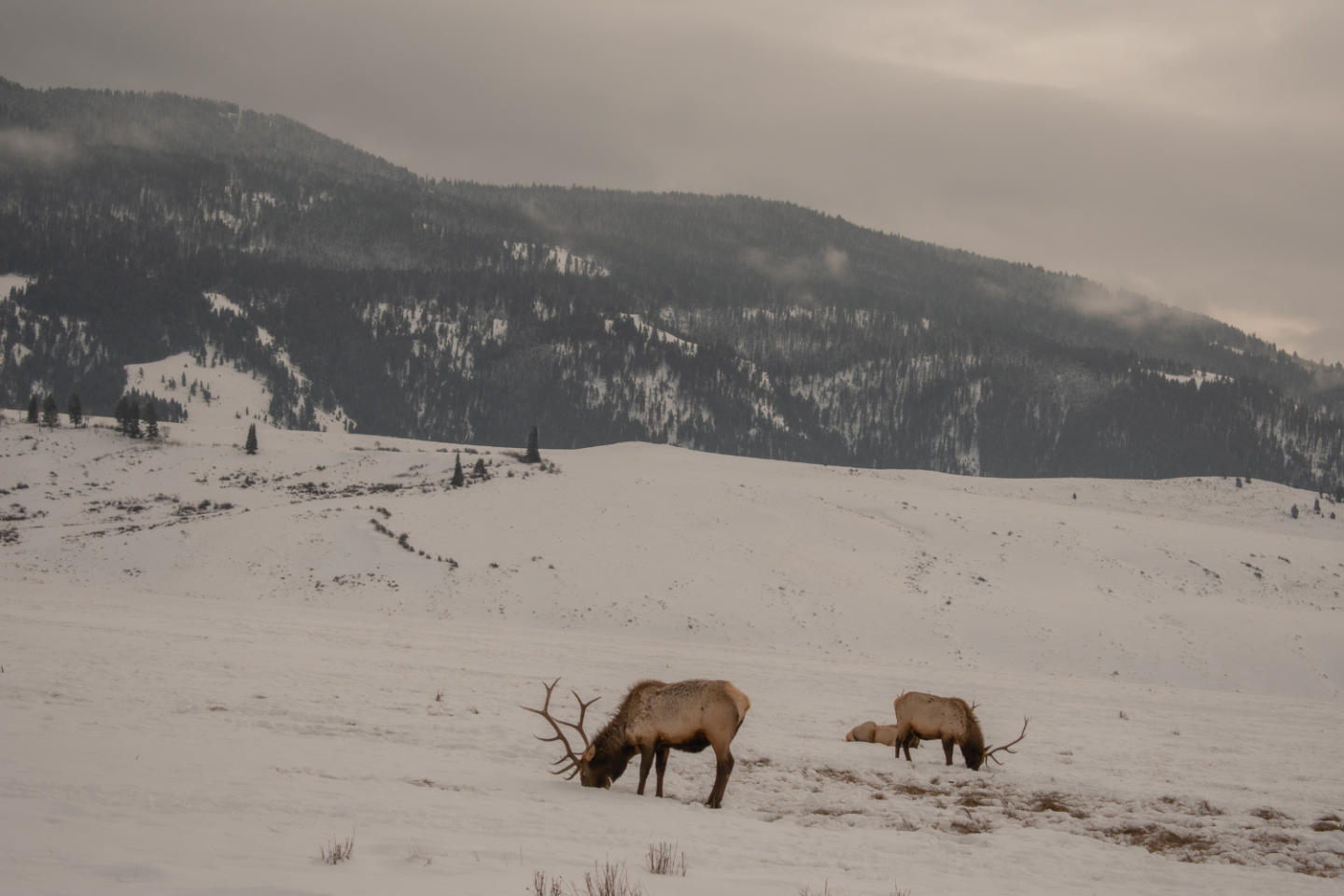 (Disclaimer: This post may contain affiliate links, which means we may receive a small commission at no extra cost to you.)

If you are looking for the best things to do in Jackson Hole in the winter then read to find out more! 
Jackson Hole, Wyoming is a dream destination to visit year-round – there are so many great summer activities and winter activities. As I recently got back from visiting Jackson Hole in the winter, this will be a winter focused guide. 
We all know skiing is probably the obvious thing to do in the winter but there are actually so many other things Jackson offers. In this guide, I'll tell you the best things to do, places to eat in Jackson Hole, and where to stay. Let's get into the article! 
This post is all about the best things to do in Jackson Hole in the Winter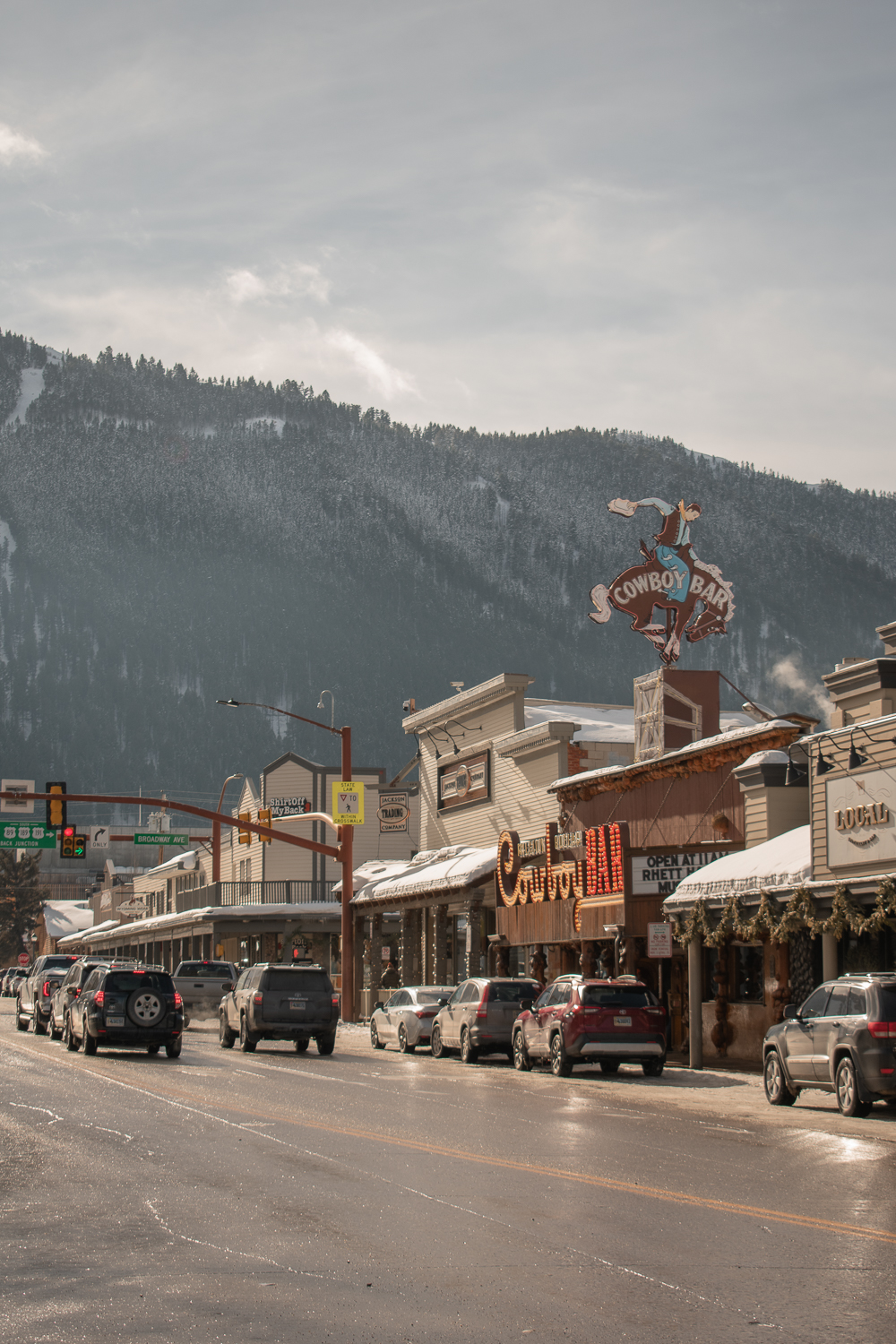 THE WEATHER IN JACKSON HOLE IN THE WINTER
Jackson does get cold. Like really cold, in my opinion. I am from Texas so I'm not very used to the cold weather. The winter season ranges from November to March and the temperatures during this time are anywhere from below zero to rarely above freezing.  
I visited Jackson Hole at the beginning of January (the coldest month) so it was pretty chilly. Make sure to pack layers!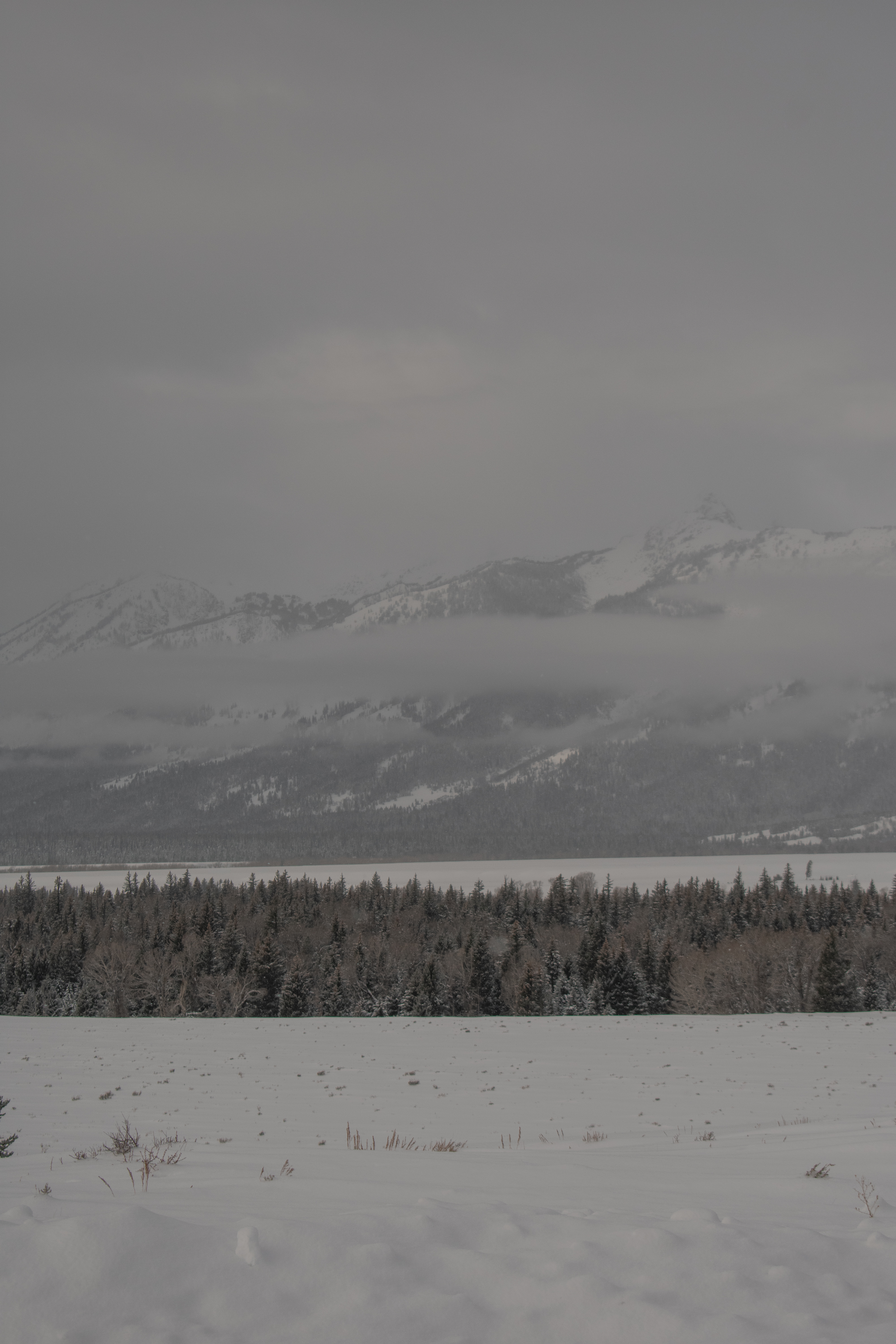 THE BEST THINGS TO DO IN JACKSON HOLE IN THE WINTER
1. NATIONAL ELK REFUGE SLEIGH RIDE
The sleigh ride was definitely very touristy but so much fun! The sleigh rides are in the National Elk Refuge and last about 45 minutes to an hour. Not only was it beautiful, but it was cool to learn about the refuge and the horses. 
The meeting point for the sleigh rides is at the Greater Yellowstone Visitor Center in Jackson. This is where you pay the $35 fee and shuttles will pick you up and bring you to the sleighs in the Elk Refuge.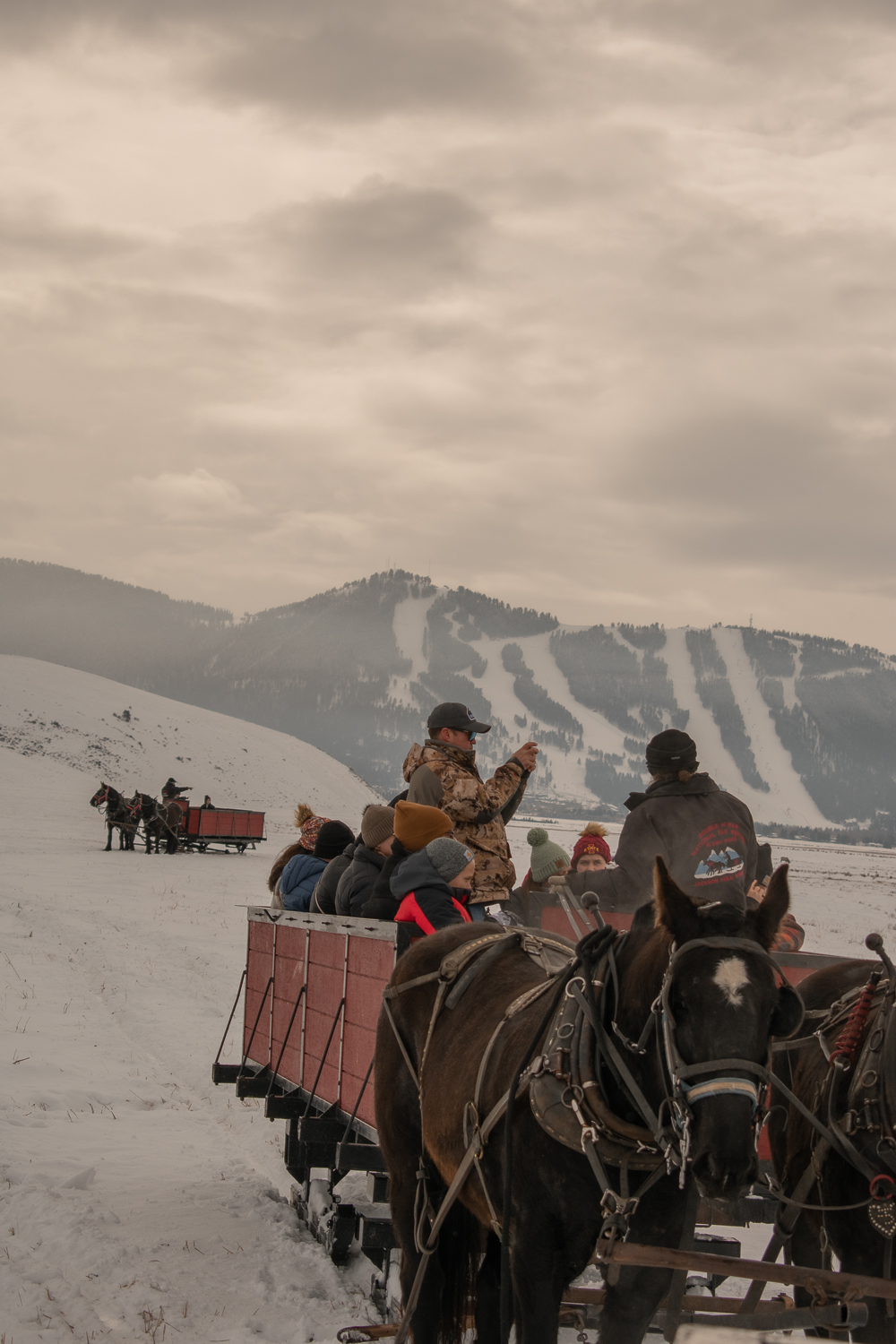 2. SKIING
Alright skiing is the obvious in Jackson and to be honest I dont know much about skiing because I've only skied a couple of times in my life. 
Teton Village and Snow King Mountain are popular places to ski in Jackson Hole. And if you're not a skier like me, there are plenty of other fun things to do in Jackson Hole in the winter. 
3. ASTORIA HOT SPRINGS 
A great thing to do in Jackson Hole in the winter is to enjoy a hot spring. The most popular hot springs near Jackson are Astoria Hot Springs. 
There is the main entrance to Astoria and these hot springs cost $18 for adults. Unfortunately, during my trip, the bridge was broken to get to the main hot spring so we went to the unofficial Astoria hot springs aka the free ones across the river. 
If you want to go to the free hot springs, park on the side of the road near the Astoria entrance, and you will hike down the hill to find the hot springs. There will likely be other cars there so it's easy to see where to park. 
If you plan on spending some time here, stop by Hoback Market and get a sloshie – they are essentially alcoholic slushies and very tasty!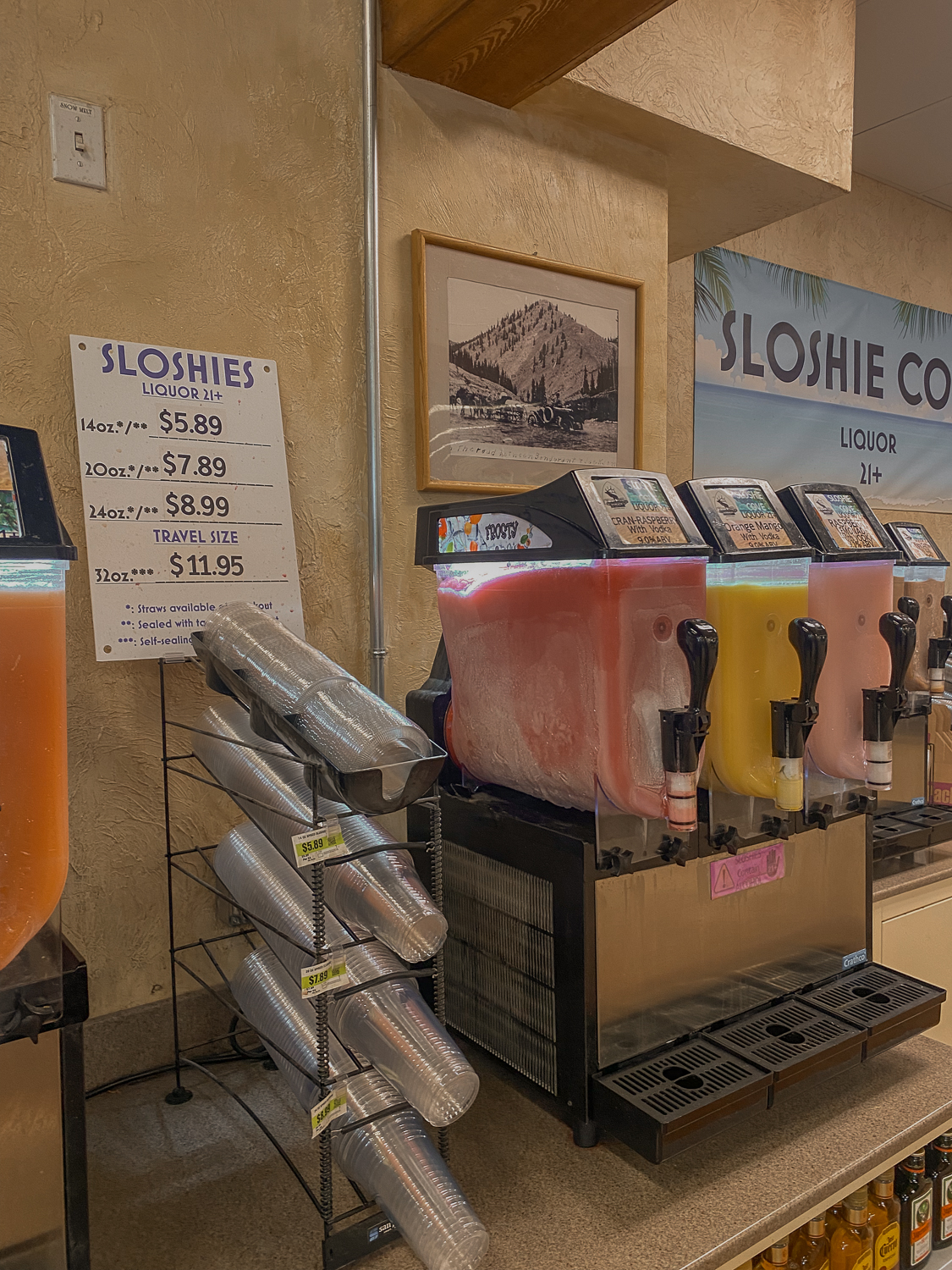 RELATED POST: 16 TRAVEL BEAUTY ESSENTIALS I CAN'T LIVE WITHOUT
4. WILDLIFE TOUR
I couldn't recommend a winter wildlife tour enough. This is something I really hadn't experienced before and it was amazing. Our tour was essentially private, just a couple of other people were with us (I'll link the tour I did here). 
We saw moose, coyotes, bison, elk, long-horned sheep, and more! We learned a lot about the area and the animals – a great experience.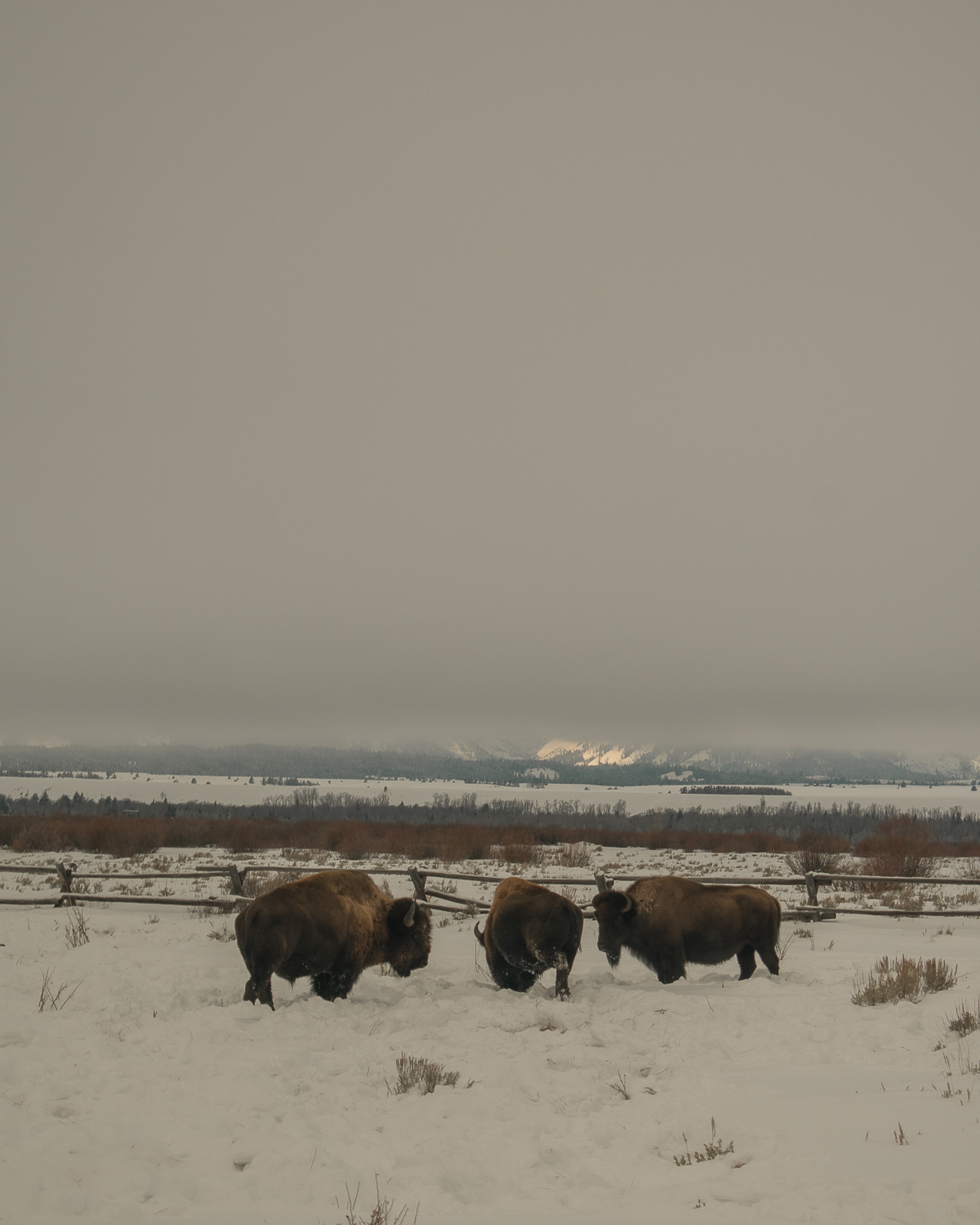 I chose the morning tour, which I recommend because it seems like you have the change to see more animals. The tour is from about 7 AM to 12 PM and transportation, including pick up and drop off, is included. 
5. APRES SKI 
Whether you ski or not, apres ski is always a good idea! There are a few fun spots in Teton Village, check out the Mangy Moose and RPK3 for yummy cocktails. 
6. ICE SKATING 
In the town square, there is a small ice skating rink where you can rent gear and go skating. A fun winter activity to do in Jackson Hole! 
7. GRAND TETON NATIONAL PARK 
Grand Teton National Park is just a short drive from the town square of Jackson Hole. You can do guided tours, snowmobiling, cross-country skiing, and more. It's also very beautiful to simply drive through and admire the views. It cost $30 per vehicle to enter Grand Teton National Park.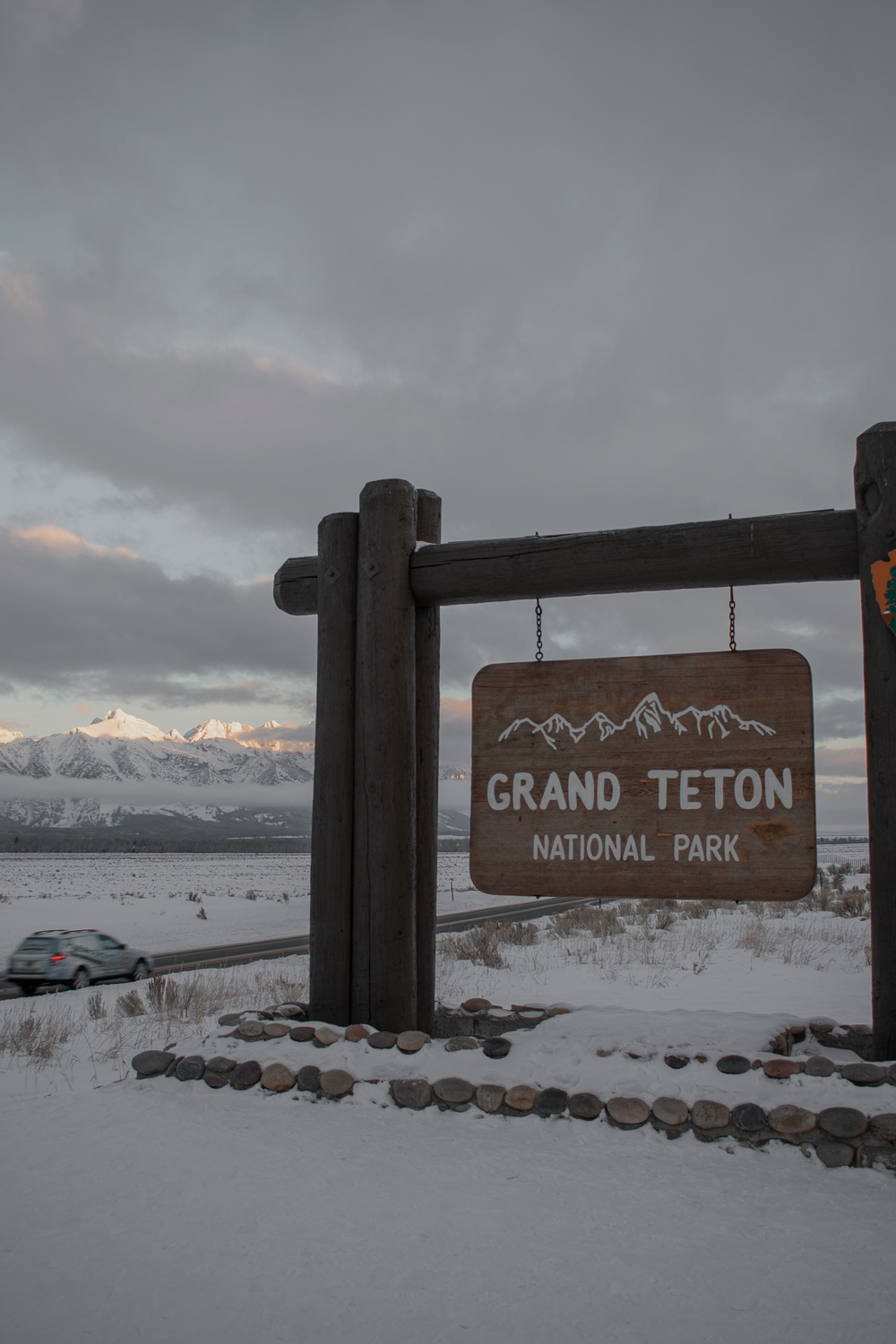 8. SNOWMOBILING
Snow mobiling is another fun winter activity in Jackson Hole. There are plenty of different tours you can book to ride snow mobiles for the afternoon.
9. DOG SLEDDING
There are a few different dog sledding tours you can book as well. This is definitely a unique activity and something you can only do in Jackson in the wintertime! 
10. SHOP AROUND TOWN 
A trip to Jackson isn't complete without shopping around all the cute boutiques in the square. I picked up a cozy scarf, and a cute tote bag, and I had to try some huckleberry chocolate from the candy store, Yippy I-O Candy Co. Huckleberries are common in this part of the US so you'll see all different things with huckleberry.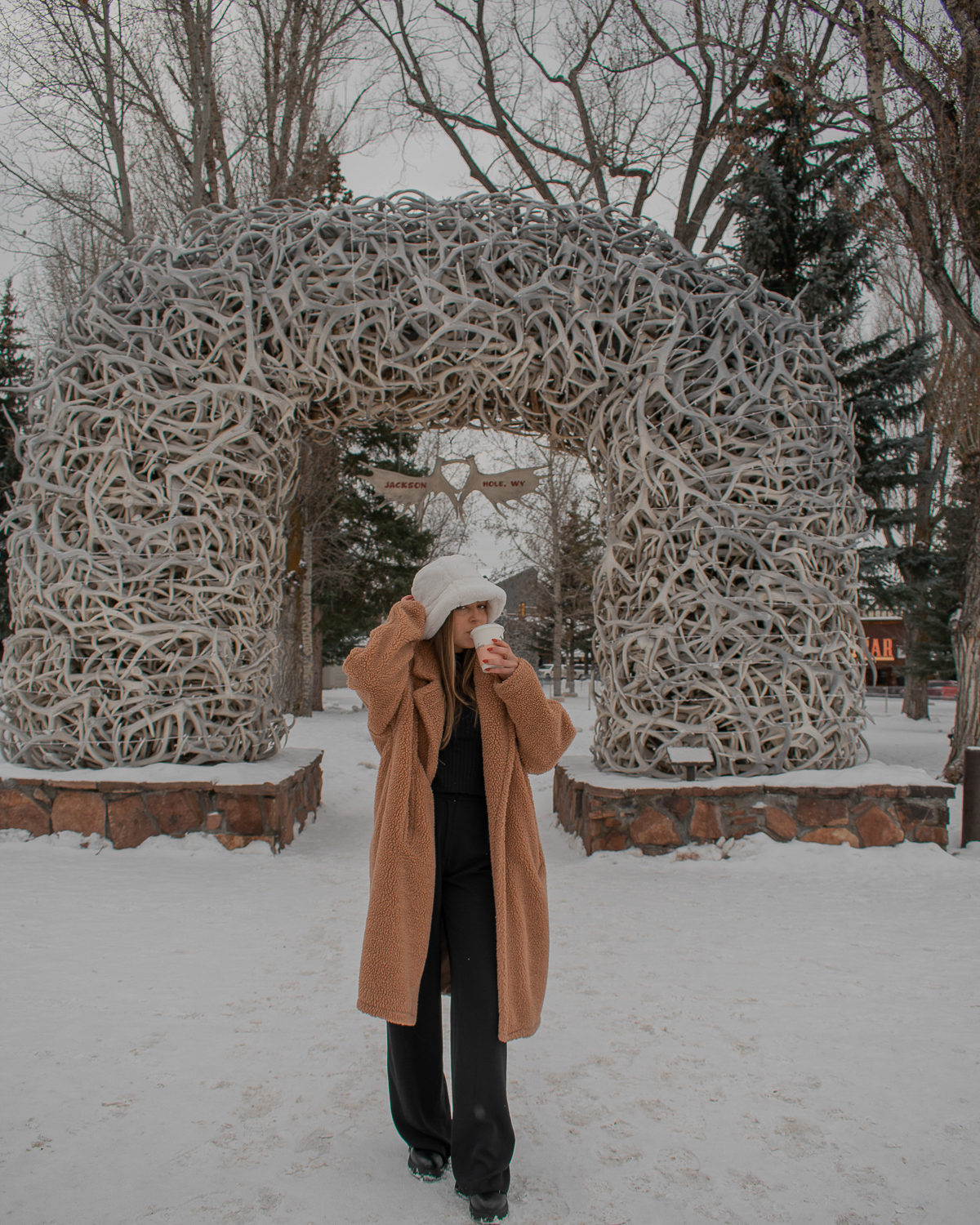 11. MILLION DOLLAR COWBOY BAR 
The Million Dollar Cowboy bar is a must-visit in Jackson Hole. If you are looking to enjoy the nightlife a bit then stop in The Million Dollar Cowboy Bar and grab a drink! The bar is open every day from 11 AM to 1 AM.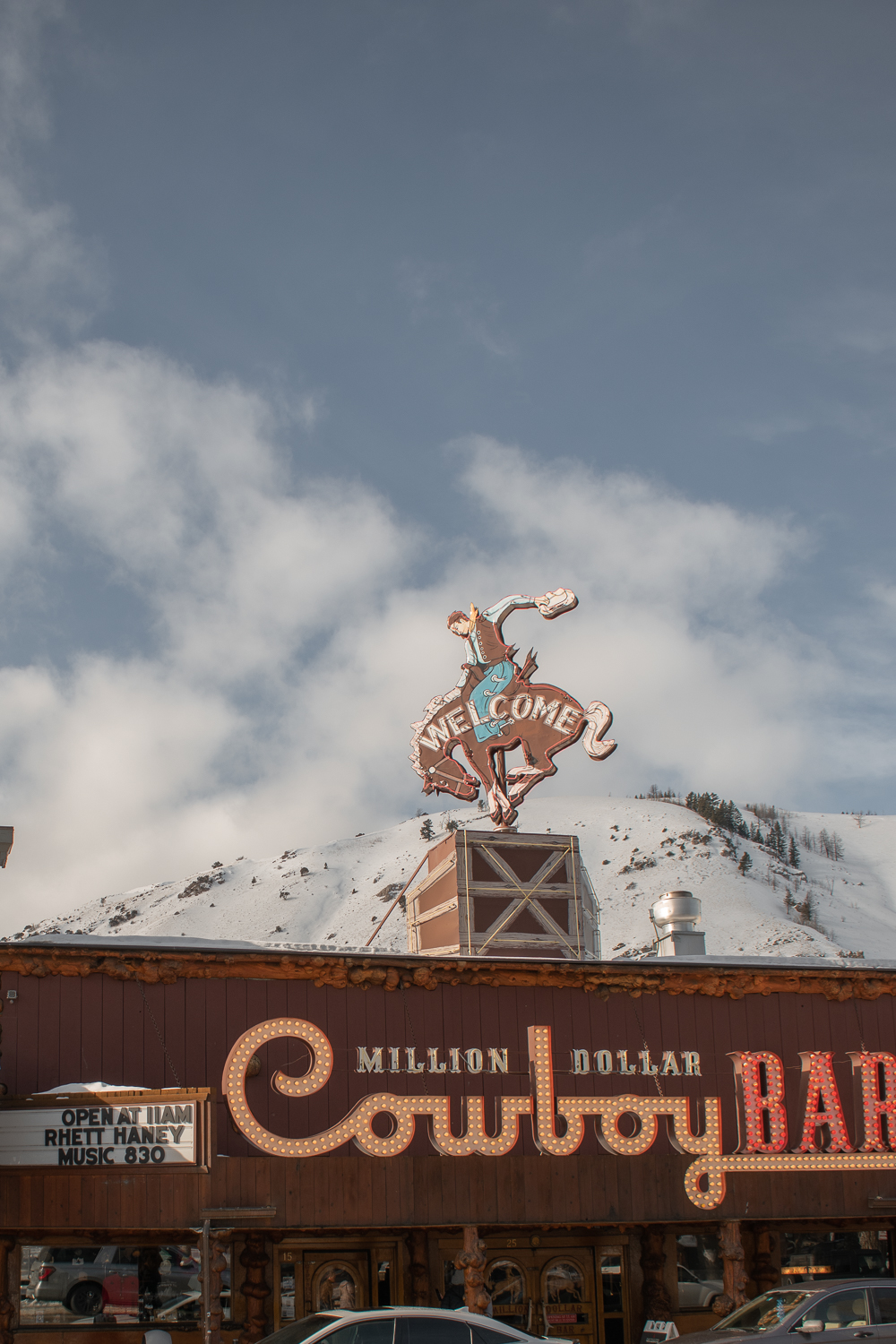 12. SNAKE RIVER BREWING CO
If you're looking to get out of the cold, head to Snake River Brewing for local craft beer and great comfort food. They even offer brewery tours. Check their website for more details.  
13. JACKSON HOLE WINERY 
For the perfect glass of wine and pretty mountain views, visit Jackson Hole Winery. The winery sits at the base of the Teton range so the view is 10/10. Make sure to make an appointment if you plan to visit the tasting room.  
14. JACKSON PLAYHOUSE 
For dinner and a show, head to the Jackson Playhouse. The Jackson Playhouse is a rustic performing arts theater that puts on a variety of different plays with dinner before the shows. 
Depending on the time of year, they offer all kinds of different shows. Check out their website for more details.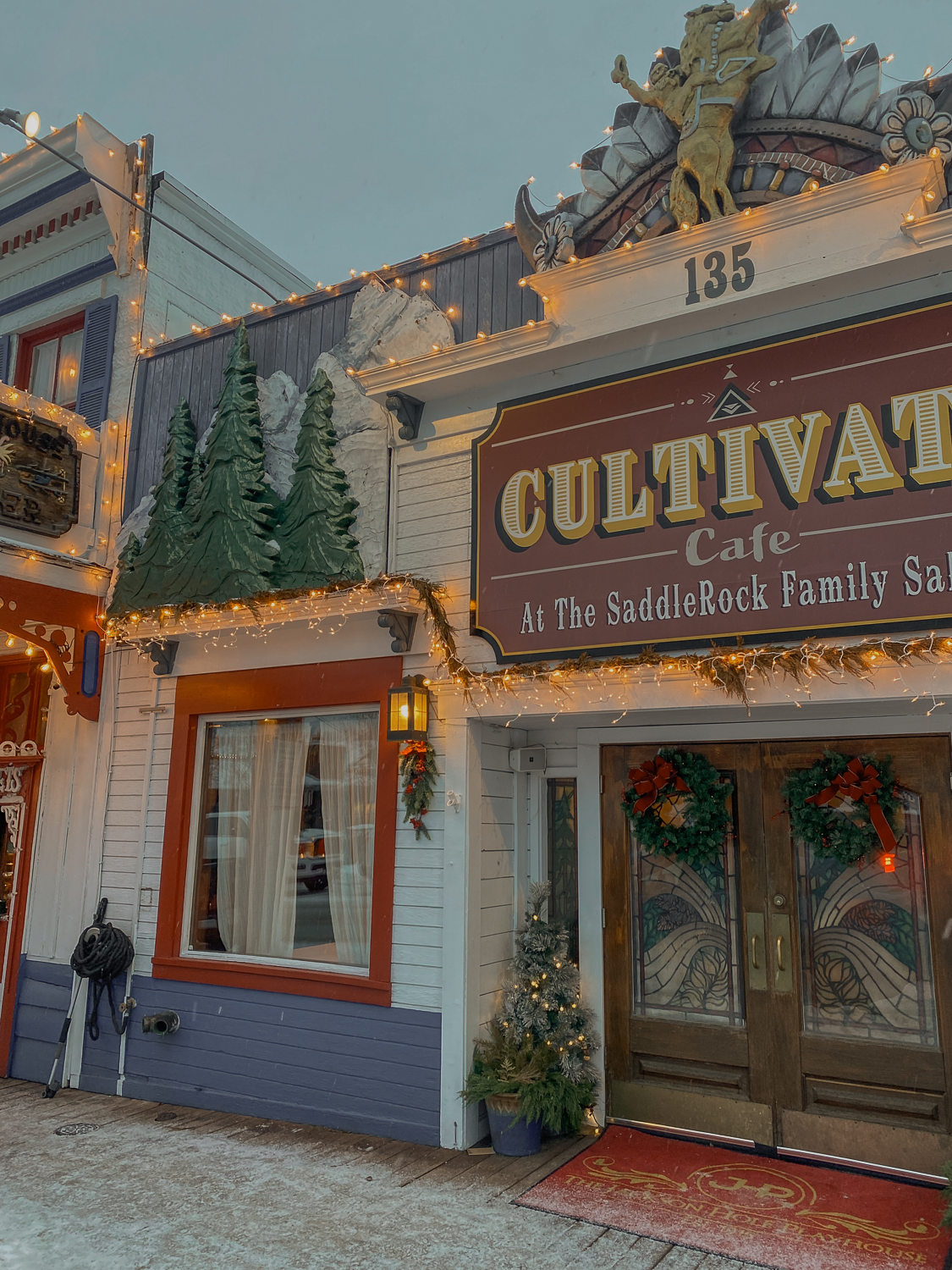 JACKSON HOLE MAP
WHERE TO EAT IN JACKSON HOLE
Persophone: For breakfast and brunch definitely come here.  I had the quiche, a pastry, and a matcha latte – all were delicious! 
Annie's Thai Kitchen: I had the green curry and it was incredible.  
Bin 22: This might have been my favorite spot to eat in Jackson. It's a tapas restaurant tucked in the back of a wine shop. You can pick out your bottle of wine and have it with your dinner! The food was absolutely incredible. 
Glorietta: This Italian restaurant was so dang good. They also have great cocktails.  
Hatch: Great spicy margaritas and Mexican food. 
Hand Fire Pizza: Amazing pizza!
Cowboy Coffee Co.: For coffee.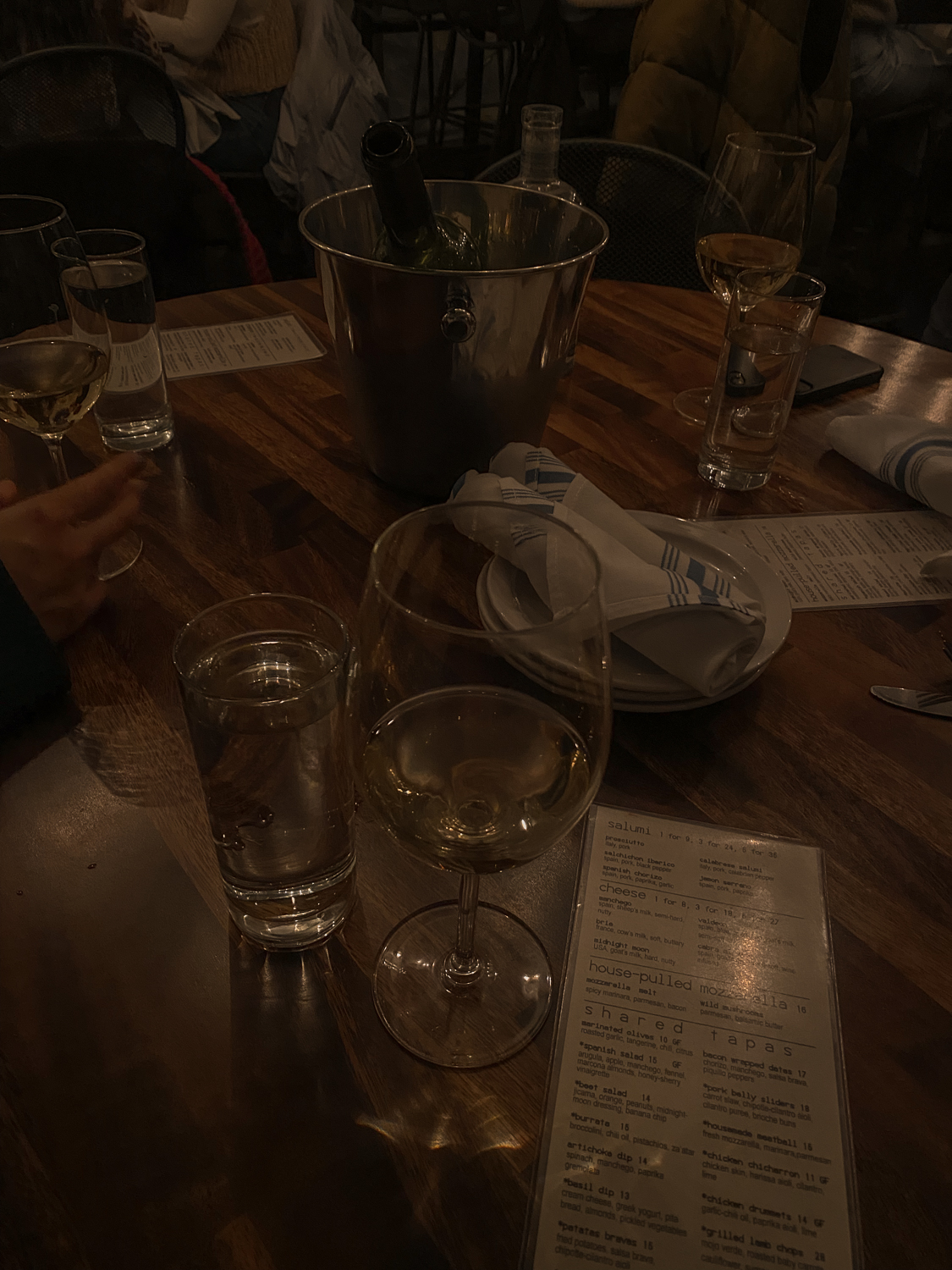 WHERE TO STAY IN JACKSON HOLE 
I personally stayed at the Anvil Hotel and it was perfect. The location is incredible – just a short walk away from the square and the rooms were so cozy and nice. They even offer free coffee for guests in the lobby. I couldn't recommend the Anvil Hotel in Jackson Hole enough! 
Book your stay at the Anvil Hotel here.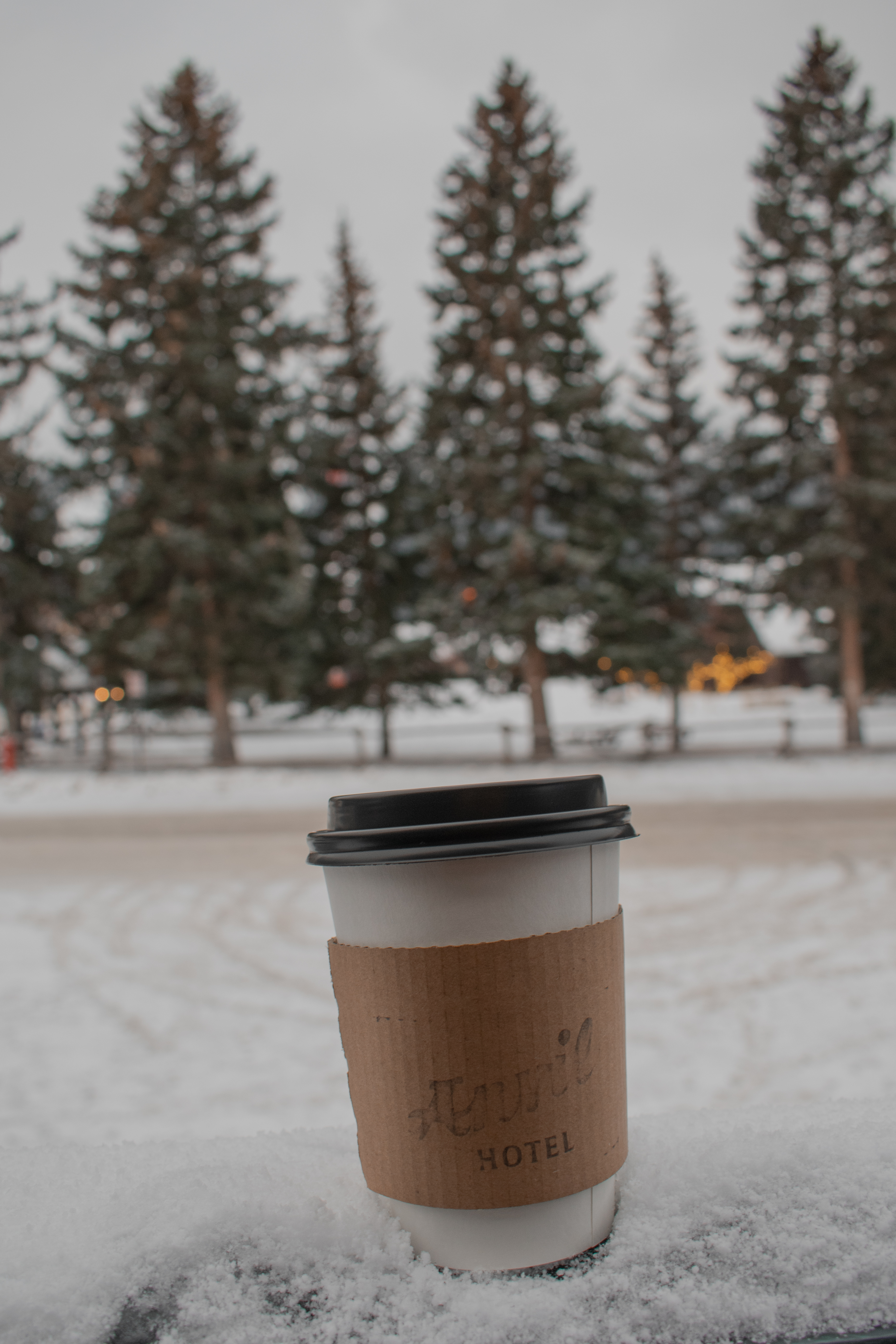 RELATED POST: MY FAVORITE BAGS FOR TRAVELING
FIND A PLACE TO STAY IN JACKSON HOLE
I hope you found this guide to Jackson Hole in the winter helpful! If you have any questions, feel free to DM me on Instagram, comment below or email me at sydabroad@gmail.com.
WANT TO SUPPORT?
I always appreciate it when friends and family reach out wanting to support Syd Abroad. If you'd like to support the blog, here are a few brands that I am affiliated with. All you do is click the links, and I will receive a small commission at no extra cost to you!