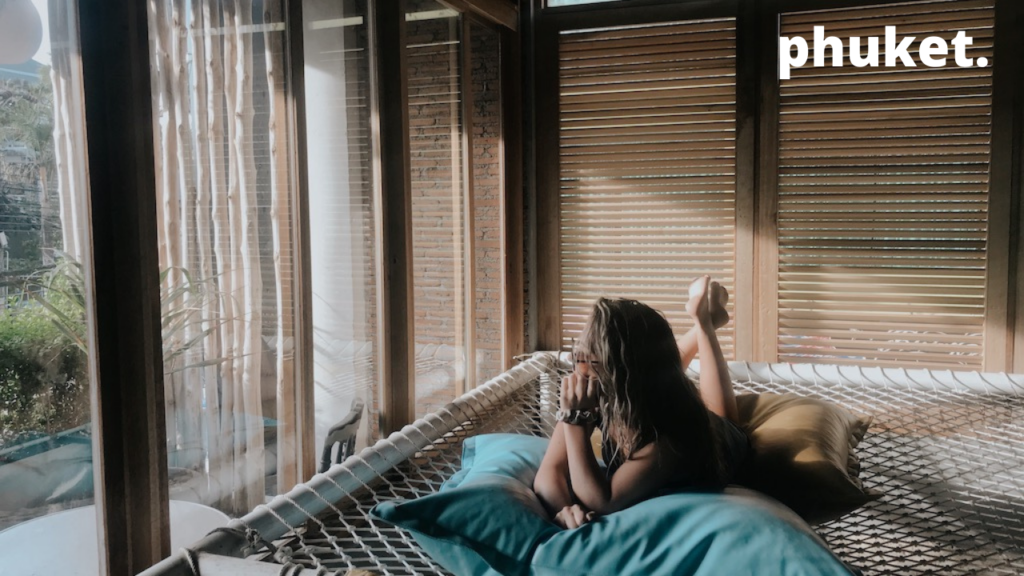 (Disclaimer: This post may contain affiliate links, which means we may receive a small commission at no extra cost to you.)
Phuket had been at the top of my bucket list for so long so I was extremely excited to spend a weekend here chilling on the beaches during my time studying abroad in Thailand. I wanted to put together an island guide to Phuket filled with places to eat, where to stay, and things to do in Phuket! Hitting the islands for the weekend is a must if you are traveling to Thailand, it's a nice break from the busy city of Bangkok! I'm here to help with planning your trip to Phuket. This is the perfect resource to create your 48-hour Phuket guide just for you.
Getting to Phuket
Airport: Phuket International Airport (HKT) 
Phuket is probably the easiest island to get to in Thailand. There is an airport in Phuket with lots of flights arriving every hour. If you are coming from Bangkok, as I did, it is extremely easy and affordable. I suggest booking flights with Google Flights, this is where I found the cheapest prices.
Accommodations in Phuket
During my weekend in Phuket, I stayed at Sleepy Station Hostel and it was great and affordable. I booked through hostel world, you can find the best hostel here at great prices! Our hostel was clean and in a great location, so I recommend this hostel if you are on a budget.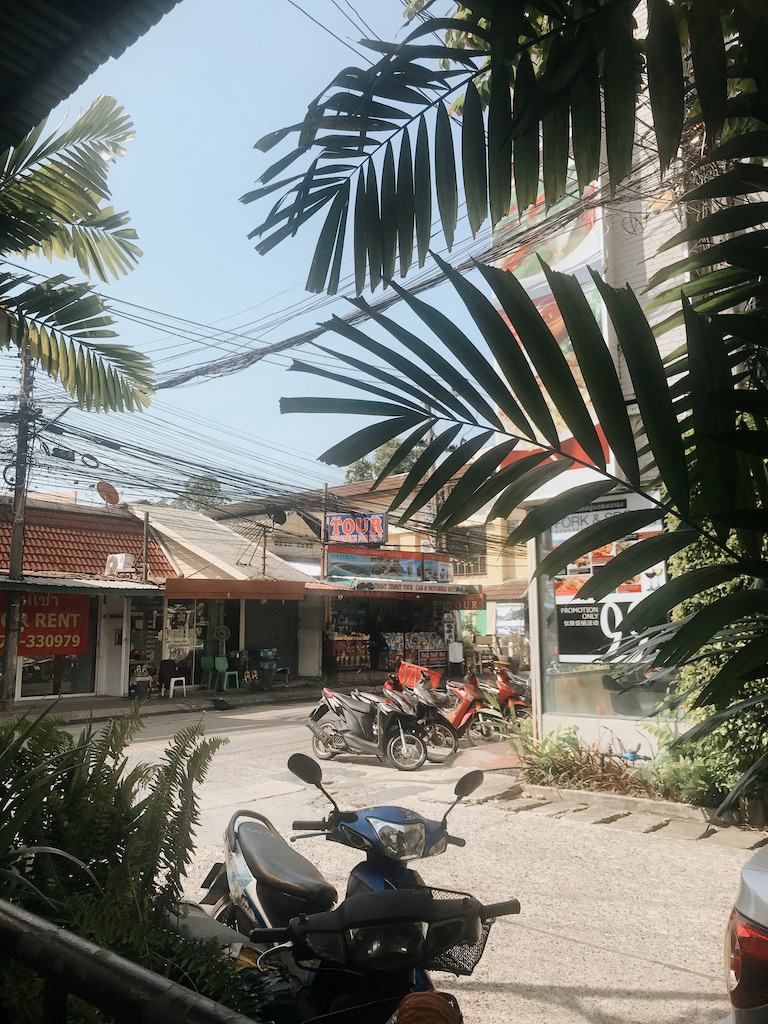 Getting to Your Accommodation
You will most likely be staying somewhere near Patong or Kata beach. This is much farther south than the airport. The airport is about an hour north of the beaches but finding a ride from the airport is super simple and affordable since everyone stays near the beaches. I was with a group of people so we hired a van to take us to our hostel. 
Best Time to Visit Phuket
Rainy vs. Dry Season
The rainy season is from mid-May to October. The best time to visit for ideal weather conditions and the least amount of people would be between November and  April. Prices on accommodations will be lower in the rainy season, however, you can find very affordable places to stay year-round. 
Phuket Itinerary: Things to do During Your Weekend in Phuket 
Phuket Beaches
Kata Beach: Kata beach was walking distance from our hostel so we decided to visit our first day. This beach is beautiful but you will find a good amount of tourists here. Although Kata Beach is pretty touristy, it is not as touristy as Patong Beach. Kata beach is also much prettier than Patong beach. That being said, there is a lot to do along Kata beach including shopping, massages, fun bars, and restaurants! I loved spending a day here drinking delicious mojitos!
Banana Beach: Banana Beach more on the northern part of the island, a bit closer to the airport. Because of this, Banana Beach is much more secluded than Kata or Patong Beach. Banana Beach is absolutely beautiful and incredibly relaxing! Since this beach is not a hot tourist spot, there is not as much to do around here but there are a few street shops and restaurants. My friends and I spent a relaxing afternoon here after our crazy beach days down south! Banana Beach is definitely worth checking out if you have time.   
Patong Beach: I mentioned Patong beach above, my friends and I didn't get to this beach on our trip but from what I've heard this is the most touristy beach on the island. So expect crowds. If you are into the party scene, you should definitely check out Patong beach. However, if you want more of a laid-back beach vibe, there are much better beaches to visit in Phuket!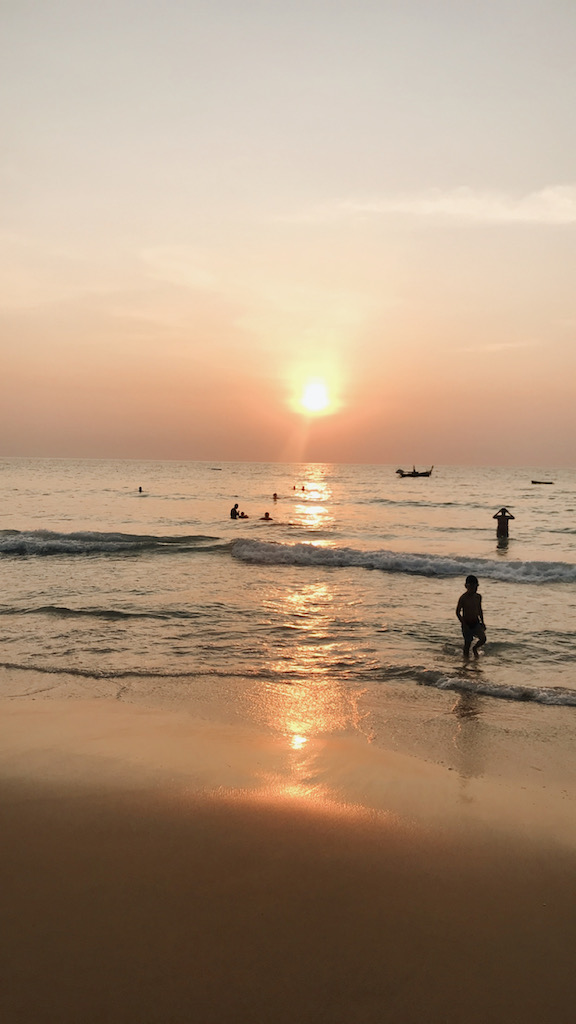 Other Beaches to Visit in Phuket:  
Karon Beach 
Bangtao Beach 
Paradise Beach 
Freedom Beach
More Things to do in Phuket
Big Buddha Phuket: If you need a break from the salt and sand, you should go check out the Big Buddha of Phuket. This is a free activity and it's easy to get to by taxi. Wear your walking shoes because there are a lot of stairs! Also, keep in mind that the Big Buddha is a sacred site so you do need to have your shoulders and knees covered. However, they have wraps you can borrow for free if you forget to dress appropriately or don't have time to change! I think this is definitely worth checking out, it's pretty cool to see in person and you get amazing views of the island. You can find the Big Buddha of Phuket here Karon, Mueang Phuket District, Phuket 83100, Thailand  
Night Markets: You simply cannot miss the night markets in Phuket! They were so much fun to explore, the shopping was great, and the food was sooo good! Grab a Chang and explore the night markets! I wandered through the Phuket Weekend Market and Phuket Walking Street but there is also Chillva Market and Phuket Indy Night Market that I would love to check out next time. 
Day trip to the Phi Phi islands: This day trip was probably one of my favorite things to do in Phuket! We did a full day boat tour that included snorkeling, Monkey Beach, Maya Bay (unfortunately, you can't go on this beach anymore because it was getting too polluted by tourist), lunch, and free time on one of the Phi Phi islands, and free time on another one of the gorgeous Phi Phi islands! We left our hostel at 8 am and got back at around 5 am. This full-day tour was only 1000 baht each ($30 USD), so it was totally worth it! This is a great budget activity to do while in Phuket and you get to see so much. This excursion even included pick up and drop off from our hostel to the pier! I highly recommend checking out an island tour.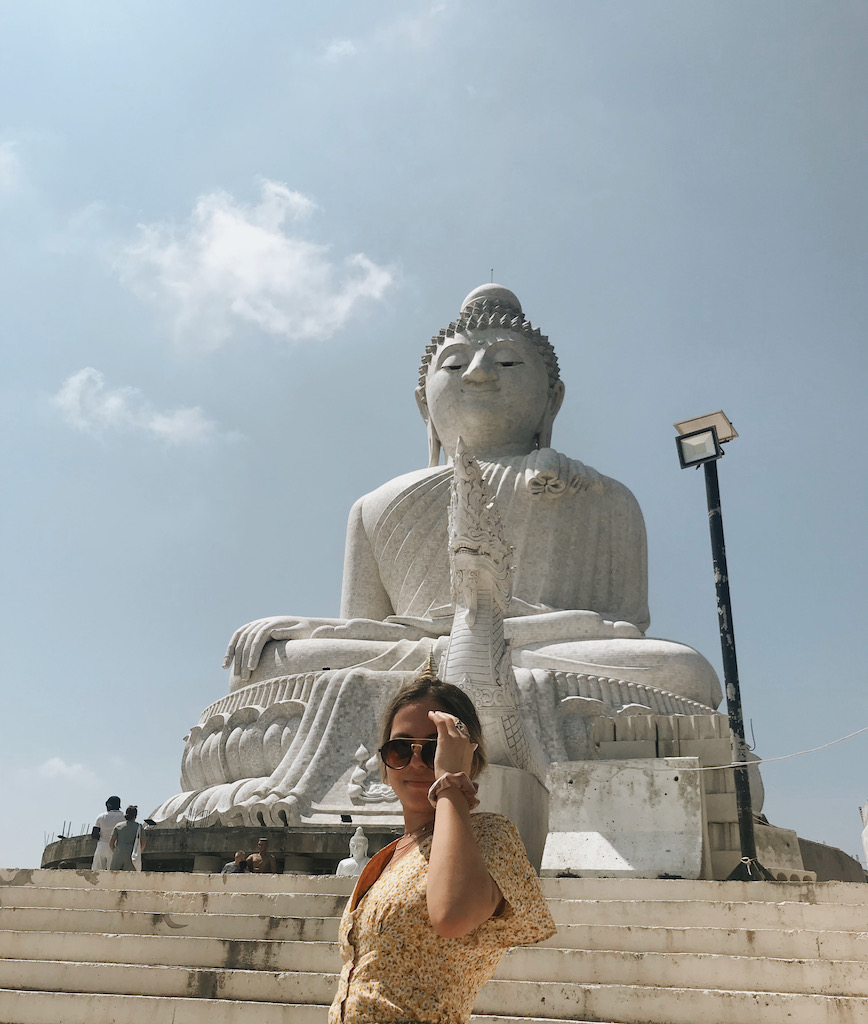 Where to Eat: 
Markets: The street food in Thailand is unreal. One of the meals I had in Phuket was a chicken shawarma wrap from one of the night markets and it was freaking delicious!   
7/11 for snacks and cheap drinks 
Tips: 
Grab App: Get the Grab app and use either this or a taxi to get around the island. Grab is basically the same thing as Uber. 
Bargaining at Markets: Keep in mind that you can typically bargain for a better price for almost anything you see!  
Temple Attire: If you are visiting temples, make sure that your shoulders and knees are covered. I suggest wearing a long wrap skirt or lightweight pants.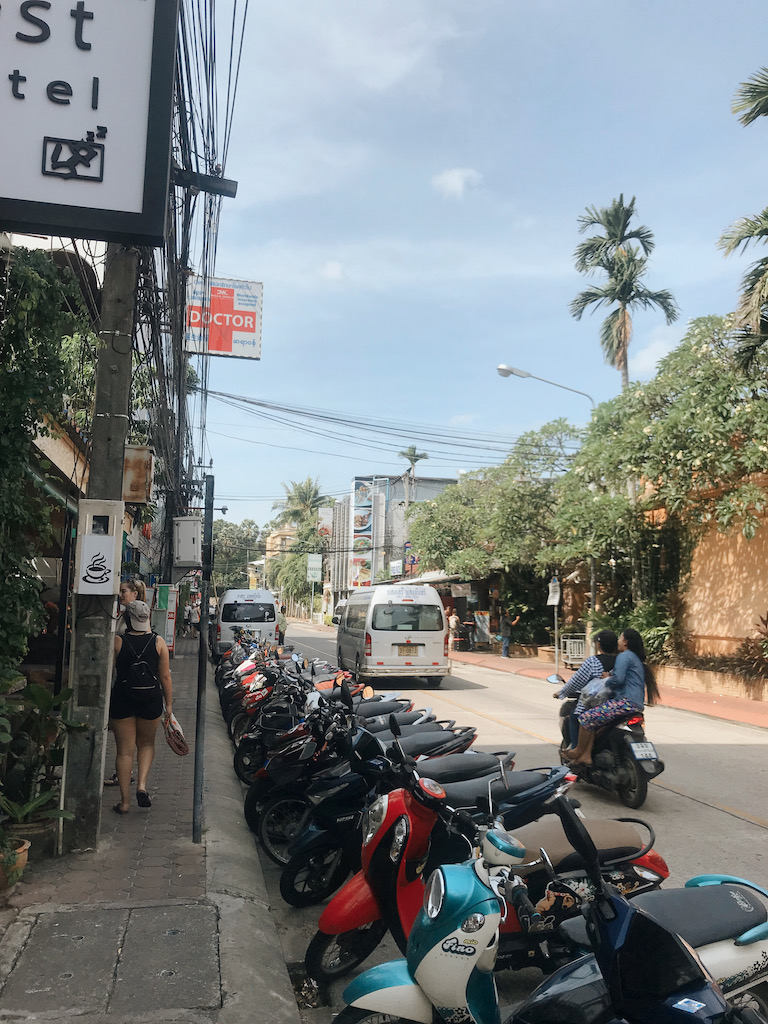 Don't Forget to Pack:
Sunscreen: and don't forget sunscreen chapstick!! I love this one from Super Goop.
Good walking shoes: I love these Birkenstocks, they are comfy and double as shower shoes for hostels!
A book to read on the beach
Bug spray
Medicine
Final Thoughts 
So, Phuket was such a fun time and I absolutely loved our weekend in Phuket. However, this was our first weekend trip to an island and after visiting other islands like Krabi and Koh Phangan, I have to say Phuket was my least favorite. The only reason behind this is that Phuket is super touristy, it is definitely the most touristy island in Thailand. Other islands are harder to get to, however, there are fewer crowds, and these islands are typically cheaper. We really did have an amazing time in Phuket and I think that you should take a day trip to the Phi Phi islands because some of these islands had fewer people and it was so much fun to see another place! I would love to go back and stay on one of the Phi Phi islands one day. I hope you enjoyed this Phuket island guide, let me know what you think of Phuket and what your favorite island in Thailand is? 
xx Syd.
Shop My Travel Favorites!
PIN IT!