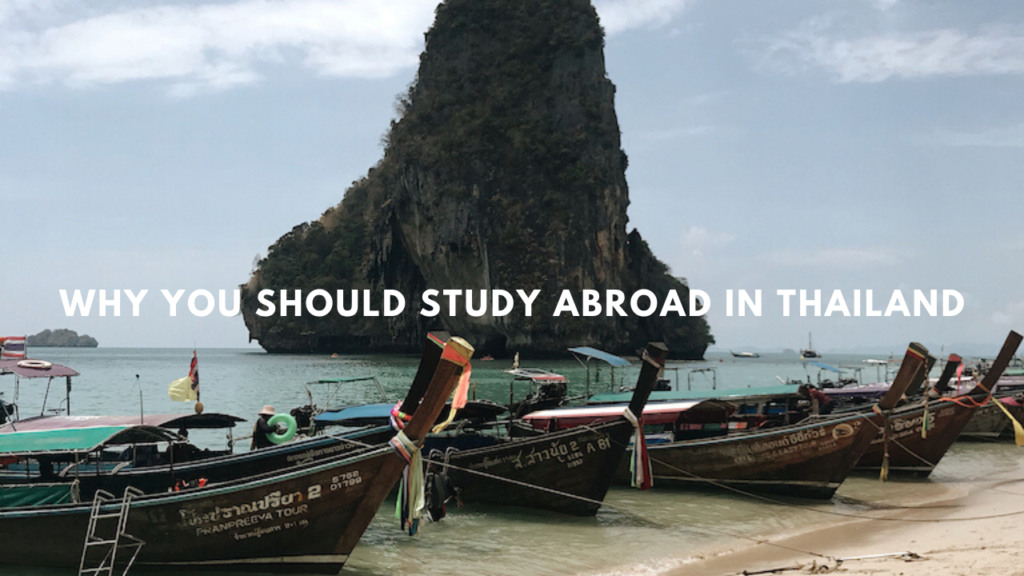 (Disclaimer: This post may contain affiliate links, which means we may receive a small commission at no extra cost to you.)
If you're thinking about studying abroad in Thailand, do it. Living in Thailand was the absolute best 3 months of my life! I hope these 10 reasons why YOU should study in Thailand will convince you!
1. It's Affordable
Thailand and Southeast Asia in general is an extremely affordable place to live and travel. On average I would spend $1 – $4 for most meals, and traveling from place to place was not expensive at all. Thailand is a great place to study if you are on a budget.
2. The Weather
The climate is tropical so it's always warm, much better for outdoor activities and you can pack lighter! Thailand is hot year-round, half the year is dry season and the other half is the rainy season. If you are traveling to Thailand during the rainy season (July – October is the bulk of the rainy season), be sure to pack proper rain gear.
3. Off the Beaten Path
Thailand is typically not a common place for students go to study abroad, but it's so worth it. Do something different, I promise it will be the best decision you have ever made!
4. There's a Bit of Everything
Thailand has everything from the beautiful islands in the south including Phuket, Krabi, Phi Phi, Koh Phangan, and more! To the hiking and mountains up north, like Chiang Mai and Pai. You can also get the big city feel in Bangkok. Thailand has it all.
5. Travel
Bangkok has two international airports so it's extremely easy and affordable to travel to other countries and explore more of Southeast Asia. You can easily visit Vietnam, Cambodia, Singapore, Malaysia, Myanmar, and Indonesia just to name a few!
6. The Food
Thai food is incredible, this is solely a reason to go to Thailand.
7. The People
Thai people are incredibly nice and welcoming. They are always willing to help you. Thailand is a very safe place to be, my friends and I always felt so comfortable and at home.
Experiencing a culture so different from my own was incredible. There is so much to learn and to see in Thailand!
9. Animals
Elephants! Thailand is the place to see these amazing animals in sanctuaries. Make sure it is an ethical sanctuary, and don't ride the elephants. Unfortunately, most of the places that encourage riding elephants abuse their animals.
10. The Language Barrier
Communicating in English is not as hard as you think! Most people speak English, there were only a few instances where we had a problem with the language barrier. When you go, be sure to learn the basics and have a translate app on your phone just in case you need it.  
…and those are the top 10 reasons why I think you should study in Thailand! Thank you for reading!
-xxx Syd
PIN IT!