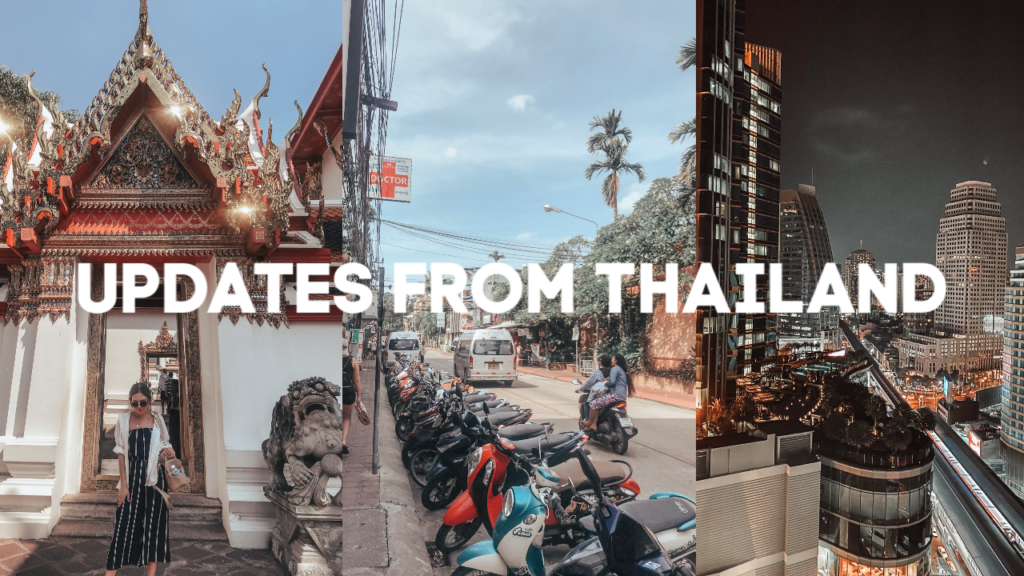 (Disclaimer: This post may contain affiliate links, which means we may receive a small commission at no extra cost to you.)
My first taste of Asia has been amazing, after being here in Thailand for 3 weeks I have learned so much about this beautiful country! I go to school at Mahidol University, a large international college in Salaya which is a small city about 40 minutes outside of Bangkok. I thought I would write this blog post as an update about my time here and to highlight my first impressions of this study abroad experience here in Thailand! 
The Culture
Here in Thailand the culture is so rich! You can easily see this though the food, the people, and the overall atmosphere! This being my first time in Asia, people said the culture shock might be hard when arriving; however, I feel like I have adapted very well! Thai people are very welcoming, hint "the land of smiles," and I fully understand why! Although this country is extremely different from the states, I think that traveling in the past has helped with the culture shock. I think the key to easing the culture shock is to have an open mind about everything! I genuinely think the culture shock will be worse when I go home to the states. 
The Language
Obviously there is quite a language barrier here. Coming to Thailand I really didn't know any words in Thai but I was definitely eager to learn. The language barrier here hasn't been too bad considering so many people speak English. We are lucky that almost everywhere in the world a majority of people speak our language. In Bangkok there is really no problem at all with communication, Salaya is a bit different since it is a small town. My University is also taught in English which in a way gives us an advantage because English is our first language unlike the Thai students. I have learned some phrases in Thai and I try to use them when I can. I think it's important to at least try to speak the language of the country you are in. Also, I'm expecting to learn more day by day!
The Food
Food, food, food! The food here is absolutely amazing! I can't say enough good things, and I haven't eaten half of the dishes I hope to! The food is also very affordable; here in Salaya I can find a full meal anywhere from 30-100 baht (1- 3 USD), which is obviously unbeatable! A few of my favorite dishes at the moment are Pad Thai, Tom Yum soup, and Thai Omelets. I will definitely miss these delicious and affordable dishes when I go back home to the states.
The School
I guess I am here for school so I thought I should give a little update about my classes here in Thailand. I am on a trimester schedule so my classes are about 2 hours long twice a week, much longer than in the states. I am taking 4 classes for my minor which is international business. I only have classes on Tuesday/Thursday's which is a nice change from my full schedule at Alabama. These days are long considering I have 4, 2 hour classes back to back, but it's worth it for the long weekends. Overall the Thai students are so helpful and welcoming, and classes are going well, although sometimes it is weird to juggle classes and vacation at the same time (Lol). The campus is absolutely beautiful, it was actually built on a swamp so there are all kinds of crazy critters here including giant lizards and a lot of snakes (much different from the squirrels at Alabama).
The Traveling
One of the most fun things about being abroad is traveling! So far I've done a weekend in Bangkok, Phuket and the Phi Phi Islands, Cambodia, and we have so many more planned adventures! I will post more in depth blog posts about these trips! Traveling around Thailand has been so great already, and I cannot wait to see more of Southeast Asia! The people I've met are some of my best friends already and traveling as a group has been so much fun!
I hope you liked reading a little bit about my time here in Thailand! This is only the beginning and I am so excited for what's next!
-xxx Syd