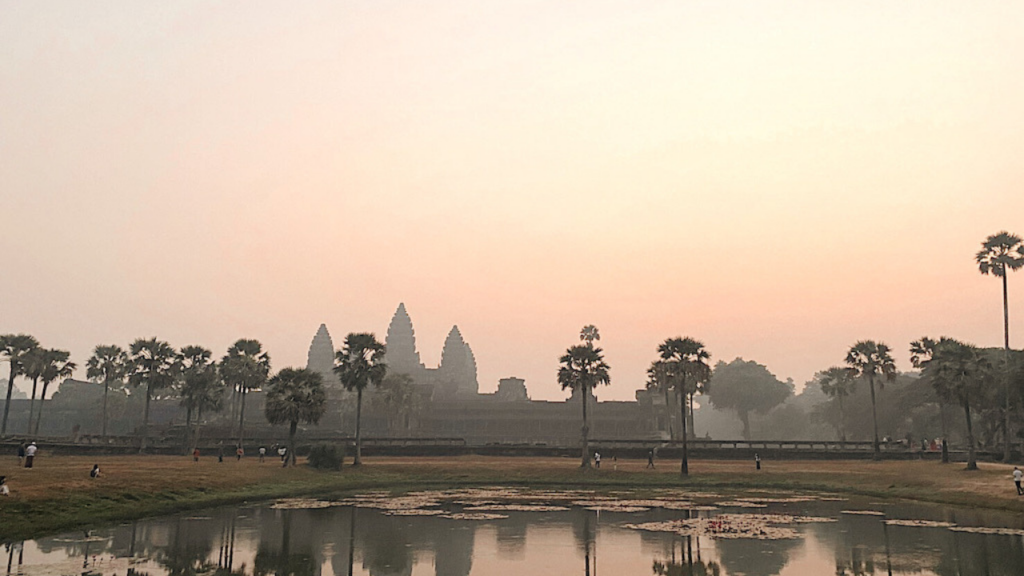 (Disclaimer: This post may contain affiliate links, which means we may receive a small commission at no extra cost to you.)
During my time studying abroad in Bangkok, Thailand I got to take a weekend trip to Siem Reap, Cambodia. The primary reason for this trip was to see the famous temples of Angkor, however, I quickly found out that this city as so much more to offer! Yes, the temples are awesome but we also fit so much more into our 48 hours. I wanted to create this guide to share a bit about my weekend and tell you the best things to do in Siem Reap, Cambodia. I hope this article is helpful when planning your next trip! 
Disclaimer: This article contains affiliate links.
Currency: Cambodian Riel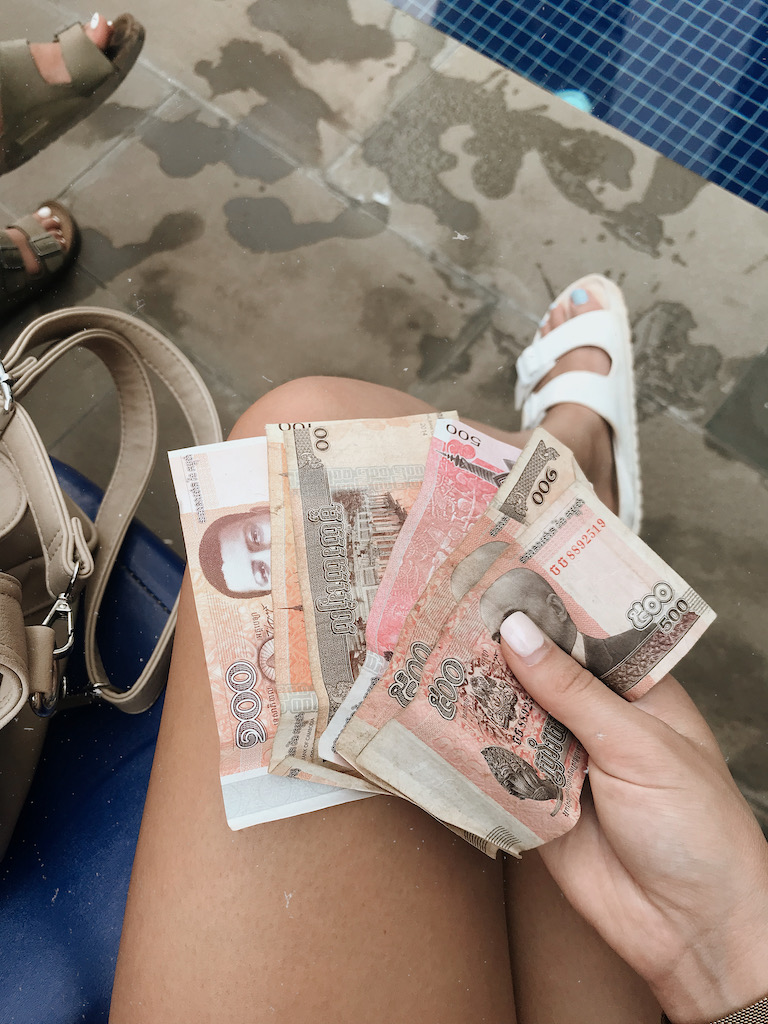 Yes, Cambodia does have there own currency. However, most places will take US dollars. It is actually quite interesting because when you pay in USD they give back the change in USD and Cambodian Riel. In Siem Reap they don't have US coins so instead of coins you get Riel. Basically, if you are visiting Siem Reap, you don't need to exchange your USD for Cambodian Riel. I never exchanged my money and I was just fine. Most places actually prefer US dollars. 
Getting to Siem Reap 
Airport: Siem Reap International Airport (REP) 
I flew into Siem Reap from Bangkok, but it is super easy to fly here from any big city in South East Asia. I suggest flying Air Asia for the cheapest flights! The flight was quick and easy but keep in mind that you need to get a visa for Cambodia. As a US citizen, I got a visa on arrival and the process was easy. I did have to pay a fee of 30 US dollars. Make sure to check current visa requirements if you are visiting.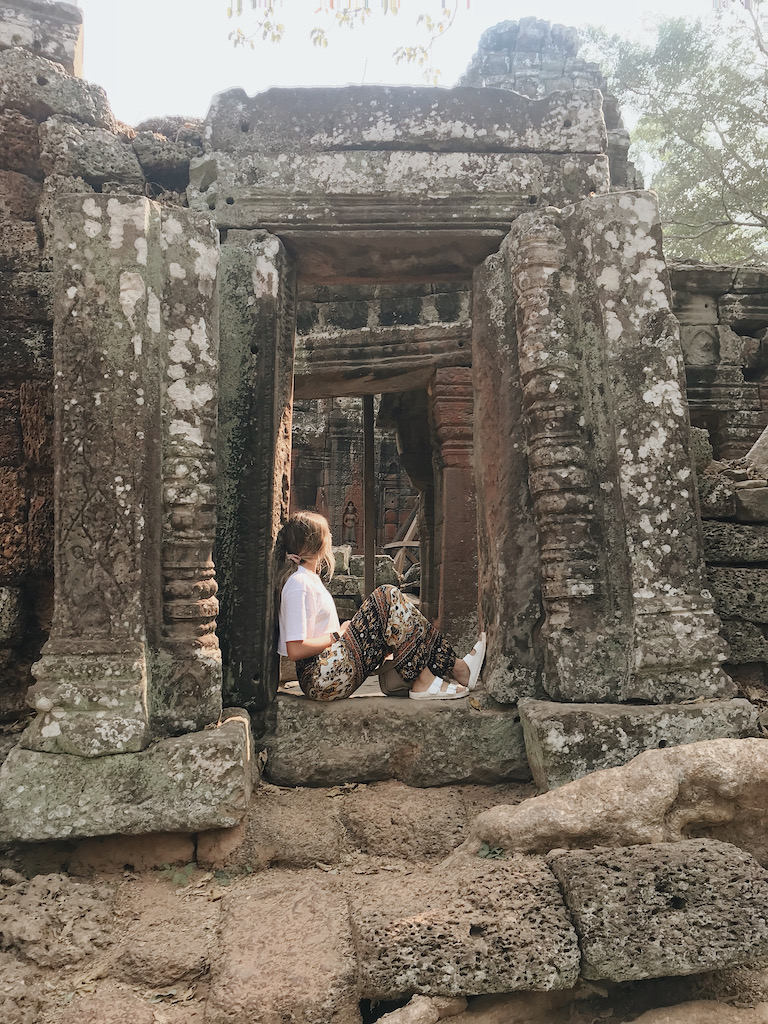 Accommodations 
I stayed at the Unique Angkor Villa in Siem Reap. It was a perfect location, walking distance to bars, restaurants, and markets! The villa itself had a great restaurant and a beautiful pool. The rooms were pretty large, they were great for a weekend getaway! My usual accommodations for travel in South East Asia were hostels. Check out hostel world to find the best hostels! 
What to do in Siem Reap Cambodia
 Explore Angkor Wat
Like me, I'm sure the primary reason that drew you to Siem Reap is the famous Angkor Wat. Angkor Wat is popular for a reason and something to definitely visit here! Did you know Angkor Wat is known as the eighth wonder of the world? So cool! Anyways, this is a full day activity. We woke up at 4 am to see the sunrise over the temple and this is an experience I will never forget! It was so insanely cool and very worth the early wake-up call! Something to keep in mind is that there will be hundreds of tourists, even in the early hours of the morning. We spent almost three hours on a guided tour before we moved on to the next temples! 
Tip: Make sure to have your shoulders and knees covered and wear comfortable shoes! There are SO many stairs. 
We spent the rest of the day touring other temples and stopped for some traditional Cambodian food for lunch!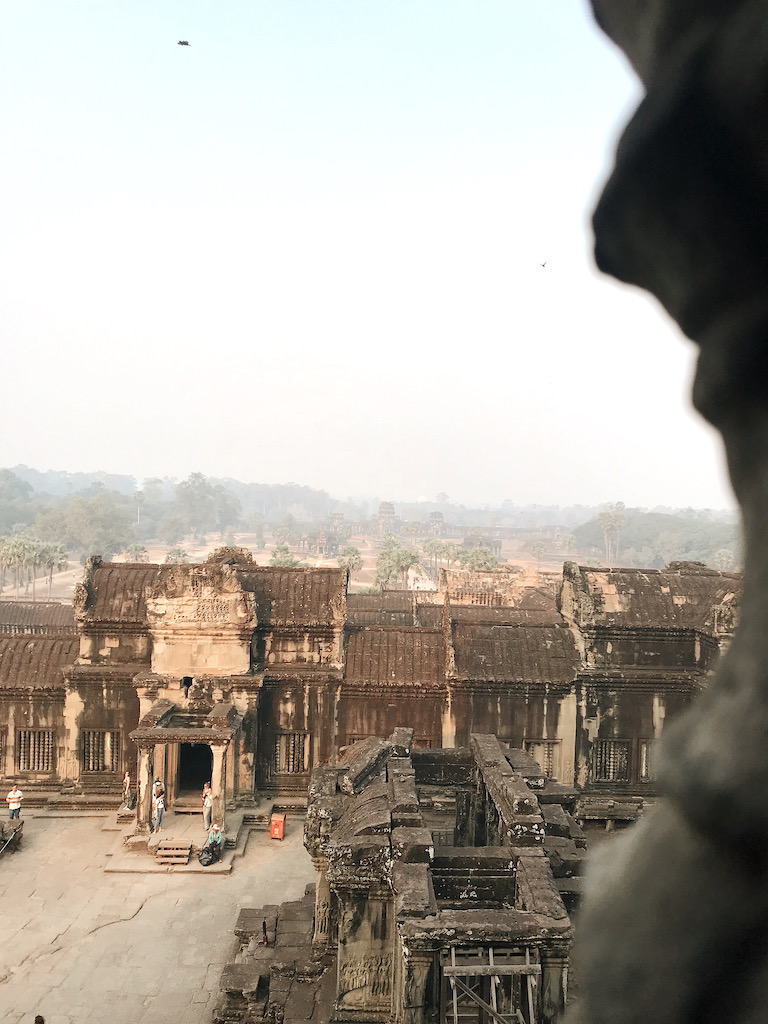 Other Temples to Visit: 
Banteay Kdei 
At Prohm
Bayon 
Pre Rup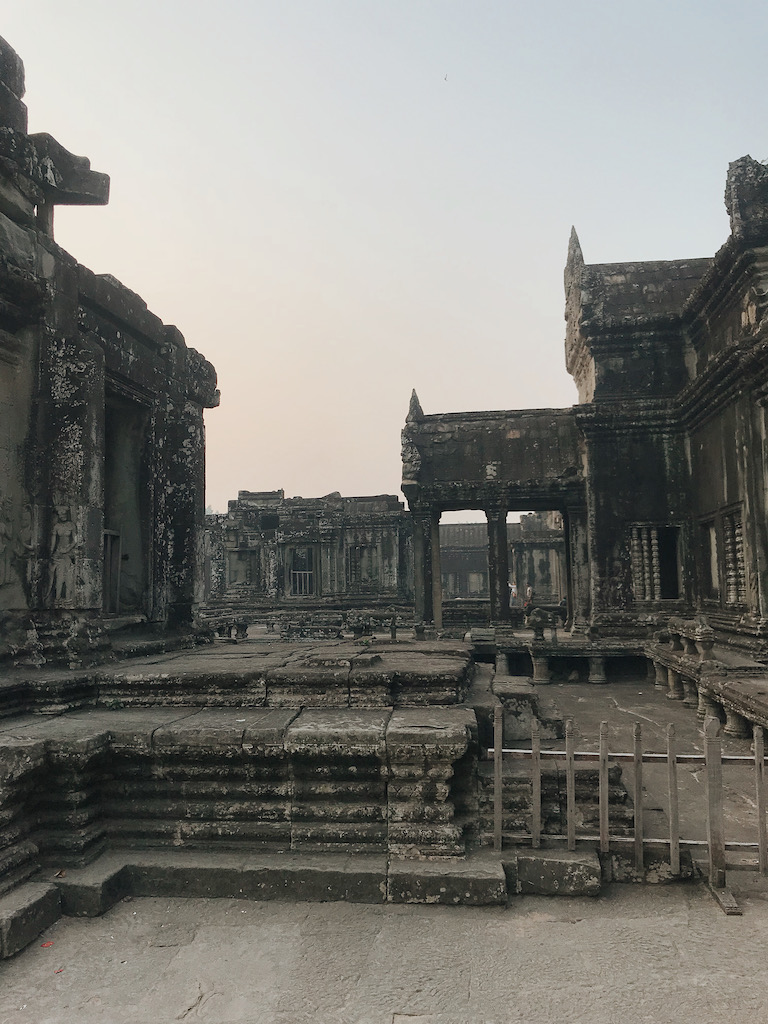 Bike Tour 
Our second day in Cambodia consisted of a ten-mile bike ride through the Cambodian countryside. This was an incredible experience and I highly recommend doing it. On the bike ride, we got to see so much including wildlife, a fish farm, mushroom farm, lotus farm, rice farm, and more! We stopped at some of the farms to learn about what goes into running one of them. It was a great learning experience and an insane workout. After biking through traffic and bumpy terrain, we stopped for a snack consisting of fresh fruit and sticky rice! By the end, everyone was so tired and covered in dirt (lol). But it was a great experience and we got to relax in hammocks. You can book a bike tour here.
Fun Fact: hammocks are literally everywhere in Cambodia! You will find hammocks hanging in many restaurants and most of the local's homes.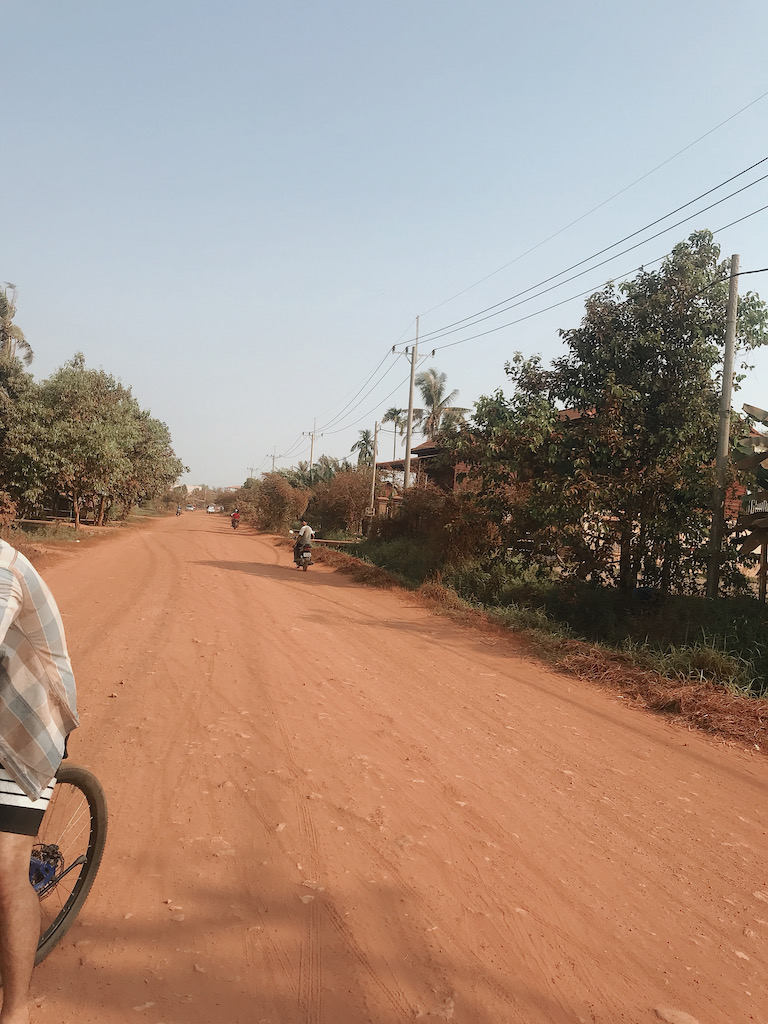 Pub Street 
Pub Street is nightlife central in Siem Reap! This is the main backpacker street of Siem Reap, lined with so many bars, restaurants, clubs, and shopping. This is a must to add to your list of things to do in Siem Reap. We went to a few different bars and clubs and we also found some delicious rolled Ice cream here.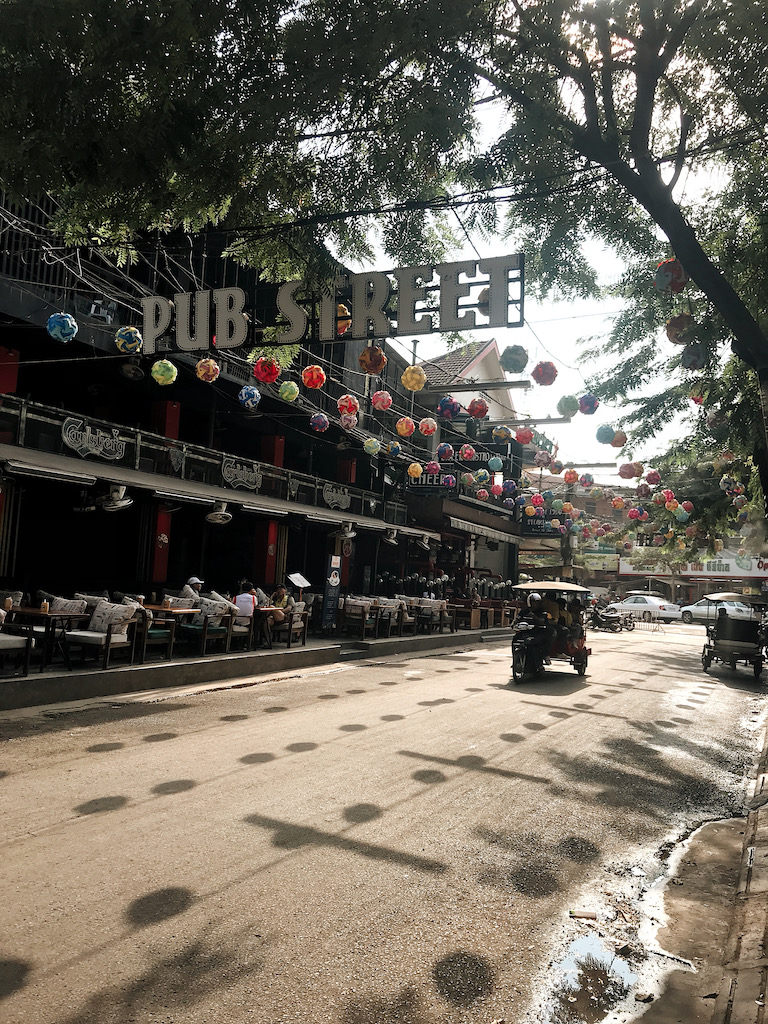 Art Center Night Market 
I loved exploring this night market. It was full of such fun things to buy and the atmosphere was great too! Keep in mind that you can bargain at these markets. Make sure to keep small bills for this purpose and the markets take US dollars. You should also try the food at the markets, street food is amazing! 
Other Markets in Siem Reap: 
Made in Cambodia Market 
Noon Night Market 
Angkor Night Market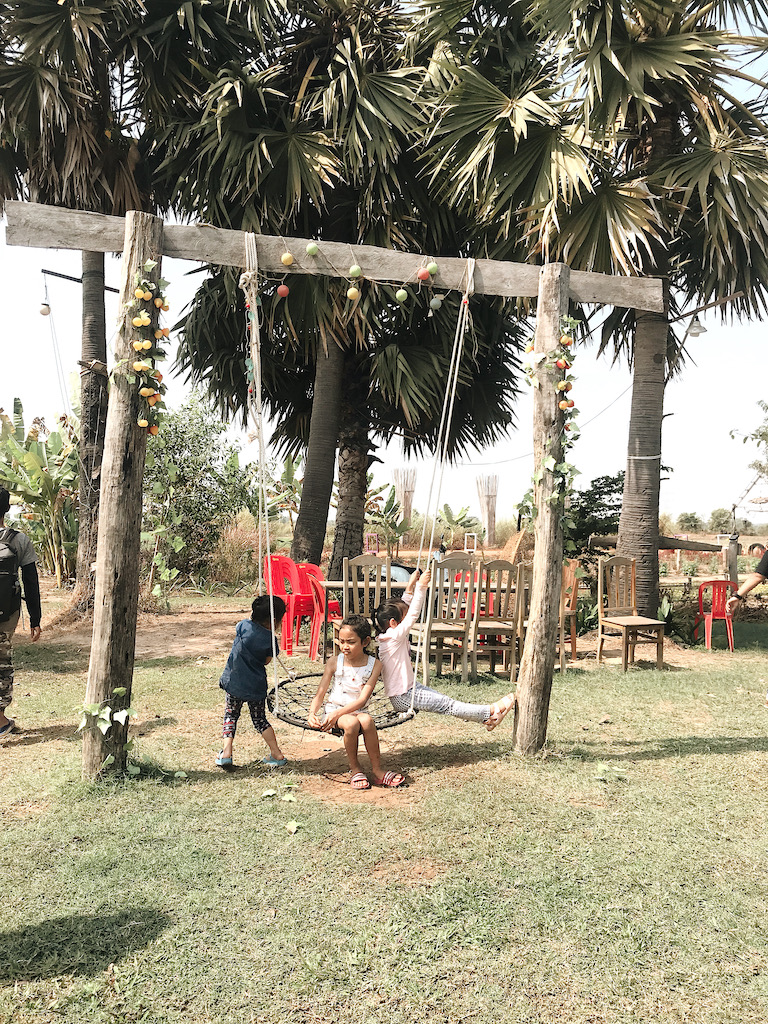 Try Cambodian Food!
This has to be one of the best things to do in Siem Reap! Did you really visit if you didn't try traditional Cambodian food? It's actually really good, I enjoyed it a lot. Another random thing you can find in Siem Reap is cheap margaritas! We found margaritas for as little as 1 USD! 
Restaurants in Siem Reap: 
Genevieve's Restaurant
Malis Restaurant Siem Reap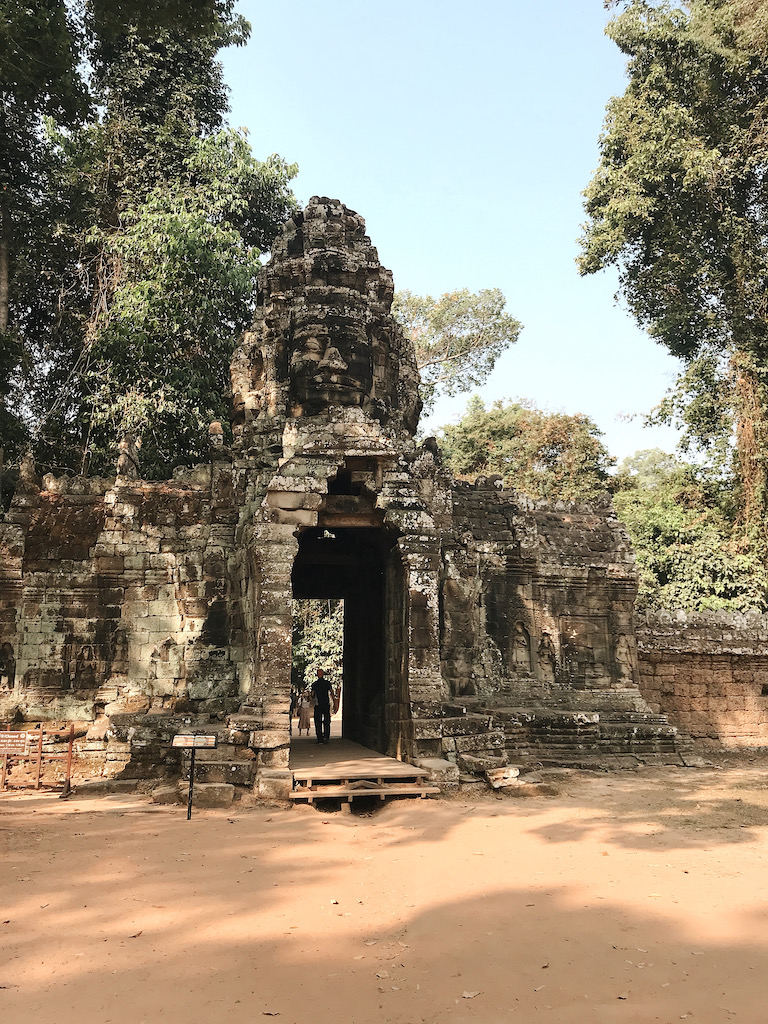 Final Thoughts 
And that's a wrap for my weekend trip to Siem Reap! I really enjoyed this city a lot, it makes we want to visit other cities in Cambodia. I think Cambodia as a whole is a bit underrated. This beautiful country has so much to offer! Let me know if you have ever been to Siem Reap, and how you liked it? 
For more Siem Reap Photography click here!
xx Syd.
Shop My Travel Favorites!
PIN IT!