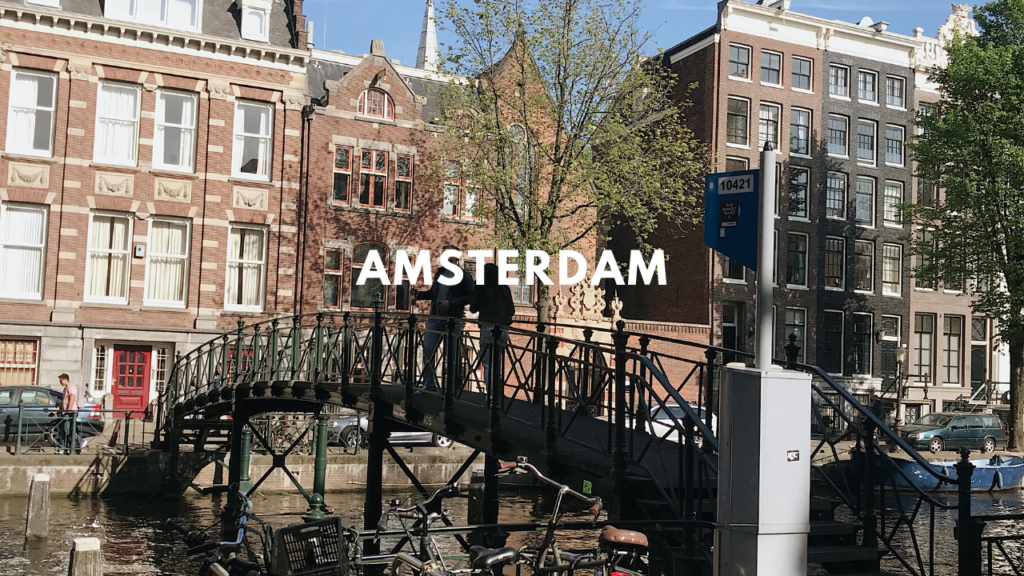 (Disclaimer: This post may contain affiliate links, which means we may receive a small commission at no extra cost to you.)
Amsterdam is an incredibly unique city with so much to offer. From the city's laid-back atmosphere and beautiful architecture to the rich history, Amsterdam has it all. I was lucky enough to spend a few days in this city, and it is by far one of the coolest places I have ever been to. If you are planning a trip to Amsterdam, this article is for you! I'm going to share with you the absolute best things to do in Amsterdam. with a city that offers so much, you have got to make sure to add these five things to your Amsterdam itinerary! 
Disclaimer: This article contains affiliate links.
1. Explore Amsterdam on Foot
The best way to see this city is to take a walking tour! I traveled to Amsterdam with a tour company so a walking tour was included, and it was the best way to start our time in Amsterdam. Having a local guide was so helpful in learning the history of the city. If you are staying in a hostel, it is likely they will have free walking tours daily. Check with your accommodation before booking a tour, they might have special deals or tours of their own. Extend the guided walking tour by continuing it on your own. Getting lost in the city is a great way to find fun new things to do! Be sure to explore Dam Square!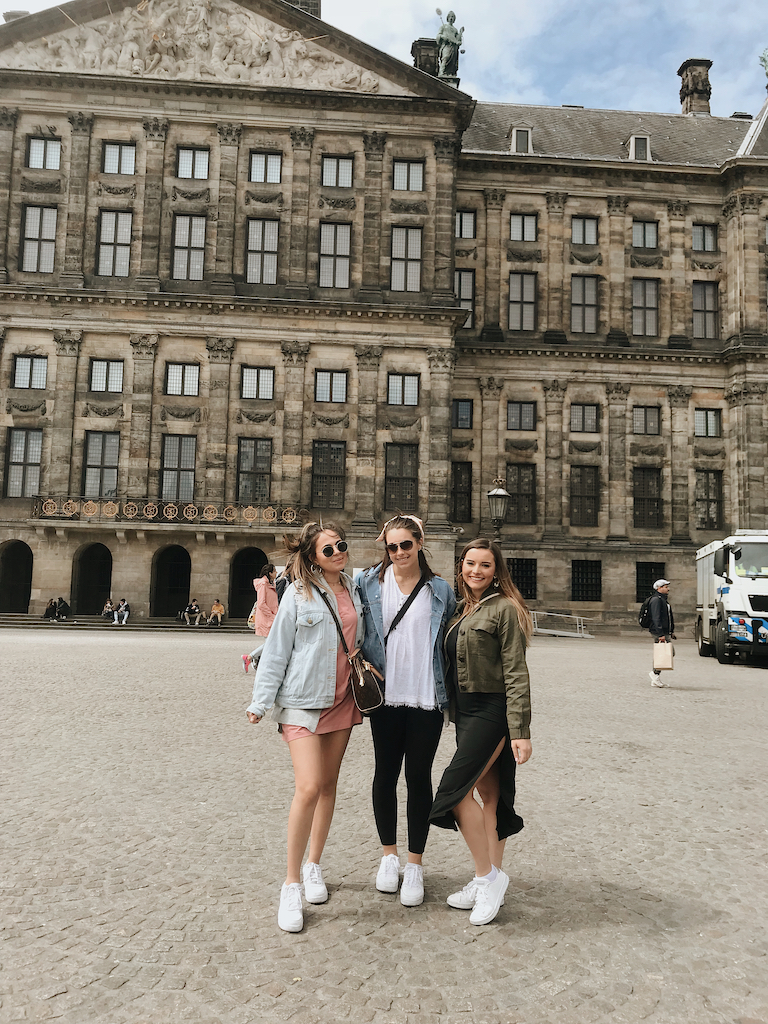 2. Check Out the City's Fun Art
Next, check out some fun art in the city by visiting the "wake me up when I'm famous" wall art and the I Amsterdam sign. These are both fun photo opportunities! The wall mural is located here Frans Halsstraat 64, 1072 BT Amsterdam, Netherlands, and when I visited it wasn't crowded at all. My friends and I had time to take the photos we wanted to. However, on the other hand, the I Amsterdam sign was extremely packed with tourists. I suggest going early to avoid the crowds. You can find this sign West of the city. In order to get to the I Amsterdam sign you will take a free ferry! The ferry is a fun and unique way to see the city. I recommend checking it out, you will get a free ferry ride out of it!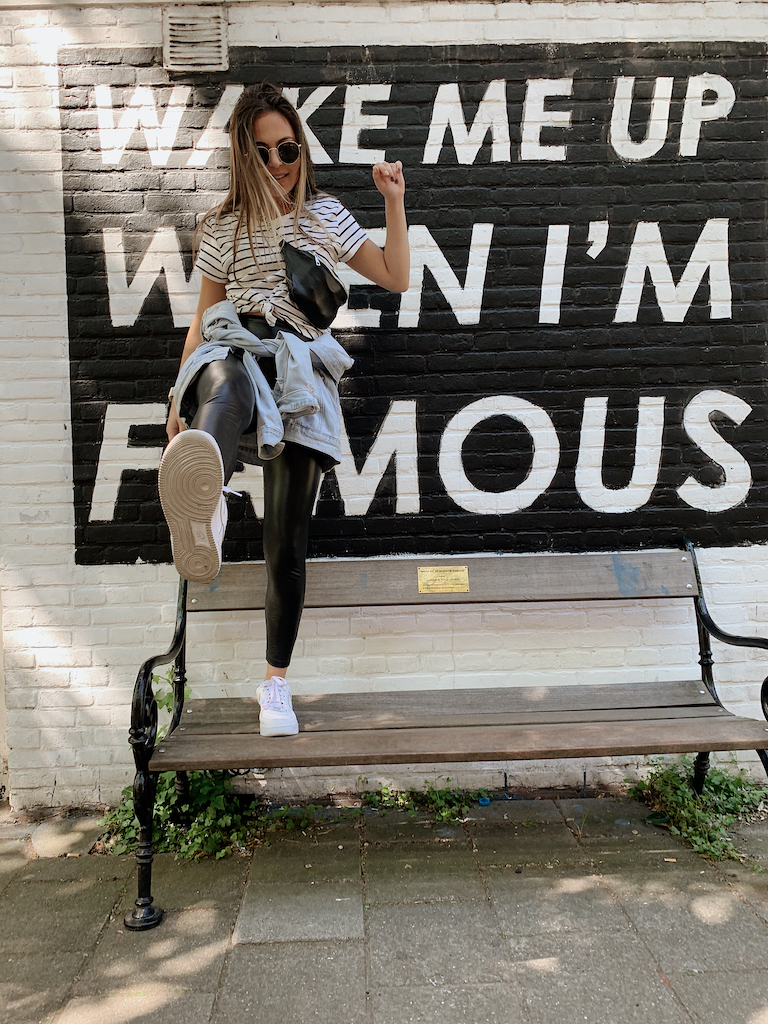 3. Food and Drink Tour of the City
This is a MUST to add to your list of things to do in Amsterdam. The city is so rich in culture and that includes the food! Amsterdam has food from all over the world and the drinks aren't bad either. A few dutch foods to try are… 
Dutch Fries 
Bitterballan 
Stroopwafel 
Dutch Cheese 
A few amazing restaurants to visit include.. 
The Avocado Show 
The Seafood Bar 
Pluk
Thai & Co.  
As for the drinks, The Heineken Experience is probably one of my favorite things we did while in Amsterdam. It's a historic brewery and an interactive museum all in one! It was so interesting learning about the history of Heineken and we had a pretty great time drinking some as well! You can purchase tickets to the Heineken Experience here. Additionally, the Ice bar is a fun nightlife spot. Xtracold ice bar is located Amstel 194, 196, 1017 AG and is a regular bar with a bar made of ice in the back! You are given coats and gloves before entering the ice bar and they get a few drink tokens. It was a unique experience for sure! 
4. Spend an Afternoon at a Museum
What better way to learn more about the culture of a city than by visiting a museum? Amsterdam is home to a variety of world-famous museums! This is a great way to spend your afternoon and get out of the crowds. I have listed out museums and linked tickets. 
5. Cruise Down the Canals
Finally, you need to take a canal cruise! This is by far an absolute favorite. I loved seeing the city from a different perspective and relaxing on a boat. While I was there, I took an evening canal cruise that served wine and appetizers. It was seriously the best. I highly recommend taking a canal cruise in the evening, it was so relaxing, and seeing the sunset on the water was freaking incredible. No trip to Amsterdam is complete without taking a cruise down the canals. You can find a canal cruise here.
Final Thoughts
All in all, Amsterdam is an awesome city. One that everyone should have on their bucket list. Although Amsterdam offers so much more than just these five activities, I think you should add these to your "things to do in Amsterdam" list. I hope you gained some inspiration for your trip to this amazing city, let me know what your favorite thing about this city is!
Find more fun things to do in Amsterdam here! 
Shop My Europe Essentials!
xx Syd. 
PIN IT!